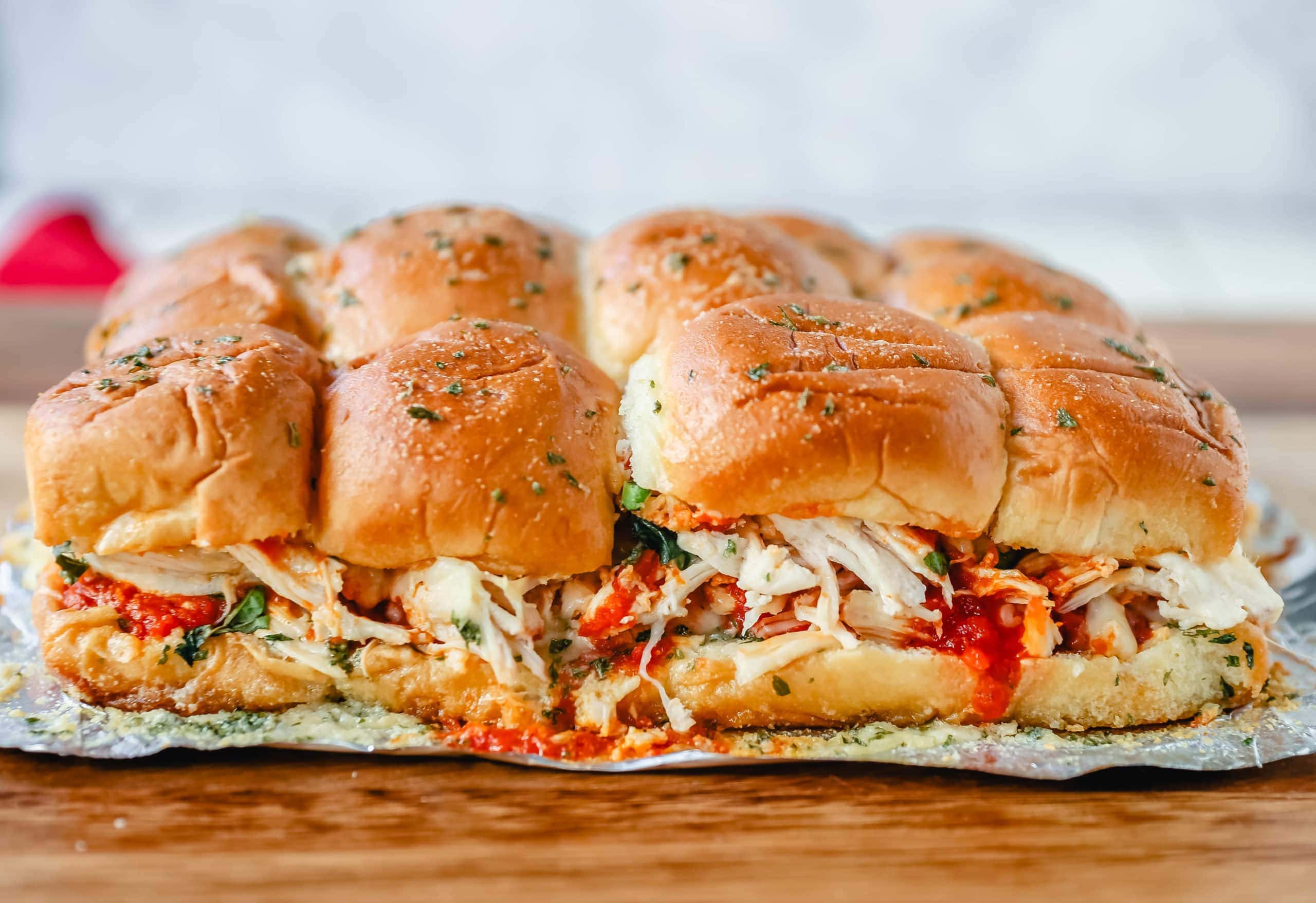 Baked Chicken Parm Sliders
Chicken topped with a fresh marinara sauce topped with fresh mozzarella cheese and baked on Hawaiian sweet rolls and slathered with garlic butter.
My kids go crazy for these Chicken Parm Sliders whenever I make them. Actually, the first time I tried this recipe, they were devoured so fast that I had to make another round of these garlic butter baked chicken parmesan sliders...and they still disappeared so quickly!
If you have ever tried the popular recipe for Baked Ham and Cheese Sliders you know how savory and melt-in-your-mouth these sandwiches are. Instead of using ham and cheese, we swapped out chicken and marinara sauce. They become the perfect Italian Chicken sliders!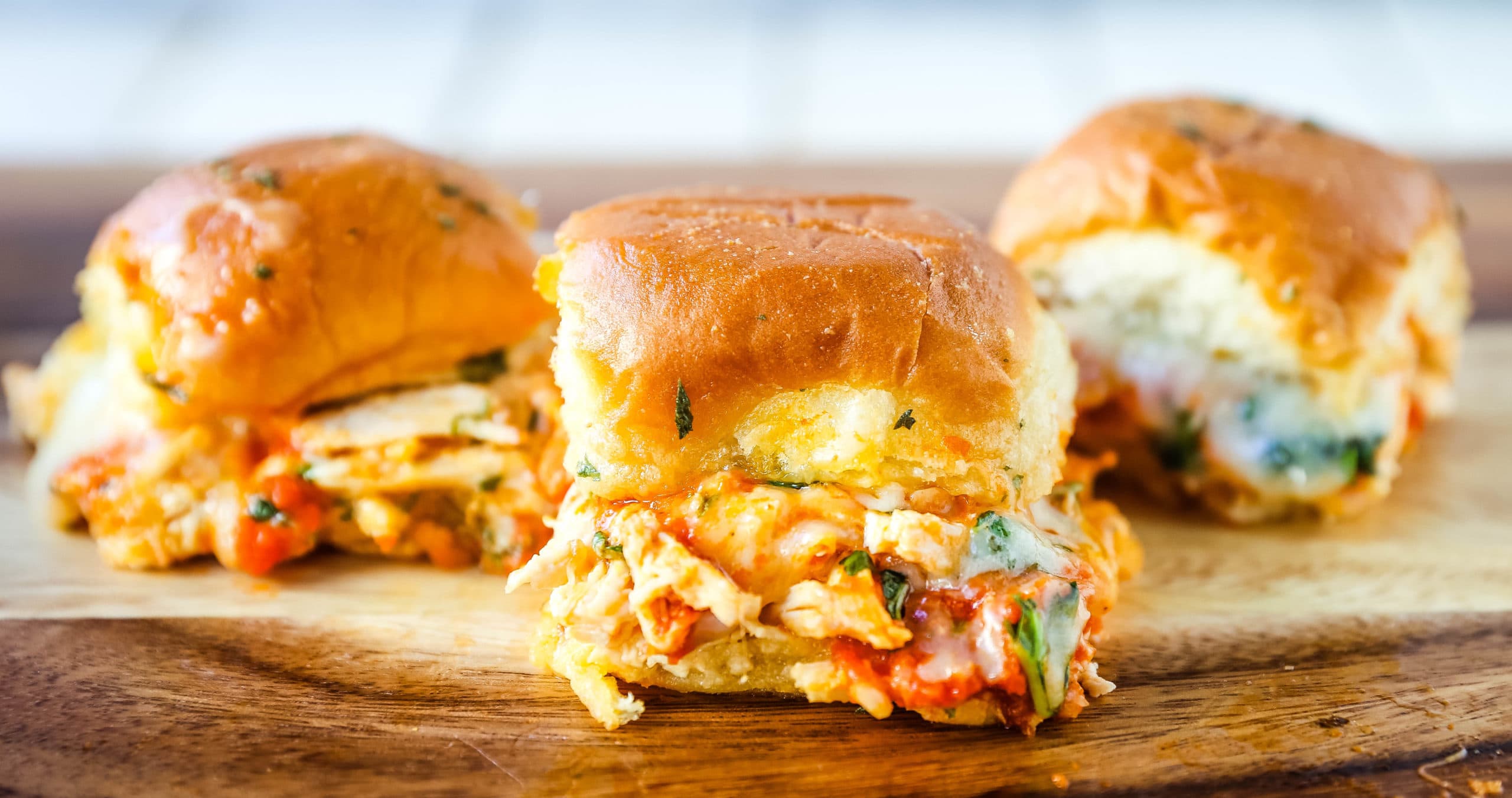 These Baked Chicken Parmesan Sliders are made with rotisserie chicken, marinara sauce, fresh mozzarella, fresh basil, all on top of Hawaiian sweet rolls, and topped with a garlic parmesan butter. They are baked until golden for a warm Italian sandwich. The garlic butter is so insanely delicious and envelops the rolls so they have a buttery crispiness.
What rolls should you use for these Baked Chicken Parmesan Sliders:
I always reach for Hawaiian sweet rolls. They come in a 12-pack, all baked together. They are super soft and the perfect size for these sliders.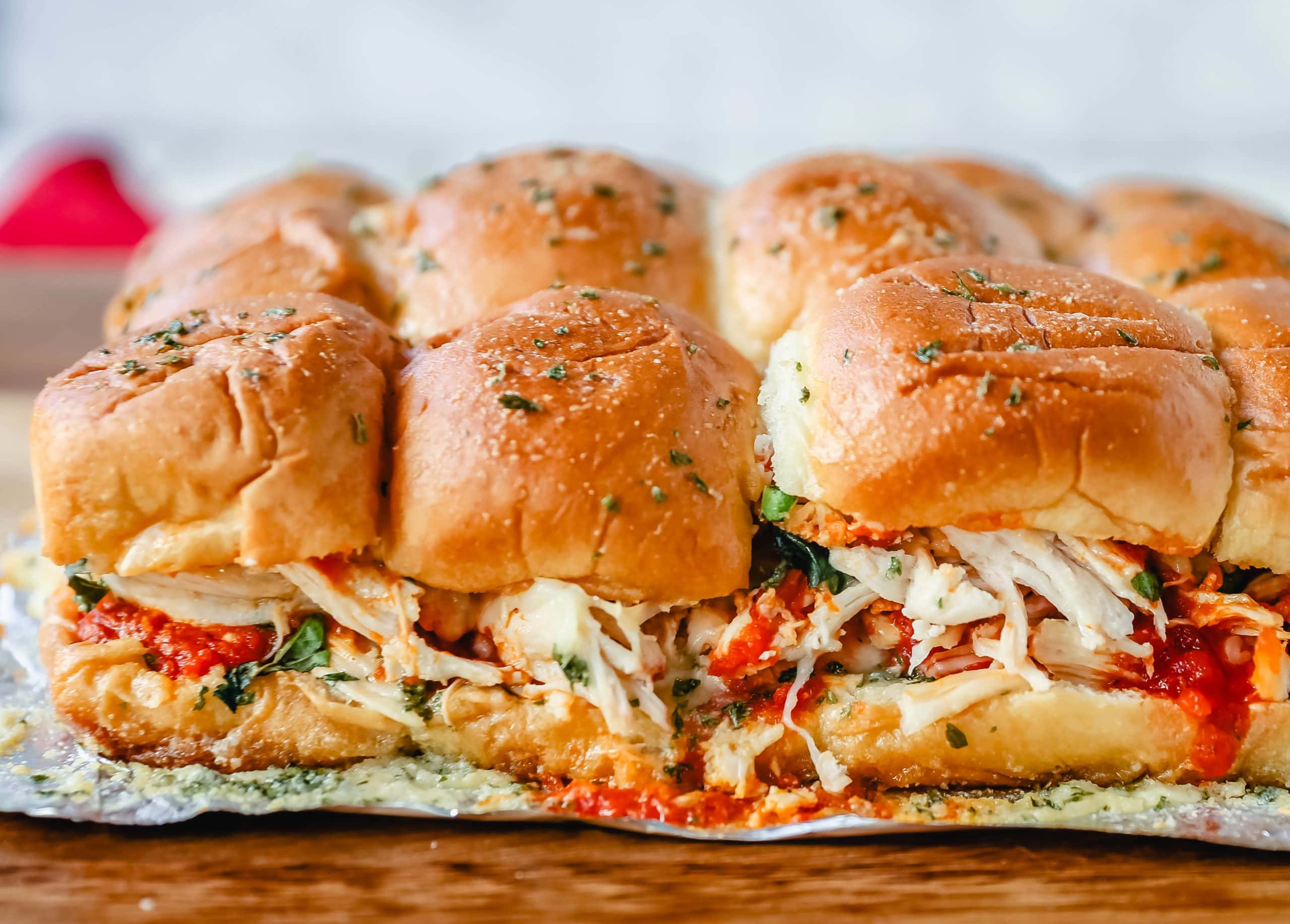 How to make the Best Chicken Parm Sliders:
Line a 9 x 9 or 9 x 13 baking pan with aluminum foil and spray with cooking spray. This is an important step because the cheese will melt and can stick to the foil.
I suggest using Hawaiian sweet rolls. Use a long serrated knife to slice the rolls in half, lengthwise, so you have a slab of rolls. Don't pull the rolls apart or individually slice them because you want the rolls to be completely connected. Place the bottom side of the rolls in the pan.
Layer the shredded rotisserie chicken over the rolls. Place marinara sauce over all of the chicken. Sprinkle with mozzarella cheese and fresh basil. I suggest using a block or ball of soft mozzarella cheese and grating it. It melts so much better than the pre-shredded mozzarella cheese.
In a microwave-safe bowl, melt the butter. Add the minced garlic, parsley, and parmesan cheese.
Brush the butter mixture all over the rolls. Evenly spread it over the top and allow some of the butter mixture to drip to the base of the rolls.
Cover with aluminum foil and bake covered for about 20-25 minutes until the cheese is melted. Uncover the foil and bake for 3 to 5 minutes longer. Serve hot!