Creamy Homemade Chicken Salad made with tender chicken, crunchy celery, green onion, sweet grapes, and crunchy almonds in a mayonnaise dressing. This is a classic chicken salad recipe that everyone loves and is perfect for a quick lunch or potluck.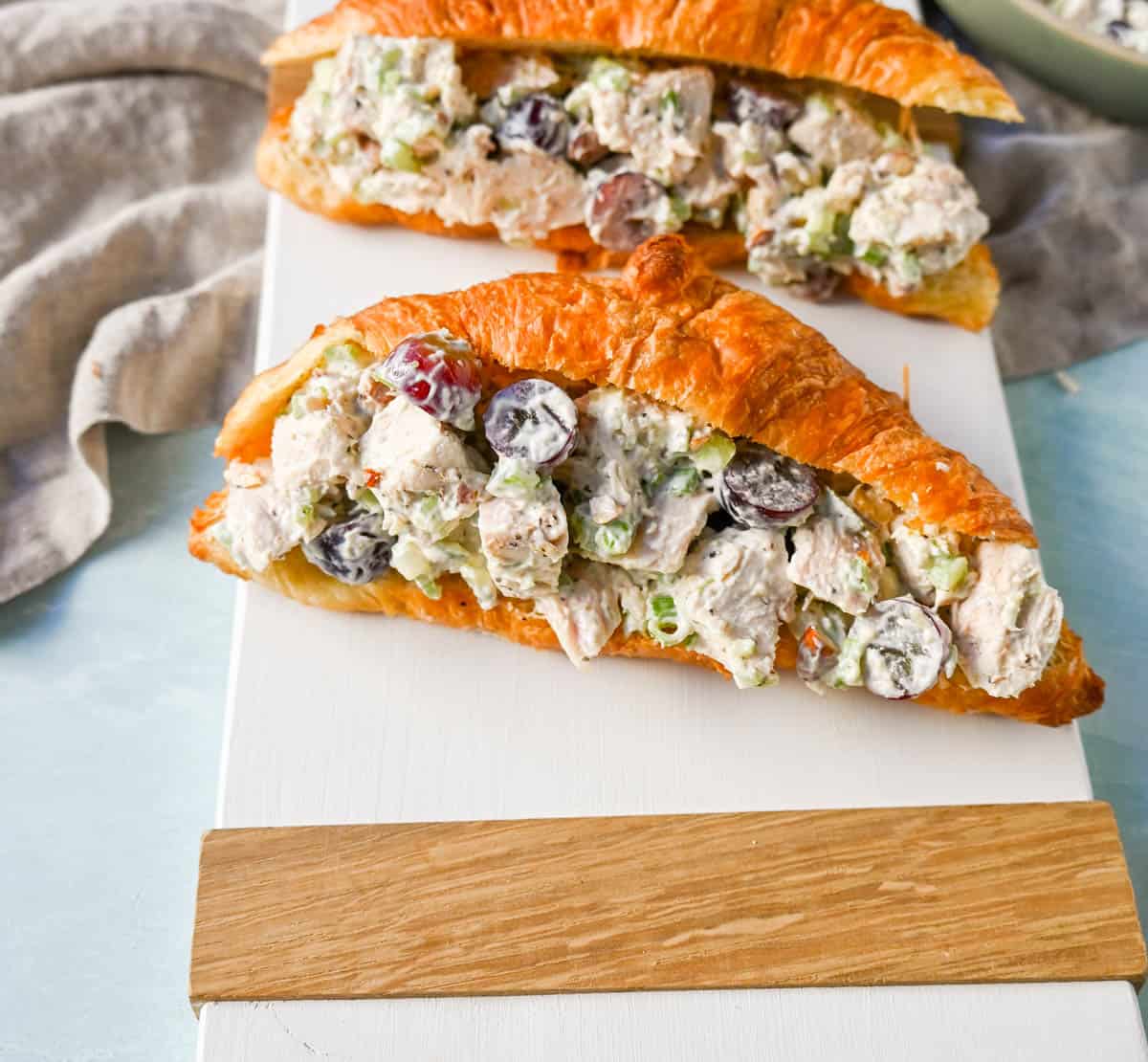 Everyone needs a fool-proof, crowd-pleasing chicken salad recipe. I have made this over and over again for baby showers, bridal showers, potlucks, road trips, lake trips, and for quick lunches.
I love keeping this in the refrigerator for when I am hungry and don't want to take the time to make me an entire meal. It makes the best leftovers!
You can put this chicken salad on croissants, any type of bread, on top of crackers, or even on top of lettuce for a high-protein, low-carb meal.
Jump to:
Ingredients
This easy chicken salad recipe is made with only 9 ingredients and is crunchy and creamy and makes the perfect chicken salad to feed a crowd.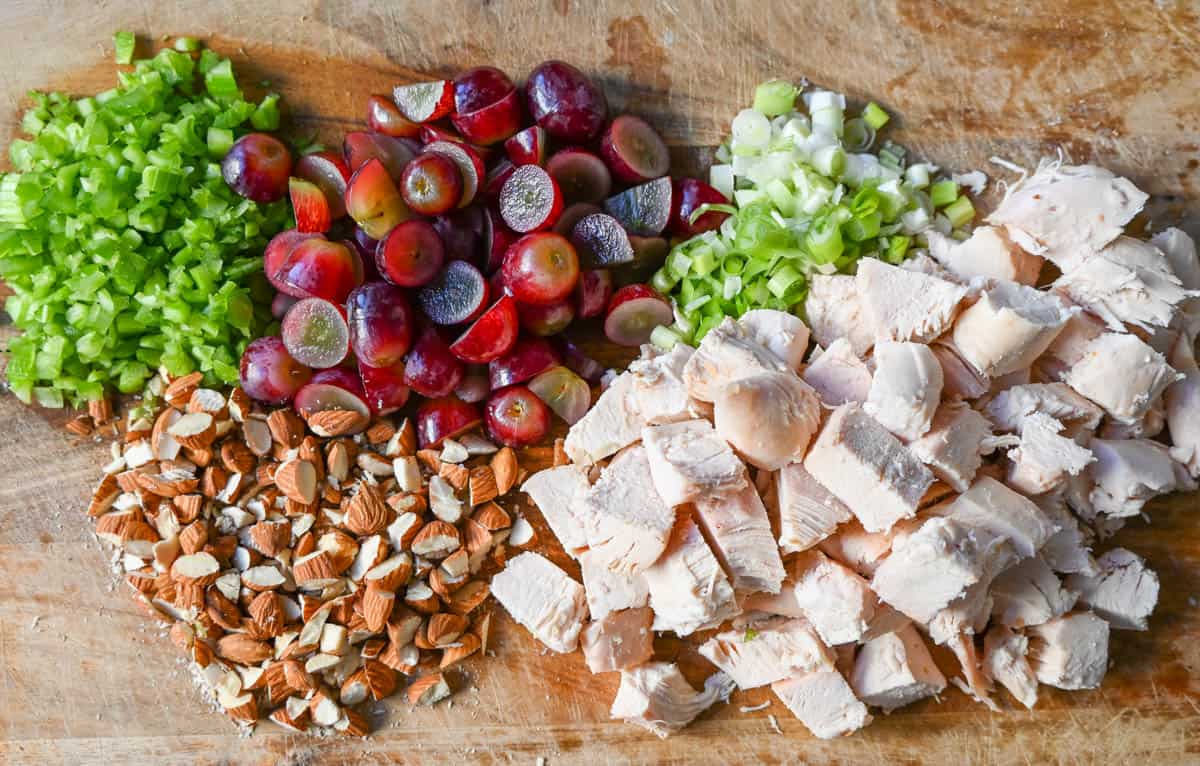 Chicken
Celery
Green Onions
Grapes
Almonds
Mayonnaise
Dijon Mustard
Salt and Pepper
See the recipe card for quantities.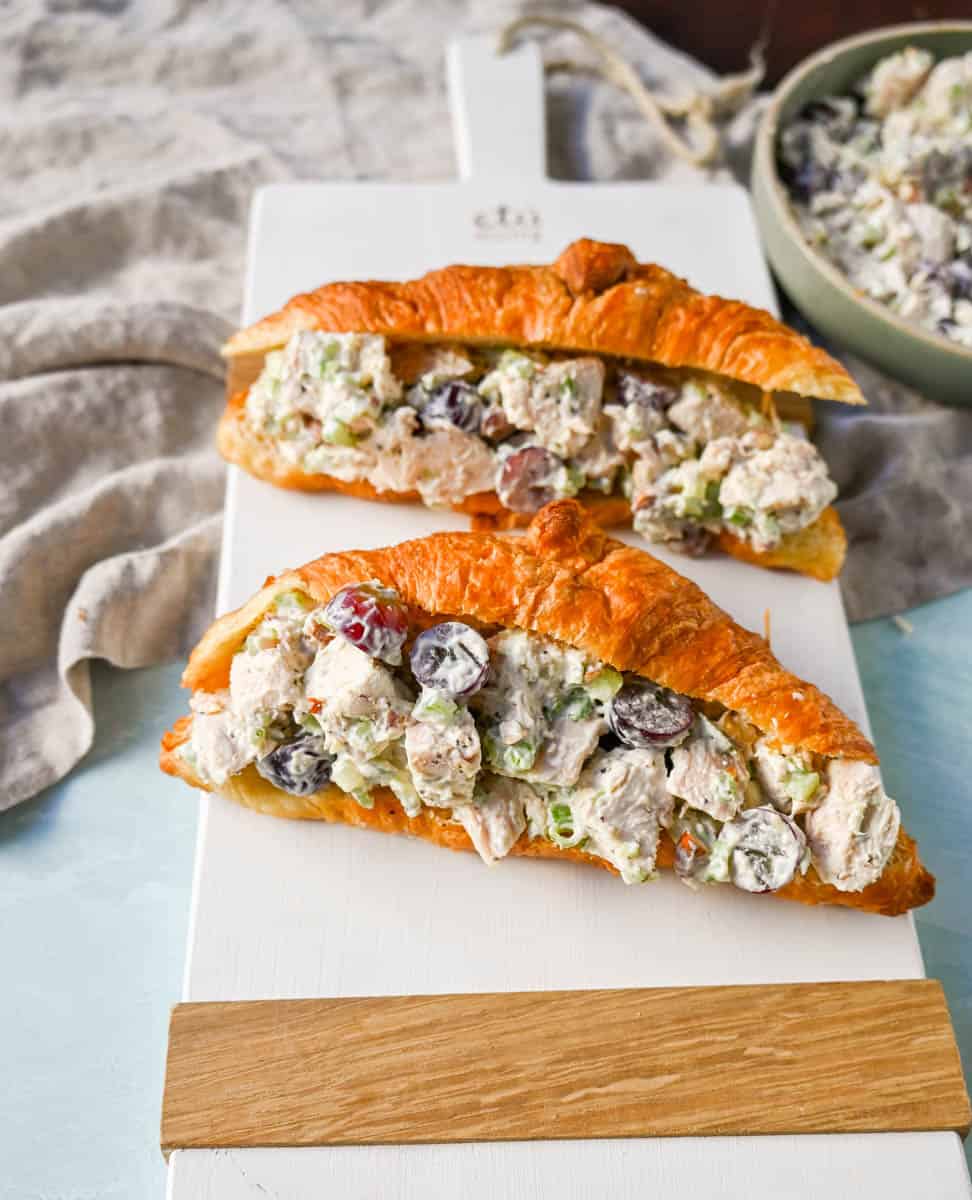 Instructions
It is so easy to make classic chicken salad! This is such a simple chicken salad recipe using fresh ingredients. If you want to make a quicker chicken salad, use rotisserie chicken.
Start by preparing the chicken. If using a rotisserie chicken, shred or chop the chicken into bite-size pieces. If cooking the chicken, poach the chicken until tender. The important tip is to make sure to season the chicken! Add a generous amount of salt to the chicken before adding it to the other ingredients.
Chop the celery and green onion. Cut the seedless grapes in half. Use sliced almonds or chop whole almonds.
Make the dressing by mixing together mayonnaise, dijon mustard, salt, and pepper.
Toss all of the ingredients into a large bowl. Add the dressing and toss until evenly coated. Taste for seasoning. The chicken will soak up the dressing and become even more flavorful as it chills.
Serve on top of croissants or crackers.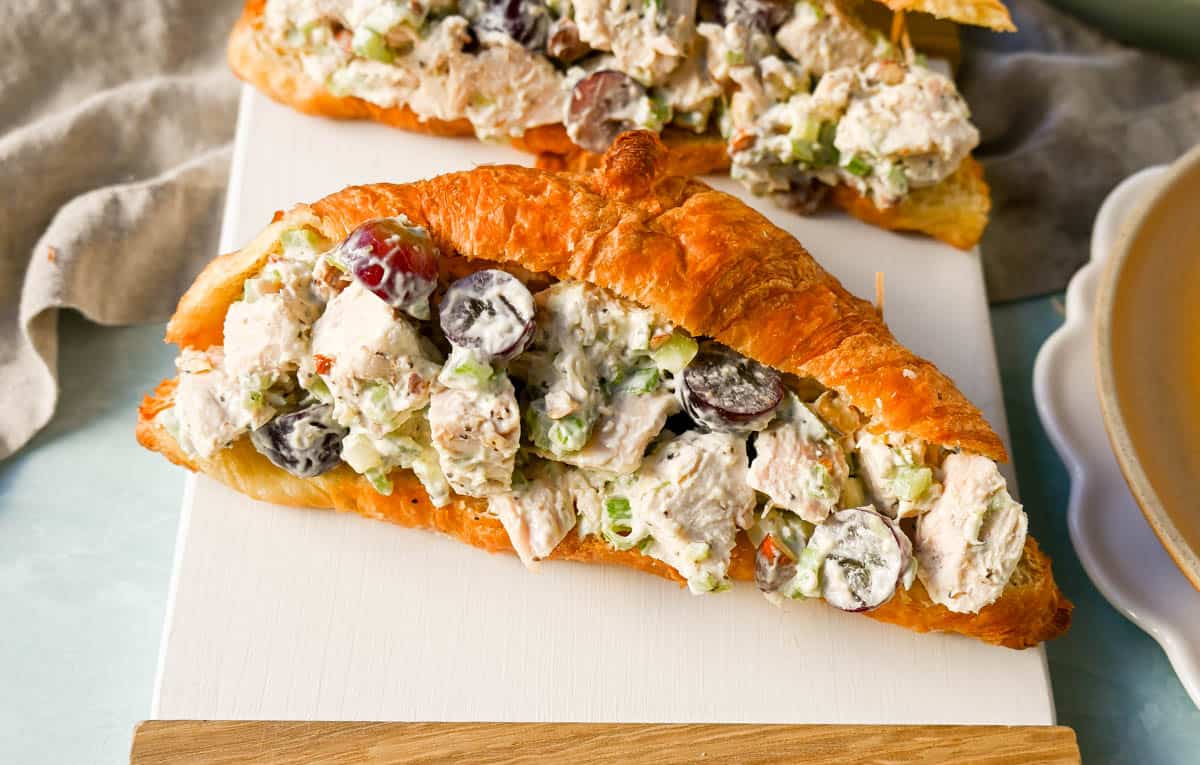 Substitutions
If you want to add some extra protein to this chicken salad recipe, you can substitute half of the mayonnaise with plain greek yogurt.
You can use any type of onion in this recipe. You can use green onions, red onion, or sweet yellow onions. I would suggest starting with only 2 Tablespoons and adding more to taste.
If you don't have fresh seedless grapes, you can use sweetened dried cranberries, also known as craisins. You may miss the crunchiness of the grapes but you will get the sweetness from the dried cranberries.
Storage
Chicken Salad can be stored in an air-tight container in the refrigerator for up to five days. The grapes may become softer after several days.
Top tip
Make sure the chicken is seasoned! You always want to layer flavors so don't just depend on the dressing to give the chicken flavor. If you are using poached shredded chicken, make sure to season well with salt.
Related
Looking for other recipes like this chicken salad? Try these: