Buffalo Chicken Sliders are made with tender shredded chicken tossed in buffalo sauce and ranch dressing and baked inside a soft garlic butter bun with melted mozzarella cheese. The buffalo wing chicken sliders are perfect for watching football!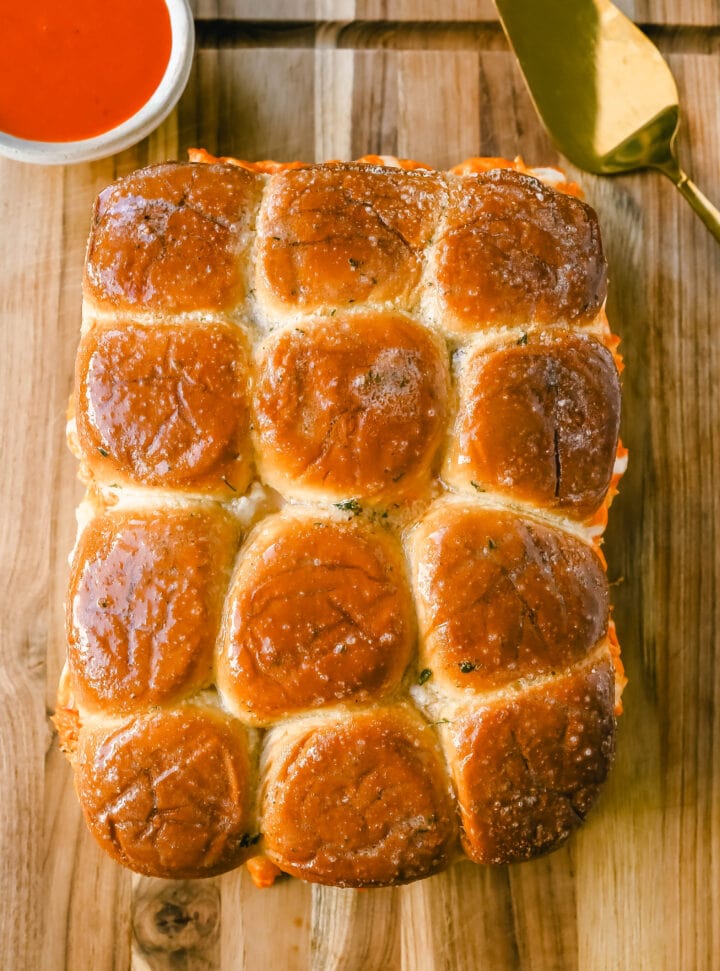 It's officially football season and we love to spend our Saturdays catching up on as many college football games as possible. We even landed in Nashville, Tennessee last Saturday for the very first time and we were racing to our hotel to be able to watch our favorite team play their first game. We are diehard sports fans!
We love to host friends and family to watch football together so I am always trying to find easy game-day recipes that everyone will love. Since my kids are obsessed with chicken wings, I decided to take the flavors of chicken wings and make them into a sandwich. These small buffalo chicken sliders on Hawaiian sweet rolls are super easy to eat while watching a game because they are handheld.
You are going to love the flavor of these Baked Buffalo Chicken Sliders! They have the perfect balance of tangy buffalo sauce paired with creamy and fresh Ranch dressing. The garlic butter rolls are to die for and just melt in your mouth.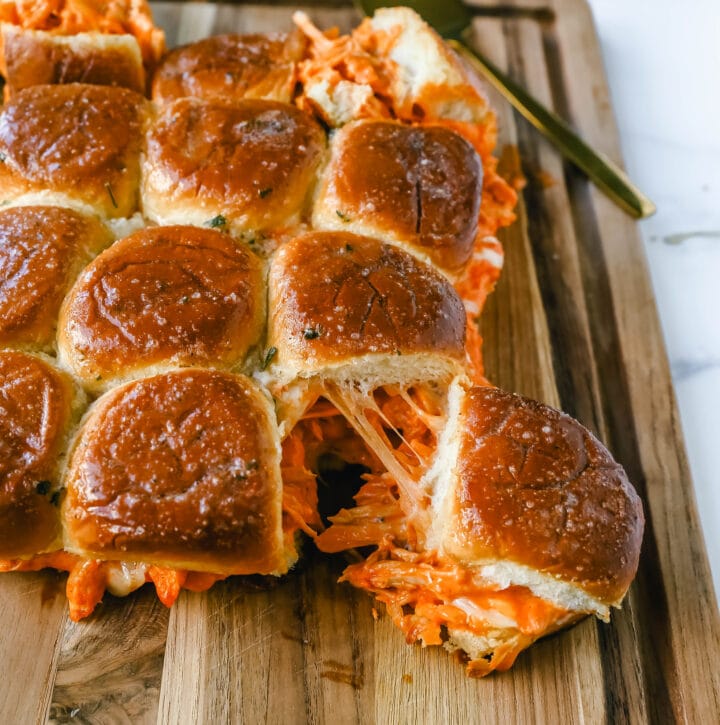 Buffalo Shredded Chicken Sliders Ingredients:
Shredded Chicken -- I suggest using rotisserie chicken because it is a time saver and already seasoned and flavored. You can use poached shredded chicken as well, just make sure to season it well with salt and pepper.
Hot Wing Buffalo Sauce -- this comes in a bottle at the grocery store and can be called hot wing or buffalo sauce
Ranch Dressing -- this adds a creamy richness and offsets the tangy flavor of the buffalo sauce
Mozzarella Cheese -- known for its meltiness in recipes. Can substitute any other type of white cheese such as Monterey jack or white cheddar cheese
12 Pack of soft Rolls -- I use King's Hawaiian sweet rolls that come in a 12-pack in this recipe
Butter -- use salted butter
Garlic -- can use finely minced garlic or garlic powder
Parsley -- fresh minced parsley or dried parsley flakes both work great in this recipe
I love to grab a rotisserie chicken at Costco because of how large they are for the price. You can't beat $4.99! Their rotisserie chickens are juicy and have a ton of flavor.
I prefer to buy a block of cheese and freshly grate it for this recipe. The cheese melts much better when freshly grated as it doesn't have any preservatives on it like packaged shredded cheese does (to keep it from sticking together).
I prefer to use refrigerated ranch dressing because of its quality of it but any brand will work in this recipe.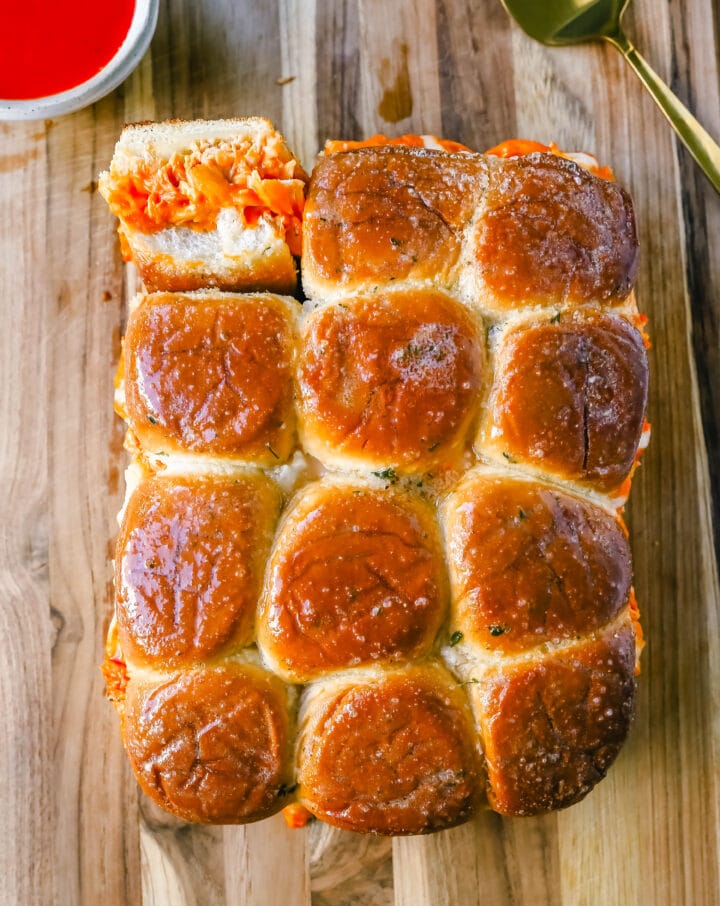 Instructions:
Line a 9 x 9 or 9 x 13 baking pan with aluminum foil and spray with cooking spray. This is an important step because the cheese will melt and can stick to the foil.
I suggest using King's Hawaiian sweet rolls. Use a long serrated knife to slice the rolls in half, lengthwise. Don't pull the rolls apart or individually slice them because you want the rolls to be completely connected. Place the bottom side of the rolls in the pan.
In a bowl, mix together shredded chicken, buffalo sauce, and ranch dressing.
Layer half of the cheese on the bottom of the rolls. This helps to keep the rolls from getting soggy.
Add buffalo chicken on top of the cheese. Sprinkle the remaining cheese all over the top of the buffalo chicken.
In a microwave-safe bowl, melt the butter. Stir in garlic and parsley and mix together.
Place the top half of the rolls on top of the buffalo chicken. Brush the butter mixture all over the rolls. Evenly spread it over the top and allow some of the butter mixture to drip to the base of the rolls.
Cover with aluminum foil and bake covered for about 20-25 minutes until the cheese is melted. Uncover the foil and bake for 3 to 5 minutes longer.
Serve hot!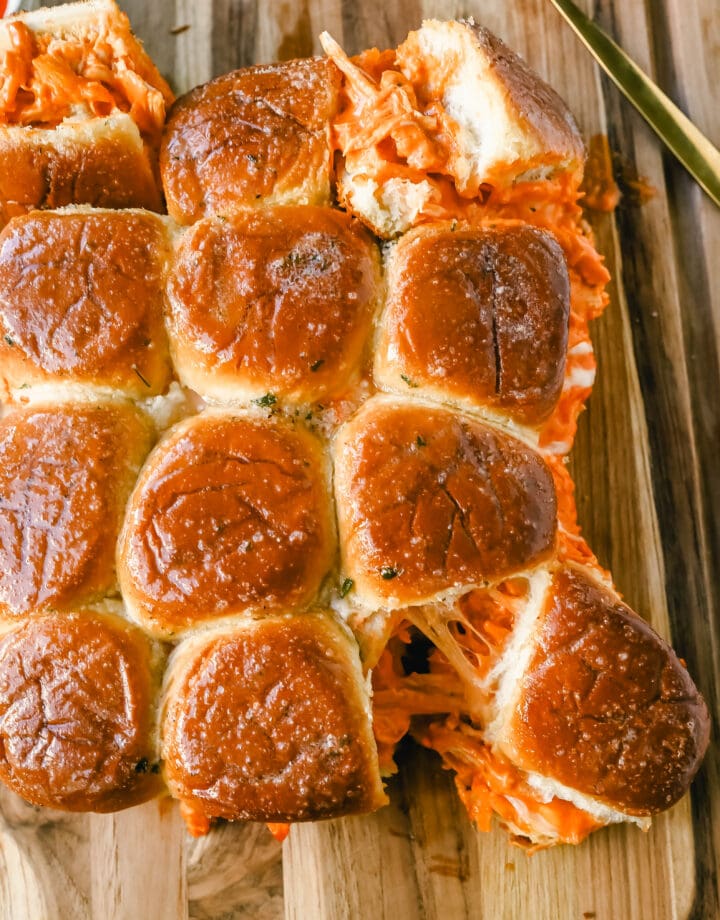 Popular Slider Recipes: