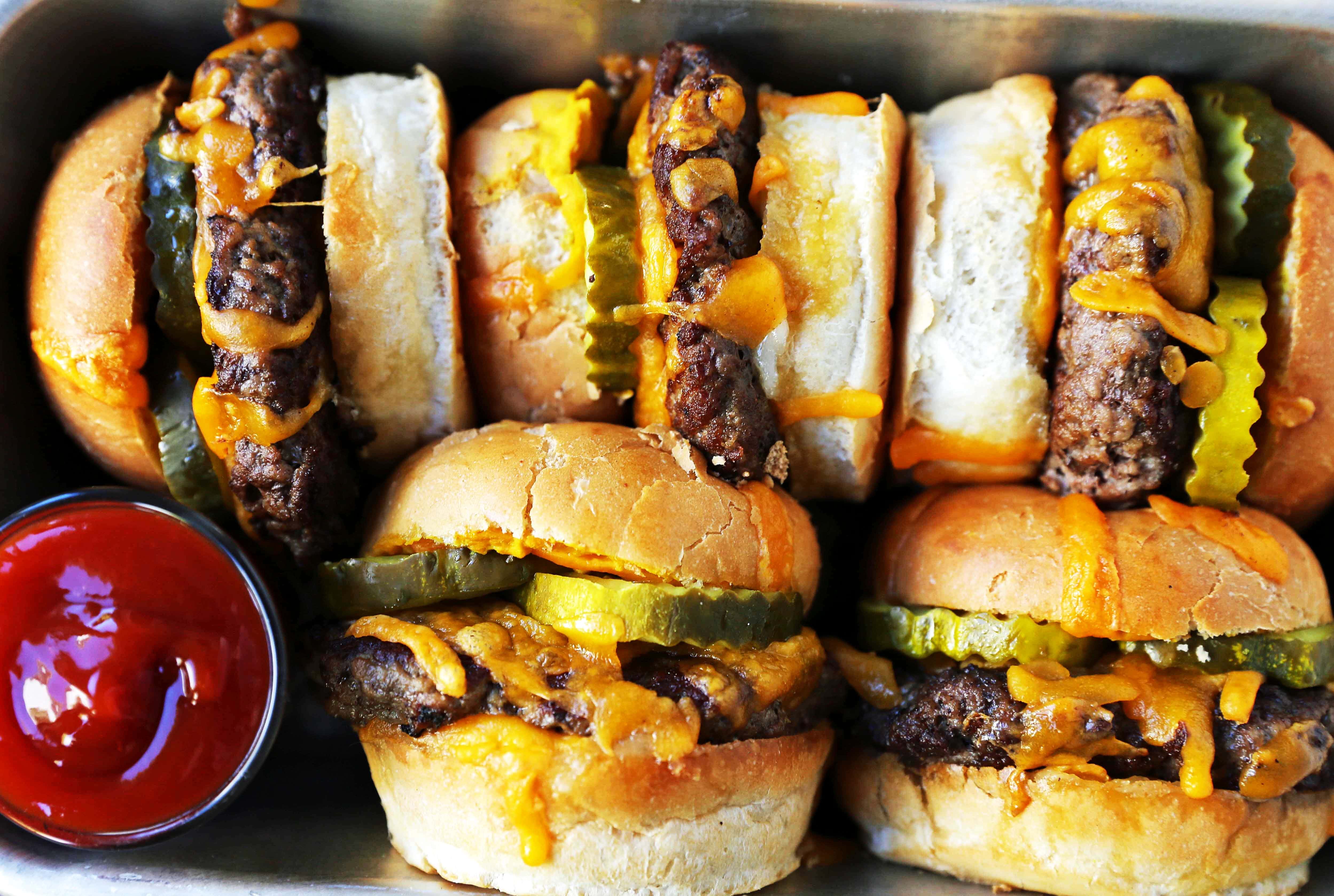 Cheeseburger Sliders
It's SUPER BOWL time! I love the week leading up to the Super Bowl as I plan out all of my sinfully delicious foods. This is the Sunday where counting calories are completely off limits. We are HUGE sports fans in our home so it is always a big deal. We are also equally HUGE food fans so that makes it a pretty special day!
One of my favorite things to serve is cheeseburger sliders since they are almost bite-size and guests don't have to commit to a full-on burger. They may want to eat everything in sight and not just one huge cheeseburger.
I am sharing some of my favorite tips for making the perfect sliders.  A good burger is all about perfecting the little things.  Here are some of my favorite tips and tricks for making the best cheeseburger sliders.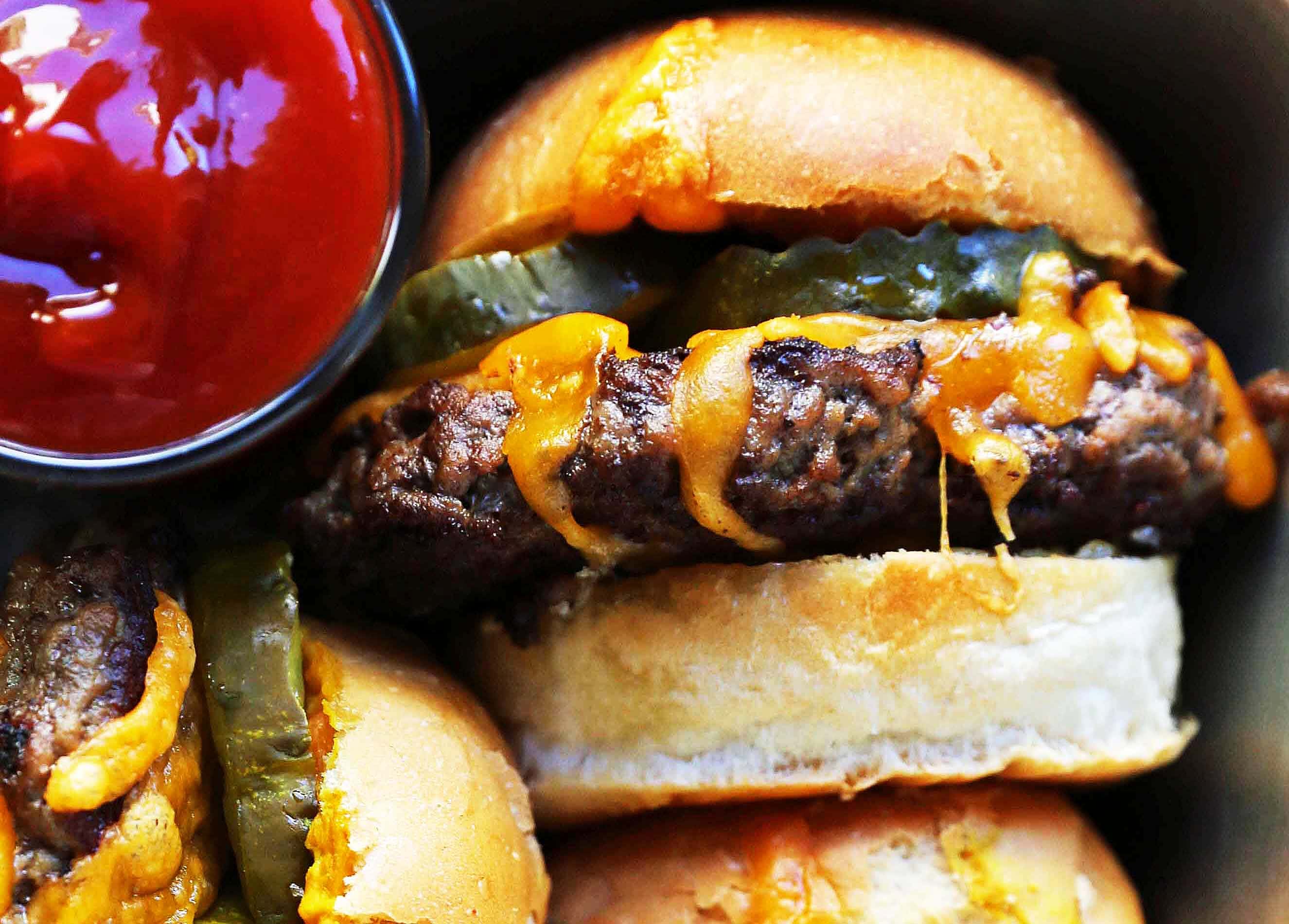 How to make the perfect cheeseburger sliders:
 Start with a high-quality 80% lean ground beef. This provides enough fat to make it juicy while still giving the meaty flavor.  If you use ground beef with less fat such as a 93% lean, you run the risk of having a dry burger. No one wants that!
Season, season, and season some more.  This is an important step as salt brings out the natural flavors of the meat and also helps to create a little crust on the outside.  Before placing on the grill (or in a hot skillet), season both sides of the burger.  I also love to use Lawry's seasoned salt.
Make a thumbprint in the middle of the patty.  This ensures the burger doesn't puff up in the middle and make an odd shape. It keeps it right where it should be -- in a perfectly round circle.
Grill for about 4 minutes per side, depending on how hot the grill is and what the desired outcome is. If you want it to be medium-well, cook for longer. Look for a crust to form on the outside before flipping the burger.
Choose your favorite cheese. I am all about the flavor so I reach for sharp cheddar cheese. Place on the burger with about 1 minute of cooking time left. The cheese should be melted before removing from the grill.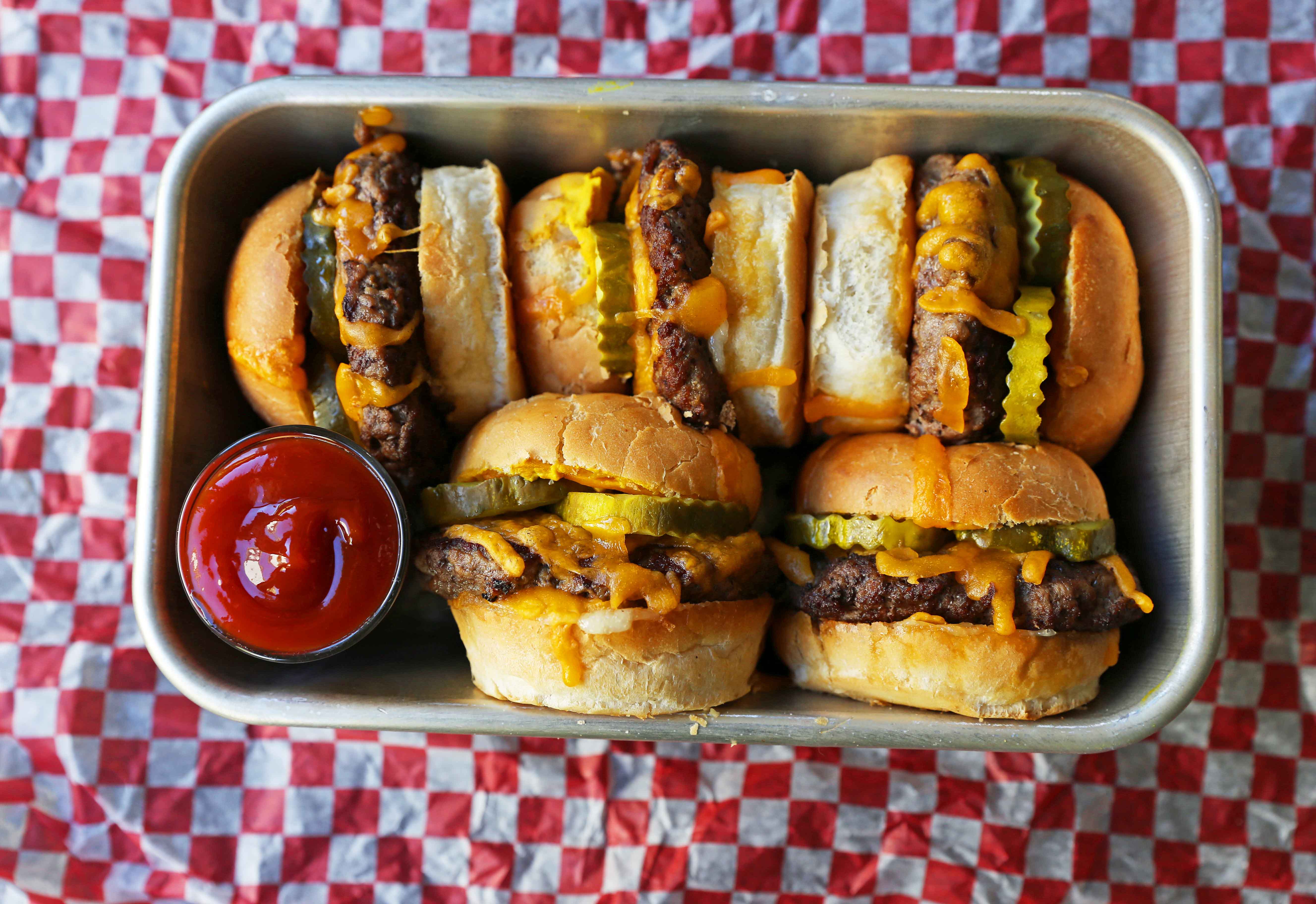 The perfect BURGER SAUCE:
Choices, choices, choices! Trying to figure out what condiments to place on your burger is an individual choice so I am going to share some of our favorites.
KETCHUP + MUSTARD + MAYO = the Classics. You can't go wrong with this famous burger condiment combo.
BURGER SAUCE = KETCHUP + MUSTARD + MAYO + PAPRIKA + GARLIC POWDER + CAYENNE PEPPER + optional diced Pickles
CHIPOTLE MAYO = MAYO + CHIPOTLES CHILIES in ADOBO SAUCE + FRESH LIME JUICE
IN-N-OUT COPYCAT SPREAD = KETCHUP + MAYO + PICKLE RELISH + SUGAR + VINEGAR (recipe below)
FRY SAUCE = MAYO + KETCHUP + PICKLE JUICE + ONION POWDER. A Utah classic!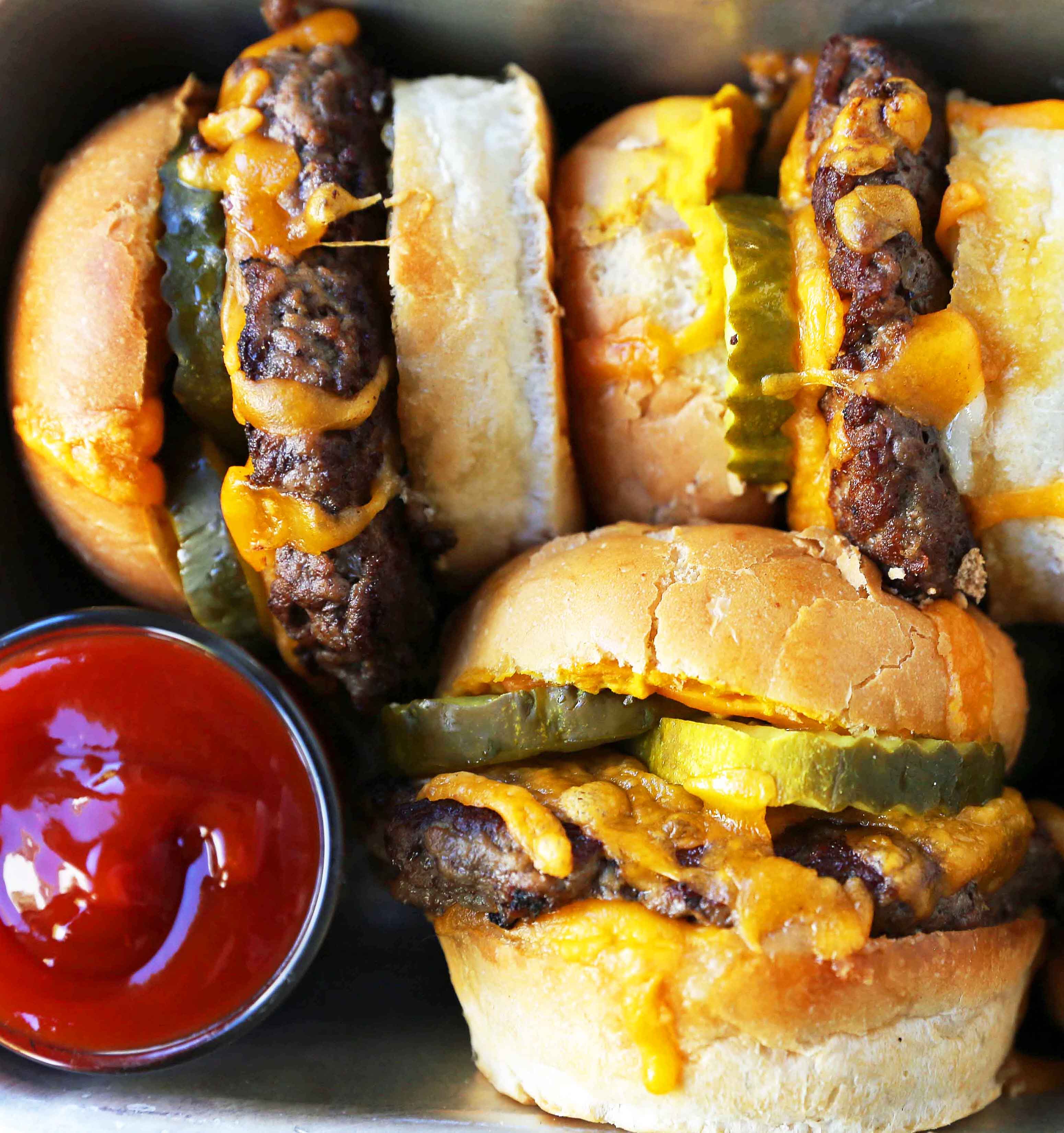 What type of buns to use for sliders?
Since sliders are smaller hamburgers, there are many choices at the grocery store.  You can use a sweet Hawaiian roll, which is known for being super soft. You can also check out the bakery to see what types of rolls they offer.  Some bakeries even sell slider rolls specifically for cheeseburger sliders. Also, check the bread aisle to see what they offer.
More SUPER BOWL RECIPES:
Jalapeno Popper Dip
Authentic Guacamole
Chuy's Copycat Cilantro Jalapeno Dip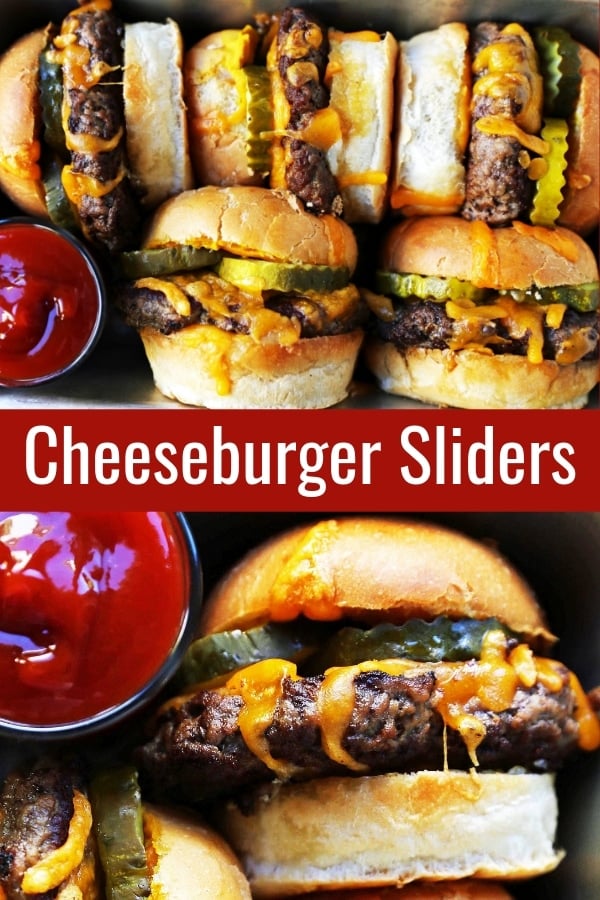 I love to hear from you! If you make this recipe, please be sure to leave a comment and give this recipe a rating. Sign up for my newsletter below so you never miss a recipe. Thank you for following along! I truly do have the greatest readers. FOLLOW ME ON:   INSTAGRAM --- FACEBOOK --- PINTEREST