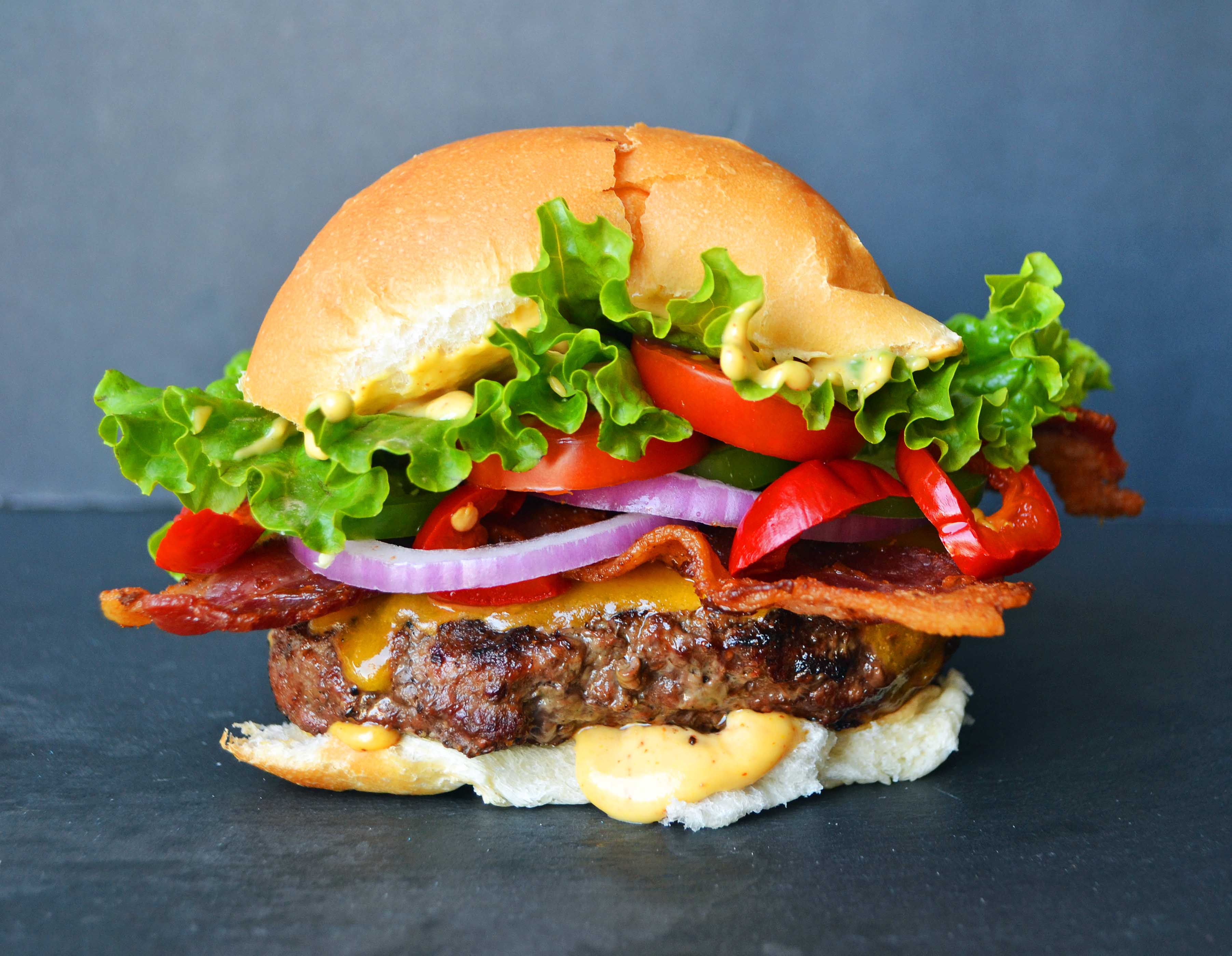 Bacon Jalapeno Cheddar Burger with Secret Burger Sauce
The Ultimate Burger is made with seasoned ground chuck, crispy bacon, cherry peppers, jalapenos, thick tomato, green leaf lettuce, red onion, and a special burger sauce.
Once upon a time, there was a burger that knocked my husband's socks off. My clean freak husband had sauce dripping from his face and his hands and the amazing part is...he didn't even care! He was salivating over every single bite of this Spicy Arizona Bombshell Burger. Without a doubt, we will be firing up the grill for Memorial Day and these culinary superstars are on the menu.
Here in Arizona, we take our burgers very seriously and spicy reigns supreme. If you've been to Shake Shack, they are famous for the Smoke Stack Burgers topped with sweet cherry peppers...I fell in love with it and never looked back. This Bacon Jalapeno Burger aka The Arizona Bombshell Burger puts them all to shame.
The Bacon Jalapeno Cheddar Burger starts off with high-quality beef, seasoned to perfection. We keep it simple with Lawry's Seasoned Salt and Pepper generously sprinkled on both sides. The key is to make the patties wider than the bun because the meat shrinks as it cooks. Bobby Flay taught me to always place a small indention with my thumb in the center of the beef so that it doesn't puff up in the middle. Thank you, Bobby!
Burger Sauce:
The MJ Special Secret Burger sauce is made with super simple ingredients and spices. It's a combination of everyone's favorite burger condiments - ketchup, mayo, and mustard and seasoned with paprika, garlic, and cayenne. If you are a pickle lover, chop up dill pickle slices and add it to the sauce. Oh man, it's good.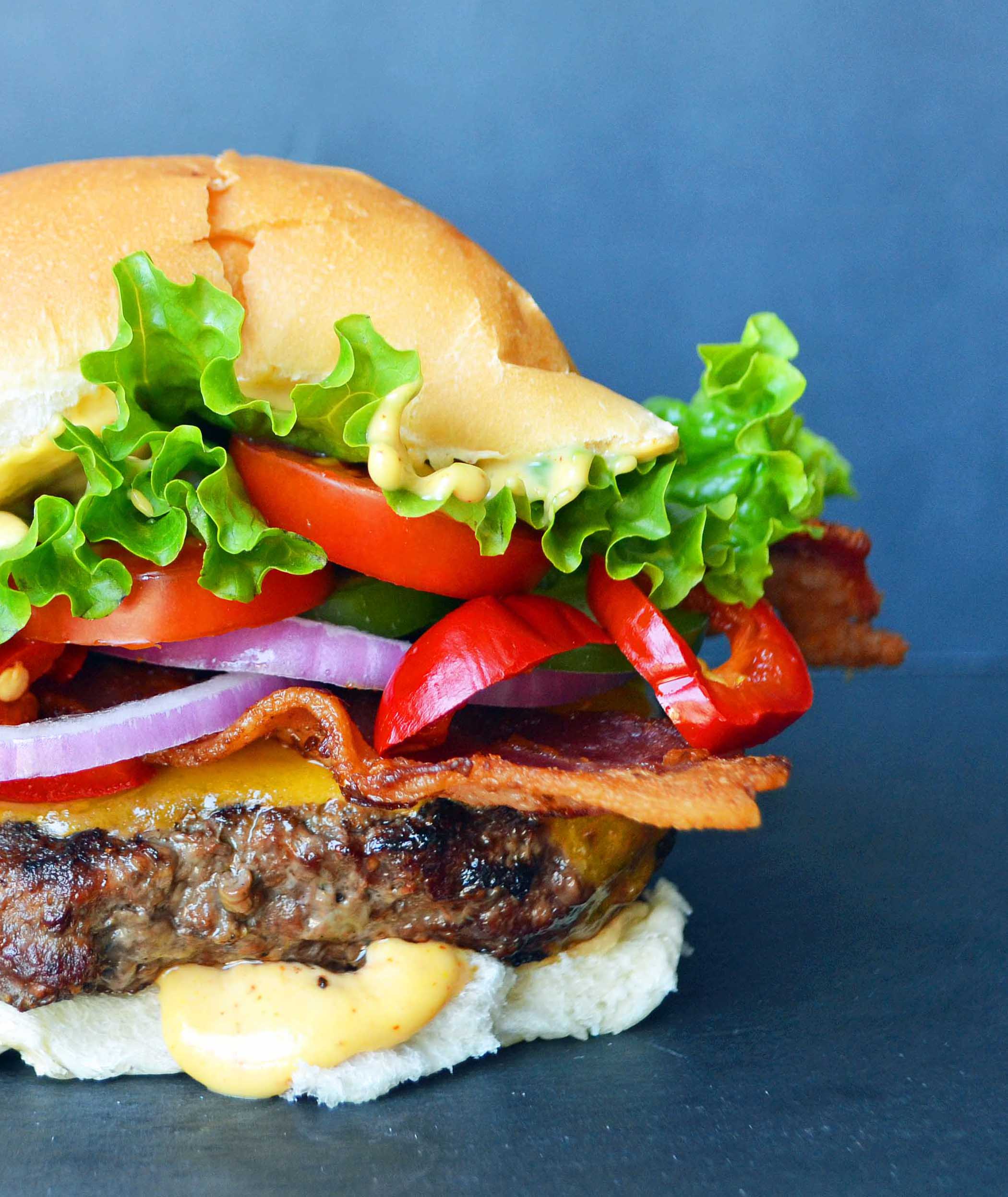 Adding spice to the Bacon Jalapeno Cheddar Burger is a must. You can use fresh or sliced from the jar jalapenos to top your burger. Fresh jalapenos are definitely spicier than the jarred ones, but pack in the flavor punch. If you are afraid of it being too spicy, remove the center ribbing and seeds from the jalapeno and you will still have incredible flavor. Sweet Cherry Peppers are the perfect spicy sweet combo that puts this Bacon Burger over the top.
To make this Cheddar Bacon Burger, we grabbed a few fresh tomatoes from our garden (I finally have a garden! Thank you, Dean) and crisp green leaf lettuce. The freshness of the tomato and lettuce balance out the richness of the meat and spiciness of the peppers.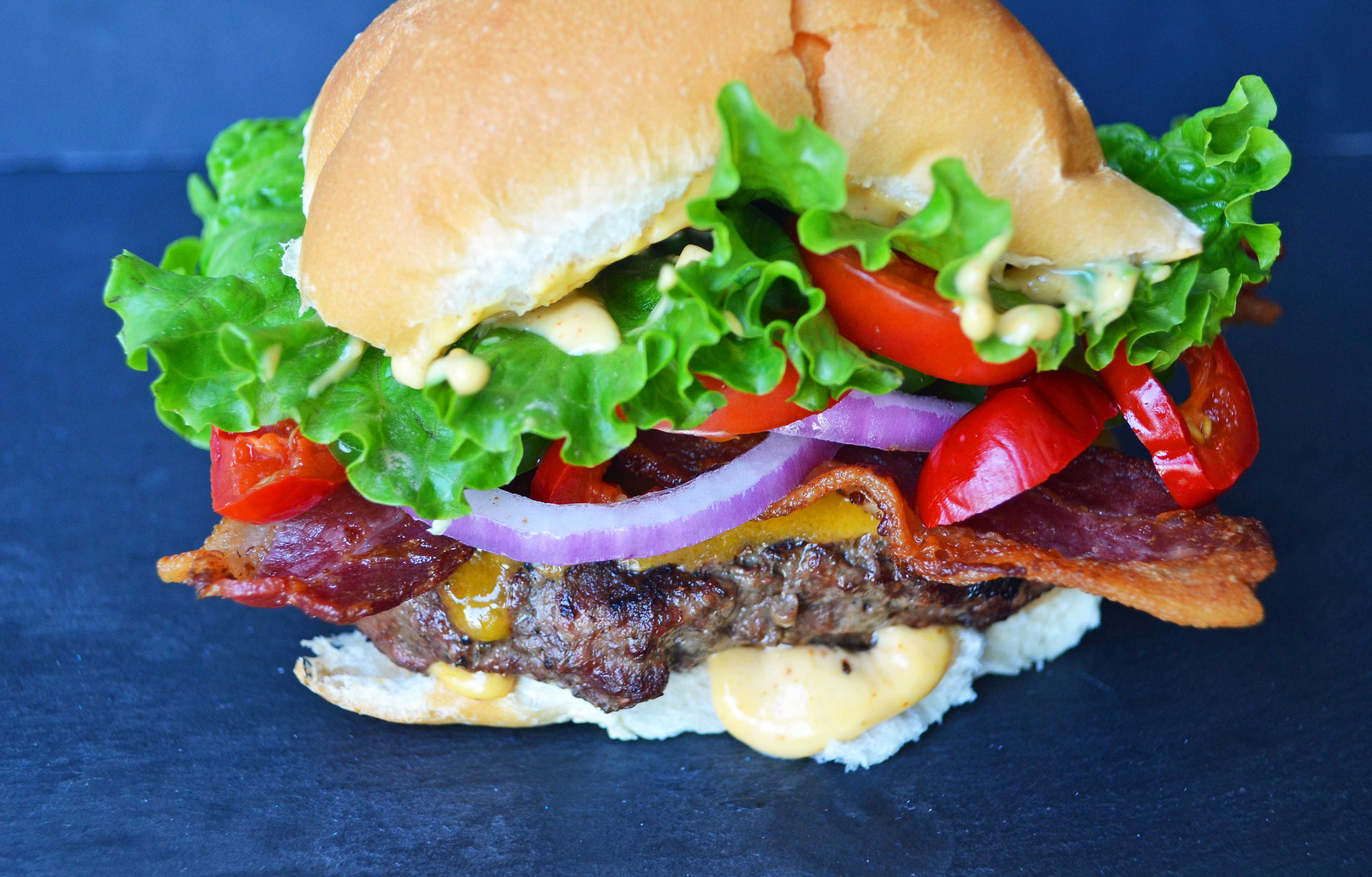 If you are looking for more incredible BURGER recipes, click the links below:
Dragonslayer Burger 
Sweet + Spicy Hawaiian Burger
Brie Burger with Caramelized Onions + Sundried Tomatoes
Big Boss Burger
Happy Memorial Day, my friends! I hope that you enjoy some ridiculously good food, great company, and some relaxing pool time today as we remember those who have courageously fought for our country. xoxo