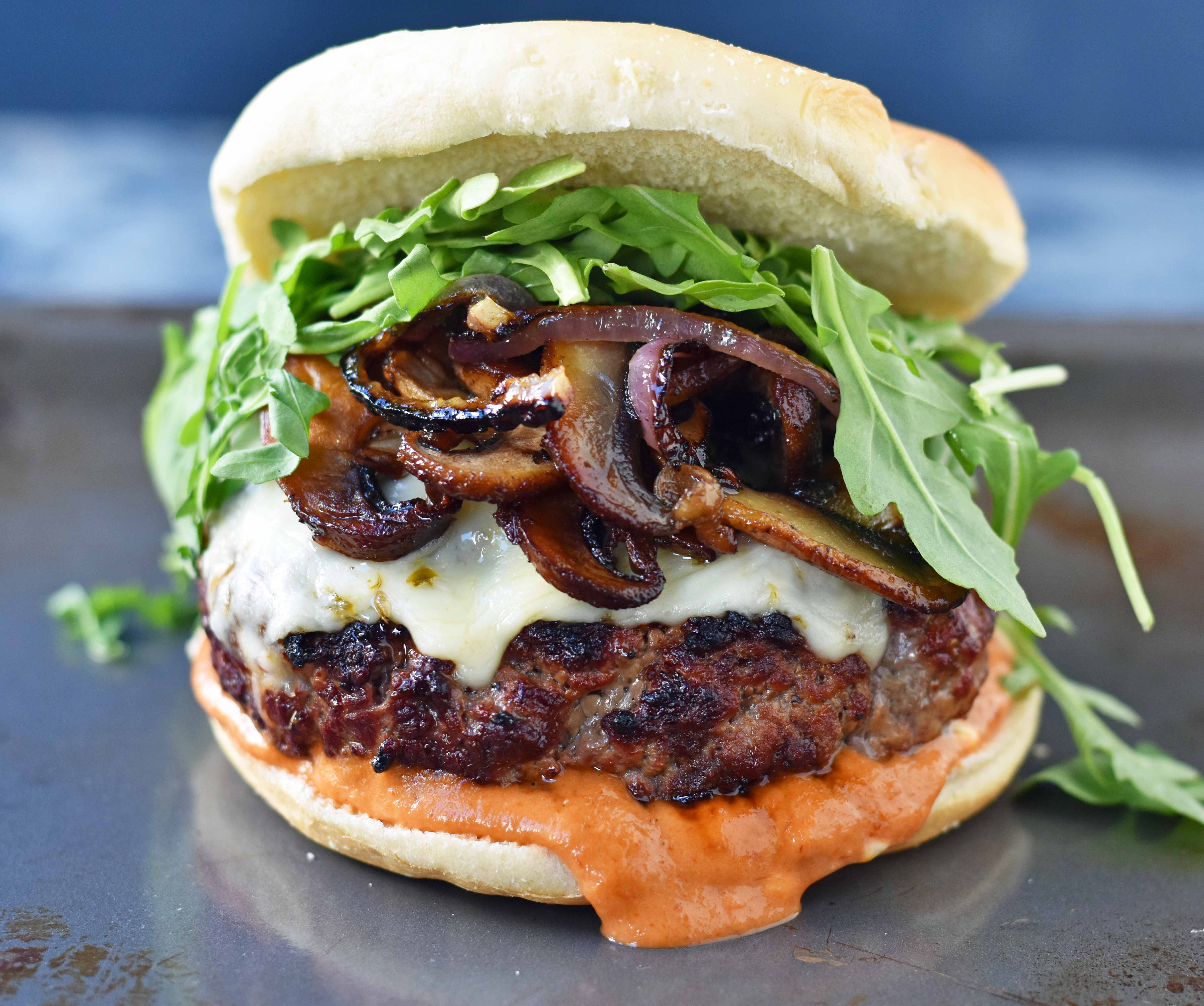 It's Labor Day Weekend! This means that it is the end of summer for almost everyone else around the nation but sadly for us in Arizona, our summer doesn't end until....about November! We are heading to California for a quick weekend trip and I am already figuring out how we are going to do a BBQ on the beach. I am pretty sure that eating a burger on Labor Day is essential.
I am bringing you one heck of a burger today -- The Big Boss Burger. Oh man is this one good.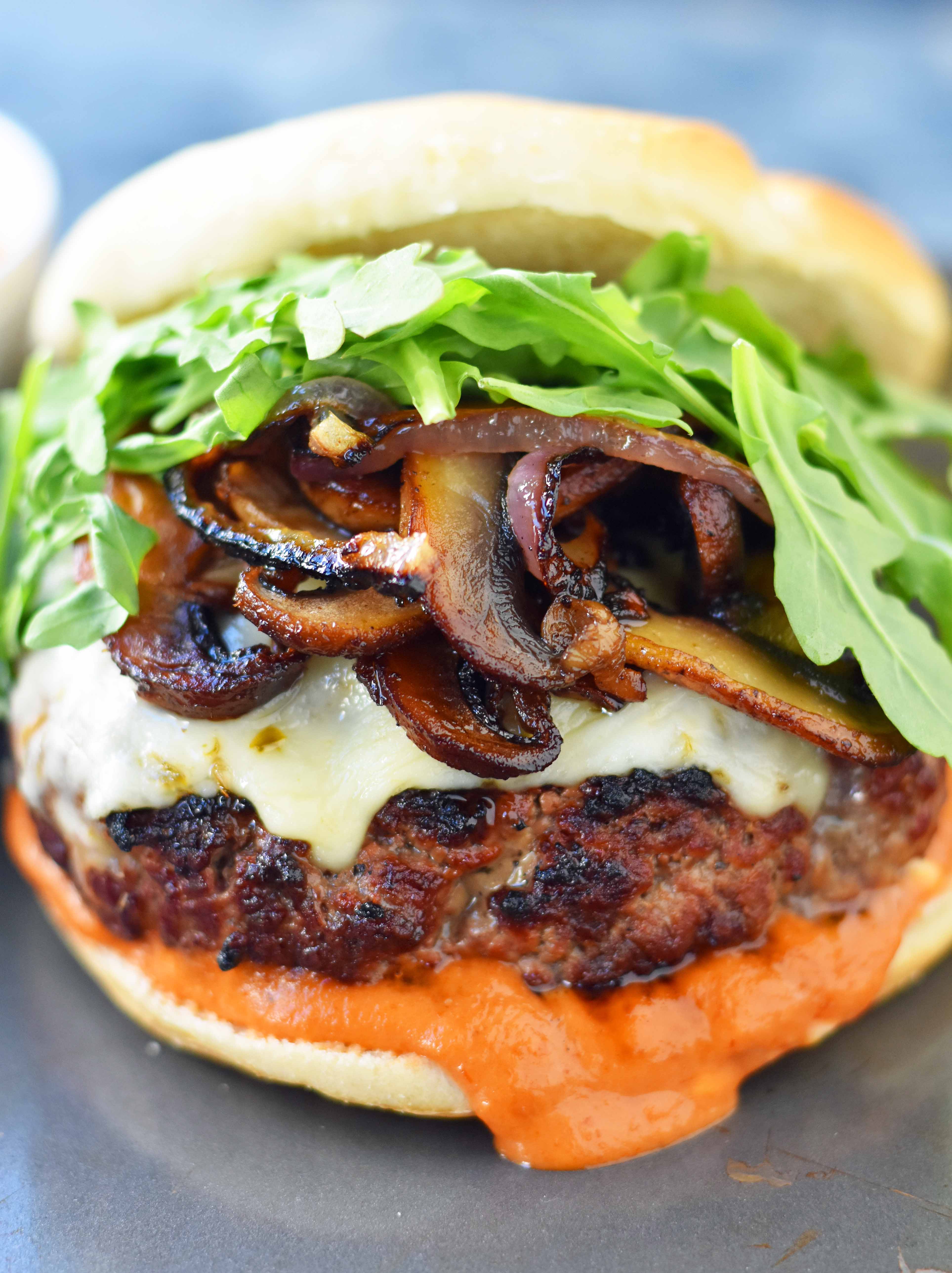 The Big Boss Burger starts off with ground beef seasoned to perfection and cooked on the grill until nice and juicy. The burger is topped with creamy melted pepper jack cheese. Then it is topped with buttery, crispy mushrooms and sauteed onions. The star of the show is the Sriracha Sun dried Tomato aioli.  It gives this cheeseburger so much fresh and spicy flavor!
I recently discovered a ketchup that puts all others to shame. I am what you could call a "ketchup snob." They aren't all created equal, believe me.  I found a sweet and spicy ketchup, called Traina Sriracha Sun Dried Tomato Ketchup. The bold flavor-blend combines their home grown California Sun Dried Tomatoes with Sriracha chili for a spicy tangy flavor. It provides just the right amount of 'kick' and is so phenomenal of the Big Boss Burger.
This Sriracha Sun Dried Tomato Ketchup packs in the equivalent of over four pounds of fresh Roma tomatoes in every bottle! That is seriously amazing. I loved to read their story about how Traina foods started. Their story began when their grandparents, Joe and Maria Traina immigrated from Italy to the orchards of the Santa Clara Valley, bringing the Southern Italian tradition of sun drying fruit to give them a rich, intense flavor. The family moved to a ranch in California's San Joaquin Valley— the "Apricot Capital of the World" — and in 1926 they began drying and selling fruit. They sure know what they are doing!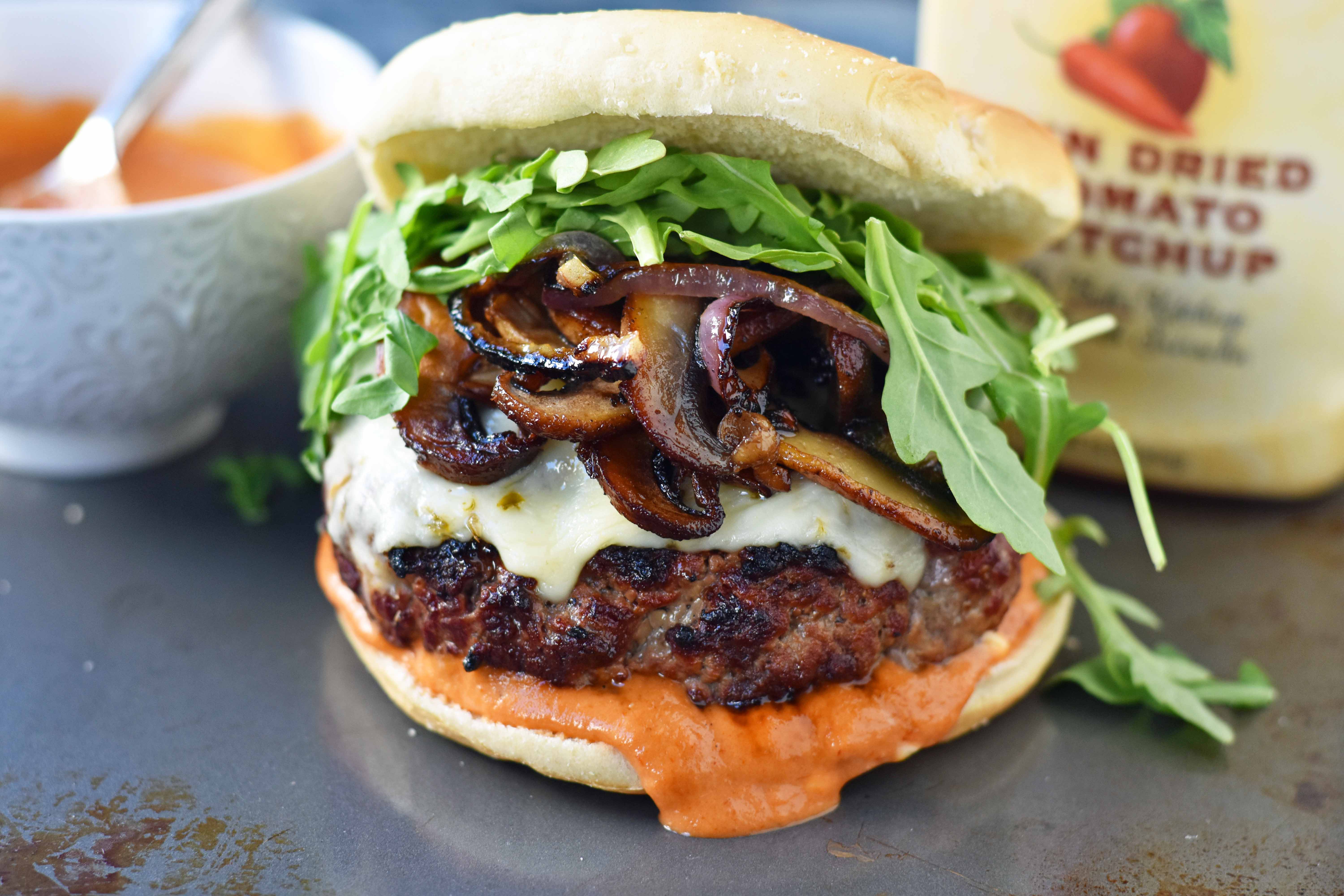 I mix their famous Sriracha Sun Dried Tomato Ketchup with a touch of mayonnaise for a killer sun dried tomato aioli. I was so surprised to find out how reasonably priced it is since it is a gourmet ketchup. You can buy it online for $3.99 per bottle or in a package of 6 for a little over $3 per bottle. You can buy it HERE. Wow! It pairs so perfectly with the sauteed mushrooms and onions.
Years ago when we were living in Texas, we had one of our dear family friends from Arizona come stay with us. She has 6 kids and with my 4 kids, we had 10 kids to feed. We decided that we were going to feed them cheeseburgers but she wanted to gourmet them up.  She bought onions and mushrooms and taught me the art of buttered, crispy mushrooms. The key is a lot of butter and cooking the mushrooms long enough to get them a little crispy.  Since some people are weary of the texture of the mushrooms, this is a huge game changer. I could eat the whole pan! I will be sharing what Heidi does and why it makes such a difference in the Big Boss Burger.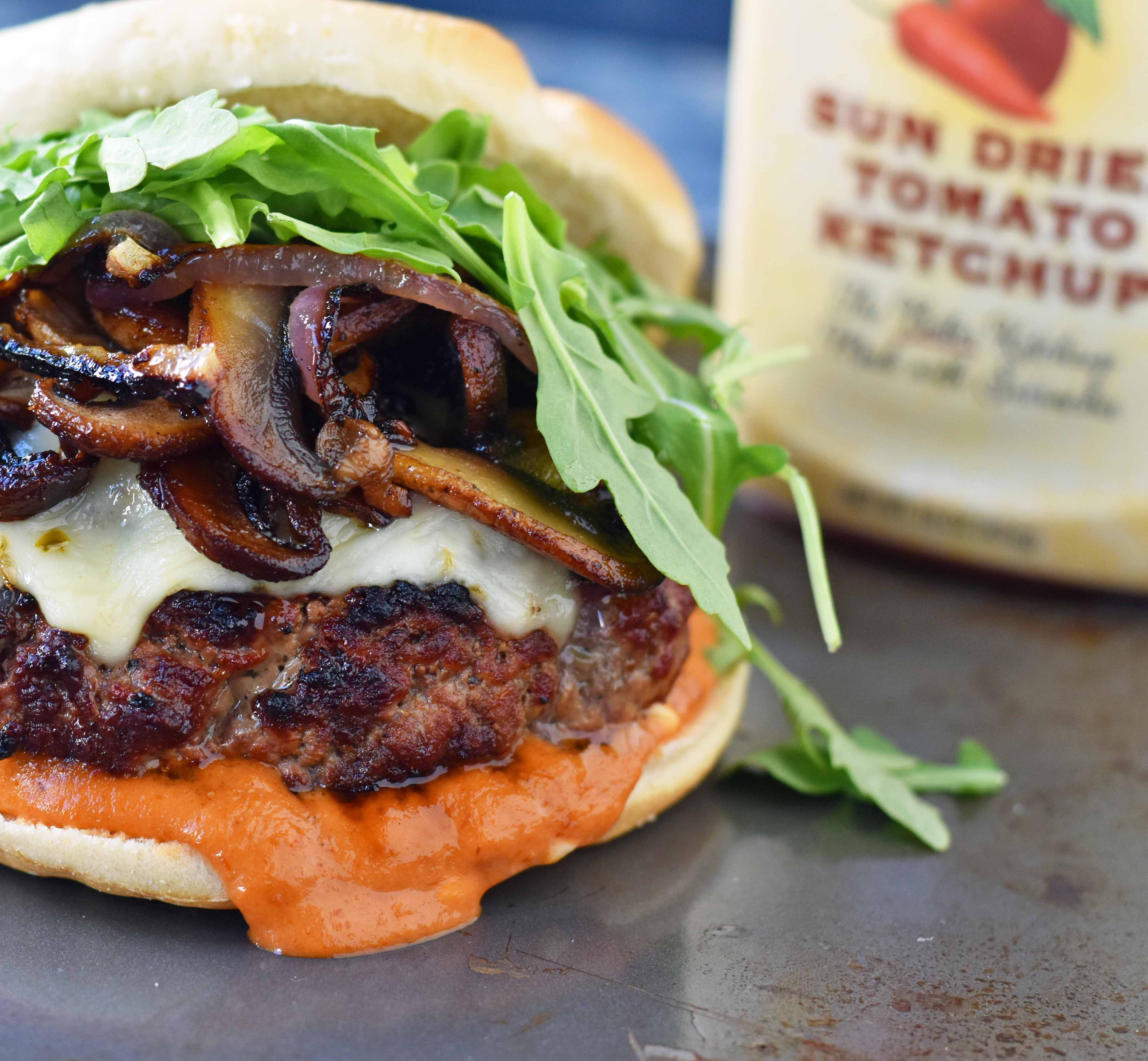 What are your big plans for Labor Day? If you make this Big Boss Burger, I want to hear all about it! #ad