Classic All-American Cheeseburger with Cheddar Cheese and topped with burger sauce, lettuce, tomatoes, and onion. How to make the best homemade grilled cheeseburger...just like the In-N-Out Double-Double!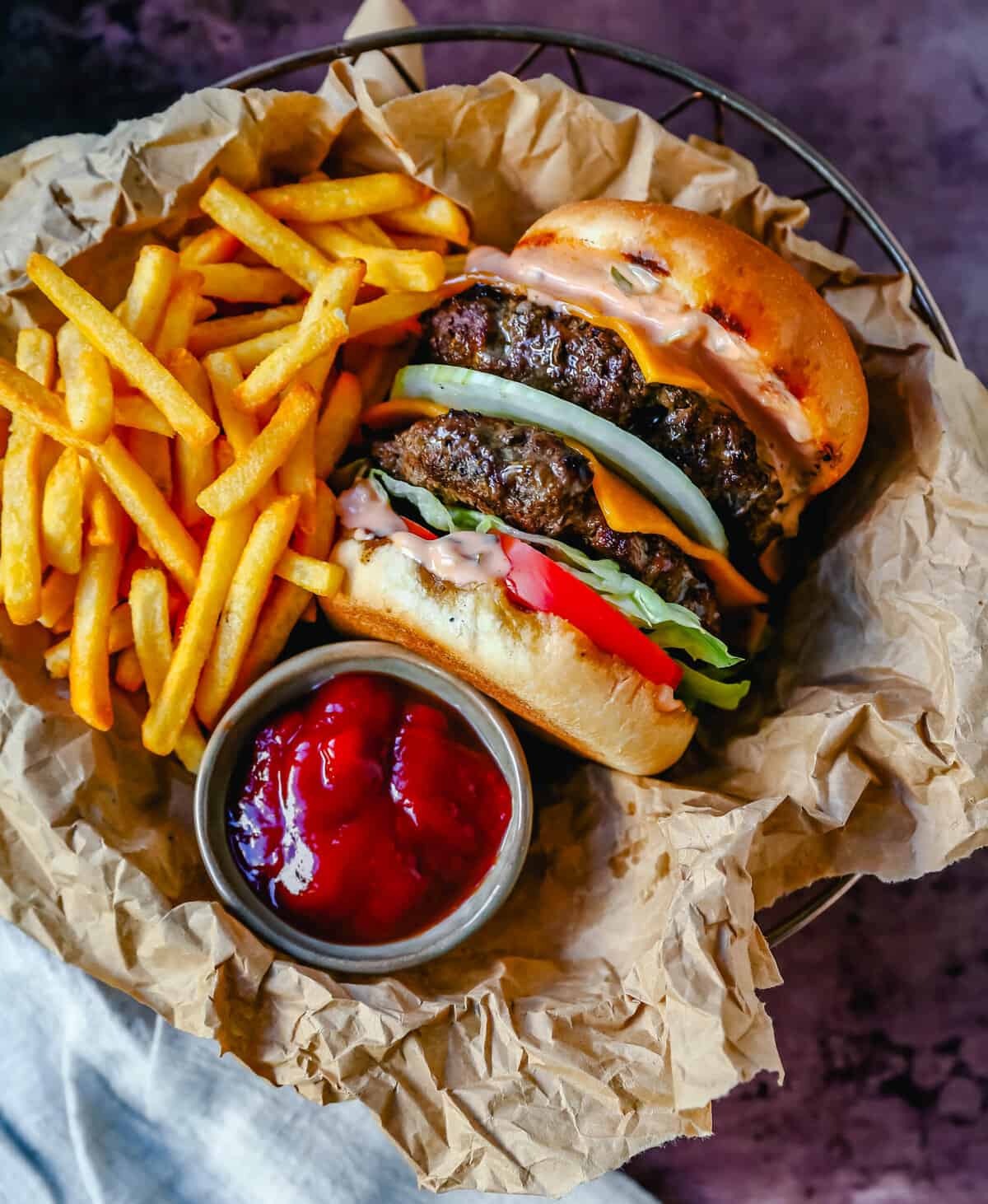 It's almost Memorial Day which is the official kick-off to summer. My kids are finishing up school in two days and we are ready for some lazy summer days spent by the pool and grilling up a storm. We are big burger fans in our home and love experimenting with all types of burgers and toppings.
I am sharing all of the tips and tricks I have learned and studied over the years on how to make the best cheeseburgers at home. It is so much simpler than you think!
I wanted to create a Double-Double Cheeseburger like you find at In-N-Out Burger, but with thicker patties (since I never think there is enough beef on their cheeseburgers). My family goes crazy over these double cheeseburgers! Serve them with air fryer french fries and some homemade burger spread and you are good to go.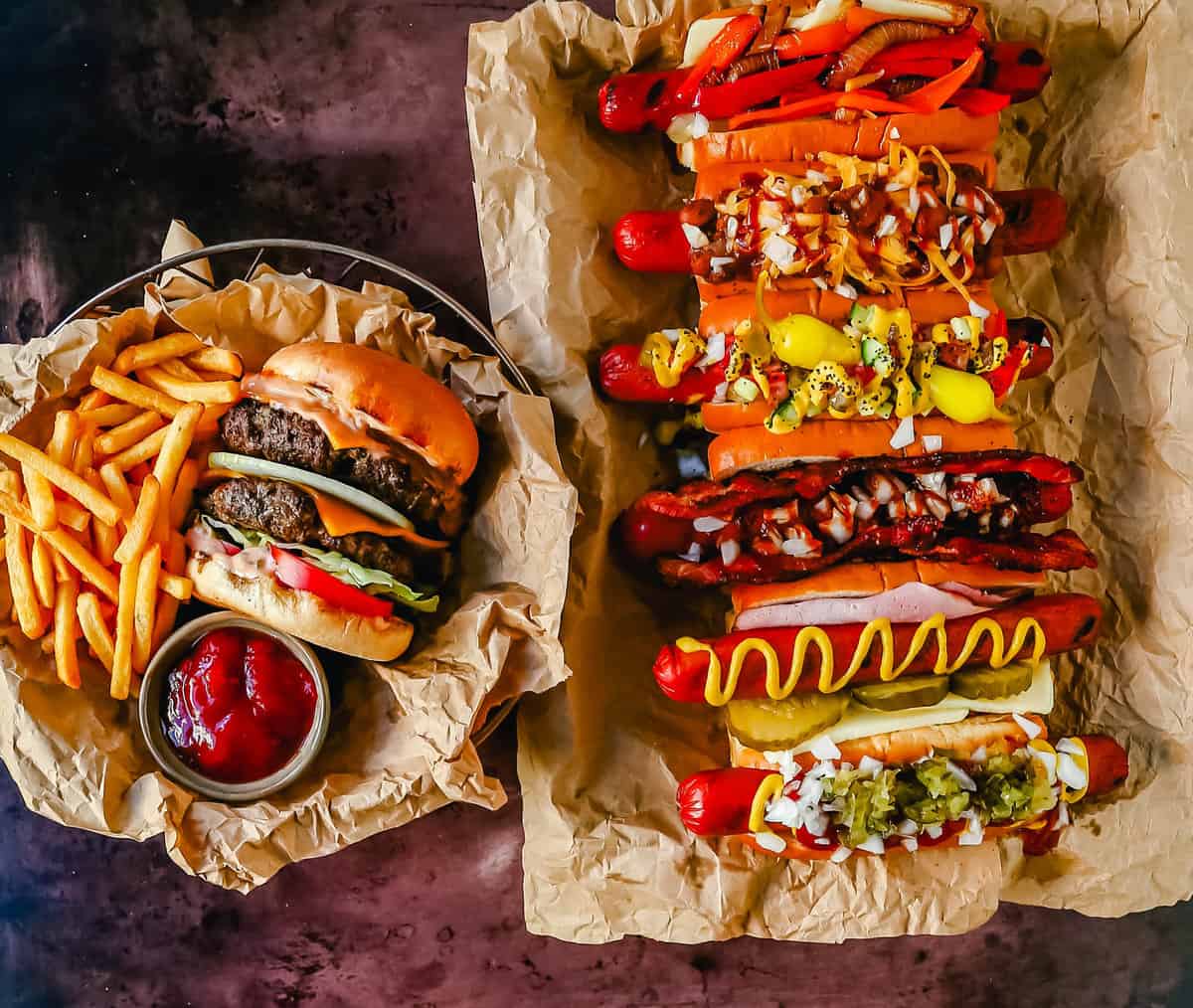 What type of Beef should you use in cheeseburgers?
It is important to choose the right type of beef to make the perfect cheeseburger. My suggestion is to go with 80/20 ground beef which means 80% lean and 20% fat. This is the perfect ratio to ensure a juicy burger. If you go with a lower fat ground beef, you will end up with a drier cheeseburger.
Another suggestion is to order from the butcher counter at your local grocery store or Iocal butcher. This just ensures you are getting the freshest beef possible.
Tips on how to make grilled cheeseburgers at home:
To ensure your grilled cheeseburgers have the perfect texture -- DON'T OVERHANDLE the BEEF. Don't compress the beef too tight...as a looser patty retains juices better which means a juicier burger. In a book called, The Food Lab, he stated, "working the meat unduly will cause proteins to cross-link with each other like tiny strips of Velcro, making your finished burgers denser and tighter with every manhandling of the beef."
A Cheeseburger isn't meatloaf! Forget the fillers -- the onions, the bread crumbs, the herbs. Keep it simple! You want the beef to be the star ingredient and that means just simple salt and pepper will do the trick. I remember watching Bobby Flay years ago, who is such an iconic grill master, say this over and over again. "Do sprinkle the outside of the burger liberally with salt and pepper. But do not season the meat mixture itself or add herbs, onions, or garlic to it.
Season well but don't salt and pepper the ground beef until the burger patties are formed. You want that coveted crust on the exterior of the burger and salt helps to create that. Sprinkle the salt on right before putting the beef on the grill.
HEAT the GRILL on HIGH HEAT. You want the grill to be hot to maximize the crust formation on the burger and to brown the exterior. But how do you know when the burger is done? Let me share a temperature guide to know when your burger is cooked to your own personal perfection.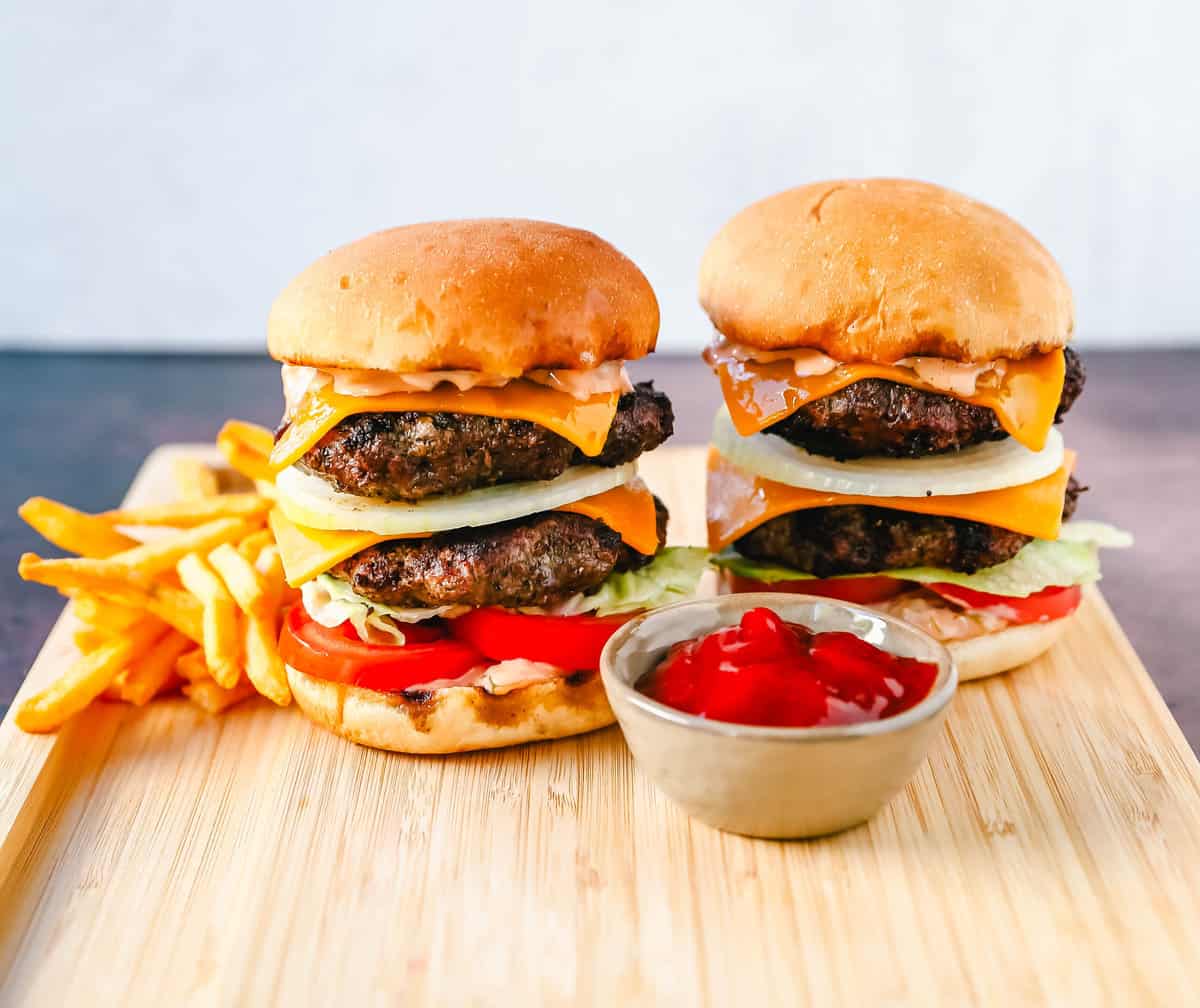 BURGER COOKING TEMPERATURE GUIDE (source: The Food Lab):
120 degrees F and below -- RARE (red/raw in the center)
130 degrees F -- MEDIUM-RARE (pink and warm)
140 degrees F -- MEDIUM (totally pink, starting to dry out)
150 degrees F -- MEDIUM-WELL (grayish pink, much drier)
160 degrees F and above -- WELL-DONE (completely gray, very little moisture)
I suggest using a digital meat thermometer for exact accuracy.
What toppings to put on a Cheeseburger:
Cheese -- many people love American cheese because it melts so beautifully but my personal fave is a medium or sharp Cheddar cheese or Pepper Jack for a bit of spice.
Lettuce -- I suggest green leaf for a beautiful pop of green or iceberg lettuce for the crispness.
Tomatoes -- a thick, juicy tomato brings all of the freshness. Sprinkle with a touch of salt to bring out the flavors of the tomato.
Pickles -- you either love them or hate them but they bring some tang and crunchy texture to a burger.
Red Onion -- this is where things can get tricky. You don't want to overpower your burger with onion flavor so I like to add just a few rings instead of an entire slice of onion. I also prefer using a red or sweet onion because they are milder in flavor.
Bacon -- do you want to elevate your burger? It is as simple as crisping up some bacon and adding it to your burger. It just puts it over the top!
Roasted Jalapenos -- you want to add a little spice to your burger? I love slicing up some jalapenos and cooking them at 400 degrees for about 8-10 minutes.
Avocado -- this just adds such a creaminess to the burger that compliments bacon and tomato so well.
Ketchup -- this is a must on a burger. It complements the beef perfectly!
Mustard -- it is the tanginess for me. Mustard has an incredible flavor pay-off on a burger.
Mayonnaise -- this may be debatable because some people can't eat a burger without it. It depends on personal preference.
Burger Sauce -- this burger spread is famous at In-N-Out Burger. It is made with ketchup, mayonnaise, sweet pickle relish, sugar, and a touch of white vinegar.