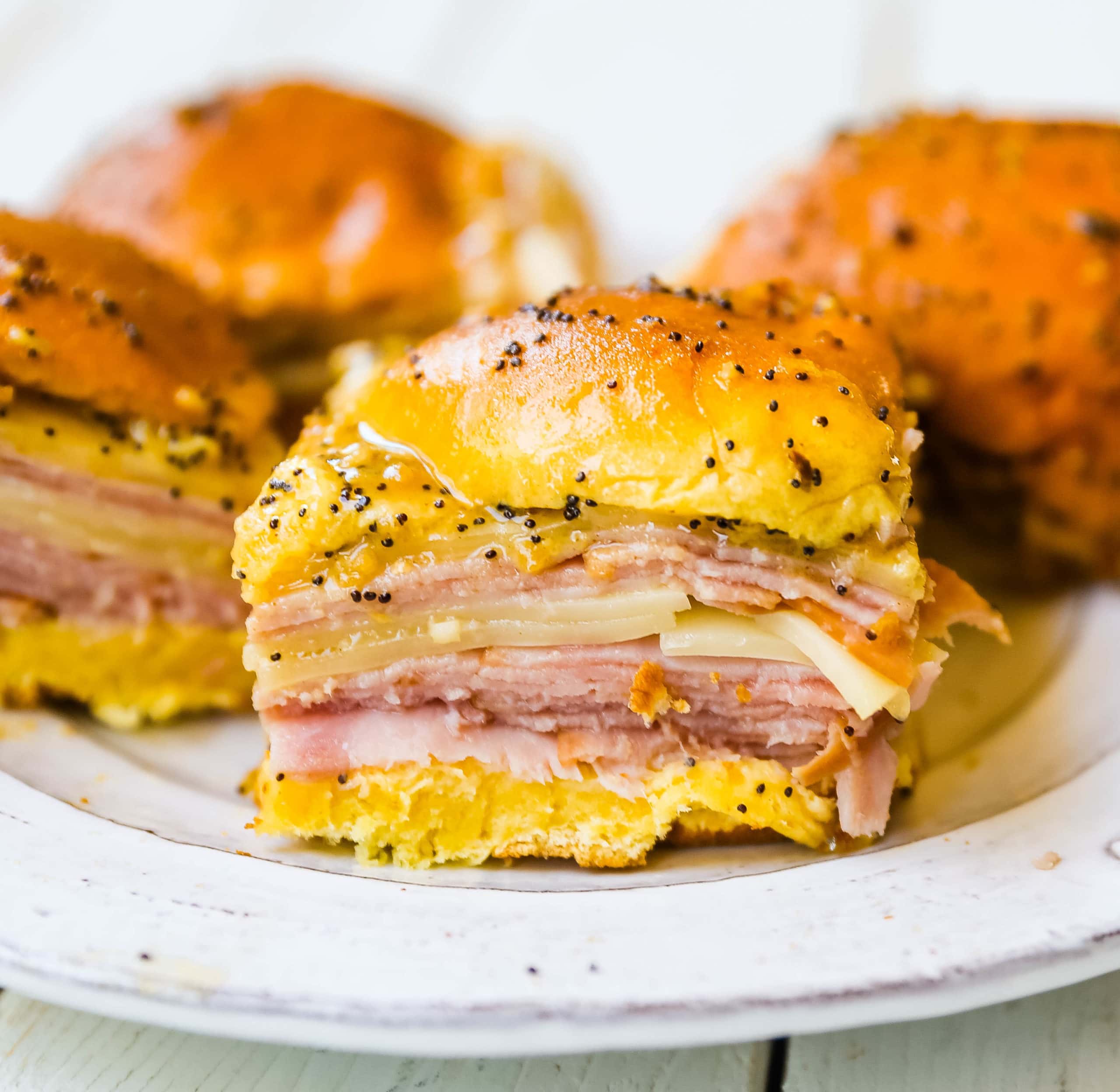 Ham and Cheese Sliders
These baked ham and cheese sliders and layered with ham, melted cheese, on a Hawaiian sweet roll, and basted with a flavorful, buttery sauce.
This is a classic recipe that everyone needs to have in their kitchen. I found this recipe in one of my Mom's church cookbooks and it is one of my go-to recipes when I am feeding a crowd (or just my family). It is such an easy way to make a lot of baked ham and cheese sandwiches at once!
Since my kids are home for the summer, I am making more lunches than dinners these days. These Baked Ham and Swiss Sliders are what they asked for all of the time. The flavor is out-of-this-world and the salty ham and creamy melted cheese paired with the buttery sauce and you have a winning combination!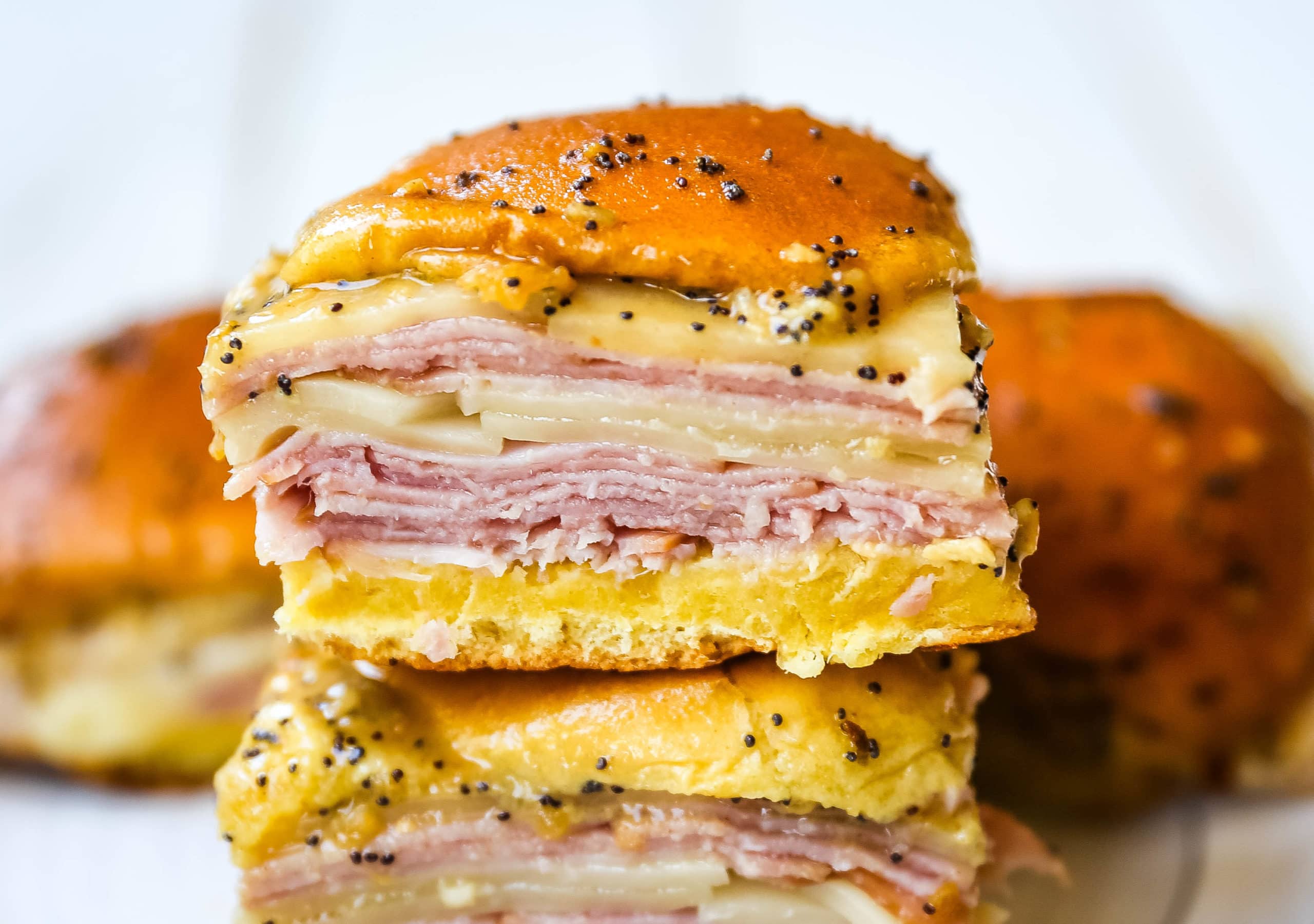 The ham and cheese sliders are made on Hawaiian sweet rolls and they are the absolute best! They are the perfect party-size and remain perfectly soft while baked. The buttery sauce drips down to the base of the rolls while baking and gives the bottoms the most buttery goodness. The Hawaiian rolls still stay soft yet hold up to the mustard poppyseed sauce.
The sauce is made with melted butter, dijon mustard, dried onions, poppy seeds, and Worcestershire sauce. It is ridiculously amazing!
How to make the Best Baked Ham and Cheese Sliders:
Line a 9 x 9 or 9 x 13 baking pan with aluminum foil and spray with cooking spray. This is an important step because the cheese will melt and can stick to the foil.
I suggest using Hawaiian sweet rolls. Use a long serrated knife to slice the rolls in half, lengthwise, so you have a slab of rolls. Don't pull the rolls apart or individually slice them because you want the rolls to be completely connected. Place the bottom side of the rolls in the pan.
Layer half of the ham over the rolls. Layer with the cheese and repeat. You can use any type of cheese you want -- Swiss, Cheddar, Pepper Jack, etc.
In a microwave-safe bowl, melt the butter. Add the dijon mustard (you can substitute regular mustard), poppy seeds, dried onion, Worcestershire sauce, salt, and pepper.
Brush the butter mixture all over the rolls. Evenly spread it over the top and allow some of the butter mixture to drip to the base of the rolls.
Cover with aluminum foil and bake covered for about 20-25 minutes until the cheese is melted. It may take slightly longer depending on thickness of cheese and ham. Uncover the foil and bake for 3 to 5 minutes longer.
Serve hot!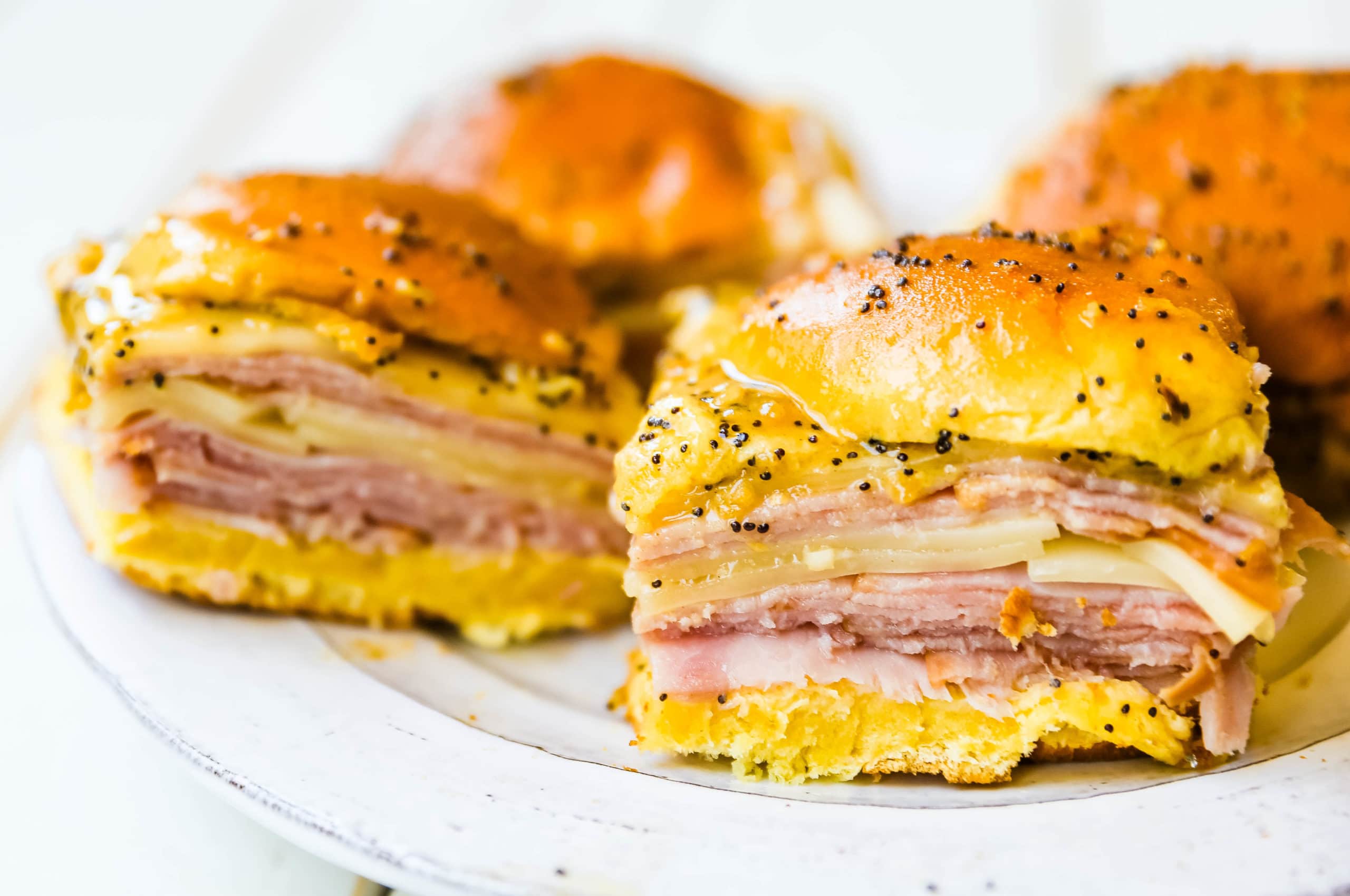 You are going to love these Baked Ham and Swiss Sliders on Hawaiian Rolls! You can serve them for lunch, dinner, at a party, at a potluck, or at a picnic. They will always be a huge hit!