How to make the best Italian Chopped Salad made with Italian meats, cheeses, vegetables, and tossed with a homemade Italian dressing. This is the most flavor-packed salad recipe! This Italian Chop Salad is the perfect summer meal or side dish.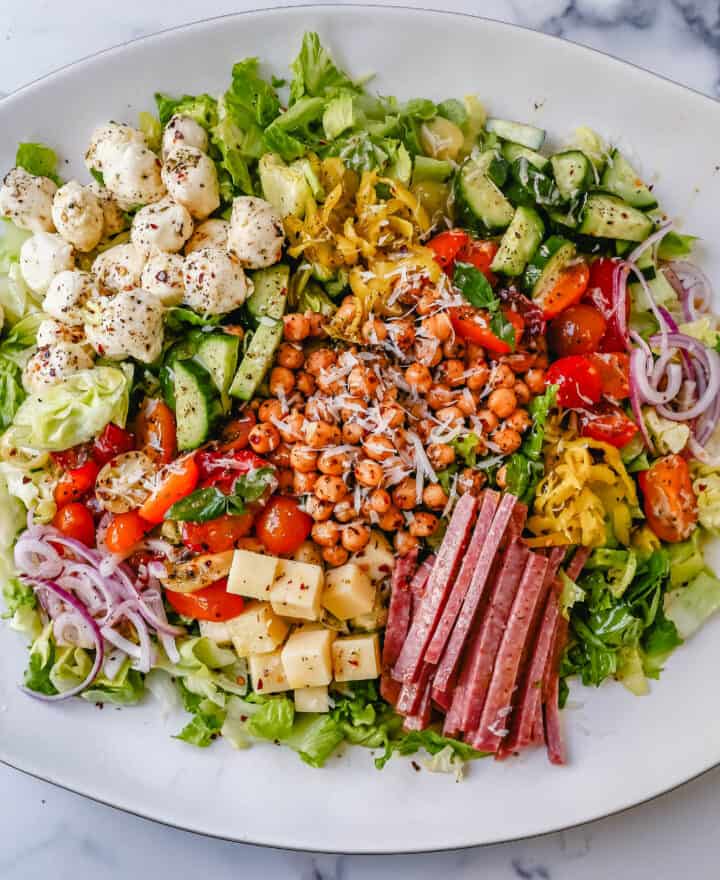 My husband grew up with neighbors from Italy and he told me how they made the best Italian salad in the world. It was an antipasto salad made with lettuce, salami, provolone cheese, fresh mozzarella, tomatoes, pepperoncinis, shaved parmesan cheese, and tossed in a homemade Italian vinaigrette dressing. It sounded so flavorful so I had to recreate the recipe at home and share it with all of you!
You are going to love this Italian salad recipe! You can serve it as a meal by itself or serve it with some of your favorite Italian recipes like -- Italian Charcuterie Board, Italian Braised Beef with Parmesan Polenta, Break Up 3-Cheese Pasta, Marry Me Chicken, and Fettuccine Alfredo.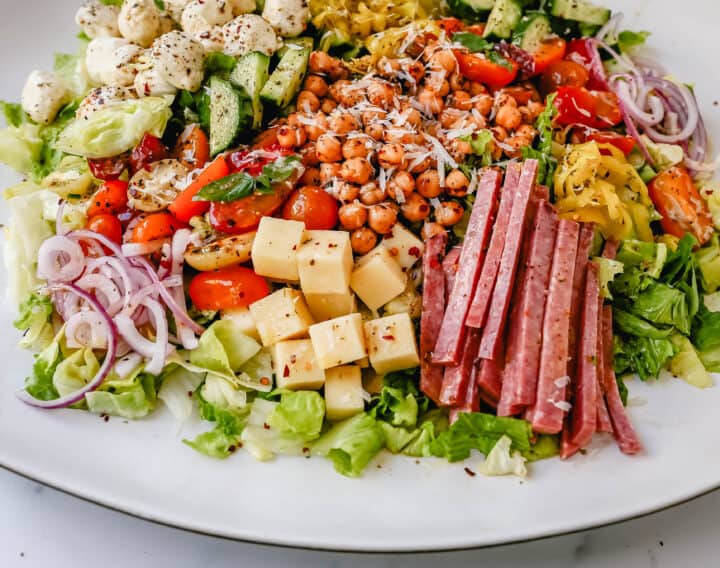 What ingredients are in Italian Chopped Salad?
Romaine and Iceberg Lettuce -- the mixture of romaine and iceberg lettuce gives the lettuce the perfect amount of crispness and crunch.
Tomatoes -- I suggest cherry or grape tomatoes, sliced in half lengthwise. You can also use Hot house or heirloom tomatoes, diced into small pieces.
Cucumber -- I recommend Hot House or English cucumbers as they are thinner, and have less seeds. They are the long, skinny variety of cucumbers.
Fresh Mozzarella -- there are several varieties of fresh mozzarella you can use. You can chop a ball of fresh mozzarella into bite-size pieces or use the small mozzarella pearls or balls. They even have marinated mozzarella balls for extra flavor.
Provolone Cheese -- this adds a creamy, smoky flavor to the salad and gives it a nutty flavor.
Salami -- I suggest using high-quality salami and cutting it into bite-size pieces. You can use thinner salami or have the deli slice it into thicker pieces.
Chickpeas -- also known as "garbanzo beans." After draining and rinsing the canned chickpeas, I like to toss the chickpeas with extra-virgin olive oil and spices to give the beans extra flavor.
Pepperoncini -- sweet, mild chili peppers, usually sold pickled in a jar. These give a tangy and slightly spicy flavor to the salad. You can cut them into very small pieces.
Shaved Parmesan Cheese -- this is the cheese to garnish the salad with to give it that extra cheesy, nutty bite.
Homemade Italian Dressing -- this dressing is made with extra-virgin olive oil, red wine vinegar, garlic, dried oregano, dijon mustard, and salt and pepper.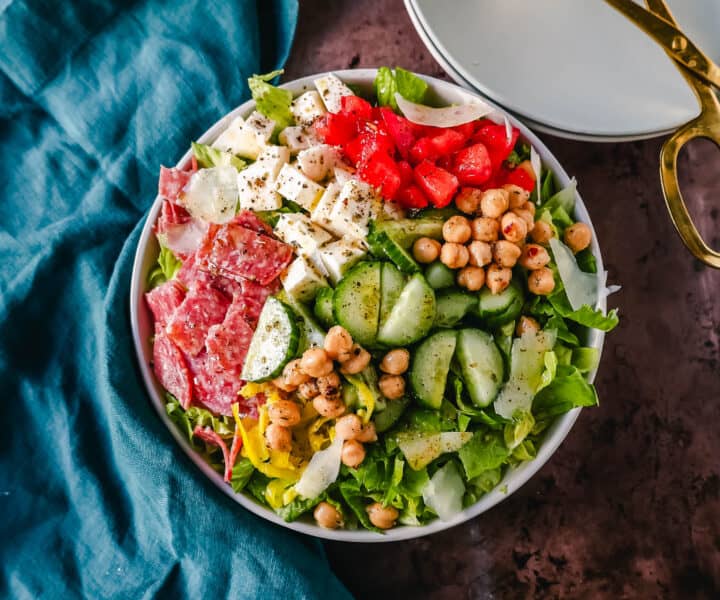 How to make Antipasto Salad:
Start by chopping the iceberg and romaine lettuce into small bite-size pieces.
Chop the tomatoes, cucumbers, mozzarella, provolone, and salami. Set aside.
Drain and rinse the canned chickpeas. Toss into a bowl with extra-virgin olive oil, basil, oregano, and red chili flakes.
Finely diced the pepperoncini peppers. You can also add red onion, which is an optional ingredient.
Make the dressing by mixing extra-virgin olive oil, red wine vinegar, minced garlic, dried oregano, dijon mustard, and salt and pepper. Taste for seasonings and add more salt and pepper, if needed.
When ready to serve, toss all of the ingredients together in a large salad bowl with the dressing. Garnish with shaved or grated parmesan cheese.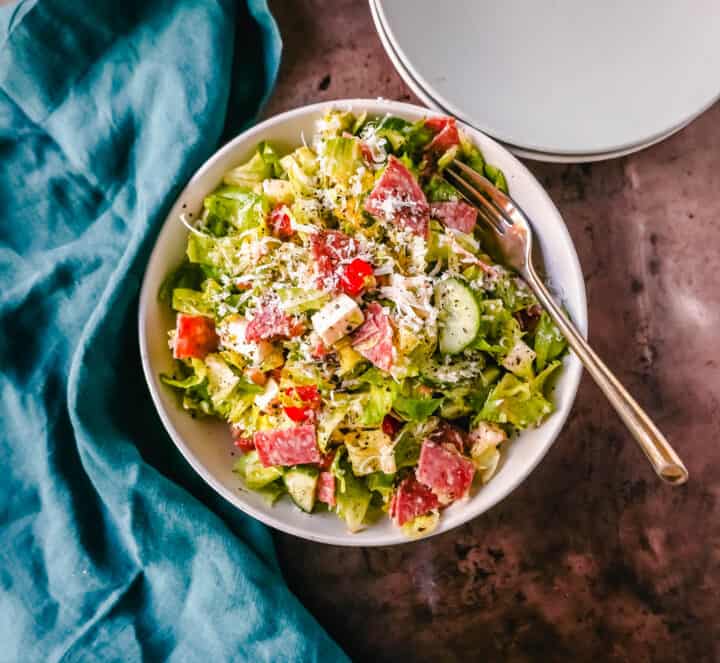 Substitutions:
You can use any type of lettuce in this salad such as green leaf, arugula, etc.
You can use any type of white canned bean instead of chickpeas, if you prefer.
SALAD BOWLS and TONGS: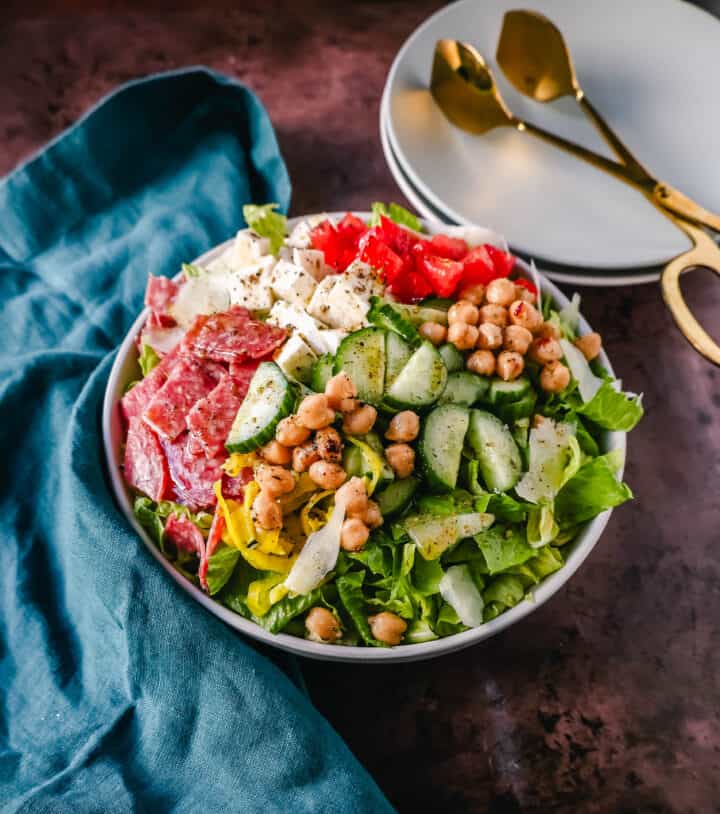 MORE SALAD RECIPES:
Classic Pasta Salad Recipe
Pesto Caprese Salad
Strawberry Spinach Salad with Poppyseed Dressing