Break-Up Pasta is a creamy 3-Cheese Spaghetti Recipe made with butter, garlic, cream, broth, Italian cheeses, spices, and tossed in spaghetti. It is the best creamy spaghetti recipe known to help cure breakups!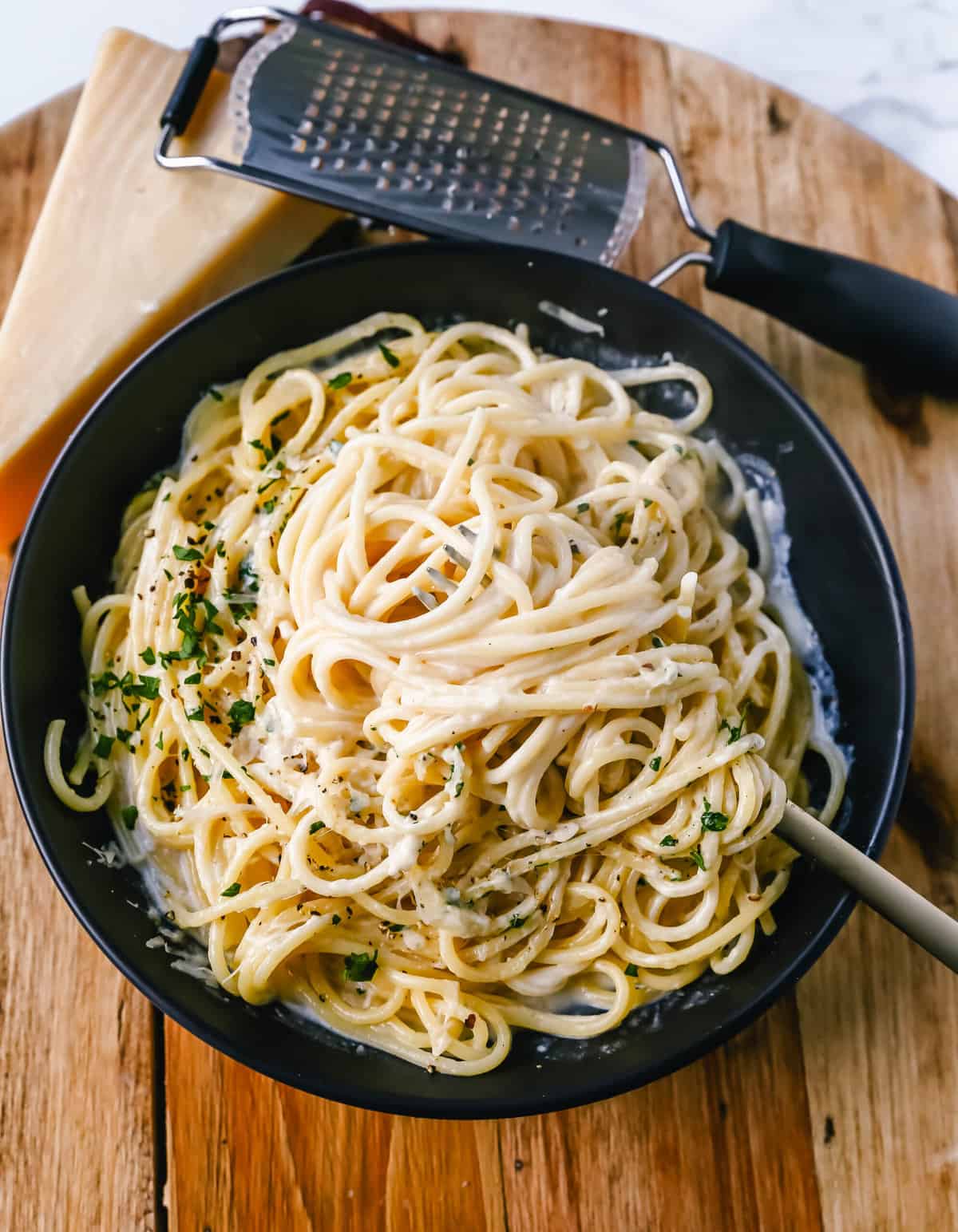 This pasta is called BREAK UP PASTA for good reason.
Do you remember your worst break-up? I certainly remember mine and I can still see myself….sitting in my sweats all day, feeling sorry for myself and listening to sad love songs. Break ups are the worst.
Thankfully it has been awhile since I have had my heart broken (thank heavens, I have been married for 25+ years to a sweetheart) but I vividly remember those times.
Now I have 3 teenagers and one 21-year old who just graduated college so I have witnessed plenty of their hard days. And as moms everywhere know….when you are a mom, your heart hurts right along with your kids. So I have become adept at breaking out the comfort food!
I have learned the value of some serious comfort food! Anytime one of my kids or my kid's friends get their heart broken, I just break out the pasta and the chocolate brownies or cookies…my two favorite comfort foods. A huge bowl of pasta, some chocolate and being surrounded by people who love and care about you can do absolute wonders….maybe even heal those broken hearts!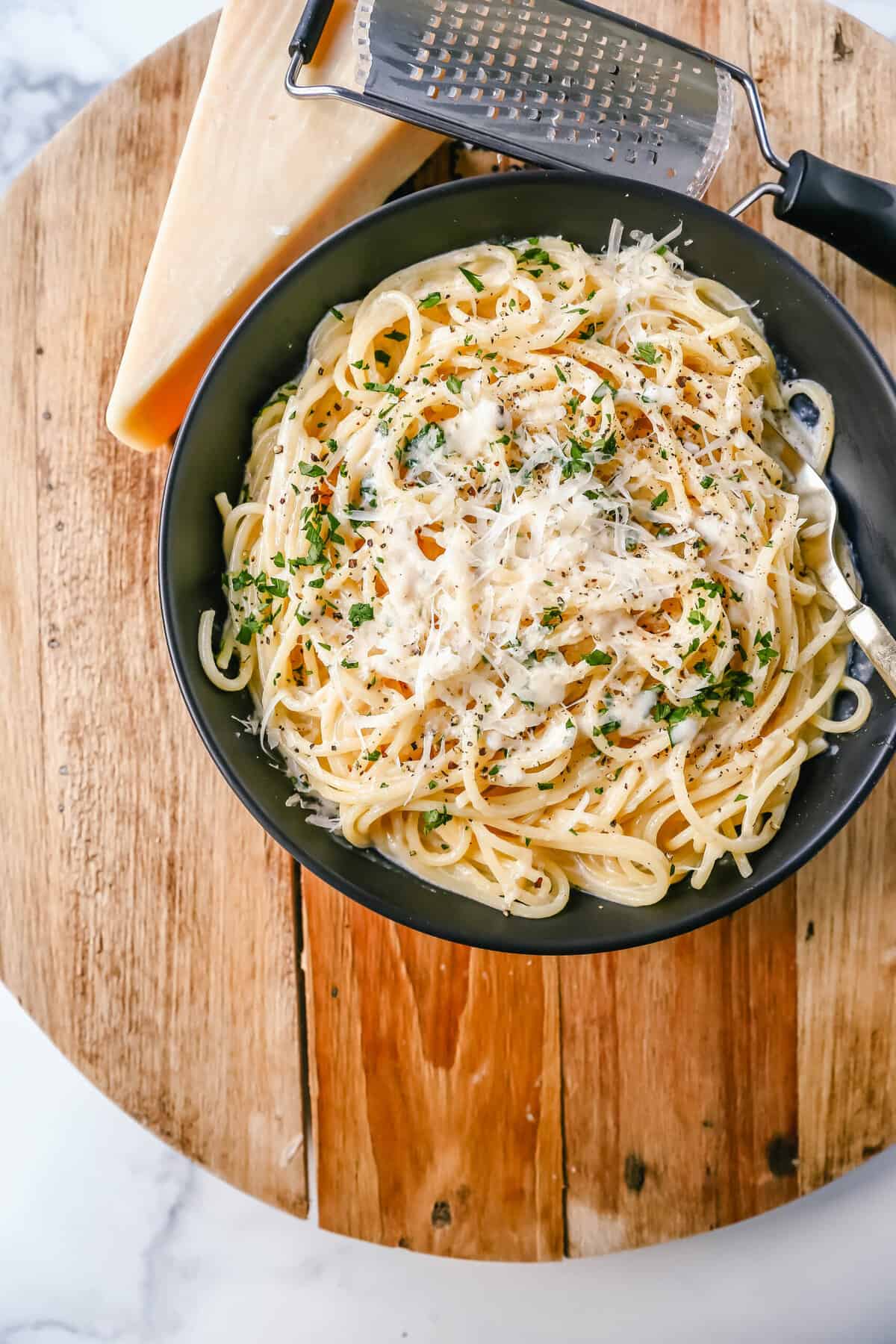 This spaghetti with butter and cheese is a huge bowl of comfort food that just makes you feel like everything is going to be okay...eventually. 🙂
This creamy pasta is made with butter, garlic, cream, broth, Italian cheese blend, and tossed in spaghetti. This Break-Up Pasta is so easy to make when you just don't even feel like making anything!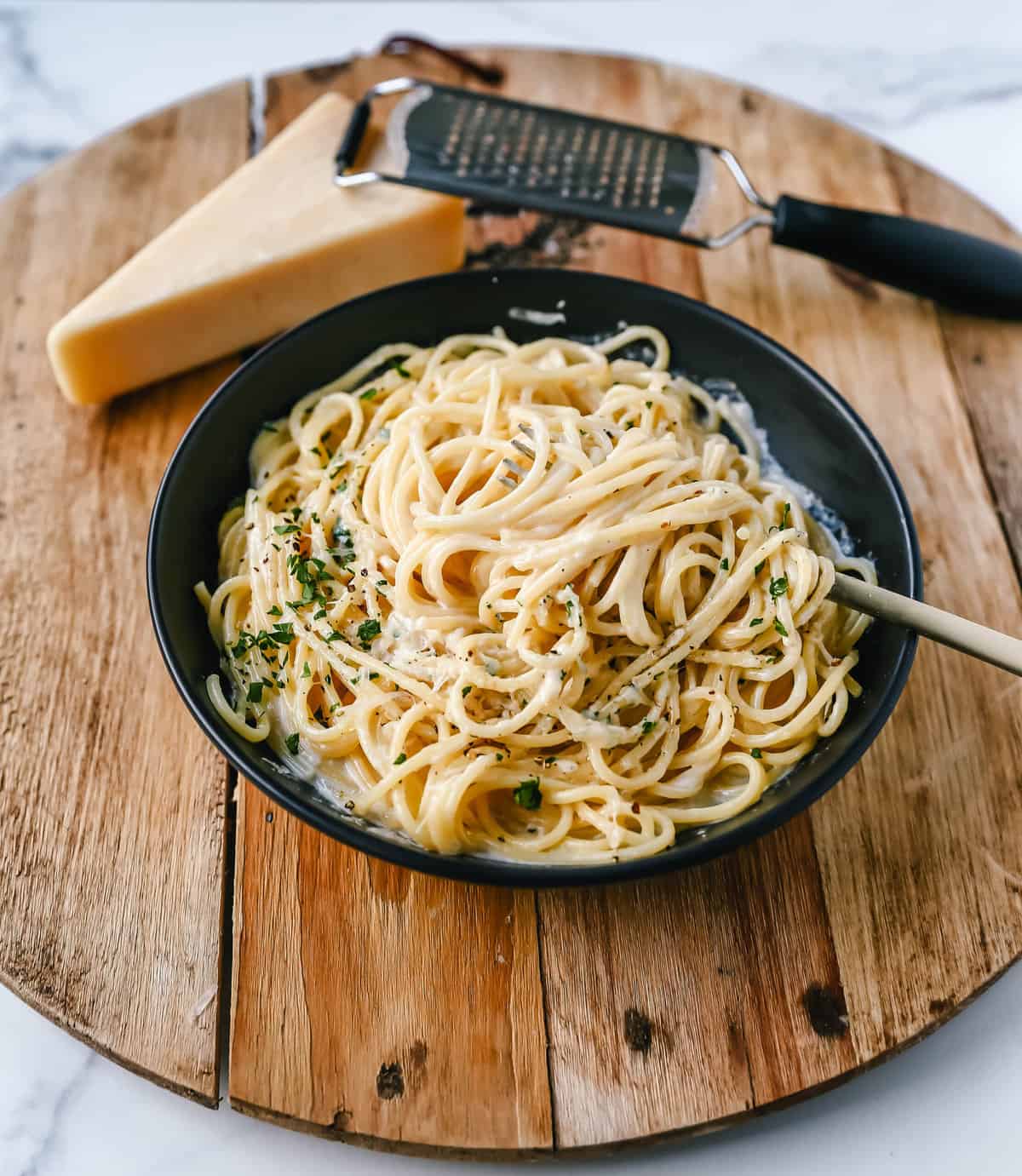 What ingredients are in Break-Up Pasta?
Spaghetti
Butter
Garlic
Heavy Cream
Chicken Broth
Italian Cheeses
Salt + Pepper
Herbs for garnish
Can I re-heat this Creamy 3-Cheese Spaghetti?
Yes! This creamy spaghetti makes delicious leftovers. Since there is cream and butter in this sauce, the sauce can seize up when it is cold. When you are ready to re-heat it, I suggest adding a dash of water into your bowl or skillet until the sauce reaches your desired creamy consistency.
What can I serve this Break Up Pasta with?
I love to pair it with a dish like Marry Me Chicken or Skillet Lemon Butter Chicken. You can also pair it with grilled steak or shrimp and veggies. You can make it a more substantial meal by slicing marinated grilled chicken breast on the top of the pasta. My Best Chicken Marinade Recipe can be found HERE.
If you are looking for a killer Fettuccine Alfredo recipe, click HERE.
What types of Cheese are in an Italian Cheese Blend?
The Italian Cheese Blends that you may find in your local grocery store may vary depending on the brand. The grated Italian Cheese Blends usually consist of a blend of the following cheeses -- parmesan, mozzarella, provolone, romano, asiago, and fontina. Check the ingredient list to find out what cheeses are included in the Italian Cheese Blend. A cheese blend with parmesan, romano, and asiago will be all about strong flavors. An Italian cheese blend of parmesan, mozzarella, and provolone will be a mix of flavor and creaminess, due to the mozzarella.
How to make the Famous Break Up Pasta:
Heat a large pot of water to a boil. Generously salt the water. This is key to infuse flavor and salt into the pasta while it is cooking. Once the water is boiling, add the spaghetti and cook according to package instructions. Drain pasta, reserving 1 cup of salted pasta water. This pasta water is starchy and salty and will be used to thin out the sauce.
While pasta is cooking, heat a skillet over medium heat. Add butter and garlic and cook for ONLY 1 minute. Garlic can burn quickly so have your chicken broth and cream ready to add to the skillet. Add cream and chicken broth. Add ½ cup of salted pasta water (add more later if you desire a thinner sauce).
Add cheese in small batches, stirring after each addition. If you add the cheese all at once, it may clump. I like to use a whisk to ensure the sauce is smooth and creamy. Season with salt and pepper to taste.
Add the spaghetti to the skillet and toss to coat. If you want a thinner sauce, add more reserved pasta water, if so desired.
When ready to serve, garnish with freshly ground pepper, fresh parmesan cheese, and fresh herbs.