Gourmet Toast Ideas are perfect for quick lunches or for serving at a party. Avocado Toast topping ideas and suggestions for what to put on top of avocado toast.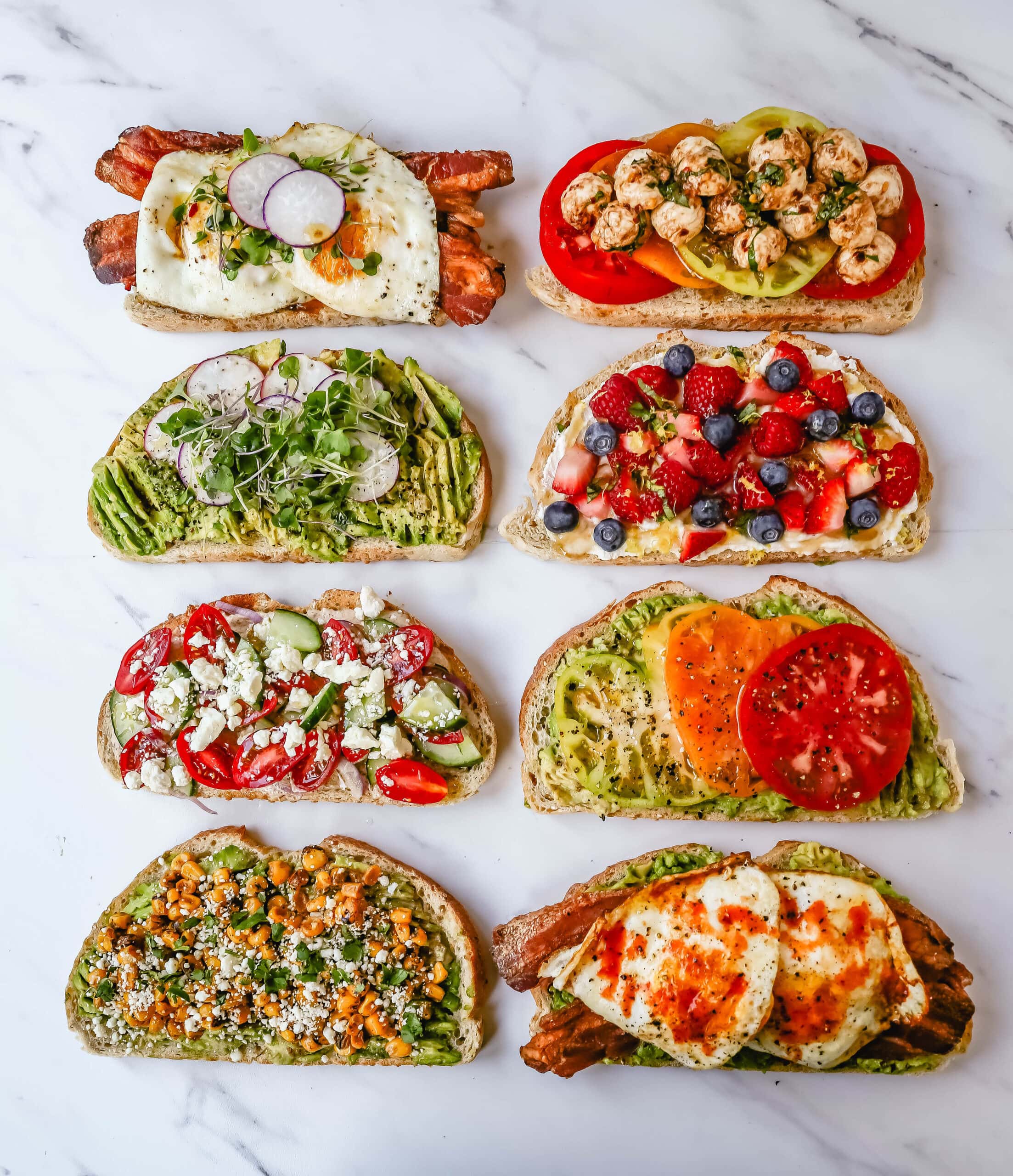 Lunch is the hardest meal for me to figure out what to eat. I don't want to spend much time in the kitchen because I am usually into my workday and want to keep the momentum. I found that I reach for avocado toast most days and I wanted to change it up. So I decided to start making a list of different toppings I could put on my avocado toast. The list kept growing and growing! It is about time I share my long list of gourmet toast ideas for quick lunches.
One of my favorite combinations is just adding crunchy sliced cucumber and microgreens to my avocado toast. It adds some crunch and more nutrition with the addition of microgreens. I also love to add fresh garden tomatoes in the summer and drizzle them with a touch of extra-virgin olive oil, balsamic glaze, and sea salt.
There are so many delicious combinations of toast -- from savory toast ideas to sweet toast ideas with honey ricotta and fresh berries.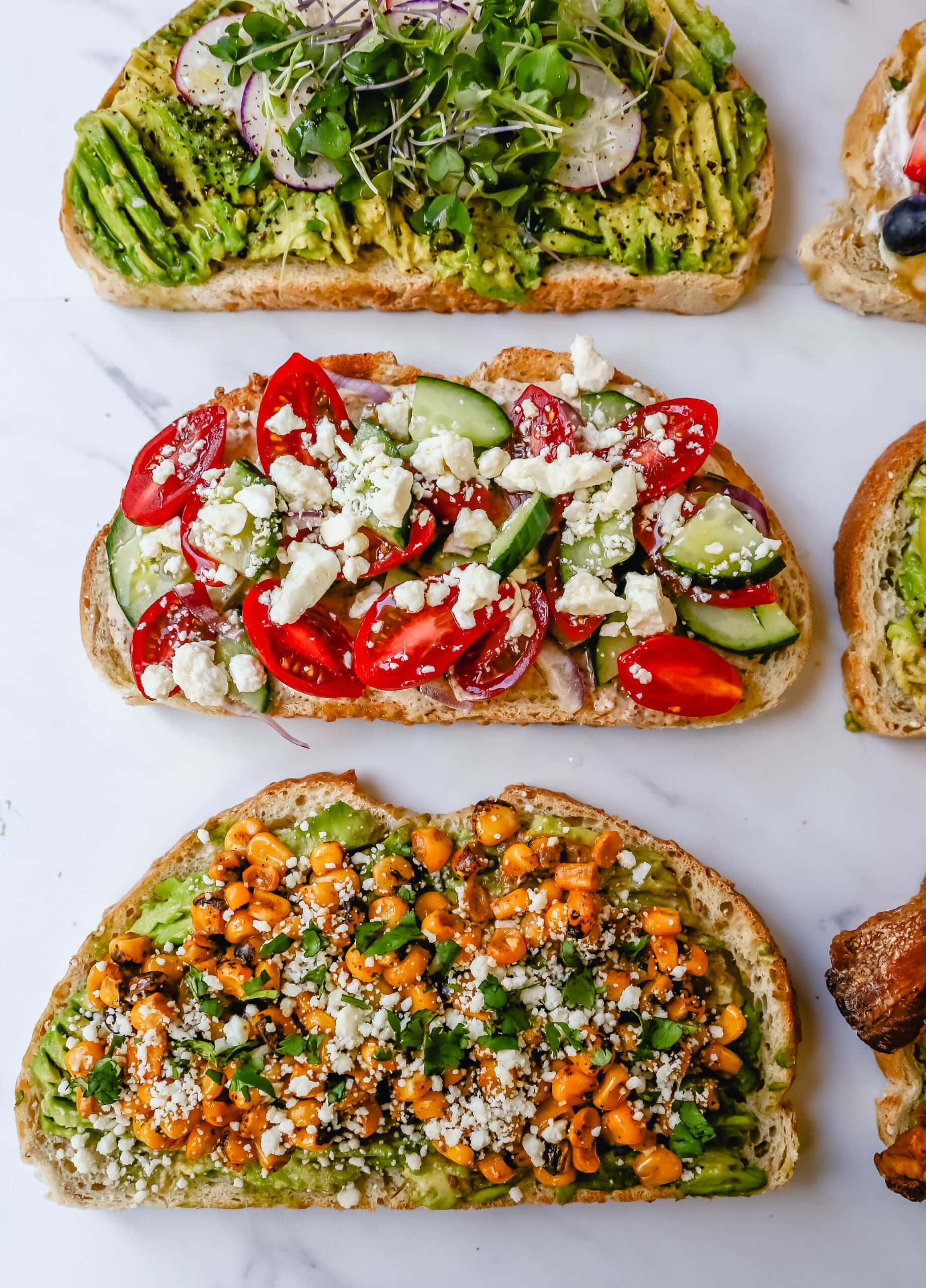 Epic Gourmet Avocado Toast:
Bacon + Avocado + Egg + Hot Sauce
Fresh Mozzarella + Pesto + Tomatoes + Balsamic Glaze
Avocado + Charred Mexican Corn + Cotija Cheese + Lime Juice + Pickled Fresno Chilies
Ricotta Cheese + Honey + Lemon Zest + Fresh Berries
Hummus + Cucumber + Tomatoes + Red Onion + Feta Cheese + EVOO
Avocado + Heirloom Tomato + Pesto
Burrata Cheese + Grape Tomatoes + Fresh Basil + Balsamic Glaze
Avocado + Microgreens + Thin Sliced Radishes + Red Chili Flakes
Ricotta + Honey + Dates + Almonds
Avocado + Mini Mozzarella Balls + Halved Grape Tomatoes + Balsamic Glaze
Bacon + Onion Jam + Fried Egg
Avocado + Cucumber + Radish + Fresh Pomegranate Seeds
Ricotta Cheese + Roasted Tomatoes + EVOO + Balsamic Glaze + Basil
Fig Jam + Ricotta Cheese + Figs or Dates + Honey
Cream Cheese + Cucumbers + Microgreens
Avocado + Fried Egg + Everything Bagel Seasoning
Bacon Jam + Avocado + Scrambled Eggs + Chives
Boursin Cheese + Cucumbers + Sprouts or Microgreens
Proscuitto + Fig Jam + Whipped Goat Cheese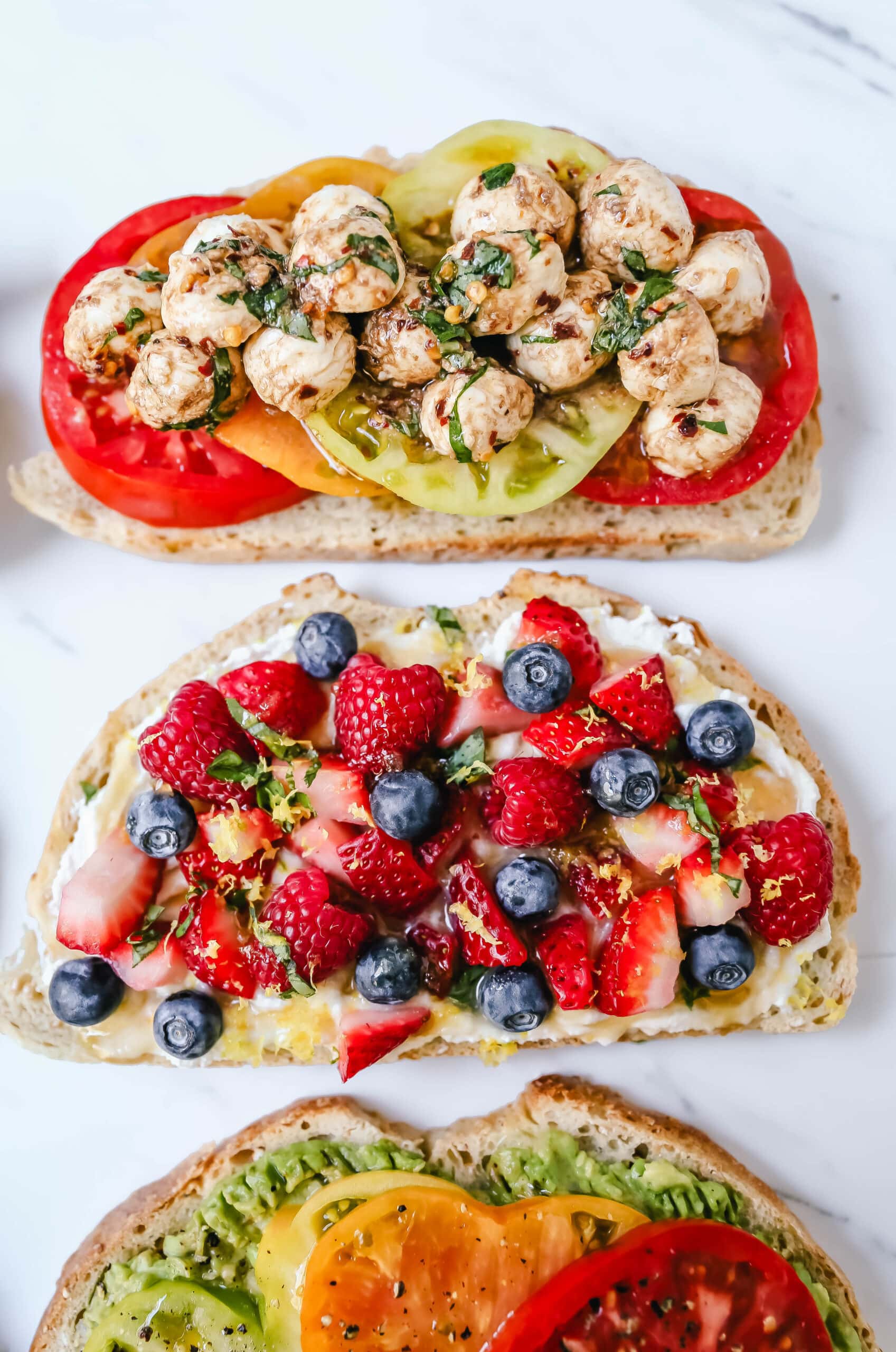 Base Spread for Gourmet Toast:
Fresh Avocado (fanned out, mashed, sliced)
Ricotta Cheese (add honey and lemon zest for sweetness)
Cream Cheese
Hummus
Pesto
Burrata Cheese
Onion Jam
Bacon Jam
Boursin Cheese
Fig Jam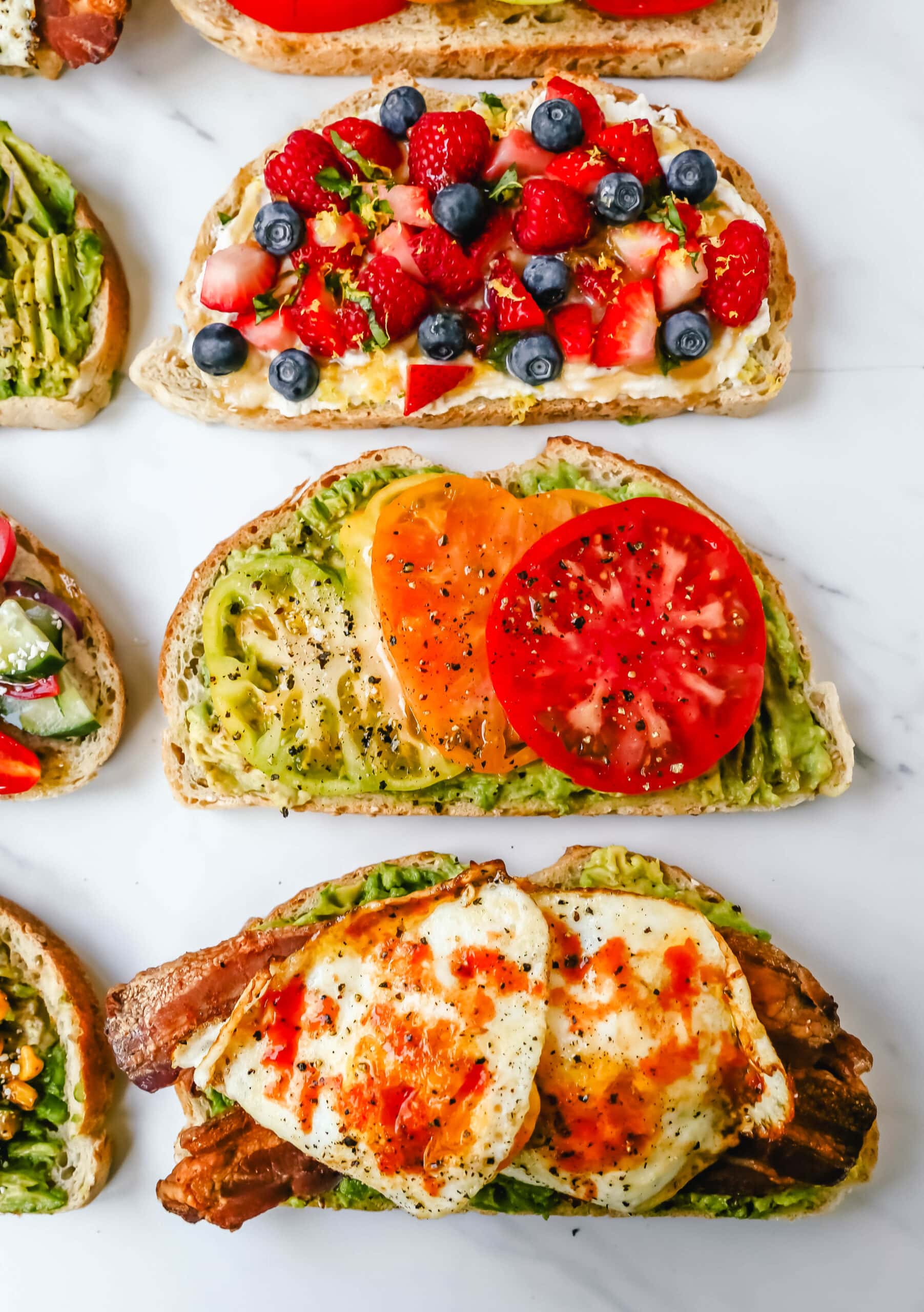 What type of Bread for Avocado Toast?
When making avocado toast, there is nothing better than toasted sourdough bread, in my book. The toasted bread holds up beautifully to the creamy avocado and has a subtle tang.
You can also pick up a loaf of French Bread from your local bakery and slice it for the perfect avocado toast.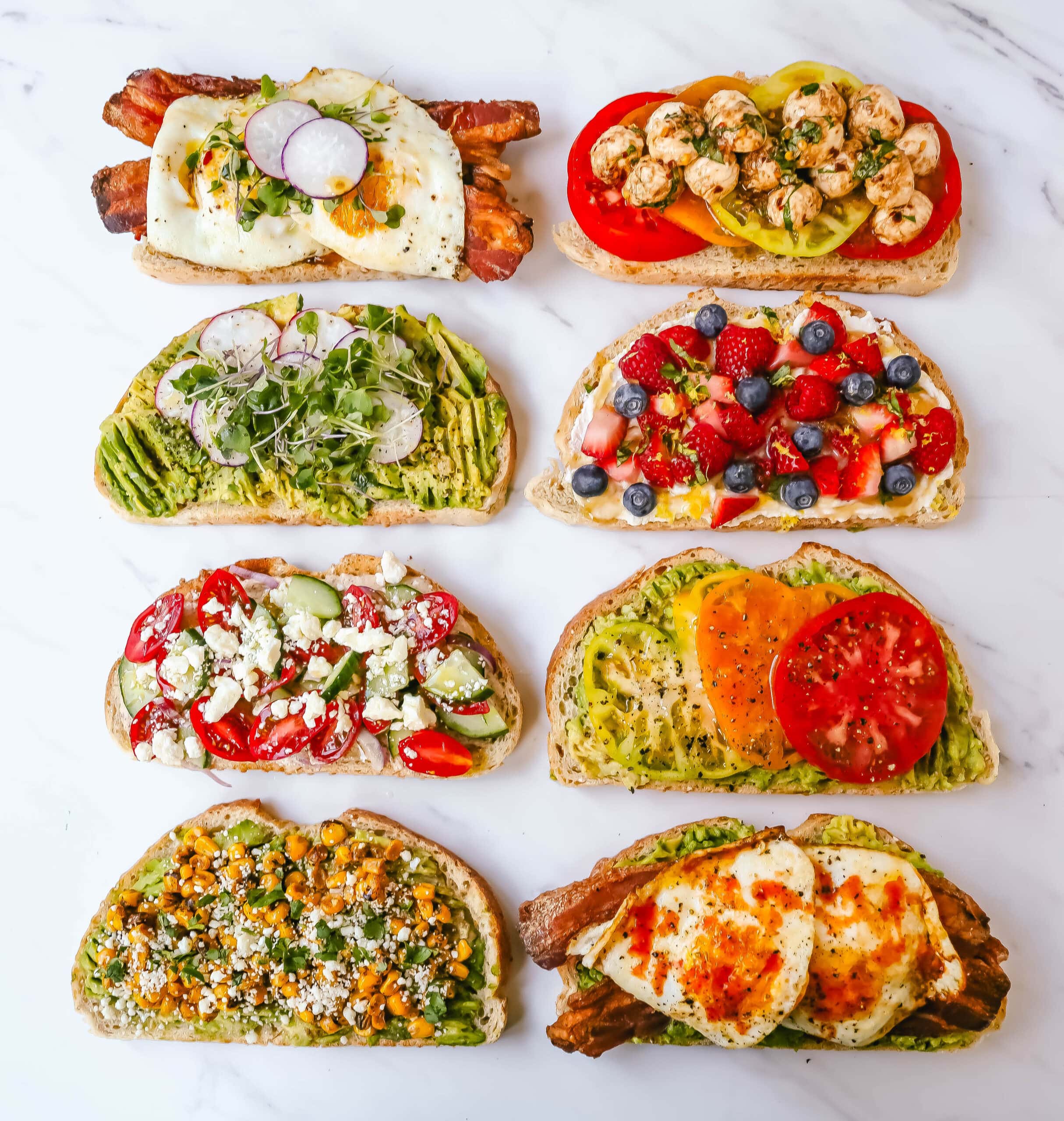 Avocado Toast Toppings:
Fresh Mozzarella
Heirloom Tomatoes
Grape Tomatoes
Sliced Cucumber
Microgreens or Sprouts
Rainbow Radishes, thinly sliced
Fried Egg
Burrata Cheese
Charred Corn
Crispy Bacon
Roasted Tomatoes
Balsamic Glaze
Fresh Basil
Dates and Figs
Scrambled Eggs with Cheddar
Pickled Onions
Pomegranate Seeds
Cotija Cheese
Feta Cheese
Whipped Goat Cheese
Red Onions
Everything Bagel Seasoning, Red Chili Flakes, Sea Salt, Cracked Pepper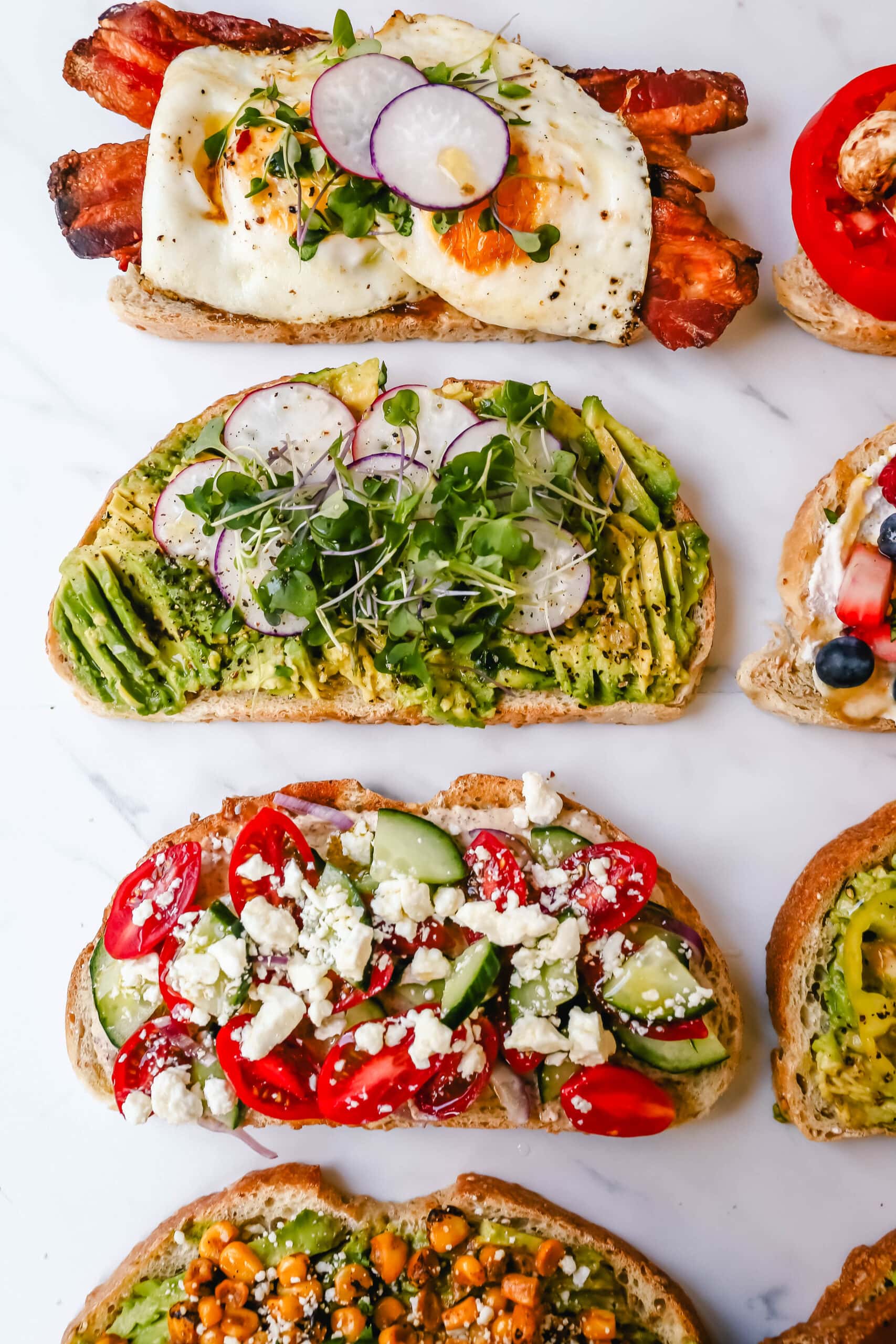 I hope you love these ideas for transforming ordinary toast into something really delicious!