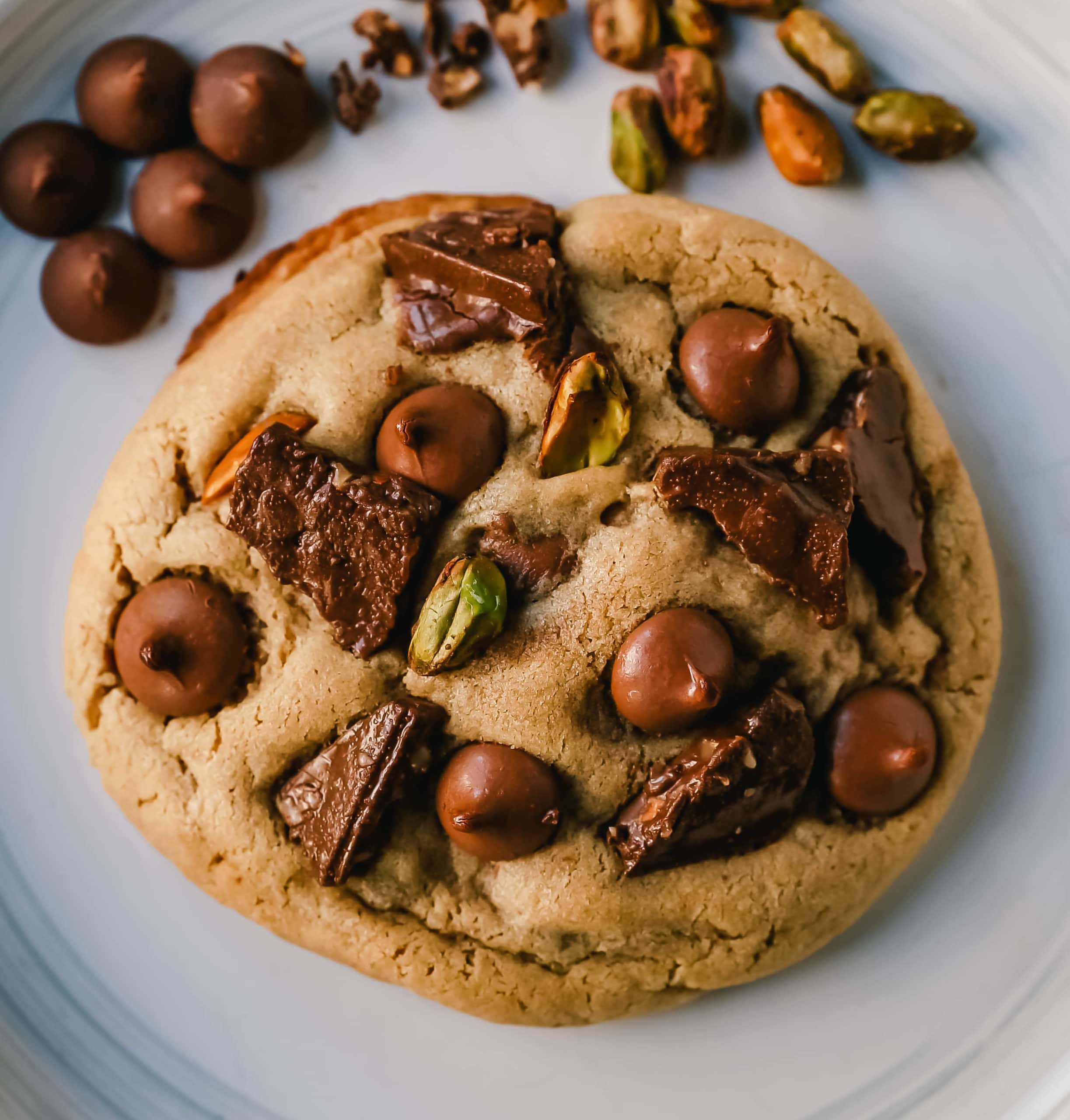 Pistachio Toffee Chocolate Chip Cookies
Thick, chewy bakery-style cookies with milk chocolate toffee, pistachios, and milk chocolate chips. A sweet and salty cookie!
I love when I hear from all of you! Sometimes it is just feedback from a recipe that you made and sometimes it is just a recipe request from your favorite restaurant or bakery.
I recently heard from one of my awesome readers and she requested a copycat recipe of the Pistachio Toffee Chocolate Chip Cookie from Gideon's Bakehouse in Orlando, Florida. I couldn't wait to get into the kitchen and start recipe testing!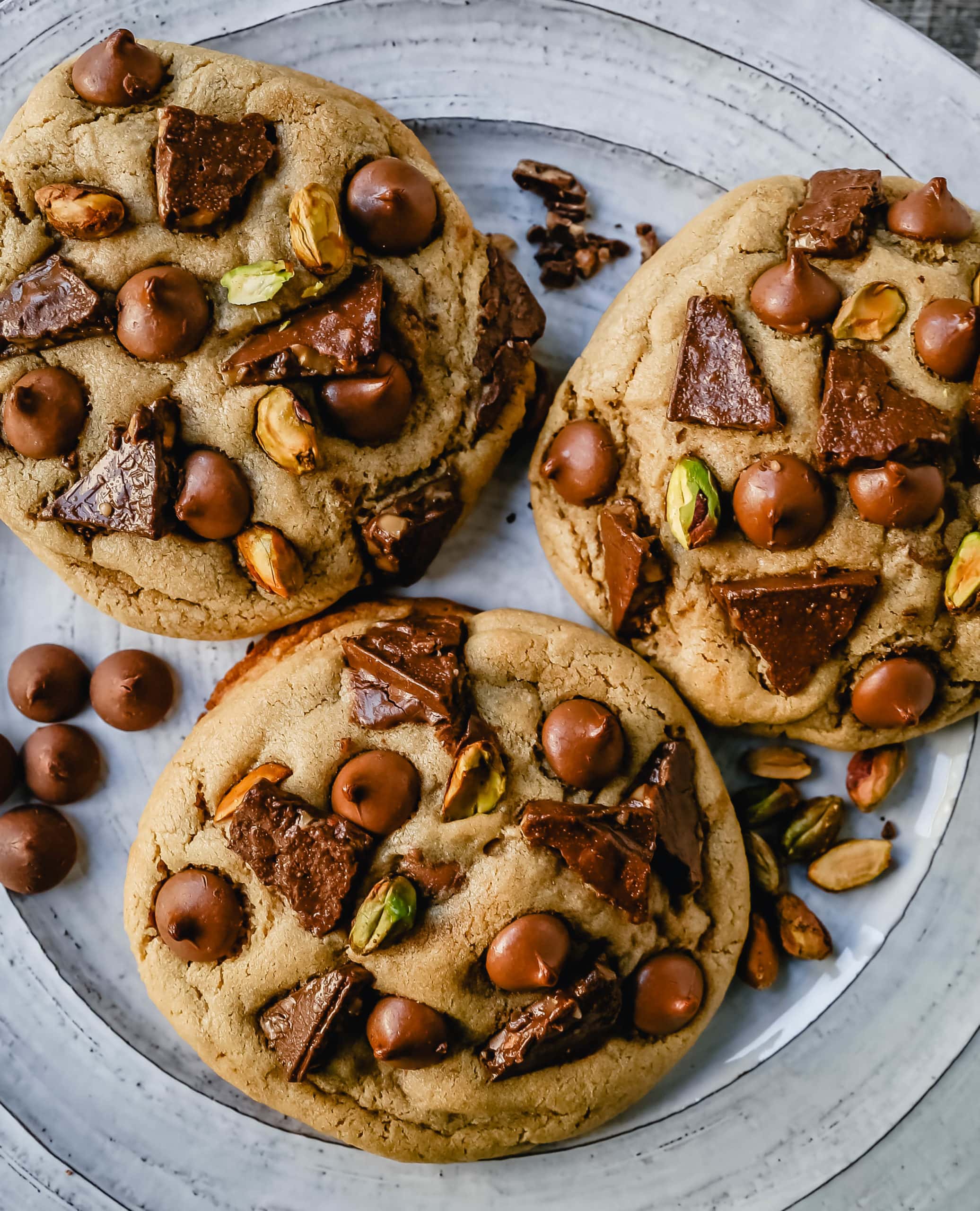 This Milk Chocolate Chip Cookie with Toffee and Pistachios is the perfect sweet and salty cookie. It is a thick and chewy cookie with a little crunch from the toffee and pistachios and creaminess from the milk chocolate. You will be hooked!
There are a few ingredients and techniques that set this cookie recipe apart from the rest!
These cookies stay soft for days! The cornstarch in the cookies helps to keep them soft and chewy. My favorite milk chocolate chips are Guittard. I love the flavor and the larger size.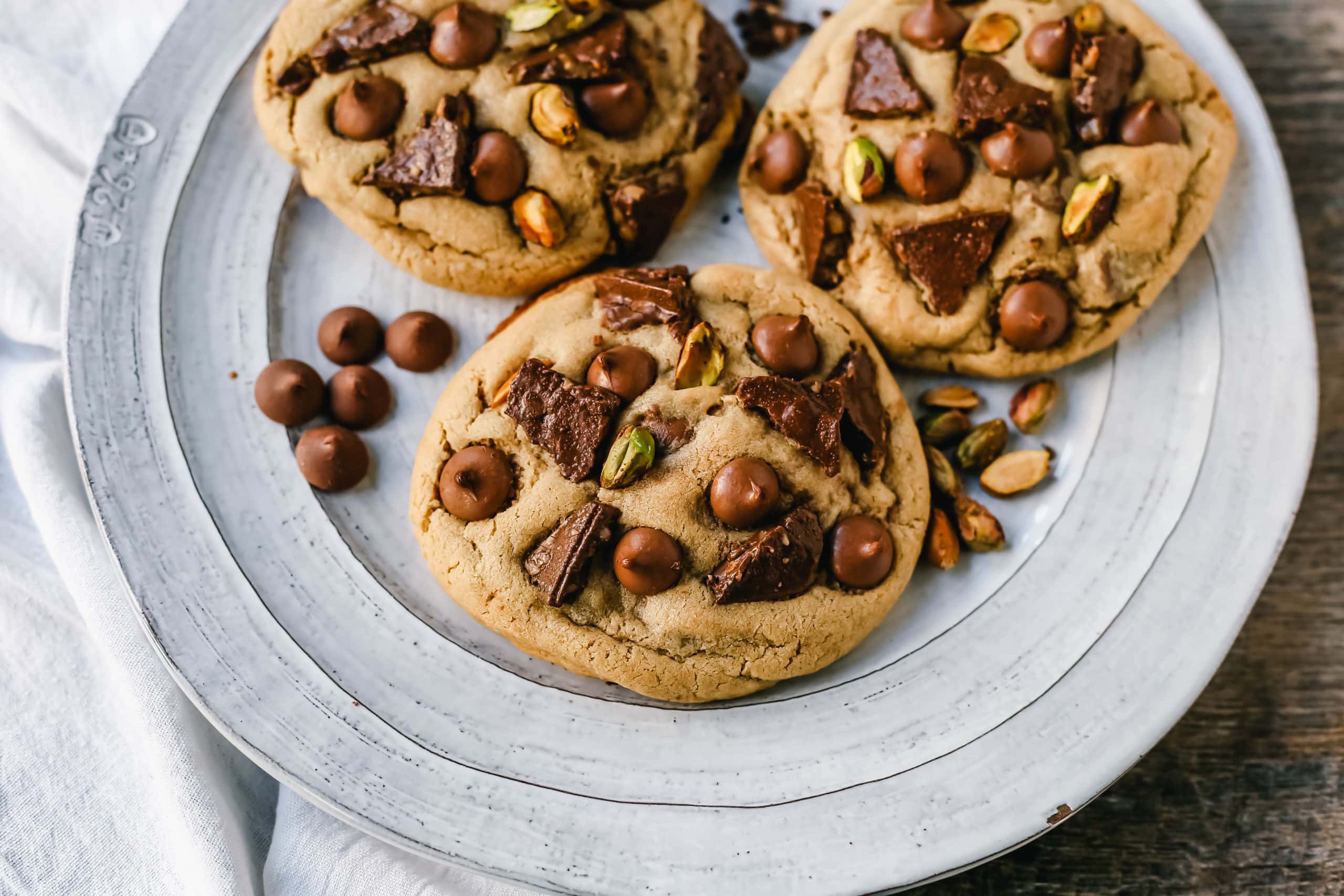 How to make Toffee Chocolate Chip Pistachio Cookies:
Use Cold Butter, cut into cubes, and cream butter and sugars for at least 4 minutes until light and fluffy. When the butter is cold, it allows the dough to keep its shape once it hits the oven and not go flat. My favorite kitchen appliance for baking cookies is definitely my KitchenAid. Click HERE to find all kinds of colors and styles.
Use Dark Brown Sugar. This creates a chewier texture.
Add eggs, one at a time, mixing well after each addition. Add pure vanilla extract for extra flavor.
Fold in two types of flour -- all-purpose flour and cake flour. Cake flour has a lower amount of gluten which creates a tender texture.
Add Cornstarch, Baking Soda, and Salt. The cornstarch creates a thick cookie while still being soft and tender (and not cakey). The baking soda creates a rise in cookies.
Add milk chocolate chips, toffee, and pistachios into the cookie dough, reserving ½ to put on top of the cookies. Roll into 6-inch balls (this is my favorite kitchen scale) and place on light colored baking sheets. Place milk chocolate chips, toffee pieces, and pistachios on the top of each cookie dough ball and lightly press into the dough.
I hope you love this Gideon's Bakehouse copycat cookie recipe!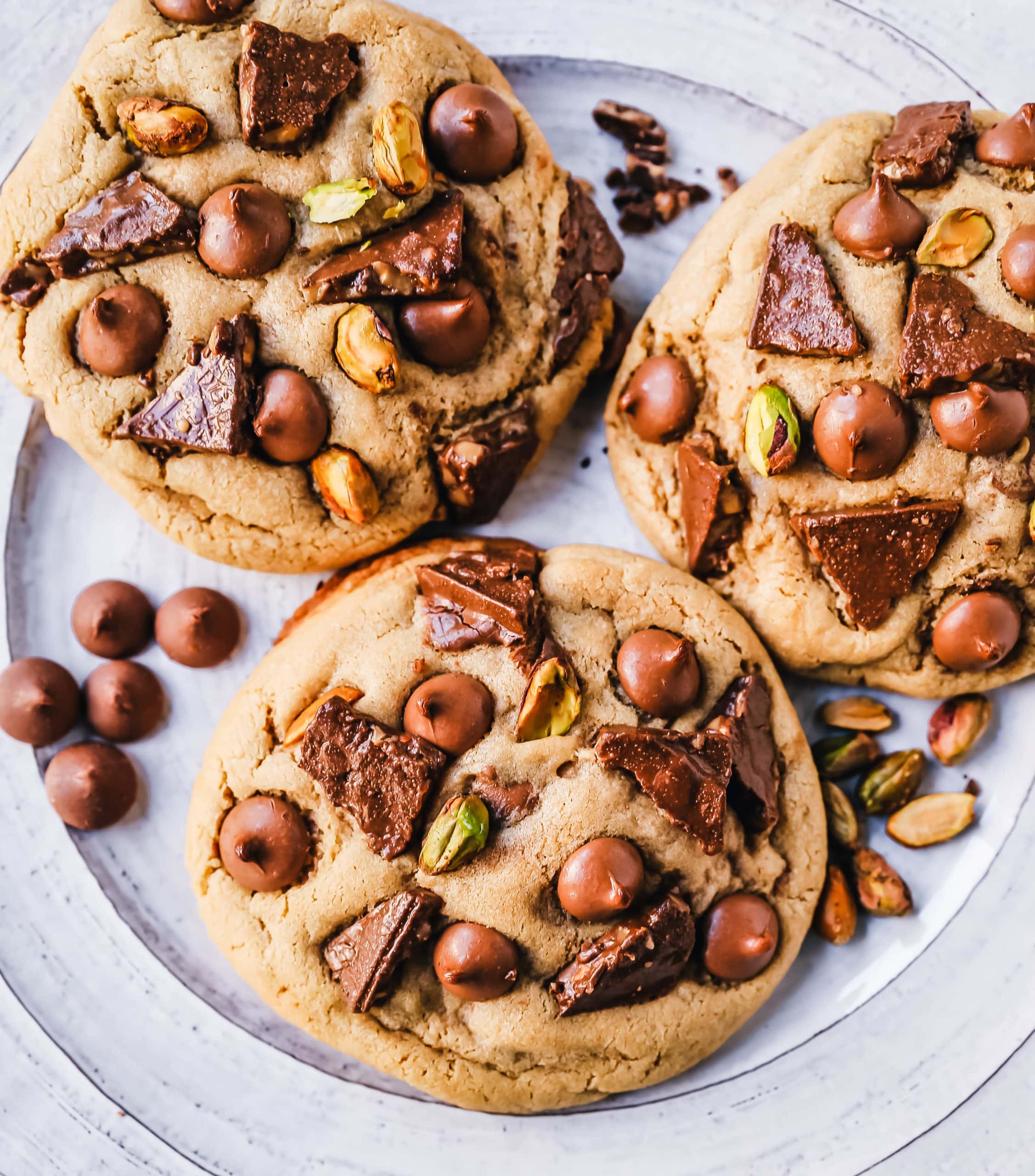 Here are some other favorite bakery-style cookie recipes:
Levain Bakery Chocolate Chip Cookies
Levain Dark Chocolate Chocolate Chip Cookies
Levain Bakery Chocolate Peanut Butter Chip Cookies
The Best Chocolate Chip Cookies
Follow Modern Honey on Facebook
Follow @modern_honey on Instagram
Follow me @ModernHoney on Pinterest