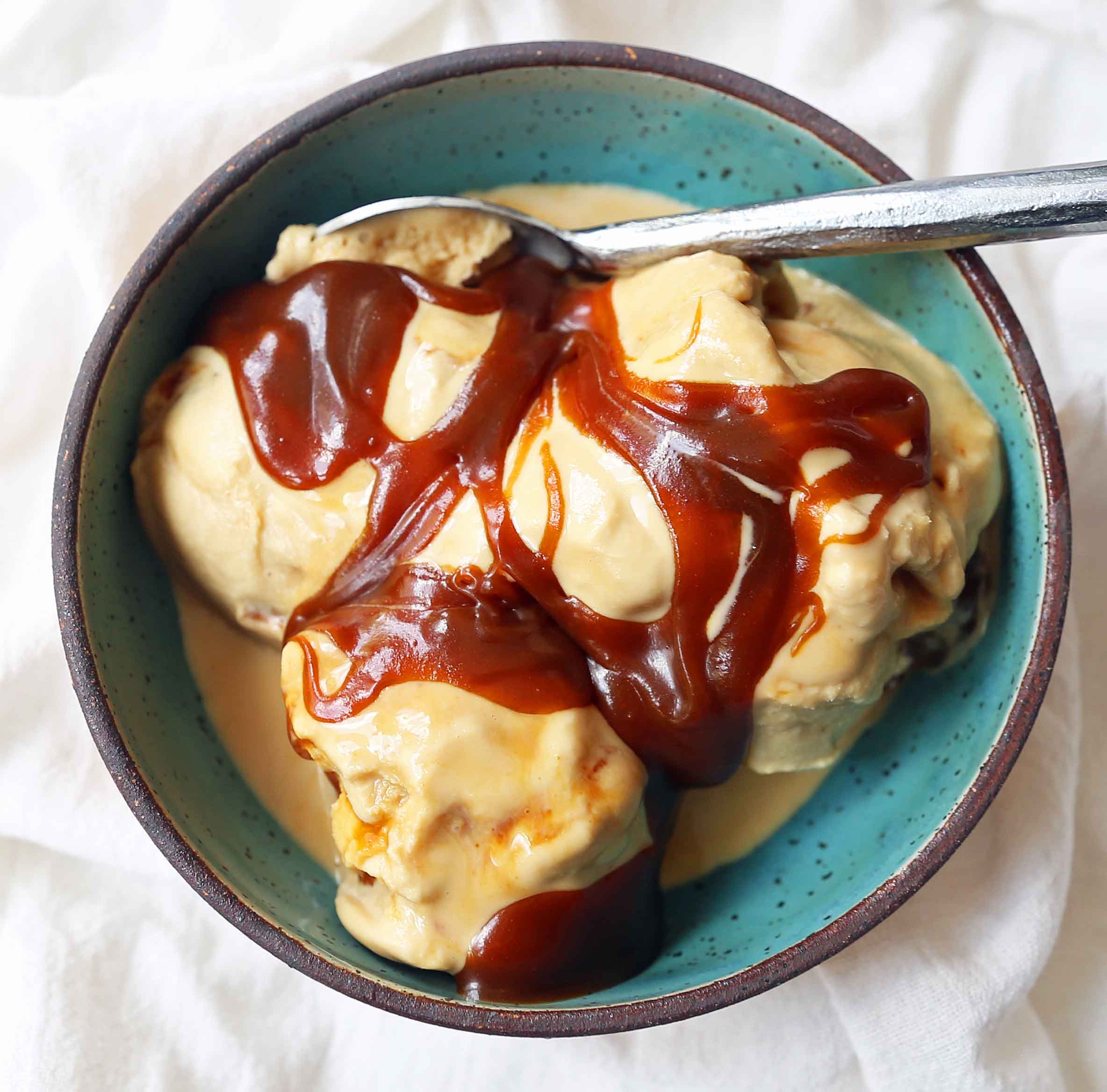 Salted Caramel Ice Cream
Homemade caramel ice cream with sea salt. The best salted caramel ice cream recipe!
Welcome to Ice Cream week here on Modern Honey! There are gourmet, handcrafted ice cream shops popping up everywhere around the country. Whenever I am traveling for work or for fun, I always search up the best bakeries and ice cream shops. I want to taste artisan ice cream made from whole, simple, real food ingredients.
After being so inspired by many artisan ice cream shops, I wanted to create recipes at home that rival those you would find at the finest shops. This Salted Caramel Ice Cream recipe will go down as one of my very favorite recipes I have ever created. That may be a bold statement, but I was so excited when I nailed this recipe. I will explain the process and how I got to this perfect caramel ice cream recipe.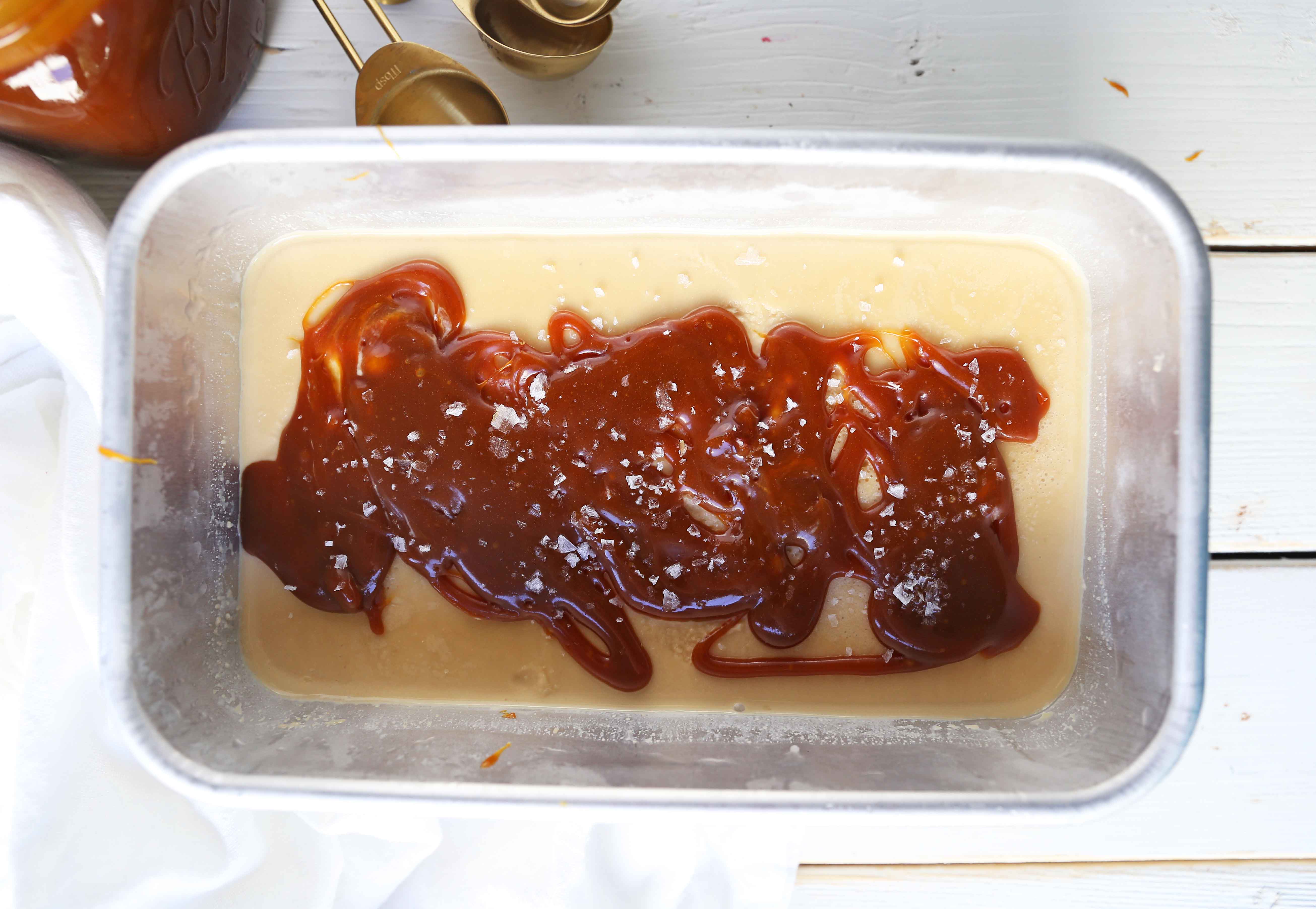 Salted Caramel Ice Cream is usually the best seller at most ice cream shops and for good reason. It is an all-around crowd pleaser because who doesn't love caramel? The sea salt adds a touch of savory, balancing out the sweetness and becoming the ultimate salty-sweet combination.
This Sea Salt Caramel Ice Cream is only made with real and simple ingredients -- heavy cream, whole milk, sugar, butter, and salt. The key is to get the sugar perfectly caramelized for a silky smooth caramel sauce. This is the base of flavor so the caramel has to be spot on.
The path to making the perfect caramel base...and it all starts with sugar. Salted Caramel Ice Cream can be made with a mild, rich caramel or a strong, deep browned butter and sugar caramel base. When I first made this salted caramel ice cream, I reached for a recipe from the famous ice cream shop, Molly Moo's, in Seattle, Washington.  I love their ice cream and wanted to create their best selling ice cream at home. What I discovered is that the sugar was caramelized to a point where it began to smoke and get almost bitter tasting. Some people may go crazy for that deep caramel but to me it almost tasted like burnt caramel.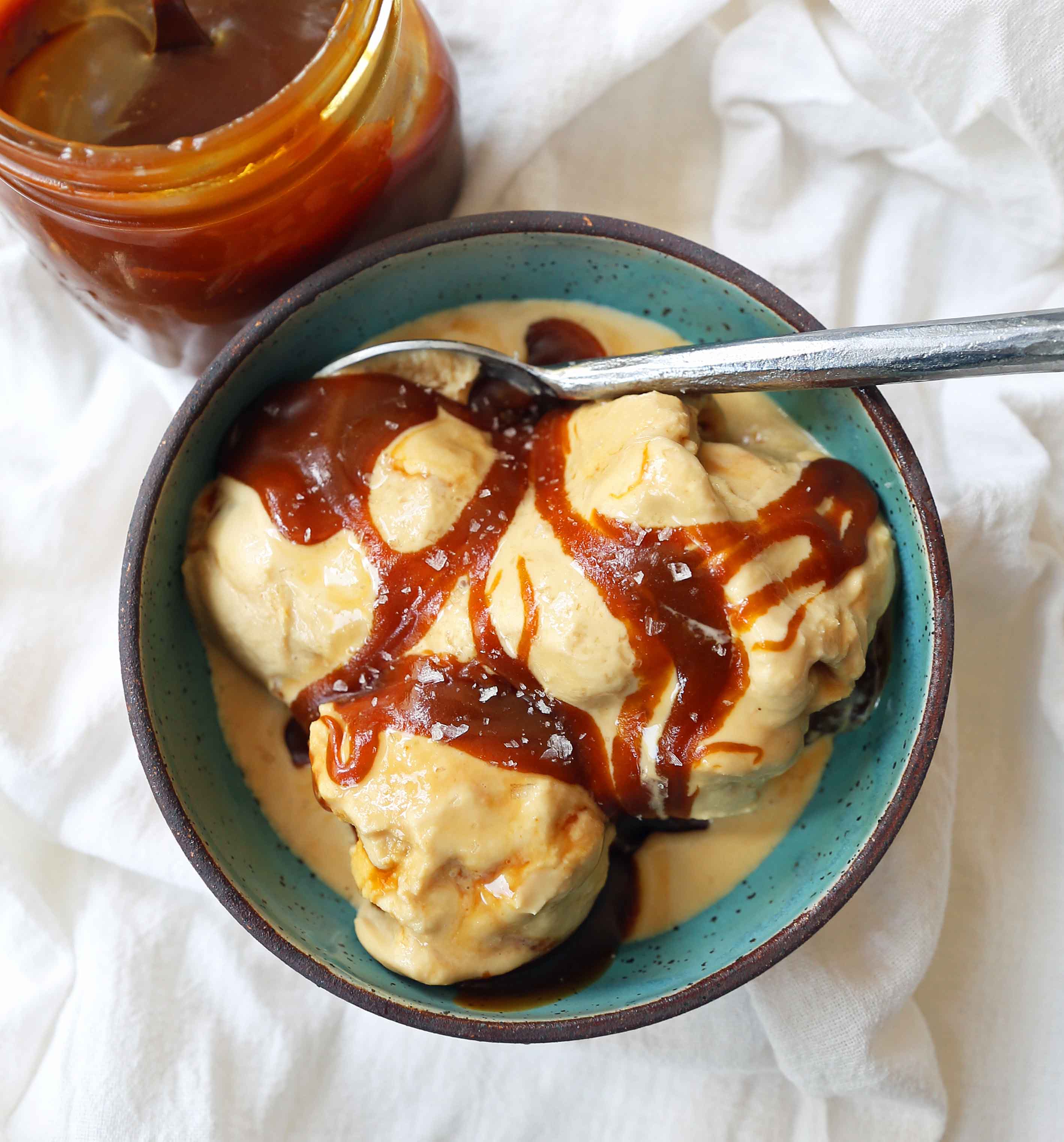 I couldn't go to sleep that night because I wanted to perfect it so badly. I got out of bed and went back to work! I decided to change a few things namely cooking the caramel for less time so it still becomes that buttery sticky sweet caramel without it becoming burnt.  I was determined to create the ultimate homemade salted caramel ice cream recipe!
I melted and cooked down the sugars until a rich caramel developed and then added in butter, cream, and whole milk. I tasted the caramel ice cream base and it was a home run! There was definitely celebratory dancing going on in my kitchen at midnight! There may or may not have been some running man moves going on. I was thrilled to finally nail it! It was straight to the fridge to chill and me off to bed to wait until morning to add it to the ice cream maker.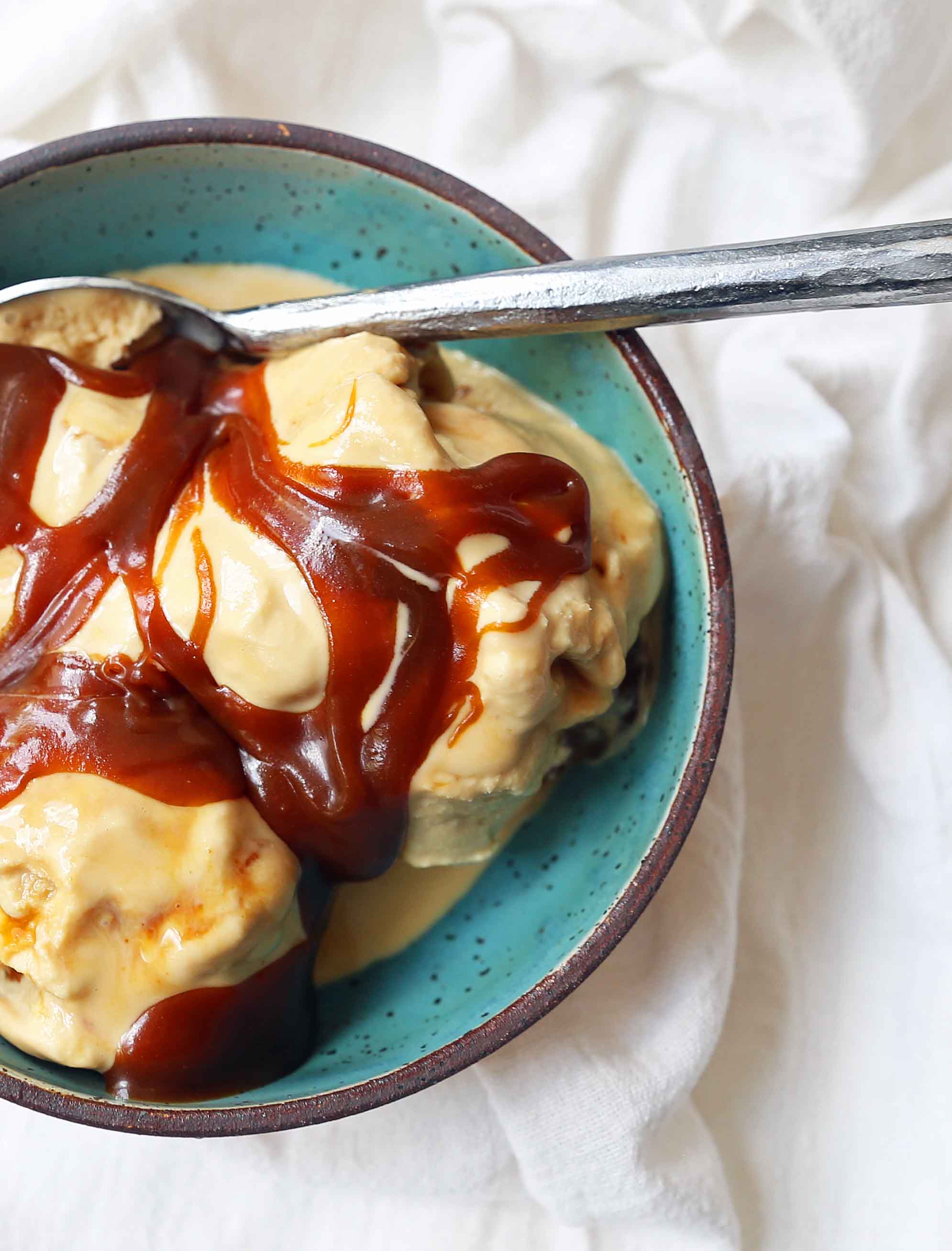 I couldn't wait to see how it turned out so I think I was churning ice cream at 5:45 am! Twenty-five minutes later, the ice cream was done and was a smooth soft-serve ice cream. I tasted it and started jumping up and down because it was THAT GOOD. It tasted just like some of the gourmet ice cream from the best ice cream shops in the country! I was one happy girl.
It was off to the freezer to harden up and I was counting down the minutes until I could eat it. It is velvety smooth, melt-in-your-mouth straight from the ice cream maker but if you want it hard enough to scoop, let it freeze for about 4 hours.
The results were a deep rich sea salt caramel that was perfectly creamy.  This is achievable at home with only a few ingredients! I hope you love the best salted caramel ice cream recipe. Top it with a homemade caramel sauce.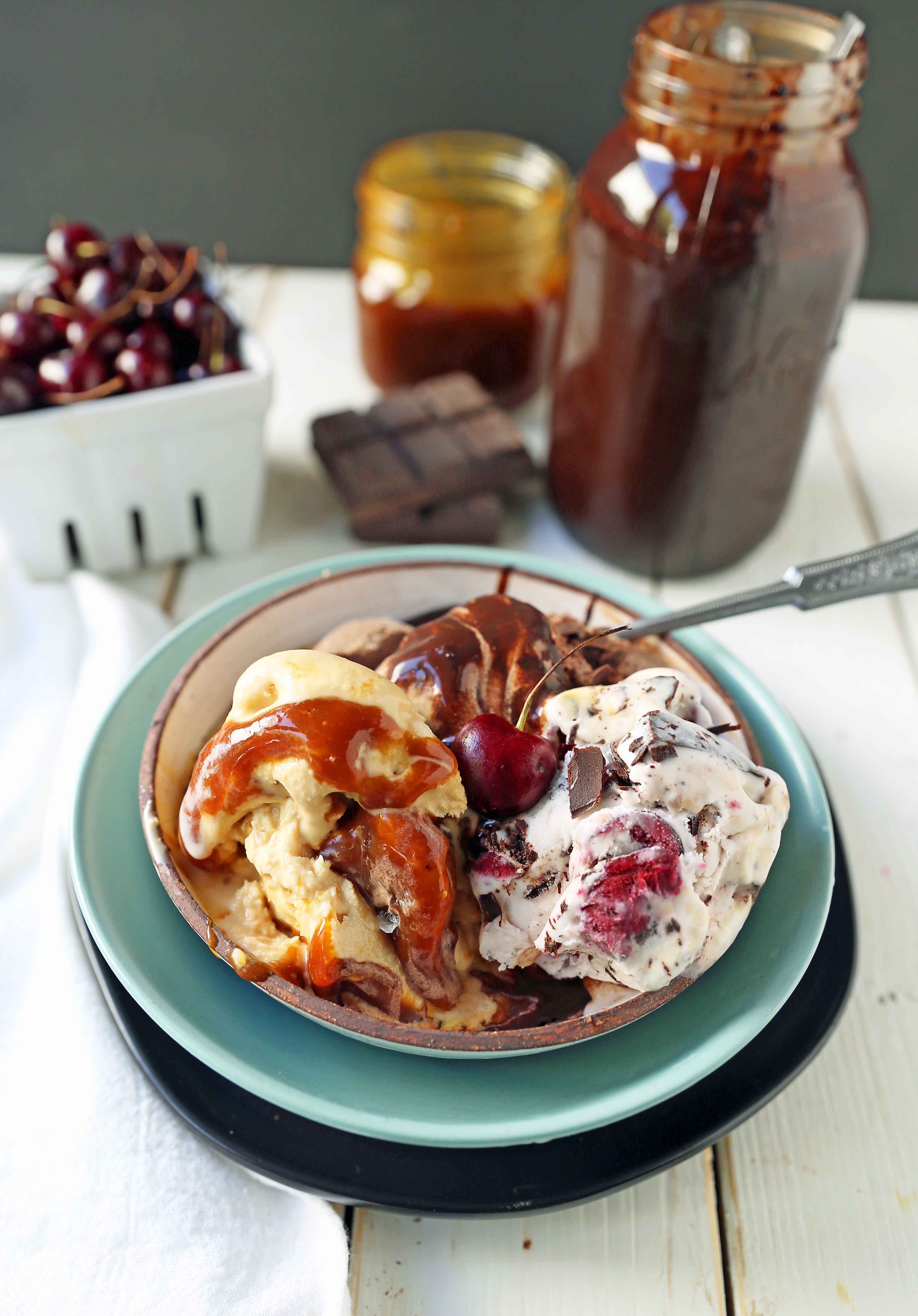 How to make the Best Salted Caramel Ice Cream:
 Start with sugar and lemon juice in a heavy-bottomed saucepan.  The key is to add the sugar ½ cup at a time. Let it dissolve before adding the next ½ cup.
Once the sugar is completely dissolved and melted, stir in the butter. Use a whisk and back away since the sugars may splatter.
After the butter is completely melted, reduce heat to medium-low and slowly whisk in heavy cream and whole milk.  Remove from heat and pour mixture into bowl or loaf pan to chill in the refrigerator. Let chill for 1 to 2 hours.
When the mixture is chilled, stir in sea salt.  Pour into ice cream maker and make according to ice cream machine instructions. My favorite ice cream maker is the

Cuisinart Ice Cream Machine

.
Once ice cream is done, transfer in a freezer safe container. Cover tightly and freezer until the ice cream is firm, at least 4 hours. Top with this homemade caramel sauce recipe. 
Pin on PINTEREST: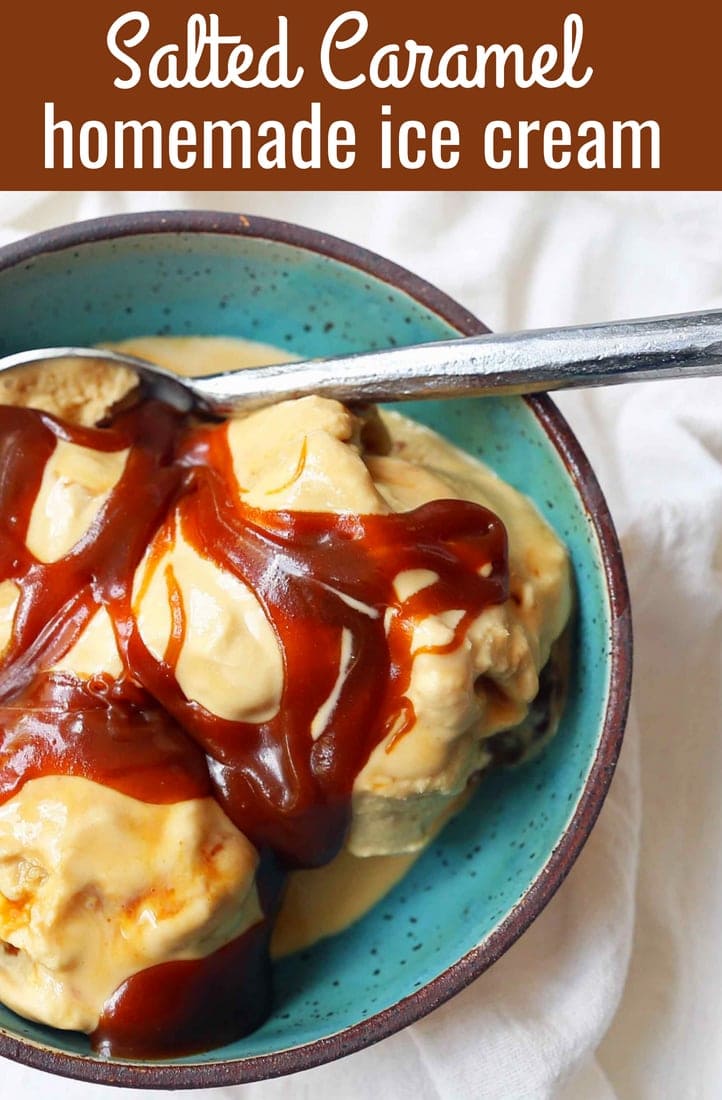 I hope you love this perfect sea salt caramel ice cream recipe!