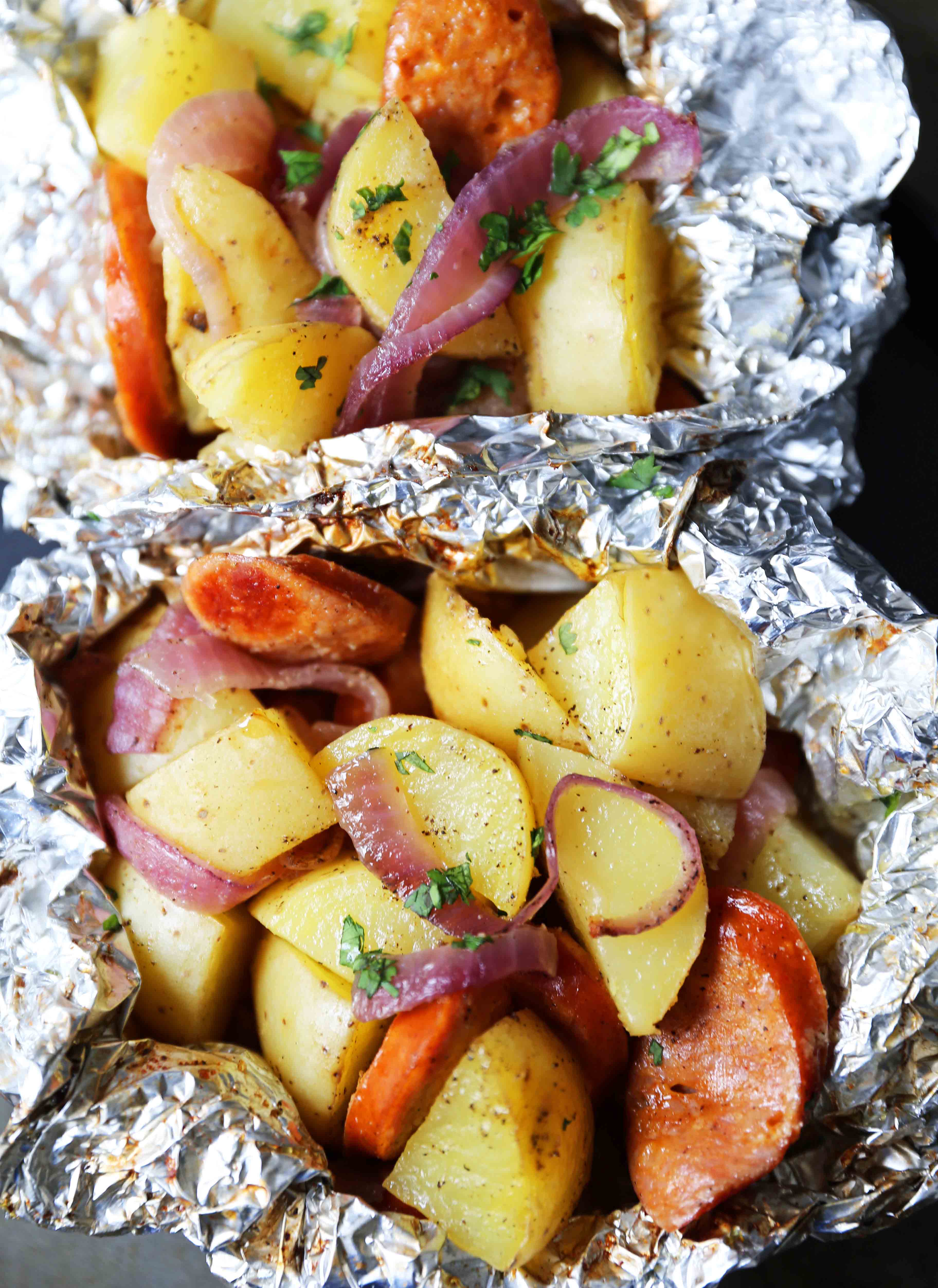 Sausage Potato Foil Packets
The modern tin-foil dinner with hardwood smoked sausage and creamy gold potatoes. An easy and flavor-packed dinner!
We ate tin-foil dinners probably every single week growing up. Our tin foil dinners were usually made with ground beef, potatoes, carrots, onions, and a hefty sprinkle of salt and pepper. It is a comfort food meal that we all craved! To this day I am obsessed with foil packet dinners!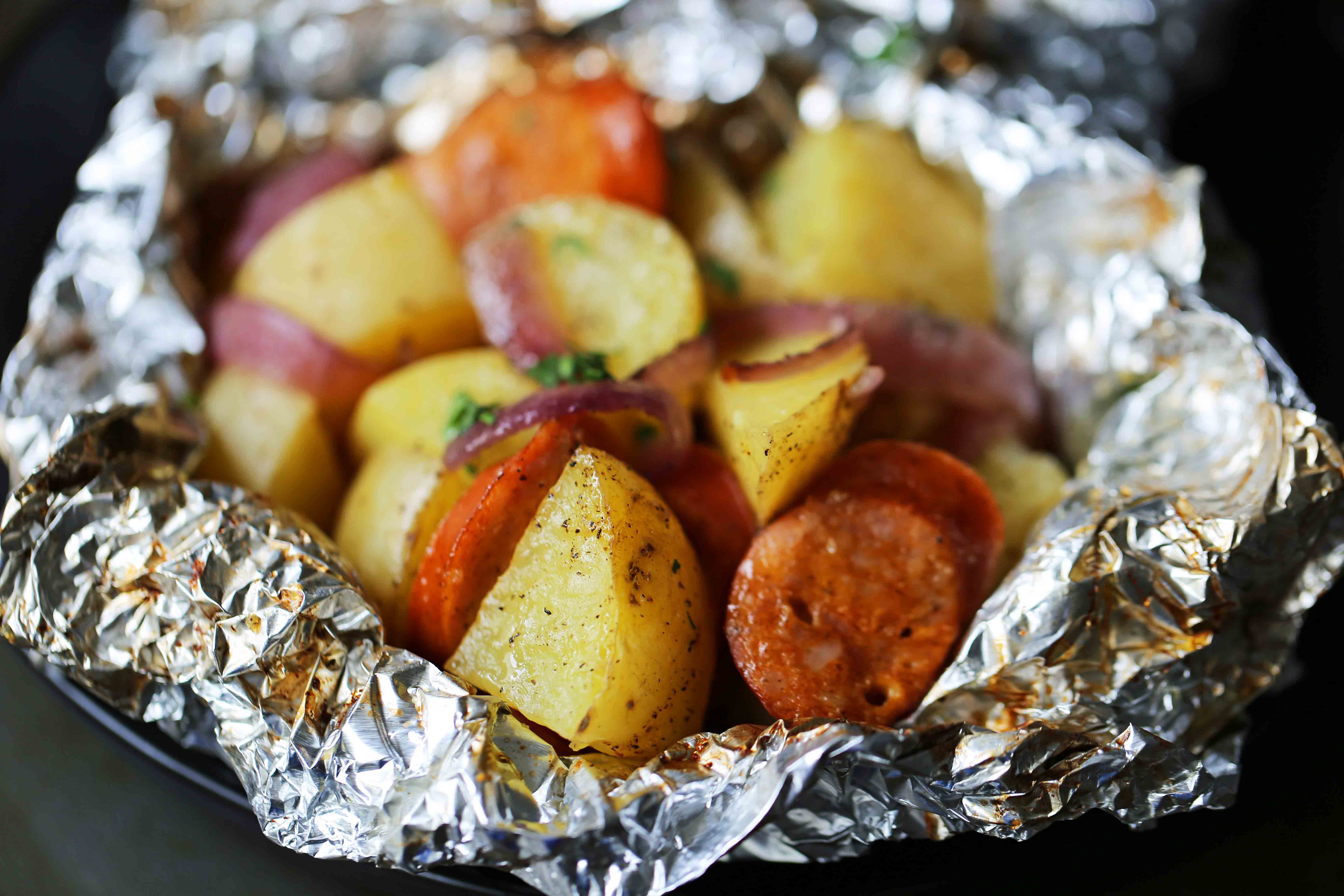 The first time I made these Sausage Potato Foil Packets, I was blown away by how incredibly delicious they were. My husband and kids loved their foil packets so much that they requested I make them again ASAP. The secret is in the sausage. As the tin foil dinners cook in the oven, the sausage infuses the potatoes with so much FLAVOR.
It is such a simple dinner made with only sausage, potatoes, red onion, garlic powder, a pat of butter, and salt and pepper. The Sausage and Potato Tin-Foil Packets are definitely a quick and easy throw everything together kind of dinner. Plus you have the protein and vegetables all in one packet, which makes it so easy to have a balanced meal for your family.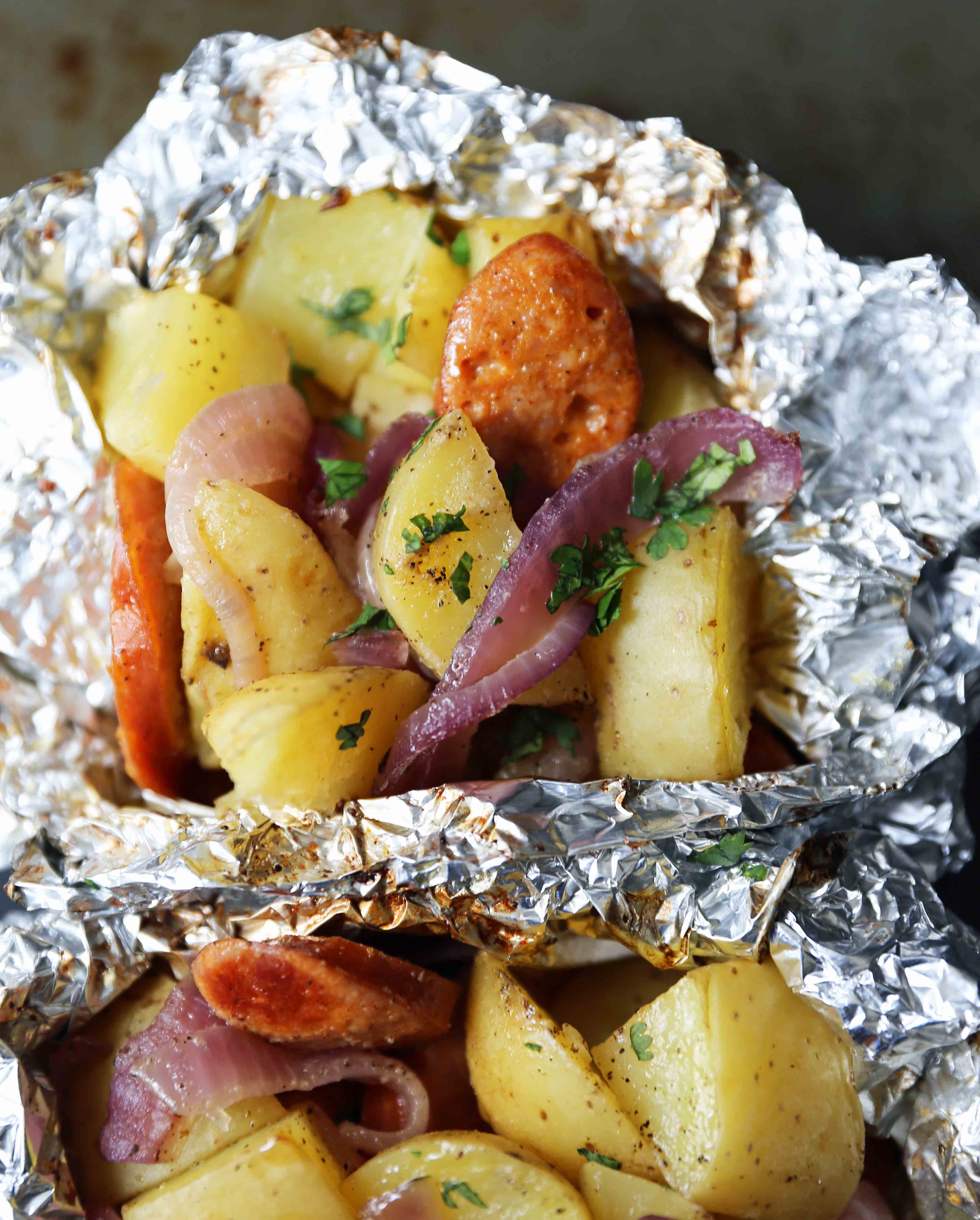 The first step in putting together the tin foil dinners is to cut the potatoes into bite-size pieces. My favorite potatoes of all of the time are the Private Selection Petite Yukon Gold Potatoes. They are the perfect size for these sausage foil packets. I cut them in half or quarter the potatoes before adding them into the foil packet. I prefer to use gold potatoes as they are much creamier in texture than a traditional russet potato.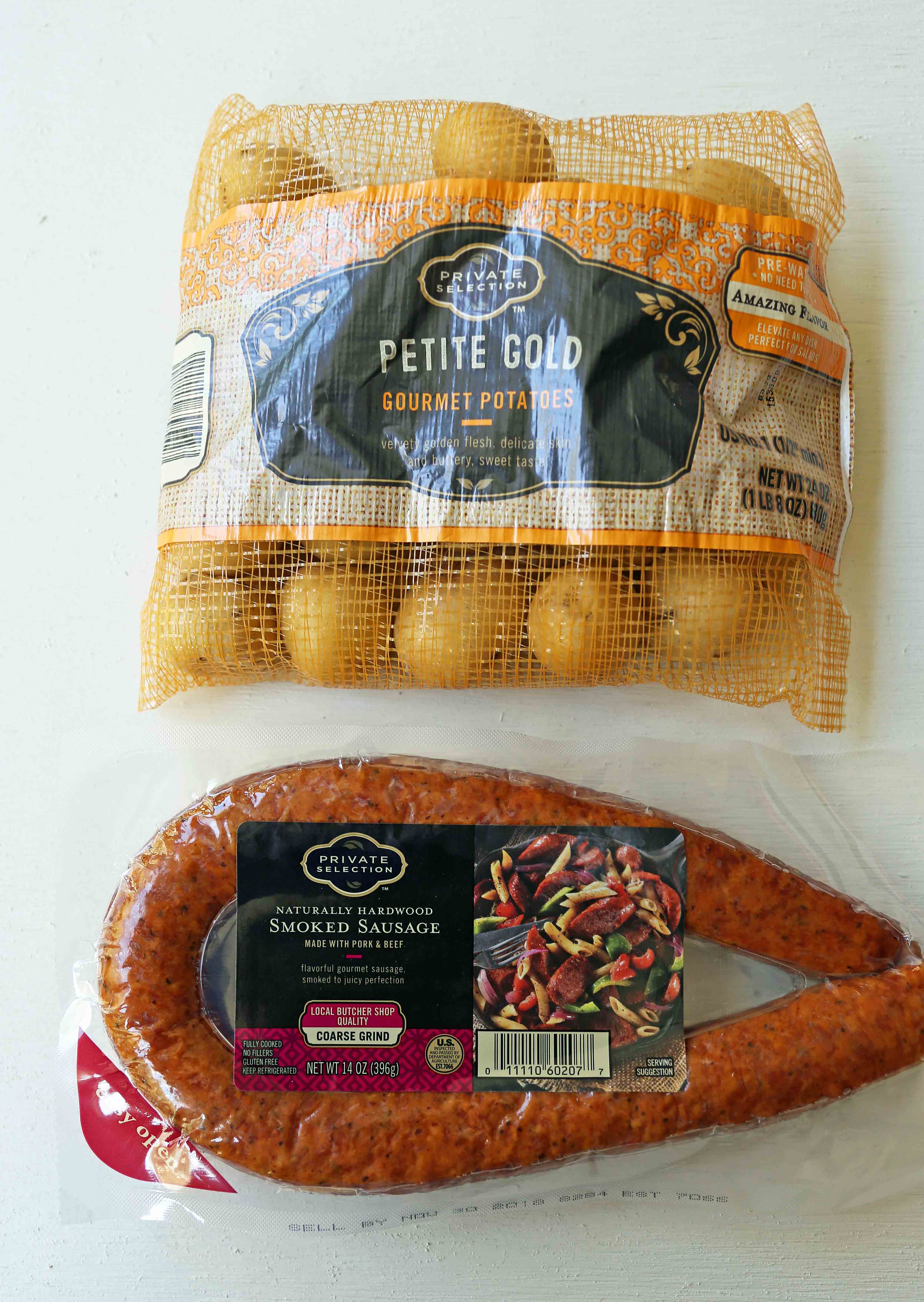 My favorite sausage is the Private Selection Naturally Hardwood Smoked Sausage because it has a local butcher shop like quality.  Since it is the star ingredient of this dinner, I look for quality sausage with a robust smoked flavor.
I suggest adding thinly sliced red onions to complement the creamy potatoes. Since potatoes seem to soak in the seasonings, be generous with the salt and pepper. A pat of butter infuses the potatoes and makes a rich, creamy buttery sauce. You can even use the Private Selection Butter with Parmesan Cheese and Fresh Basil.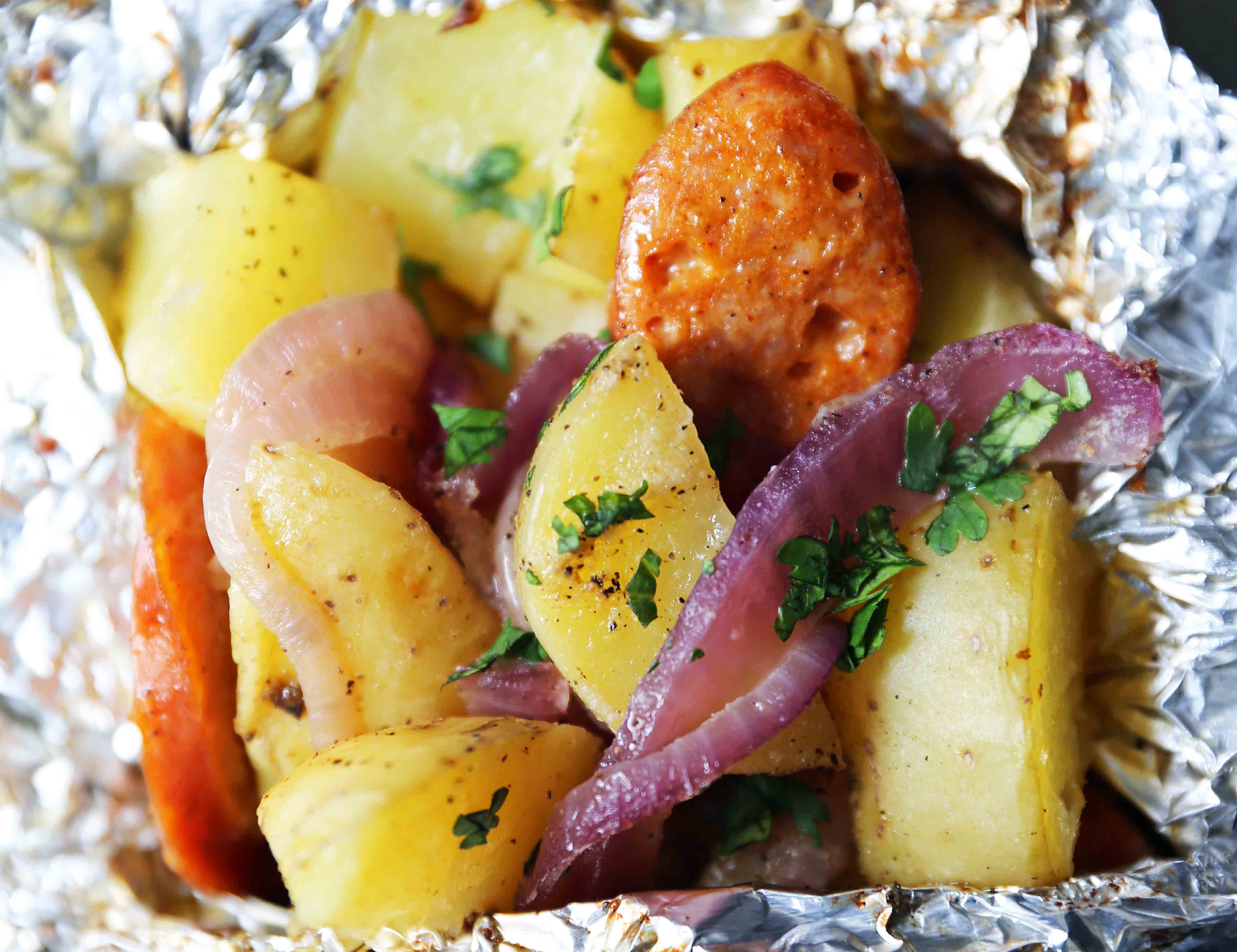 These easy tin-foil dinners can be baked in the oven or even placed on the grill. I place all of my foil packets on a baking sheet and bake in the oven at 400 degrees for about 35-40 minutes.
The key is to seal the foil tightly and let it cook completely covered. If you desire a little char on the sausage…and after the potatoes are fork tender…you can carefully open the foil packets and place under the broil setting for 2-3 minutes.
I am the biggest fan of Private Selection products at local Fry's for years. I have tried so many different Private Selection products and have been so impressed with their quality and taste. I literally get so excited for their Private Selection sales and take that opportunity to fill up my refrigerator, freezer, and pantry!
I will be stocking up during the upcoming sale on Private Selection products from October 3-17. You can find over $50 worth of coupons and recipes found at Kroger Private Selection Site. Also, download the Fry's or your own Kroger store to download the Private Selection coupons right on your phone. It makes saving money so easy!
Your family will love this simple comfort food meal. It is one of our favorite dinners!
Pin on PINTEREST: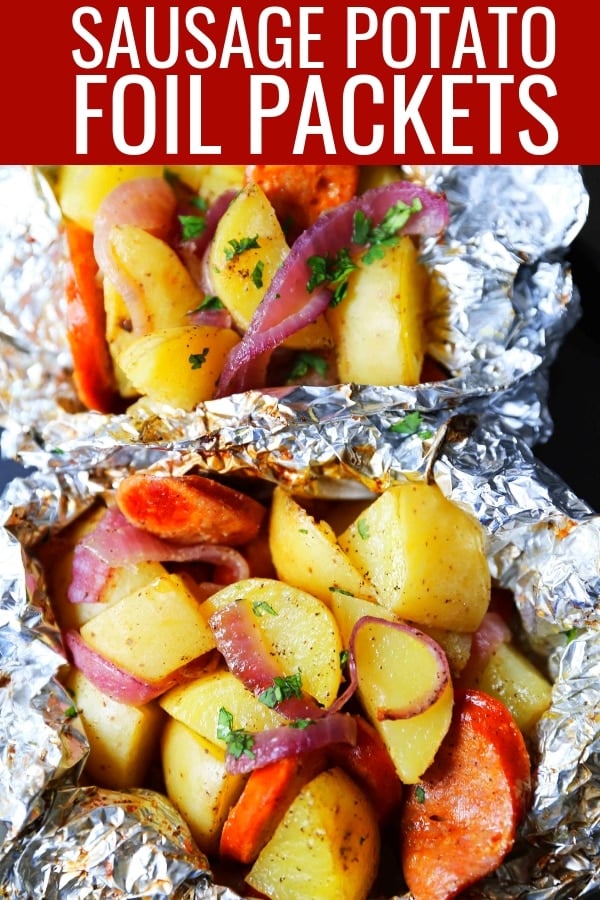 I love to hear from you! If you make this recipe, please be sure to leave a comment and give this recipe a rating. If you make any of my recipes, tag me on Instagram @modern_honey so I can see your creations. Also, be sure to tag your photo using the hashtag #modernhoney. It's one of my favorite things seeing you make these recipes in your own kitchen. Thank you for following along! I truly do have the greatest readers.
FOLLOW ME ON:   INSTAGRAM — FACEBOOK — PINTEREST
Pin this now to find it later
Pin It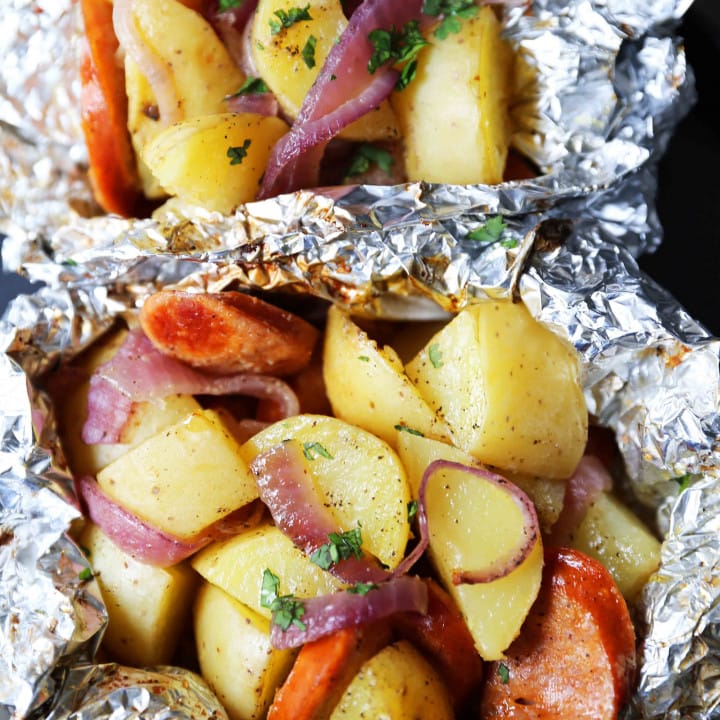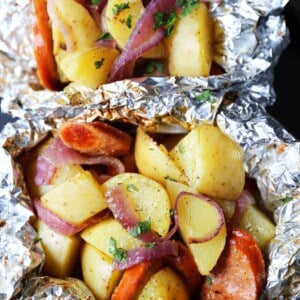 Sausage Potato Foil Packets
Sausage Potato Foil Packets The modern tin-foil dinner with hardwood smoked sausage and creamy gold potatoes. An easy and flavor-packed dinner. Foil packets cooked in the oven.
Ingredients
(1)

14-ounce pkg.

Smoked Sausage, sliced

(such as Private Selection Naturally Smoked)

1.5

lb.

Yukon Gold Potatoes

(such as Private Selection Petite Gold Potatoes)

1/4

Large

Red Onion

(sliced)

2

teaspoons

Salt

1

teaspoon

Pepper

1

teaspoon

Garlic Powder

4

Tablespoons

Butter

Italian Parsley

(chopped)
Instructions
Preheat oven to 400 degrees. Layout 4 sheets of aluminum foil.

Slice sausage lengthwise. Cut potatoes into bite-size pieces. If using petite yukon gold potatoes, halve or quarter potatoes. Slice onion. Sprinkle potatoes with salt, pepper, and garlic powder.

Divide sausage, potatoes, and onions and place on the sheets of foil. Place 1 Tablespoon of Butter on top of each foil packet. Tightly wrap up the foil so it is completely sealed.

Place in oven on baking sheet and let bake for 34-40 minutes or until potatoes are tender. Optional: If you want a little char on the sausage after it is fully cooked, set the oven to broil setting and place on the top rack. Open foil packet and let cook on broil for 2-3 minutes.

Sprinkle with fresh parsley and serve warm.
Nutrition information is automatically calculated, so should only be used as an approximation.
 Happy Cooking, my friends!