Scotcheroos
A dessert bar made with chocolate, peanut butter, butterscotch, and Rice Krispies. An easy no-bake dessert bar made in minutes!
Have you ever heard of a Scotcheroo? If you haven't, you are missing out! This is one of the easiest dessert bars to whip up because it is no-bake and needs only a few ingredients.
What are Scotcheroos?
A scotcheroo is a no-bake dessert bar made with a layer of peanut butter, sugar, corn syrup, and Rice Krispies and then topped with a melted butterscotch and chocolate layer. This is a dessert that was made famous in the 1960s because it was displayed on the back of a Rice Krispies cereal box. I have updated the recipe to make the most perfect Scotcheroo dessert bar.
This is such an easy dessert to whip up and take to a potluck or party or to put on your holiday goodie plate. If you are from the Midwest, you know how famous these Scotcharoos are around your parts!
The key to making perfect Scotcheroos is to make sure you don't overcook the peanut butter mixture. You don't want any burnt peanut butter taste! And you definitely don't want to put too much Rice Krispies cereal into the peanut butter mixture. This is what creates hard and crunchy Scotcharoo bars! I reduced the amount of Rice Krispies cereal so it is just the perfect amount.
If you want some extra shine in your chocolate butterscotch layer, add a touch of oil to the chocolate. This creates a nice sheen and helps the chocolate to melt quicker and will result in smoother chocolate.
I like to use a mix of butterscotch chips, milk chocolate chips, and a touch of semi-sweet chocolate chips to offset the sweetness. You can even sprinkle on some sea salt flakes for a salty-sweet combination.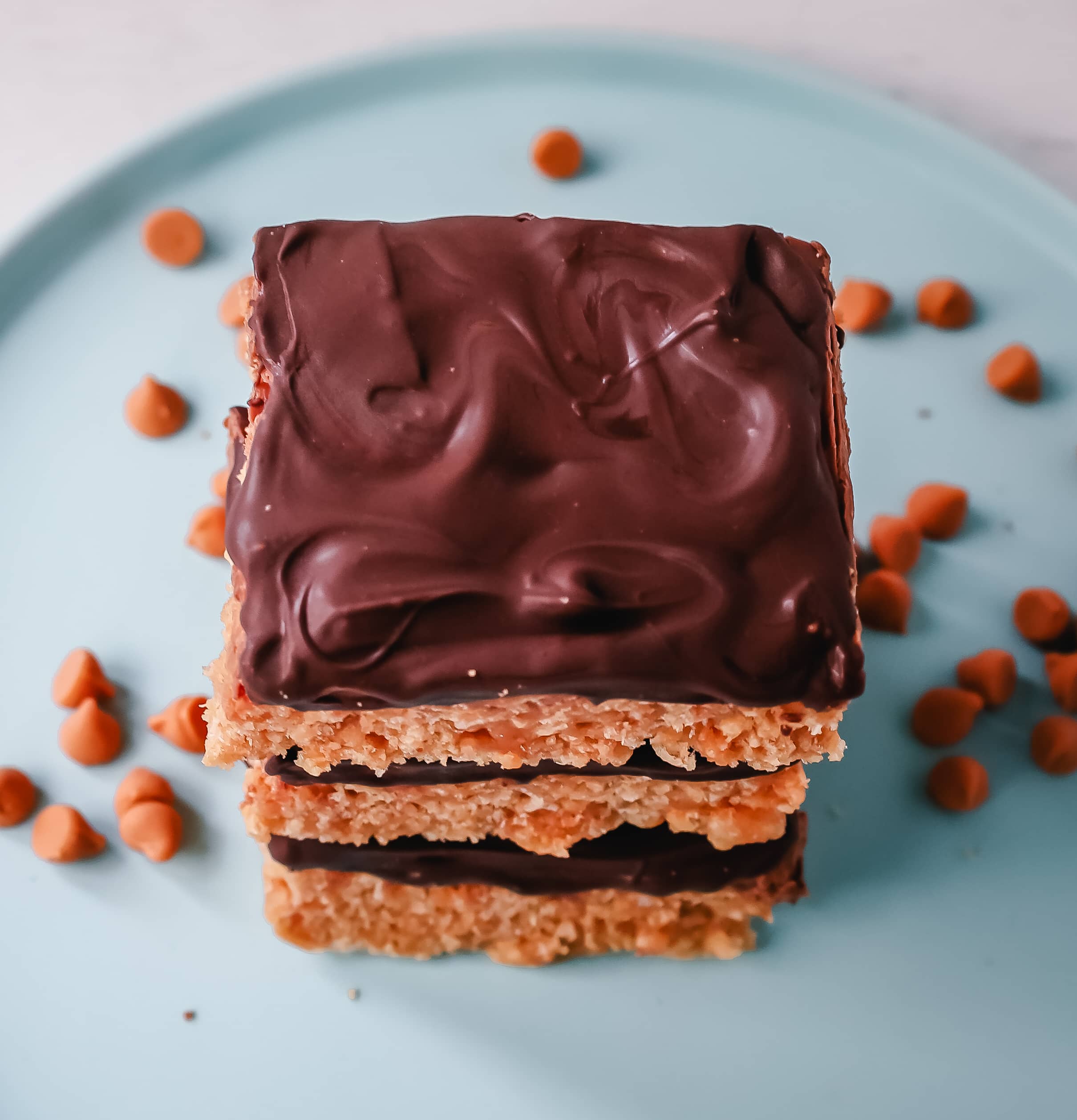 How to make the Best Scotcharoos:
Start by heating together sugar, corn syrup, and creamy peanut butter. You don't want to overcook this but just heat it up so the sugar crystals dissolve and the peanut butter mixture is smooth. I prefer to use creamy peanut butter but if you want some crunch, use crunchy peanut butter.
Fold in the Rice Krispies cereal. You want to try to coat it all so make sure to thoroughly combine the peanut butter mixture and the cereal. Pour into a 9 x 13 pan and use a spatula to press down.
In a microwave-safe bowl, add the chocolate chips, butterscotch chips, and a touch of oil for shine and cook on 50% power for 30 seconds at a time, stirring after each cooking increment. I prefer to cook at 50% power because it keeps the chocolate from burning. Once you stir it and the mixture is completely smooth, pour over the peanut butter cereal bar mixture and evenly spread over the bars.
Let chill until the chocolate hardens and then cut into squares and serve. These are rich so you can cut them into small squares.
If you love dessert bars, check out these other recipes:
Trifecta Bars -- Brownie, Chocolate Chip Cookie, and Rice Krispie Treat Bar
Brookie Bar -- chocolate chip cookie and brownie in one