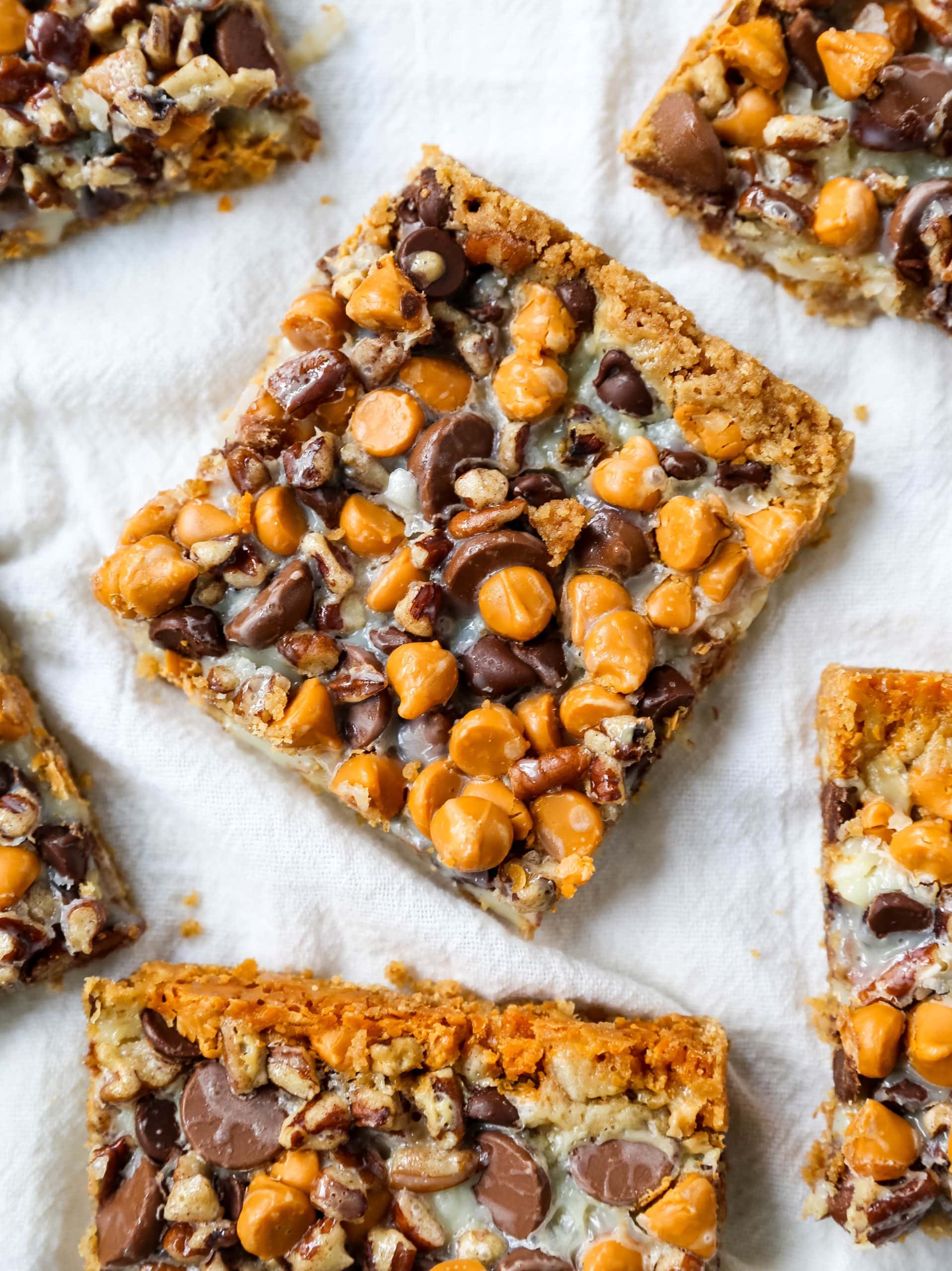 7-Layer Magic Bars
The famous dessert bars made with a graham cracker crust, sweetened flaked coconut, chocolate chips, butterscotch chips, nuts, all drizzled with sweetened condensed milk. The perfect dessert bar recipe!
This is one of those recipes that everyone seems to go crazy for. Everyone loves a Magic Cookie Bar. You may also know them as Hello Dolly Bars. It is unbelievably easy and let's be real -- it takes very little effort in the kitchen. You don't even need a stand or hand mixer. It is that easy!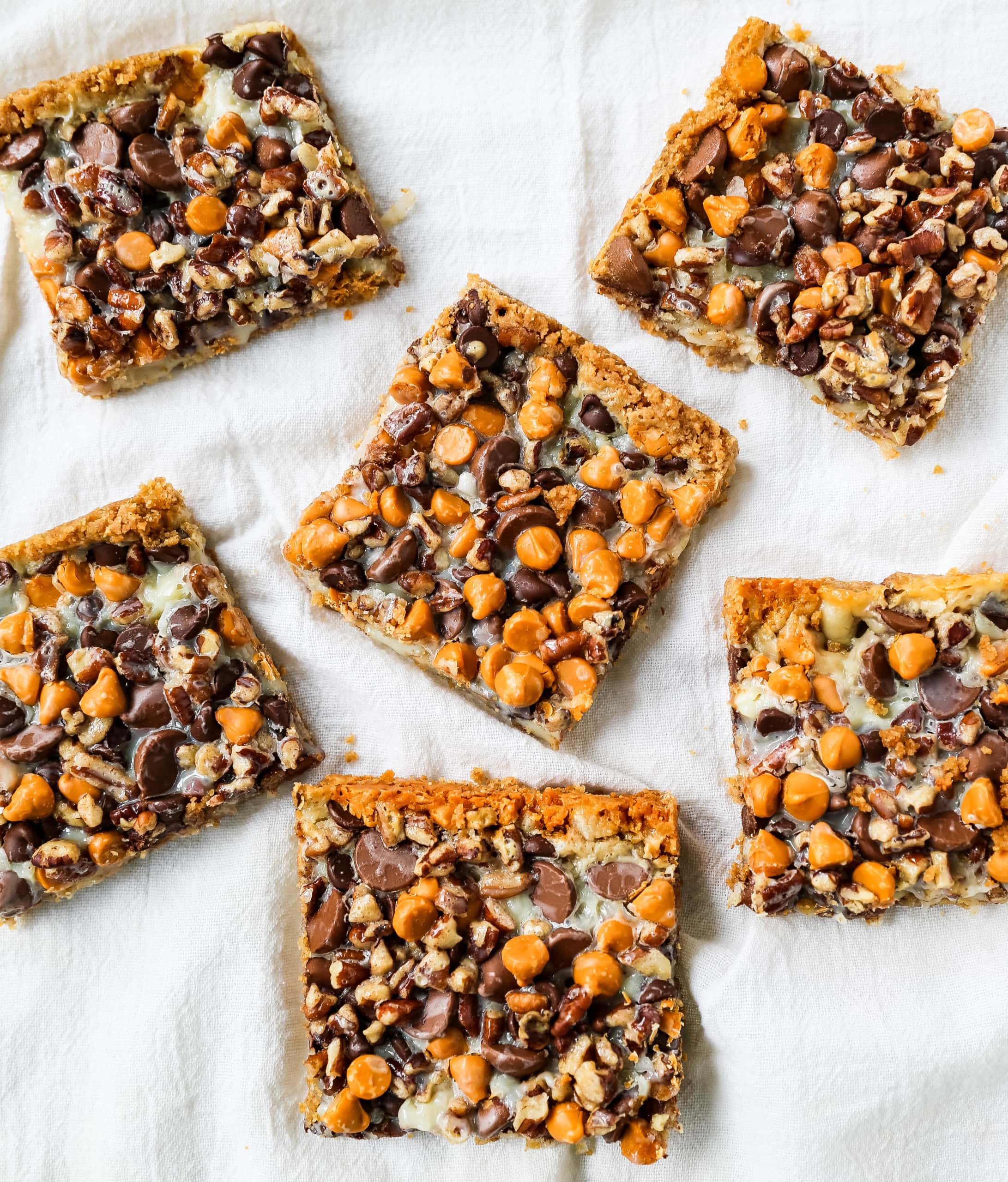 Plus how do you go wrong with a buttery graham cracker crust, coconut, chocolate, butterscotch, nuts, and sweetened condensed milk? If a recipe calls for a can of sweetened condensed milk, I am all in.
I once read that Martha Stewart keeps sweetened condensed milk in her refrigerator and her guilty pleasure is eating a spoonful of it late at night. Martha has never been so relatable to me.
She always loses me when she takes 15 minutes to fold a fitted sheet. I don't have that kind of time Martha to waste on perfectly folding fitted sheets. Anyone else with me?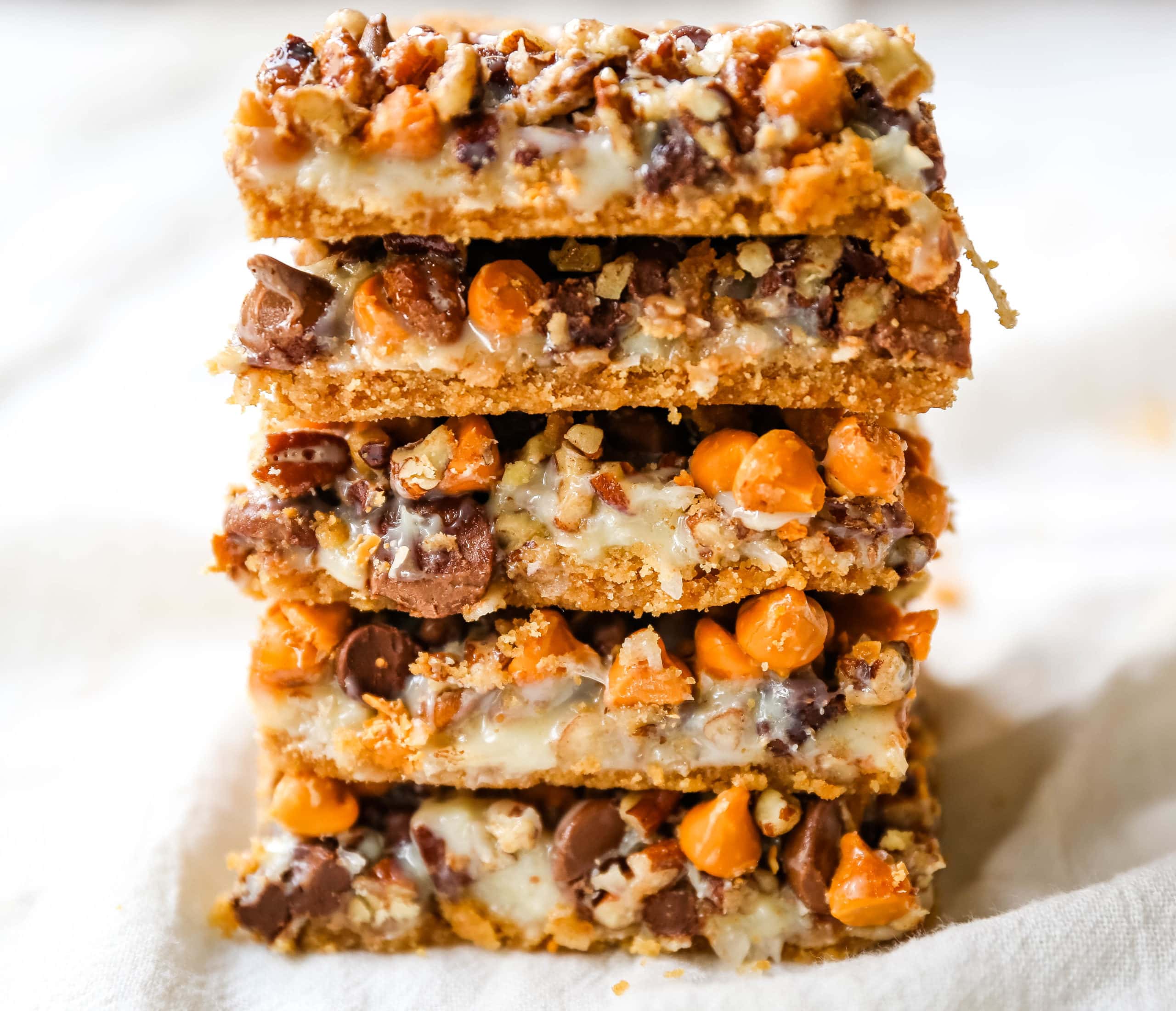 I know how to make my kids extra happy. I whip up these seven-layer bars, cut them up into pieces, place them in a large Ziploc bag, and throw them in the freezer. Then they can snack on them all day long. My daughter admitted to me at 4:00 pm that she had hardly eaten anything all day -- except for the 7-Layer Magic Bars for breakfast. I had to laugh! You really ate the Magic Cookie Bars for breakfast? This is what happens when you live with me. 🙂
This is your fair warning that these 7-layer Hello Dolly Bars are highly addicting. You may not be able to stop at one. I played around with this recipe to get it just right to our liking.
These are very sweet bars so I like to sprinkle on a little sea salt to offset the sweetness. Plus it pairs so nicely with the butterscotch. Trust me on this one. Oh, and if you love nuts, feel free to add more nuts. They cut the sweetness too. You can use your favorite nut of choice -- pecans or walnuts -- or whatever your heart desires.
How to make the Best 7-Layer Magic Bars:
Start by making the graham cracker crust. This is the easiest crust because it is made with crushed graham crackers and melted butter. That's it. If you own a food processor, it takes about 30 seconds to make the crust. If not, you can always buy the graham cracker crumbs and just stir them together with melted butter. If you are using graham cracker sheets, you can also place them in a bag and wack them with a rolling pin.
Press down the crust in a 9 x 13 pan. If you want to make things extra easy, line the pan with parchment paper or foil. If you use foil, lightly spray with non-stick cooking spray to make it easy to remove.

This is my all-time favorite 9 x 13 baking pan

Sprinkle sweetened flaked coconut all over the crust. Then sprinkle chocolate chips all over the coconut. You can do all semi-sweet chocolate, or half milk chocolate and half semisweet. It all depends on your preference. Then sprinkle with butterscotch chips and your favorite chopped nuts -- pecans or walnuts.
Add a touch of sea salt. This is when the magic happens because it turns this sweet bar into a salty sweet bar and makes it that much better. Bake for about 20 minutes and then let them cool. Place in the refrigerator or freezer to allow them to set up before cutting them.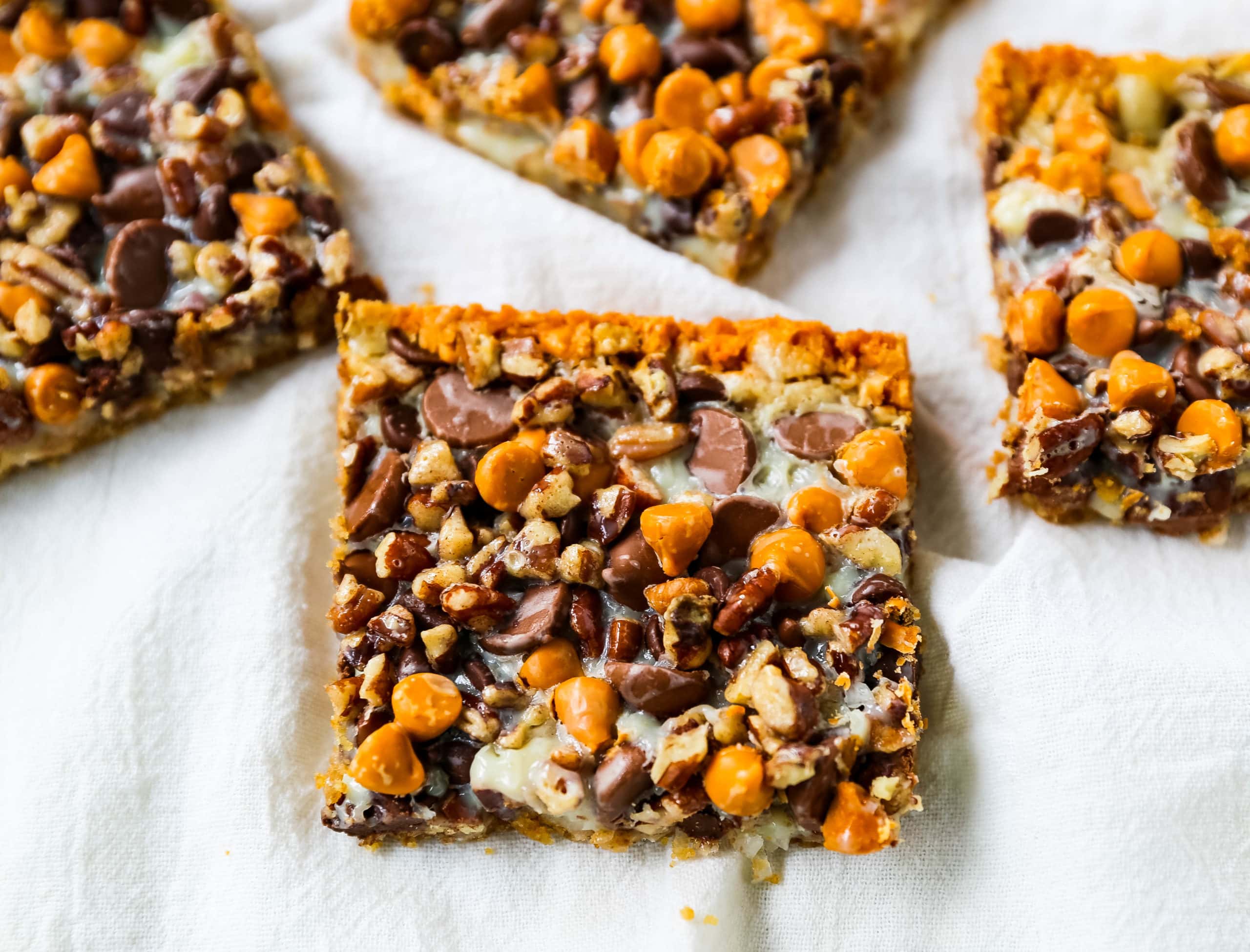 If you love dessert bars, check out these other recipes:
Chocolate Chip Cookie Bars
Brookies (Chocolate Chip Cookie and Brownie Bar)
Salted Caramel Blondies
Better than a Boyfriend Brownies