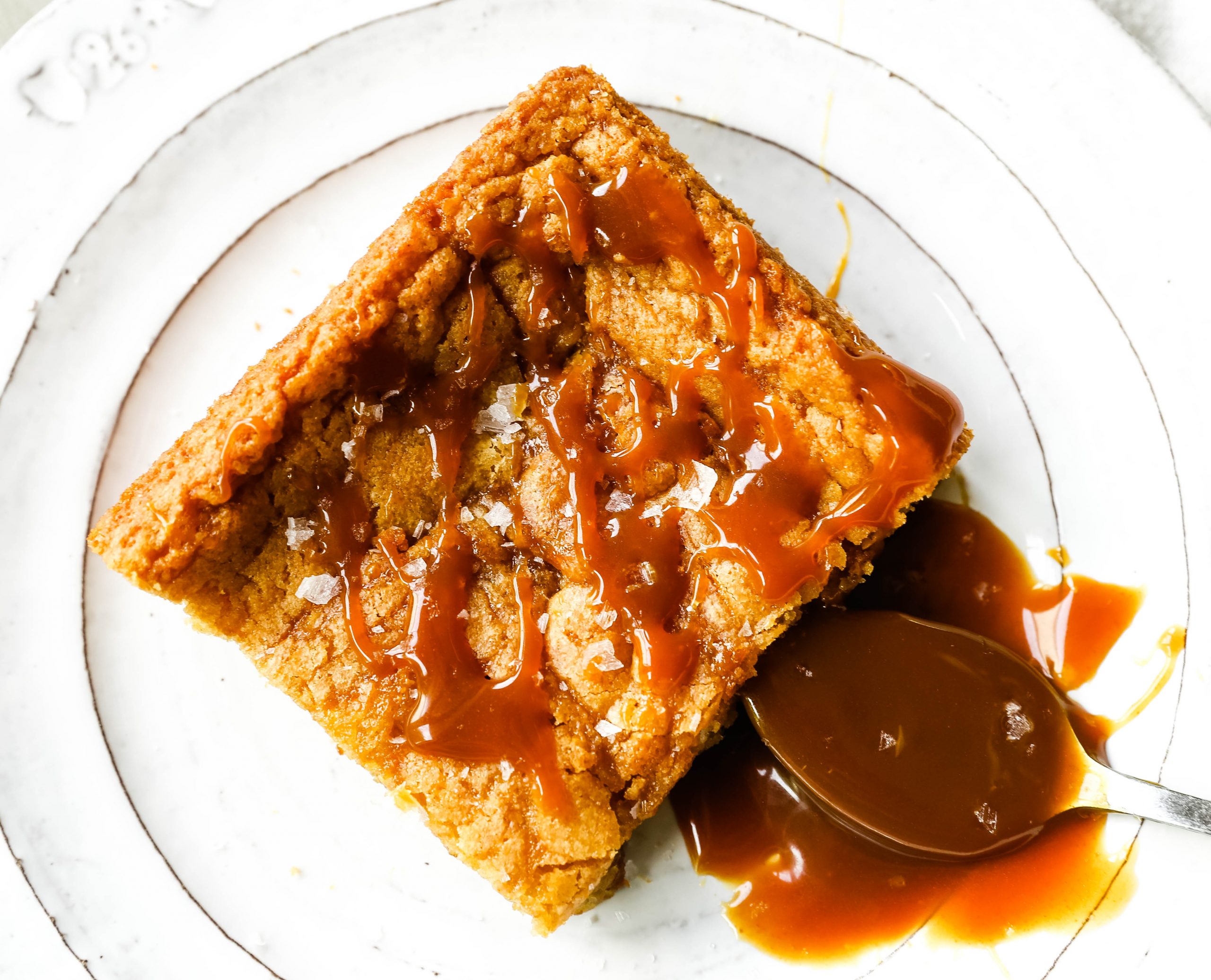 Salted Caramel Blondies
Soft chewy vanilla blondies swirled with salted caramel and baked until golden. The Best Sea Salt Caramel Blondies!
I literally couldn't wait a day to share this recipe with you! These are one of my favorite dessert bar recipes of all time. You are going to fall in love with these Salted Caramel Blondies.
I just created this recipe and we are all hooked on them! This is how the recipe testing went down. I found three jars of caramel in our refrigerator and since we are in cleaning out mode in our home, I thought I need to something with this buttery caramel. Since we are obsessed with all things salted caramel, I wanted to create the perfect salted caramel bar.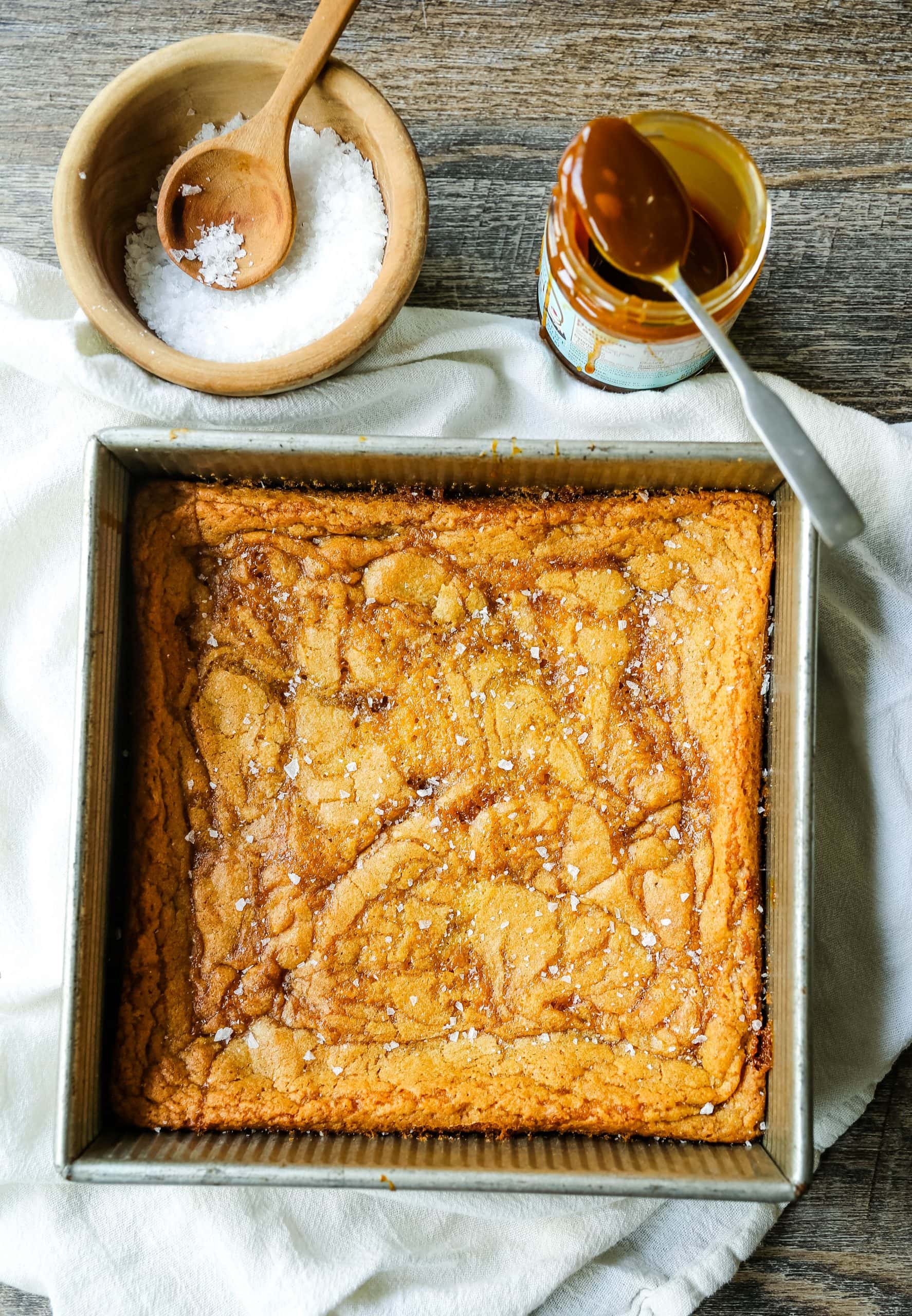 These Salted Caramel Blondies came out even better than I could have imagined! They are perfection. These Sea Salt Caramel Bars are soft and chewy, with ribbons of sweet salted caramel and buttery crisp edges. They are everything you want in a dessert bar -- sweet, salty, chewy, and crispy. We ate the entire pan and my family was asking for a second batch.
These Caramel Blondies start with browned butter which deepens the caramel notes in these bars. Browned butter makes everything better! This recipe calls for a light browned butter -- which means you don't go through the entire process of browning the butter. It is a quick process but it gives just the right amount of rich toffee flavors.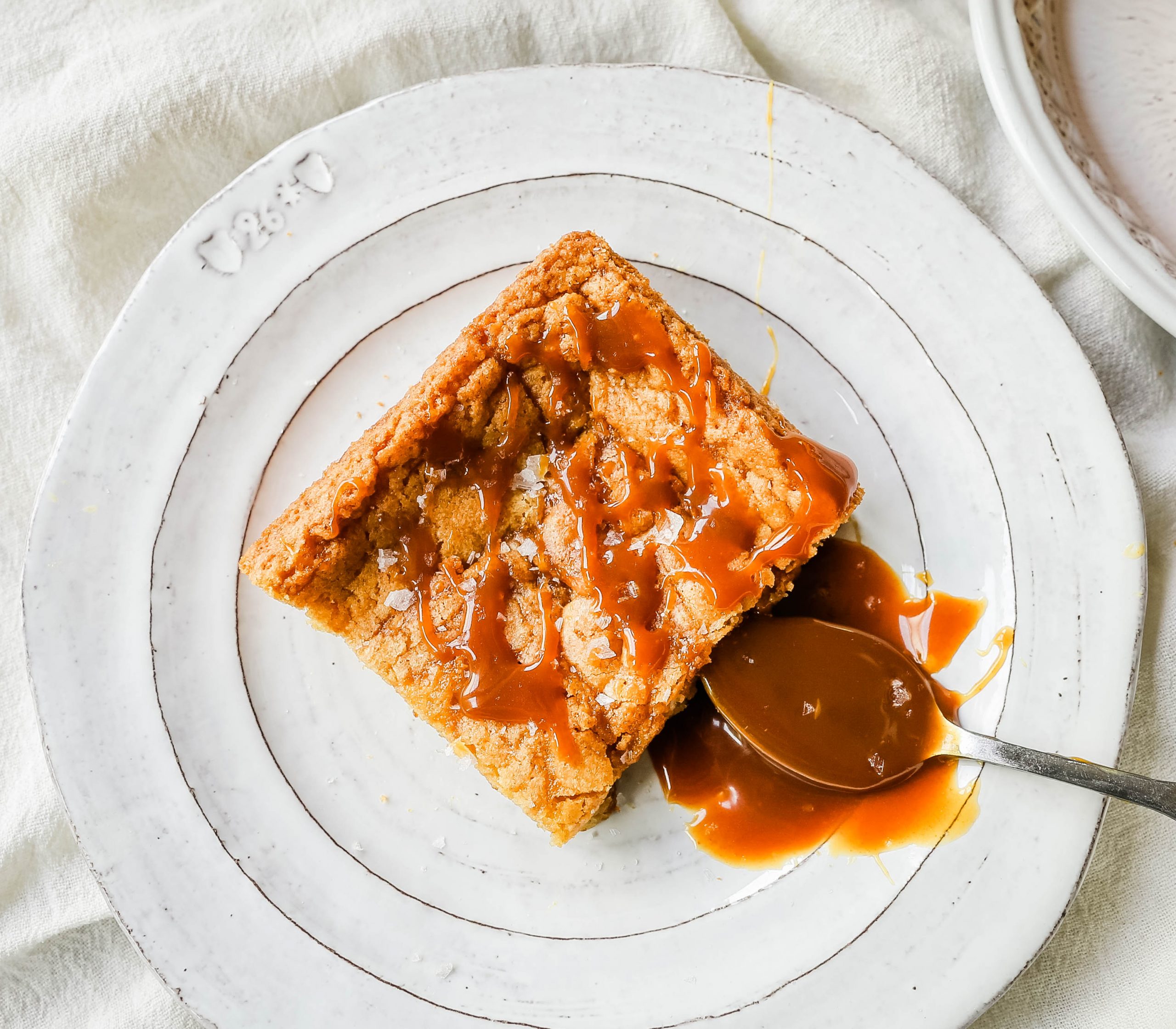 The combination of brown sugar and sugar play integral roles in these caramel blondies. The brown sugar adds a chewy texture which the sugar helps to create crispy edges.
Since caramel is the star ingredient, you want to reach for high-quality thick caramel. I love to use Trader Joe's Fleur de Sel Caramel Sauce since it has a velvety texture and the perfect balance of thickness. If you have a Kroger brand store such as Fry's or Smith's nearby, you can pick up Private Selection Sea Salt Caramel topping. Any caramel will work just fine but I prefer a thicker caramel as it won't just dissolve into the blondies.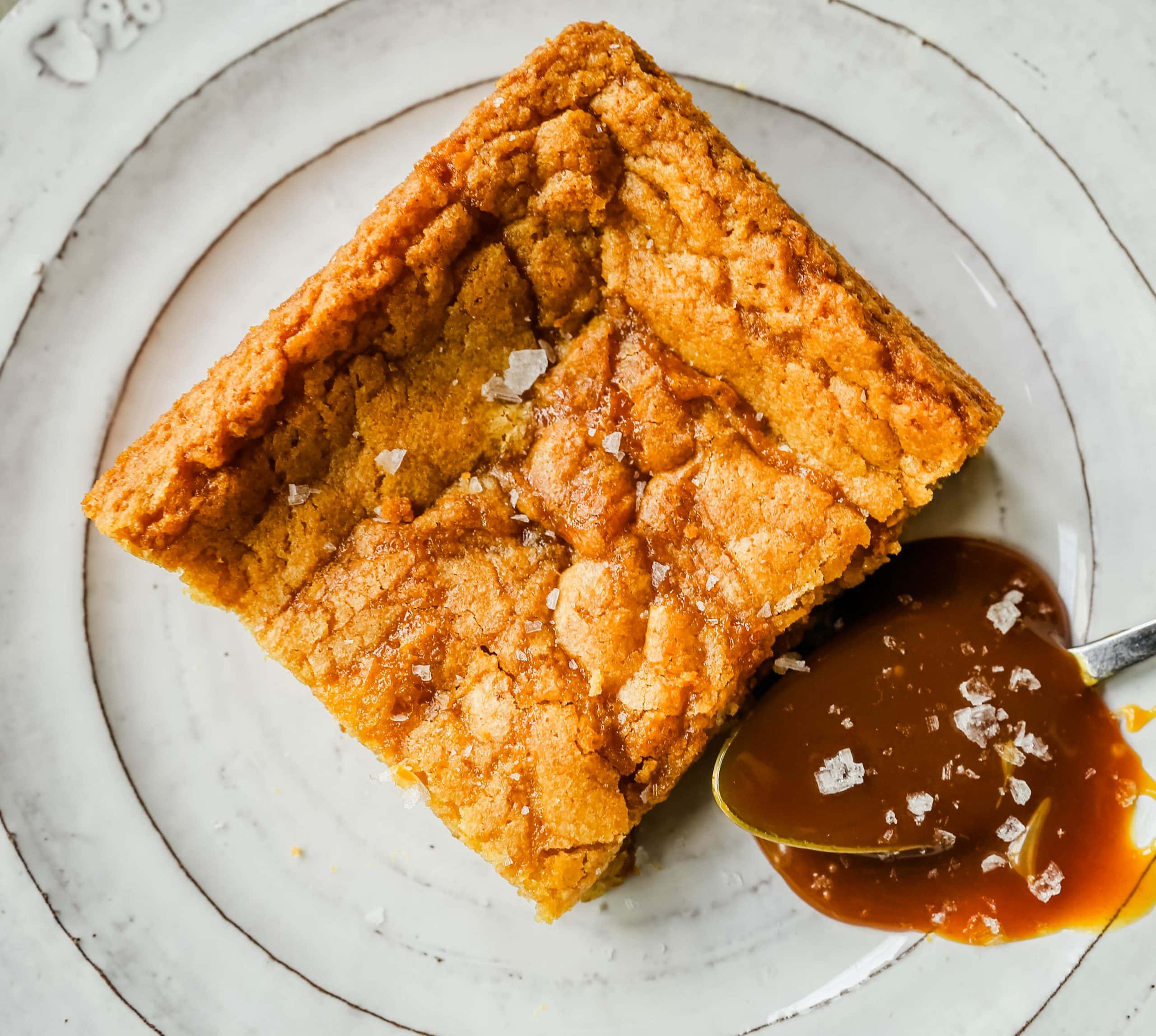 How to make the Best Salted Caramel Blondies:
Melt the Butter. In a saucepan, let the butter melt and cook for about 2 minutes. This will start to deepen the flavor of the butter to be the perfect base for these caramel bars.
After you remove the butter from the heat, immediately add the brown sugar and sugar. You want the butter to be nice and hot so that when \ the brown sugar and sugars are added, it dissolves nicely and becomes glossy. Stir it for 1-2 minutes to ensure that the sugars are dissolved.
Let it come to room temperature. Don't skip this step! It needs at least 10-15 minutes to rest before adding the eggs. I suggest adding the vanilla first and then one egg at a time to temper the mixture. Add in the dry ingredients and mix together. Pour into a 9 x 9 baking pan. If you want to make it easier to cut the bars, you can line the pan with parchment paper.
Drizzle caramel all over the brownies. I suggest using a high-quality caramel. Since the caramel I use is slightly thicker and had been in the refrigerator, I placed dollops of caramel all over the bars and swirled it together with a knife.
Bake until edges are golden brown and a toothpick comes out clean. These tend to be slightly gooey in the center with crispy edges. You don't want to overbake them so the edges are too hard.
Let the caramel blondies cool to room temperature before cutting. Place in the freezer if you are in a hurry. These blondies are so much easier to cut when they aren't hot. Let them cool.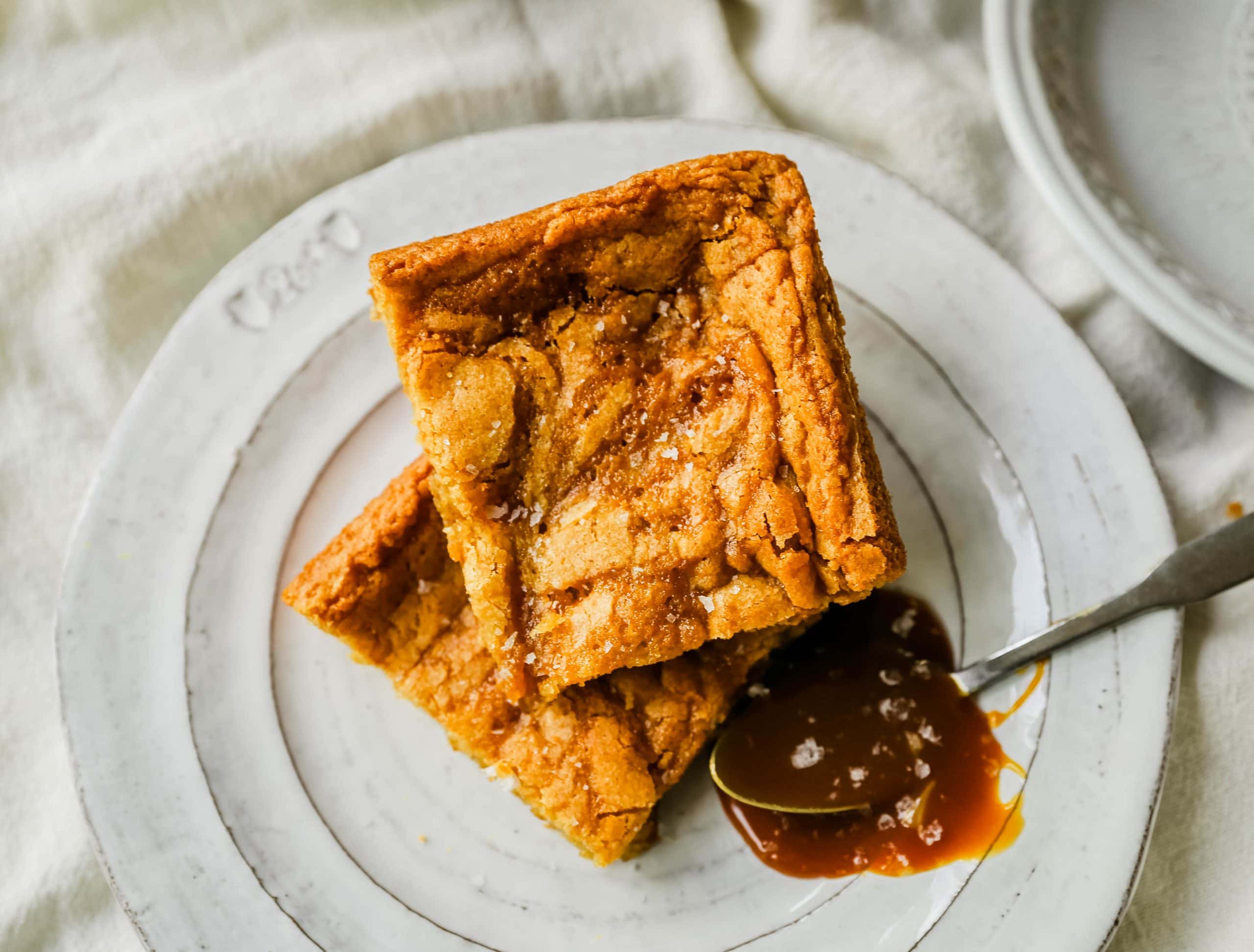 If you love dessert bars, check out these other recipes:
Better than a Boyfriend Brownies (the best homemade chocolate brownies)
Browned Butter White Chocolate Blondies
Chocolate Chip Cookie Bars