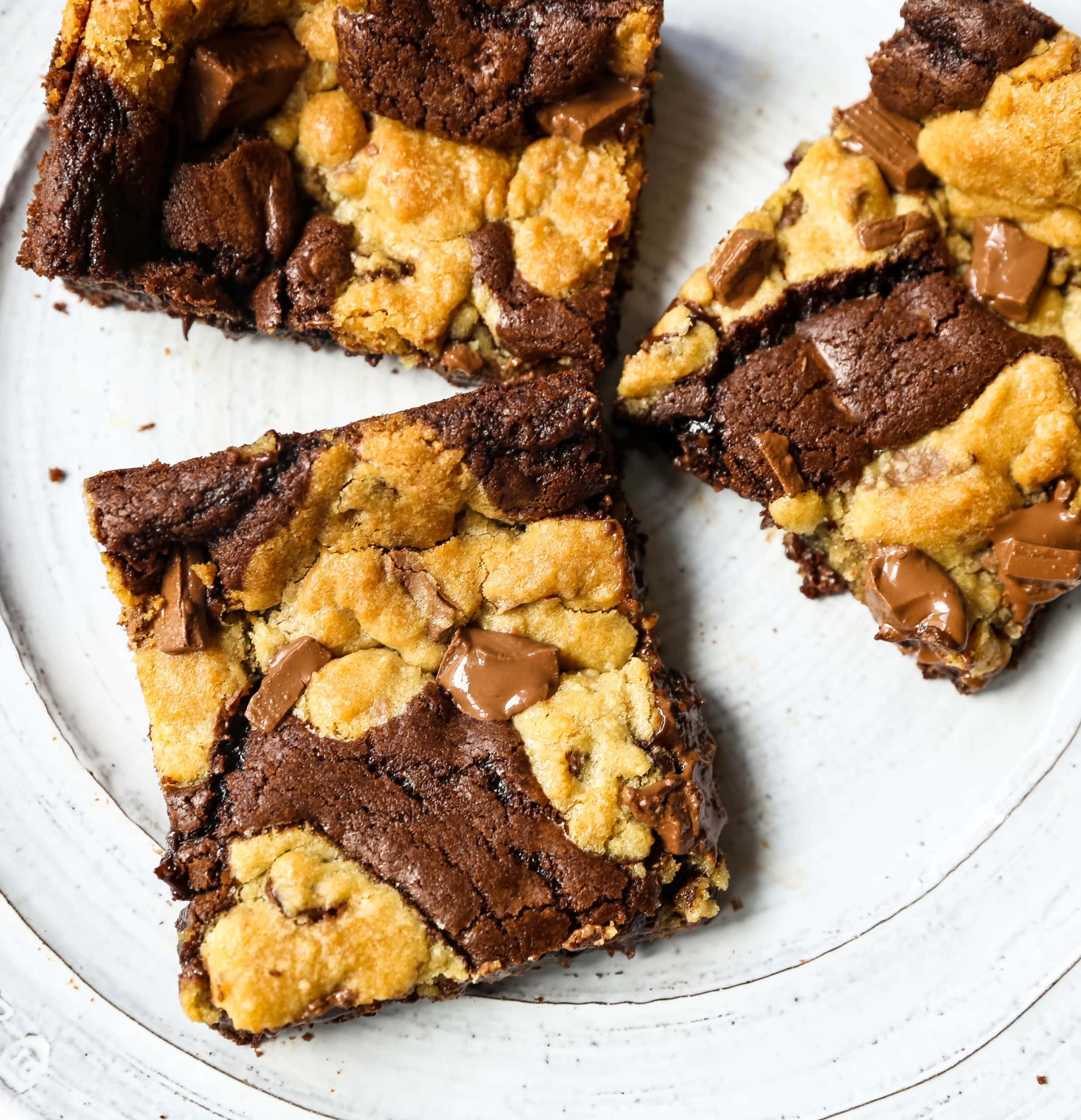 Brookies (Chocolate Chip Cookie and Brownie Bars)
A homemade decadent chocolate brownie and chocolate chip cookie all in one! A brownie and chocolate chip cookie just got married. The best dessert bar!
If you have been on Modern Honey for even a few minutes, you will know how much I LOVE chocolate chip cookies and brownies. They are my two favorite desserts so why not combine them into one to make a killer dessert bar? Are you onboard? I thought so!
When I first started experimenting with making a homemade brookie, I began with my ultimate homemade brownie recipe -- the Better than a Boyfriend Brownies. They are fudgy and decadent and the perfect base for our chocolate chip cookie brownie.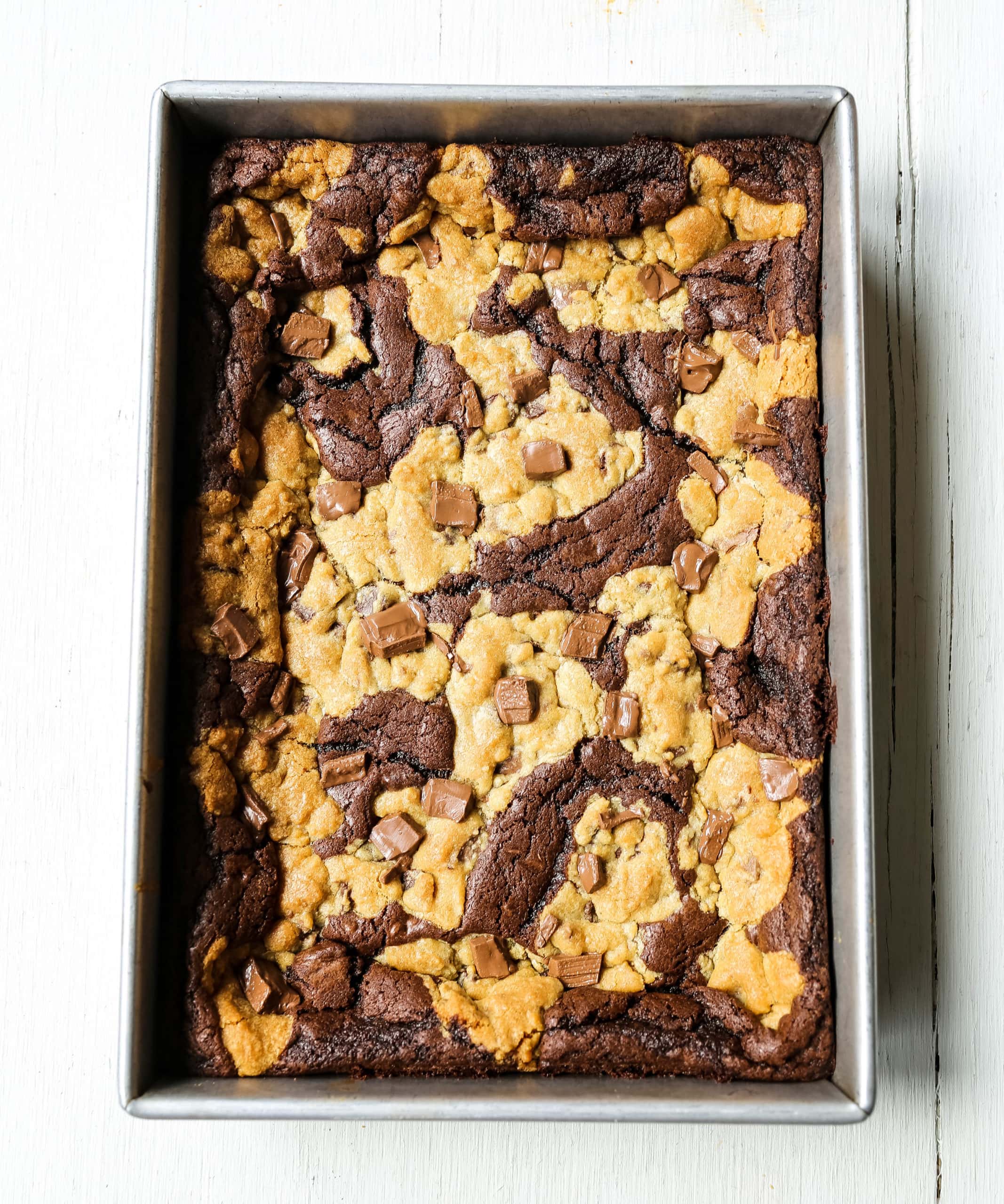 Then it is time to whip up the homemade chocolate chip cookie dough. This cookie dough is made with all of the simple ingredients -- butter, sugar, eggs, vanilla, flour, soda, salt, and chocolate. It has the perfect balance of butter and flour to make it ooey gooey but still have structure.
I like to make it extra aesthetically pleasing by adding chocolate chunks on the very top during the last few minutes of baking. Hey, you know how people eat with their eyes first so you gotta make them extra pretty. Of course, I whip out my Trader Joe's Pound Plus milk chocolate bars and chop it up and sprinkle on the top.
I made something similar to this once but added a soft and gooey Rice Krispie treat layer. It landed on the cover of Food Network Magazine so I guess you could say it was dang yummy. You can find my Bake Sale Trifecta Bars here and read all about the story.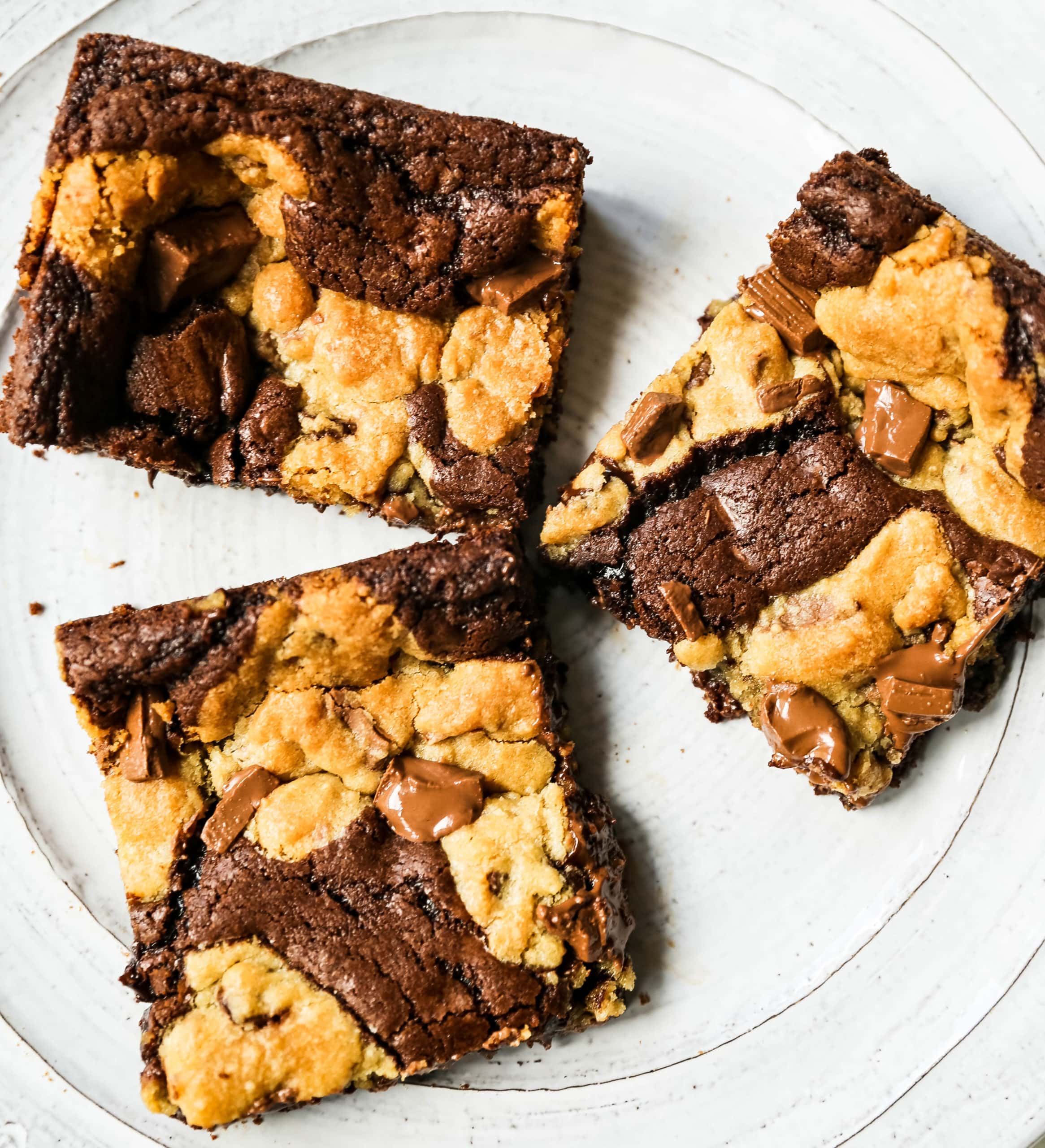 How to make the Best Brookies (Chocolate Chip Cookie and Brownie):
Start by whipping up the homemade brownie batter. Spread on the bottom of a 9 x 13 pan. This is my favorite go-to baking pan because it bakes so evenly. I love to use parchment paper on the bottom of the pan so it is so much easier to cut.
Next mix up the homemade chocolate chip cookie dough. Drop spoonfuls of dough on top of the brownie batter and try to do it as evenly as possible to get nice coverage.
A few minutes before the baking time is completed, sprinkle milk chocolate bars all over the top of the cookie dough, if so desired. I love to use Trader Joe's Pound Plus bars.
Let the bars chill and set up before cutting. For easier cutting, place in the freezer for 20 minutes before slicing into bars.

More Dessert Bar Recipes from Modern Honey:
Chocolate Chip Cookie Bars
Browned Butter White Chocolate Blondies
M & M Cookie Bars