Slow Cooker Instant Pot Beef Ragu
This braised shredded beef ragu with pappardelle pasta can be made in a slow cooker or instant pot pressure cooker. It makes the most tender, flavorful beef in a rich, velvety sauce. It is the ultimate comfort meal in a bowl!
I asked. You told me. Last week I asked on my instagram account @modern_honey, what types of recipes you wanted to see more of on Modern Honey. Dinner recipes won! You specifically wanted more instant pot recipes. Who has fallen in love with the ease of using an instant pot? If you are still looking to buy one, you can purchase one HERE. If you need a new Slow Cooker that you can set and forget about it, you can purchase one HERE. Being a busy Mom of 4,  I use the instant pot and slow cooker several times per week. They are such time savers!
Years ago before I started Modern Honey, I won a trip to New York City to compete in the Truvia Baking Star competition. It was November, which is typically known for its crisp cold temperatures back East, but this week was different. It was FRIGID. A major cold front moved in and just as we arrived and walked outside, we realized we were not prepared for these temps. After getting dropped off at our hotel, we literally went straight to the store to buy my husband a "real" jacket, gloves, and a beanie. We don't use real jackets in Arizona and don't even know what REAL cold is all about.  Such rookies.
We were turning into popsicles and needed to go eat and warm up.  Our hotel was across from Eataly, which is full of authentic Italian restaurants.  After sitting down, I skimmed over the menu and it took me about 0.5 seconds to figure out what I wanted to order. A big bowl of braised beef ragu over a bed of pappardelle pasta was just what I needed to warm me up and fill my belly. The braised beef melted in my mouth and the rich, savory sauce was perfection. I vowed that night to go home and make it.  Now, it is time to finally share it!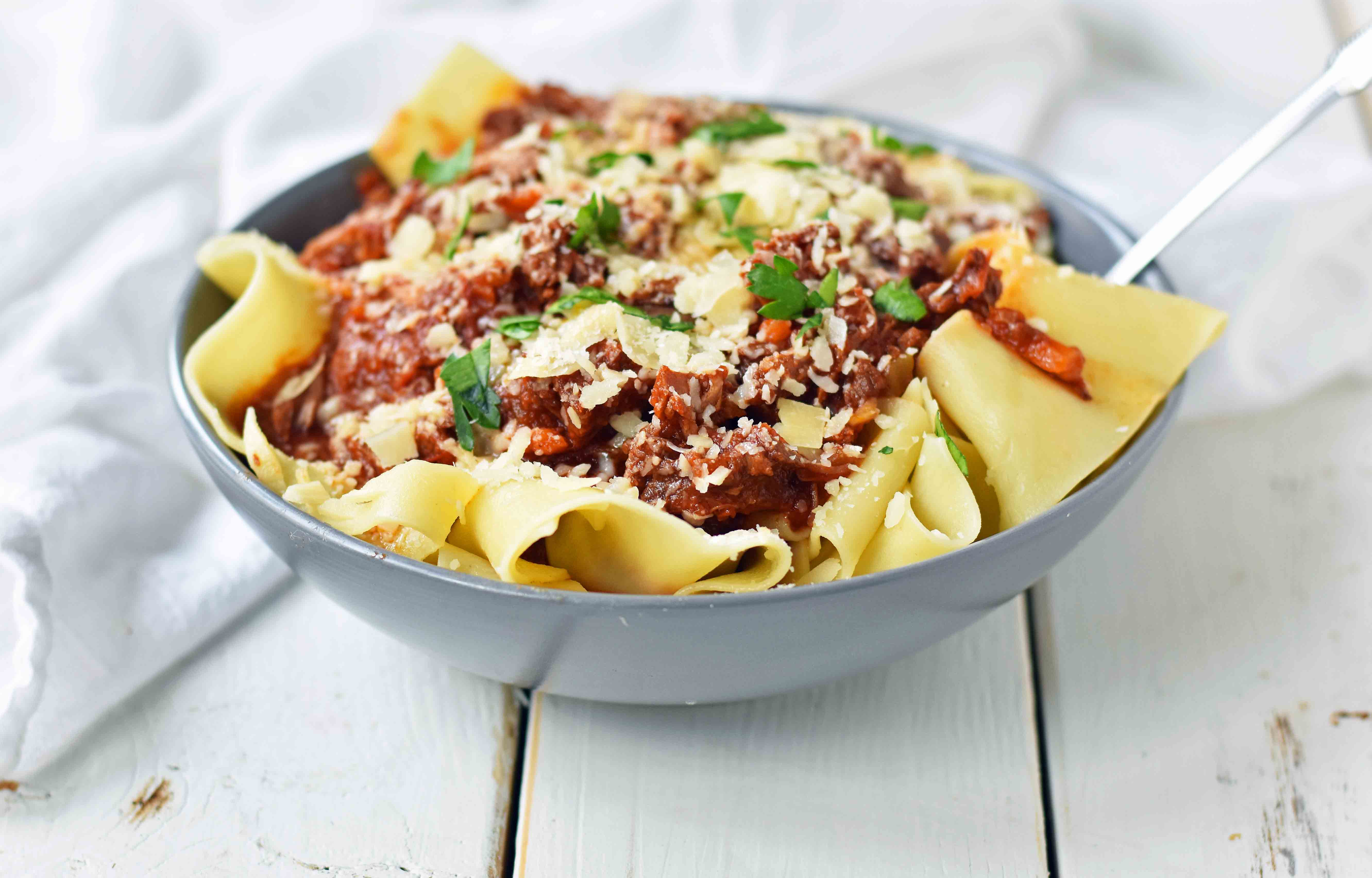 This Slow Cooker Instant Pot Beef Ragu is basically an Italian pot roast on a bed of warm pasta. It can also be made gluten-free by serving it on a bed of spiralized veggies, mashed potatoes, or polenta. I can't get enough of this dish!
How to make Slow Cooker Instant Pot Beef Ragu:
 Start off by sauteeing onion, carrots, and celery in extra-virgin olive oil in Instant Pot (in saute mode) until soft and tender. Once the vegetables are becoming tender, add garlic and saute for 1-2 minutes. The garlic is added later so it doesn't get too brown and bitter. If using a slow cooker, you can do this in a skillet ahead of time or just throw the onions, carrots, and celery in with the beef and let it slowly cook with it.
Add chuck roast, crushed tomatoes, tomato paste, beef broth, salt, pepper, and a bay leaf. If using an instant pot, set it for the meat/stew mode and set the timer for 40 minutes. Once the cooking time is finished, leave the steam valve on natural release and wait for it to release the steam on its own, about 10 minutes.  If using a slow cooker, allow it to cook low and slow for 8 hours or on high for 4-5 hours.
Once the steam has been released, open the lid, and using two forks, shred the beef.  Add the beef back into the sauce and let the sauce thicken. If the sauce isn't thick enough, push the saute button and let it thicken for 5-10 minutes.
Serve on a bed of pappardelle pasta, spiralized veggies (such as zucchini, butternut squash, sweet potatoes, or spaghetti squash), polenta, mashed potatoes or any other type of hearty pasta.
Happy Cooking, my friends!