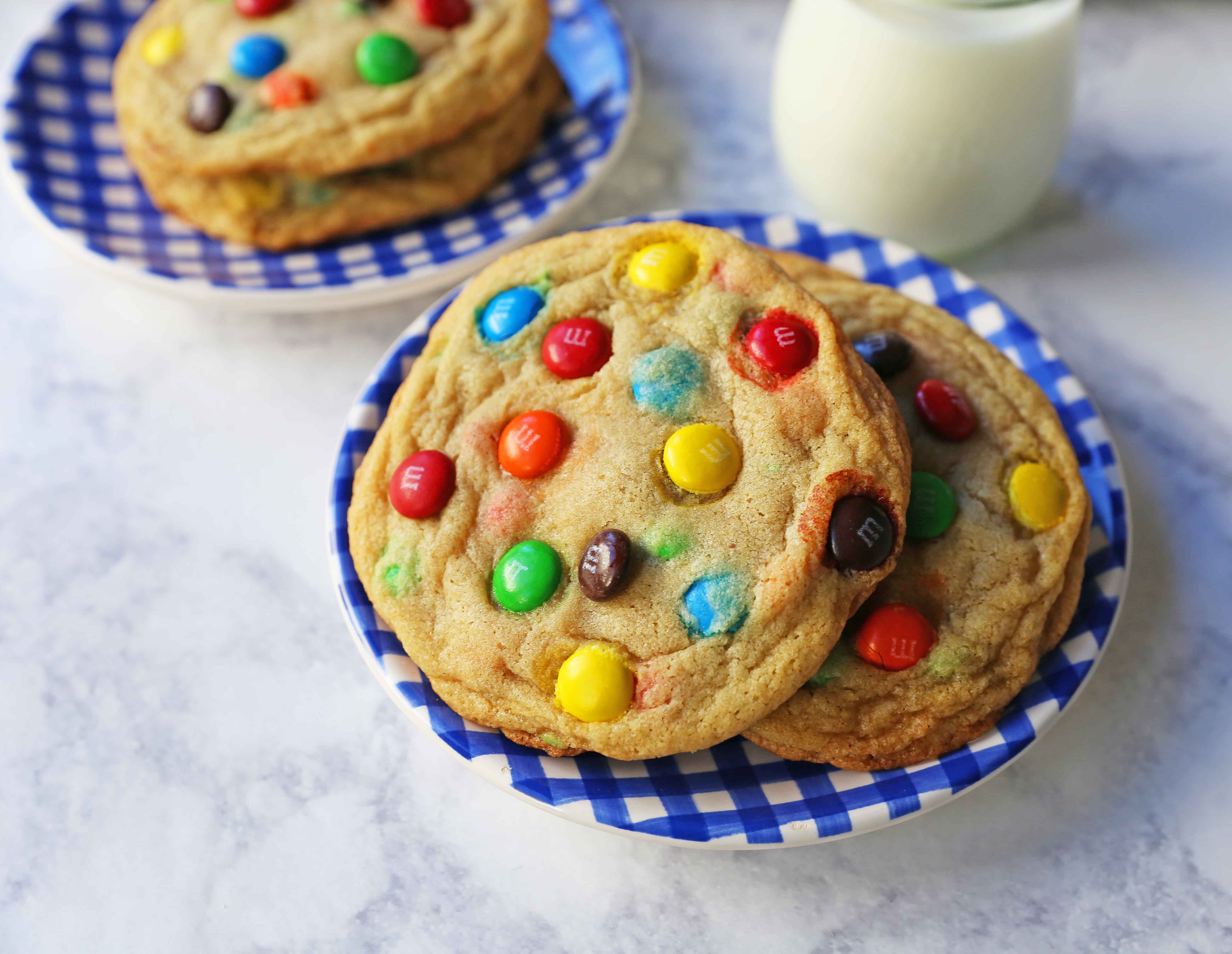 Soft and Chewy M&M Cookies
Tips and tricks for making the perfect soft M & M cookies.
This is without a doubt the best soft and chewy M & M cookie recipe.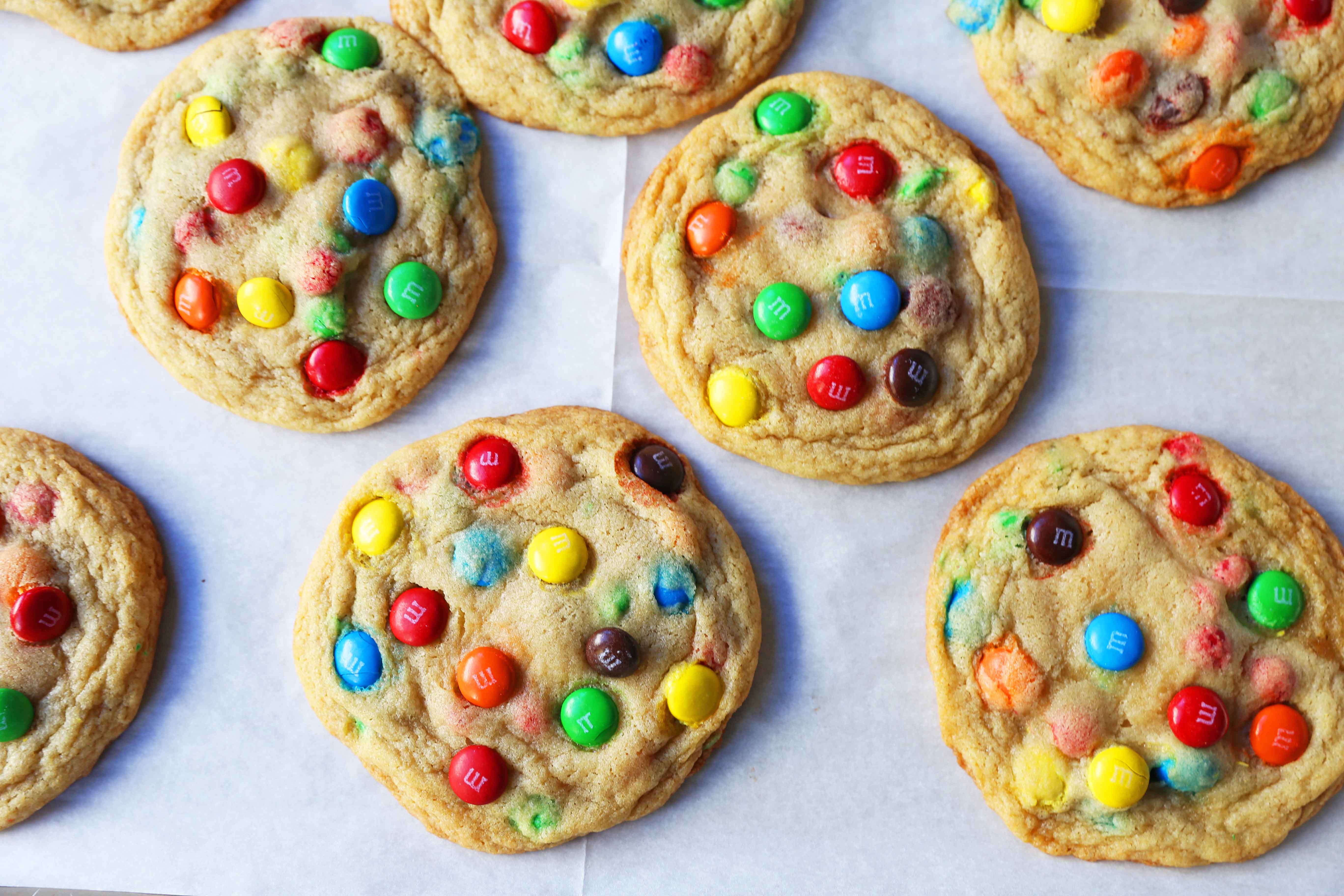 I have been working for months and months to perfect this cookie recipe. Actually, creating the perfect M & M cookie recipe may be harder than you ever thought. M & M's have a tendency to weigh down a cookie which flattens it. They are also sweeter than semi-sweet chocolate chips so the sugar to butter to flour ratio had to be spot on. After months of tweaking, the perfect M & M cookie recipe was born!
This is adapted slightly from my BEST CHOCOLATE CHIP COOKIE RECIPE because it is just so darn good.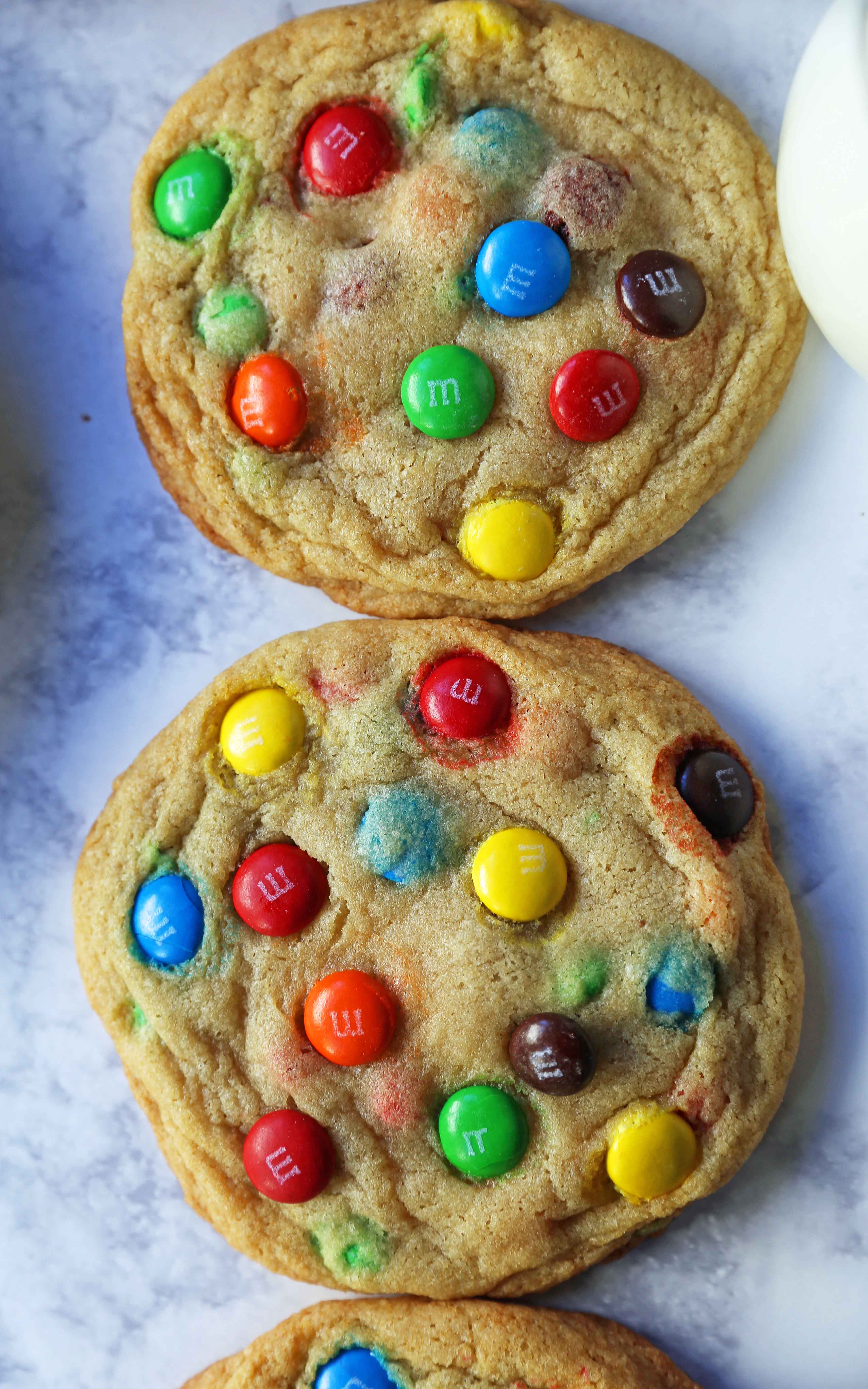 If you know me well, you know that I am an M & M fanatic. It has and always will be hands down my favorite candy. It all started at a neighborhood carnival. They were giving away a huge glass jar full of plain chocolate M & M's. You had to buy a ticket in order to guess how many M & M's filled the jar. I was determined to make it mine and I could envision myself, watching my favorite shows while devouring the entire jar.
You better believe I WON that jar of M & M's and if you can believe it, I never tired of them.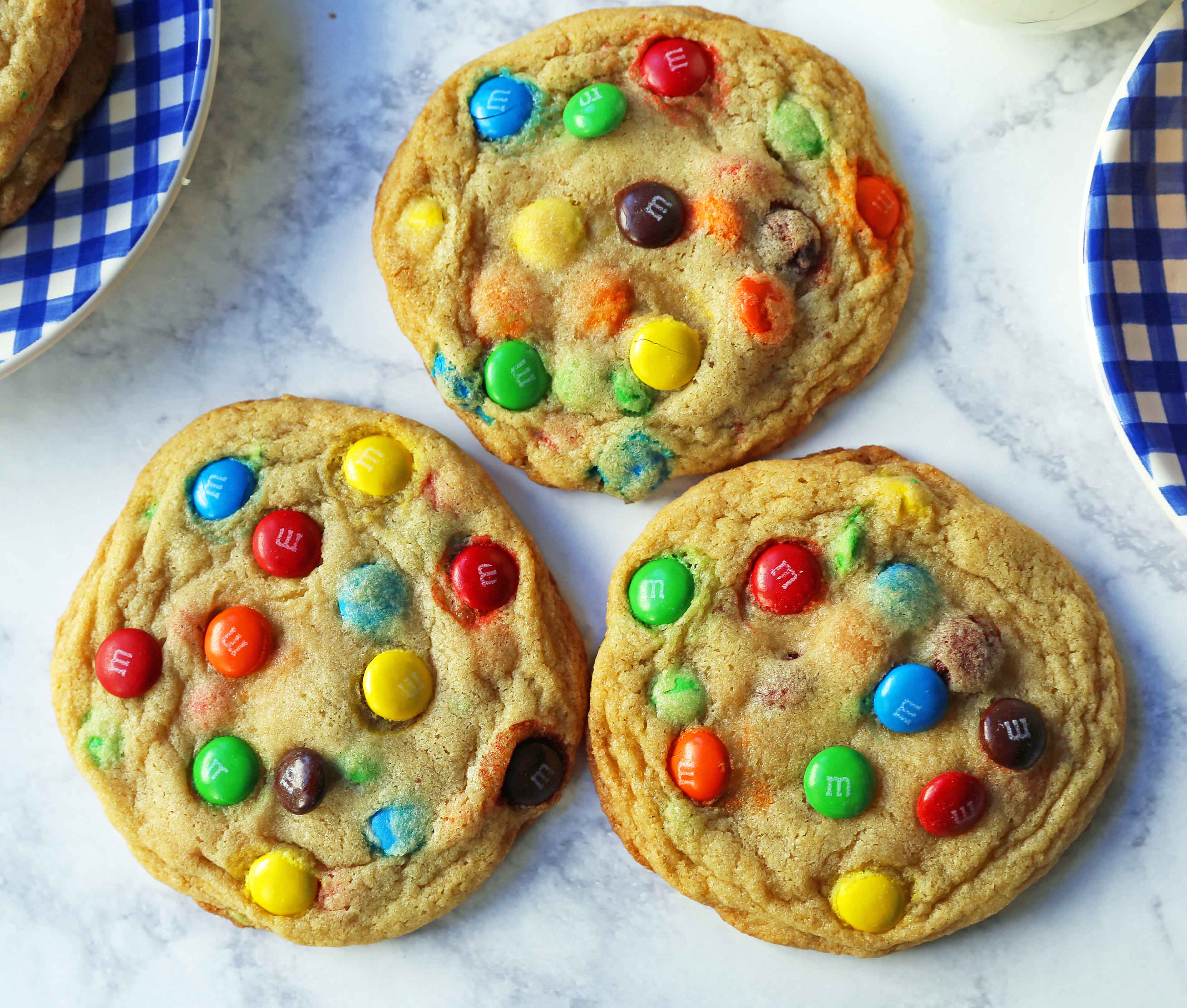 Fast forward to years later when my high school boyfriend was leaving on a two-year church mission. Since my Mom knew how much I loved M & M's, she filled a big jar with 730 M & M's, with the instruction that I was to eat one a day and when the jar was empty, he would be home. It started off really well…until one night when my friends got a hold of it.
This is pretty ironic, actually. My friends and I were upstairs in the loft watching a movie when the phone rang. I ran downstairs to answer it and it happened to be Dean, a guy I had recently met at a dance. It was the first time he had called and I laid on the family room floor for hours talking to him.
Meanwhile, my friends had unbeknownst to me, confiscated the M & M jar and began eating them. I will never forget my friend Susan yelling at me, while I was still on the phone, "We just ate all your M & M's." The jar was finished. I guess you could say that my relationship with my missionary boyfriend was finished too because the guy on the phone became my future husband. 🙂 Thanks, Susan, for finishing off all of those M & M's!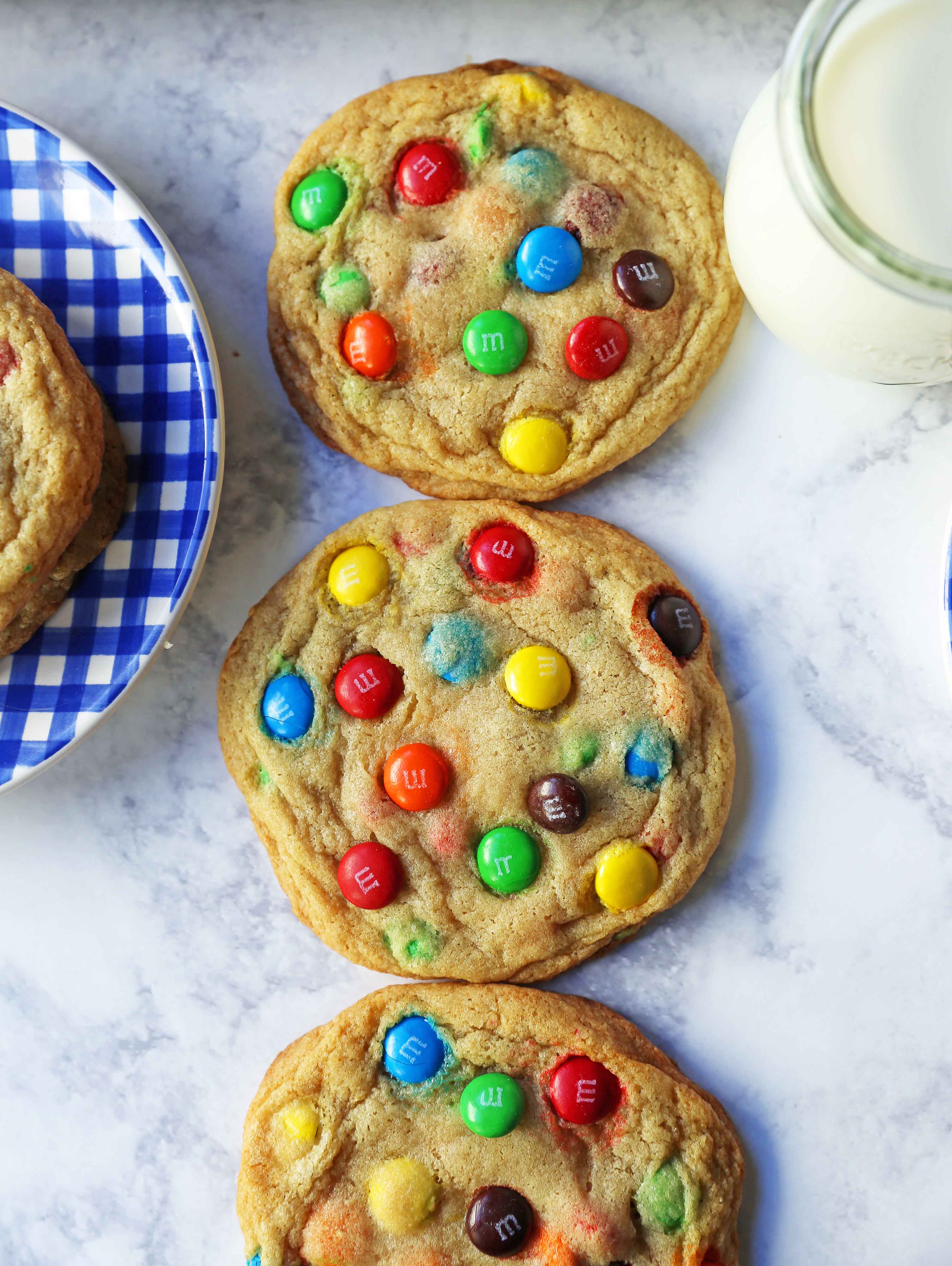 How to make the best M & M Cookies:
Start with Butter, cut into cubes. I prefer to use barely softened butter. I take the butter out of the refrigerator, cut into cubes, place it in a microwave-safe bowl, and microwave for about 8 seconds.
Cream together butter, brown sugar, and sugar for 4-5 minutes, or until light and fluffy. Scrape the sides of the bowl halfway through to ensure even creaming.
Add eggs and vanilla and cream for 1 minute longer.
Stir in dry ingredients and mix just until combined. Avoid overmixing as it develops gluten in the cookies which creates a tough cookie. We want a tender, melt-in-your-mouth texture!
Stir in M & M's, reserving some to strategically place on the top of the cookie dough balls. Roll into balls and place on parchment paper or Silpat lined baking sheet.
Bake just until the edges begin to be a golden color. The cookies will set up as they sit so avoid overbaking.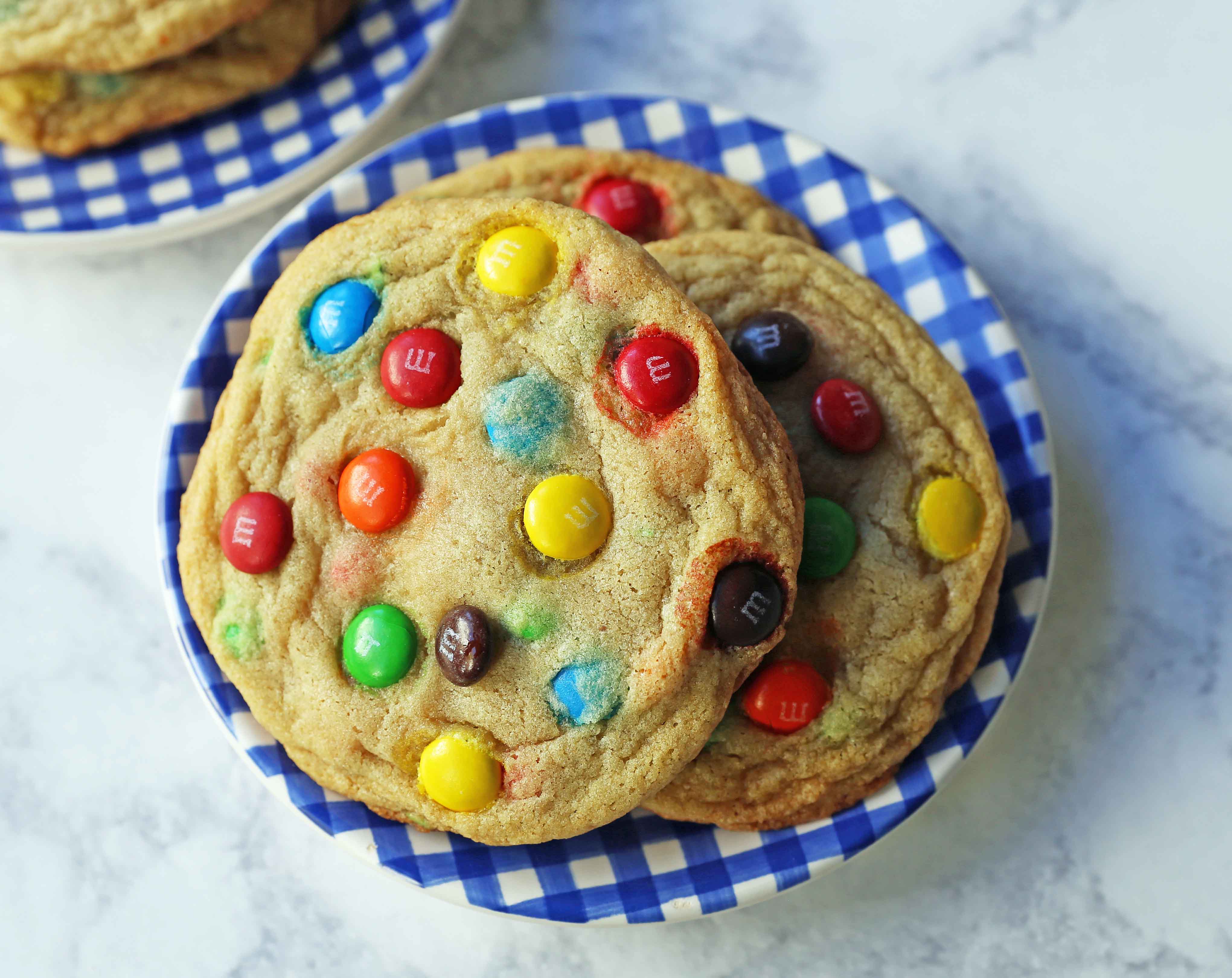 Here are my favorite baking tools:
Light-Colored Baking Sheets
Parchment Paper Liners
Silpat Silicone Baking Sheets
Cookie Scoop
KitchenAid Mixer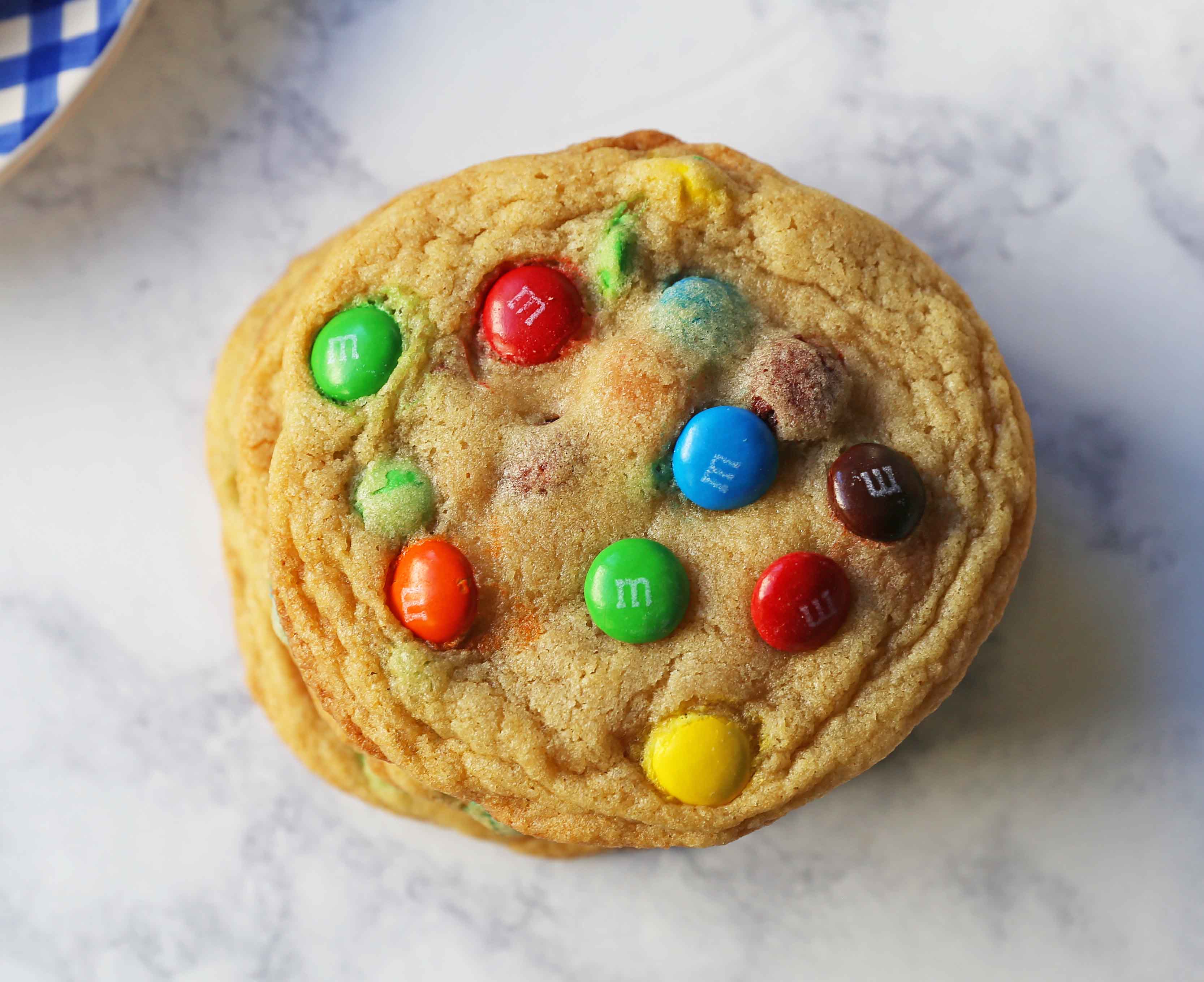 I love to hear from you! If you make this recipe, please be sure to leave a comment and give this recipe a rating. Sign up for my newsletter below so you never miss a recipe. Thank you for following along! I truly do have the greatest readers. FOLLOW ME ON: INSTAGRAM — FACEBOOK — PINTEREST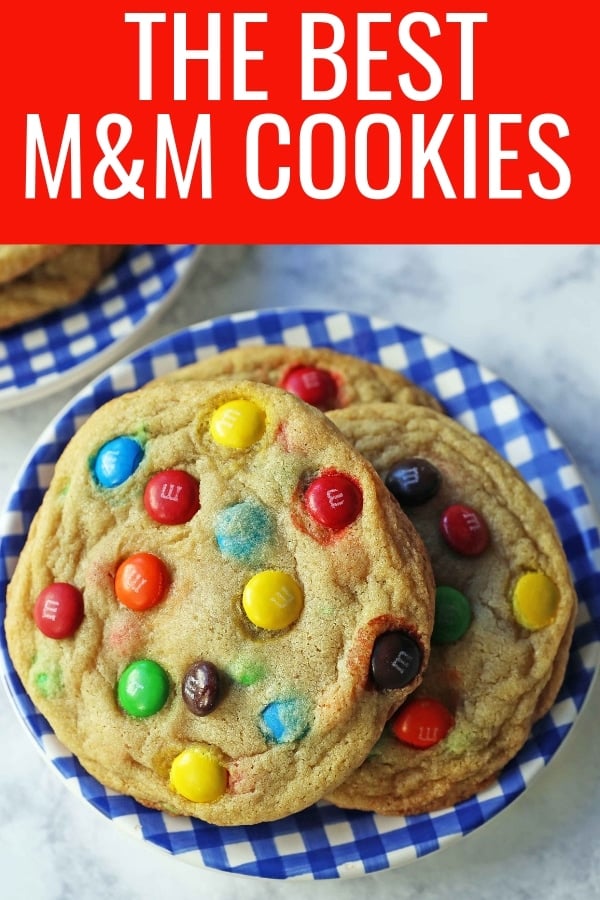 Pin this now to find it later
Pin It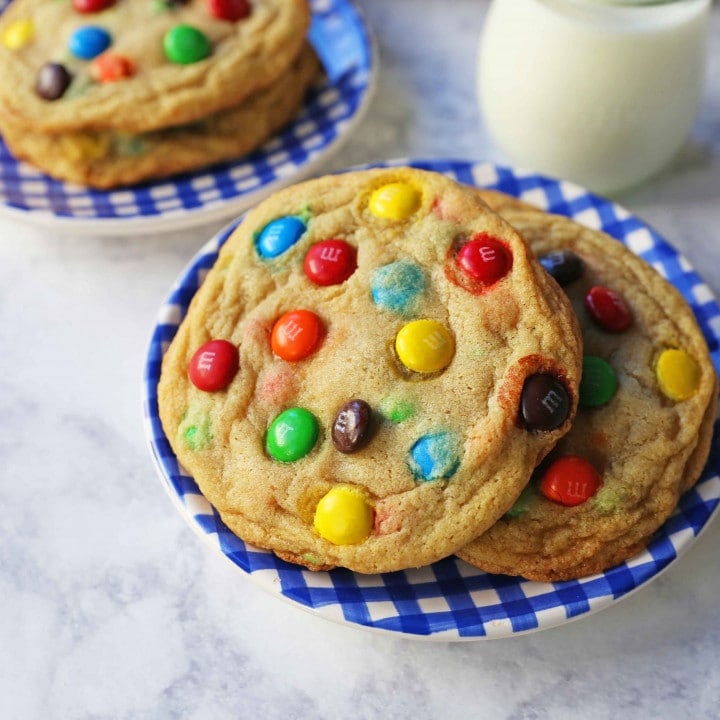 Soft M & M Cookies
Soft and Chewy M & M Cookies. The best M & M cookie recipe. How to make the perfect M & M cookie.
Ingredients
1

cup

Cold Butter

(cut into cubes and microwave on high for 8 seconds)

1

cup

Brown Sugar

1/2

cup + 2 Tablespoons

Sugar

2

large

Eggs

2

teaspoons

Vanilla

2 3/4

cups

Flour

3/4

teaspoon

Baking Soda

1

teaspoon

Cornstarch

1/2

teaspoon

Salt

2

cups

Plain M & M's

(plus more for placing on top of cookie dough balls)
Instructions
Preheat oven to 400 degrees. In a large mixing bowl, cream butter, brown sugar, and sugar for 4 minutes until light and fluffy.

Add eggs and vanilla. Mix for 1 minute longer.

Stir in flour, cornstarch, baking soda, and salt. Mix just until combined. Fold in M & M's.

Scoop cookie dough onto baking sheets. I suggest using parchment paper or Silpat silicone baking sheets on light-colored baking sheets. Place extra M & M's on top of cookie dough balls so the M & M's show up after baking.

Bake for 9-11 minutes or until the edges just begin to turn a light golden color. Remove from oven and let set for 5 minutes before removing from the cookie sheet.
Nutrition information is automatically calculated, so should only be used as an approximation.
I hope you love these homemade M & M cookies! Happy Baking!