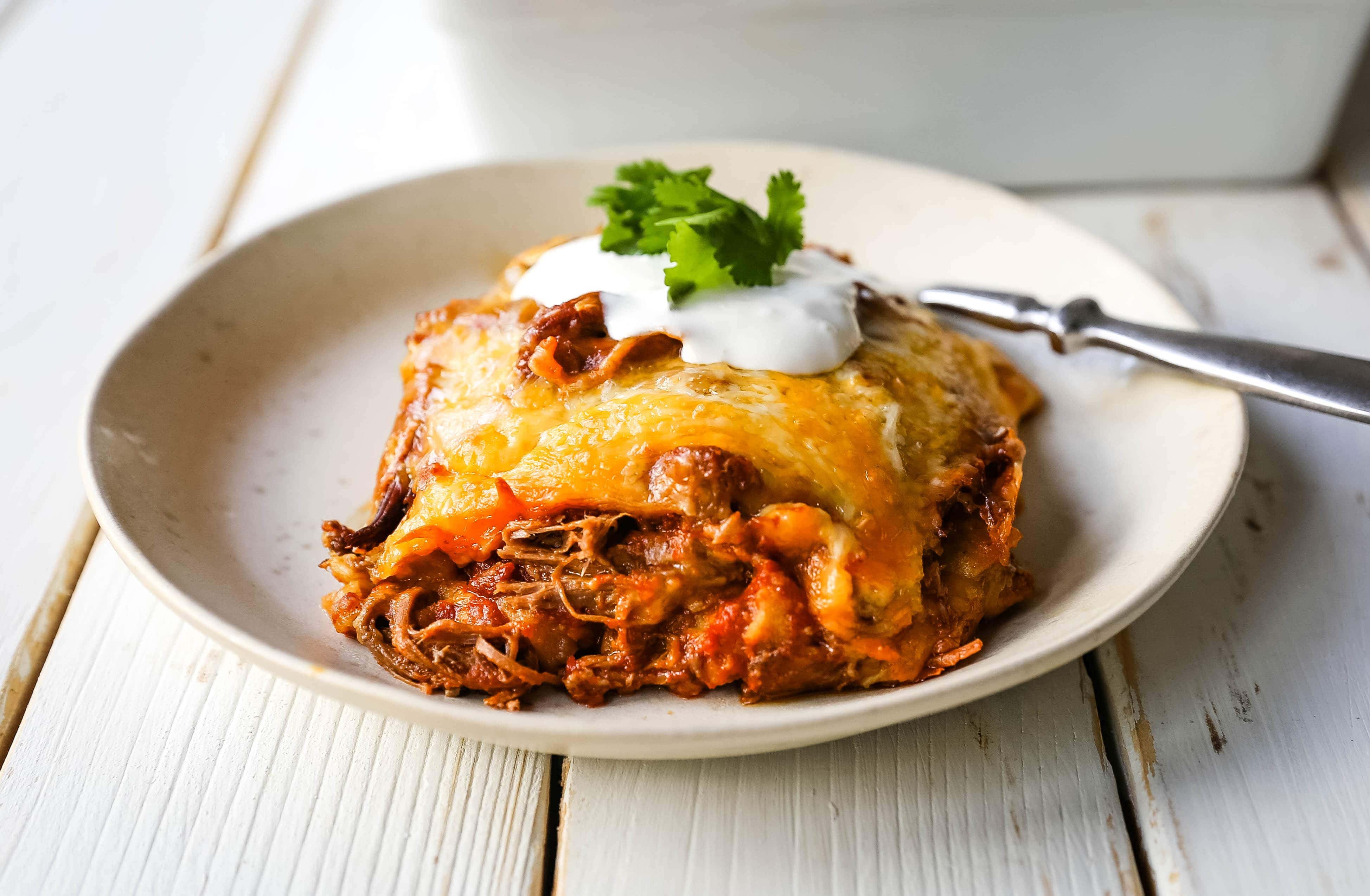 Stacked Beef Enchiladas
Mexican seasoned shredded beef enchiladas with melted cheese, corn tortillas, and homemade enchilada sauce. An easy beef enchilada casserole!
We are Mexican food fanatics in our home. I am pretty sure I could live on a hefty dose of chips and salsa and homemade chocolate chip cookies for the rest of my life. Ever since I was a little girl, I would order shredded beef enchiladas with red sauce at every single Mexican food restaurant. It has always been my favorite Mexican food dish.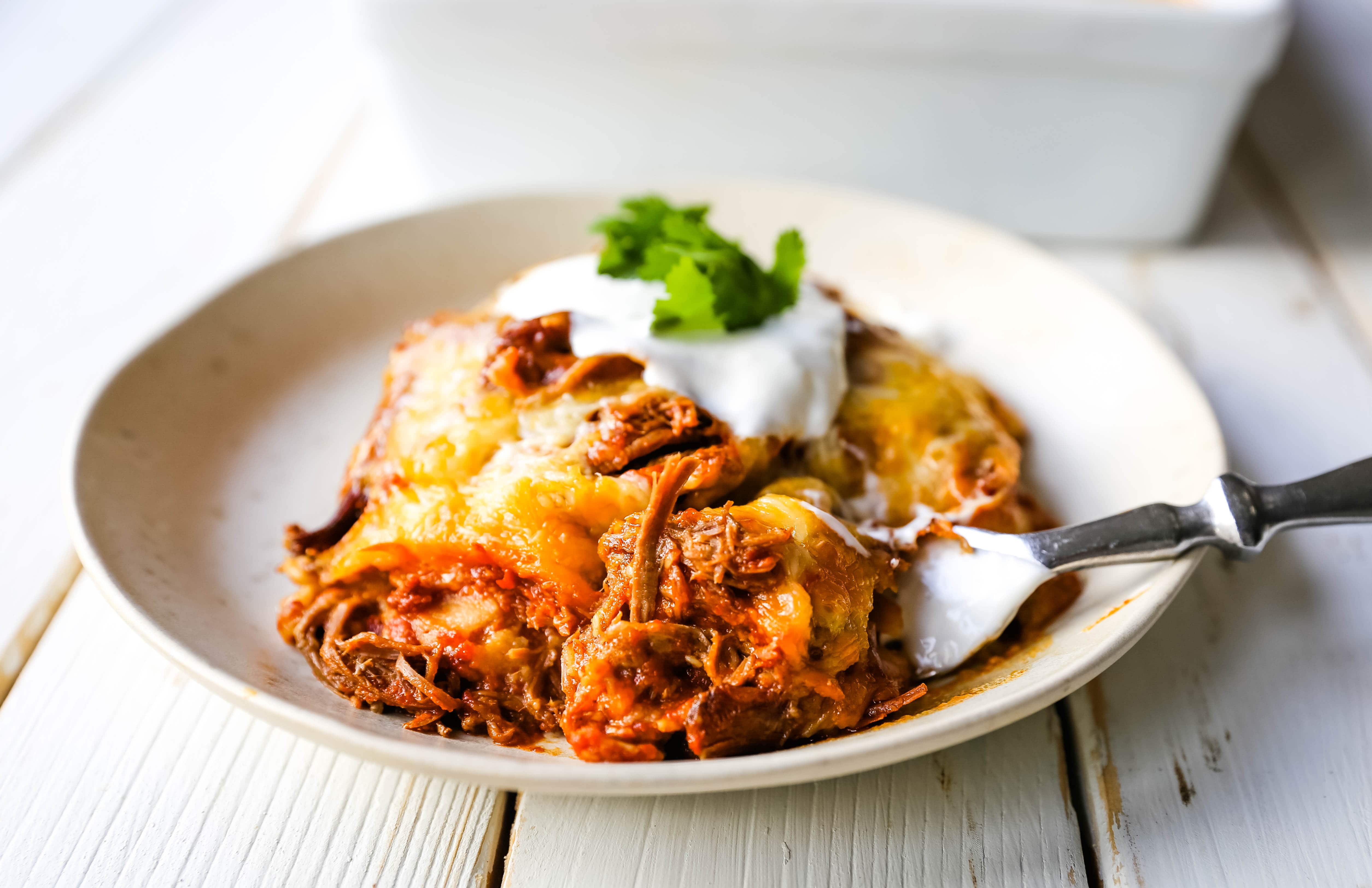 So I wanted to simplify it to make it easier for those weeknight dinners. These Stacked Beef Enchiladas are incredibly easy because everything is layered in a pan. Instead of rolling and stuffing each enchilada, all of the ingredients are basically just thrown in a pan. We are shaving off time right and left here.
The key to make killer beef enchiladas starts with the beef. I found that when cooking beef, low and slow always wins the race. To make these shredded beef enchiladas, I start by cooking a beef roast with Mexican spices in a slow cooker on a low setting. This is what makes it so tender and the meat just fall apart. So this recipe does take a bit of planning ahead of time but it is well worth it.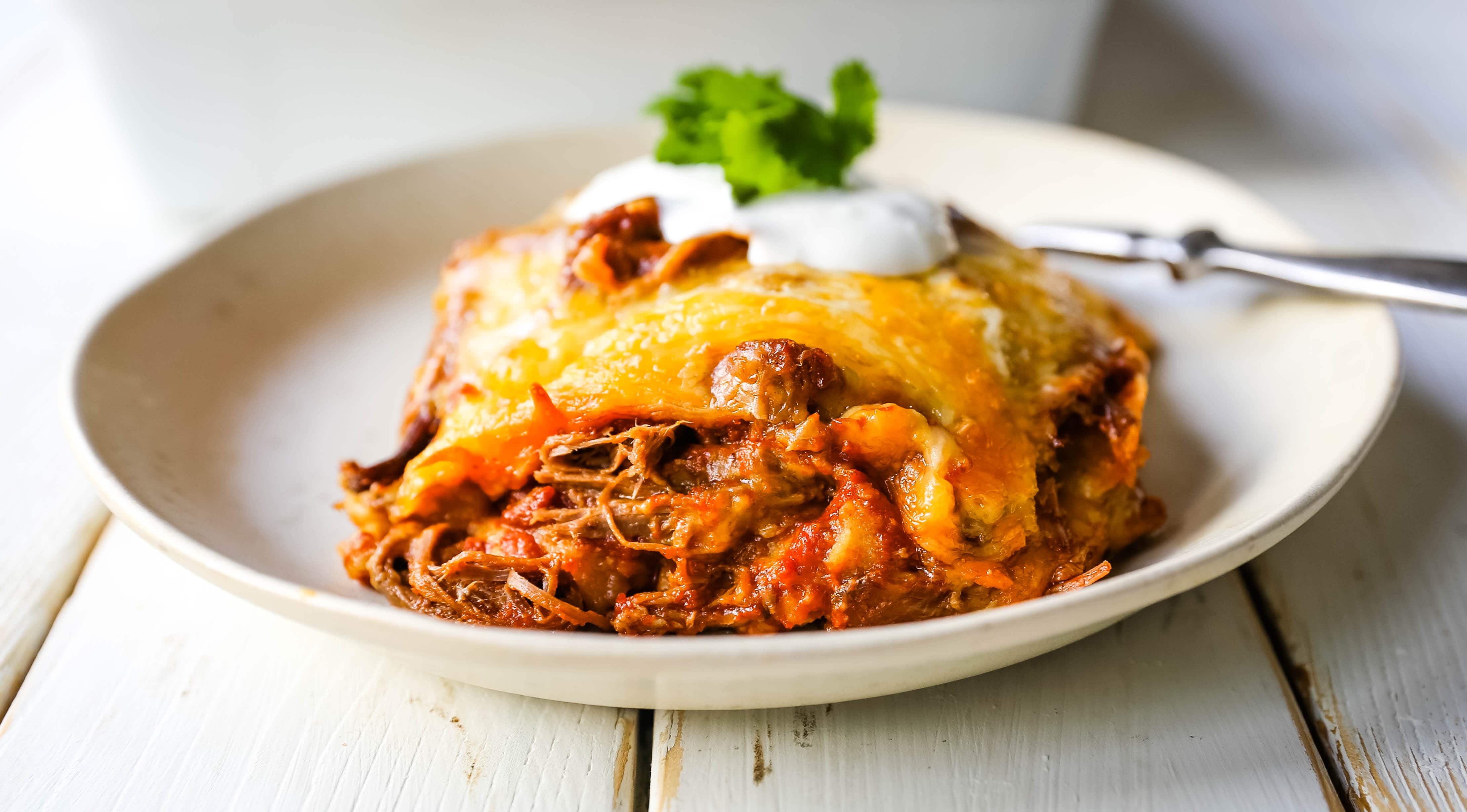 Another key component to making the perfect machaca beef enchiladas is the enchilada sauce. I am incredibly picky about my red enchilada sauce and have tasted some canned versions from the store that taste too smoky, too bitter, or too blah. Instead of playing the enchilada sauce lottery at the store, I created a homemade enchilada sauce that is easy to throw together and tastes so much better!
The homemade red enchilada sauce is made with a base of tomato sauce, onion, broth, chili powder, cumin, Mexican oregano, and garlic. It is full of flavor and pairs perfectly with this tender Mexican beef.
To make authentic stacked beef enchiladas, I reach for corn tortillas. You can also use flour tortillas but I prefer corn tortillas with shredded beef enchiladas. These Stacked Beef Enchiladas are made with shredded beef, corn tortillas, homemade enchilada sauce, and a hefty amount of Mexican cheese. Bring on the cheese!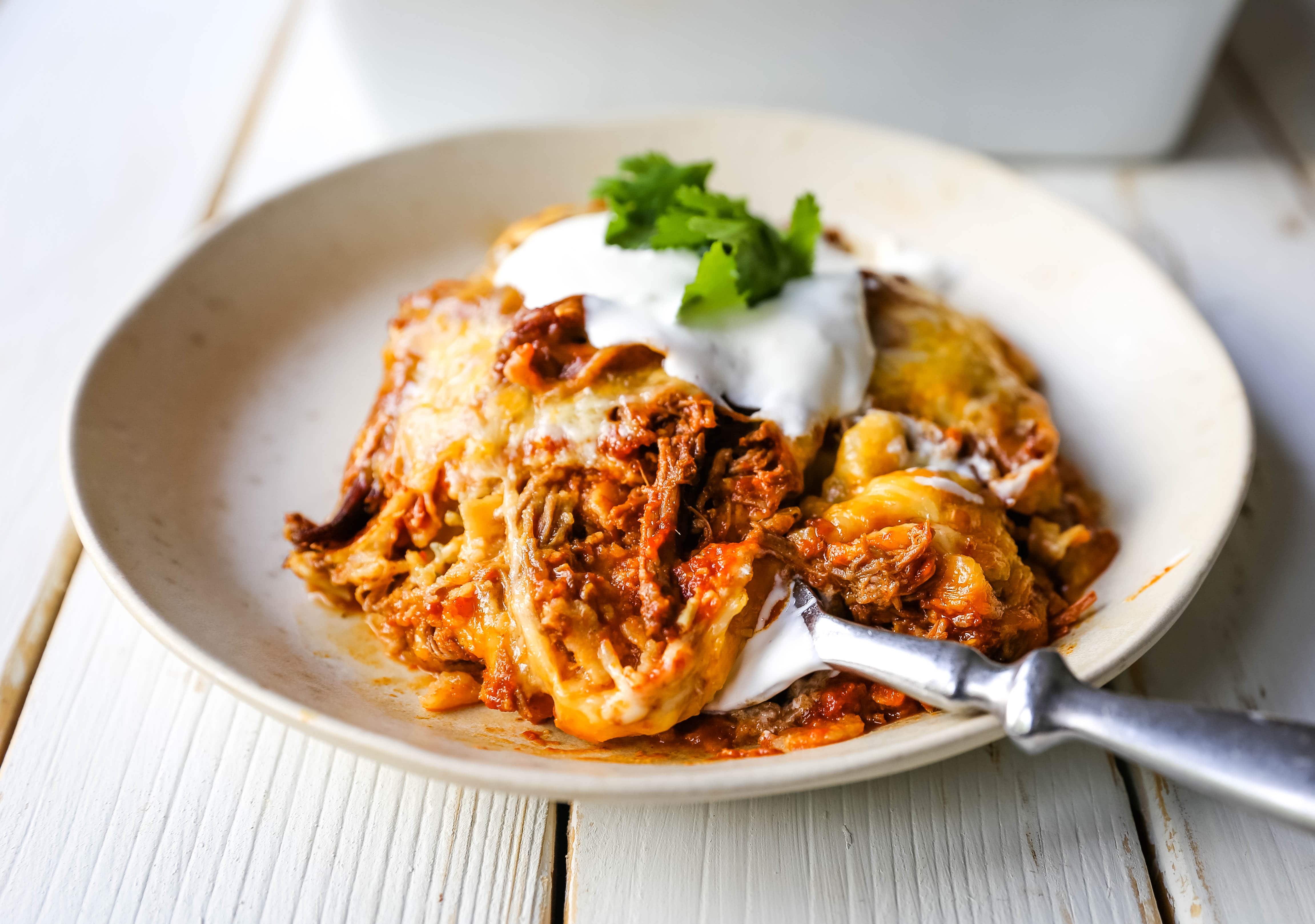 How to make Stacked Beef Enchiladas:
Start by cooking a beef roast with Mexican spices in a slow cooker on a low setting. This is what is going to create a tender beef which is perfect for enchiladas. I cook my beef roast with beef broth, onion, peppers, and Mexican spices. Once the roast has cooked for about 7-8 hours on a low setting, shred it with two forks to get it ready for the enchilada casserole.
Make the homemade enchilada sauce. In a medium pot, saute onion in oil over medium heat until onion is soft, about 7-8 minutes. Add tomato sauce, beef or chicken broth, chili powder, cumin, Mexican oregano, and garlic powder. Continue to simmer for 20 minutes until it starts to thicken and reduce. Carefully puree in a blender. It will be hot so make sure to vent the blender.
Spread a small amount of enchilada sauce on the bottom of a 9 x 13 pan. Layer corn tortillas, beef, cheese, and enchilada sauce. Keep repeating. Top with a layer of cheese and bake covered for about 20-25 minutes. Remove foil and let it cook and cheese become bubbly for about 5-10 minutes longer.
Serve with sour cream or Mexican crema and cilantro.