This Star Bread is a pull-apart bread that is perfectly soft and fluffy and filled with your favorite fillings. This is a Cinnamon Sugar Star Bread with layers of butter, cinnamon, and sugar, and shaped into a beautiful star.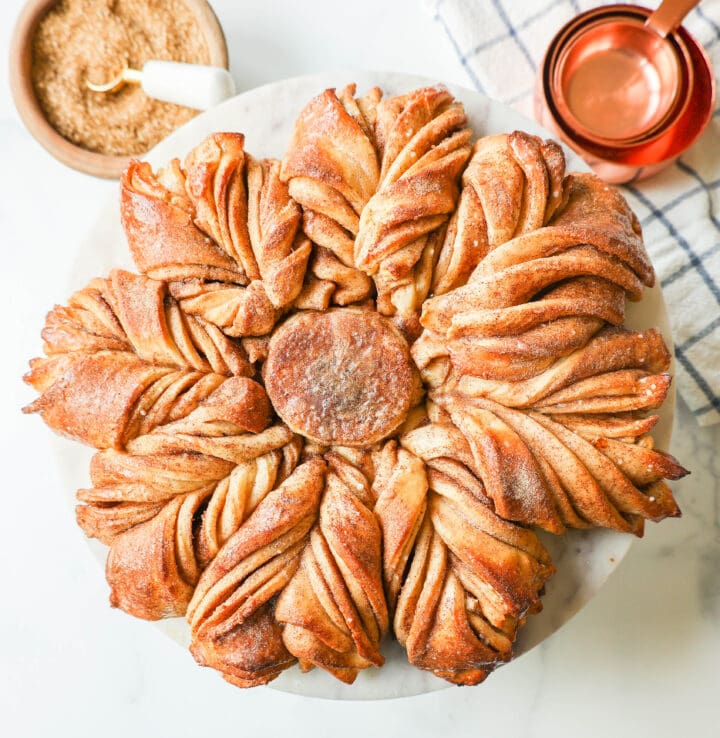 I wanted to sneak in one more breakfast recipe just in time for Christmas morning. This Cinnamon Sugar Star Bread recipe is not only beautiful but so delicious too!
What I love about this Star Bread Recipe:
I love how warm, soft, and fluffy it is and how it perfectly pulls apart for an impeccable serving.
You can change up the recipe by changing the fillings. You can fill Star Bread with cinnamon sugar, Nutella, almond, jam, and so many more! You can even make savory Star Bread by filling it with basil pesto or parmesan garlic butter.
Everyone is impressed with this Star Bread because it is such a stunning breakfast.
If you want it to be sweeter, drizzle some extra glaze or cream cheese frosting on it.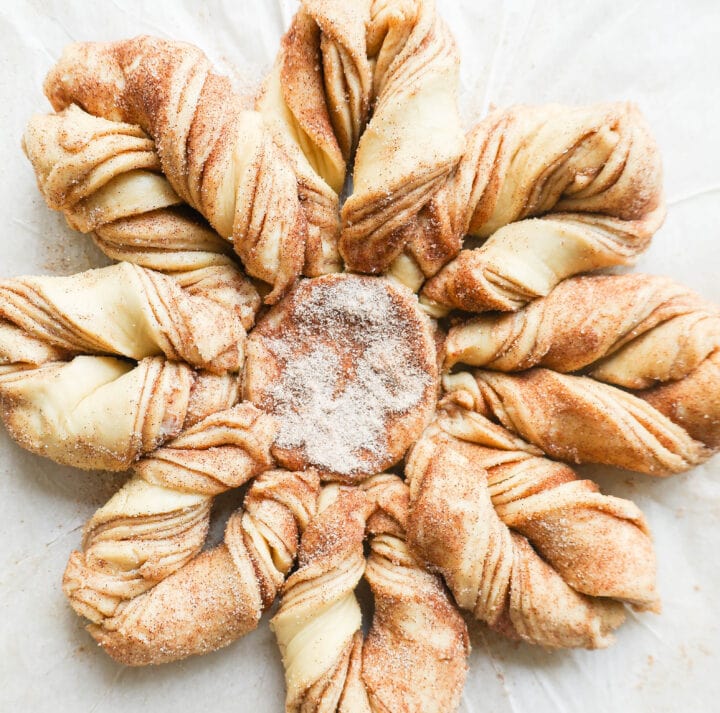 Star Bread Ingredients:
This Star bread recipe only calls for 7 ingredients plus 3 ingredients for the cinnamon sugar filling.
Eggs -- use large eggs for this recipe.
Milk -- try to use 2% or whole milk, but 1% will be sufficient. It needs to be warmed to about 110-120 degrees.
Yeast -- make sure your yeast is working by letting it proof with the warmed milk and some sugar.
Sugar -- this helps the yeast to activate and also adds sweetness to the bread.
Flour -- use all-purpose or bread flour in this recipe.
Salt -- a flavor enhancer and integral ingredient in baking.
Butter -- use unsalted butter. If you only have salted butter, reduce the salt amount by ¼ teaspoon.
Cinnamon Sugar Filling Ingredients:
Butter, Sugar, and Cinnamon (you can make your own cinnamon sugar mixture or buy from the grocery store)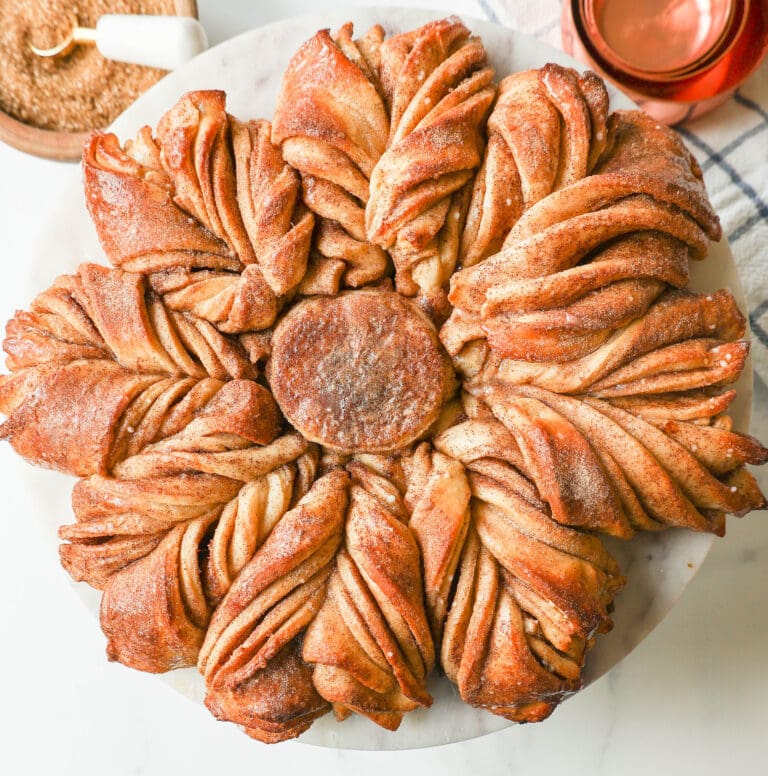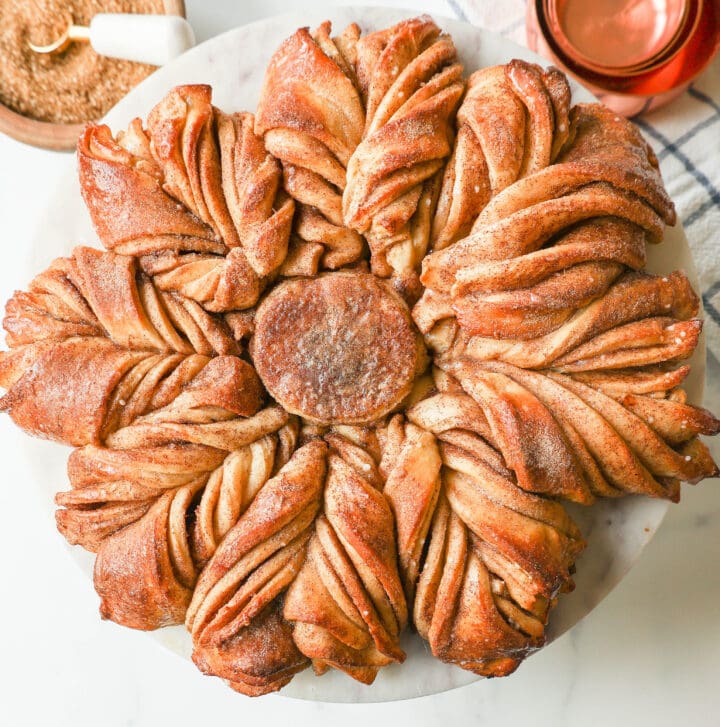 How to make Homemade Star Bread:
In a mixing bowl, combine warm milk, yeast, and 1 teaspoon of sugar. Let sit until it becomes foamy and begins to bubble. This should take about 5-10 minutes.
Add in melted butter, remaining sugar, and eggs. Add flour and salt. Mix at low speed until the dough begins to form a ball. I like to use my Bosch mixer for this recipe. Knead the dough in your mixer or by hand for 8-10 minutes.
Shape the dough into a ball and place in a bowl sprayed with non-stick cooking spray or oiled. Cover the bowl and let rise, until double in size, about 1-2 hours, depending on the warmth of your kitchen.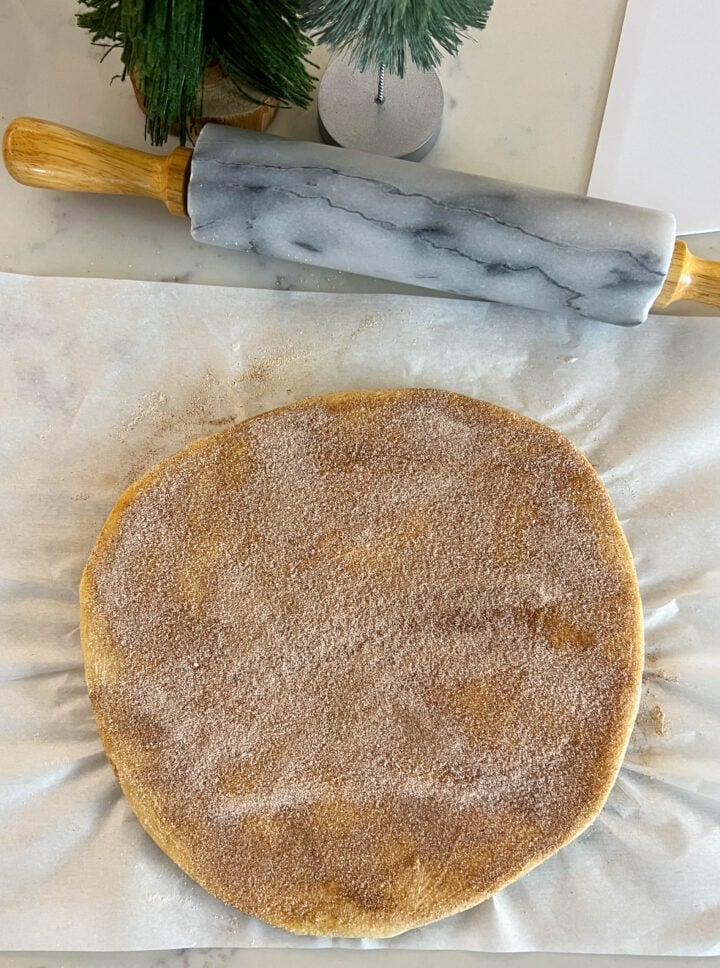 After the dough has doubled, place it on a lightly floured surface. Divide the dough into 4 equal pieces. I suggest using a very sharp knife or pizza cutter to cut it into 4 pieces.
Roll each dough ball into a 12-inch circle. Place on a piece of parchment paper to make it easier to transfer to a baking sheet. Brush the first layer of dough with melted butter for the filling and then sprinkle with cinnamon sugar. Repeat.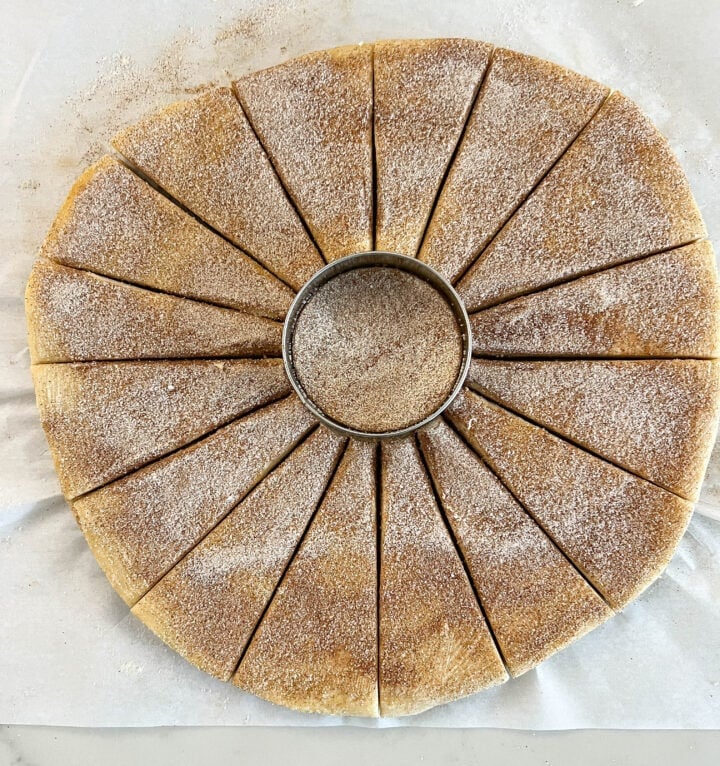 Once you add your 4th circle to the top, brush with the remaining melted butter and any remaining cinnamon sugar, if you desire. Some people leave the top with butter only and some like to add cinnamon sugar on the top before baking.
Use a pizza cutter to trim the dough to create a uniform circle. Place a small round cookie cutter or glass (about 3-4 inches) in the center of the dough. Use a sharp knife and cut the circle into quarters. Then cut each quarter in half and then half again so you end up with 16 pieces.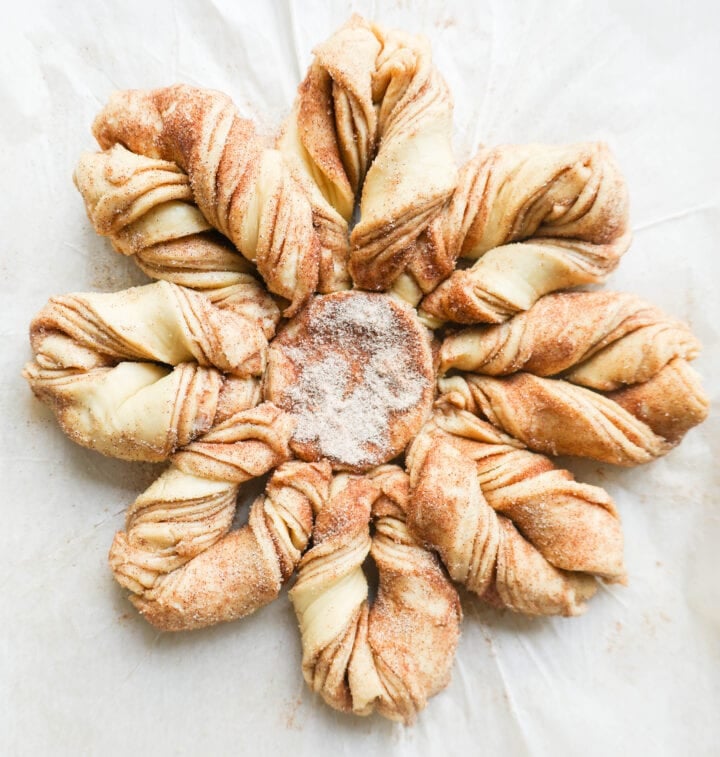 Grab two strips of dough next to one another, one piece in each hand, and twist the dough 3 times away from each other. Once you have twisted them, pinch the ends together. Repeat.
Let it rest for about 15-20 minutes while the oven is preheated. Brush with egg wash.
Bake for 20-24 minutes. Remove from the oven and sprinkle with extra cinnamon sugar or powdered sugar.
If you want the Star Bread to be sweeter, make a glaze or sweet cream cheese frosting and drizzle over the top.
TIPS for making Star Bread:
Make sure your yeast is working by taking the time to let it proof and activate. Make sure your milk is at an ideal temperature of 110-120 degrees. If it is too hot, it will kill the yeast.
Give it time to rise for the 1st time. This is the only long rise so the dough needs to at least double in size.
Once you form it into a star shape, don't let it rise again for too long or it will puff up too much and lose the star shape.
Don't overbake the star bread. Watch carefully.
Popular Bread Recipes: