This Strawberry Cream Cheese Tart is made with a buttery tart crust, sweet vanilla cream cheese filling, and fresh strawberries with a shiny glaze. The perfect easy Summer strawberry dessert.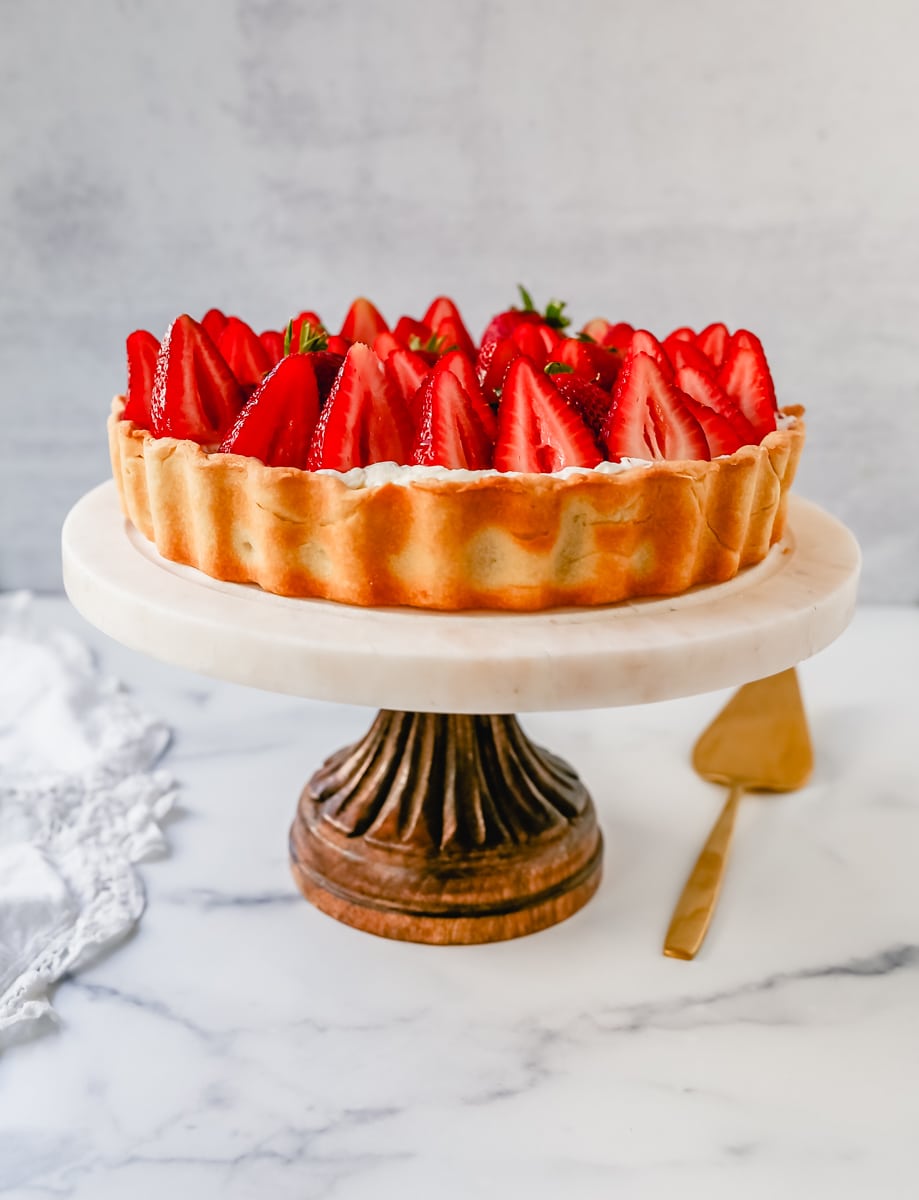 This is such a beautiful Summer dessert to highlight fresh, ripe, vibrant strawberries. My cute husband is so proud of his garden. Last night he came inside and told me to close my eyes and he wanted me to taste something. It was a juicy strawberry that was perfectly ripe straight from our garden. He was so excited! The strawberry was perfectly sweet with the perfect amount of firmness and so juicy. Since we are so warm in Arizona, our strawberries will ripen early.
This Strawberry Tart starts off with a homemade buttery tart dough, baked in the oven until flaky. Then it is filled with a sweetened mascarpone cheese or cream cheese and whipped cream filling. This tart filling is made with mascarpone or cream cheese whipped with heavy cream and sweetened with sugar. It is light and fluffy with the perfect amount of sweetness. The Strawberry Mascarpone Cheese Tart is topped with fresh strawberries glazed in jam or simple syrup so the strawberries are perfectly shiny.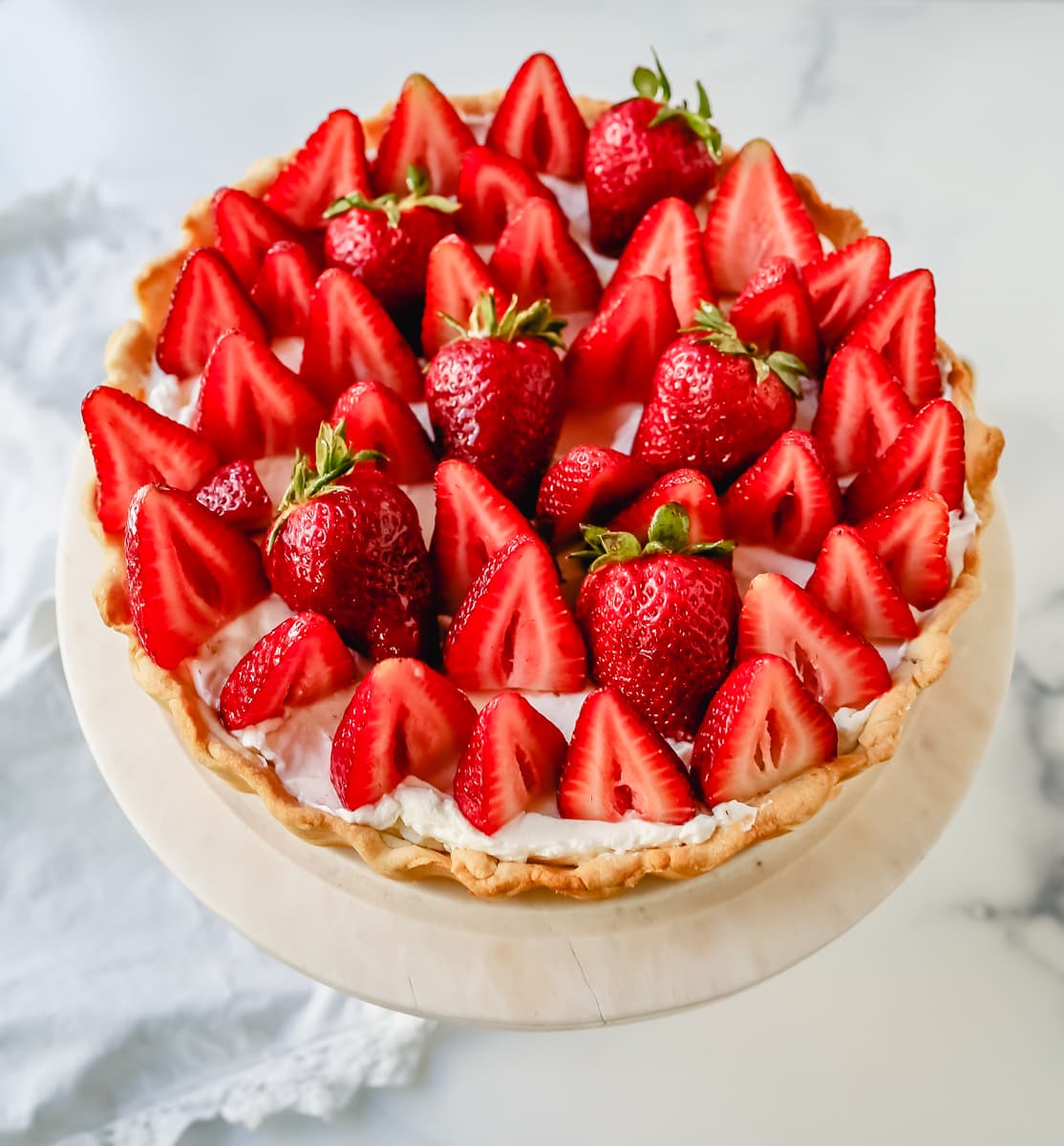 What ingredients are in a Strawberry Cream Tart:
Butter
Flour
Milk or Buttermilk
Cream Cheese or Mascarpone Cheese
Heavy Cream
Sugar
Vanilla or Almond Extract
Strawberries
Strawberry Jam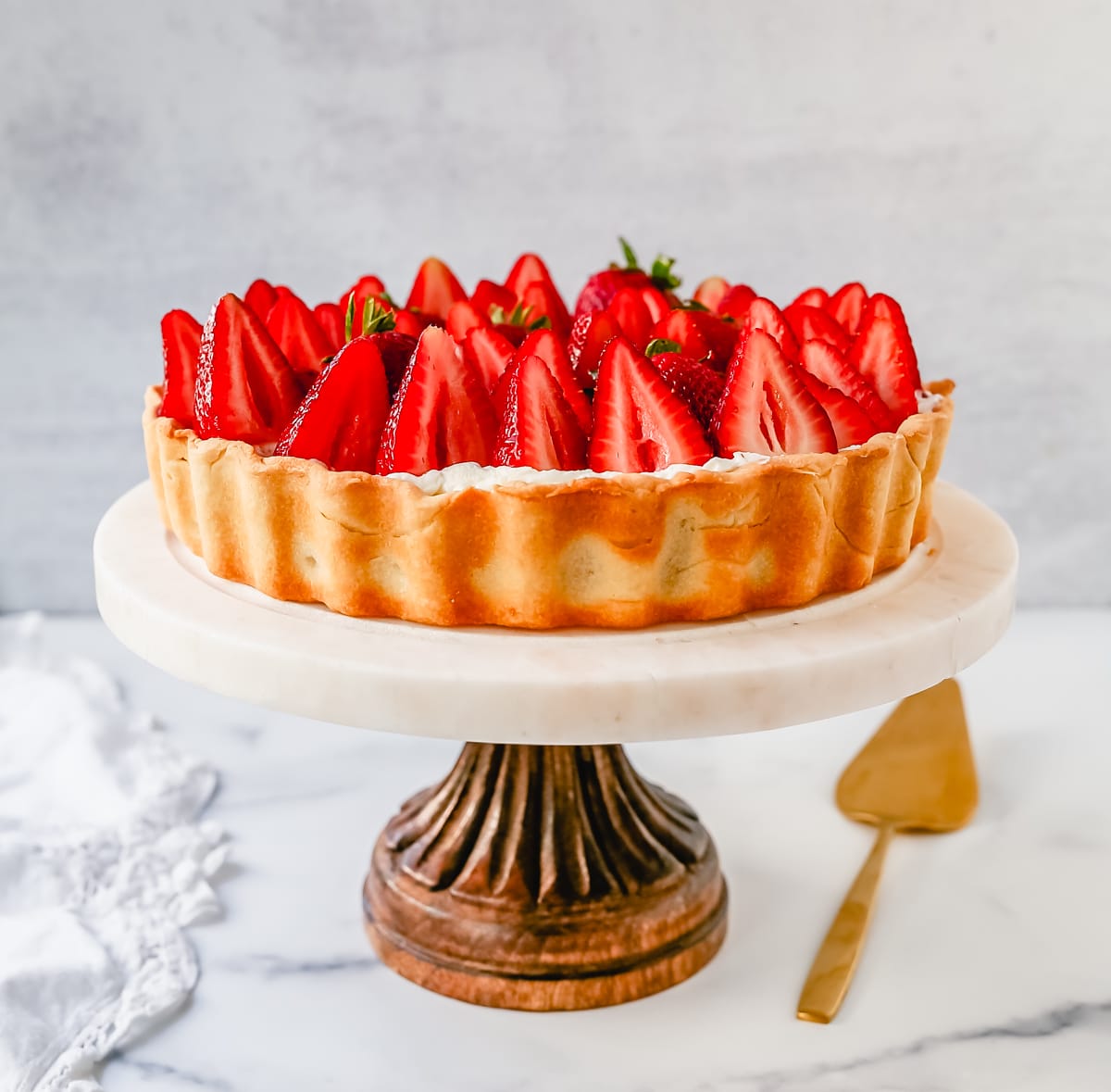 Making a tart dough is so easy! I throw all of my ingredients into a food processor and pulse until the dough comes together. Then you blind bake it in the oven so it is buttery and flaky. I will teach you all of the tips and tricks on how to blind bake a tart crust.
How to blind bake Pie Crust:
Tart shells need to be baked before you fill them, which is called blind baking.
Press the tart pie dough into the tart pan, pressing up to the sides of the pan. Prick the bottom and sides with a fork which helps to keep it from puffing up while it bakes.
Line the tart dough with parchment paper. Then place a generous amount of pie weights, uncooked dried beans, or uncooked rice on top of the parchment paper, pressing down on the sides of the tart. The pie weights will keep the dough from bubbling, puffing up, and from slipping down the sides of the pan. These are completely resuable so keep them in a bag for the next time you need to blind bake a tart pie crust.
Bake in a preheated oven according to recipe directions. It needs to be a light golden color to ensure it is fully baked. Remove it from the oven and let cool.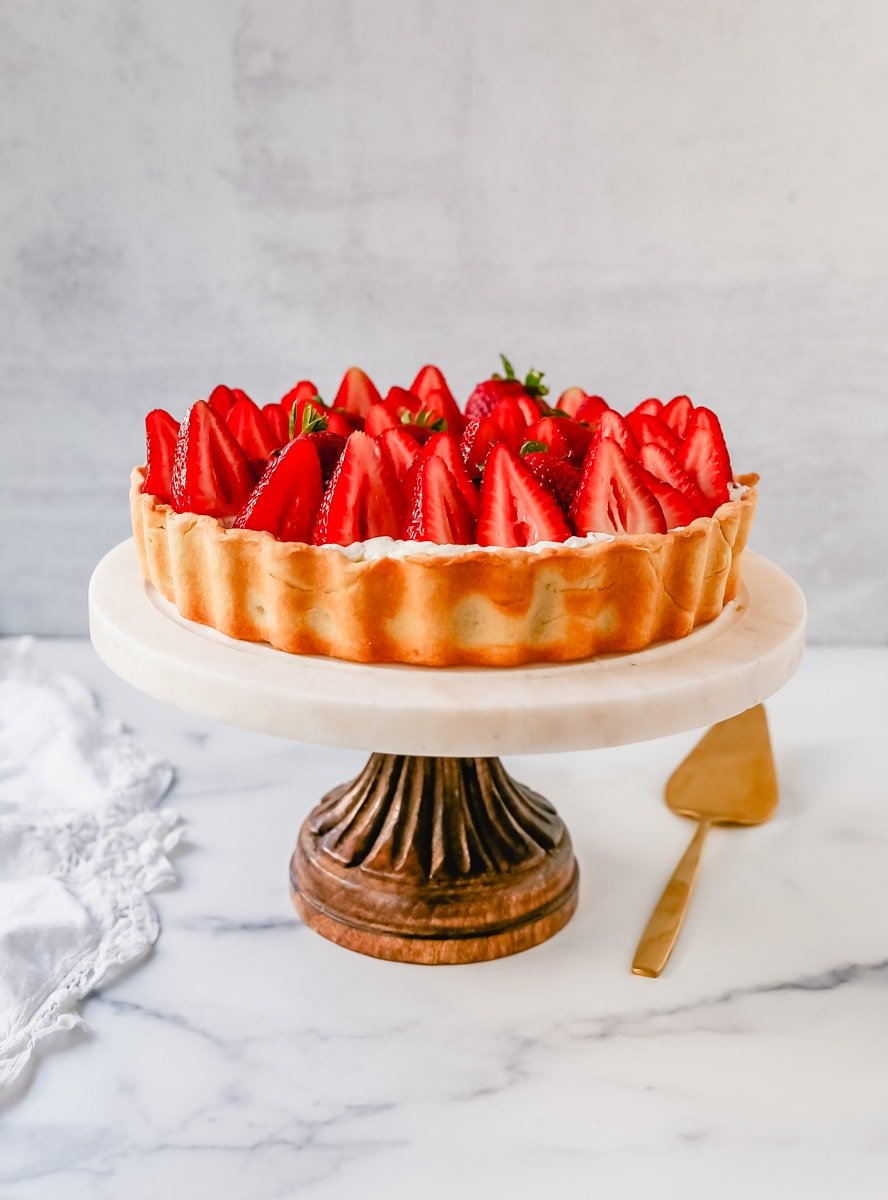 If you love this Strawberry Tart, check out these other Berry Recipes: