Sweet and Sour Chicken is made with crispy fried chicken covered in a pineapple sweet and sour sauce. The ultimate Sweet and Sour Chicken Recipe is way better than take-out.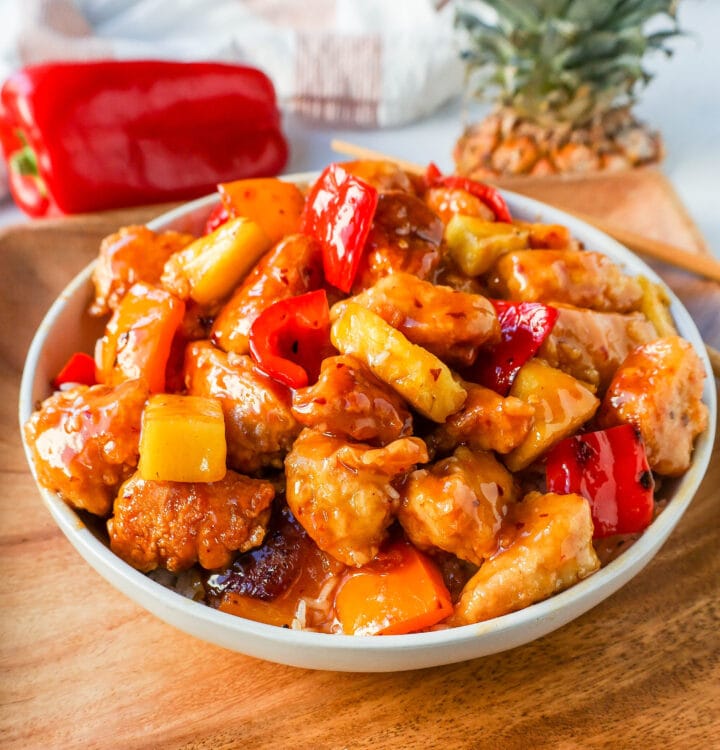 My family is obsessed with Chinese food and one of their absolute favorites is the popular Sweet and Sour Chicken with the perfect sweet yet tangy sauce. I wanted to create a homemade version at home, made from scratch, with all-natural ingredients.
It has the same yummy flavor they love but made with fresh ingredients. My Chinese Orange Chicken Recipe is one of the most popular recipes on Modern Honey.
This Sweet and Sour Chicken is made with boneless skinless chicken breast, cut into bite-size pieces, dredged, and then fried until golden and crispy.
The sweet and sour sauce is downright heavenly! It is a sweet and sour sauce made with pineapple juice, vinegar, garlic, sugar, soy sauce, red chili flakes, and a touch of ketchup. It is tangy, sweet, a touch spicy, and full of flavor.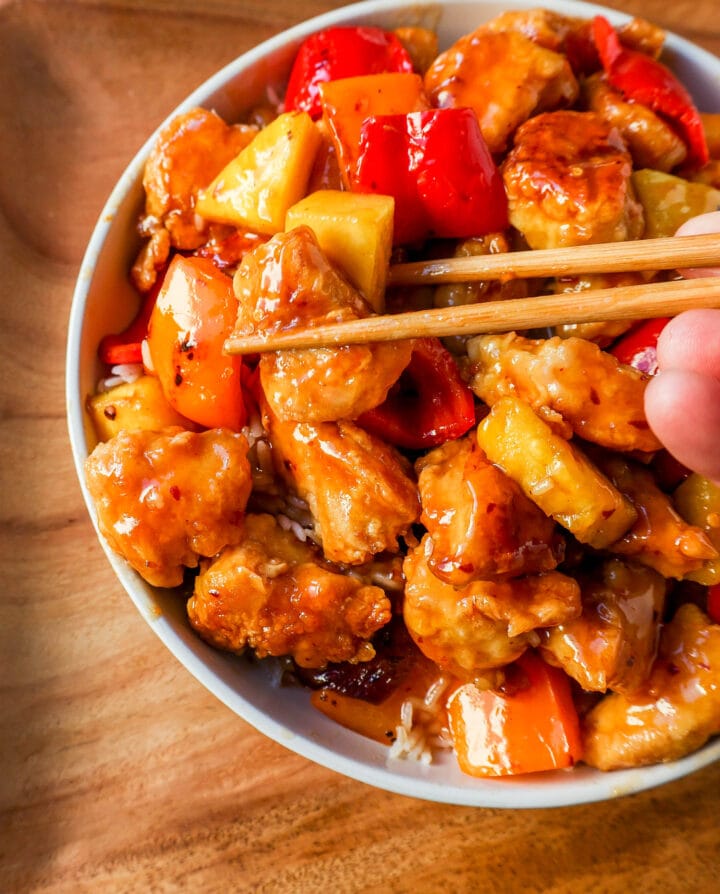 Sweet and Sour Chicken Ingredients:
Chicken -- I suggest using boneless, skinless chicken breast in this recipe. Make sure to sprinkle with a little salt to season the chicken before dredging.
Eggs -- whisk the eggs together in a bowl and dip the chicken pieces into the egg mixture. This helps to bind the flour and cornstarch to the chicken.
Flour and Cornstarch -- using a mixture of both cornstarch and flour makes the perfect coating.
Oil -- this is what gives the sweet and sour the perfect crisp coating. I suggest using an oil such as canola or vegetable.
Pineapple Juice -- use 100% pure pineapple juice as it is the base of this sweet and sour sauce.
Sugar -- granulated sugar brings sweetness and pairs perfectly with vinegar.
Vinegar -- use apple cider vinegar, rice vinegar, or white vinegar in this recipe. If you want a more tangy sauce, add more vinegar to offset the sweetness.
Soy Sauce -- brings a salty depth to the sweet and sour sauce.
Red Chili Flakes -- add a touch of spice to the sauce. If you want a spicier sweet and sour sauce, add more red chili flakes.
Garlic -- use fresh minced garlic or garlic powder in this recipe.
Ketchup -- adds sweetness and helps to thicken the sauce.
Cornstarch -- helps to thicken the sauce. Use a whisk to avoid any lumps.
Fresh Pineapple, Peppers, Red Onion -- if you want to add vegetables, I suggest using assorted colors of peppers, red onion, and fresh pineapple for sweetness.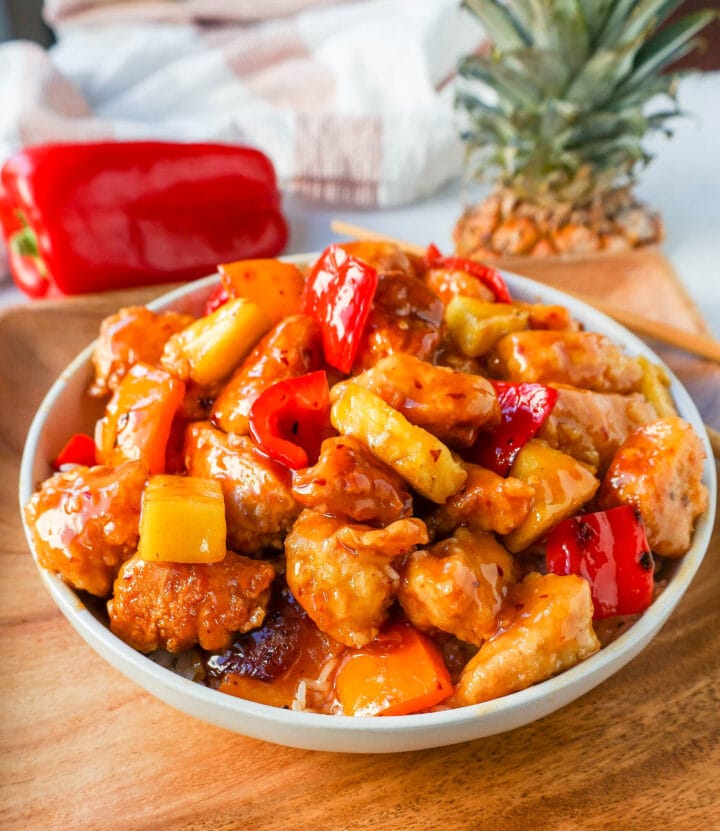 HOW TO MAKE CHINESE SWEET AND SOUR CHICKEN AT HOME:
Start with boneless skinless chicken breast or thighs. Cut into bite-size pieces. Sprinkle salt on the chicken. Dredge the chicken in whisked eggs and cornstarch/flour mixture until coated.
To make the homemade sweet and sour sauce, place pineapple juice, sugar, vinegar, soy sauce, garlic, ketchup, and red chili flakes in a pan and cook over medium-high heat. Add cornstarch and cook until thickened.
Heat oil in a heavy-bottomed pot over medium-high heat. When frying foods, it is so helpful to use a thermometer. Let the oil heat up to 350 degrees. Once the oil is ready, in batches, cook chicken for about 3-4 minutes until light golden brown. Repeat with remaining chicken.
Remove from oil and drain on a paper towel-lined plate.
If adding vegetables to the sweet and sour chicken, saute the vegetables for several minutes before adding to the sauce or you may add them directly to the sauce to simmer.
Toss fried chicken with the sweet and sour sauce. Serve immediately.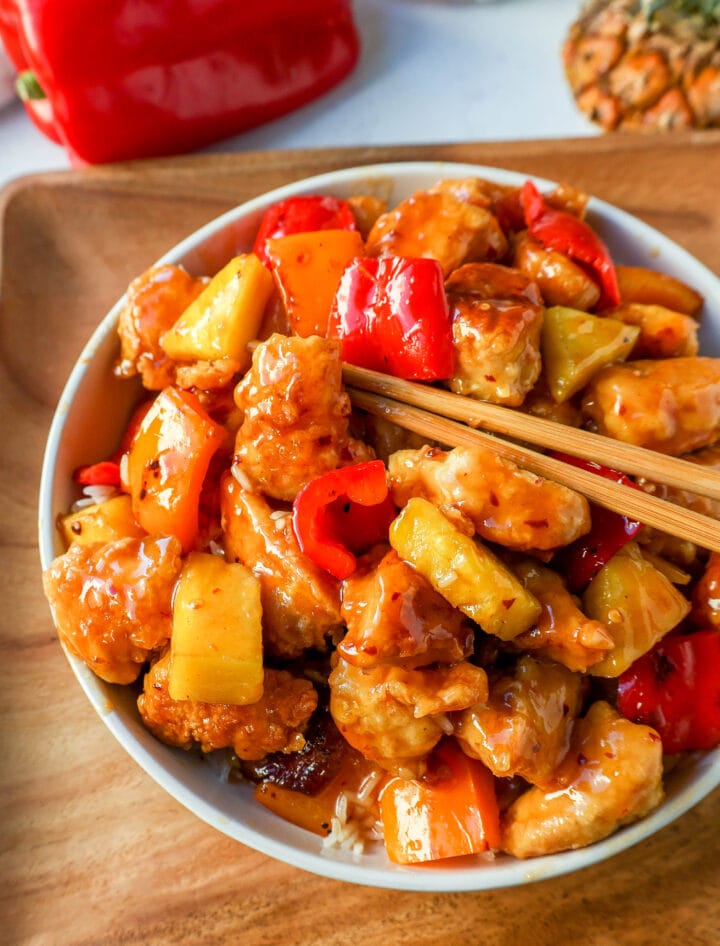 More Popular Asian Food Recipes:
I love to hear from you! If you make this recipe, please be sure to leave a comment and give this recipe a rating. If you make any of my recipes, tag me on Instagram @modern_honey so I can see your creations. It's one of my favorite things to see you make these recipes in your own kitchen. Sign up for my newsletter below so you never miss a recipe. Thank you for following along! I truly do have the greatest readers. FOLLOW ME ON: INSTAGRAM --- FACEBOOK --- PINTEREST