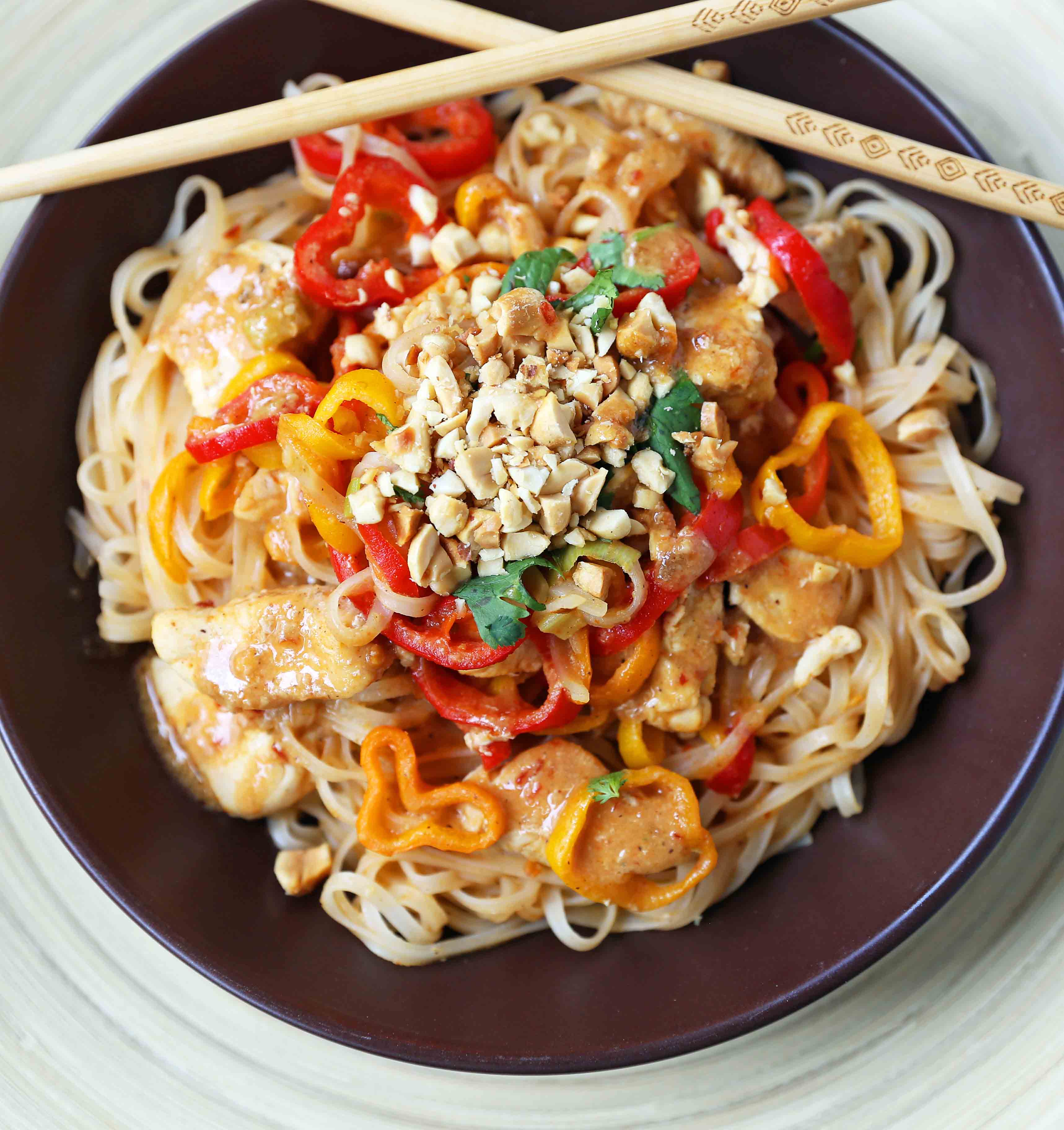 Thai Chicken Noodles
A healthy flavorful Thai chicken dish with fresh vegetables all sauteed in a spicy peanut sauce 
This gluten-free and dairy-free thai peanut chicken with noodles is so fresh and flavorful and is way better than takeout.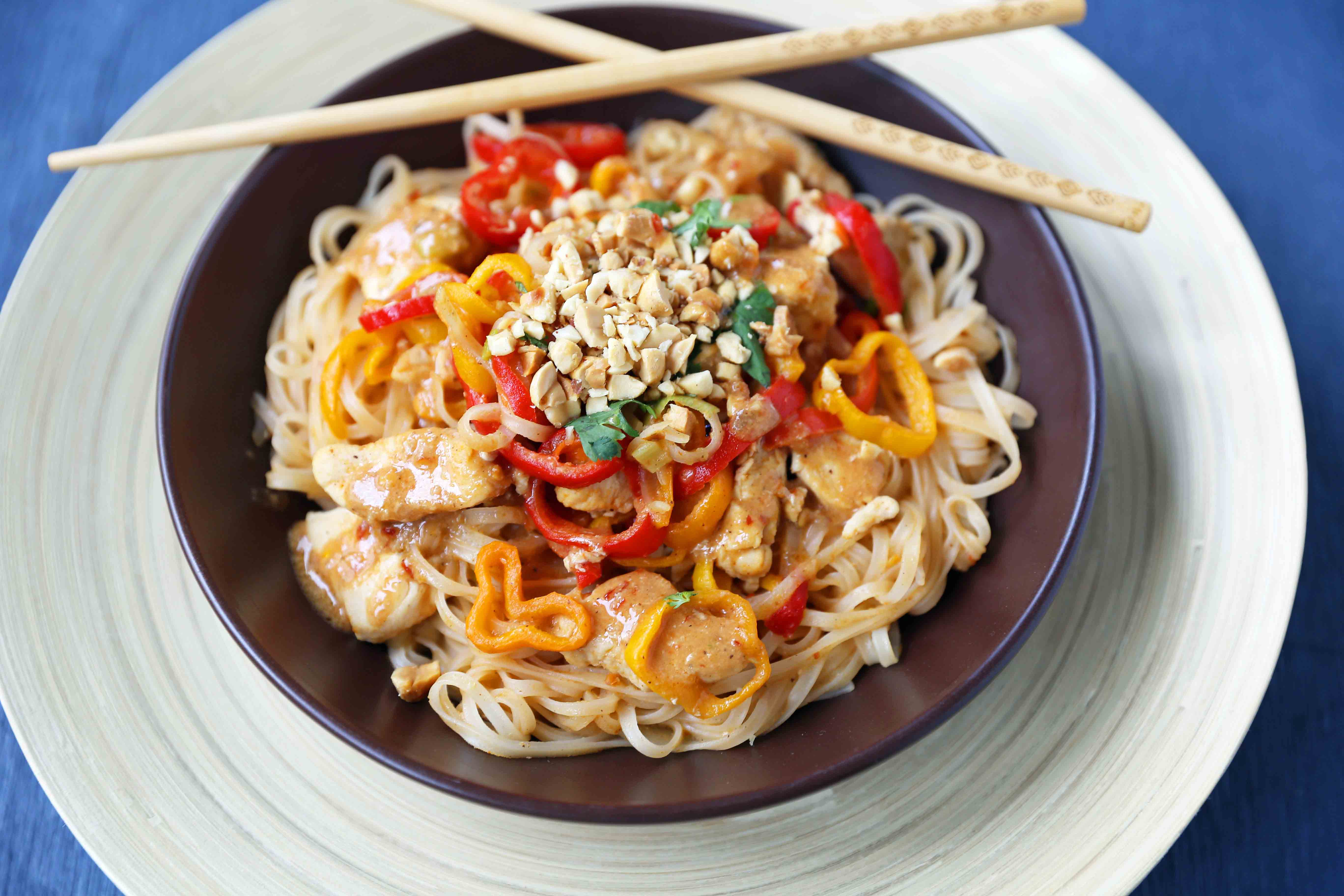 It's the New Year and we all need healthy dinners that can be made in less than 30 minutes. I spent a large portion of the last six years on gluten-free and dairy-free diets. During that time, I worked to find super flavorful meals that were also incredibly healthy that helped heal my body. These Thai Chicken Noodles with peanut sauce fits the bill and became a family favorite.
One of my best friends has dealt with celiac disease for over 15 years. She is always asking me to create recipes that she can eat and this is one of them. It's shocking to see so many people out there struggling with food intolerance and allergies.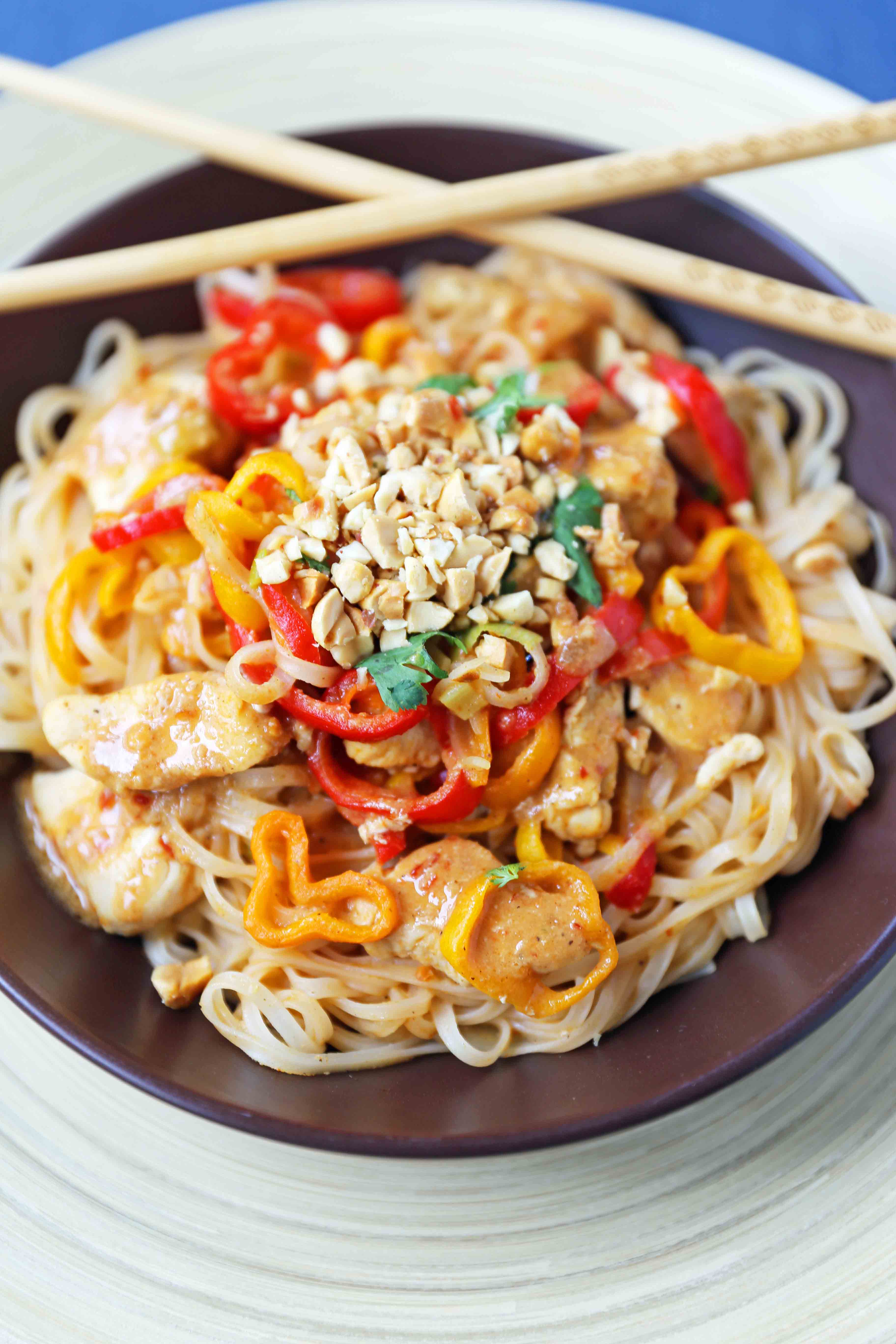 Thai Chicken Noodles start by sauteing lean chicken breast and an assortment of peppers in a touch of oil. The sauce keeps you guessing and is made with ginger, chili garlic sauce, hoisin sauce, a touch of peanut butter, and chicken broth. I could lick this entire bowl of sauce!
How to make Thai Chicken Noodles:
 Start by sauteeing diced chicken breast in oil until almost cooked through. Add red peppers, orange peppers, and yellow peppers and saute for several minutes.
Make a spicy peanut sauce by whisking together chicken broth, ginger, chili garlic sauce, hoisin sauce, and peanut butter. Add to chicken mixture and let the sauce thicken.
Toss cooked rice noodles with chicken and peanut sauce. Garnish with cilantro, chopped peanuts, and green onions.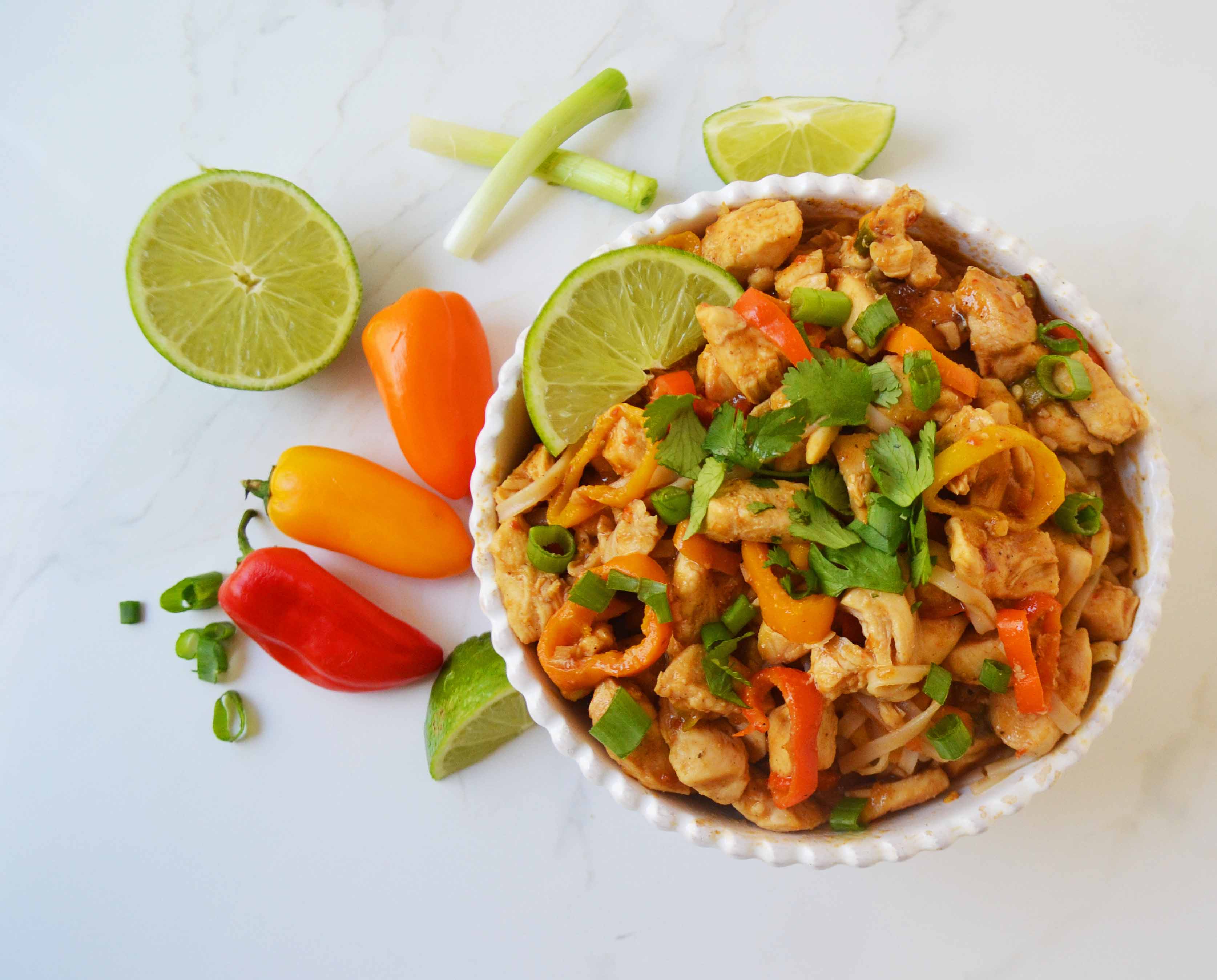 This chicken stir-fry is made with rice noodles. They are gluten-free and are a nice alternative to rice. Also, these Thai Chicken Noodles are made in less than 30 minutes, which is always a good thing!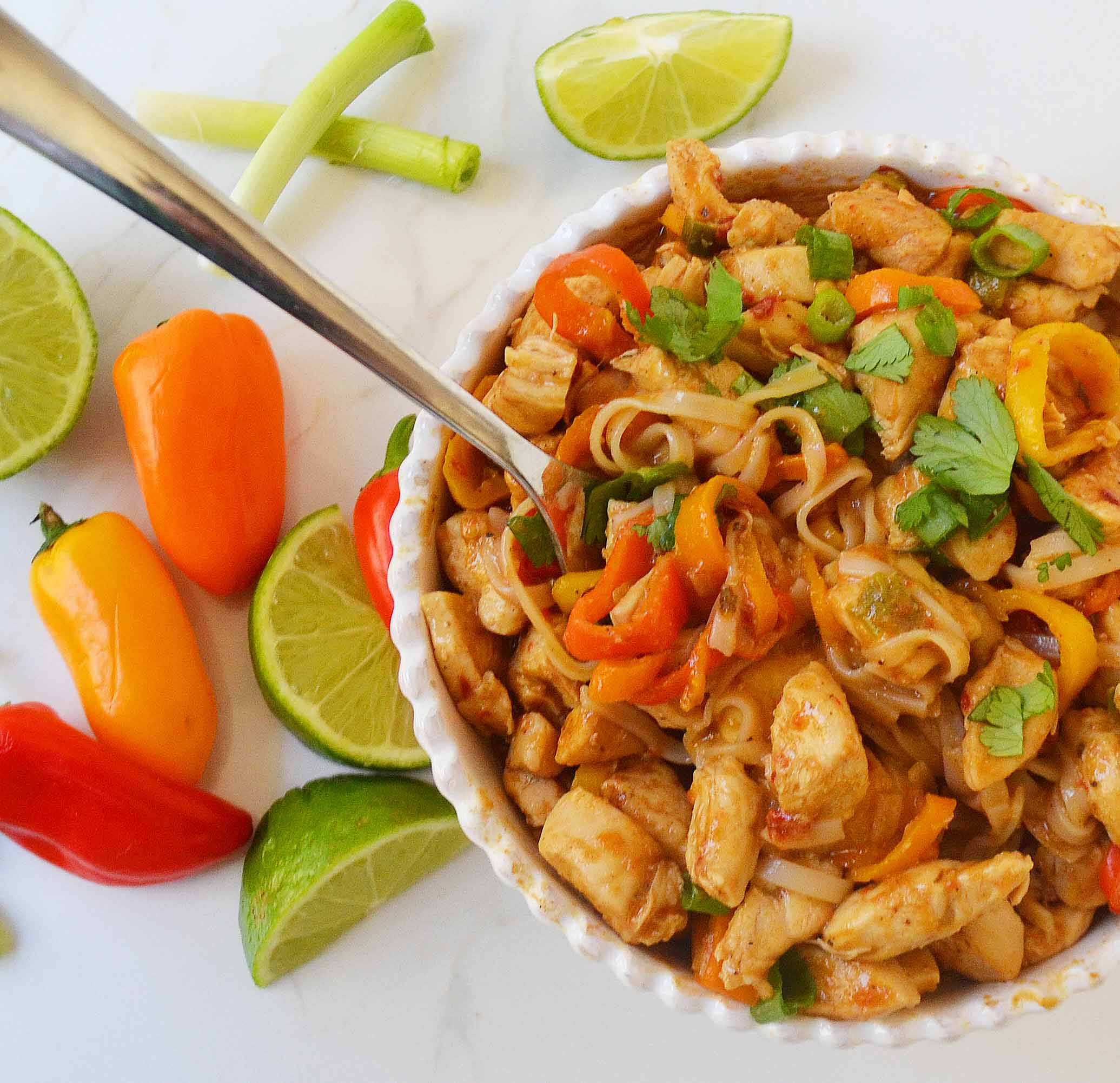 If you love peanut butter and want to add more peanut butter flavor, add an extra 1 Tablespoon of peanut butter to the sauce. You can thin out the sauce with by adding ¼ cup of canned coconut milk to add some coconut flavor.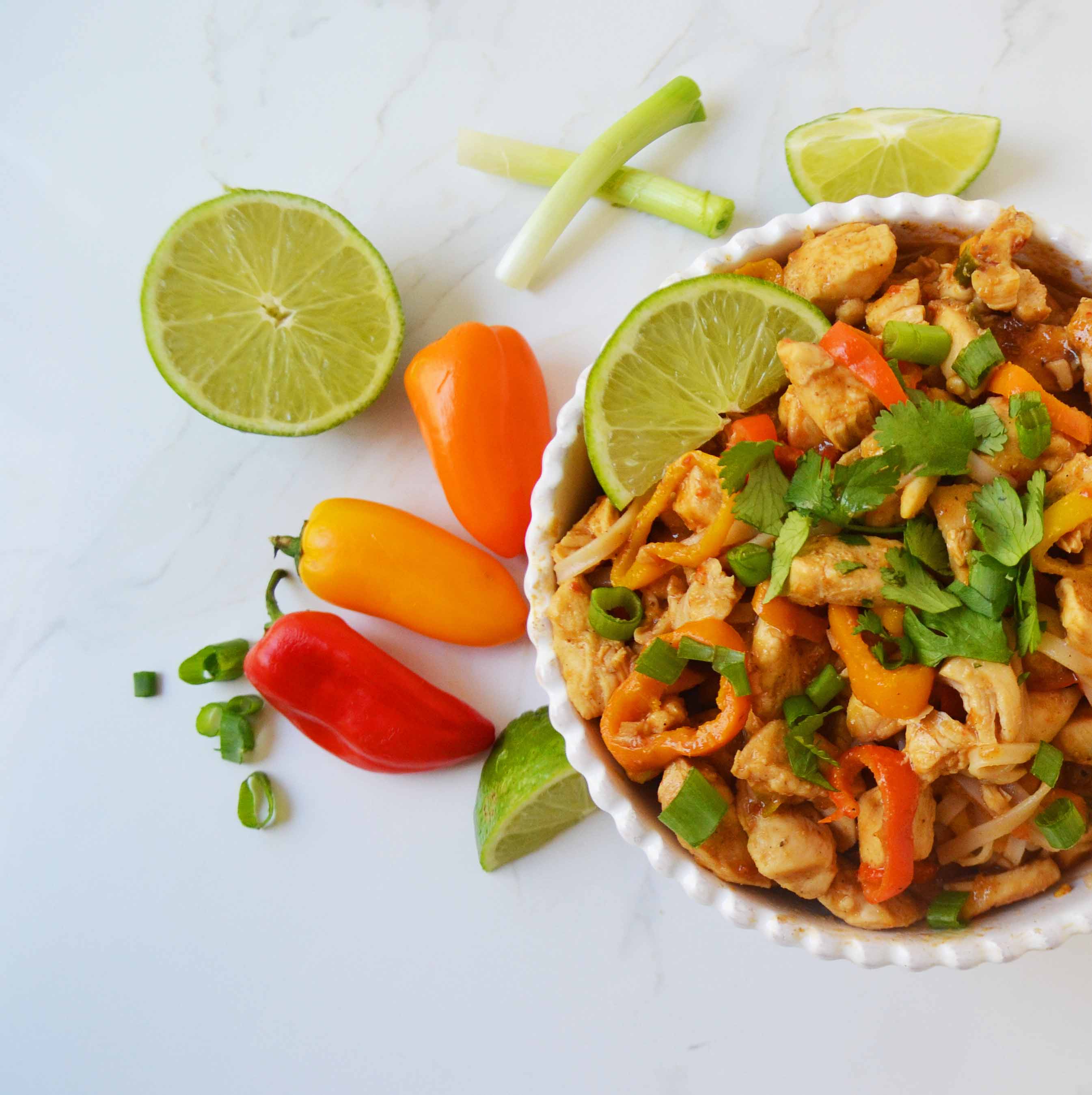 Pin on Pinterest: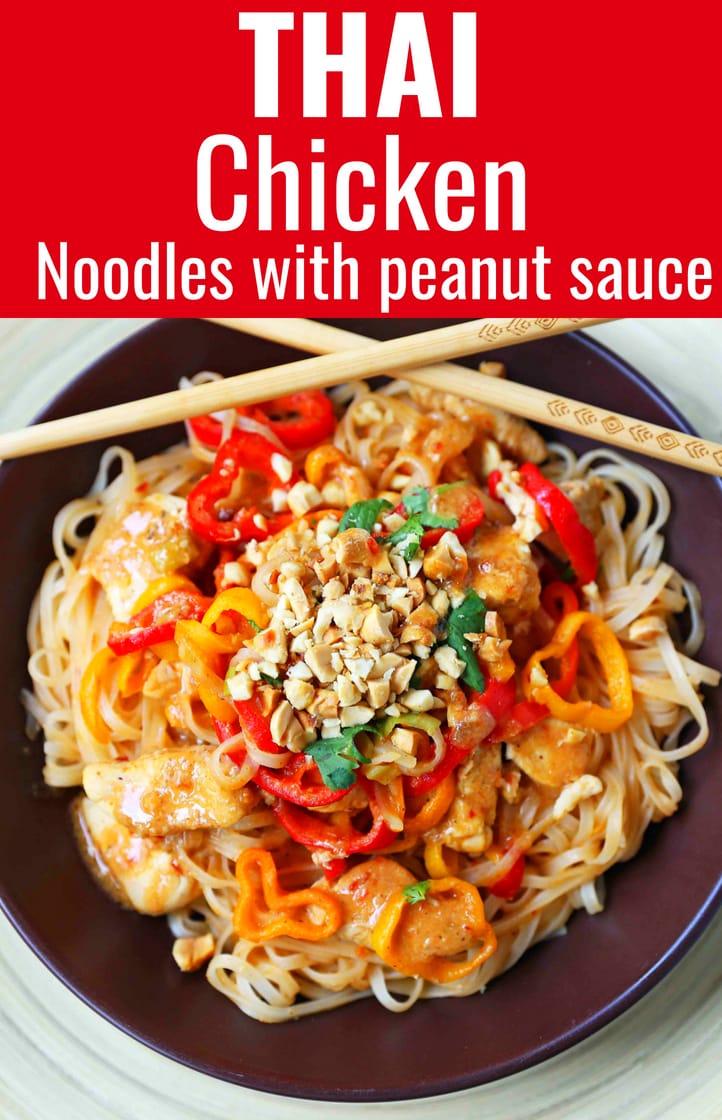 How are your New Year's Resolutions going? I am still going strong but let's be real....it's day 4. Ask me in a month how I am doing! 🙂 I hope your family loves these Thai Chicken Noodles. Happy Cooking!