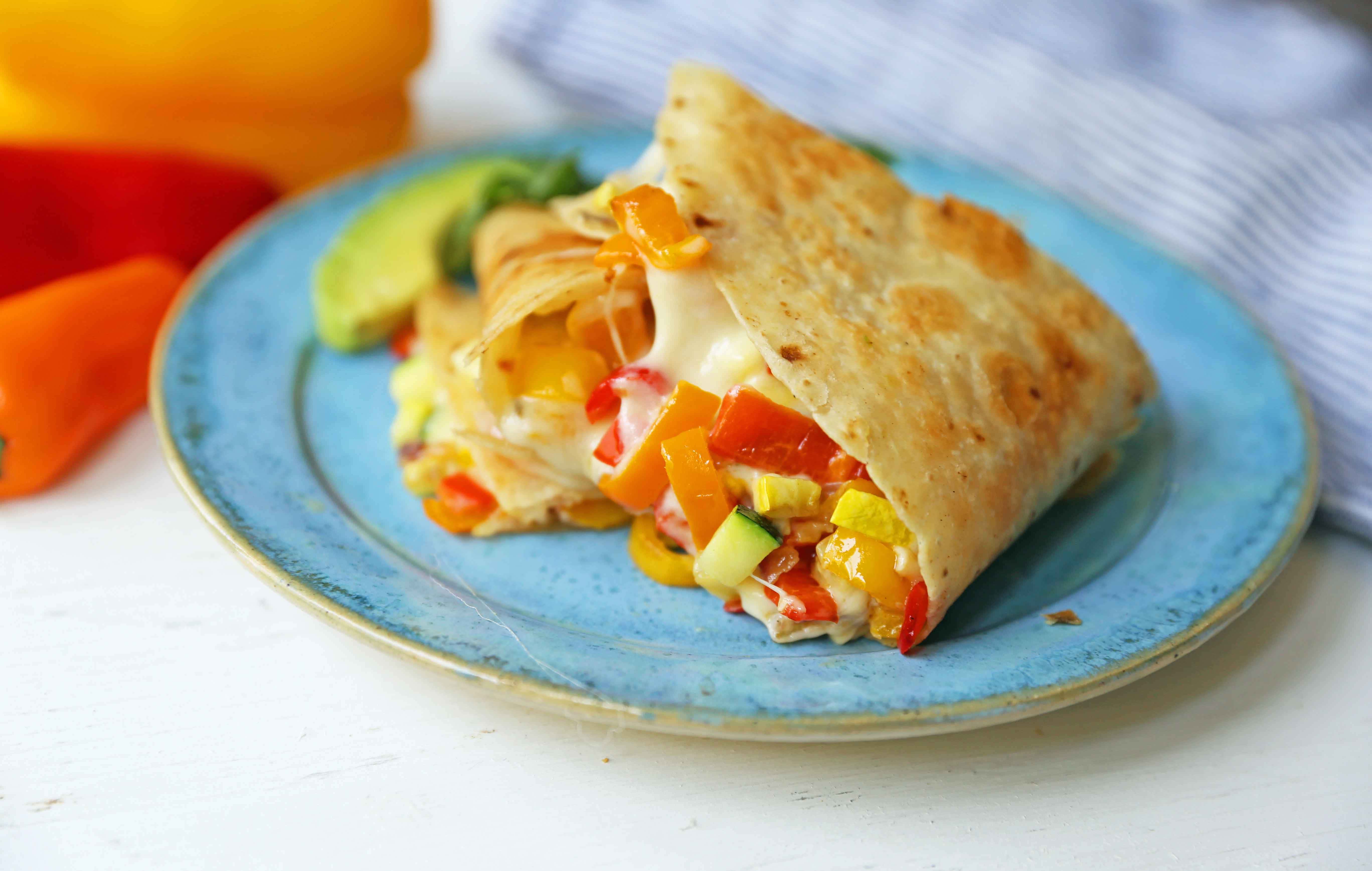 Veggie Quesadilla
Fresh summer veggies, ooey gooey melted cheese, all in a buttery grilled flour tortilla. The perfect summer veggie quesadilla recipe!
This is the way I want to eat my veggies. We are told over and over again that we should eat a variety of vegetables so if I can eat them wrapped up with melted cheese, I am all for it. These Vegetable Quesadillas are out of this world and you won't even miss the meat!
I have a lot of vegetarian readers who are always looking for recipes that are all about the veggies. It's summertime which means fruits and vegetables are abundant everywhere. These vegetarian quesadillas are so unbelievably flavorful!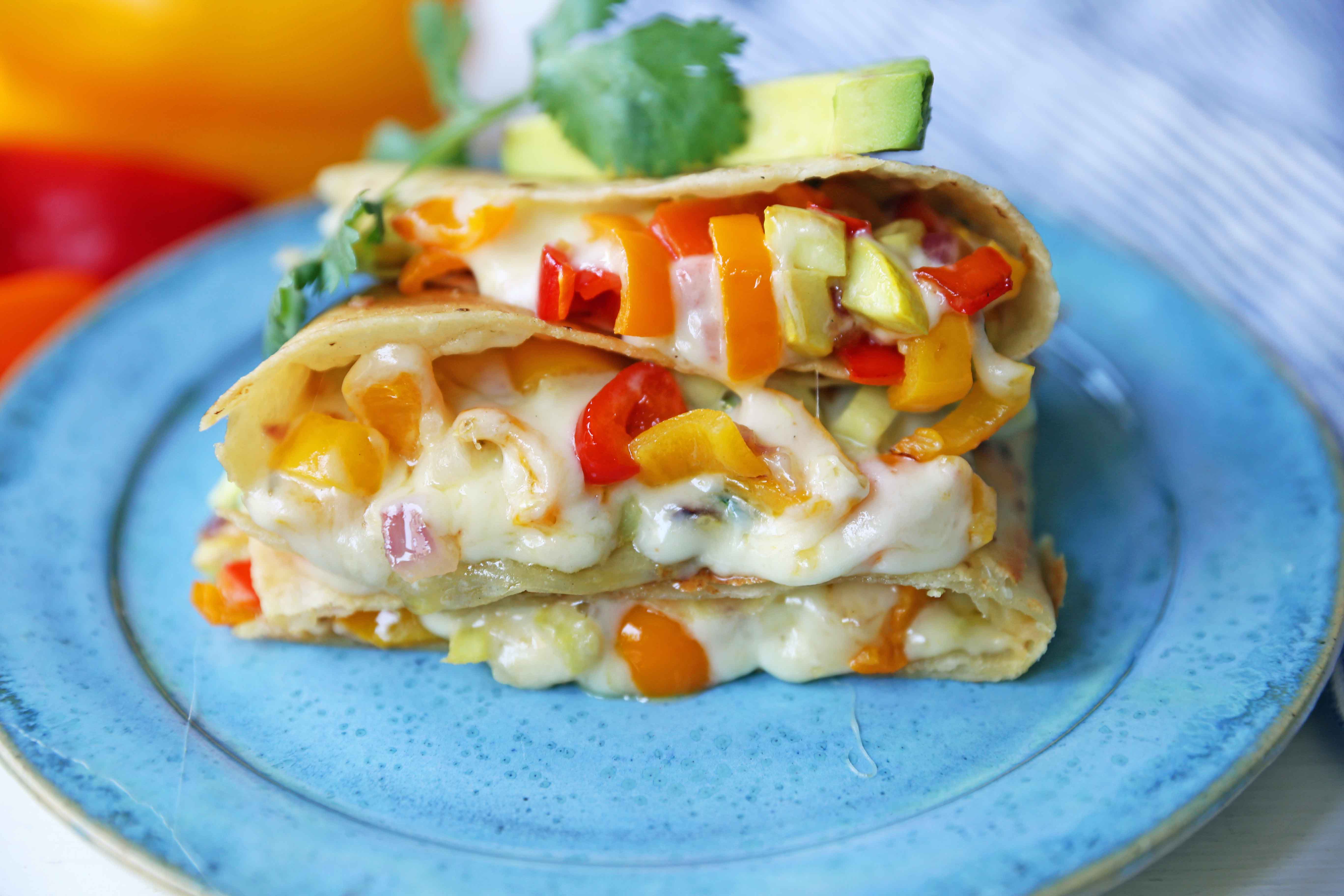 The Story of the Veggie Quesadilla:
Hospital food isn't known for being gourmet. Okay, let's be real. It is known for being horrible. After my 2nd baby, I remember begging my husband to run grab "real" food for me so I didn't have to eat the horrendous hospital food. However, it all changed in Arizona when they revamped the hospital menu. I kid you not.
After giving birth and the epidural wears off, you want to eat everything in sight. At the hospital, I spotted a veggie quesadilla on the menu and it seemed like a safe choice.  Little did I know, it was the best thing on the menu! I not only ate it for lunch, I ate it for dinner as well. It was basically the only thing I ate the entire time at the hospital.
Now, this is where the story gets really bizarre. Fast forward to months later as my husband and I were out running errands. I told him I wanted to run and grab a veggie quesadilla to go…at the hospital! He thought I LOST MY MIND.  Here I was this foodie and I was going into the hospital to order a veggie quesadilla. But it was GOOD. He is a smart man and just pulled up to the front so I could go get my veggie quesadilla. He still teases me about it to this day.
Of course, I needed to re-create a homemade veggie quesadilla at home. This veggie quesadilla recipe blew my socks off! It is a simple recipe but it is the perfect way to get in your daily veggie intake.
What ingredients are in a Veggie Quesadilla?
Vegetarian Quesadillas are all about the assortment of vegetables. Red, orange, and yellow peppers add crunch and flavor. Zucchini and squash (cut very small) are so mild in flavor and add a soft creaminess.  Red onions add some big flavor which compliments the creamy cheese.
A good melting cheese is important so reach for a pepper jack or Monterey jack cheese. These particular Mexican cheeses — queso asadero or queso quesadilla melt well and work beautifully in these veggie quesadillas. Flour or corn tortillas can be used, depending on preference.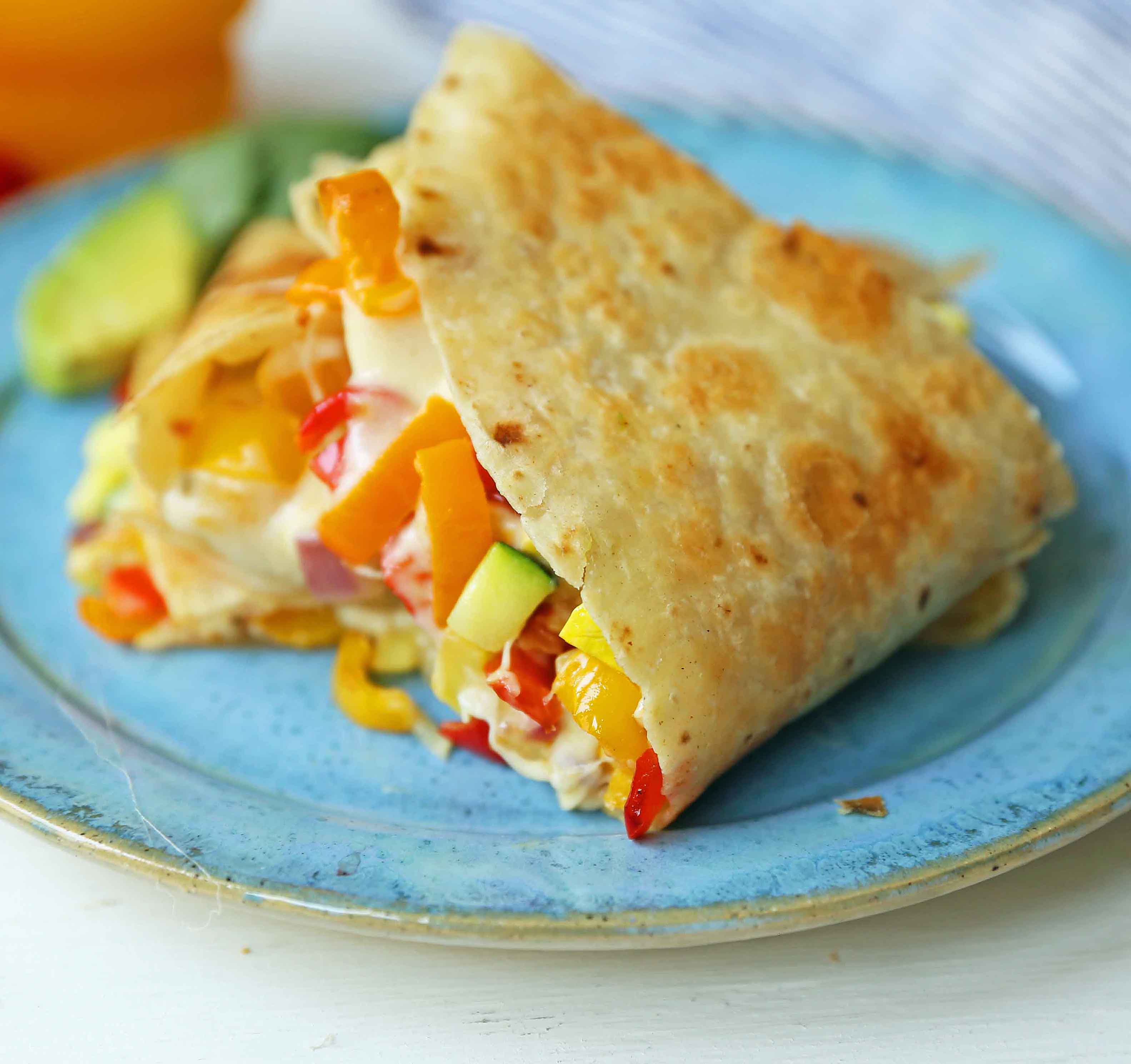 How to make Grilled Veggie Quesadillas:
 Start by chopping up vegetables into small bite-size pieces. This helps them to cook faster. Saute the vegetables in a skillet with olive oil and salt and pepper or roast at 400 degrees for about 4-6 minutes before adding to the quesadilla. This softens the vegetables and brings out their robust flavors.
Place vegetables on one side of a tortilla, top with a generous amount of cheese and fold over. Spread the tortilla with butter.
Cook on medium-low heat to allow the cheese to melt. If the tortilla is browning too quickly, reduce heat. Carefully flip to the other side and spread butter over the tortilla.
Serve warm with a side of guacamole or pico de gallo.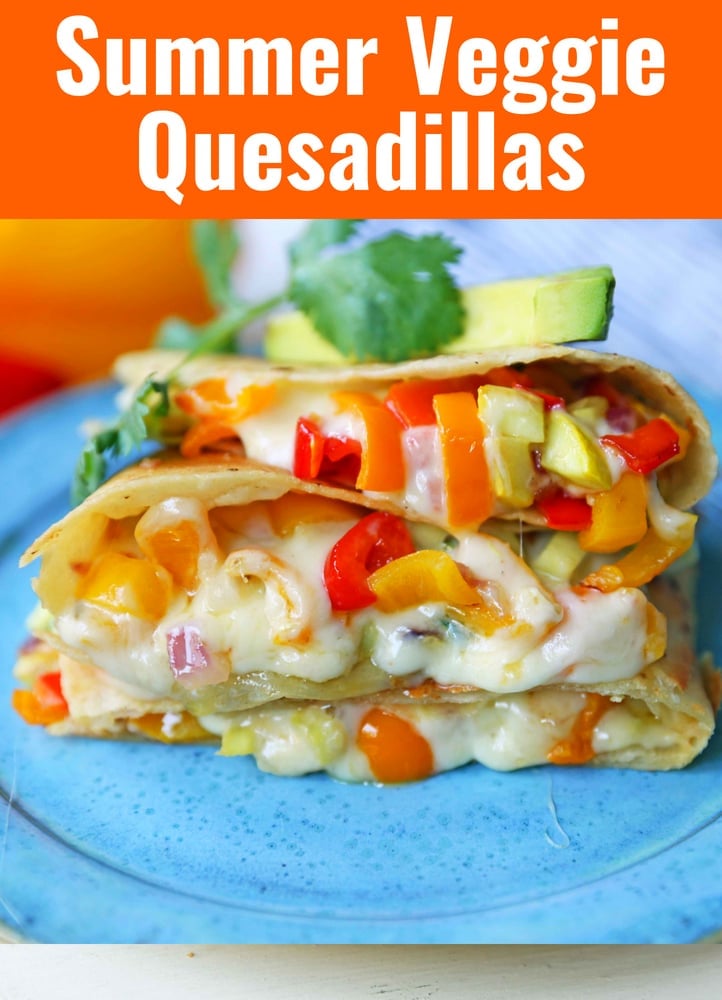 Pin this now to find it later
Pin It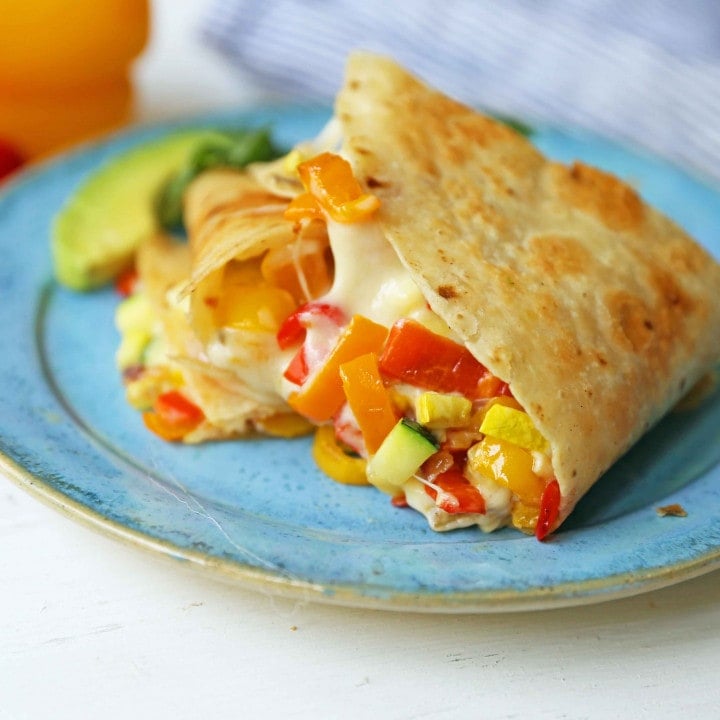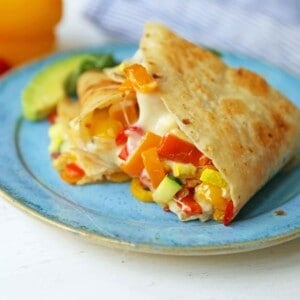 Veggie Quesadilla
Summer veggies with ooey gooey melted cheese in a golden buttery tortilla.
Ingredients
1-2

Tablespoons

Extra-Virgin Olive Oil

(or your favorite oil)

1

Red Pepper

(chopped)

1

Orange Pepper

(chopped)

1

Yellow Pepper

(chopped)

1-2

Zucchini

(2 small or 1 large, chopped)

1-2

Squash

(2 small or 1 large, chopped)

1/4

Red Onion

(finely diced)

1/2

teaspoon

Salt

3

cups

Pepper Jack or Monterey Jack Cheese

4

Flour Tortillas

Butter
Instructions
Chop vegetables into small bite-size pieces. In a large skillet, heat olive oil over medium-low heat. Add veggies and cook for 4-6 minutes, or until slightly softened. Sprinkle salt over the veggies.

Place the veggies on half of the flour tortilla. Top with shredded cheese. Fold over and brush butter all over the tortilla.

Place the quesadilla on the skillet over medium-low heat. Watch carefully to ensure the tortilla doesn't brown too quickly without the cheese melting. Once it becomes a light golden brown color, carefully flip over.

Serve warm with guacamole, pico de gallo, avocado, or salsa.
Notes
* Garnish with avocado, guacamole, pico de gallo, or salsa
Nutrition information is automatically calculated, so should only be used as an approximation.
FOLLOW ME ON:   INSTAGRAM — FACEBOOK — PINTEREST
I hope you love these Mexican vegetarian quesadillas! Show me your creations on instagram. I always love to see them!