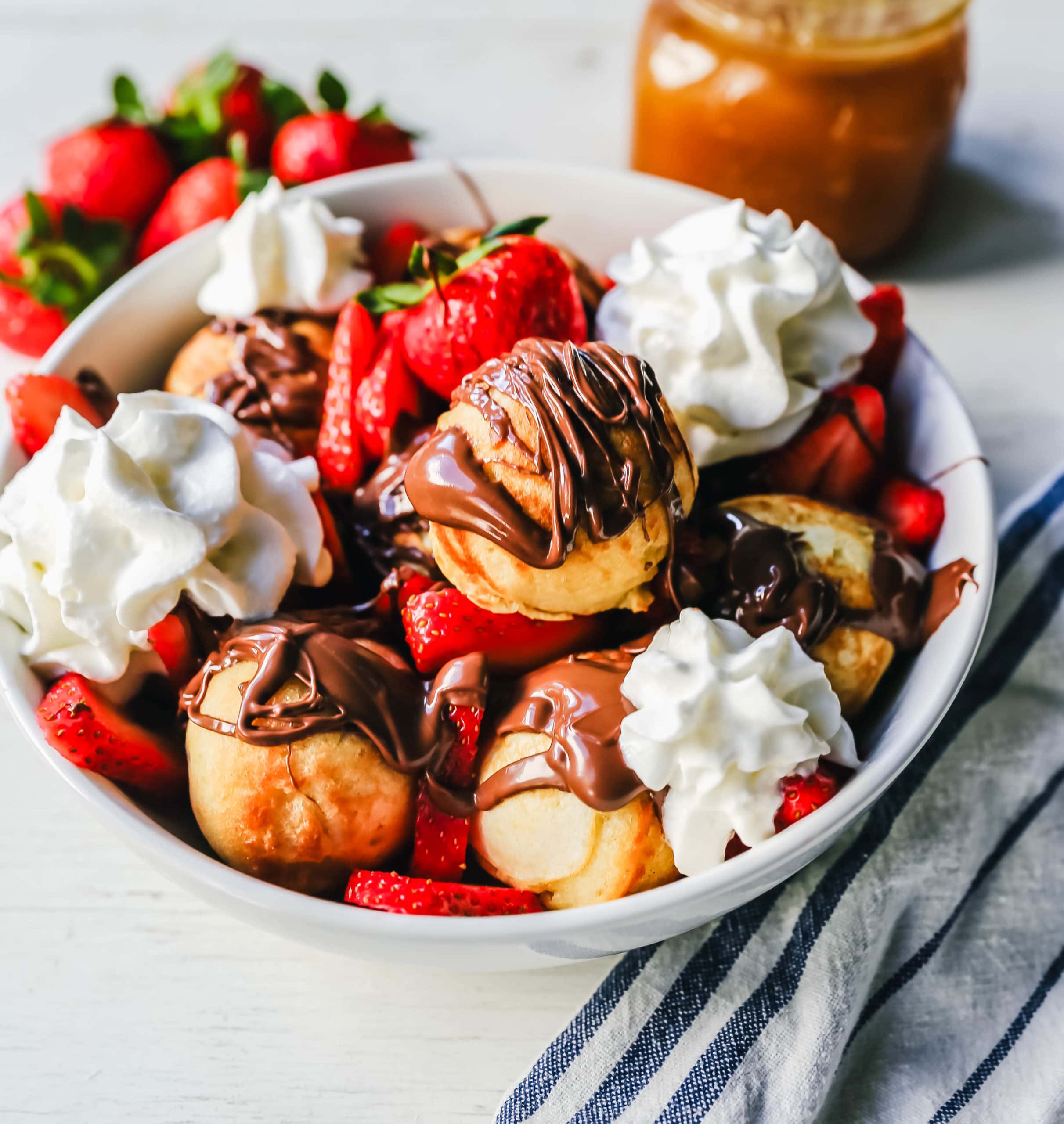 Aebleskiver Danish Pancakes
a traditional Danish breakfast or dessert popular in Denmark is a circle pancake cooked in an aebleskiver pan and served with jam, powdered sugar, syrup, and fruit.
This is a recipe I have been so excited to share with you! My brother, Ryan, lived in Denmark for several years while serving a church mission. When he came home, he taught us all about the famous aebleskivers he would eat in Denmark. We became obsessed with them and would eat them with my Mom's famous buttermilk syrup.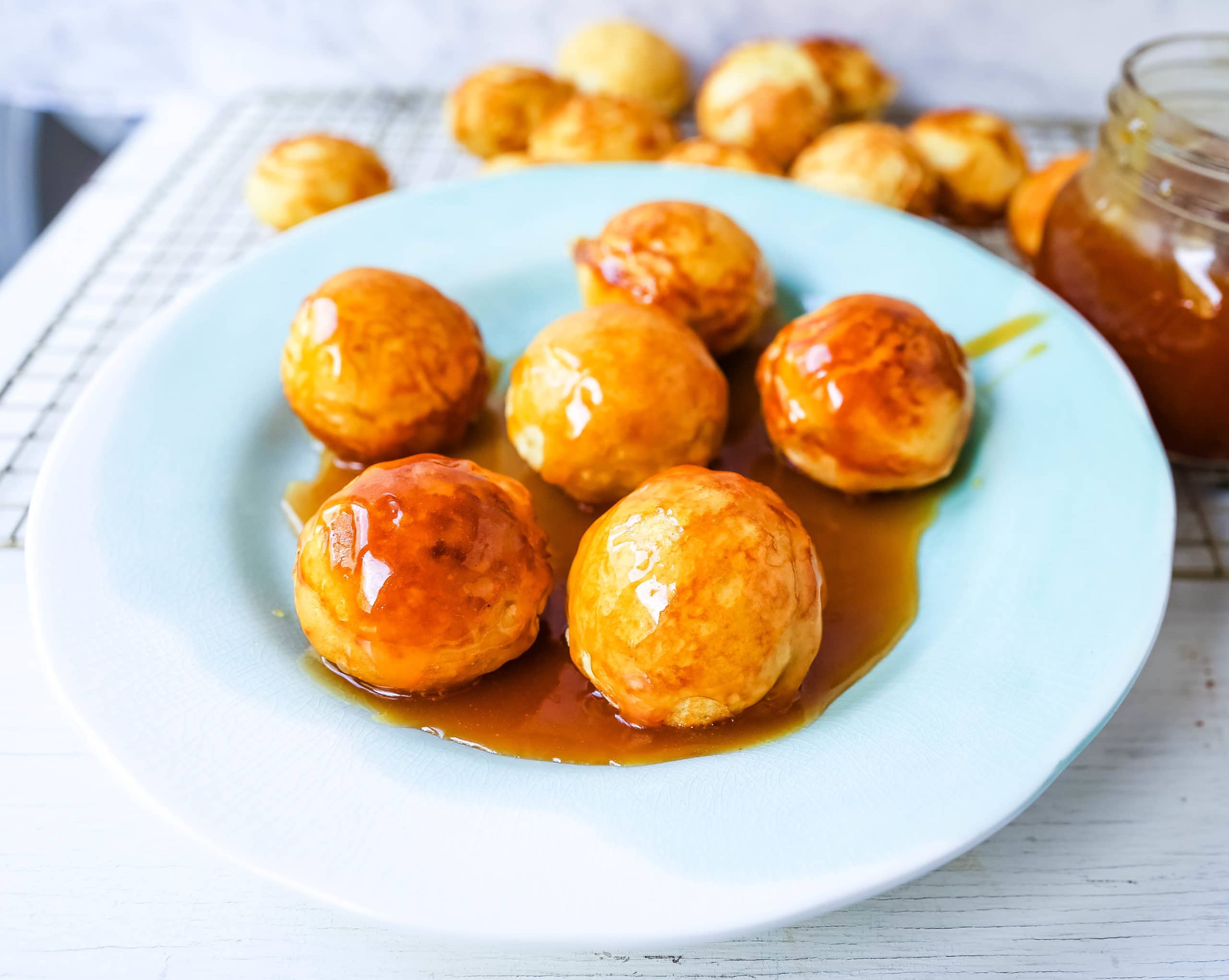 My brother got the recipe from Ben and Fran Hansen, who lived in Denmark while my brother was there. They were the cutest little older couple who took such good care of him while on his mission. He would go over to their house and Fran would whip up a batch of her homemade aebleskivers and he loved it. I am so glad he kept the recipe after all of these years!
What is an Aebleskiver?
An æbleskiver is a European pancake similar to a popover with a light and fluffy interior and a buttery exterior. They can be spelled in all sorts of ways -- aebleskiver, æbleskiver. or ebleskiver but they are all the same. They have a sister cousin -- mini Dutch pancakes called poffertjes.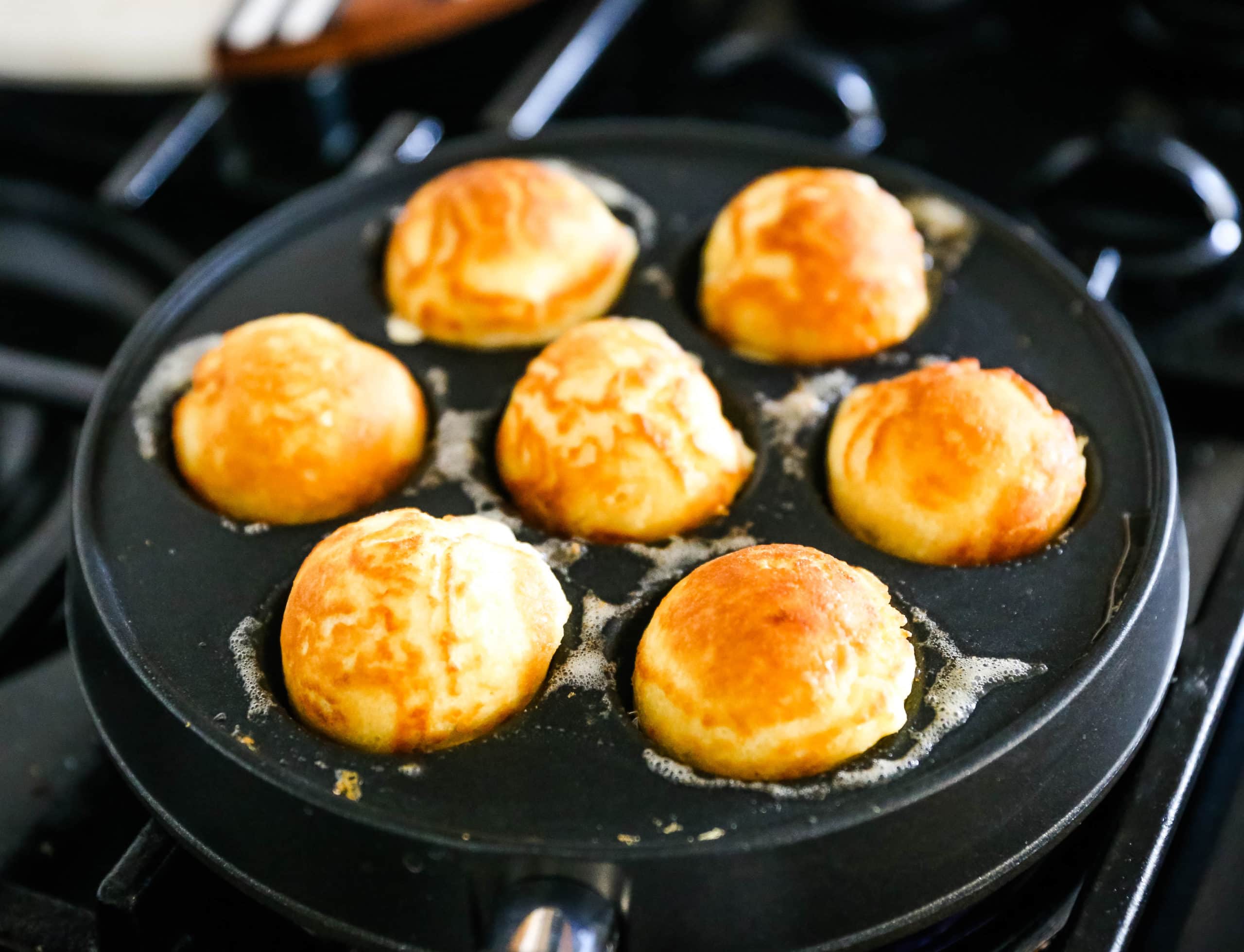 Aebleskivers aren't necessarily sweet but can be dipped in or filled with homemade raspberry jam and sprinkled with powdered sugar. Our favorite way to eat them is to smother them in a homemade buttermilk syrup which is basically a salted caramel syrup that is to die for. If you want to go all-out, top with fresh strawberries, Nutella, and whipped cream.
In order to make aebleskivers, you need a pan. This is the pan I bought from Amazon and I love it. It is non-stick and I make sure to add plenty of butter to make it extra non-stick and to make the mini pancakes extra flavorful.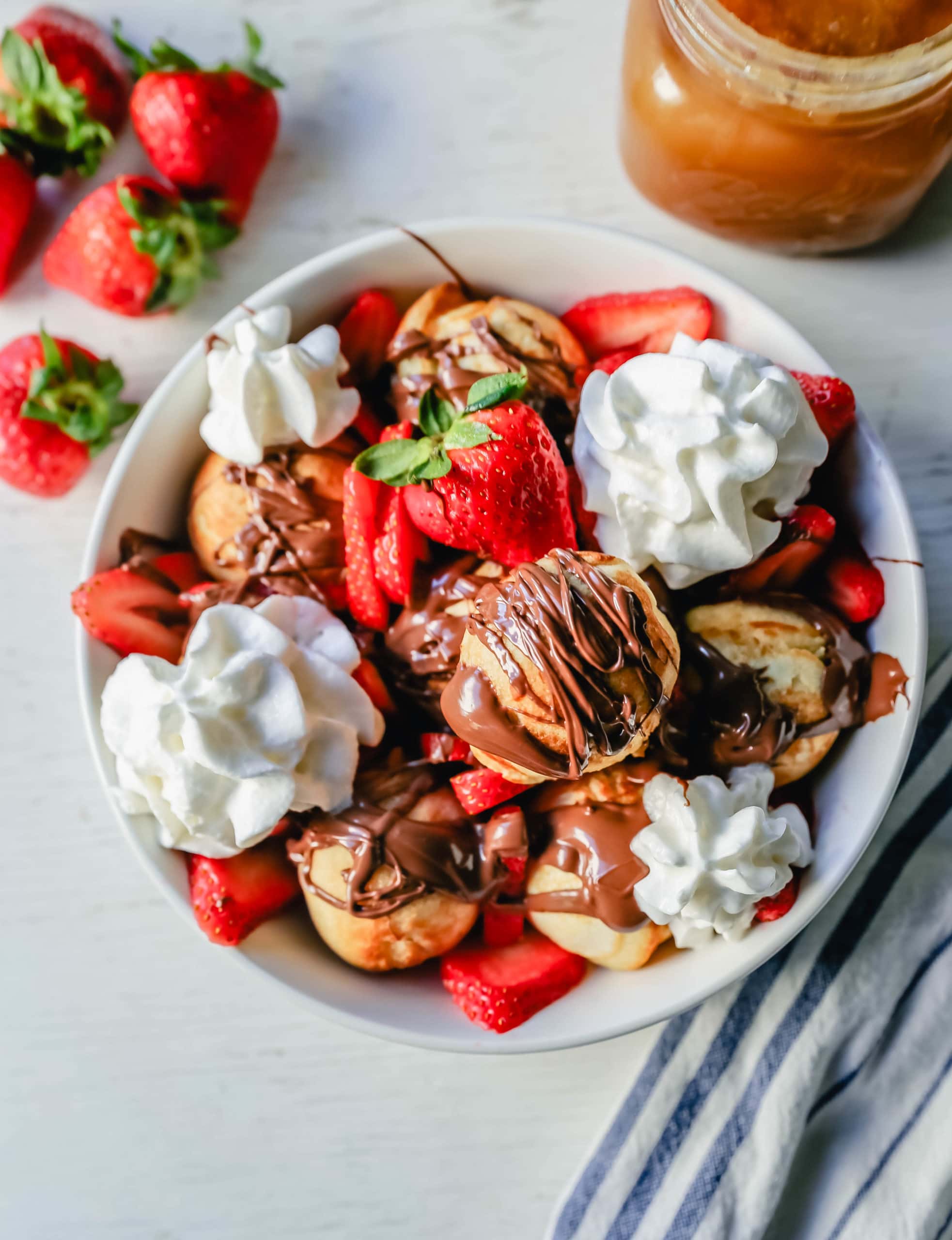 This aebleskiver recipe is so easy and calls for simple ingredients such as flour, baking powder and soda, salt, sugar, eggs, buttermilk, vanilla, and melted butter. The key is to whip the egg whites which gives these Danish pancakes a nice loft to them.
In 2013 we decided to take a trip along the Pacific Coast Highway in California. We started in the LA area and traveled North to San Francisco. We stopped in charming little towns and fell in love with so many places.
One of the highlights was stopping in Solvang, California -- a town with Danish architecture, authentic pastries, and aebleskivers. Since my brother doesn't get to speak Danish very often, he was so excited to speak the language and most importantly, eat the incredible food. We love trying all kinds of aebleskivers and basking in this charming Danish town.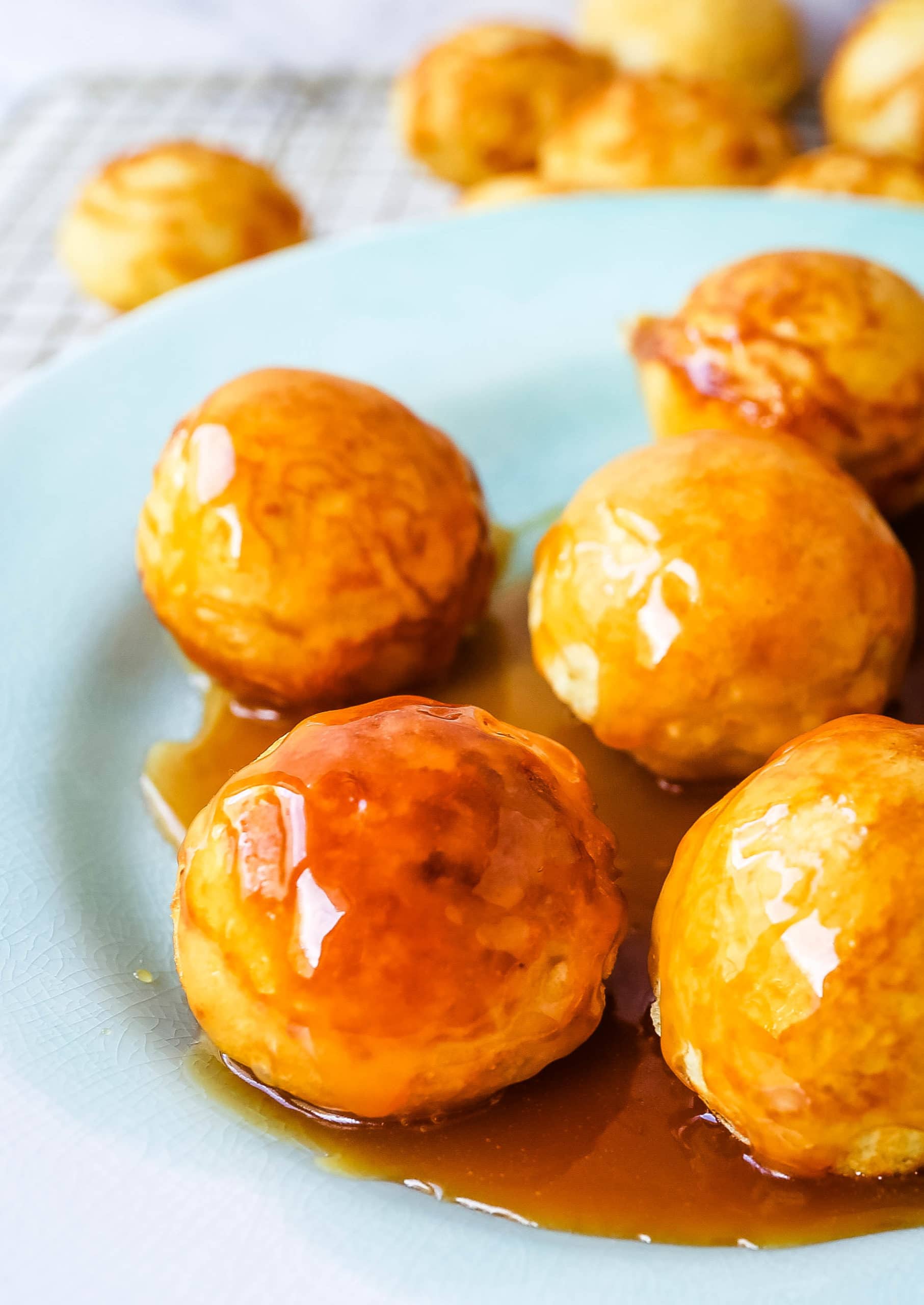 Now I am going to share all of the tips and tricks for making the best aebleskivers!
How to make the Best Aebleskivers:
Start by mixing the dry ingredients together in a bowl and then making a well in the middle to add in the wet ingredients.
Separate the egg yolks from the egg whites and beat the egg whites with a beater until stiff peaks form.
Add the liquid ingredients -- egg yolks, buttermilk, vanilla, and melted butter to the dry ingredients -- and mix together. Carefully fold in the egg whites.
Heat the aebleskiver pan over medium-low heat. I like to cook them low and slow to make sure they don't burn on the outside without becoming fully cooked on the inside. I will sometimes REDUCE the heat to low if they are getting too brown. You definitely don't want a hot pan.
Add a little bit of butter or oil to each well in the pan. Here is a link to my favorite aebleskiver pan. If you have a pastry brush, use it to brush the pan with the melted butter to avoid sticking.
Add about 1 Tablespoon of batter into each well, filling it almost to the very top. Let it cook until it is a light golden color and then turn, using a fork, an angled spatula, or something you can pierce it with.
Serve with homemade jam, sprinkled with powdered sugar, or homemade buttermilk syrup. Click HERE for the syrup recipe.