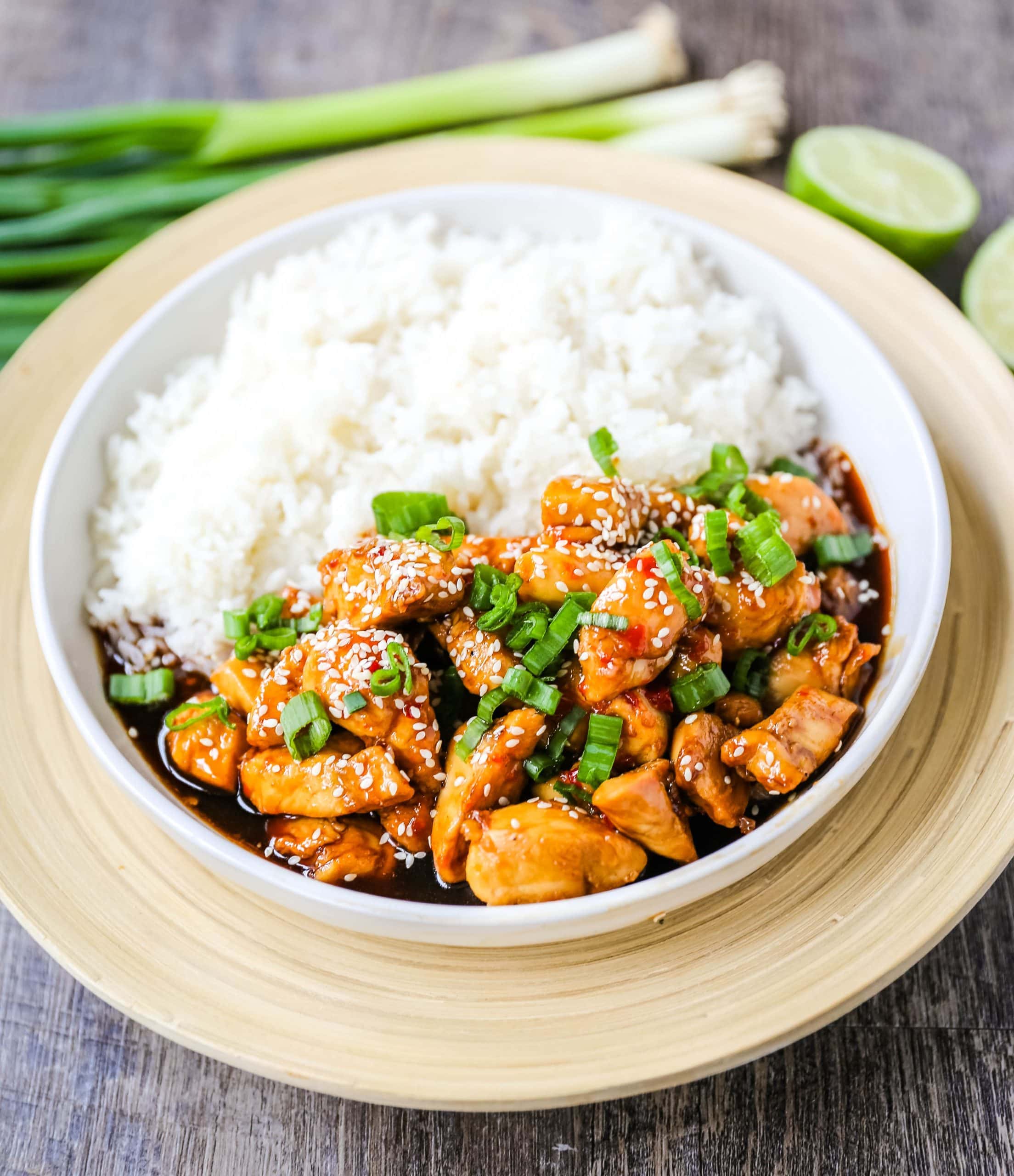 Asian Sticky Chicken
Tender chicken sauteed in a sticky sweet and tangy Asian sauce served with creamy coconut rice. A quick and easy 20-minute dinner!
I am all about fast dinners these days. I am running kids to tackle football or soccer practice and I need to feed them something I can whip up in less than 30 minutes. This Asian Sticky Chicken can be made in less than 20 minutes and my kids LOVE it!
Yesterday I received a call from my 17-year old son that he was pretty sure he just broke his arm at school. This isn't my first rodeo and we've had 4 broken arms in our family -- 3 of them requiring surgery -- so I have become accustomed to these phone calls. 🙂 I picked him up from the nurse's office at school and could tell it was broken. Our amazing orthopedic surgeon was able to squeeze us in and confirmed it was not only broken but needs surgery as well. He has already had surgery for a broken arm before so I reassured him that chicks dig scars and they definitely look manly!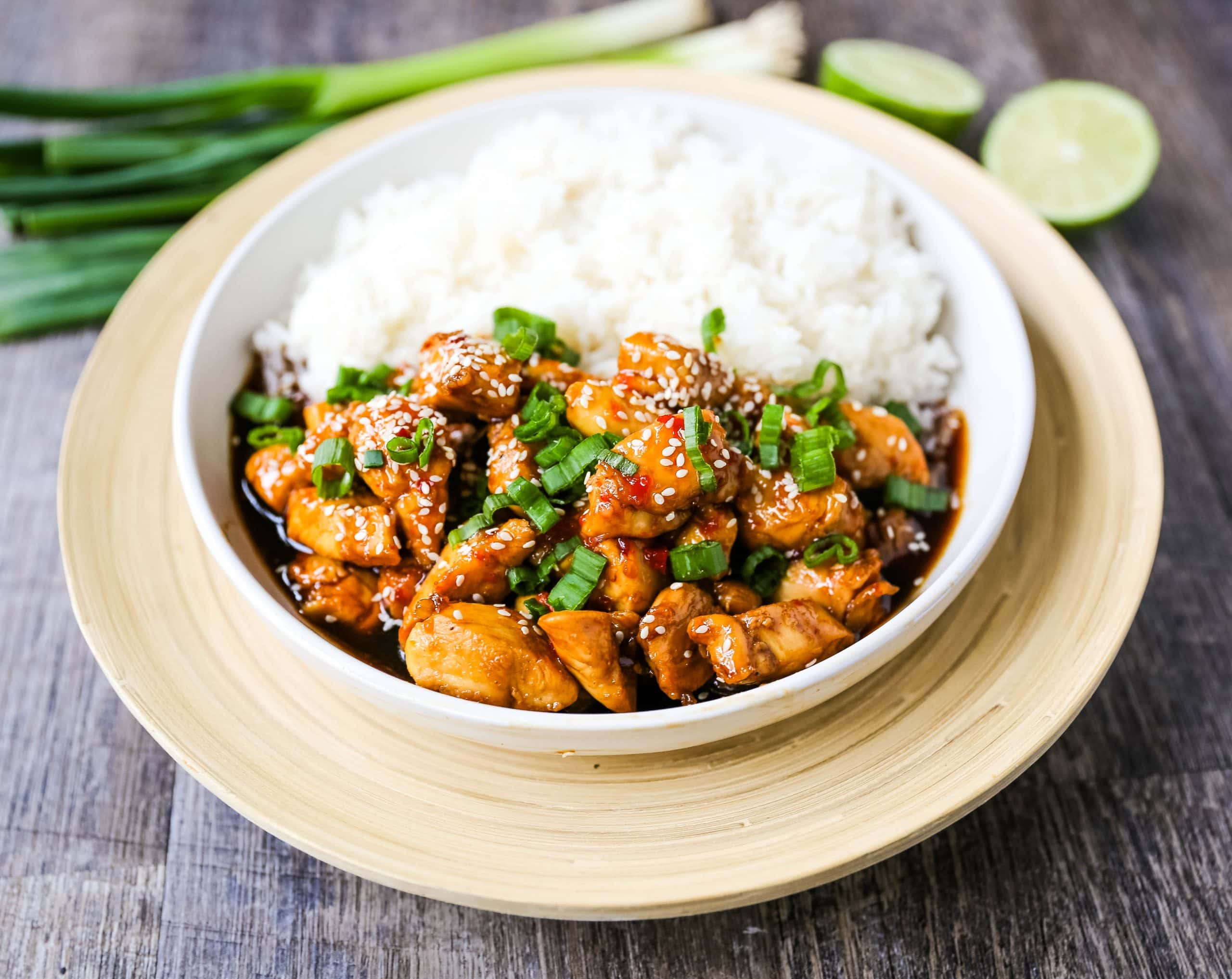 But as I was running to and fro to get him taken care of, I threw in some rice in the rice cooker to make coconut rice and defrosted some chicken tenders to throw this Asian Sticky Chicken together as soon as I got home from the doctor's office. The chicken took me less than 15 minutes to make and I had dinner on the table in 20 minutes!
This Asian Sticky Chicken is made with brown sugar, soy sauce, sweet chili sauce (a family favorite), garlic, ginger, hoisin sauce, and some fresh lime juice. It has a sticky sweet and salty sauce that coats the chicken. You will want to drink the sauce...it is so good!
The Sweet Chili Sauce shouldn't be confused with chili garlic sauce. The sweet chili sauce is definitely sweet with the addition of sugar in the sauce. There are all types of brands at the grocery stores so look for sweet chili sauce and look at the label to make sure there is sugar at the top of the ingredients list.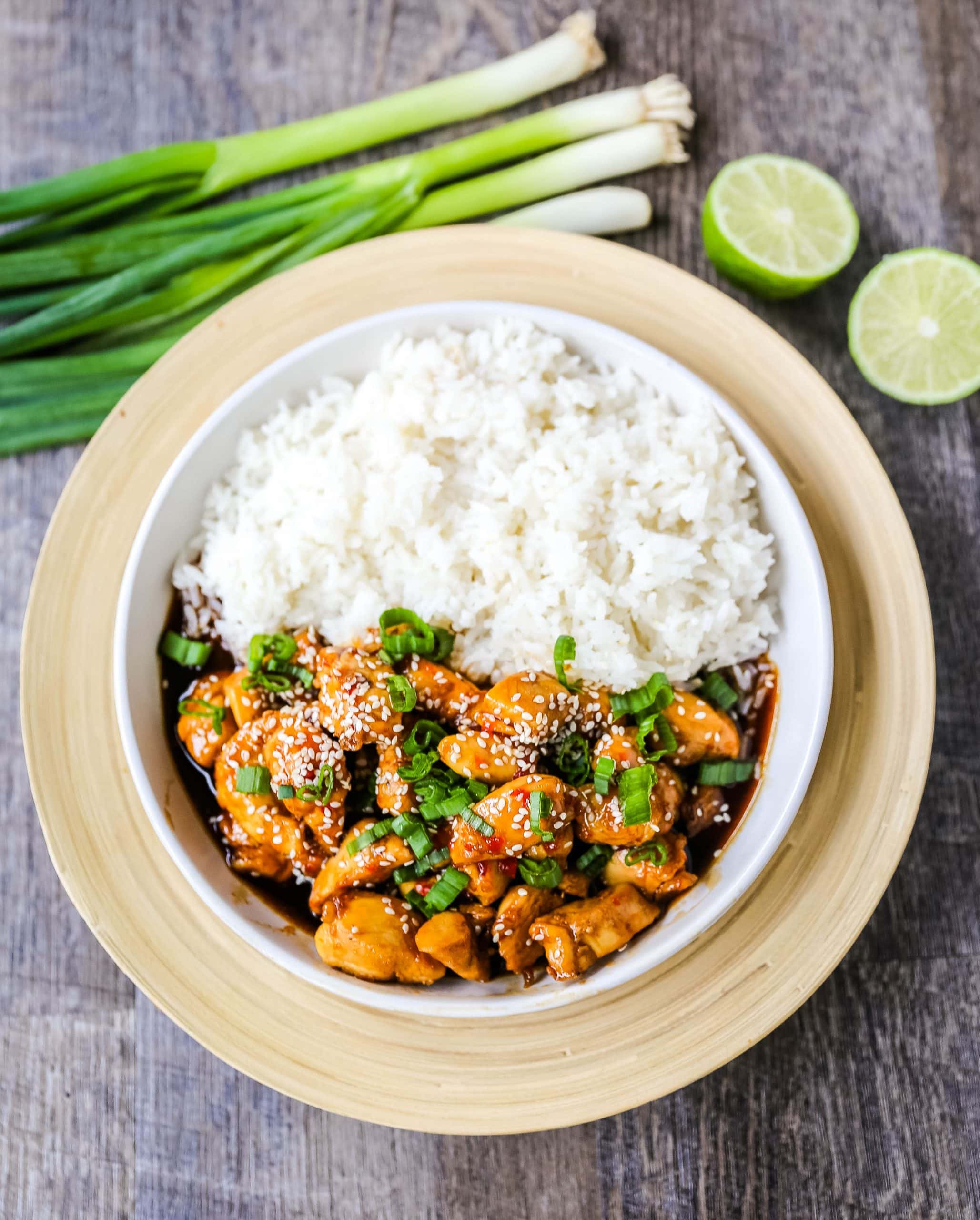 How to make Asian Sticky Chicken:
Start by sauteing bite-size pieces of chicken in oil until tender. I love to use tenderloins and then use kitchen shears to cut into pieces.
Make the sauce and place it in a pot and let it begin to simmer. You want the sauce to begin to thicken and reduce so give it time to do this while the chicken is cooking.
Make the jasmine rice according to package instructions. I love my rice cooker because it makes it so easy to whip up a batch of rice. I love to make coconut rice because it is infused with coconut milk and is so creamy and savory.
Toss the chicken with the sauce until coated. Serve with scallions and sesame seeds.
If you love Asian food, check out some of these other popular recipes:
CHINESE ORANGE CHICKEN
CHINESE LEMON CHICKEN