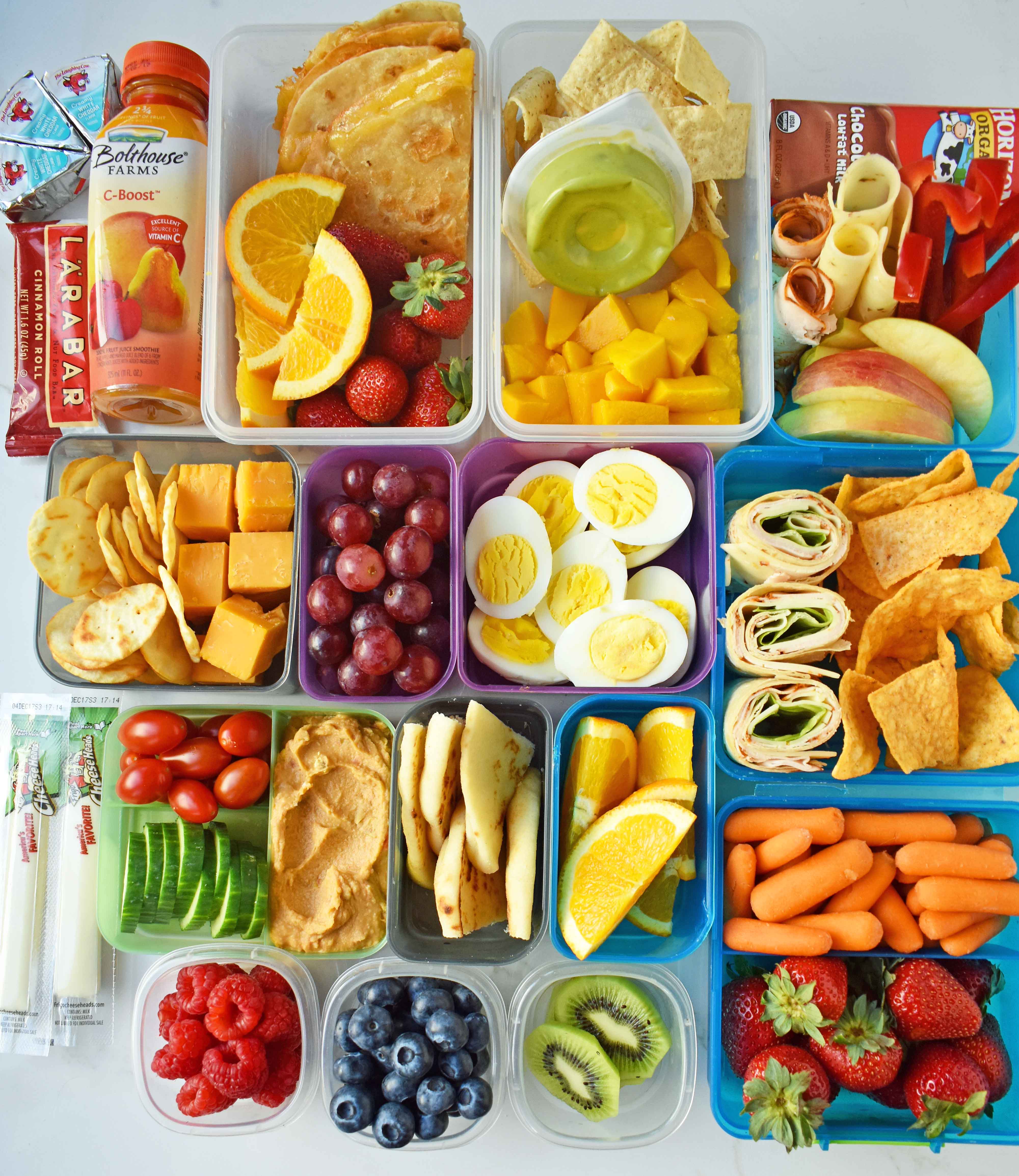 Today is the day! My kids are going back to school which is mind boggling to me. I have no idea where the summer went and I have mixed emotions about watching them go back to school. I have one leaving the house at 6:00 am, one at 7:00 am, and two at 8:00 am which means it is a non-stop busy morning.
I am one of those Moms. I organize up a storm leading up to the first day of school and have a goal of packing healthy lunches all year long. By the time May comes around, their lunches barely resemble lunch. But I start off real strong! Haha!
I do have a theory though in our home and it works for us. My kids pack their own lunches. Here's the thing -- kids are fickle. One day, they love a certain granola bar and the next day they despise it, for some odd reason. They tire of certain foods and so I switch up their choices often. I give them a lot of different options to keep lunch interesting. So I am sharing a list of some healthy school lunch ideas for kids.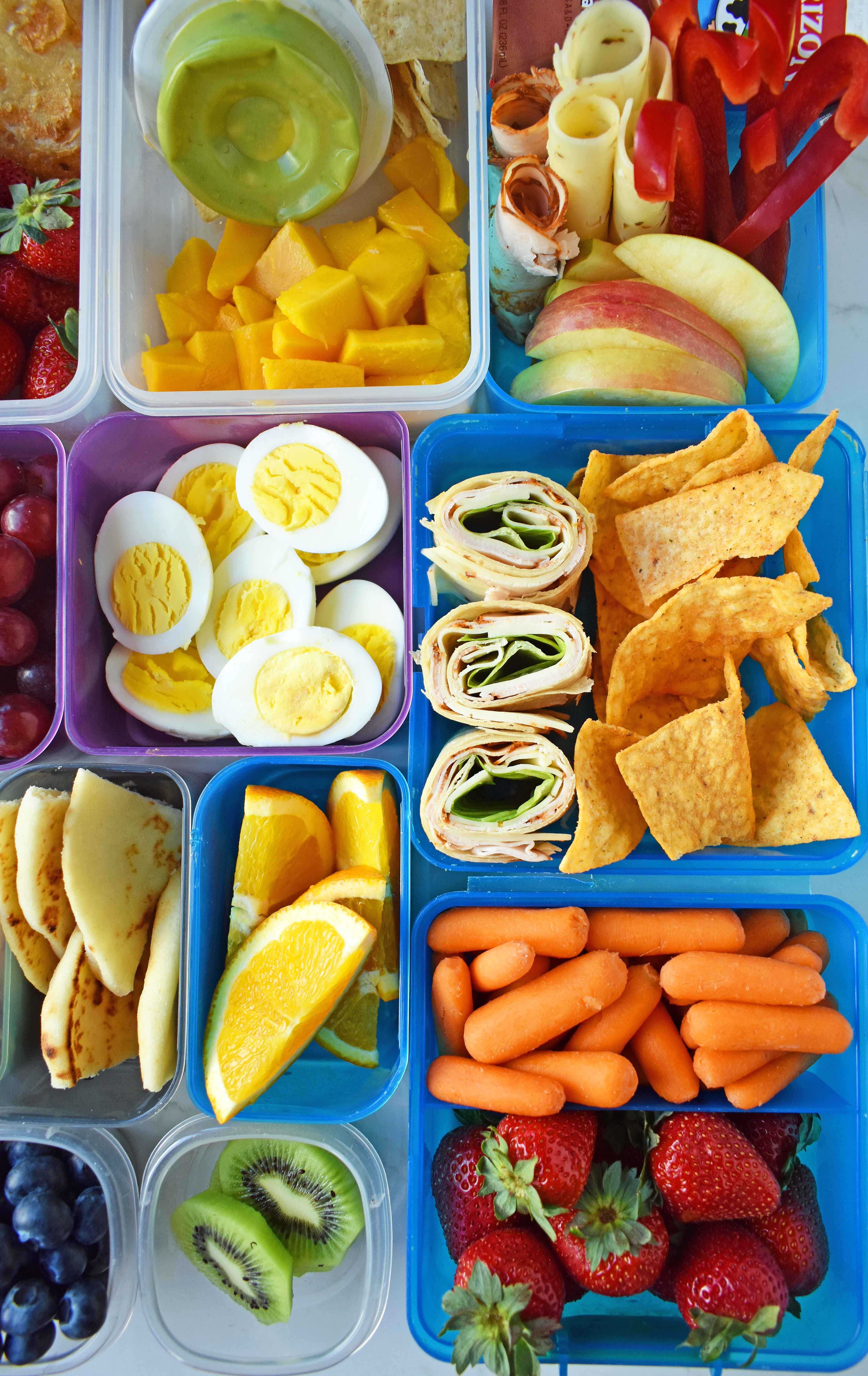 BACK TO SCHOOL KIDS LUNCH IDEAS:
OPTION #1
Turkey + Cheddar Roll-up
Fresh Berries
Yogurt
Trail Mix 
OPTION #2
Hummus
Pita Bread
Grape Tomatoes
Cucumbers
Sliced Oranges
OPTION #3
Cheese Quesadilla
Guacamole
Salsa
Tortilla Chips
Strawberries 
OPTION #4
Deli Meat + Cheese Kabobs
Red Pepper Slices
Apples
Fruit Leather or Snacks
OPTION #5
Hard Boiled Eggs
Baby Carrots + Ranch
Pretzels
Peaches or Applesauce
OPTION #6
Pasta Salad
Yogurt
Granola Bar
Raspberries
OPTION #7
Almond Butter + Jelly (or PB +J)
String Cheese
Fruit Cup
Chips
OPTION #8
Crackers
Cheddar Cheese Cubes
Grapes
LaraBar or Cliff Bar
OPTION #9
Bagel + Cream Cheese
Yogurt Tube
Baby Carrots
Fruit Snacks
OPTION #10
Veggie Wraps with Hummus
Edamame or Snap Peas
Clementine
Granola Bar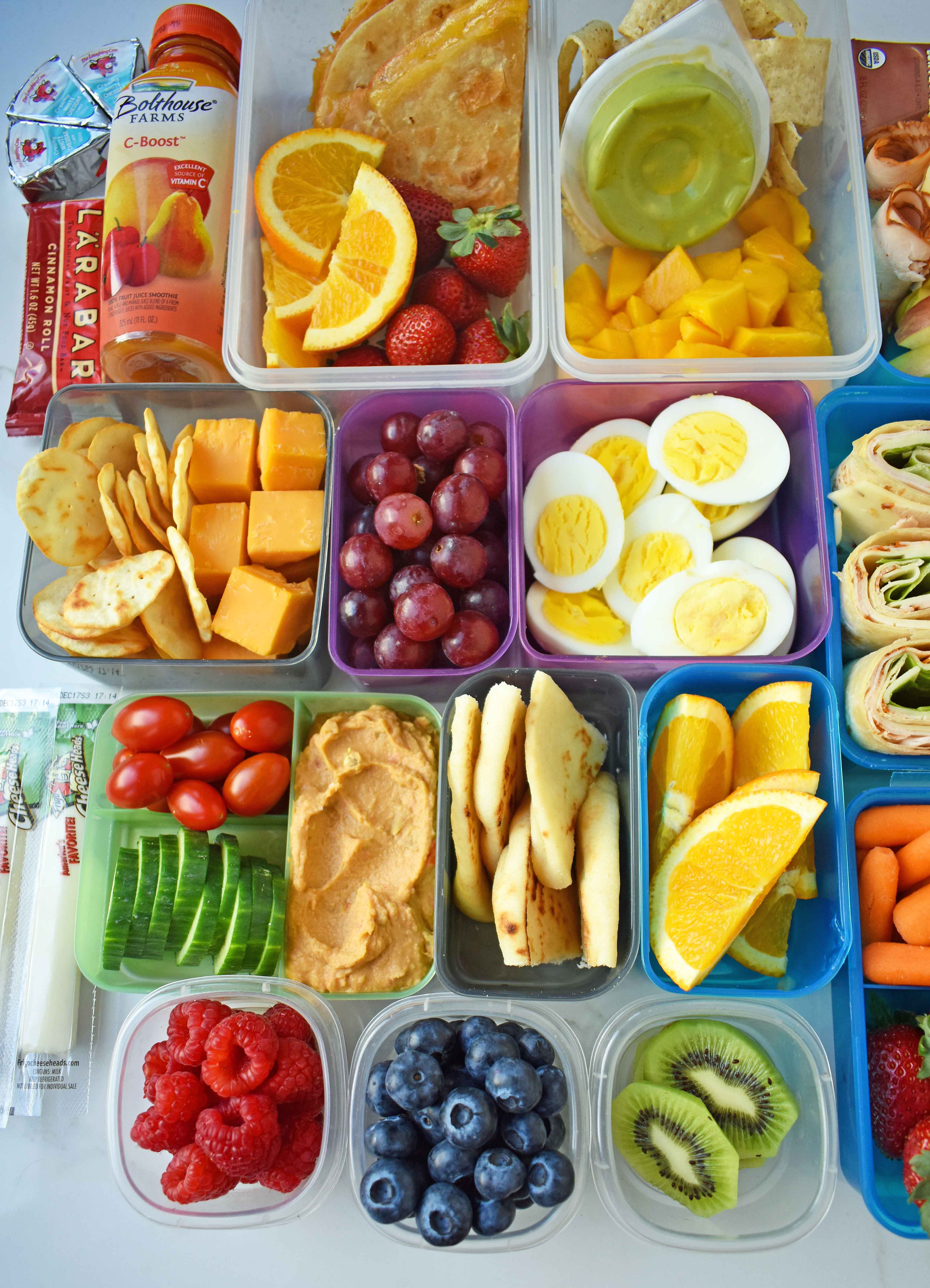 MAIN MEAL:
Pita Bread + Hummus
Cheese + Crackers
Turkey + Cheese Roll-ups
Almond Butter + Jam Sandwich
Cheese Quesadilla
Hard Boiled Eggs
Pasta Salad
Meat + Cheese Kabob
Chips + Guacamole
Ham + Cheese Sandwich
Bagel + Cream Cheese
Veggie +Hummus Wrap
FRUITS + VEGGIES:
Oranges
Apples
Strawberries
Grapes
Peaches
Blueberries
Raspberries
Natural Applesauce
Mangoes
Melon
Baby Carrots
Cucumbers
Grape Tomatoes
Edamame
Snap Peas
SIDES and SNACKS:
Chips
Granola Bars
Pretzels
String Cheese
Yogurt
Trail Mix
Lara Bar or Cliff Bar
Fruit Leather
Fruit Snacks
Popcorn
Crackers
Chips + Salsa
Fruit Cup
Pudding Cup
Graham Crackers
Cookies
Rice Krispies Treats
DRINKS:
Water Bottle
100% Juice Boxes
Capri Suns
Bolthouse Smoothies
Milk -- Strawberry or Chocolate
Here are some suggestions for kids lunchbox containers:
 Rubbermaid LunchBox Sandwich Kit   and  Rubbermaid Take Alongs Food Storage Container (Set of 6) and  EasyLunchboxes 3-Compartment Bento Lunch Box Containers, Set of 4
Here is a suggestion for a kids lunchbox:
Rubbermaid LunchBlox Small Lunch Bag, Blue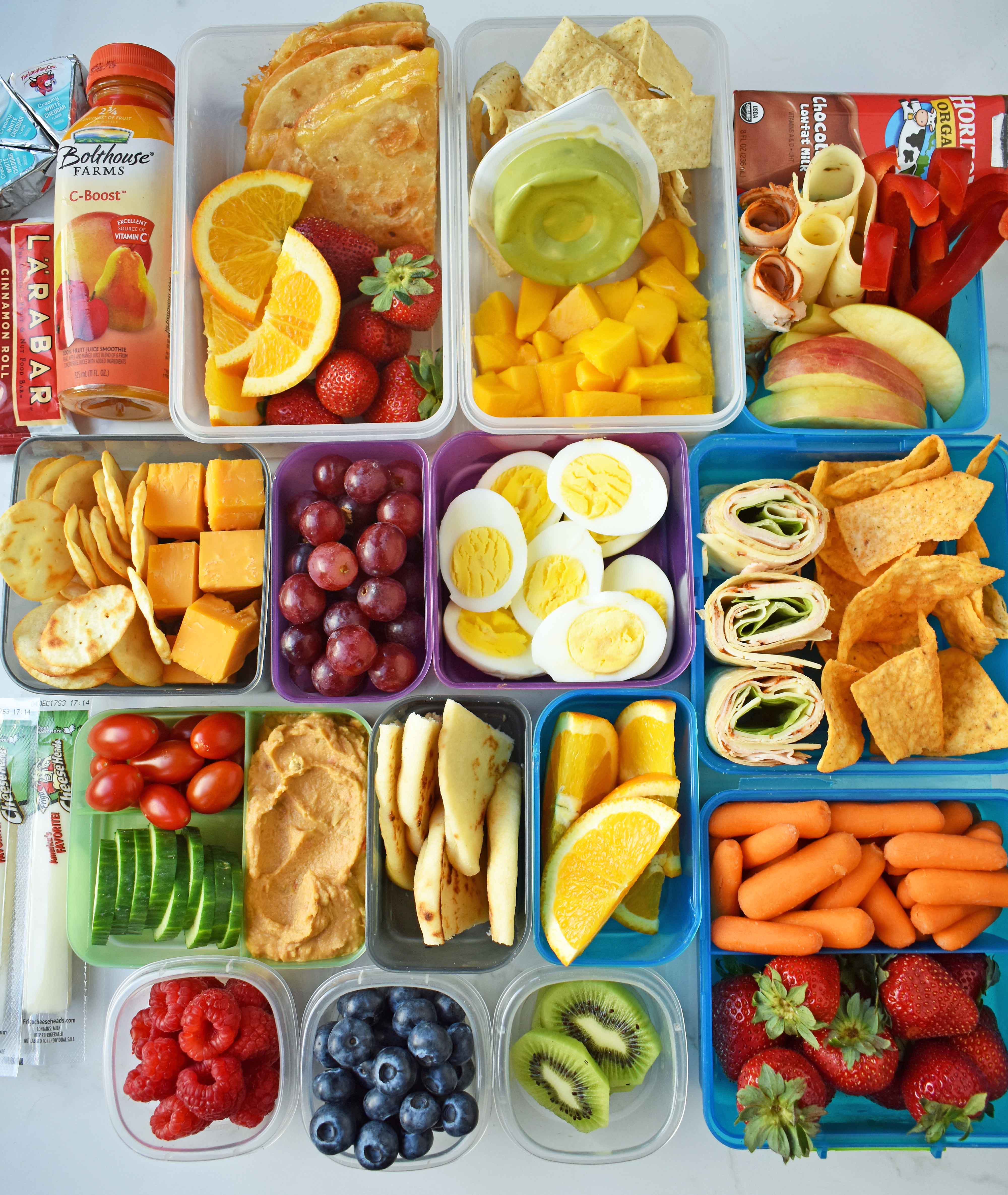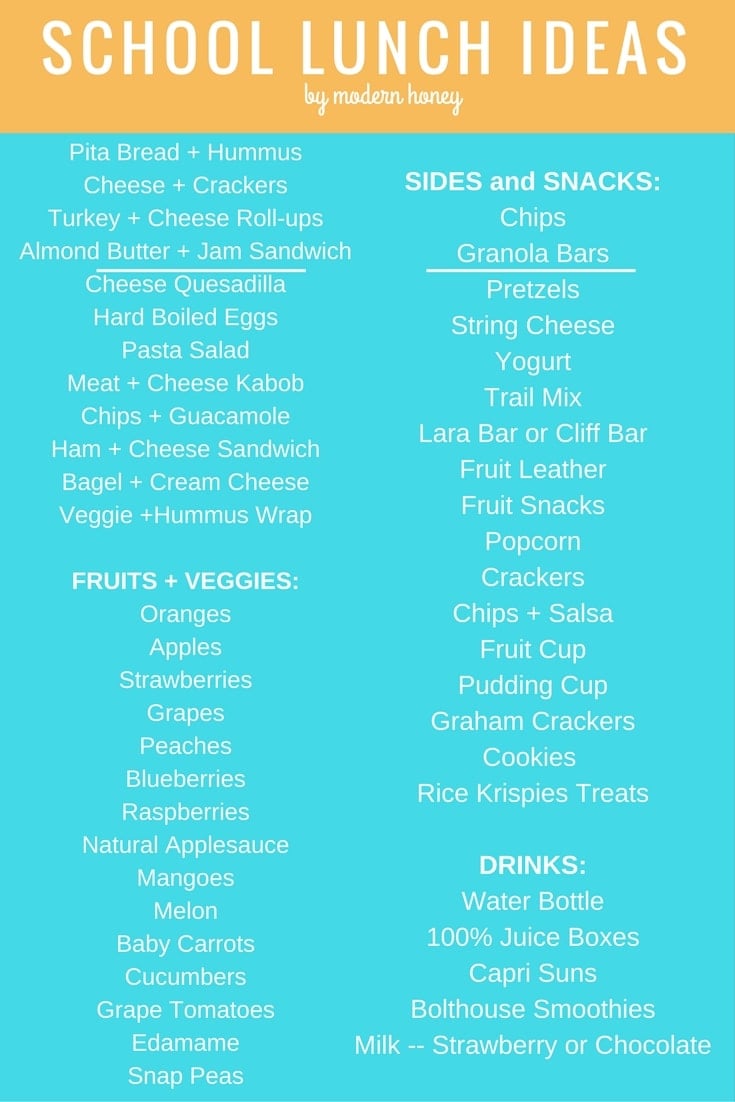 KIDS SCHOOL LUNCH IDEAS PRINTABLE OPTION:
What do you love to serve in your kid's lunchbox? I would love to hear your favorite things! I hope this list of back to school kids lunch ideas helps you pack those school lunches. Have a great day, my friends! xo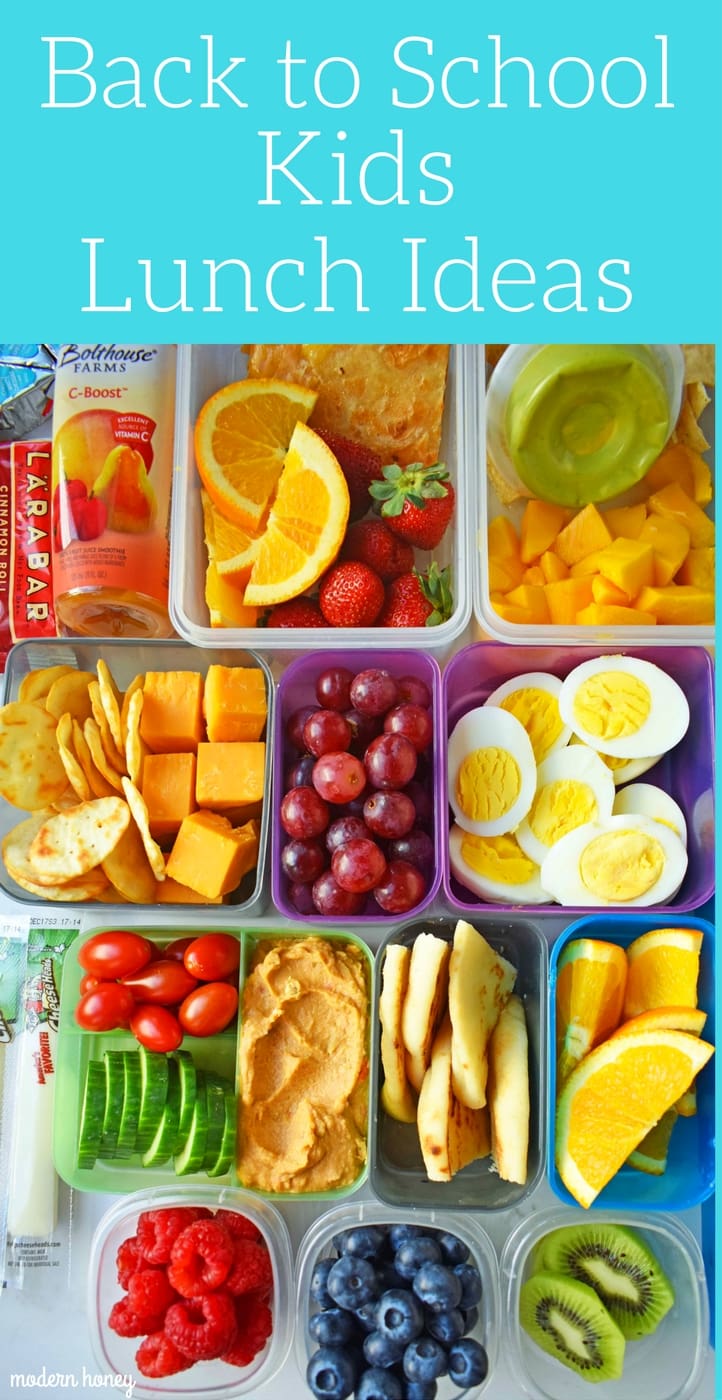 Hope your kiddos have a fabulous first day!