Loaded Baked Potato Soup is a rich and creamy potato cheese soup topped with crispy bacon, sour cream, green onions, and sharp cheddar cheese. A family favorite potato cheese soup recipe!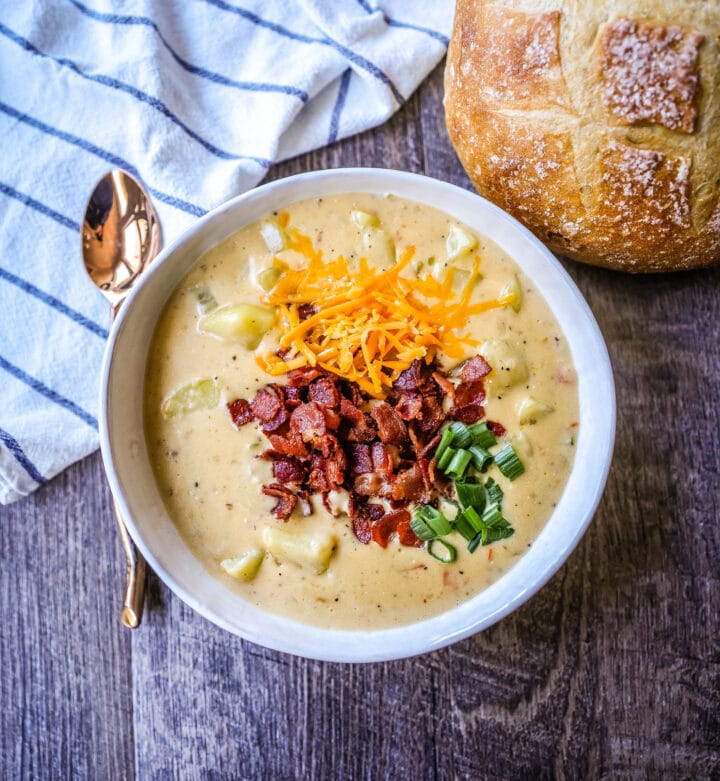 This Cheesy Potato Soup loaded with toppings is WAY better than a baked potato. It is a rich and creamy soup with potatoes simmered in chicken broth to infuse them with flavor and topped with bacon, cheddar cheese, green onions, and sour cream.
This is a gourmet take on a classic soup and the toppings just put it over the top. This is one of the most popular creamy soup recipes for good reason!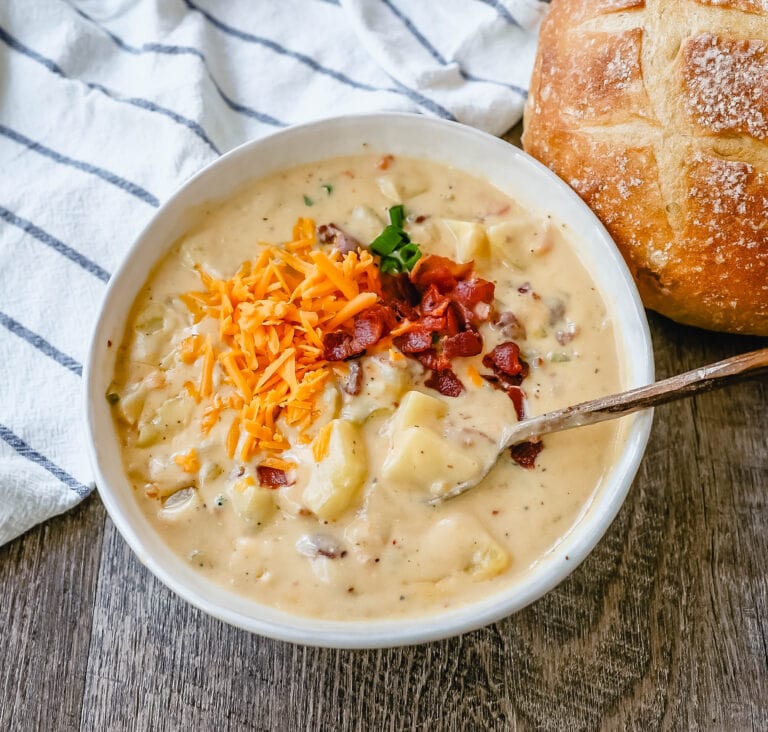 I love to make a huge pot of this and serve it with homemade french bread during the winter months. This is the best potato cheese soup recipe!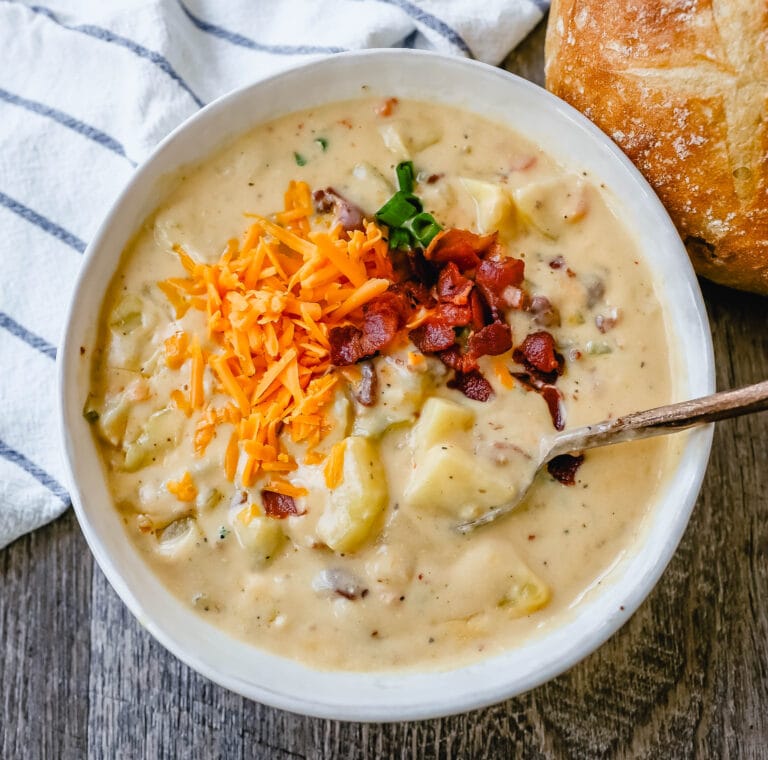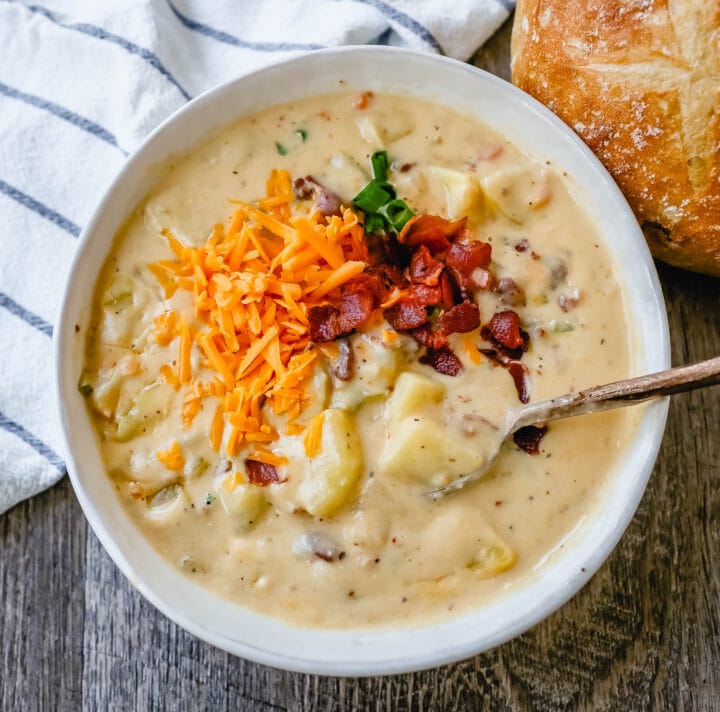 Baked Potato Soup Ingredients:
To make this baked potato soup recipe, you start off by making a roux with butter and flour, which makes a paste to help thicken the potato cheese soup. The garlic and chicken broth infuse flavor into the soup.
Butter -- salted butter is recommended
Garlic -- fresh garlic cloves are always preferred but you may substitute garlic powder for fresh minced garlic
Flour -- this acts as a thickening agent
Whole Milk -- adds a rich creaminess to the soup. You may substitute 2% milk for whole milk
Heavy Cream -- this is what makes it extra creamy. I suggest using only heavy cream but half-n-half may be substituted
Salt and Pepper -- make sure the soup has enough salt and pepper as the potatoes soak up the seasonings
Chicken Broth -- the flavor maker in the soup
Potatoes -- my favorite type of potato to use in this cheesy potato soup are yukon gold or yellow potatoes
Sharp Cheddar Cheese -- sharp cheddar cheese imparts the most flavor but you can also use a medium or mild cheddar cheese
Sour Cream -- adds a slight creamy tang to the soup. I suggest full-fat sour cream but you can use low fat sour cream as well
Loaded Baked Potato Soup Toppings:
Crispy Bacon
Cheddar Cheese
Green Onions
Sour Cream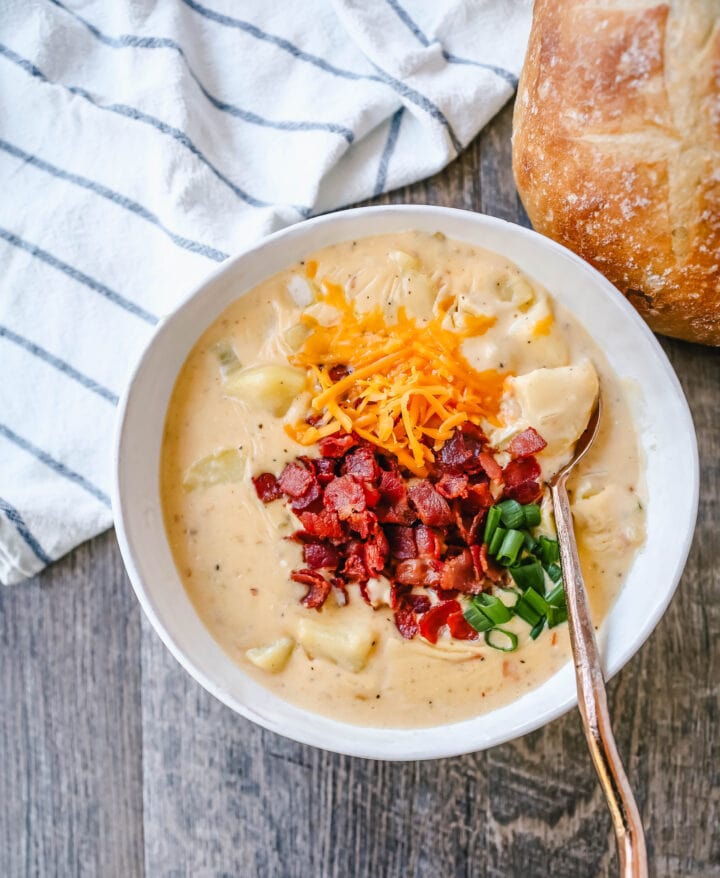 What potatoes are best in soup?
Yellow or Yukon Gold or Goldust Potatoes are known for their creamy texture and thin skins so they are very versatile in soups, especially when you want to leave the skin on. They aren't as starchy and dry as a russet potato so they are my number one choice when adding potatoes to soup.
Russet Potatoes are very hearty potatoes and are known for being the perfect potato when serving baked potatoes. They hold up well in soup but are high in starch and I prefer to use a yellow or white potato for their creamy texture.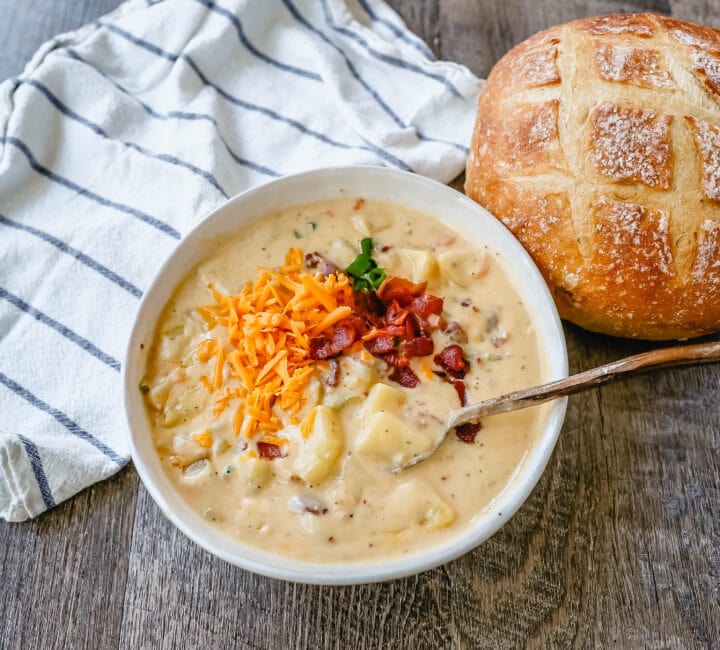 How to make the BEST Baked Potato Soup:
Start by sauteeing butter and onion in a heavy-bottomed pot until the onions are soft and translucent. Add the garlic and saute for 1 minute. Garlic can burn quickly and become bitter so be prepared to add the chicken broth after 1 minute.
Add cubed potatoes and chicken broth and let the potatoes slowly simmer. The chicken broth infuses the potatoes with flavor as they cook and soften.
While the potatoes are cooking, saute butter and flour in a pot to begin to make a roux. Once the butter and flour have been whisked together to make a paste, slowly add whole milk and heavy cream. Stir in the seasonings. Let the sauce thicken. Once it is thickened, stir in the sour cream.
Add a good amount of sharp cheddar cheese. This adds so much flavor and creaminess to the soup and is a must. I suggest sharp cheddar cheese but you can also use medium cheese.
Top the baked potato soup with crispy bacon, more cheddar cheese, green onions, and sour cream.
POPULAR SOUP RECIPES:
Creamy Sausage Tortellini Soup
Zuppa Toscana Soup (Olive Garden Copycat)
Creamy Spinach Artichoke Soup
Creamy Cheesy Cauliflower Soup
Award-Winning Chili Recipe
This loaded potato soup recipe was updated on September 9, 2022. The photos below are from the original post.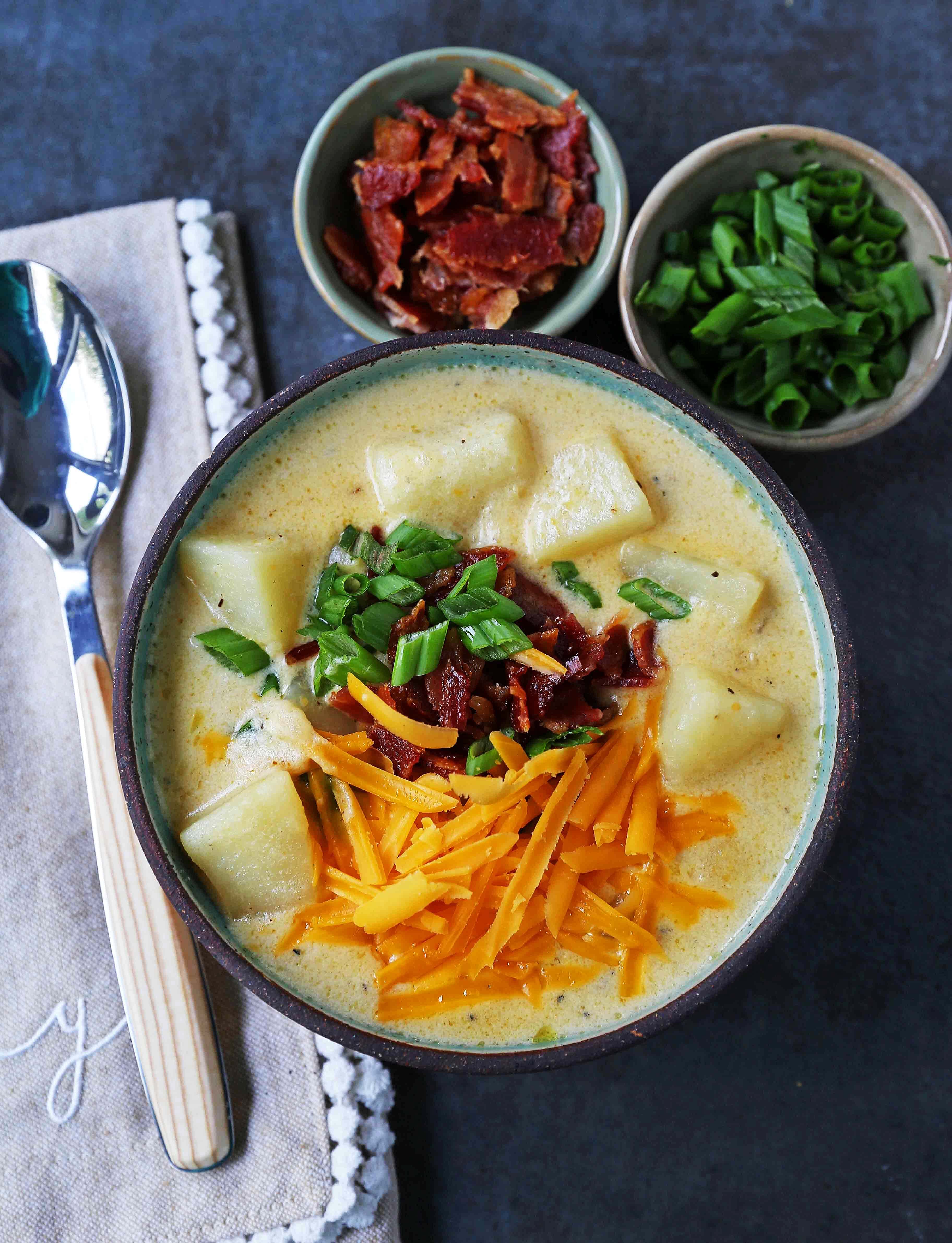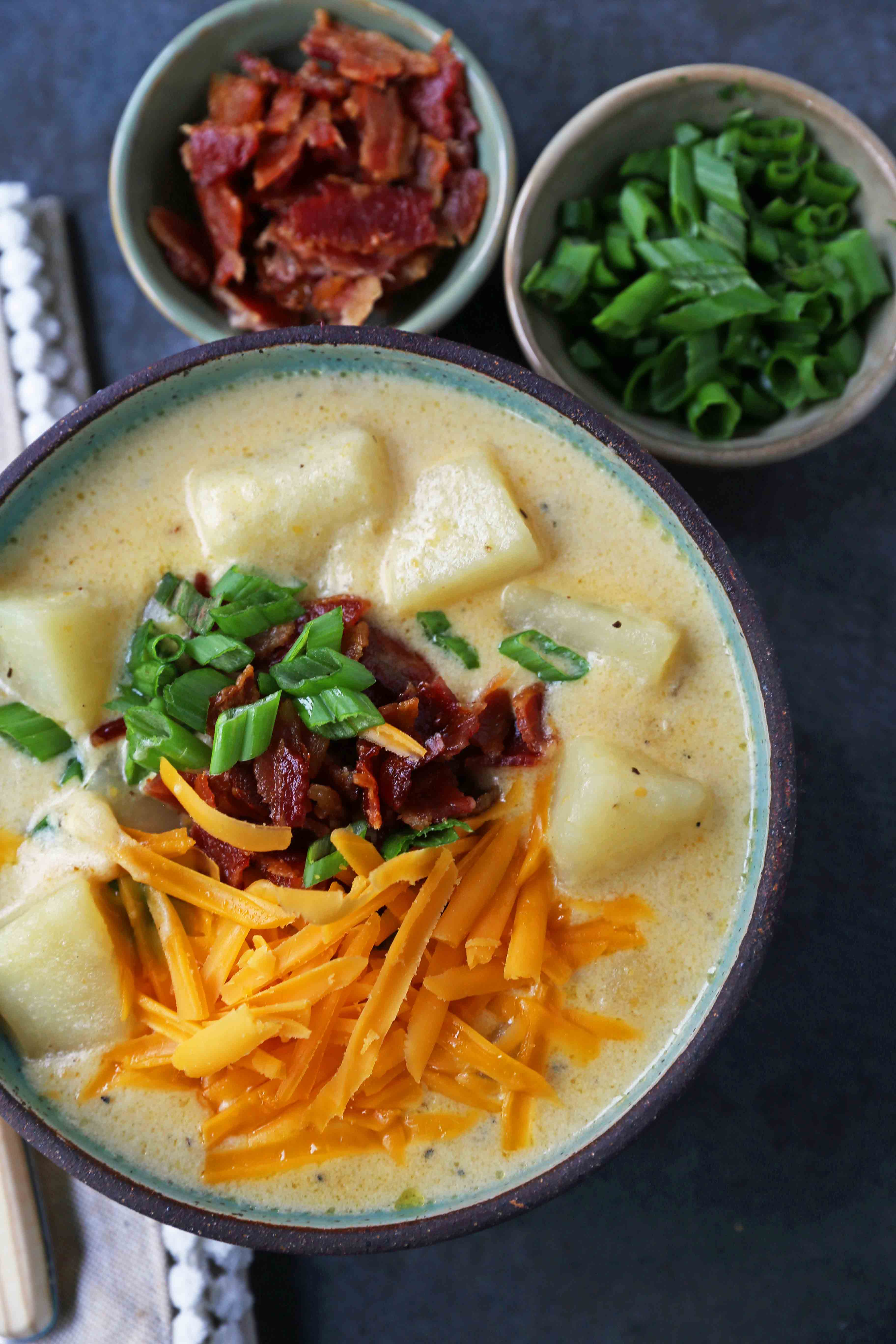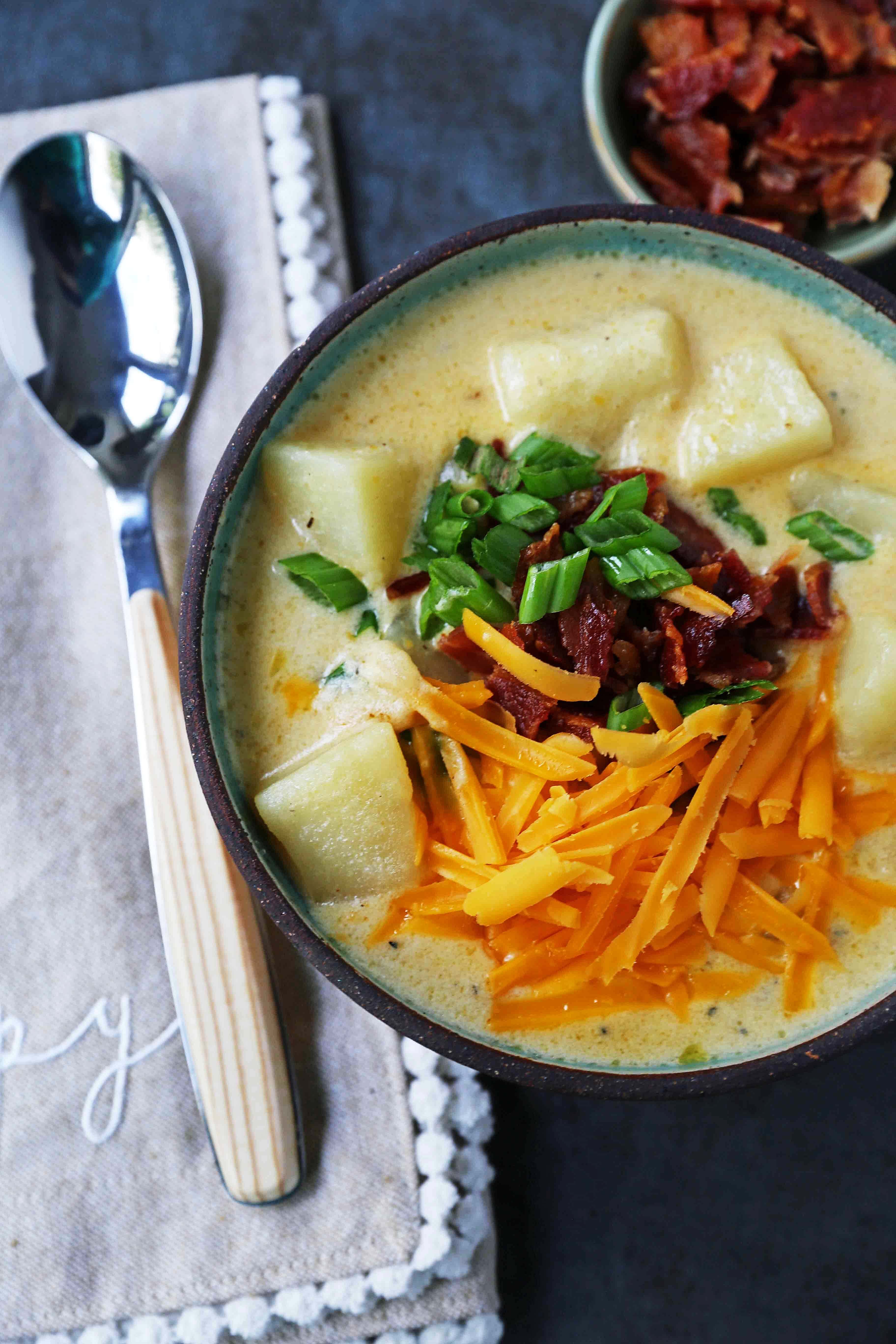 I love to hear from you! If you make this recipe, please be sure to leave a comment and give this recipe a rating. If you make any of my recipes, tag me on Instagram @modern_honey so I can see your creations. It's one of my favorite things seeing you make these recipes in your own kitchen. Sign up for my newsletter below so you never miss a recipe. Thank you for following along! I truly do have the greatest readers. FOLLOW ME ON: INSTAGRAM --- FACEBOOK --- PINTEREST