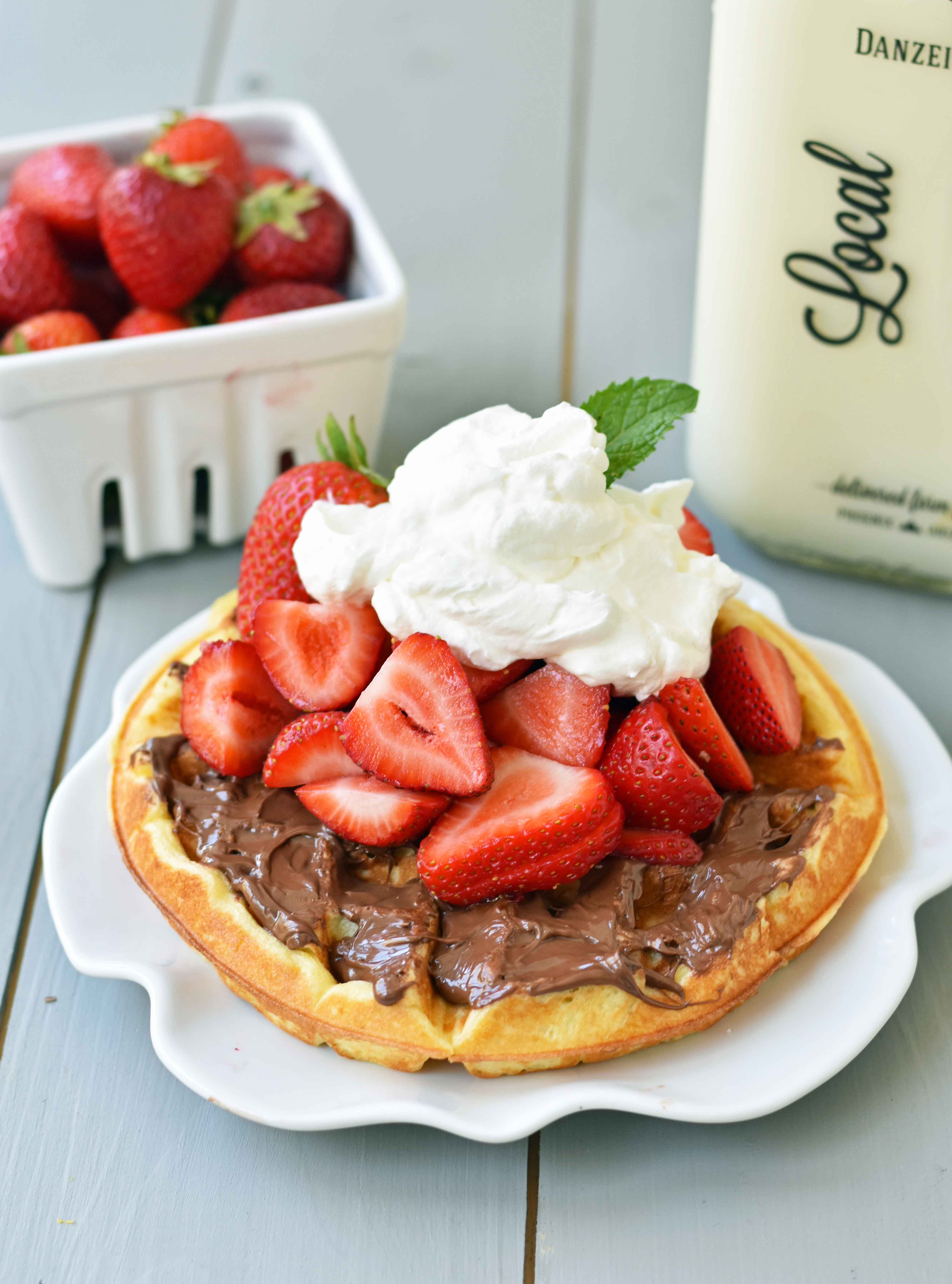 How to make the Best Belgian Liege Waffles from scratch. All of the secrets, tips and tricks for making perfect Belgian Liege Waffles at home. Top them with fresh fruit, cookie butter, Nutella, and whipped cream for the most decadent breakfast or dessert!
THE BACK STORY: Every recipe has a story. This one just has a long, complicated journey. Months ago we were staying in Lake Tahoe for Spring Break. I am a complete nerd and love to go to the library.  My kids think I am nuts! Dean had taken the kids snowboarding and I just had my youngest with me. I thought it would be fun (my kind of fun) to head to the local library and we could read some books. Of course, I had a stack of cookbooks a mile long and I scoured them.  I always like to study the recipes before I purchase a cookbook and a library is such an easy way to do it.
I found a recipe for Belgian waffles that peaked my interest. I've always wanted to try making homemade belgian liege waffles and here was my chance. I went home and got to work. Here's the thing -- I am a perfectionist in the kitchen. The waffles turned out good -- really good but not perfect. Back to the drawing board! I decided to tweak the recipe some and made a second batch. Still not there yet. I tried whipping the egg whites, letting the dough rise longer, refrigerating the dough, and all sorts of methods. After five attempts at trying to make the ultimate belgian liege waffle recipe, we finally have it!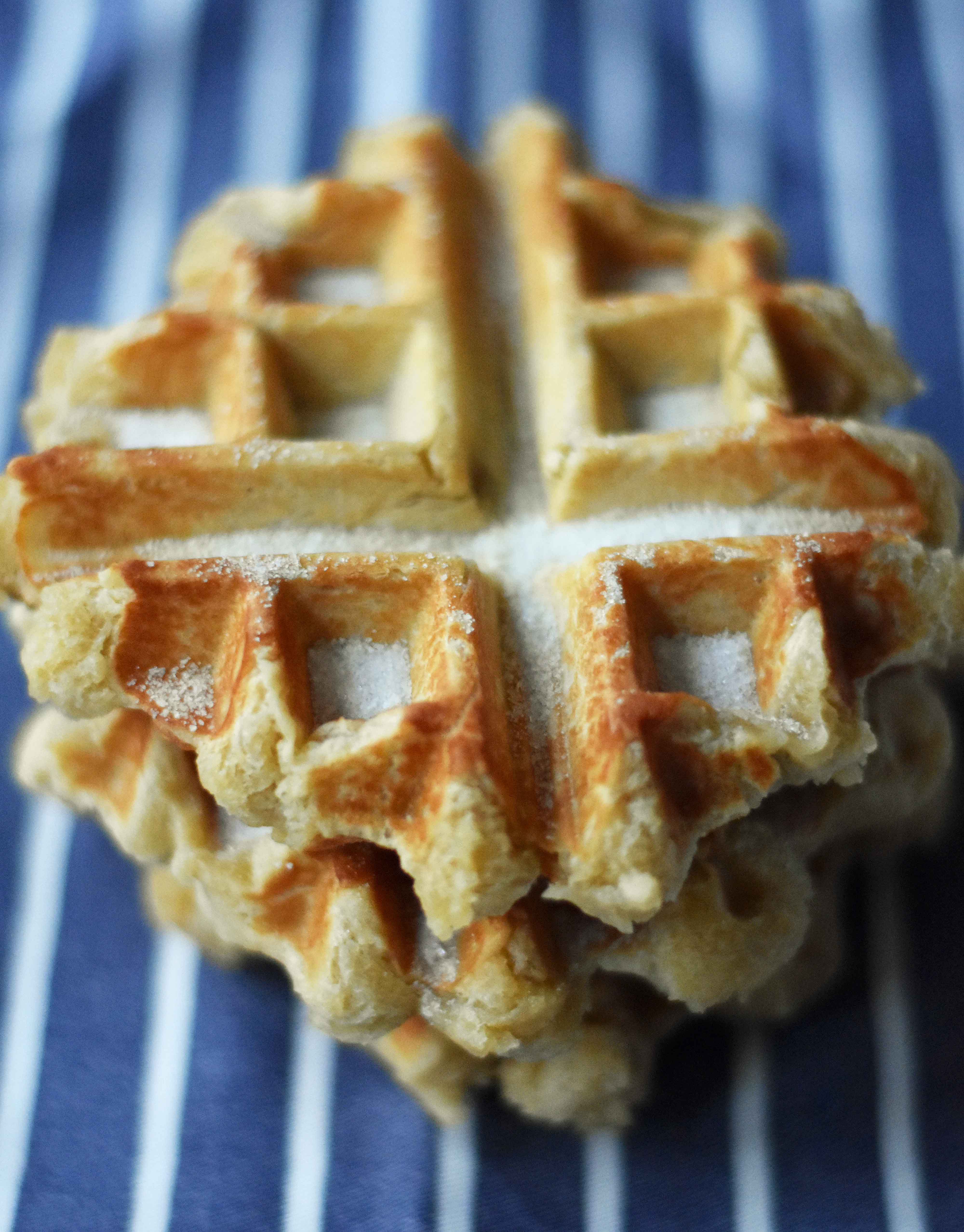 What makes a Belgian Liege Waffle special?
They are made with dough instead of batter. That's a big change! We are used to filling our waffle iron with a waffle batter but this recipe is much different. It is definitely more time consuming and patience is key but these liege waffles are well worth the wait! 
How do you make Belgian Liege Waffles?
It is similar to making homemade rolls or bread. You are making a dough using yeast and it has to have time to rise.  That takes time and patience.  The dough is made with milk, yeast, sugar, butter, eggs, honey, vanilla, flour and salt. This waffle recipe is made with simple ingredients but it is the method that makes it special and unique. Once the dough has risen and rested, it is time to cook the waffles.  The dough is rolled into balls and placed in the center of the belgian waffle maker and baked until golden brown.
You may have tried a Belgian Liege waffle at Waffles n Dinges in New York City, Waffle Love, or Waffle Crush in Arizona. They are made with little sugar pearls that melt beautifully in the liege waffle to give it a sweet crunch.
I tried making this recipe using three different sugar methods -- Belgian pearl sugar, chopped sugar cubes, and sprinkling with sugar as soon as you remove the waffle. Using the sugar pearls is definitely the most authentic method but it does have some cons. Sugar does burn easily and that could cause an issue.  You want to cook the waffle at a slightly lower heat than you normally would use for a traditional waffle. Another cost effective method is to use sugar cubes that you can pick up at any grocery store. You chop them into small cubes and place them in the dough right before cooking.  The EASIEST method by far is to sprinkle the waffles with sugar as soon as they are removed from waffle maker.
You can purchase the Belgian Pearl Sugar on Amazon. It isn't cheap but it does make one incredible liege waffle! You could also use Sugar Cubes instead which is a less expensive option.
I found my Waring Restaurant Style Waffle Maker at Costco a few years back and love it.  If you can find it at your local Costco or Sam's Club, I would snatch one up because it is such a great deal. Here's another Belgian Waffle Maker with great reviews.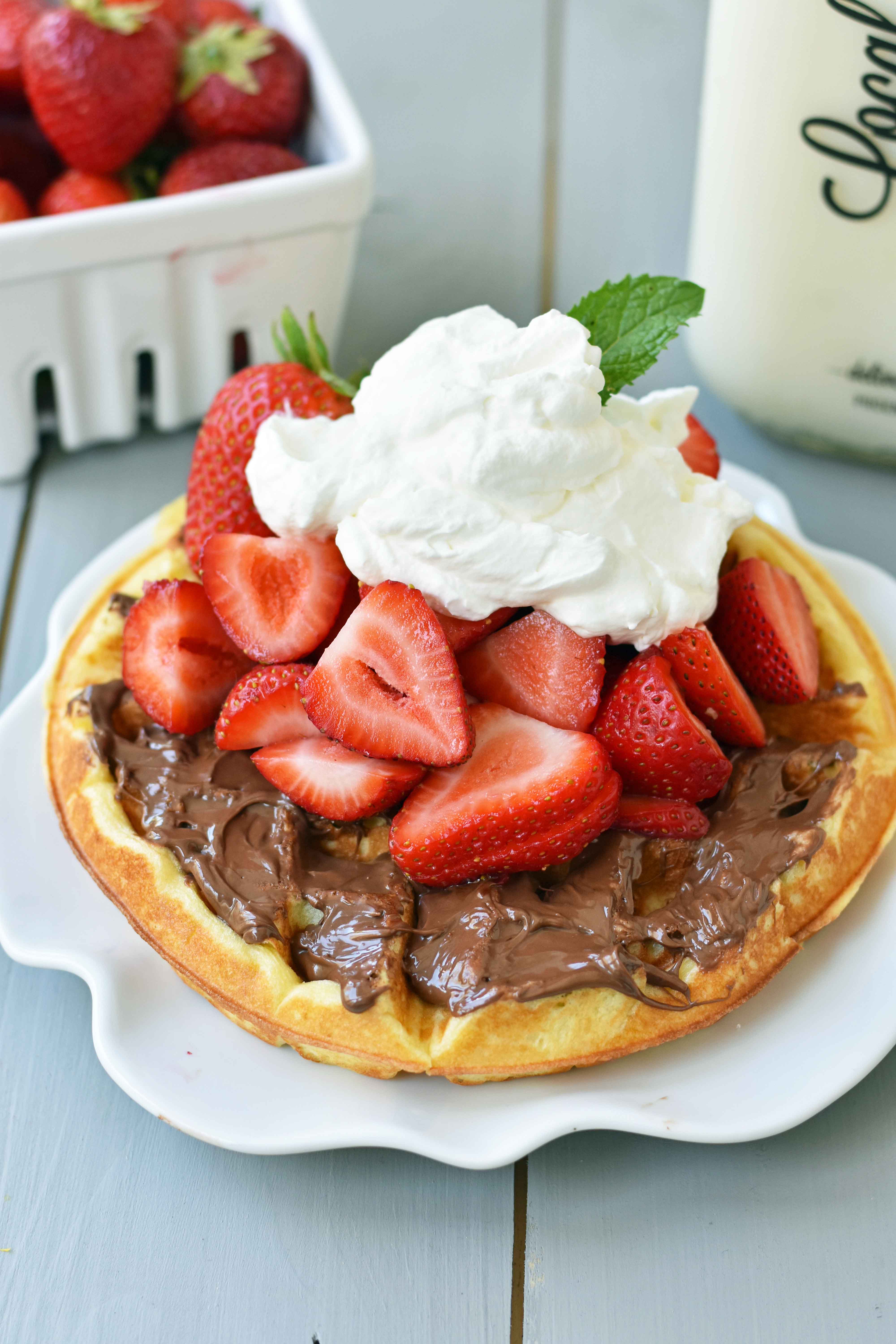 How long do I have to wait for homemade Belgian Liege Waffles?
Well...that's debatable. I wanted to put it to the test so I tried out a few different versions. I tried letting the dough rise until it was double in size, which took about 2-3 hours.  If you want to expedite the rising process, put it outside (tightly covered) in the summer heat and it will rise in less than 2 hours. It worked like a charm! 
I tried cooking a few waffles after rising for only 2 hours and they turned out light, crisp, and just like I wanted. But, I know that good things come to those who wait so I decided to tightly wrap the rest of the dough and let it rest in the refrigerator overnight. I woke up in the wee hours of the morning and rolled the dough into balls and started cooking.  The result was downright heavenly. They were melt-in-your-mouth waffles and definitely got even better with time!
If you are in a pinch for time, you could skip the overnight resting in the refrigerator but the results may not be as perfect.
If you are looking for FAST homemade waffles, these Mama Driggs Homemade Buttermilk Waffles recipe is for you.
How long do I cook my Belgian Liege Waffles?
It all depends on your waffle maker. A good rule of thumb is to start on a medium-low heat. I like to add a small pat of butter to the waffle maker before cooking them to give it the nice golden crunch.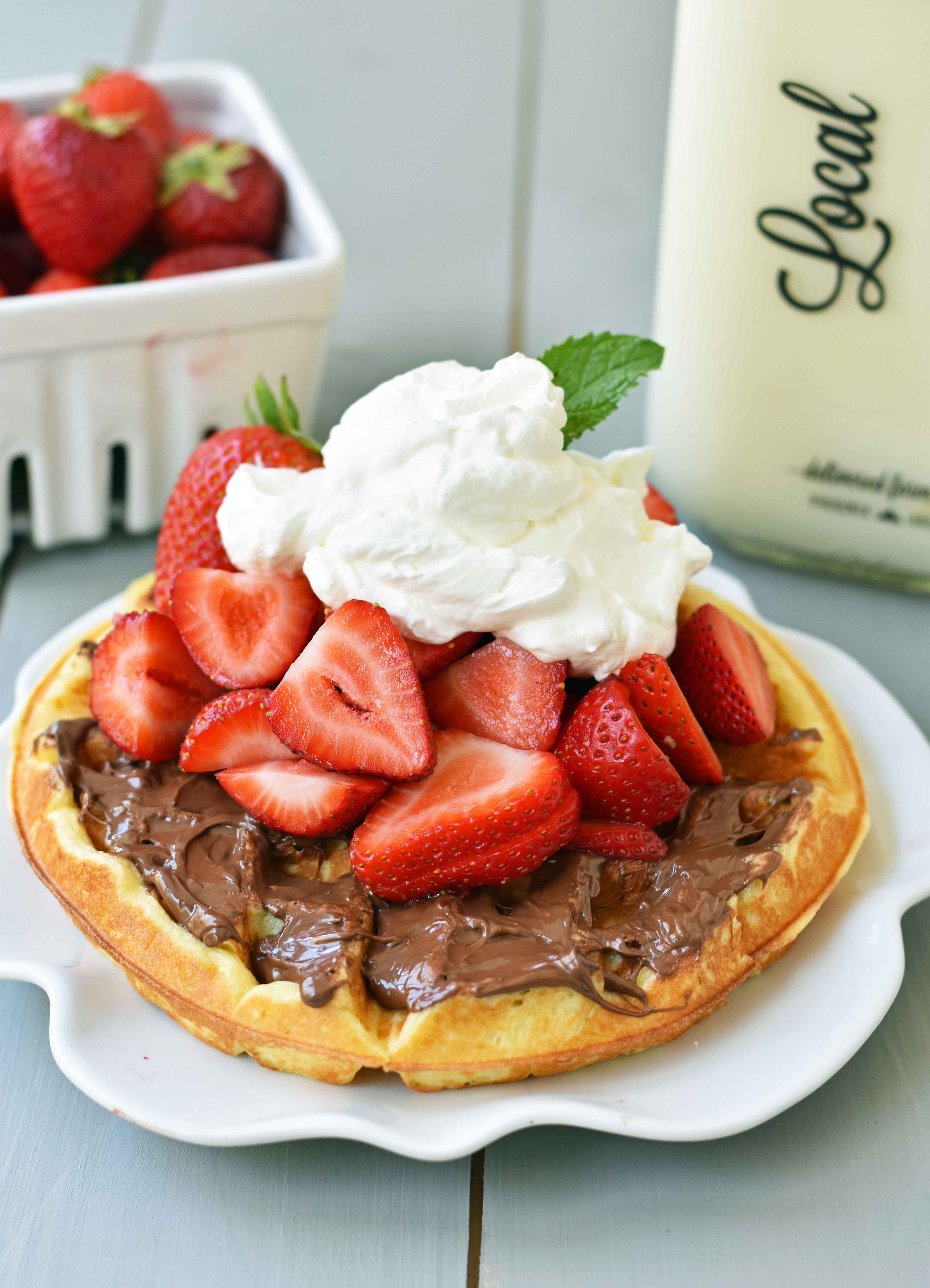 What toppings do I put on my Belgian Liege Waffles?
Oh this is the fun part! Here are some of the favorite waffle toppings:
Nutella, Cookie Butter (Biscoff), Peanut Butter, Salted Caramel, Dulce de Leche, Fresh Fruit (strawberries, bananas, raspberries), Lemon Curd, Whipped Cream (a must!), Cinnamon Sugar.
Here are some ideas for Specialty Waffles:
Biscoff + Raspberries + Cream
Nutella + Strawberries + Cream
Lemon Curd + Raspberries + Cream
Cinnamon Sugar + Bananas + Cream
Dulche de Leche + Cinnamon Sugar + Bananas + Whipped Cream
The options are endless!
Without further ado, here is the best belgian liege waffle recipe. I can't wait to hear what you think!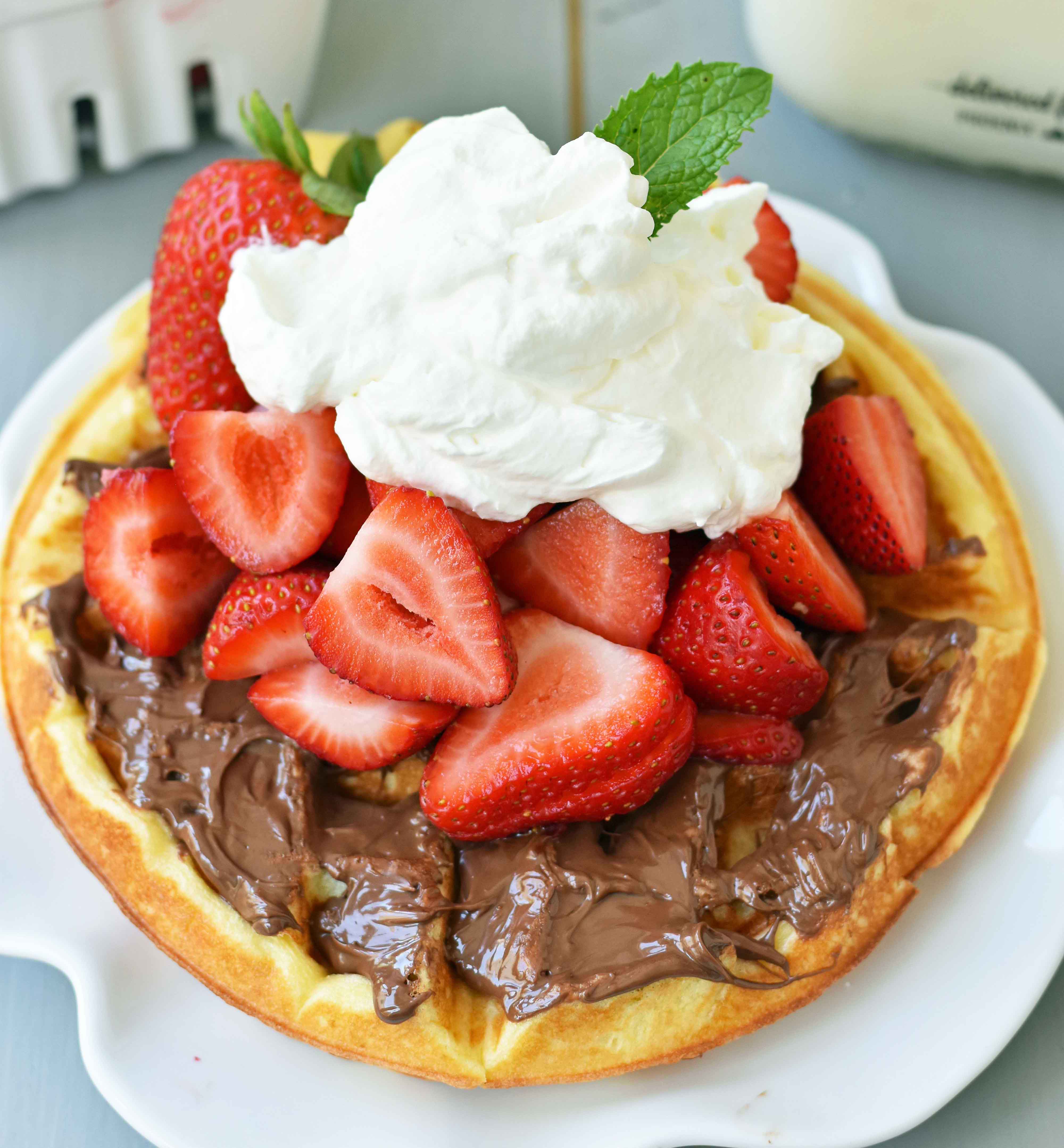 I can't wait to hear what you think about the Best Belgian Liege Waffles! This beautiful dessert waffle that is always a huge hit! Tag me at #modernhoney and find me on instagram at modern_honey.  Happy Eating!