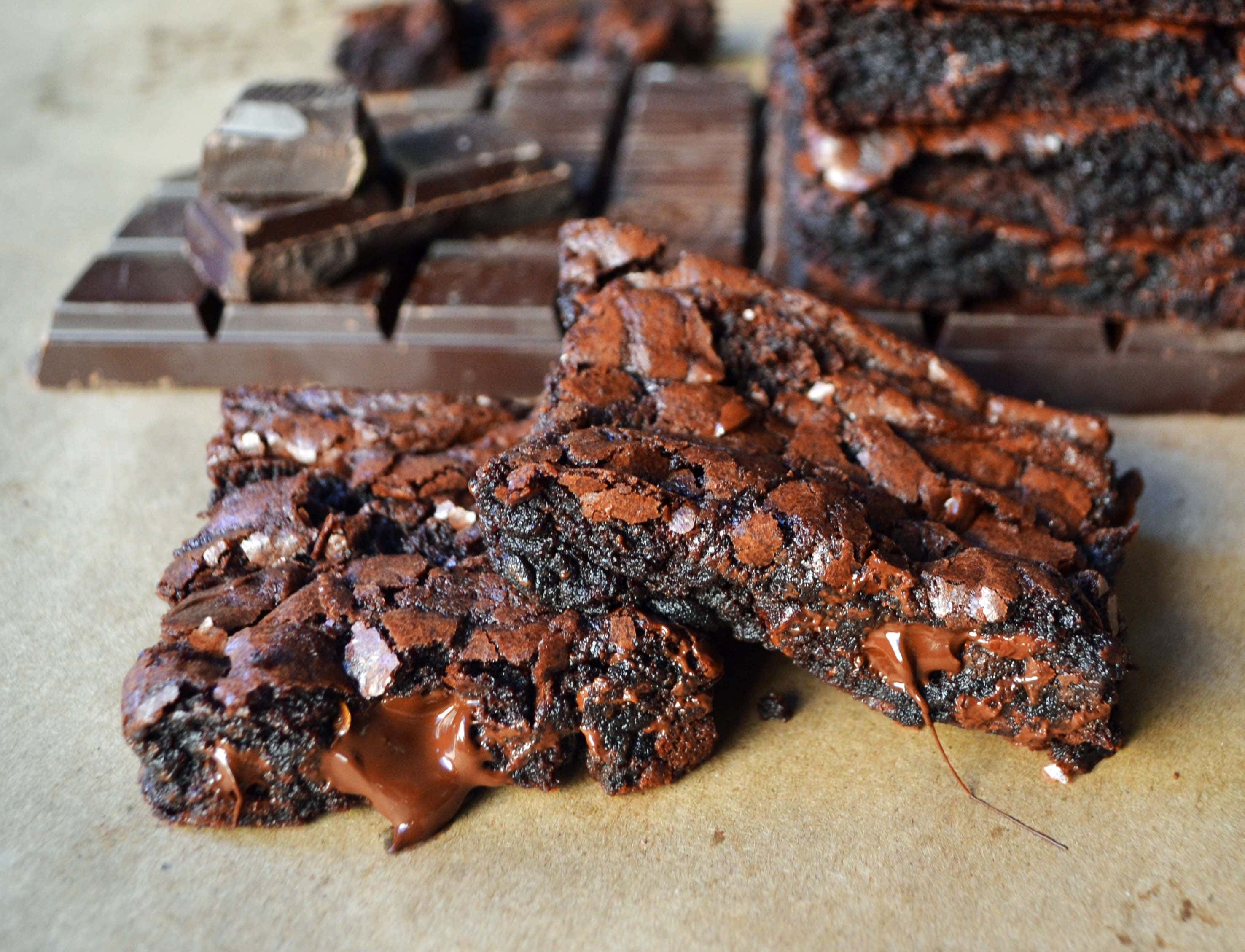 The BEST BROWNIE RECIPE
Here it is… your foolproof, satisfy your chocolate cravings, ultimate chocolate chunk brownie recipe.
These "Better than a Boyfriend Brownies" are whipped up in one bowl and are so easy even kids can make them. I am pretty sure I could make these brownies in my sleep. I've tried more brownie recipes than I would like to admit but all of that practice has made me a brownie connoisseur of sorts, right? This is hands down the BEST homemade brownie recipe.
I have been baking since I could stand up on a stool! I have been able to compete in the Pillsbury Bake-Off for a million dollars twice, win the Cooking Channel Contest for the most perfect cookie in America and film in the Food Network Studios (the #1 recipe in 2012), and land on the cover of Food Network Magazine for winning their Bake Sale contest. This was all before I started Modern Honey and have been baking up a storm ever since!
All of these years of baking and working to create the perfect brownie recipe and here it is! Once I tried this homemade brownie recipe, I have never looked back. This is the ONLY brownie recipe I use because it is the best!
This brownie recipe is rich, decadent, and fudgy. No dry cakey ones here! You may want to eat the entire pan – they are that good and it might just become your absolute family favorite.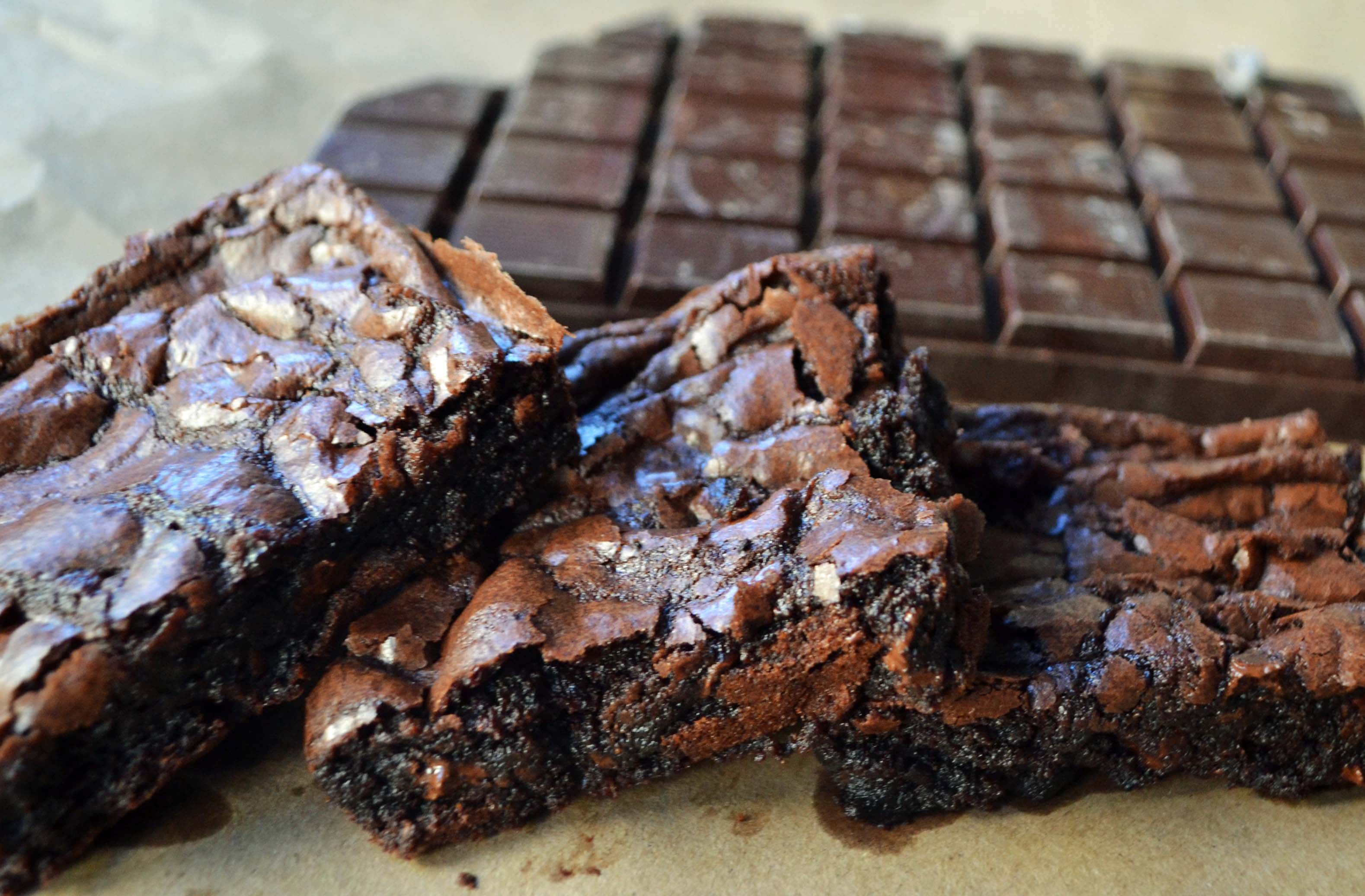 The name – Better than a Boyfriend Brownies stems from where all good inspiration comes from – a breakup. I have a ridiculous memory. It can be a really good thing and a really bad thing, simultaneously. Here's where the really good memory isn't so great.
For some stupid reason (because teenagers generally don't always make the most sound judgments), my friends and I thought it would be funny to toilet paper my first little boyfriend's house.
Since we couldn't drive, we convinced my Mom to drive us to this unsuspecting boy's house. We realized pretty fast that his yard was huge and we needed some help. So we ran to the car and grabbed the master toilet paperer – my Mother. We somehow convinced her that toilet papering at the age of 50 was completely normal.
All was going well and we were quite impressed with our TP skills…until we saw car lights rounding the corner into the cul-de-sac. There was nowhere to run so we squealed like little girls and hurdled into the bushes. Unfortunately for us, our hurdling skills weren't the best and our covers were blown….by his parents!
They got out of the car, walked over to the bushes and we slowly peaked our heads out in utter shame and embarrassment.  The real entertainment came when they discovered that my Mom was hiding WITH us!
I don't think they were impressed. That little boyfriend – the giver of my first kiss completely broke my heart into smithereens when he broke up with me. Note to self: don't toilet paper your boyfriend's house. They usually have to clean it up and won't like it.
I went home and did what any normal teenager would do…put on some really sad music, baked up a pan of brownies, ate every one of them and drowned my sorrows. Hence the name – Better than a Boyfriend Brownies.
If only, I would have applied my good memory to the periodic table in Chemistry.
I've had a lot of years to work on my brownie making skills. I am going to give you 5 tips to make sure those calories are worth it and to NOT screw up your brownies. These are truly the best brownies in the world!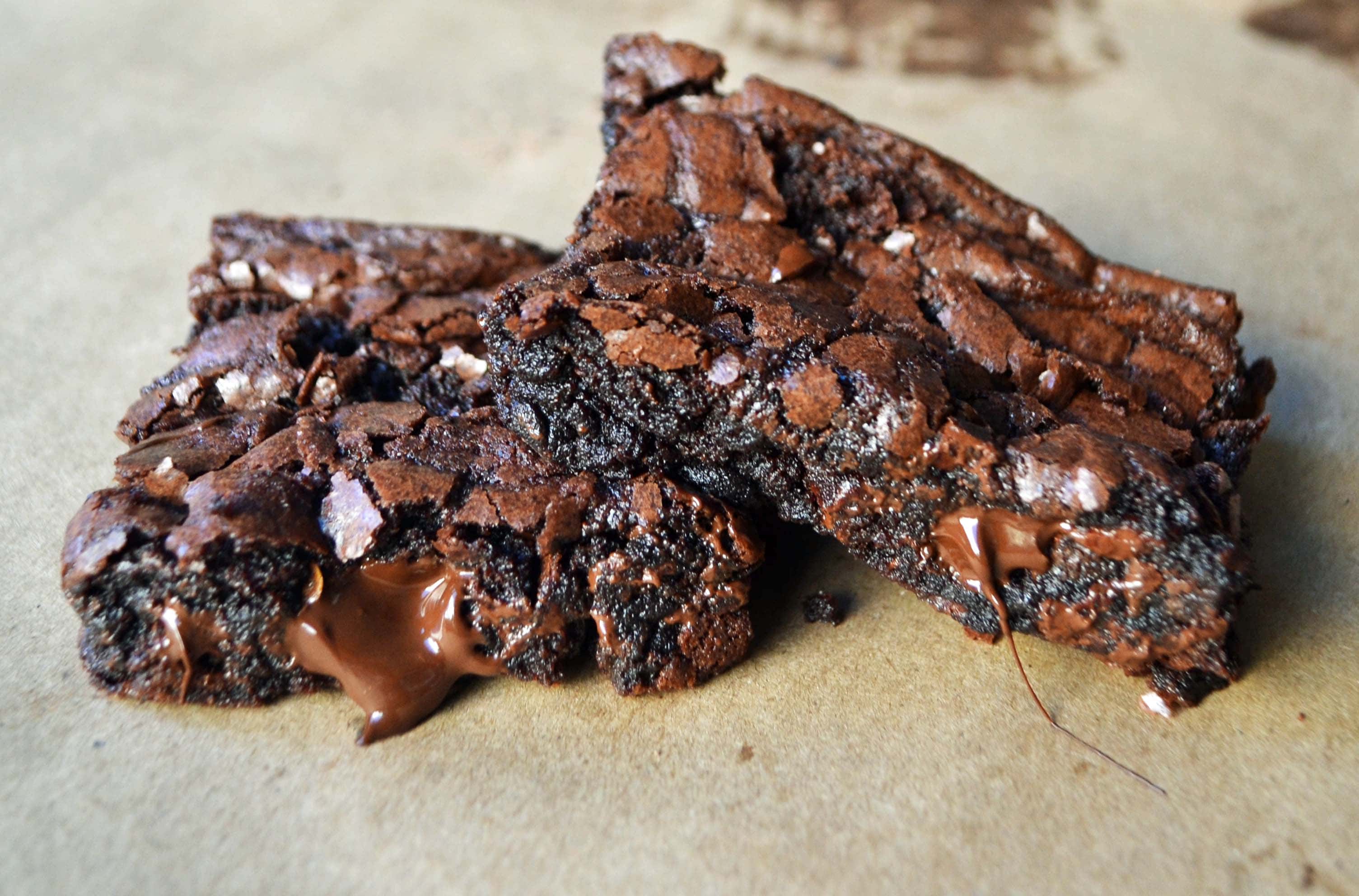 5 Ways to NOT screw up brownies:
Don't overbake. Holy cow this is a big one. Ask my kids how crazy it makes me when I see the cooking times listed on a brownie mix or cake mix box and it's so long that you'll end up with hockey pucks! No wonder people think they are bad cooks when really we can just chalk it up to bad directions. Can we do that? Yes, we can. Anytime you are baking up a cookie, cake or brownie….watch those precious gems like a hawk. You want laser beam focus because a few minutes can be a difference maker.
Cream butter + sugar for at least 3 minutes to ensure you don't end up with grainy brownies. Creaming works wonders in baked goods as it helps to dissolve sugar crystals and it creates little pockets of air. The butter wraps around the sugar as it coats it and helps to say goodbye to the grainy texture.
Don't overmix your flour. You know how kneading bread makes it better….well it's the opposite with baked goods. If you overmix your batter, it creates more gluten which can leave you with a tougher brownie. We want a tender one! Mix until just combined or even turn off your mixer and fold in your flour.
Use high-quality cocoa. It's the star ingredient and it's integral to the overall success of the brownies. I buy Callebaut cocoa powder in bulk at Winco and even though it's high-quality stuff, it is actually less expensive than buying one of the other popular brands in the store. It makes a huge difference in the depth of flavor.
Add chocolate chunks. Because if you are going to eat chocolate, you want to really eat chocolate. Adding semi-sweet chocolate adds a richness to it and another depth of flavor. Guittard and Ghiradelli are some of my favorite brands of chocolate. Trader Joe's makes a killer chocolate bar and it melts beautifully. If you are really crazy, add some white chocolate just to really mix it up (think Paradise Bakery black + white chippers).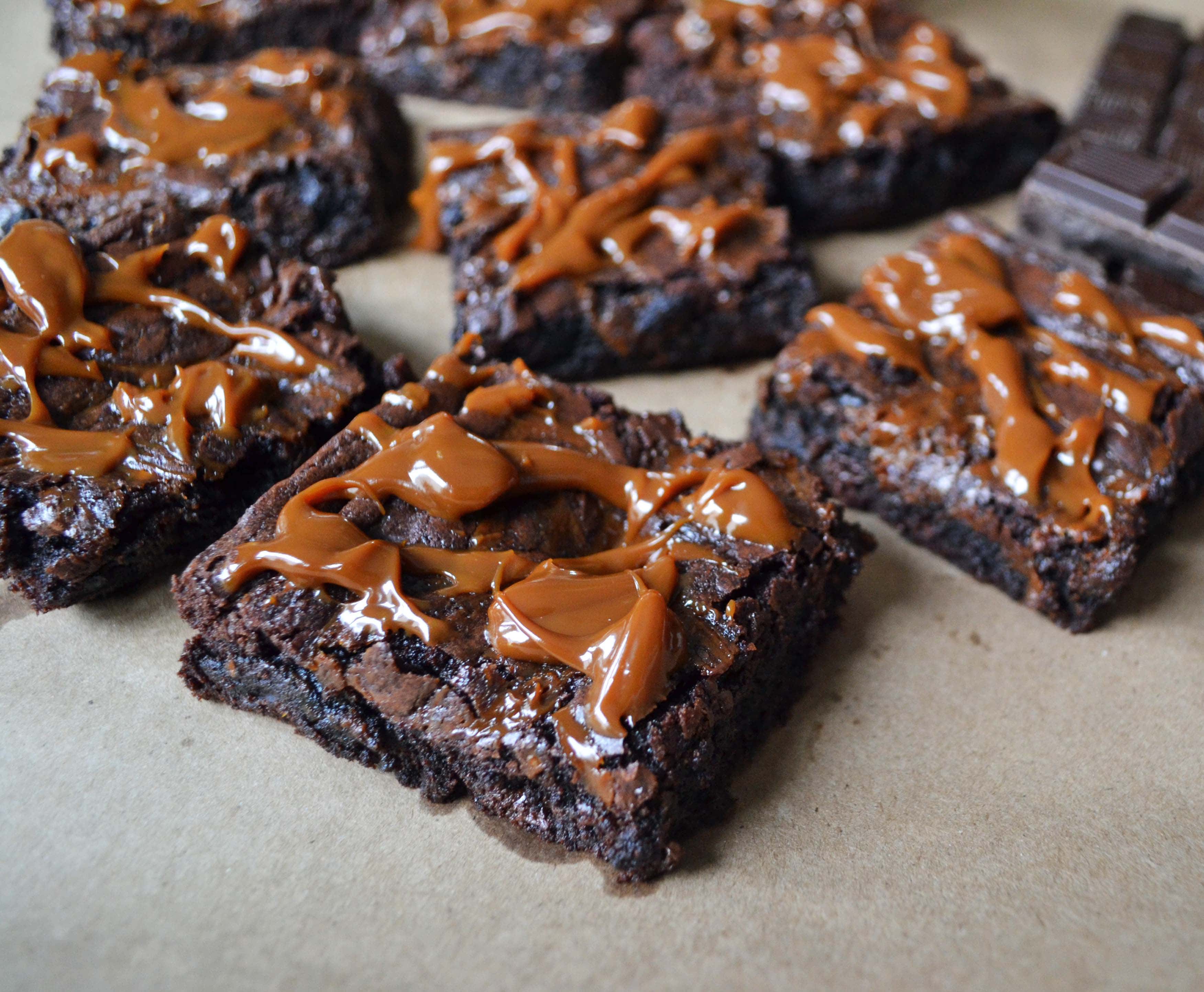 Use a toothpick or even a cake tester (OXO makes a good inexpensive one HERE) to test the middle to make sure it's not a goopy mess.
You want it to come out with a soft crumb and not be dry as cardboard. No one likes to eat cardboard. Use light colored pans. The dark colored pans cook the bottoms of baked goods too quickly. Here are a few of my favorite pans — USA 9 x 13 inch pan and USA Square Cake Pan 9 inch.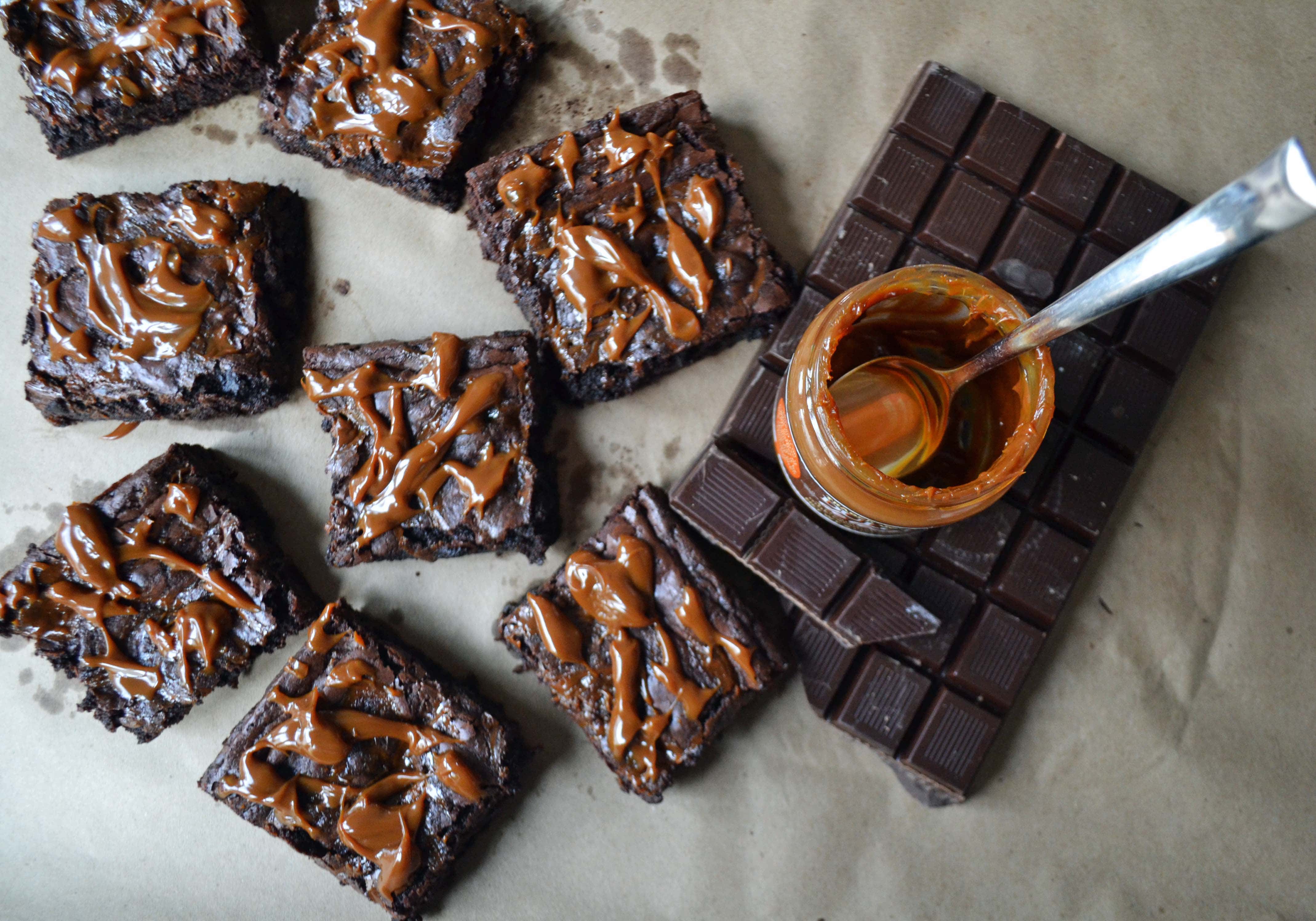 Feel free to up your game and add some caramel or dulce de leche. People will be impressed at your mad skills. Carefully heat up a jar of that caramel goodness and swirl half of the jar into the brownie batter. Bake in the oven. Once they come out of the oven, top and swirl with remaining caramel.
Make sure you lick the spoon after you are all done…..in the name of research, of course. *They are adapted from I am Baker's brownie recipe (who you must follow because she's so hilarious and incredibly talented).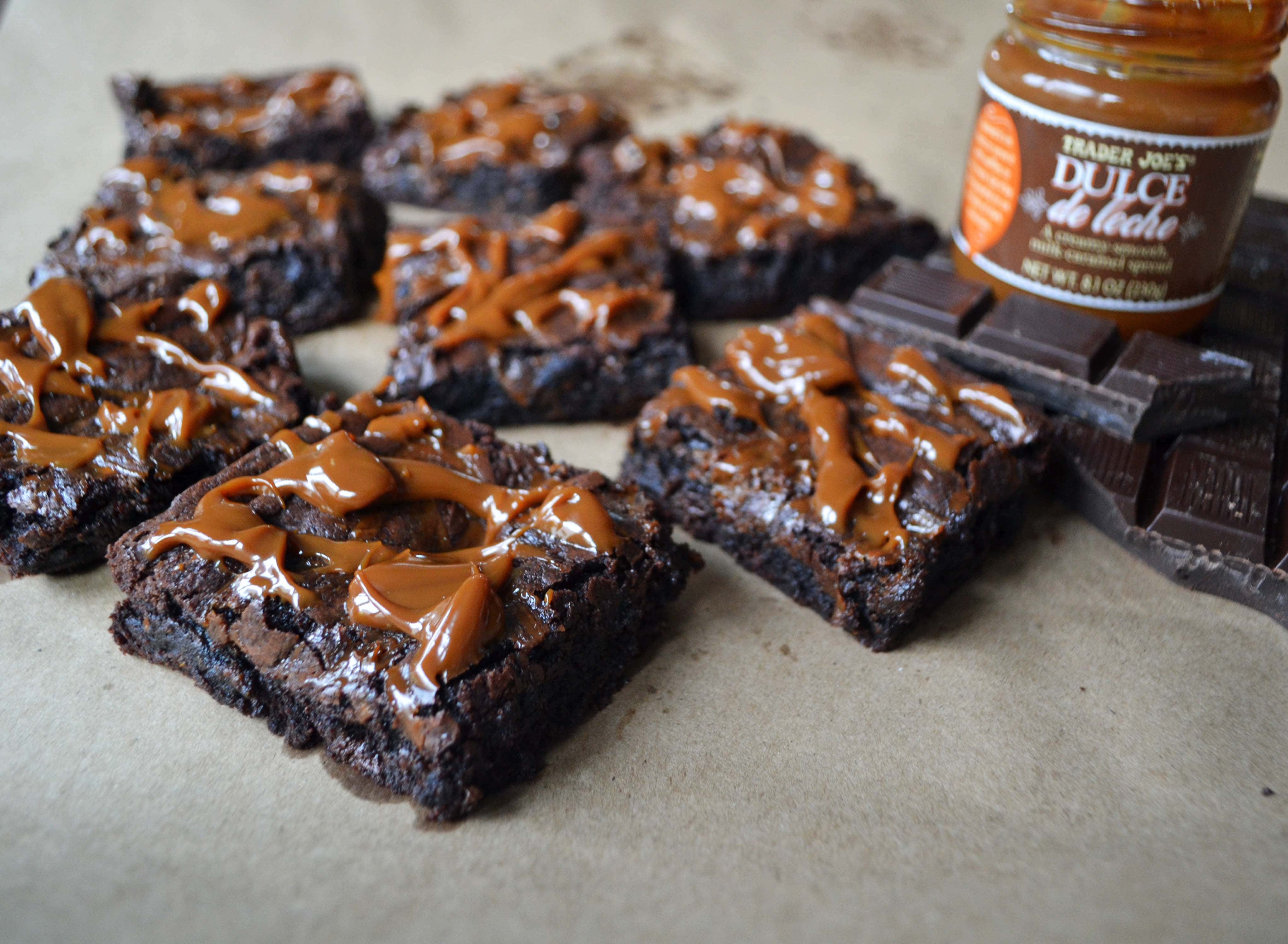 Click the video below to see how quick and easy it is to make homemade brownies:
Pin this now to find it later
Pin It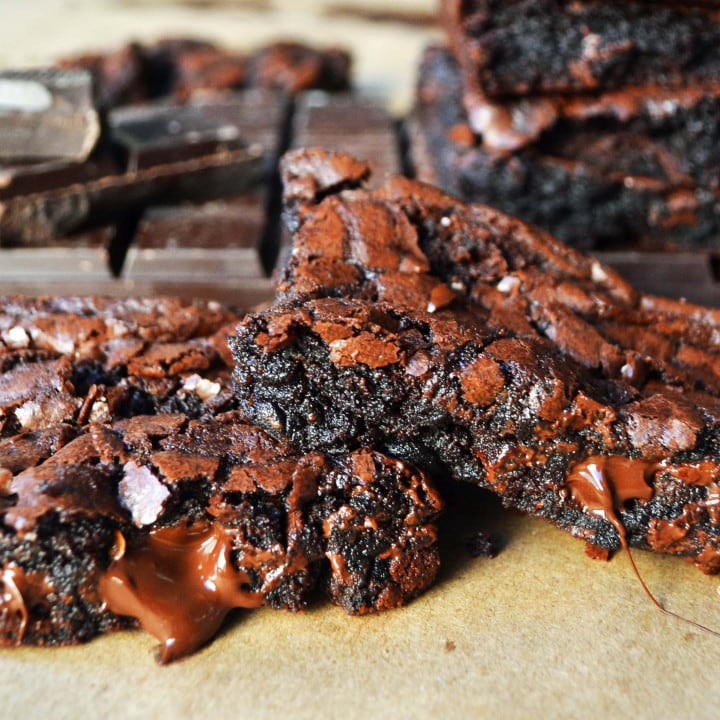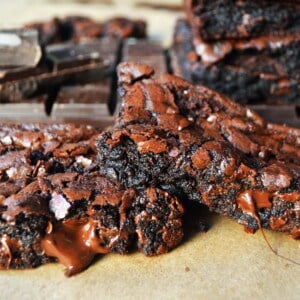 Better than a Boyfriend Brownies
This rich and fudgy brownie will satisfy all your chocolate cravings.
Ingredients
1

cup

Butter

softened

2

cups

Sugar

1

cup

Brown Sugar

4

Eggs

1

Tablespoon

Vanilla

1

cup

Flour

1/2

cup

Cake Flour

1

cup

Cocoa Powder

1/2

teaspoon

Salt

1 1/2

cups

Semi-Sweet Chocolate Chunks or Chips

*Optional: add 8-ounce jar Dulce de Leche. Carefully heat in the microwave. Swirl in 4 ounces into the batter. Bake. Top brownies with remaining Dulce de Leche.
Instructions
Preheat oven to 350 degrees.

In a large mixing bowl, cream together butter, sugar, and brown sugar for 3-4 minutes or until light and fluffy. Add eggs one at a time, mixing well after each addition. Add vanilla.

Stir in flour, cake flour, cocoa, and salt until mixed together.

Fold in chocolate chips.

Pour into 9 x 13 pan and spread evenly.

Bake for 28-36 minutes.

*Adapted from I am Baker's decadent brownies
Nutrition information is automatically calculated, so should only be used as an approximation.
Pin on Pinterest:

Happy Baking!