These Biscoff Cookies are filled with Biscoff cookie butter and white chocolate chips. You will love these soft, chewy cookies stuffed with caramelized cookie butter spread.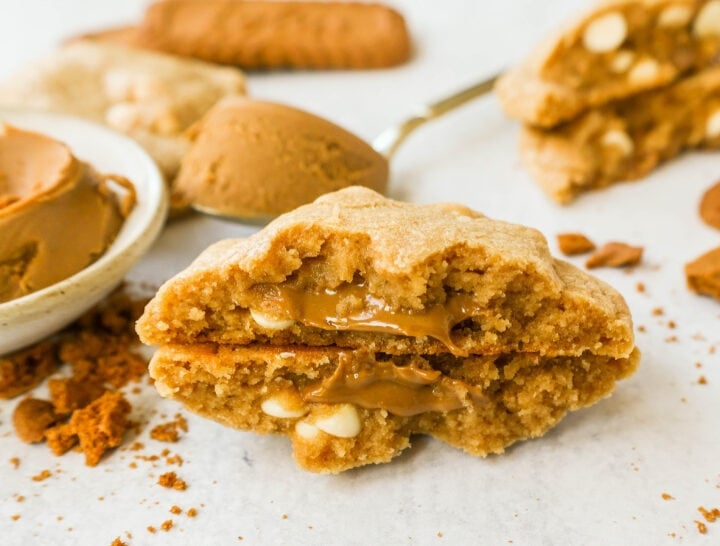 These Biscoff Cookie Butter Cookies are going to knock your socks off!
I recently was out running errands and craving a cookie. I stopped by a cookie shop that had just opened by me called Chunk Cookies. They had a Biscoff cookie with white chocolate chips that I knew I had to try! They served it warm and it was filled with Biscoff cookie butter. Oh boy, it was heavenly!
I wanted to create a homemade version of their Biscoff cookie but smaller in size. You know I love a good bakery cookie (my Levain Bakery Chocolate Chip Cookie recipe was the first recipe I shared on Modern Honey) and I love to try them all!
These Biscoff Stuffed Cookies are a warm, comforting cookie with caramel notes and light gingerbread flavor with creamy cookie butter in the center.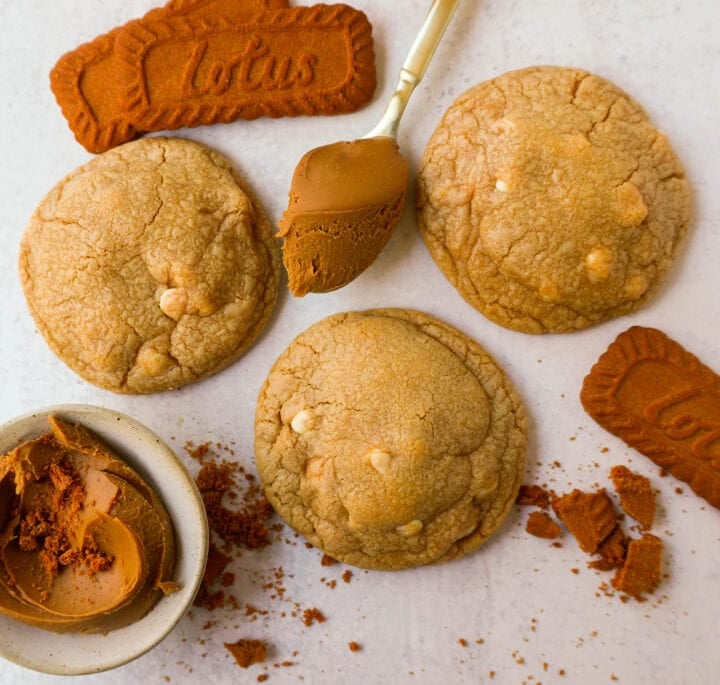 What is Biscoff or Speculoos Cookie Butter?
Biscoff, also known as cookie butter, is a food paste made from speculoos cookies. Speculoos (sold as Biscoff in the United States and the United Kingdom) is a cookie originally manufactured in Belgium. Biscoff or Speculoos Cookie Butter is basically spreadable Speculoos cookies. Speculoos cookies are classic crunchy Belgian cookies that have a slightly caramelized and light gingerbread flavor. Cookie Butter resembles peanut butter in color and consistency.
What does Biscoff taste like?
The flavor is caramelized and has gingerbread notes throughout. The consistency is similar to peanut butter.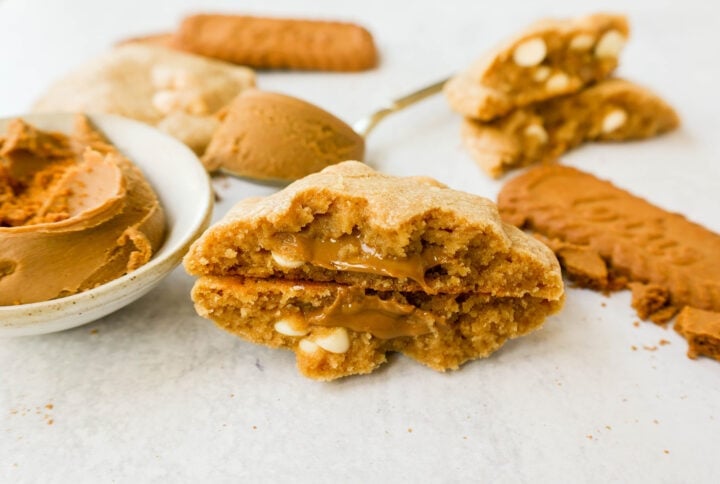 Biscoff Cookie Ingredients:
Butter -- use unsalted butter in this recipe. If using salted butter, reduce salt by ¼-1/2 teaspoon.
Biscoff Cookie Butter -- made with biscoff or speculoos cookies. May use creamy or crunchy cookie butter in this recipe.
Brown Sugar -- makes these cookies super soft, chewy, and sweet.
Sugar -- use granulated sugar to create sweetness and crispy edges.
Eggs -- use large eggs in all baking recipes and they act as a binder that binds the ingredients together.
Vanilla -- I suggest using Nielsen-Massey Vanilla or authenticMexican vanilla.
White Chocolate Chips -- I suggest using Guittard or Ghirardelli white chocolate chips or white chocolate chunks.
Flour
Cornstarch
Baking Soda
Salt
Where can you buy Biscoff Cookie Butter?
You can buy Cookie Butter, also known as Biscoff Spread at most grocery stores. Trader Joe's sells their own brand of cookie butter, which is a thick buttery paste of speculoos cookies and they call it Speculoos cookie butter. It comes in smooth and crunchy.
How to make Speculoos Butter Cookies:
Place a piece of parchment paper or wax paper on a baking sheet. Scoop out the biscoff in ½ Tablespoon sized balls and place on the parchment paper lined baking sheet. Place in the freezer for at least 15 minutes.
Cream together the butter, Biscoff cookie butter, brown sugar, and sugar for 4 minutes or until light and fluffy. Add eggs and vanilla.
Fold in flour, cornstarch, baking soda, and salt. Then fold in white chocolate chips.
Roll the dough into 4-ounce balls. I love to use a food scale to make the cookies the exact same size. Press a large indention into the center of the cookie dough with your thumb. Place the chilled Biscoff into the center and wrap the cookie dough around the cookie butter to completely cover it.
Place on a light-colored baking sheet and bake until the cookies are barely done. You don't want to overbake these cookies.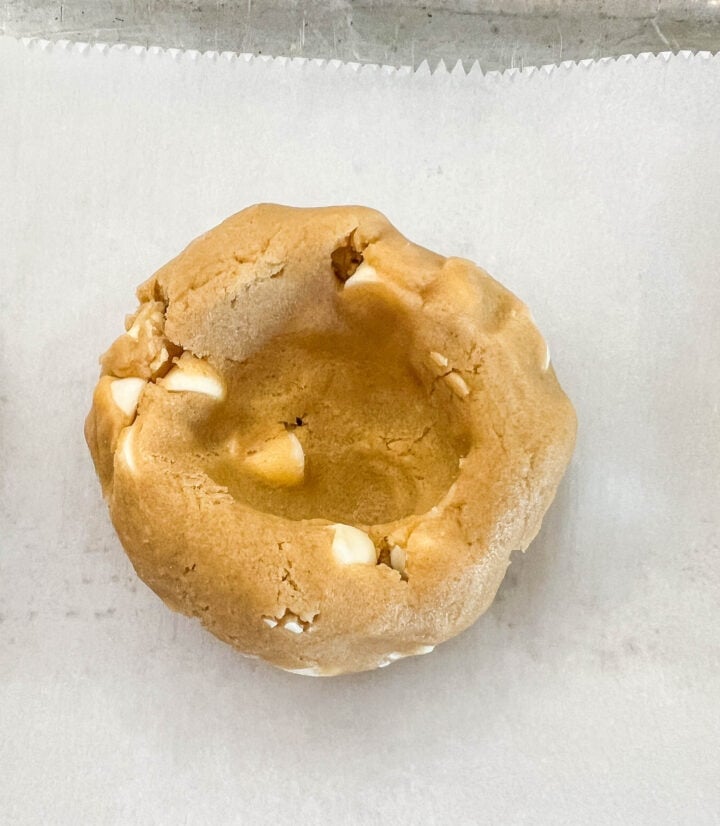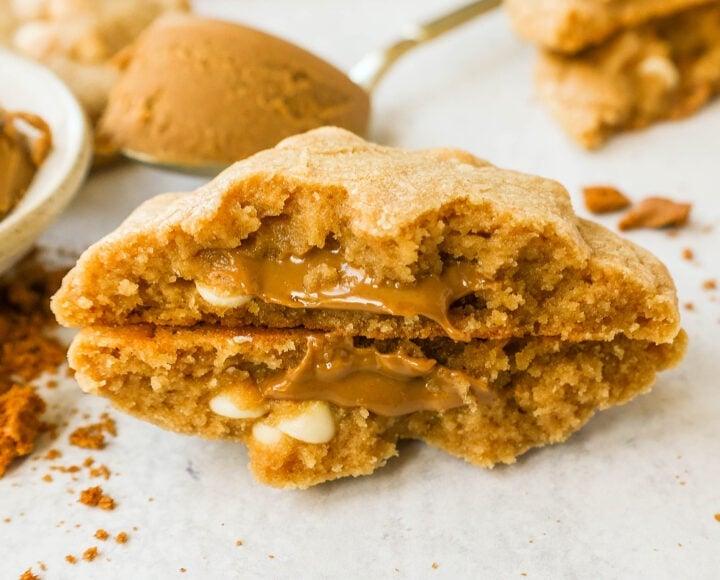 Popular Cookie Recipes:
Recommended Baking Tools:
Light-Colored Baking Sheets -- I suggest using a heavy-gauge aluminum pan. If you use a dark-colored baking sheet, the heat from the oven is attracted to the dark color and the bottoms of the cookies will cook faster and may become too brown.
Kitchenaid Mixer -- this is my go-to stand mixer and is perfect for creating the perfect cookies.
Parchment Paper Sheets -- these make for an easy clean-up plus help the cookies to bake evenly.
Measuring Cups and Spoons - you want to invest in a quality set of measuring cups and spoons.
Large Cookie Scoop —

a cookie scoop is perfect to use to make uniform-looking, rounded cookies.

Wire Cooling Rack — a gridded wire rack allows air to circulate around the cookies which keeps them from getting soggy.