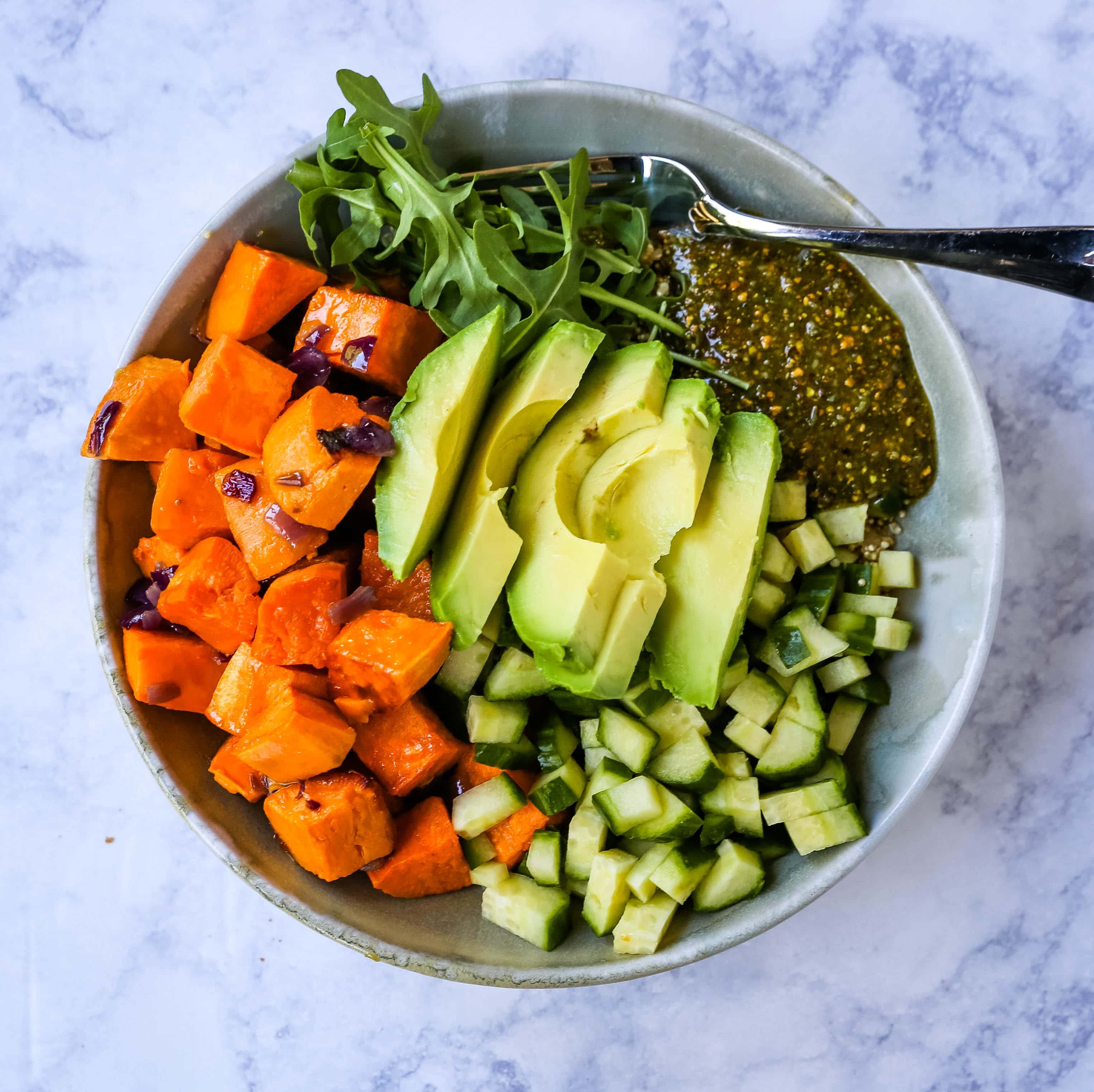 Buddha Bowl with Pistachio Pesto
A healthy vegan bowl made with roasted sweet potatoes, onions, fresh avocado, cucumbers, arugula, quinoa, and homemade pistachio pesto. 
Whenever my oldest daughter comes home from college, we head straight to Flower Child and get a big bowl of flavorful vegetables called Mother Earth.  It is definitely our "happy place" and one of our favorite places to eat. The Mother Earth bowl is made with all kind of roasted vegetables, fresh vegetables, and ancient grains topped with a vibrant pistachio pesto.  Eating veggies never tasted so good!
Since the bowls run about $10 each, I wanted to figure out a way to eat them at home and save some serious money! They turned out so amazing! The beauty of these bowls is that they can be meal prepped ahead of time and put together whenever the cravings strike.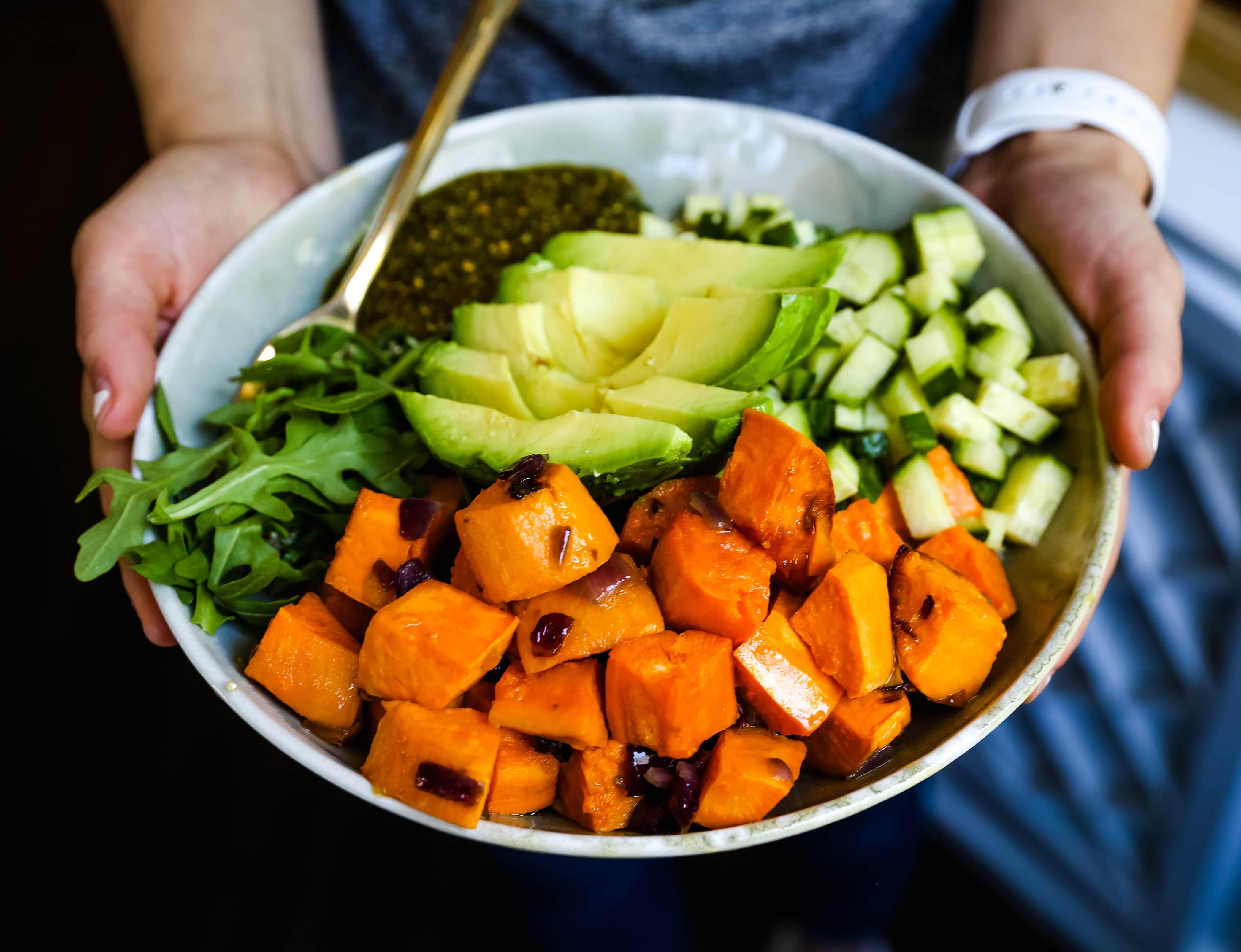 What is a Buddha Bowl?
A Buddha Bowl is a vegetarian bowl filled with whole grains such as quinoa or rice and vegetables. The vegetables can be roasted or fresh and is usually topped with a sauce, such as pistachio pesto, or a vinaigrette. 
This Buddha Bowl starts out with roasted sweet potatoes and onions, drizzled with olive oil and sea salt. My favorite way to eat vegetables is roasted because the roasting process brings out the tender flavor in veggies.  I usually roast vegetables at 400 degrees for about 20 minutes, depending on the vegetable and the size of it.  A drizzle of olive oil puts them over the top.  Roasting the vegetables can be done ahead of time and the roasted sweet potato onion mixture can be stored in the refrigerator.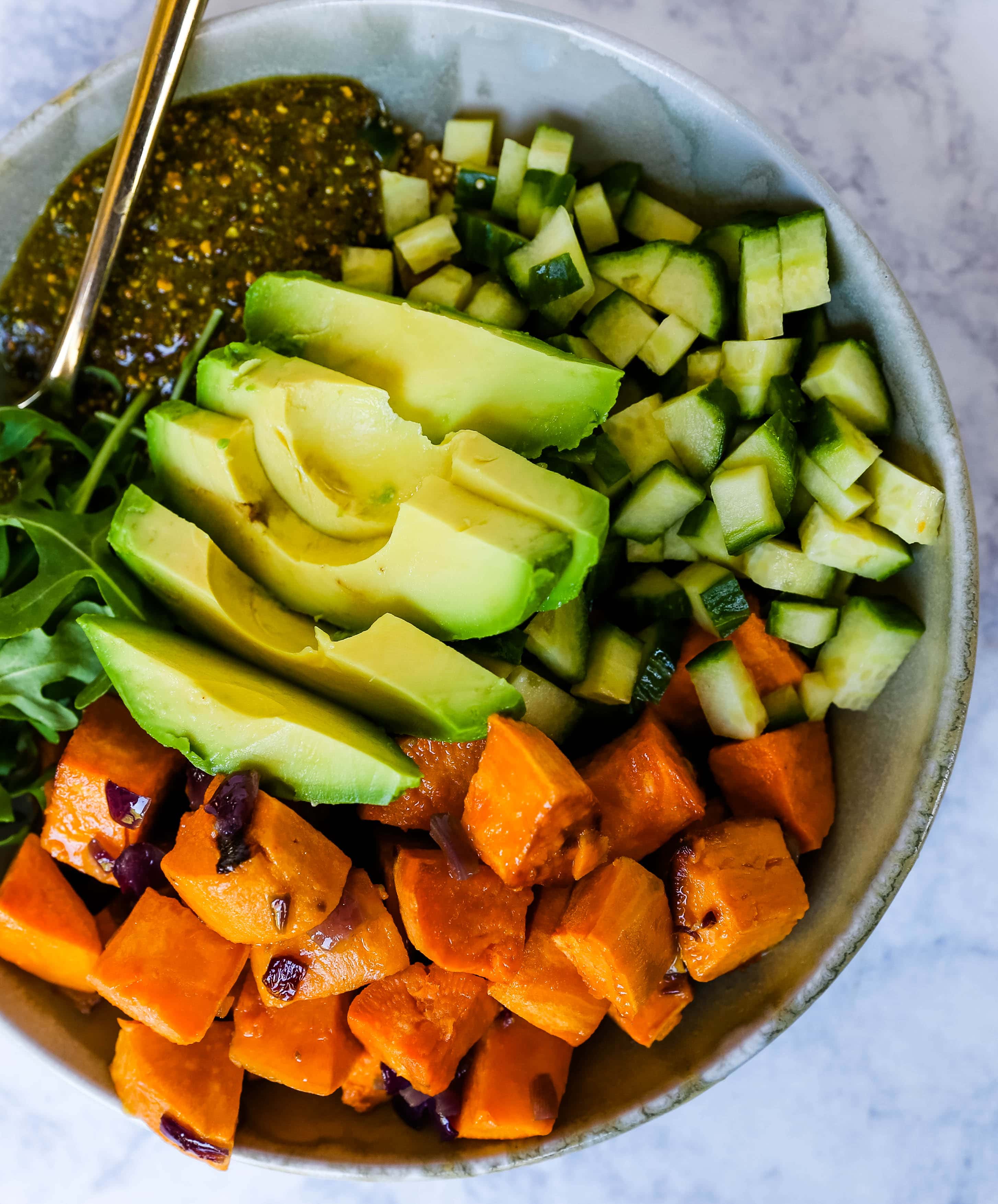 You can use any of your favorite ancient grains -- quinoa, brown rice, or white rice. I use quinoa for its protein and fiber content and it is also so filling! You won't miss the meat. The quinoa can also be prepared ahead of time which makes meal prep extra easy.  I always salt the water to infuse the quinoa with flavor while it cooks.
Fresh avocado adds creaminess to the Buddha Bowl and is also fills the belly. I sprinkle a touch of sea salt over the avocado. If you aren't serving it right away, sprinkle a touch of lemon juice all over the avocado slices to keep from turning brown.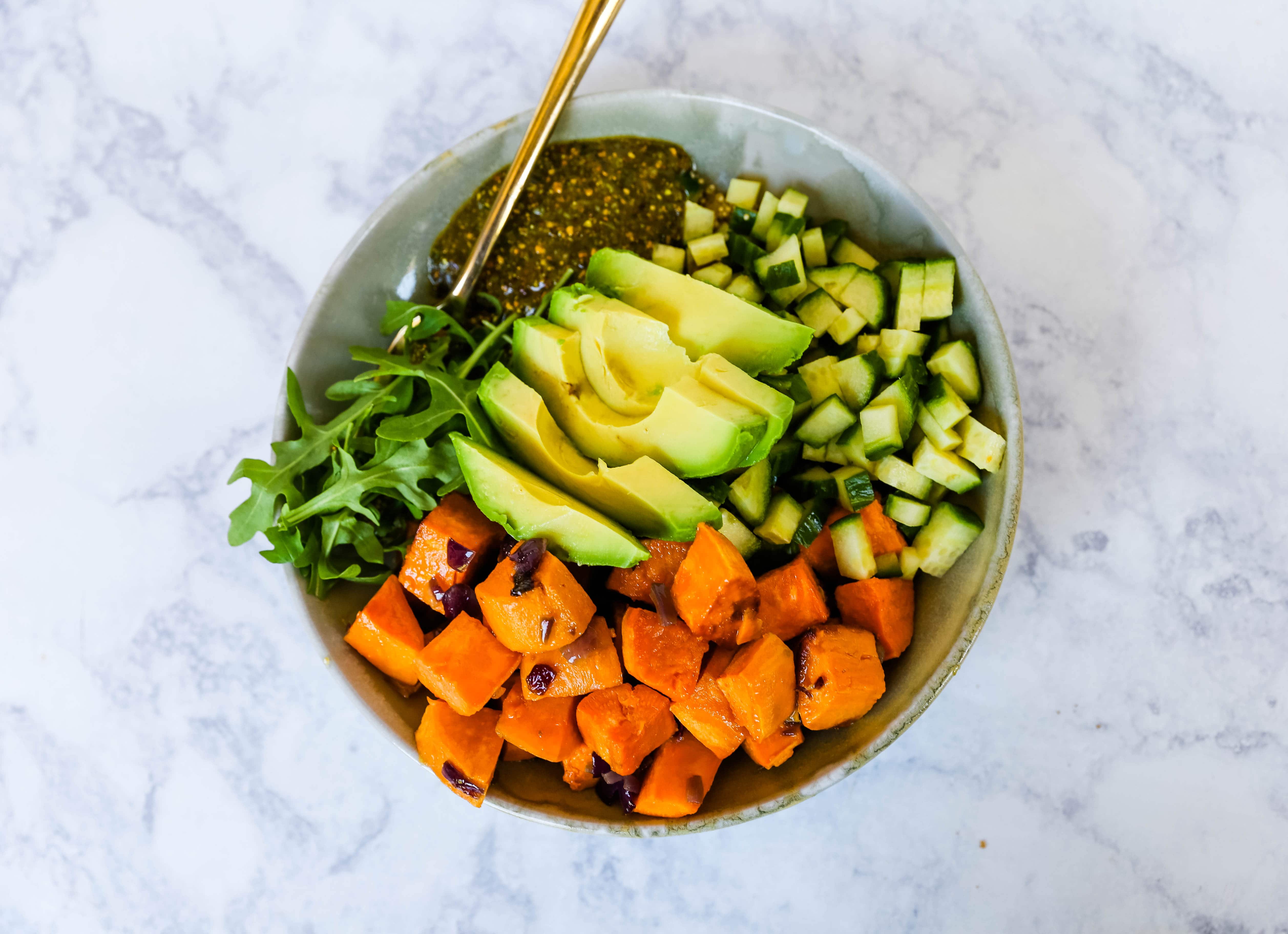 I suggest dicing the cucumber into small pieces. I cut the cucumber into slices and then cut each piece into four or six small pieces. You can lightly salt the cucumber.
A homemade pistachio pesto is made with fresh basil leaves, raw pistachios, extra-virgin olive oil, Parmesan cheese, garlic, and a touch of lemon zest.  It adds a rich, vibrant flavor to the Buddha Bowl. This pistachio pesto can be made ahead of time as well and stored in the refrigerator. It can also be made with any nuts -- walnuts, almonds, or pistachios.
How to Build-Your-Own Buddha Bowl:
 Start by roasting your favorite vegetables at 400 degrees for about 20 minutes or can easily be pierced with a fork.  Drizzle with extra-virgin olive oil and salt. Set aside too cool.
Dice the cucumber into small pieces.  I prefer to use Hothouse or English cucumbers, which are long and thin, and have less seeds. I keep the skin on but you can peel the skin off if you prefer.
Use a creamy, ripe avocado.  Lightly salt the avocado and sprinkle with lemon juice if not serving right away. I always add the avocado last to the vegan bowl.
Cook the quinoa ahead of time according to the package instructions. Salt the water to infuse the quinoa with flavor as it cooks. Fluff with a fork and set aside.
Make a homemade pistachio pesto in a food processor. Blend basil, pistachios, olive oil, parmesan cheese, lemon juice, and garlic. A food processor makes making pesto incredibly easy!
To assemble the bowl -- place quinoa on the bottom of the bowl and layer the vegetables on top. Place a sliced avocado on the top of the bowl and sprinkle with fresh arugula. Drizzle with pistachio pesto.