Candy Corn Blondies
White Chocolate Candy Corn Blondie Bars. Browned Butter White Chocolate Blondies with Candy Corn. The perfect Halloween dessert bar!
As soon as September arrives, the popular orange, yellow, and white candy corn lines the grocery store shelves. My kids get so excited for to me to fill the big ol jar full of the Halloween treat. Who is on team Candy Corn?
I was scrolling through Williams Sonoma and saw something that stopped me in my tracks - HALLOWEEN CANDY CORN BLONDIES! Are you kidding me? Browned Butter Blondies with White Chocolate and Candy Corn is a ridiculously sweet and yummy combination. I had to stop what I was doing and make some stat.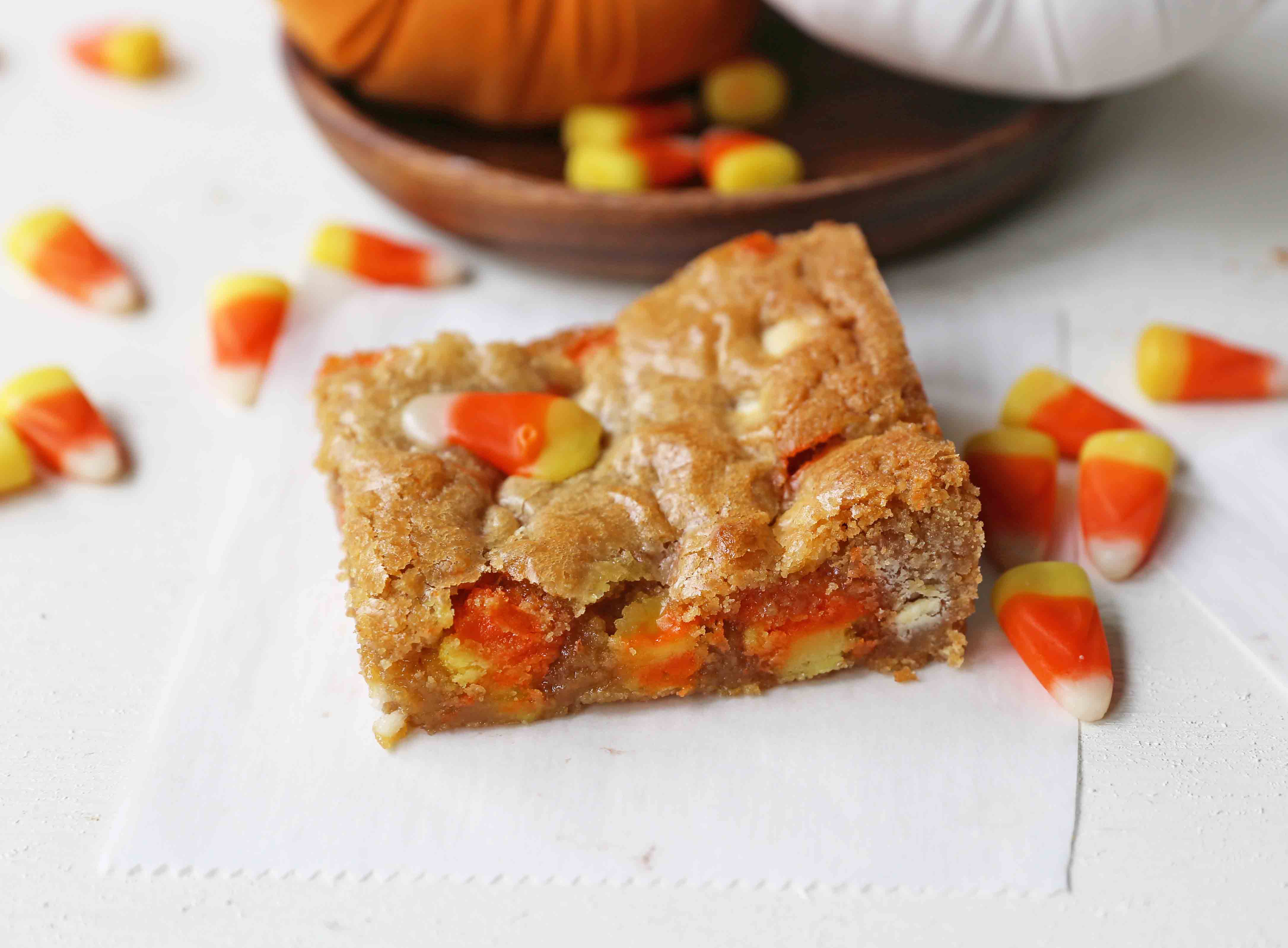 I have my favorite blondie recipe HERE and knew that I could play around with it and transform it into the ultimate candy corn blondie bars. It became a festive Halloween dessert bar that all kids will love!
It all starts with browned butter. This is the base of the flavor so let your butter melt in a pan on the stove. A good amount of brown sugar adds a toffee flavor and creates a chewy texture. The key is to stir it well so the butter and brown sugar incorporates and it ends up becoming a silky smooth and shiny mixture.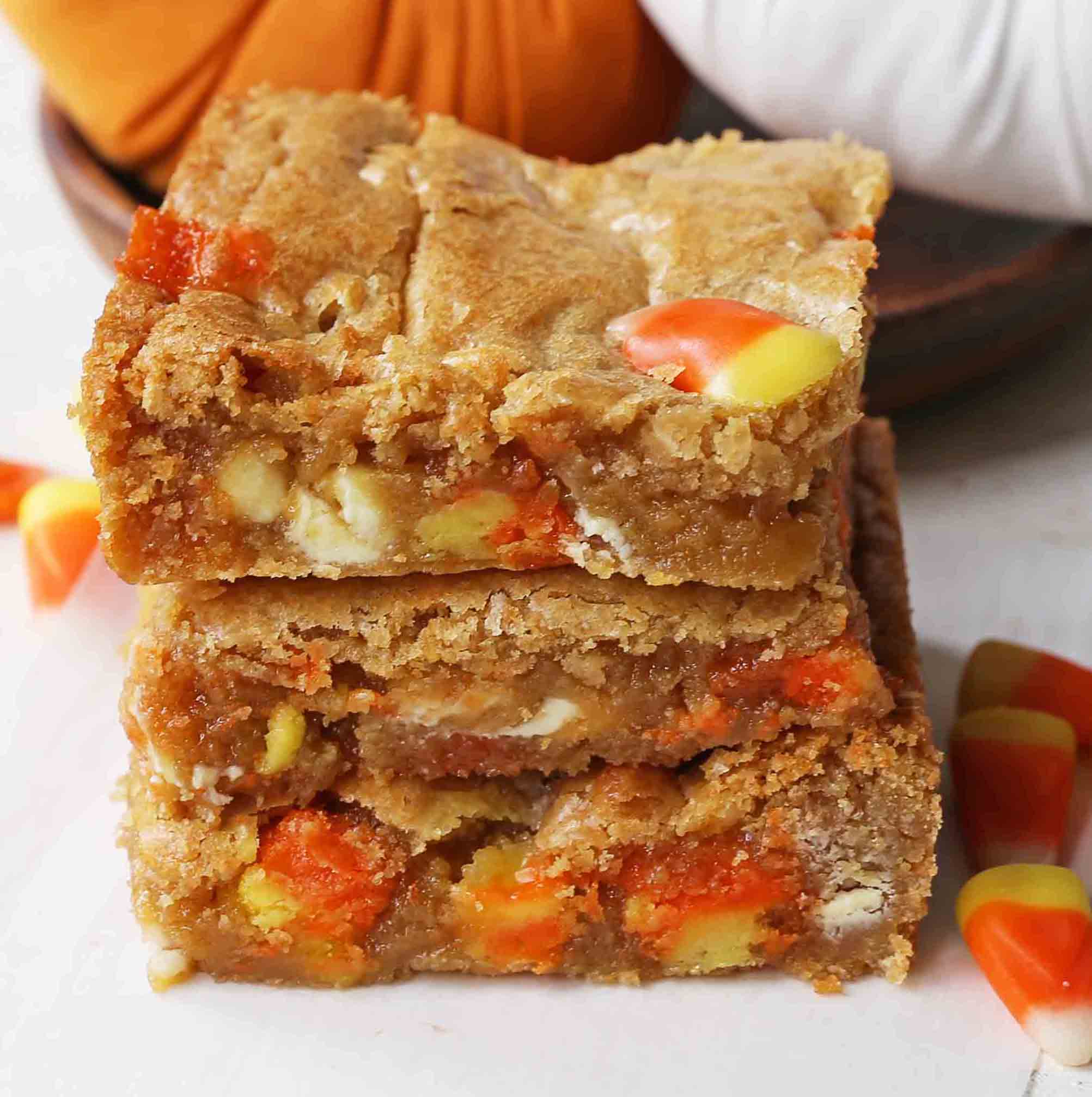 Next, you have to let it chill. You can let it come to room temperature, which may take about 20-25 minutes or put it in the refrigerator and expedite the process. It only takes about 10 minutes to chill. Don't let it sit in the refrigerator too long or the brown sugar will become too hard.
Since this is a sweet dessert bar, I added a good amount of salt to add some balance to the sweet candy corns. If you aren't a white chocolate fan, you can leave them out. Also, I left some candy corns completely whole and then cut some others in half.
These Halloween dessert bars can be made in a 8 x 8, 9 x 9, or 9 x 13 pan. If you make them in a 9 x 13 pan, the bars will be very thin. I prefer to make them in a 9 x 9 pan. This is my favorite 9 x 9 baking pan because it is non-stick and makes complete squares.
Here are some more Halloween and Fall Recipes:
I love to hear from you! If you make this recipe, please be sure to leave a comment and give this recipe a rating. Also, tag me on Instagram @modern_honey so I can see your creations. Be sure to tag your photo using the hashtag #modernhoney. It's one of my favorite things seeing you make these recipes in your own kitchen. Thank you for following along! I truly do have the greatest readers. FOLLOW ME ON: INSTAGRAM --- FACEBOOK --- PINTEREST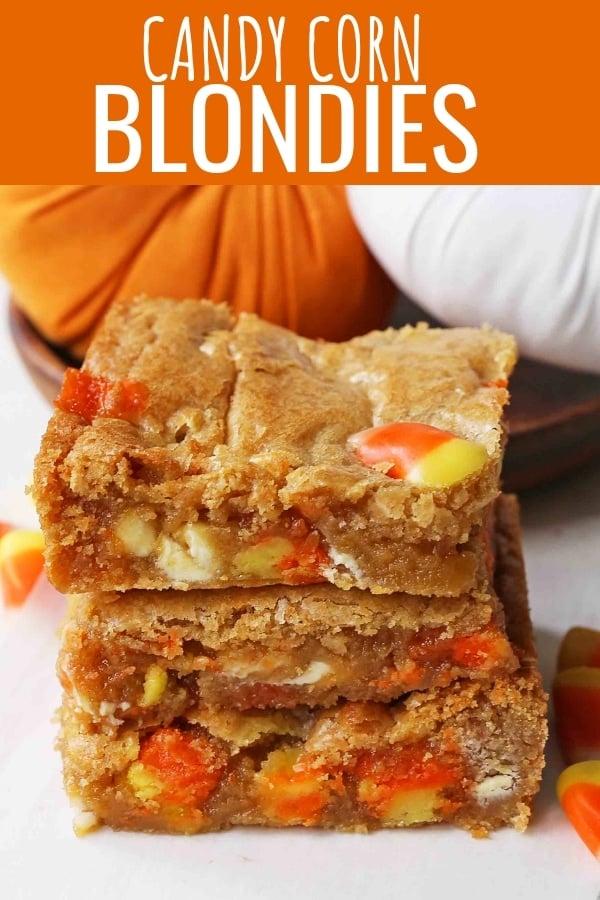 Happy Baking, my friends! Sign up for my newsletter below so you don't miss out on any recipes!