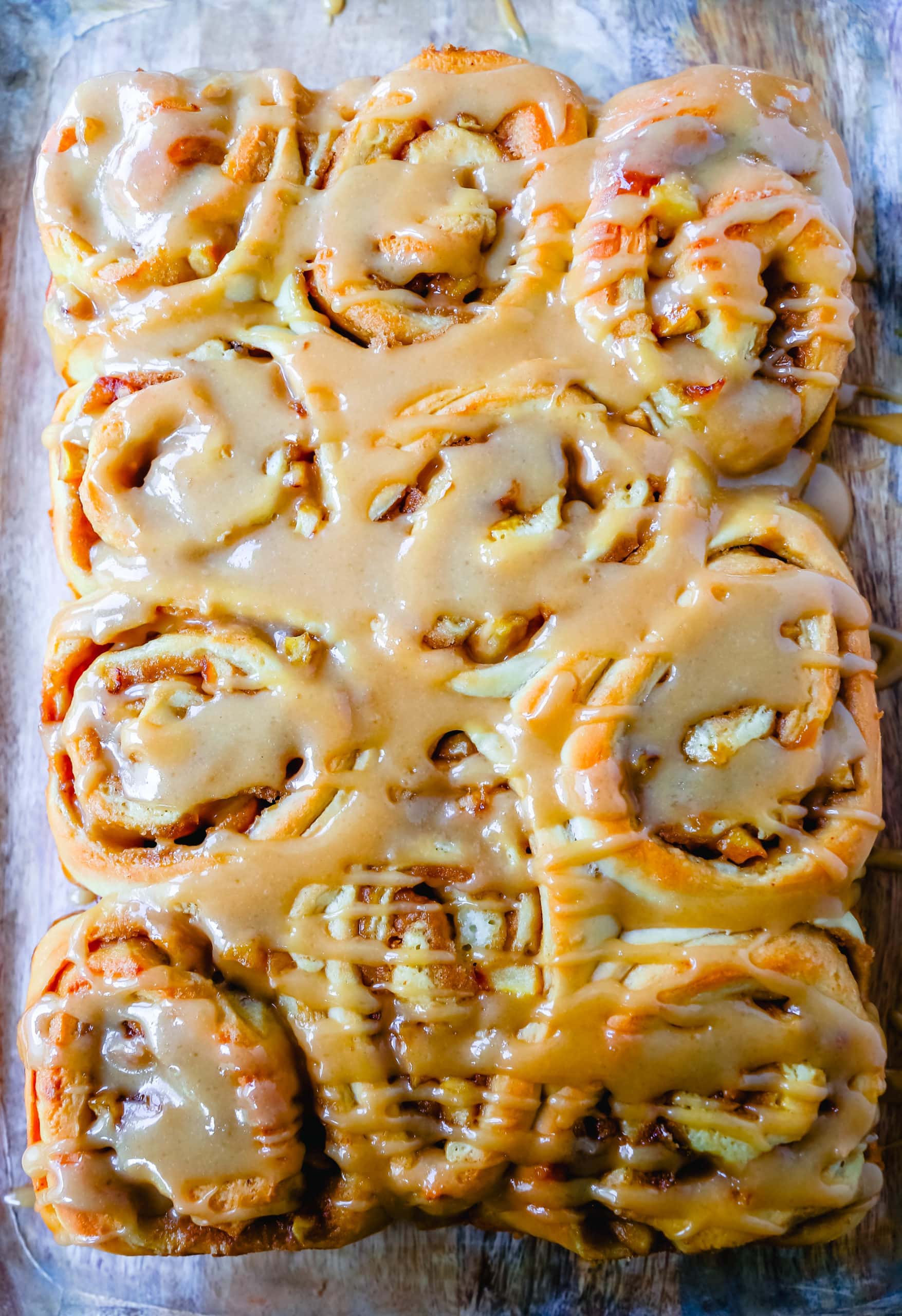 Caramel Apple Cinnamon Rolls
Homemade salted caramel paired with tart apples all rolled into and baked in a sweet dough. These Salted Caramel Apple Cinnamon Rolls will knock your socks off!
Giddy up, everyone. These caramel apple rolls are something else! They are comfort food on steroids and the year 2020 is all about eating our feelings. 🙂 I don't know about you...but I have baked more than ever this year!
My husband loves when I make homemade cinnamon rolls, caramel pecan rolls, or any carb that is made from scratch. So since we all enjoy delectable caramel apples, how fun would it be to combine the two? The Caramel Apple Cinnamon Rolls are perfect for those lazy Sunday mornings.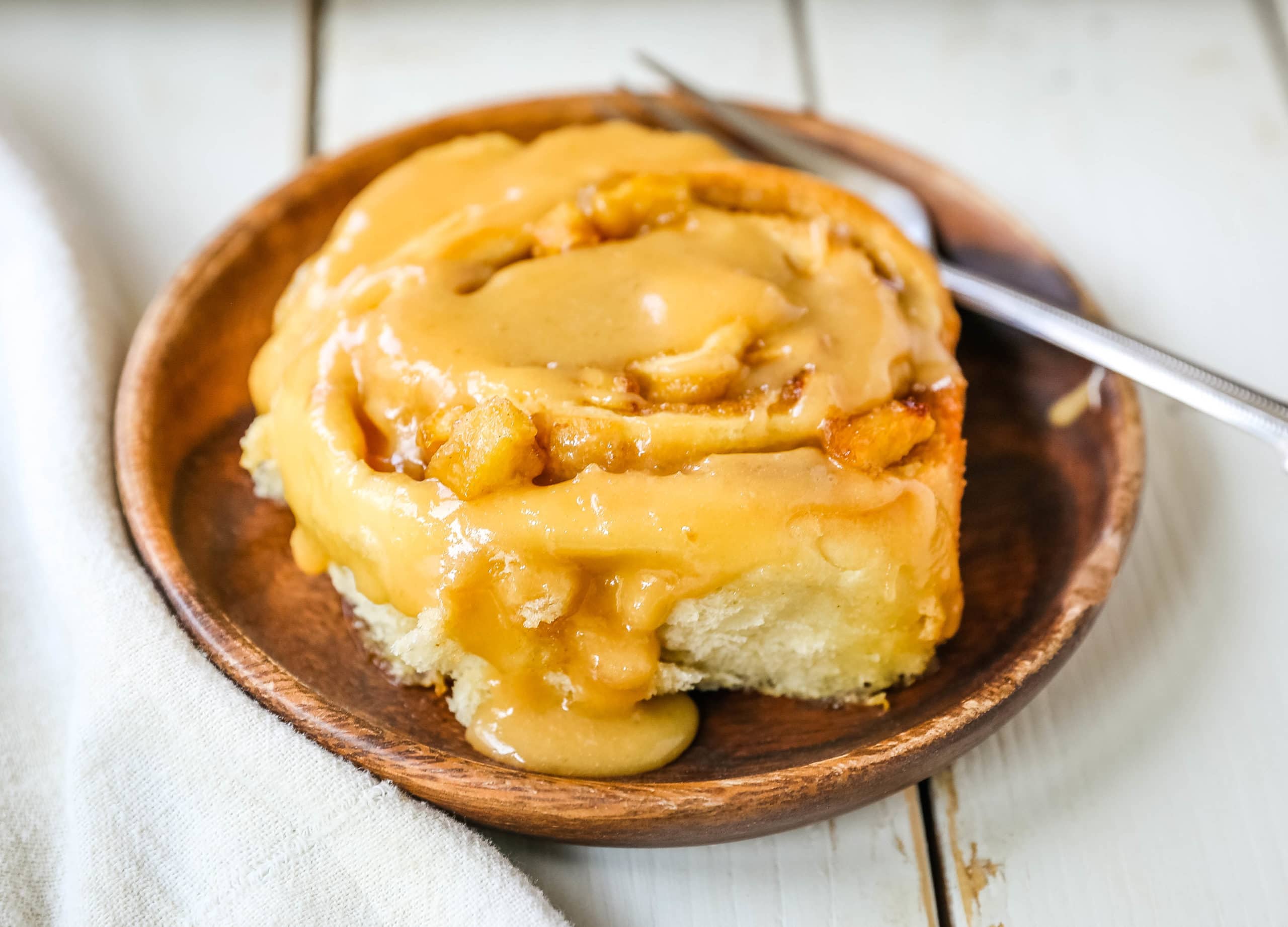 These Salted Caramel Apple Cinnamon Rolls start off by making a sweet yeast dough. It does its things and gets all puffy and we like that. The brown sugar and apple filling is made with butter, brown sugar, sugar, flour, cinnamon, and tart apples. The fresh apples make these rolls feel like crisp, Fall mornings. A handcrafted salted caramel sauce is drizzled all over the top just to make it a little extra something special.
I can't tell you how many of my readers out there write to tell me that they have issues with making bread or yeast rolls. Don't you worry out there...I am here to help! I will break down step-by-step how to make these cinnamon apple rolls so you will be a pro in the kitchen!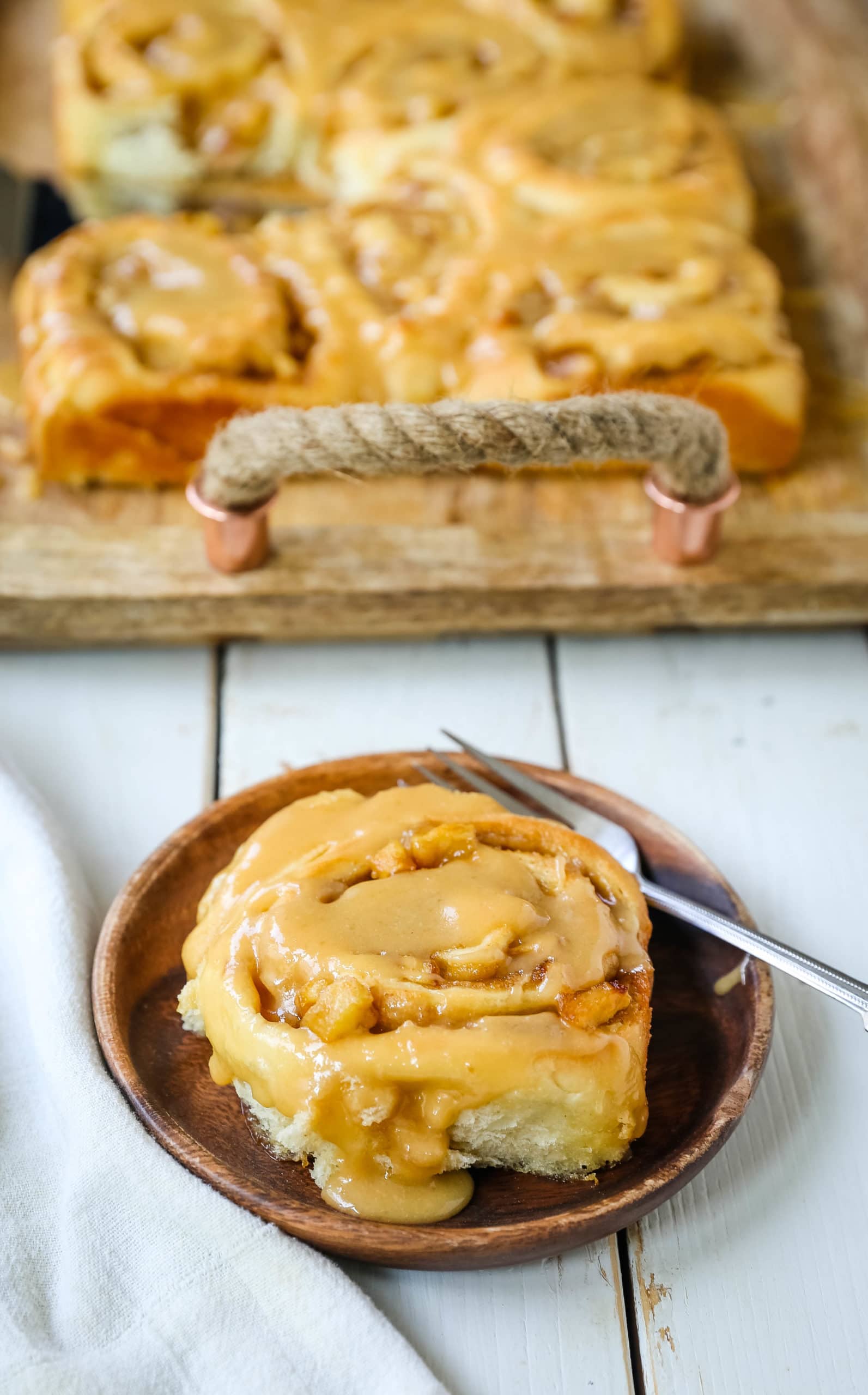 Tips and Tricks for making Salted Caramel Apple Cinnamon Rolls:
Use Fresh Yeast. This is where readers can go wrong. If you use old yeast that has been sitting on your shelf for years...it may not work and you will end up with bread that doesn't rise. That's what we call very sad bread...and we don't want that! So make sure to buy fresh yeast. I keep my yeast in the refrigerator or freezer and it helps it to last longer. This recipe doesn't proof the yeast ahead of time because we are using dried instant yeast. If you want to make sure your yeast works...follow these steps. The key is to use very warm water (about 110 degrees). Adding a touch of honey or sprinkle of sugar to the yeast helps it proof even faster. Let the yeast proof for at least 5 minutes. You will know the yeast is working when it starts to bubble and form a creamy foam on the surface. If you decide to check your yeast, I suggest using ¼ cup of warm water for the 2 ¼ teaspoon of yeast. You will reduce the ¼ cup of water from the ½ called for in the recipe.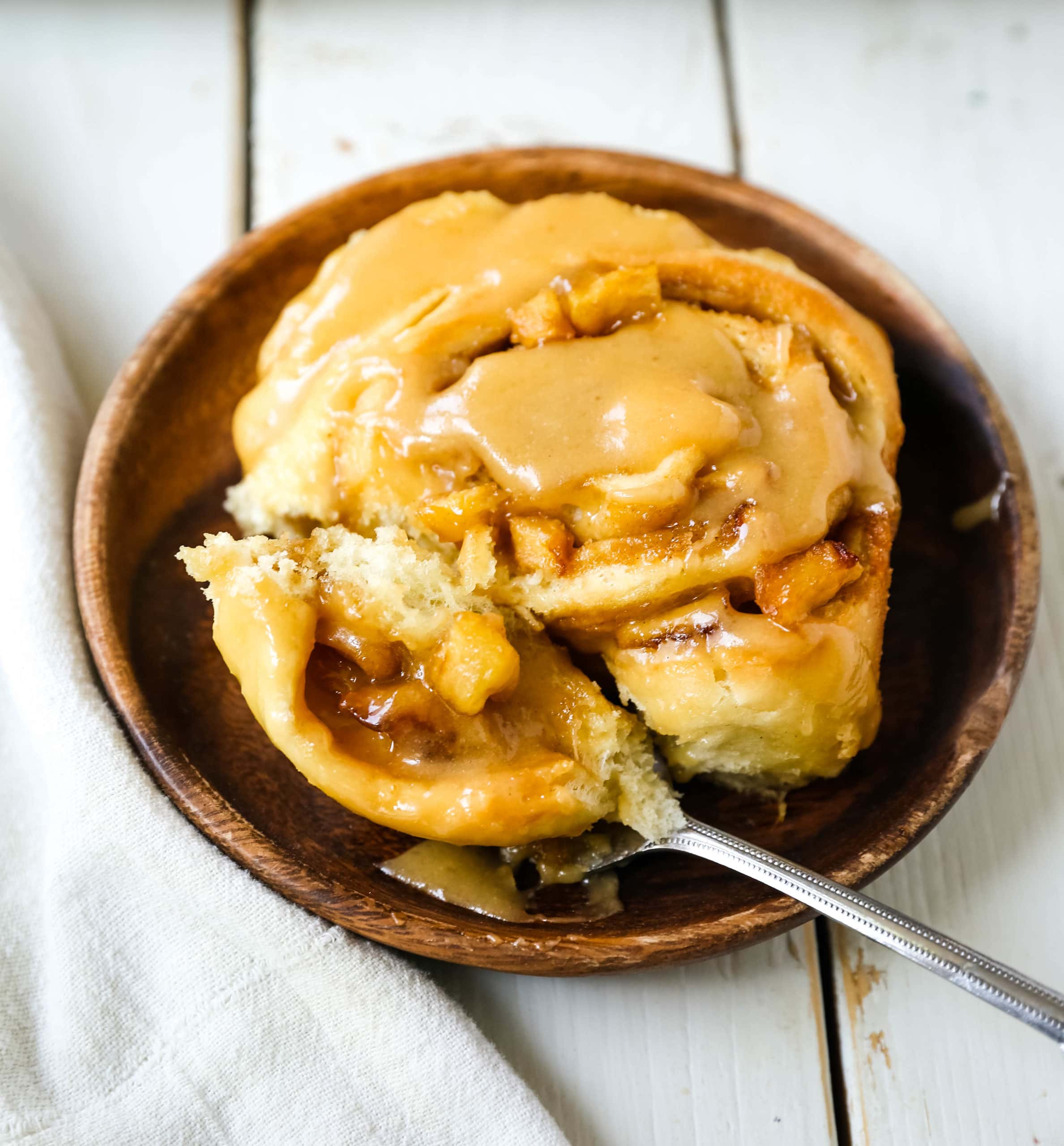 2. Warm up the liquid ingredients in the microwave. In a microwave-safe bowl, combine sugar, butter, water, and milk. Microwave in 20-second intervals until it reaches 120 to 130 degrees Fahrenheit. You want it to be warm to the touch. Add the liquids and egg into the dry ingredients.
3. If using a mixer like a Bosch, KitchenAid, or hand mixer, allow the mixture to knead and mix together for 4 minutes. If kneading by hand, knead for at least 5 minutes. After it is all incorporated, allow the dough to rest for 10 minutes. That is an important step in making this dough to allow the gluten strands to relax. Hey, we all need a break sometimes!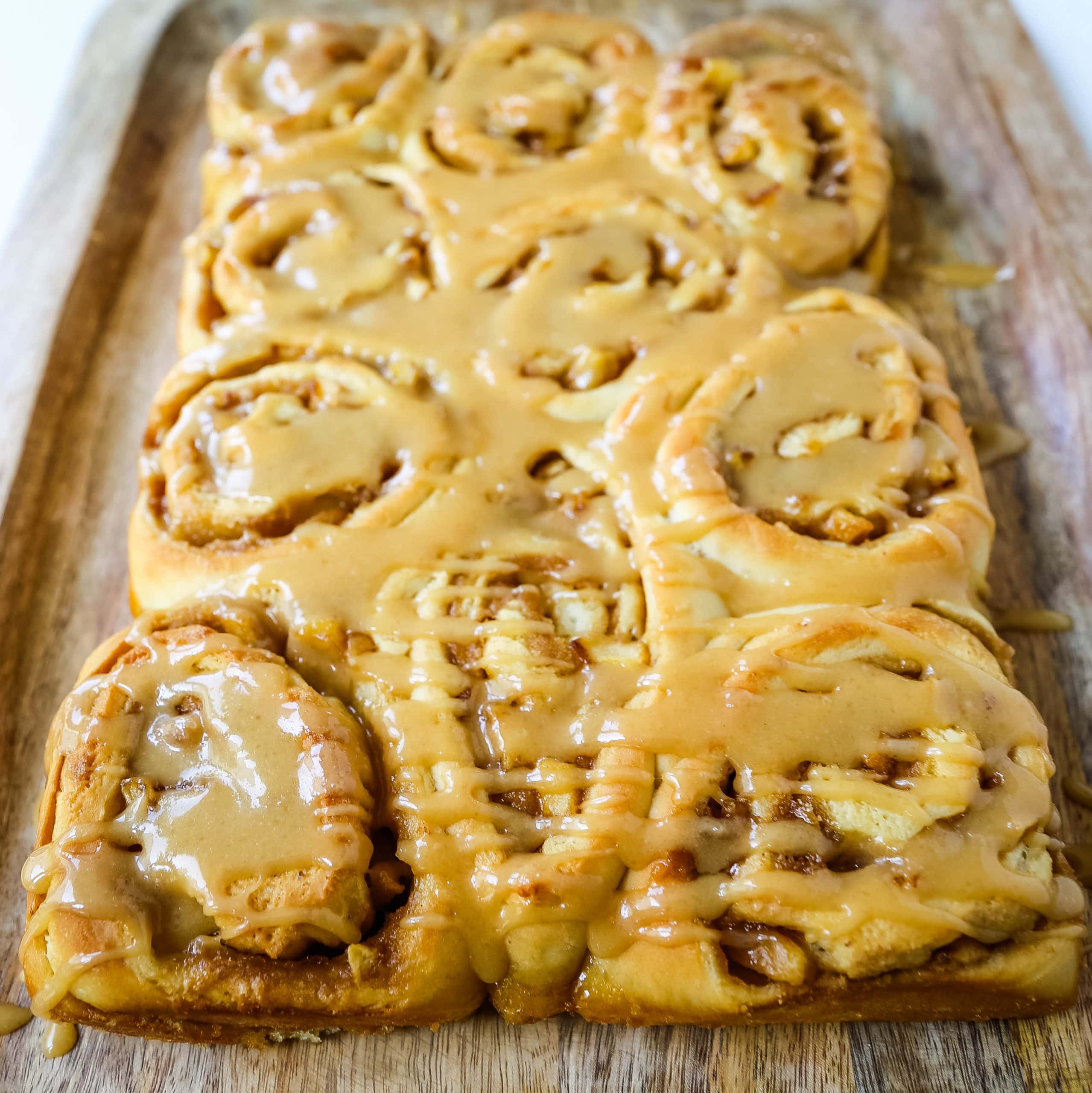 4. Cook the apples in butter. This is an integral step as it allows some of the liquid from the apples to evaporate. Let the apples cool in the refrigerator or freezer to allow them to set-up.
5. Make the filling by mixing together butter, brown sugar, sugar, flour, and cinnamon. Roll out the dough into a 16 x 9-inch rectangle. This filling will be spread all over the dough. Sprinkle with the cooled diced apples and roll it up.
6. Place the rolls on a baking pan, spaced out about ½ inch apart. Cover and let rise for at least 30 minutes or until double in size. This will depend on how warm your kitchen is. The rising process will go faster in a warmer kitchen. Bake for about 15 minutes.
7. Make the caramel by using sugar, water, heavy cream, butter, and salt. It is much easier to make homemade caramel with a thermometer. If you don't want to make homemade caramel, pick up a high-quality caramel sauce at the grocery store.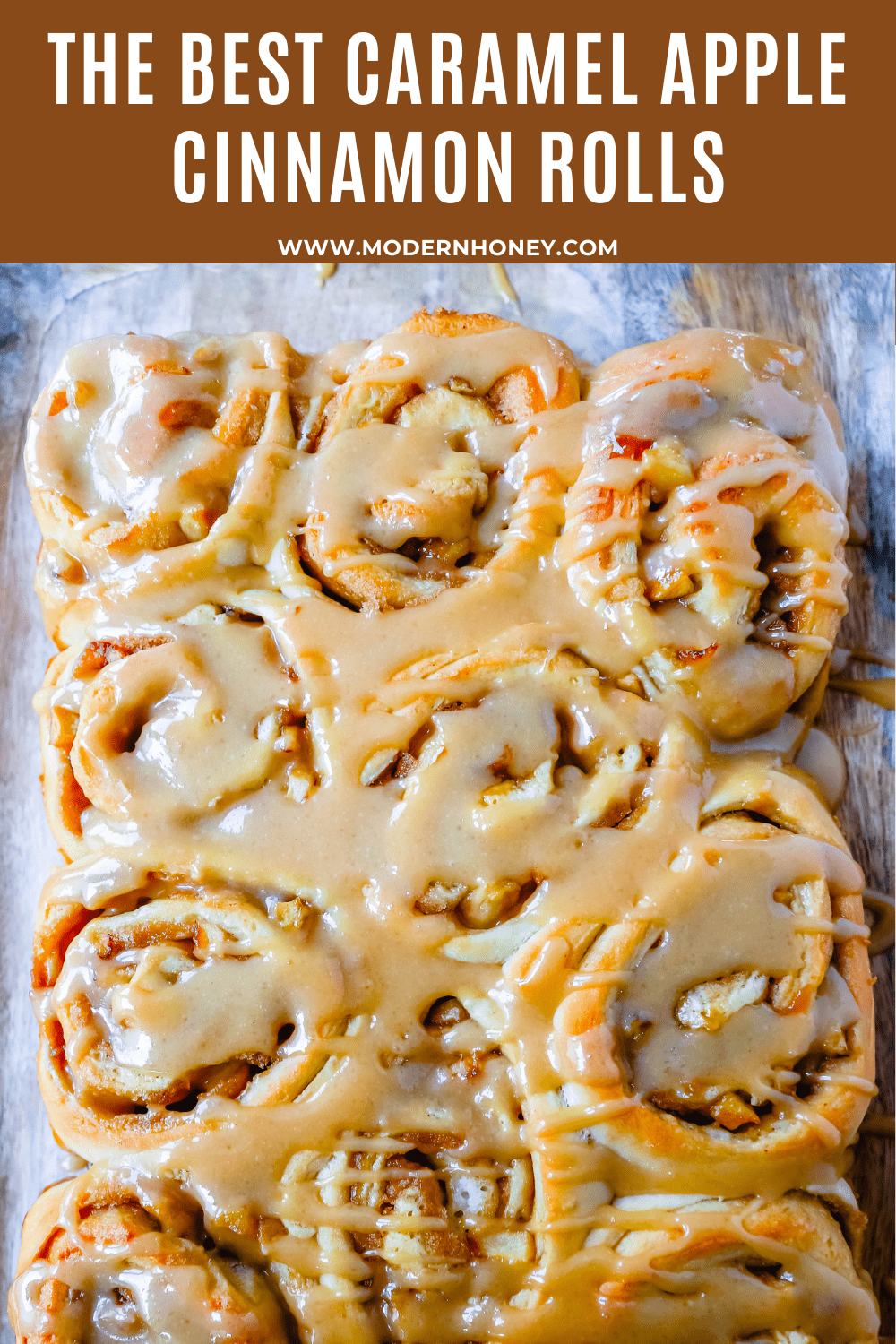 If you love bread and rolls, check out these other popular recipes:
Hayley's Famous Cinnamon Rolls
Caramel Pecan Rolls
Homemade Bakery French Bread
One Hour Whole Wheat Bread
This recipe is adapted from my blogging friend, Jessica Gavin's cookbook called "Easy Culinary Science." I bought it because I knew it would be good and was so happy to find this recipe in her cookbook! Congrats Jessica!