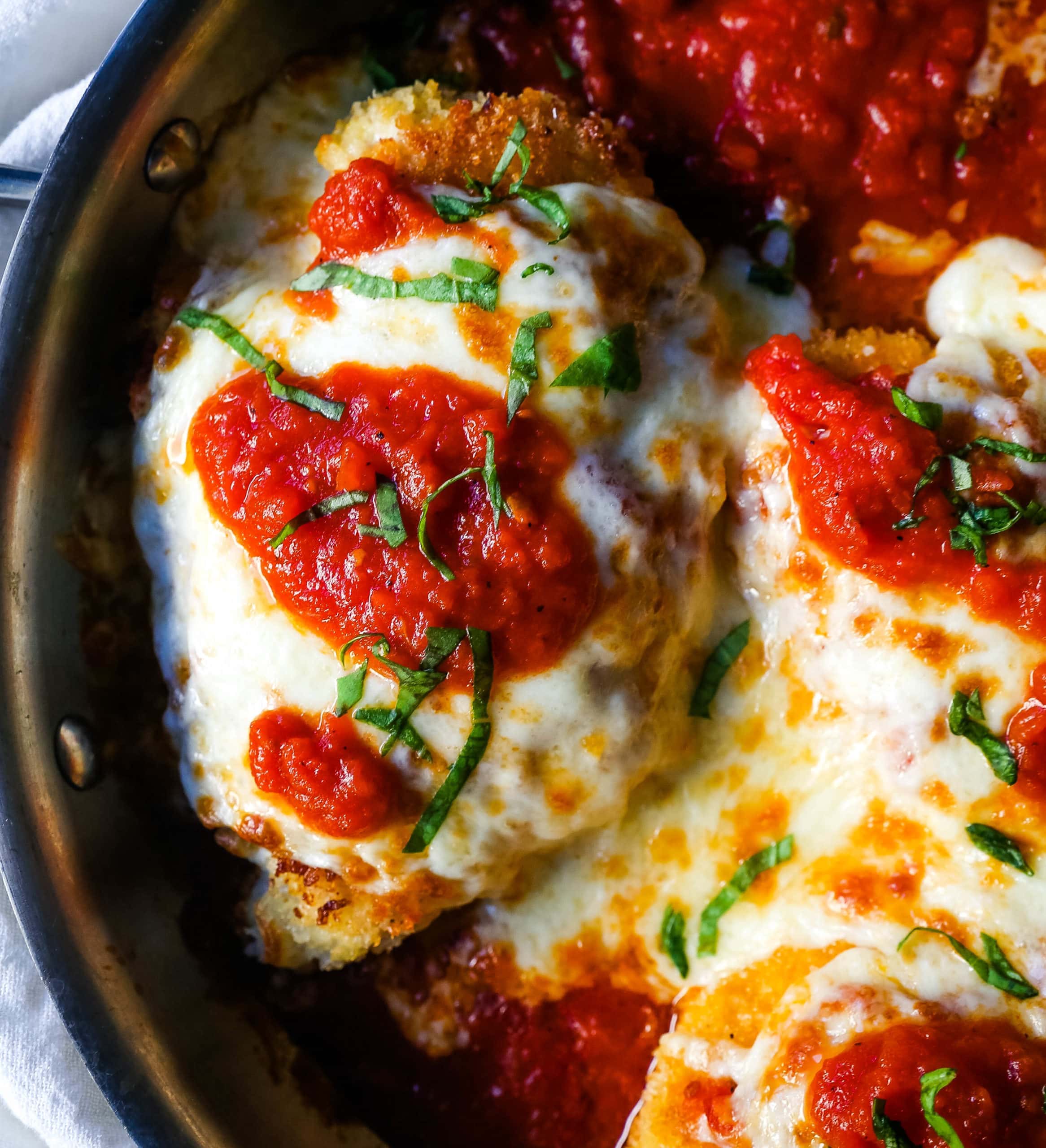 Chicken Parmesan
Panko-crusted chicken breast topped with homemade marinara sauce, melted whole milk mozzarella, and parmesan cheeses and baked until golden and bubbly.
Everyone needs a really good chicken parmesan recipe in their back pocket. I recipe test a lot. People probably have no idea how many dishes I create in my kitchen in my attempt to perfect a dish.
I have a philosophy — I am building an online cookbook that I can pass on to my future generations. I want to work and work to create the best recipes so once it goes onto Modern Honey, then my search is complete. For example, once I recipe tested dozens of chocolate cakes. After devouring more cake than I would like to admit, I choose the ultimate recipe, and then I don't have to keep trying other chocolate cake recipes ever again.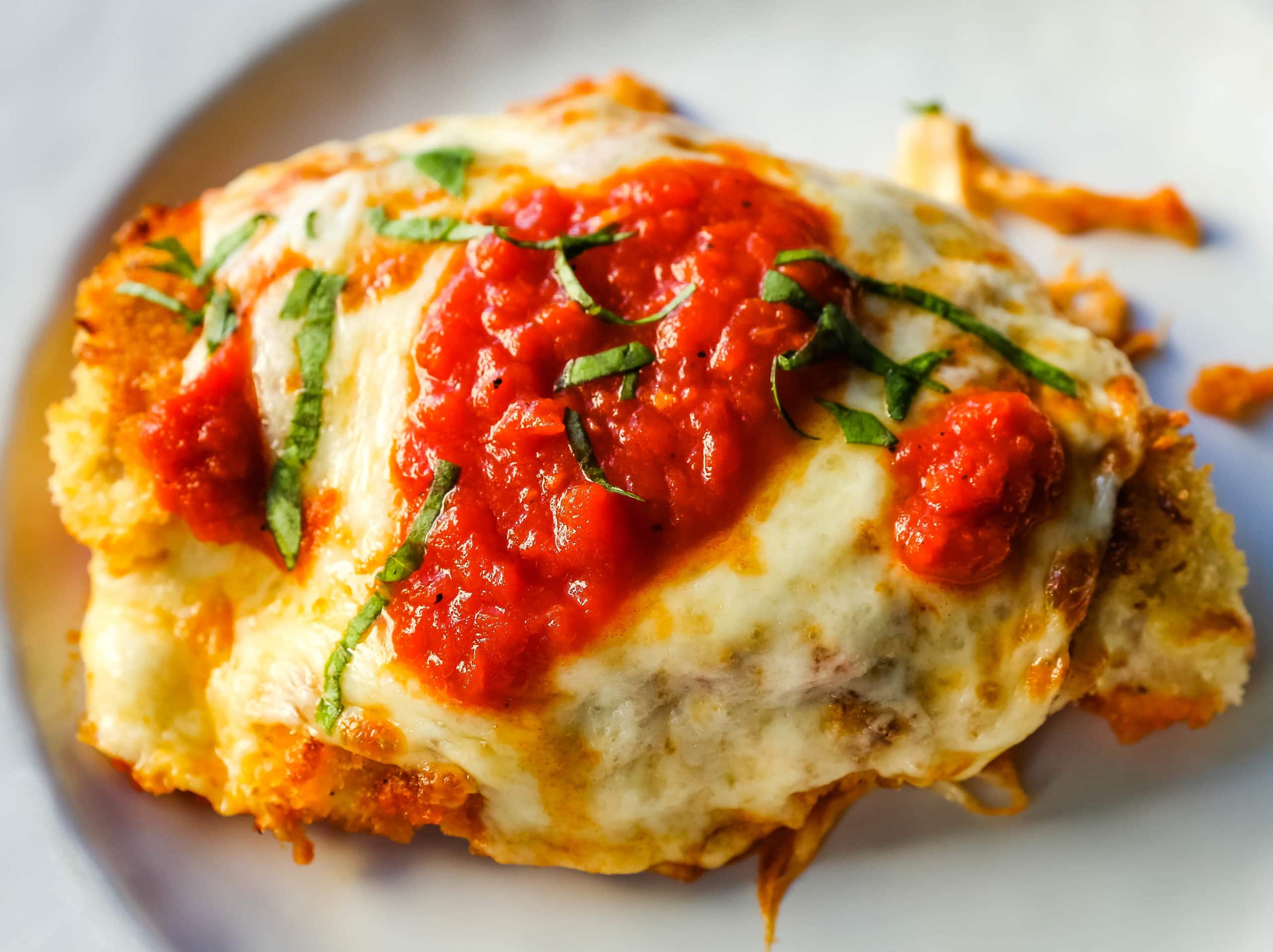 This is how it has been with chicken parmesan. I have tried out so many different variations and am finally ready to share my favorite chicken parmesan recipe! It all comes down to the details — the ingredients used and the different techniques that ultimately affect the final product. So now I can say this is the best chicken parmesan!
Here's the deal — chicken parmesan can come out soggy, too bland, dry chicken, too dry bread crumbs, not enough cheese, not enough flavor. So I wanted to say goodbye to all of those issues and create a tender chicken breast coated in flavorful, crispy bread crumbs with a robust marinara sauce with fresh basil and an overabundance of melted mozzarella cheese.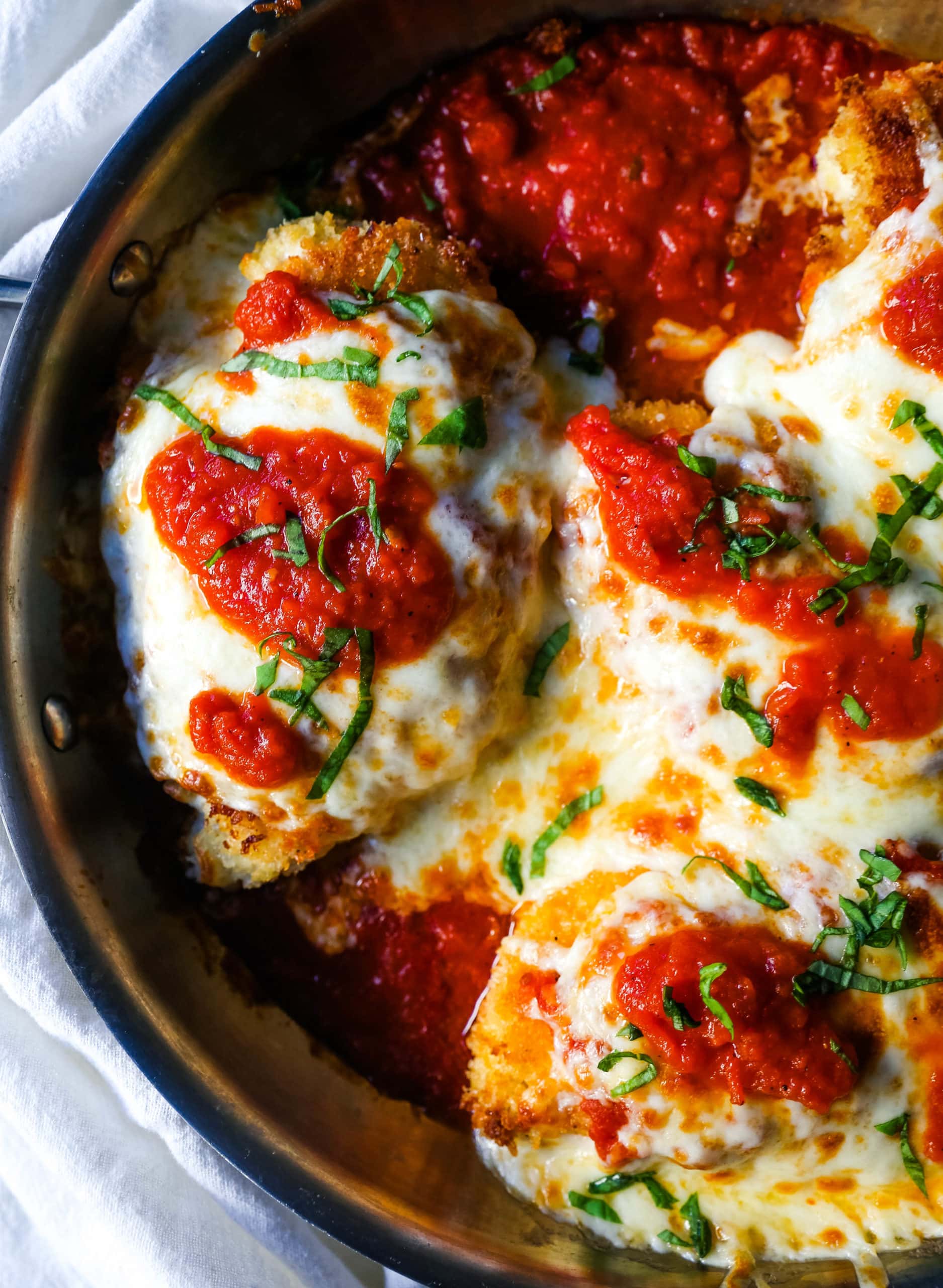 Here's how to solve some of the chicken parmesan issues from the past. First, it is important to start out with thinly sliced chicken breasts. This helps the chicken to cook quicker, more evenly, and have a better breading to chicken ratio. I suggest buying thinly-sliced chicken breasts straight from the grocery store or you can slice a regular chicken breast in half lengthwise.
I have tried different types of bread crumbs — traditional, Italian flavored, Panko, and half-n-half of traditional and Panko. I have determined that panko bread crumbs create the crispiest coating that stays on the chicken. The key is to dip the chicken into an egg mixture first and to make sure to press the panko bread crumbs onto the chicken. I do a double coat into the panko bread crumbs to ensure it really adheres to the chicken.
Another important tip is to SEASON the bread crumbs. By adding garlic powder and black pepper, it helps to create flavor in all of the layers of the chicken parmesan. It is integral to sprinkle salt all over the chicken before dipping it to give the chicken flavor.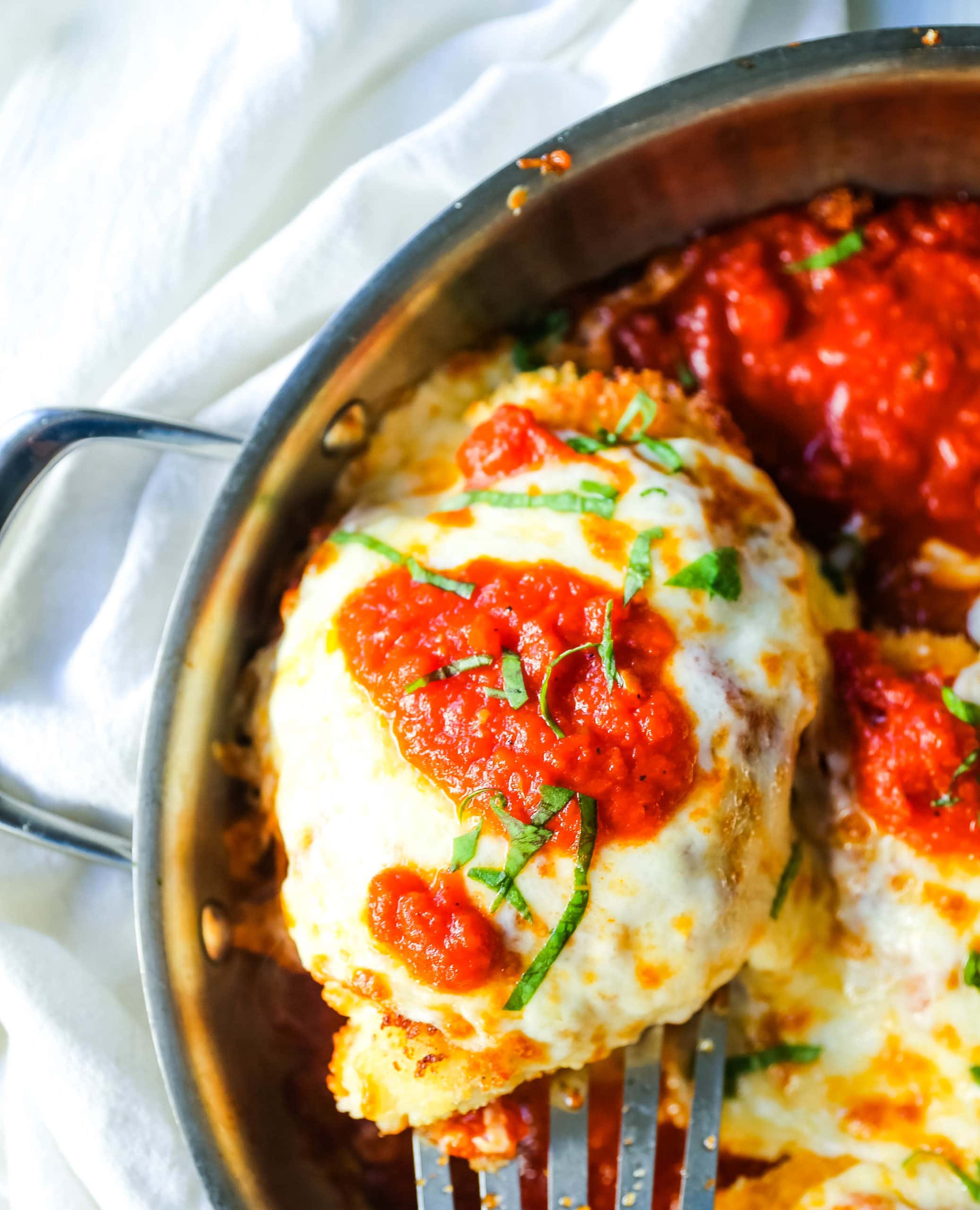 Once it is time to cook the chicken, you want to heat your skillet to medium-high heat. Add both butter and oil to seal in the flavor and also create the most golden panko crust. Cook for about 4 minutes per side, depending on the thickness of the chicken.
You can make your own homemade marinara sauce or use a jarred variety. Heat up your marinara sauce while the chicken is cooking.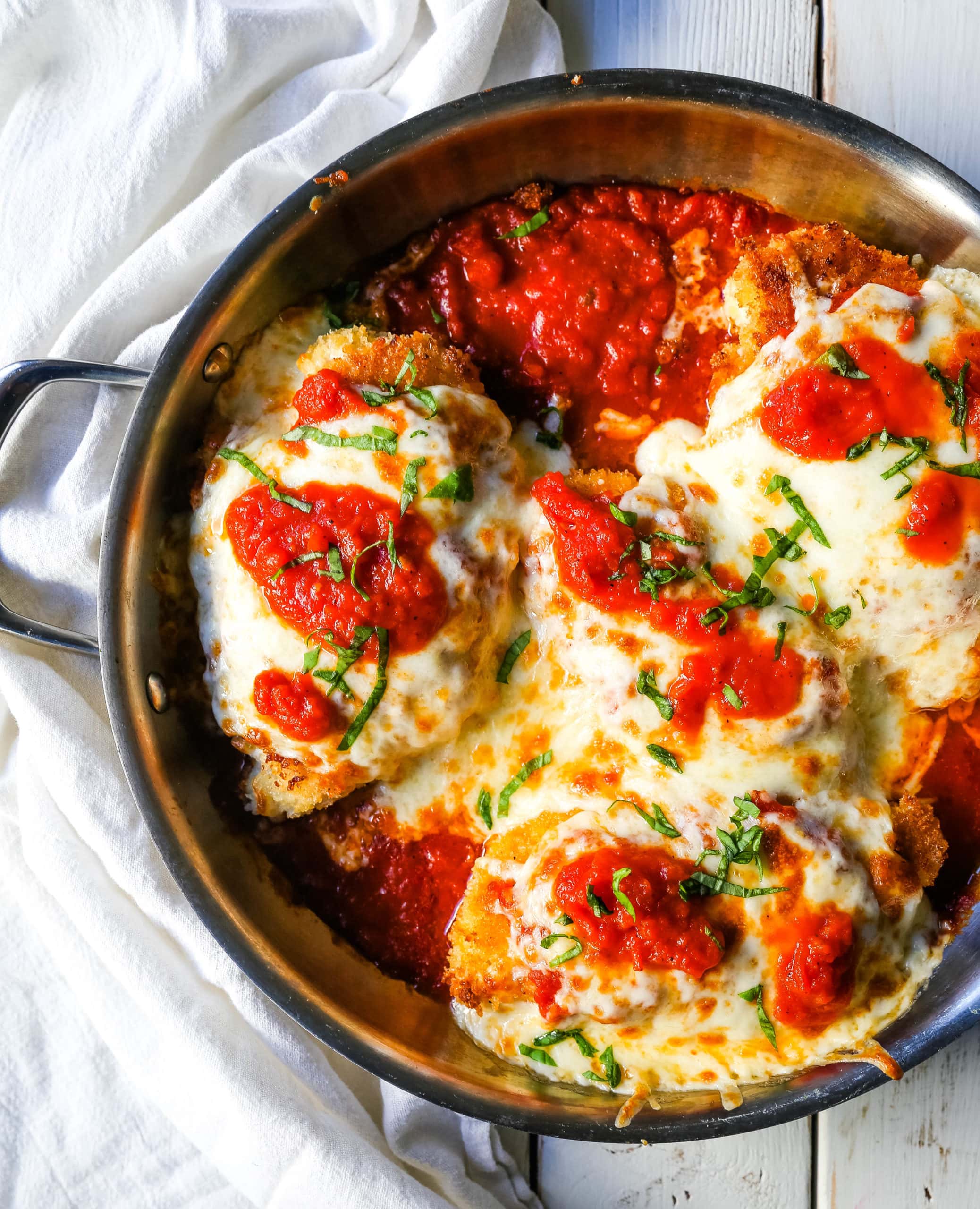 This chicken parmesan recipe calls for two types of cheese — mozzarella and parmesan. I love to use whole milk mozzarella cheese instead of part-skim mozzarella since it is much creamier and richer. The extra fat makes a big difference. If at all possible, I prefer to grate my cheese fresh instead of buying pre-grated cheese. It just melts so much better!
Let the cheeses in this chicken parm to get nice and bubbly in the oven by placing it under the broiler. It makes all the difference!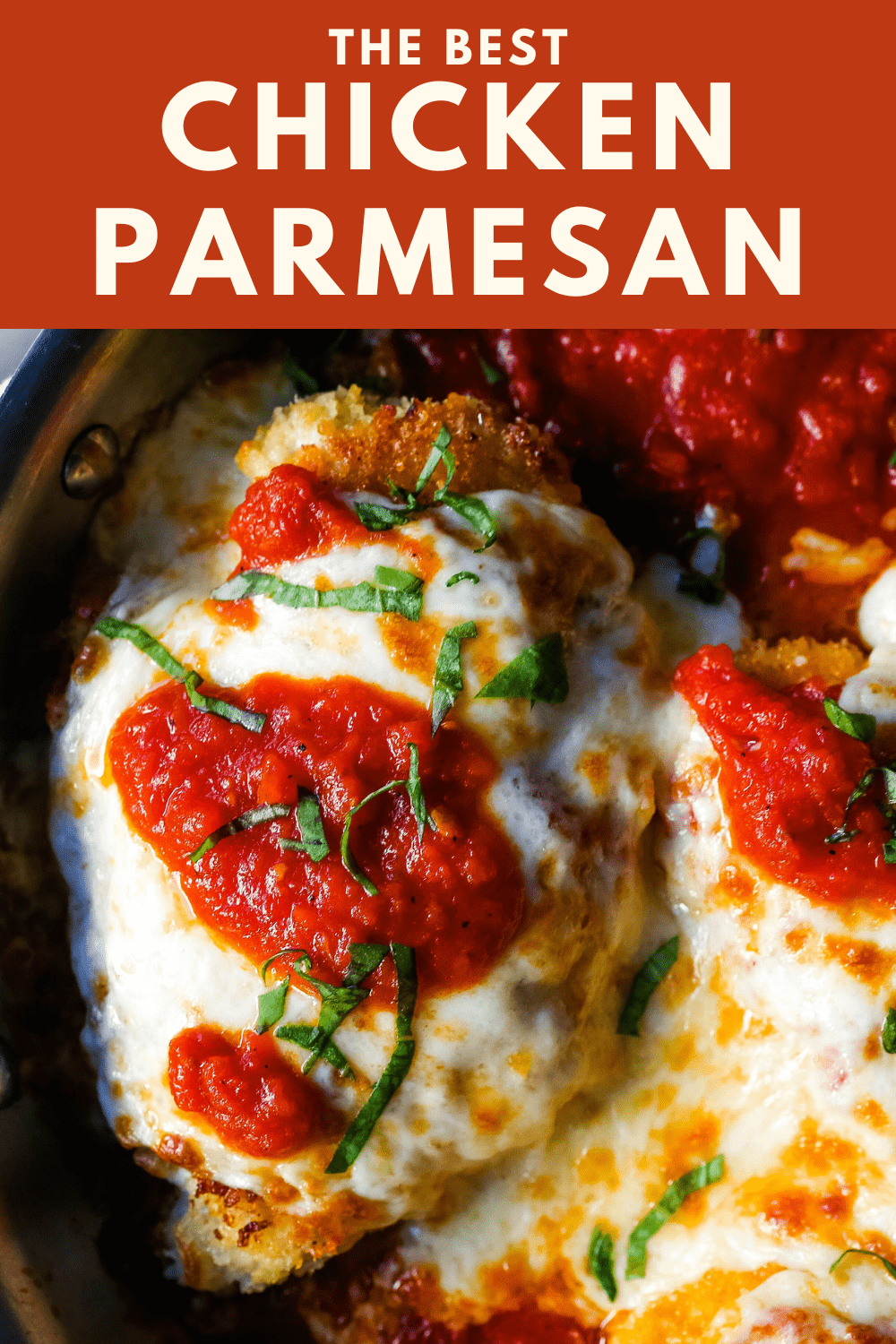 Pin this now to find it later
Pin It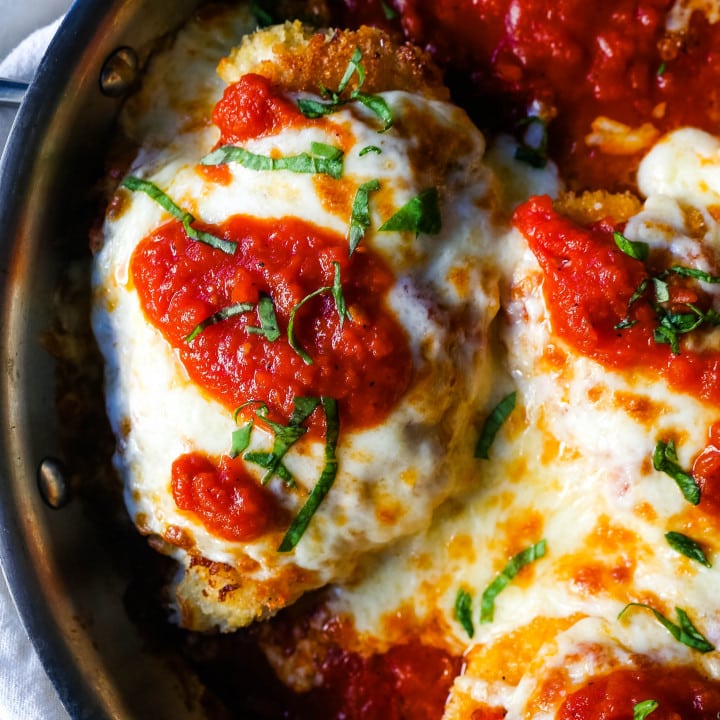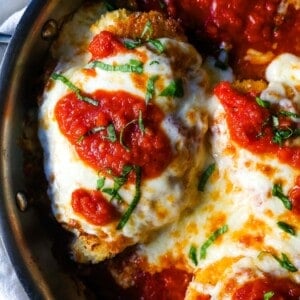 Chicken Parmesan
Chicken Parmesan. Panko-crusted chicken breast topped with homemade marinara sauce, melted whole milk mozzarella, and parmesan cheeses and baked until golden and bubbly. 
Ingredients
4

Thinly Sliced Chicken Breasts

(chicken breast sliced in half lengthwise or purchased as thin sliced)

Salt

2

large

Eggs

8

ounces

Panko Bread Crumbs

1

teaspoon

Garlic Powder

1

teaspoon

Pepper

3/4

cup

Parmesan Cheese

(reserve 1/2 cup for topping)

2

Tablespoons

Olive Oil

2

Tablespoons

Salted Butter

3 to 4

cups

Italian Tomato Sauce

(see link below for homemade sauce)

1

lb.

Whole-Milk Mozzarella Cheese

(shredded)

1/4

cup

Fresh Basil Leaves
Instructions
Preheat oven to 375 degrees. Sprinkle salt all over the chicken breasts (make sure they are thinly sliced).

In a shallow dish, whisk eggs together. Place panko bread crumbs and 1/4 cup of parmesan cheese into a shallow pan. Stir in garlic powder and pepper. Dip chicken into the egg mixture and coat well. Then immediately dip chicken into the panko mixture, pressing the bread crumbs into the chicken. Repeat with the remaining chicken and set aside.

Heat skillet over medium-high heat. Add oil and butter. Add chicken to skillet and cook for 3-4 minutes per side, depending on the thickness of the breast. Once the panko bread crumb coating is a golden color, then you will know it is ready to be flipped to the other side.

Add 1/2 of the sauce to a baking dish or a skillet. Place the chicken breasts on top of the sauce. Sprinkle mozzarella and remaining 1/2 cup of parmesan cheese over the chicken. Place dollops of tomato sauce all over the chicken. Place in oven and cook at 375 degrees until the cheese is melted and bubbly and the chicken is cooked through -- about 7-8 minutes.

To get the cheese golden and bubbly, place the oven to the broil setting. Put the pan on the top rack and cook for 2 minutes until the cheese is golden. Top with fresh basil and serve.
Nutrition information is automatically calculated, so should only be used as an approximation.