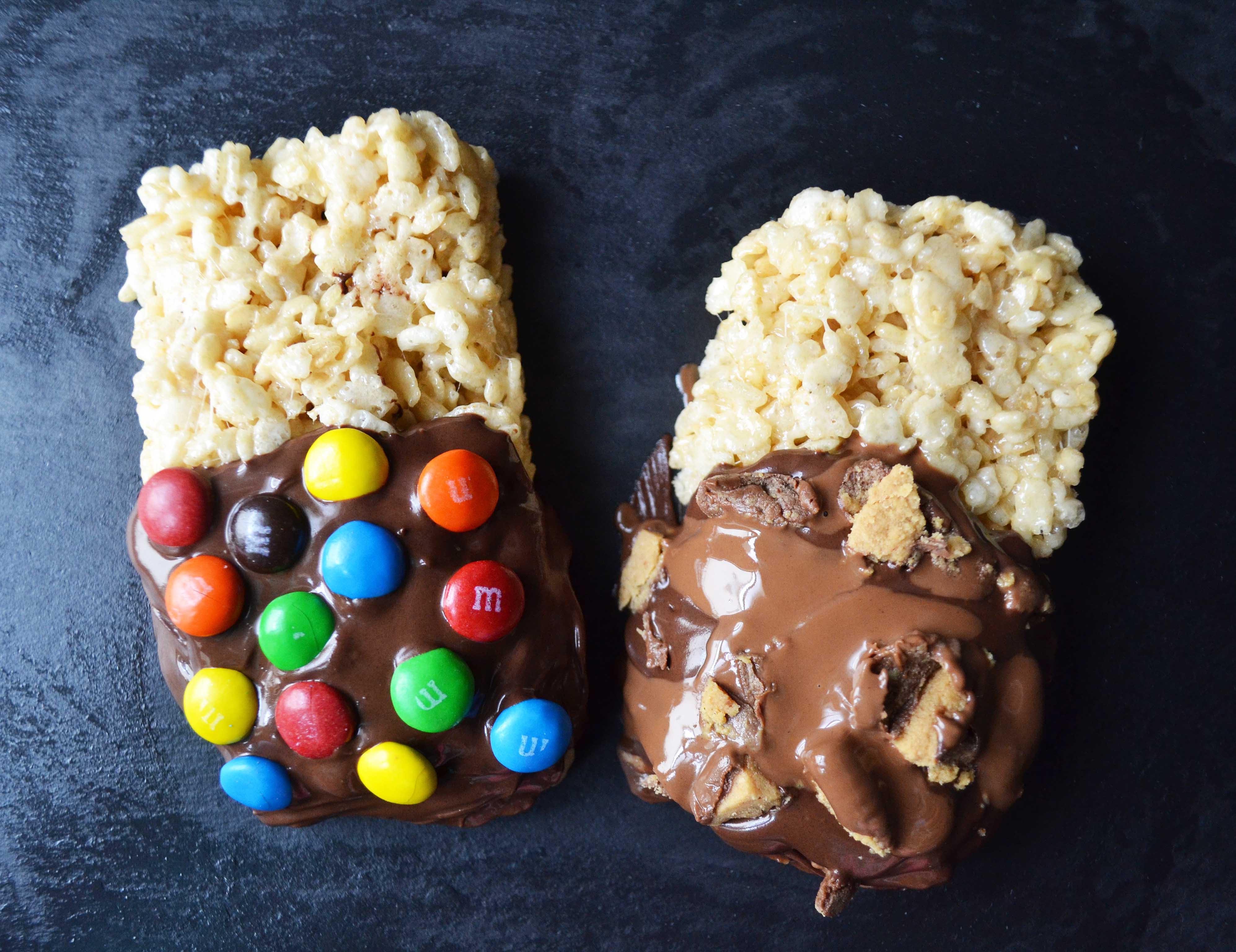 As a little kid I would beg my Mom to let me bake every single day. First I had to first make sure that my room was spick and span, which was great incentive to get it cleaned.  I would then sit on the counter and thumb through my Mom's cookbooks for hours, looking for that recipe that I was dying to make. Rice Krispies Treats were always a favorite because they were so easy to make.  It literally consisted of 3 ingredients and all you had to do was dump and stir. I always followed the directions to a T, but found that sometimes my Rice Krispie treats turned out hard and dry (insert angry emoji).
I figured there must be a better way. So I started experimenting by lessening the amount of cereal which meant that the ratio of marshmallows to cereal became higher. Is it ever bad to have a higher ratio of butter and marshmallows? The answer is NO. Always no! It is the butter and marshmallows that create that warm, soft, ooey, gooey Rice Krispy treat that we all love.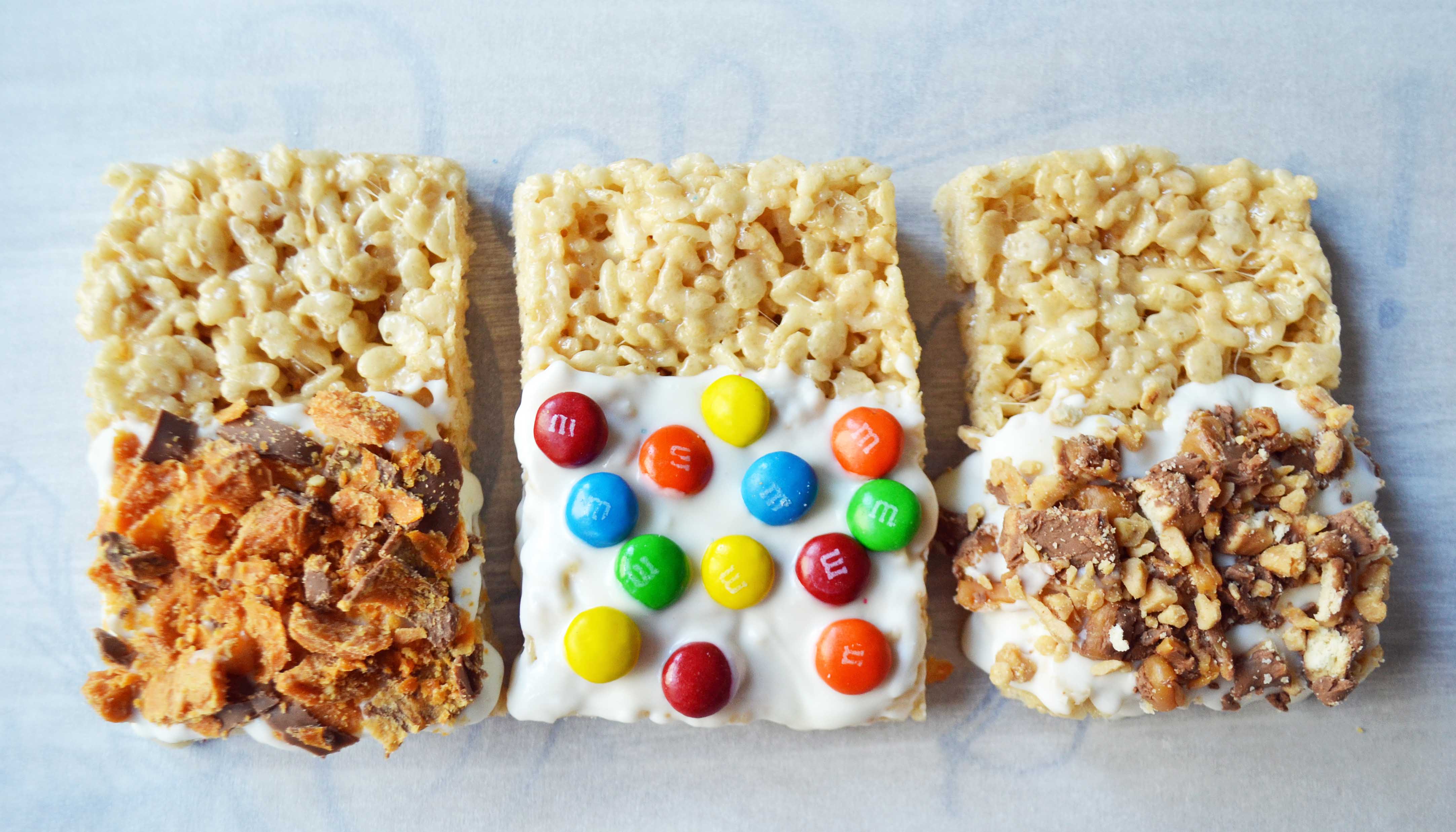 Disneyland is known for their treats. I salivate just thinking about them.  I can always manage walking a ridiculous amount of steps in order to justify another trip to the Pooh Corner bake shop. That's where I first ate a chocolate dipped Rice Krispie Treat. It was heavenly and I couldn't wait to get home and re-create it. I wanted to eat that heavenly treat while sitting in my jammies, on the couch, watching the Bachelor.
Even though Rice Krispies treats are way good on their own….what if we dipped them in chocolate? Oh and then sprinkled on candy bar on the top?
GAME OVER.
We have just taken them up a notch and it's going to be tough going back to the original once we've topped it with decadent chocolate, sprinkles, and candy bars.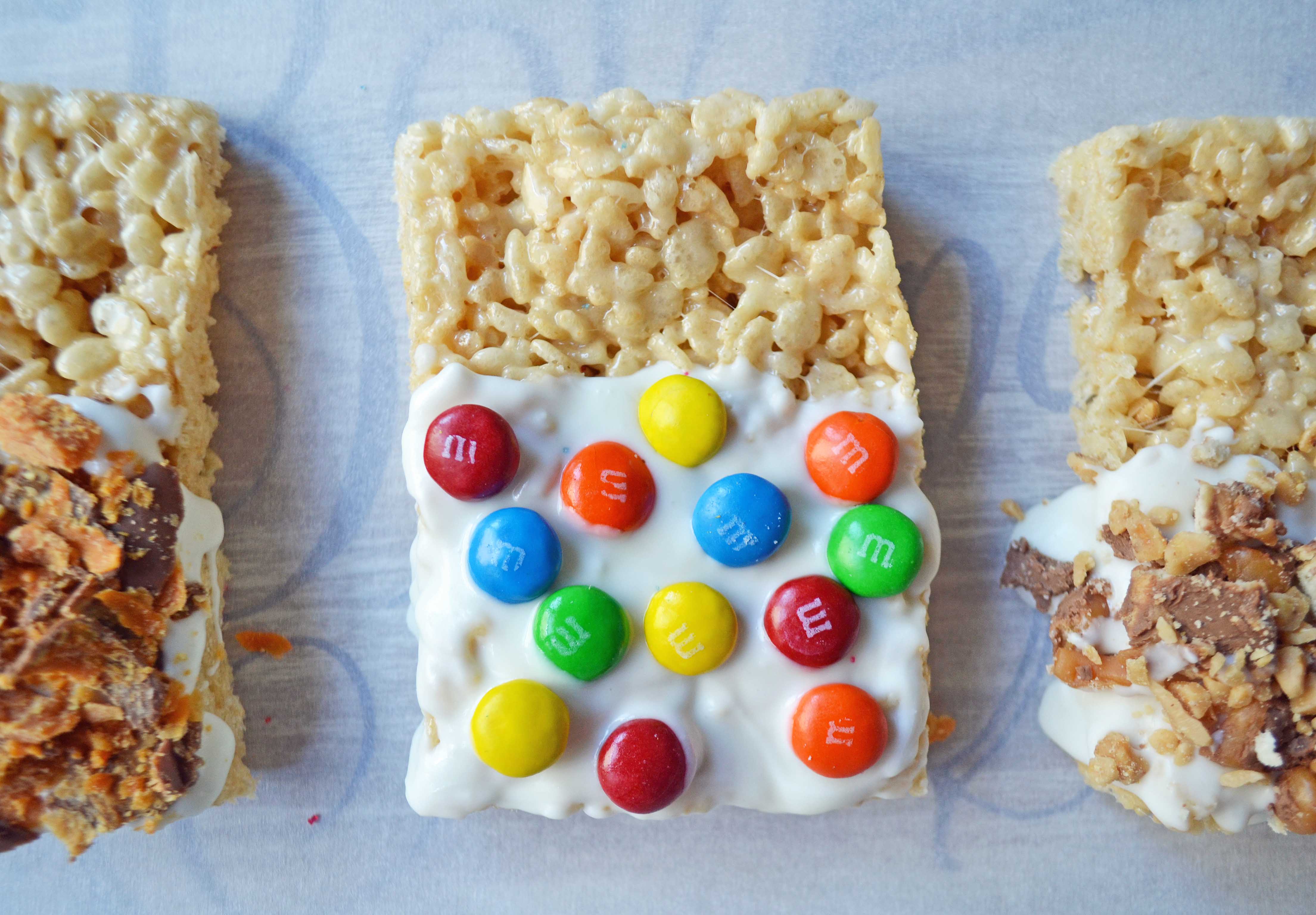 Chocolate Dipped Rice Krispies Treats Dipping Details:
There are many dipping options available. You can use real white chocolate chips (such as Guittard or Ghiradelli) but know that white chocolate burns very easily. I would suggest using a double boiler or microwaving at the lowest heat for 15 seconds at a time, stirring after each time until melted. You could also use Ghiradelli or Baker's dipping chocolate, CandiQuik, or Almond Bark.
Milk, semi-sweet, and dark chocolate is much easier to melt as it isn't as temperamental as the white chocolate. I would still suggest microwaving it at a medium heat for short bursts, stirring after each time.
Wait until the Rice Krispie treat has cooled and is firm to dip into the chocolate.  You can also take a spoon and spread the chocolate over half of the treat, letting it cover the sides and then place on waxed paper, parchment paper, or a silpat to firm up. If you need them in a hurry, you can place them in the refrigerator or freezer to expedite the process.
Have the toppings ready to sprinkle on the top because you want to add them while the chocolate is still shiny and warm so that it will adhere to the chocolate.
Let it set up at room temperature for at least 20-30 minutes.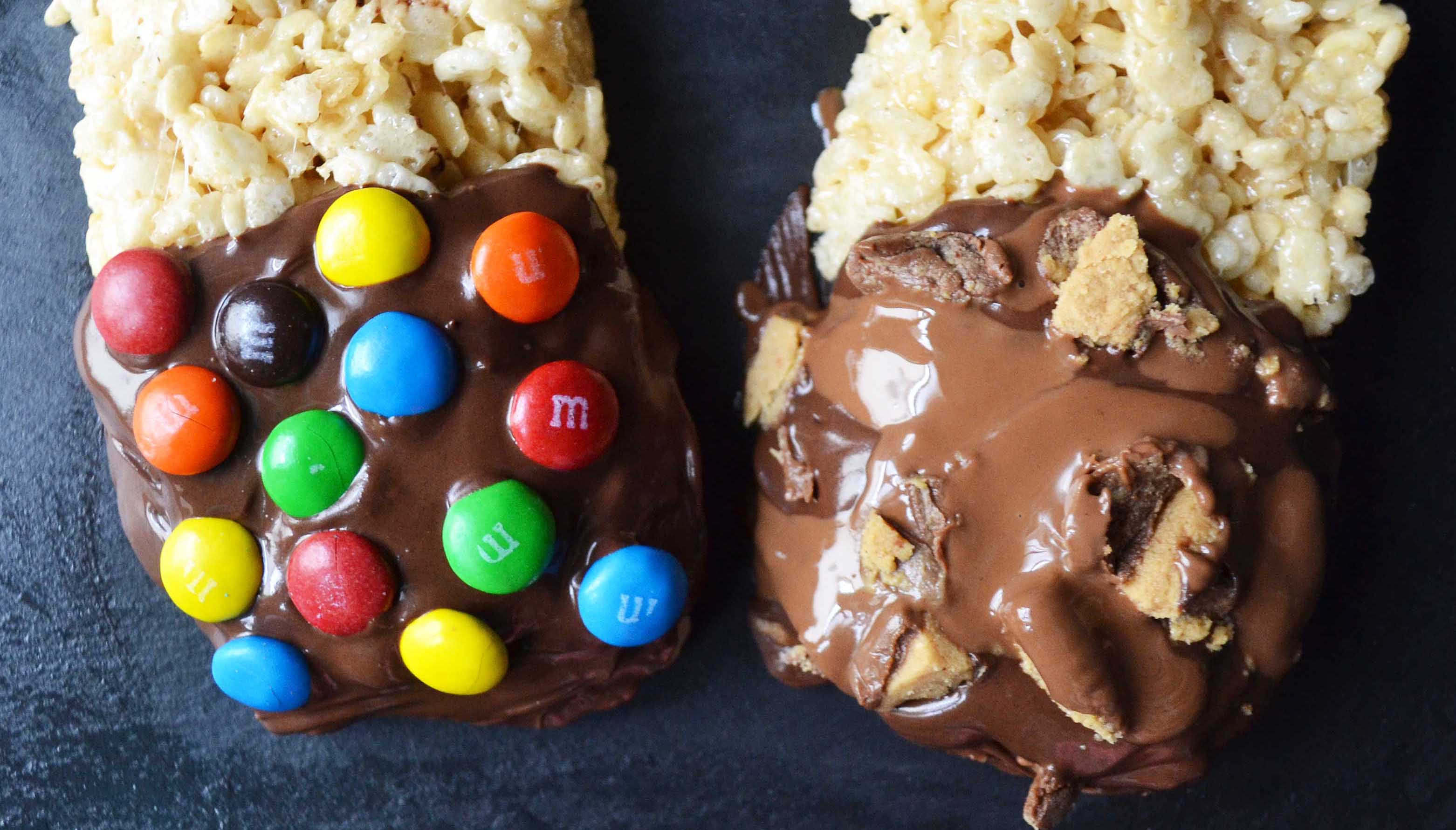 CHOCOLATE DIPPED RICE KRISPIES TREATS TOPPING IDEAS:
M & M's
Butterfingers
TWIX Bar
Reese's Peanut Butter Cups
Reese's Pieces
Heath Bar
Kit Kat
Milky Way
Sprinkles
Sparkling Sugar
Coconut
Nuts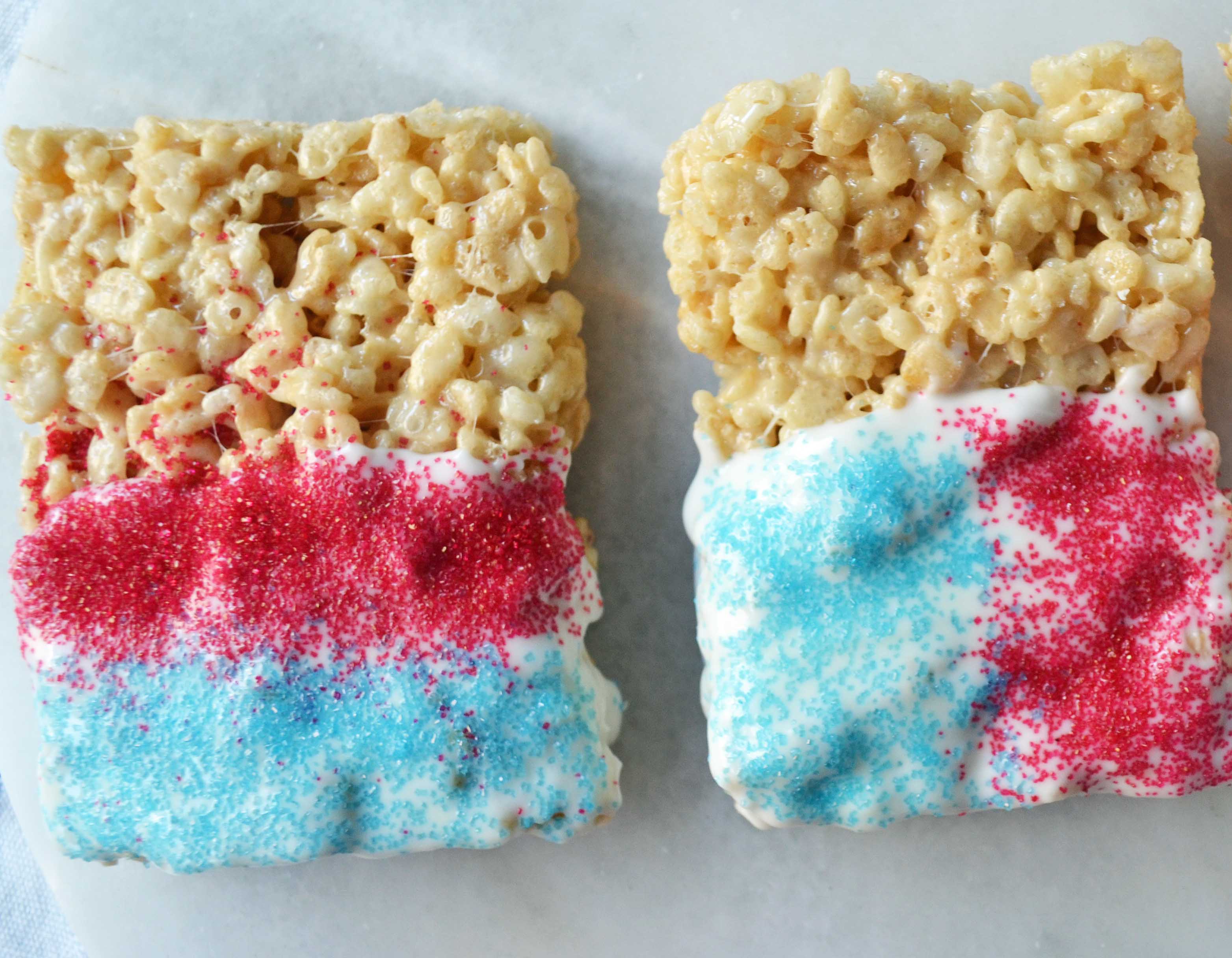 Pin this now to find it later
Pin It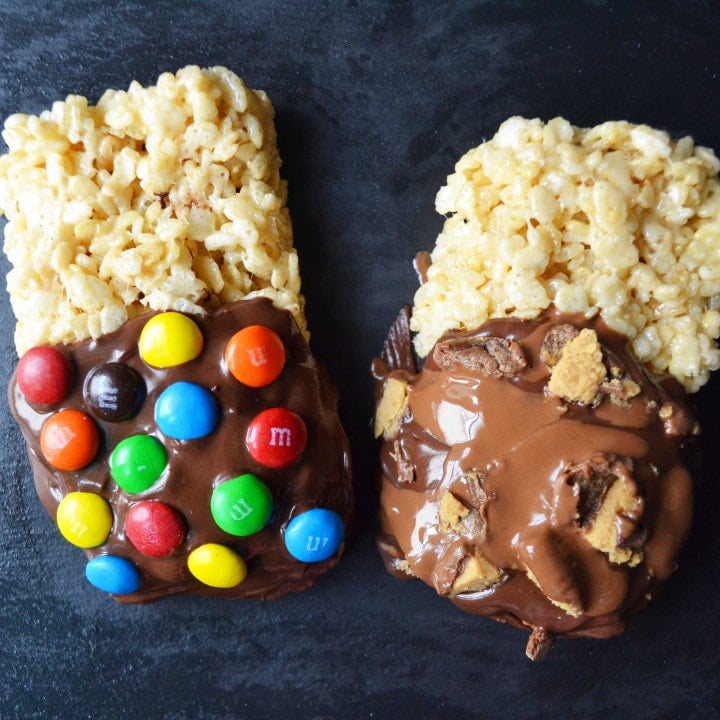 Chocolate Dipped Rice Krispies Treats
How do you make a Rice Krispie Treat even better? By dipping it in chocolate and rolling it in your favorite candy bars.
Ingredients
3

Tablespoons

Butter

5

cups

Marshmallows

4

cups

Rice Krispies Cereal

8

ounce

Melting Chocolate

Ghiradelli, Baker's, Guittard, CandiQuik, Almond Bark, etc.

White Chocolate

Milk Chocolate

Semi-Sweet Chocolate

Dark Chocolate
Topping Ideas:
M & M's

Butterfinger

TWIX

Reese's Peanut Butter Cups

Reese's Pieces

Heath Bar

Kit Kat

Milky Way

Sprinkles

Sparkling Sugar

Coconut Nuts
Instructions
In a large pot, heat butter until melted over medium low heat. Add marshmallows and stir until melted. Turn off heat and add marshmallows.

Pour into greased 8 x 8 pan and press on treats with fingers. Let firm for at least 30 minutes.

Cut into rectangles or squares.

Melt chocolate over low heat in double boiler or on low setting on microwave, stirring often. Once melted, dip Rice Krispie treat into chocolate or spread chocolate with spoon onto treat. Place on wax or parchment paper.

Dip or sprinkle candy bar toppings onto treat while chocolate is warm so it will adhere to it.

Let sit at room temperature to harden for at least 30 minutes to 1 hour.

**Can double recipe to be put into 9 x 13 pan.
Nutrition information is automatically calculated, so should only be used as an approximation.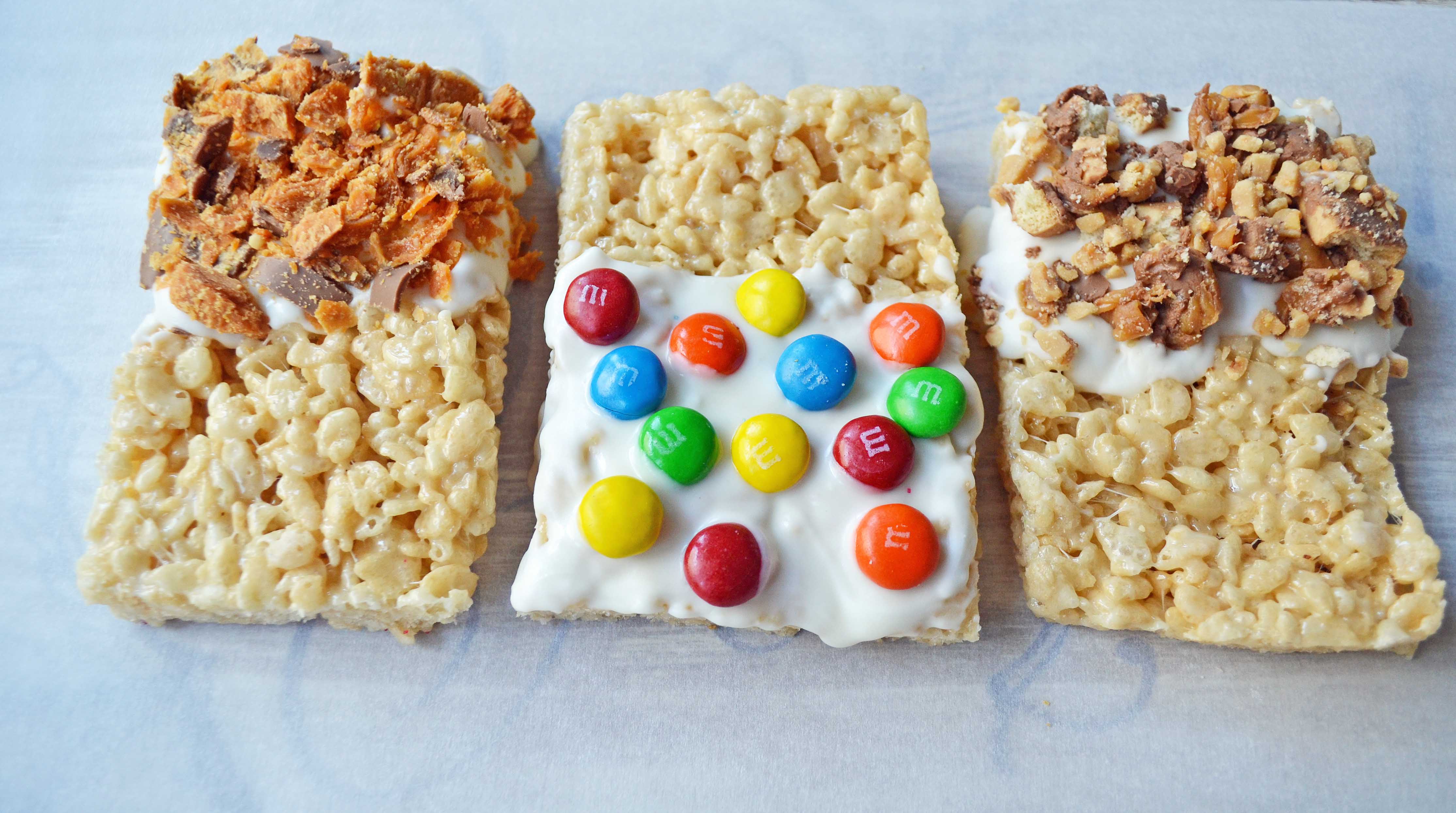 The options are endless with these Chocolate Dipped Rice Krispies Treats so dip away! I hope everyone has a fabulous 4th of July with family and friends. xoxo
Happy Baking!