Chocolate Oatmeal
A decadent double chocolate oatmeal is rolled oats mixed with creamy coconut milk, cocoa, and chocolate chunks. A rich, heavenly breakfast!
I am not going to lie...anytime I can eat some chocolate first thing in the morning, I am SOLD. This decadent chocolate oatmeal bowl is all about indulgence for breakfast. It is perfect to serve guests when they are staying in your home for a simple yet gourmet breakfast. They say, "go big or go home" so let's go BIG.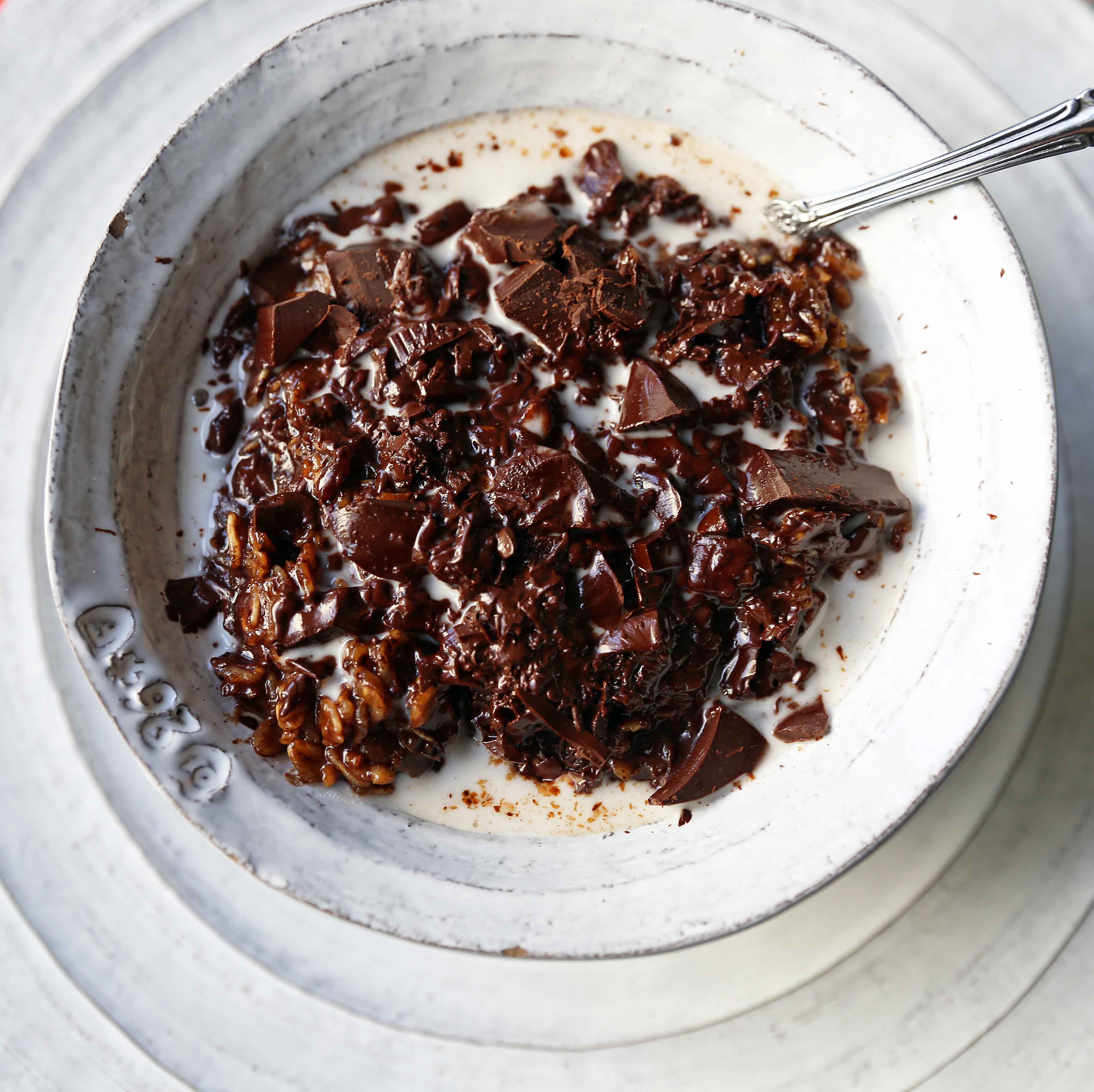 What ingredients are in Chocolate Oatmeal?
It all starts with rolled oats, your favorite type of milk (if you want to truly indulge, use canned coconut milk), real maple syrup or brown sugar to sweeten, unsweetened cocoa powder, and semi-sweet chocolate. You can even top it with coconut flakes. I used canned coconut milk in my recipe for extra decadence.
How to make Chocolate Oatmeal:
 Start by cooking rolled oats and 1 ½ cups of your milk of choice (canned coconut milk, unsweetened coconut milk, whole milk, or almond milk) over medium-low heat.  Make sure to salt the oatmeal as it brings out the flavor. Cook for about 15 minutes.
Remove from heat and stir in 100% real maple syrup or brown sugar to sweeten.  Stir in unsweetened cocoa powder. Stir in half of the chocolate. After it is mixed together, drizzle in remaining milk. Taste and sweeten more, if so desired.
When ready to serve, top with remaining semi-sweet chocolate chunks. Drizzle with more milk, if so desired. Serve with coconut flakes. Serve warm.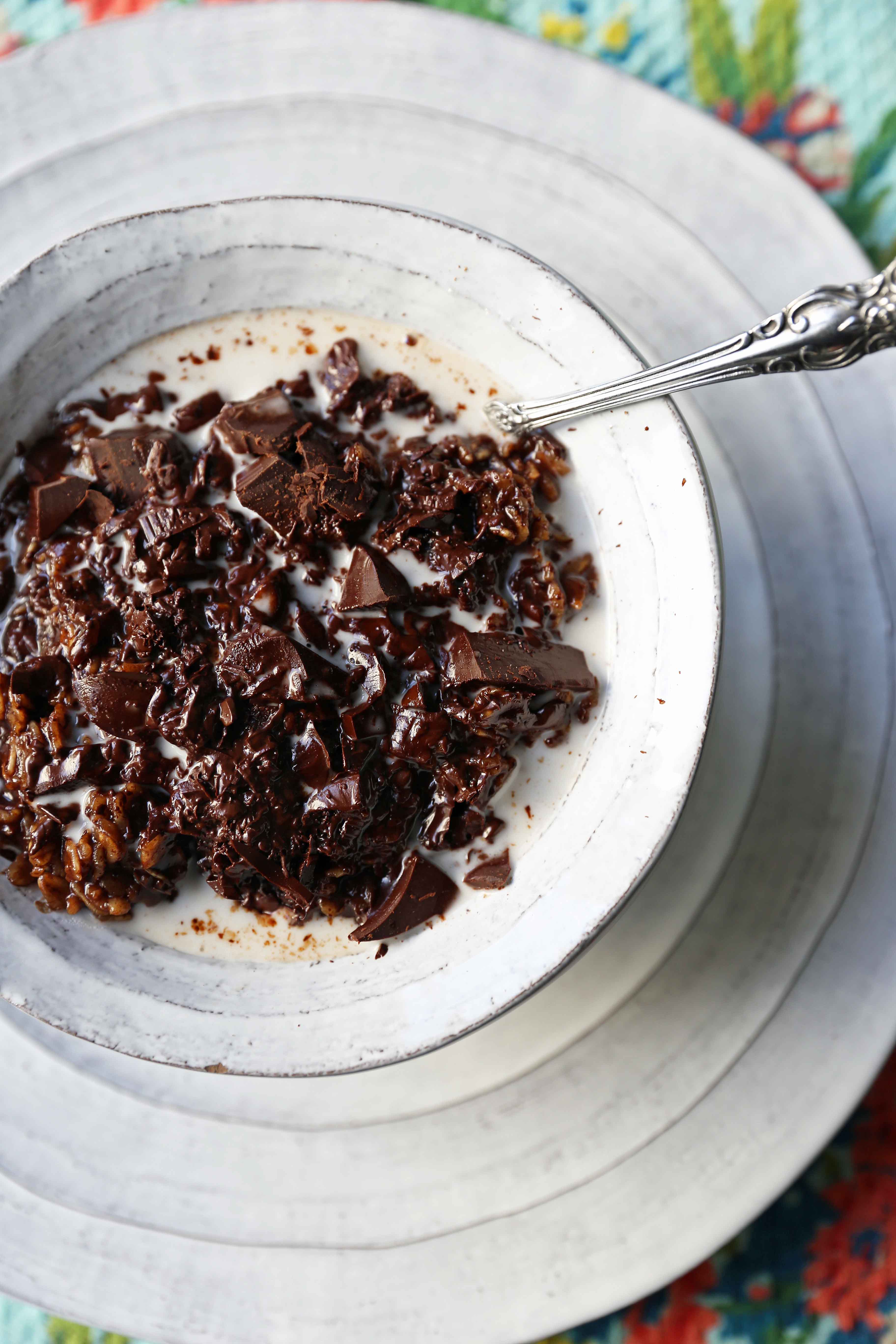 If you are looking for more oatmeal recipes, check out my Oatmeal with Toppings post that lists all kinds of combinations.
FOLLOW ME ON:   INSTAGRAM --- FACEBOOK --- PINTEREST
*This recipe is adapted from Chocolate Oatmeal Bowls in The Pretty Dish Cookbook.
PIN on PINTEREST: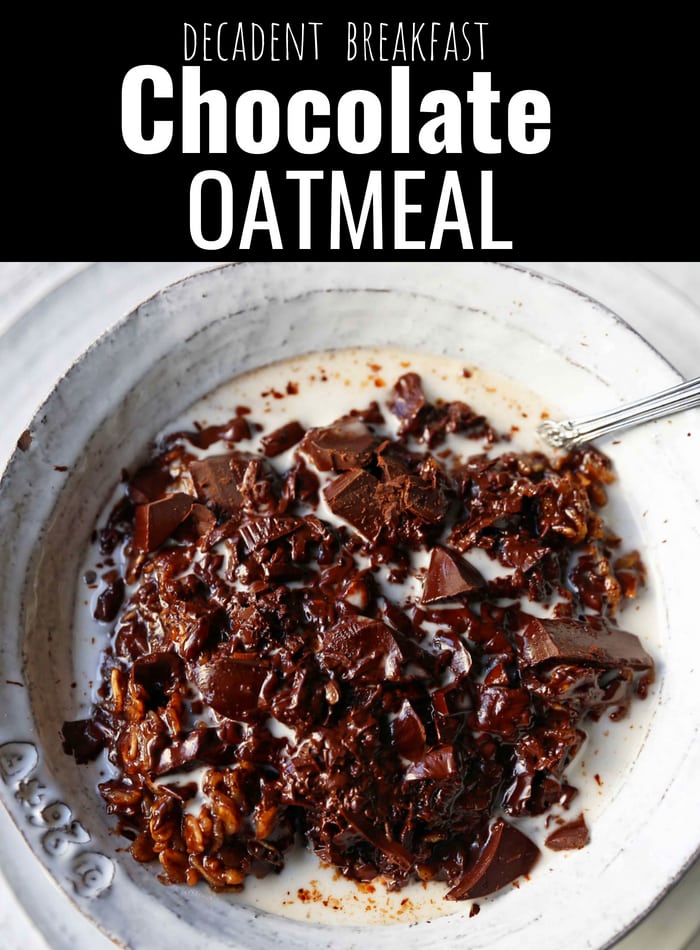 Go dig in and enjoy a warm, comforting bowl of chocolate oatmeal. You deserve it!