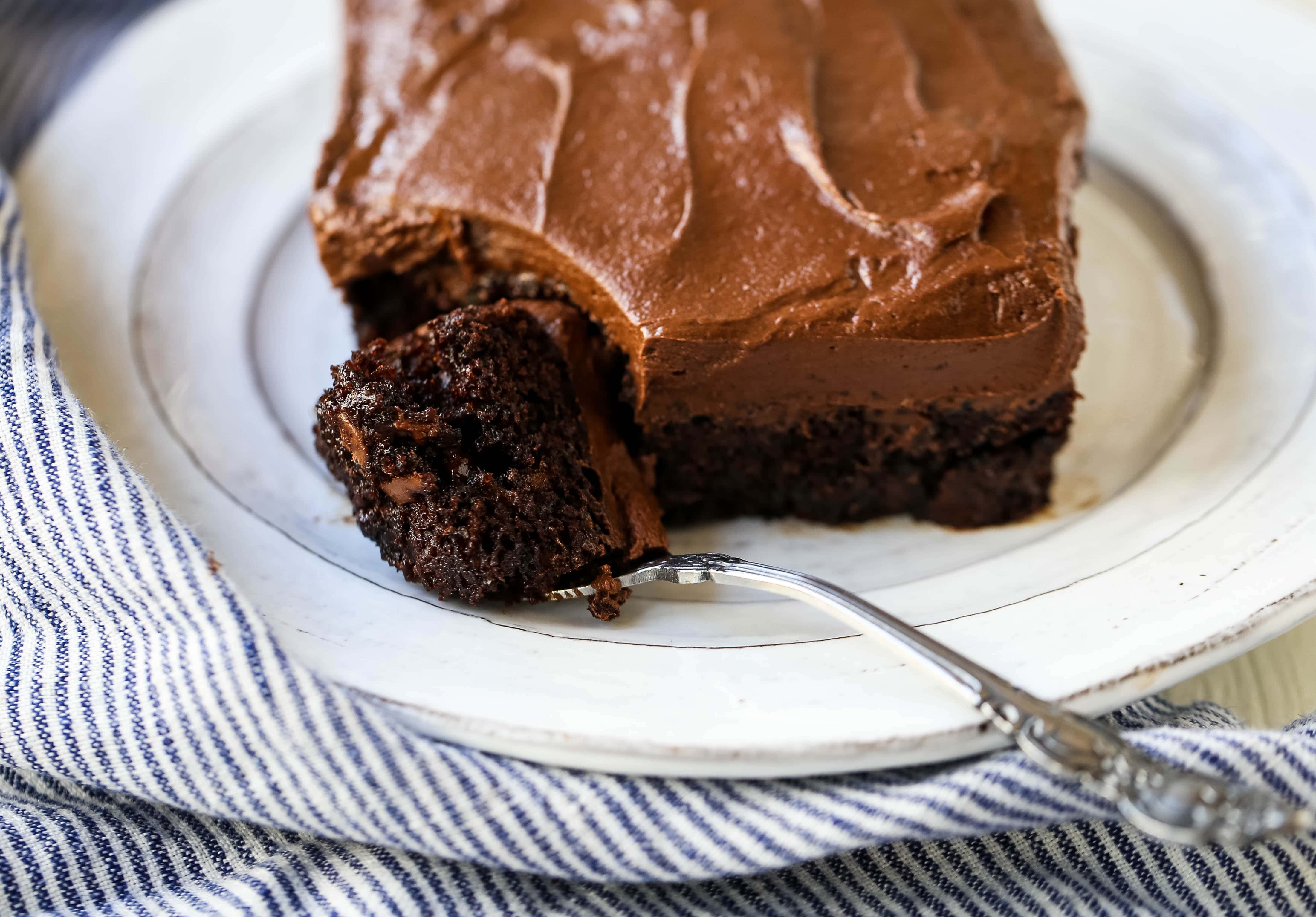 Chocolate Zucchini Cake
Moist chocolate cake with grated zucchini with a rich chocolate buttercream frosting. You can't even taste the zucchini so this is definitely the best way to eat your vegetables!
It is summertime and zucchini is growing in gardens everywhere. I have a very small garden filled mostly with herbs and peppers but I dream of a garden full of plentiful zucchini. While I wait for my zucchini to grow, I head over to the grocery store and load up my cart with so much zucchini. I recently found it for 33 cents per lb which is an unbelievable steal so I stocked up.
The first recipe I wanted to create was definitely a chocolate cake. The beauty of zucchini is that it can be disguised so well in recipes. You don't even taste it! Since I already have a killer chocolate cake recipe and a chocolate zucchini bread recipe, I thought I would combine the two recipes and make the perfect chocolate zucchini cake recipe!
I added 3 cups of grated zucchini to this cake and I am telling you that you can't even taste it at all! It is seriously a magical chocolate cake with hidden zucchini. The zucchini just makes the chocolate cake extra moist which is a win-win.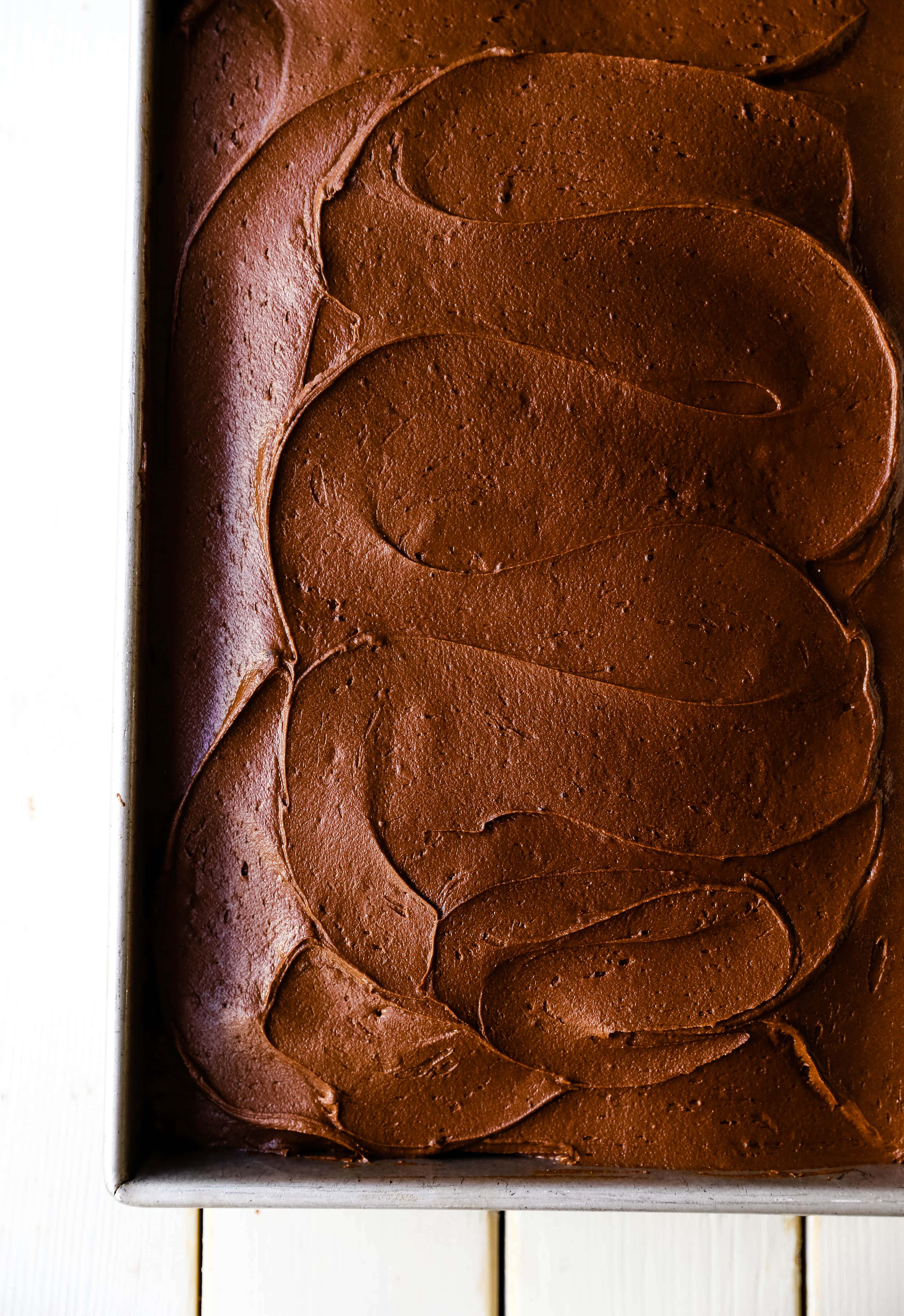 After some experimentation with cakes, I found that oil creates the moistest cake texture.  Sour cream is also a game changer in this chocolate zucchini cake as it adds the right amount of fat to keep it extra tender. Once you frost this zucchini cake with chocolate frosting, it becomes a show-stopping dessert.
How to make the Best Chocolate Zucchini Cake:
Start by grating the zucchini. Once the zucchini is grated, I spread it out on paper towels to let them soak up some of the liquid from the zucchini.
Mix together the oil, sugar, brown sugar, eggs, and vanilla until creamed together. I usually reach for canola oil in my cakes.
Stir in the grated zucchini and sour cream. I prefer to use full-fat sour cream in my cake recipes.
Add dry ingredients and mix only until combined. You want to avoid over-mixing as it will create too much gluten in the cake.
Bake only until a toothpick comes out clean when placed in the center of the cake.
Cool completely and then frost with homemade chocolate buttercream frosting.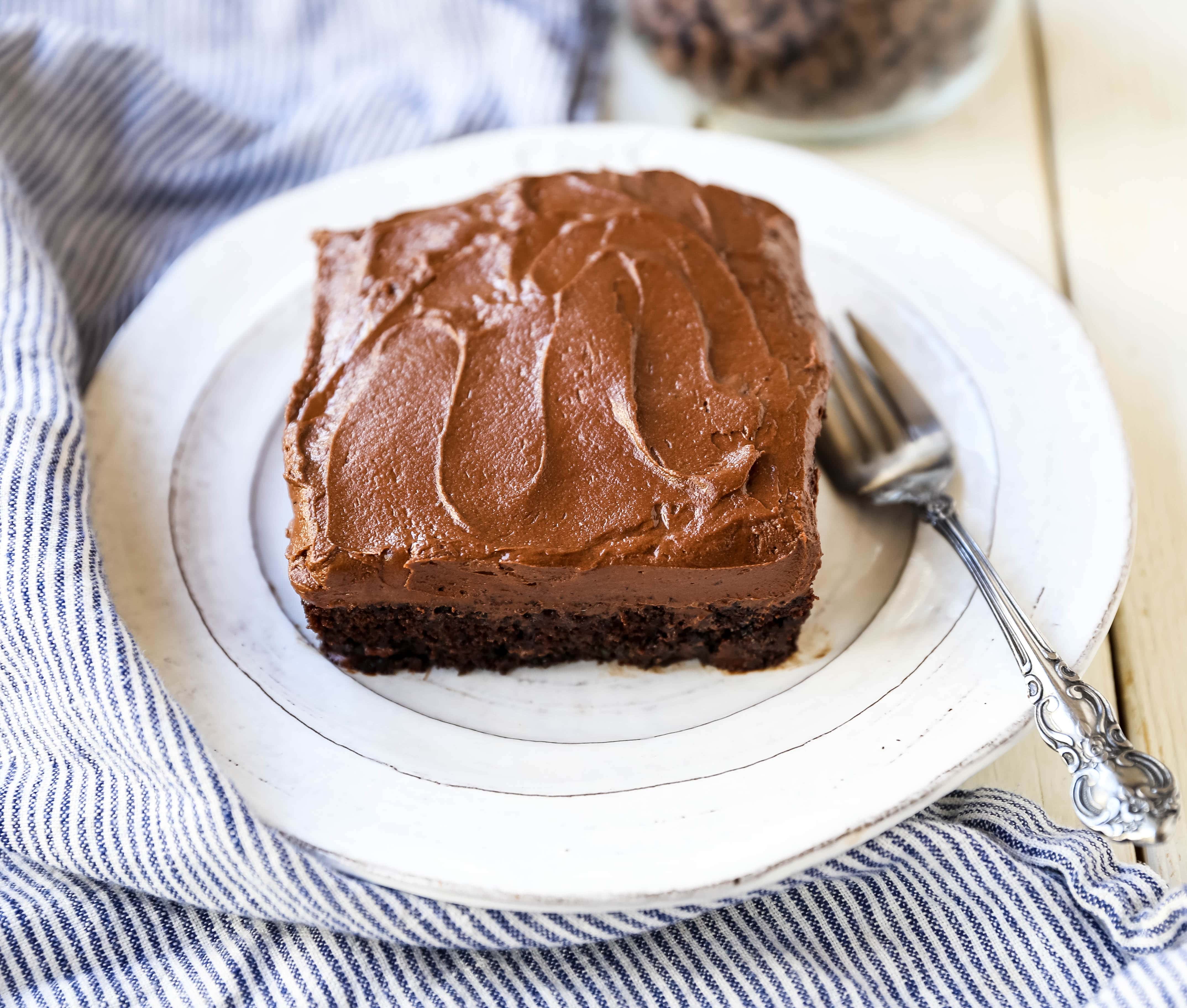 Here are some popular chocolate recipes on Modern Honey:
5-Star Rated Love at First Sight Chocolate Cake 
Chocolate Zucchini Bread
Here are some of my favorite baking tools:
USA 9 x 13 baking pan
Kitchenaid Mixer
Offset spatula
I love to hear from you! If you make this recipe, please be sure to leave a comment and give this recipe a rating. Sign up for my newsletter below so you never miss a recipe. Thank you for following along! I truly do have the greatest readers. FOLLOW ME ON:   INSTAGRAM — FACEBOOK— PINTEREST