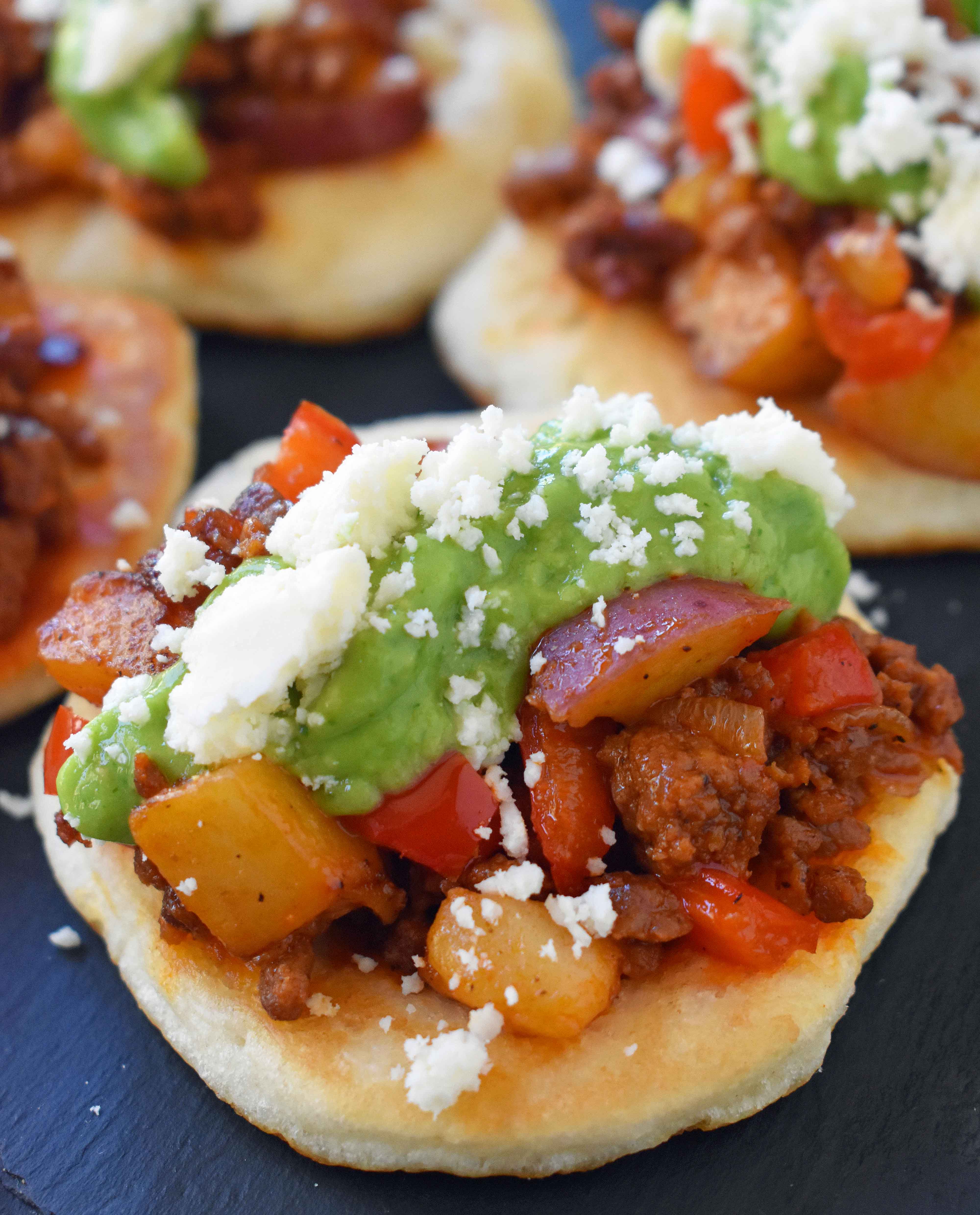 It's been said, "Dreams don't work unless you do" and I couldn't agree more. Everyone has dreams but it's all about putting in the hard work to make them happen.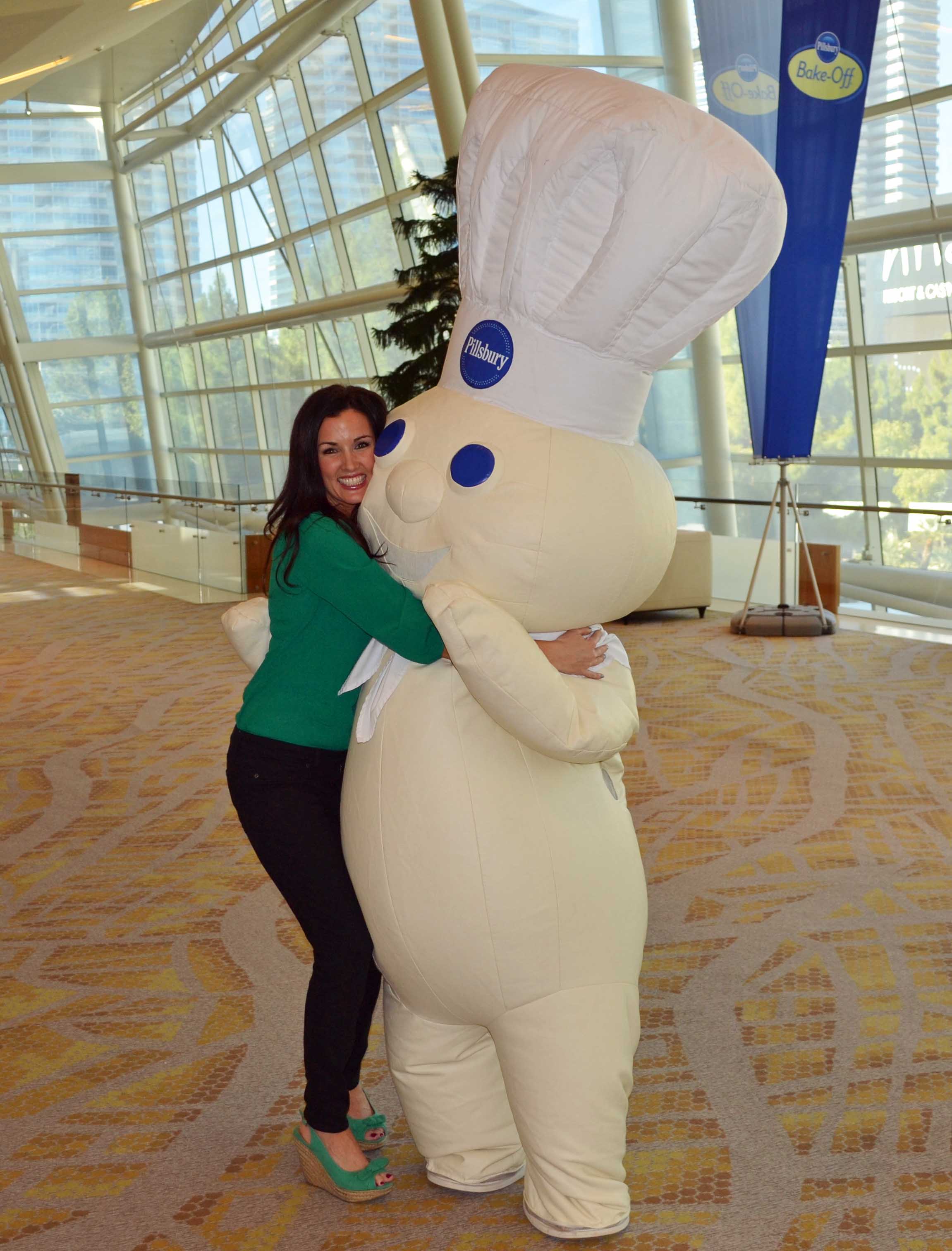 The legendary Pillsbury Bake-Off®  began in 1949 to celebrate the 80th birthday of Pillsbury.  In 1996, when I was only twenty years old, I started dreaming of competing in it one day.  I wrote my desire down on a piece of paper as one of my lofty lifelong dreams and announced to my husband that one day I was going to be in the Pillsbury Bake-Off®. Thankfully, he didn't laugh at me! Being the supportive husband that he is, he believed that someday I truly would. Many people said my chances were slim, but I kept persevering and experimenting in the kitchen….using all kinds of Pillsbury products to create unique recipes.
Finally, in 2009, I felt it was time for me to enter the contest. I spent hours and hours typing in my recipes, submitting 28 original recipes, then crossing my fingers.  It was September 1, 2009, and I was sitting in a parking lot about ready to get out of the car when my phone rung. A nice lady introduced herself as a representative from Pillsbury. She then informed me that I had been chosen to be a finalist in the Pillsbury Bake-Off®, with a chance to compete for one million dollars. It's hard to describe and put into words what I felt in that moment. It was surreal and one of the happiest moments of my life. My hard work had paid off and I was actually going to be IN the Pillsbury Bake-Off®! I think I cried happy tears for 10 minutes straight.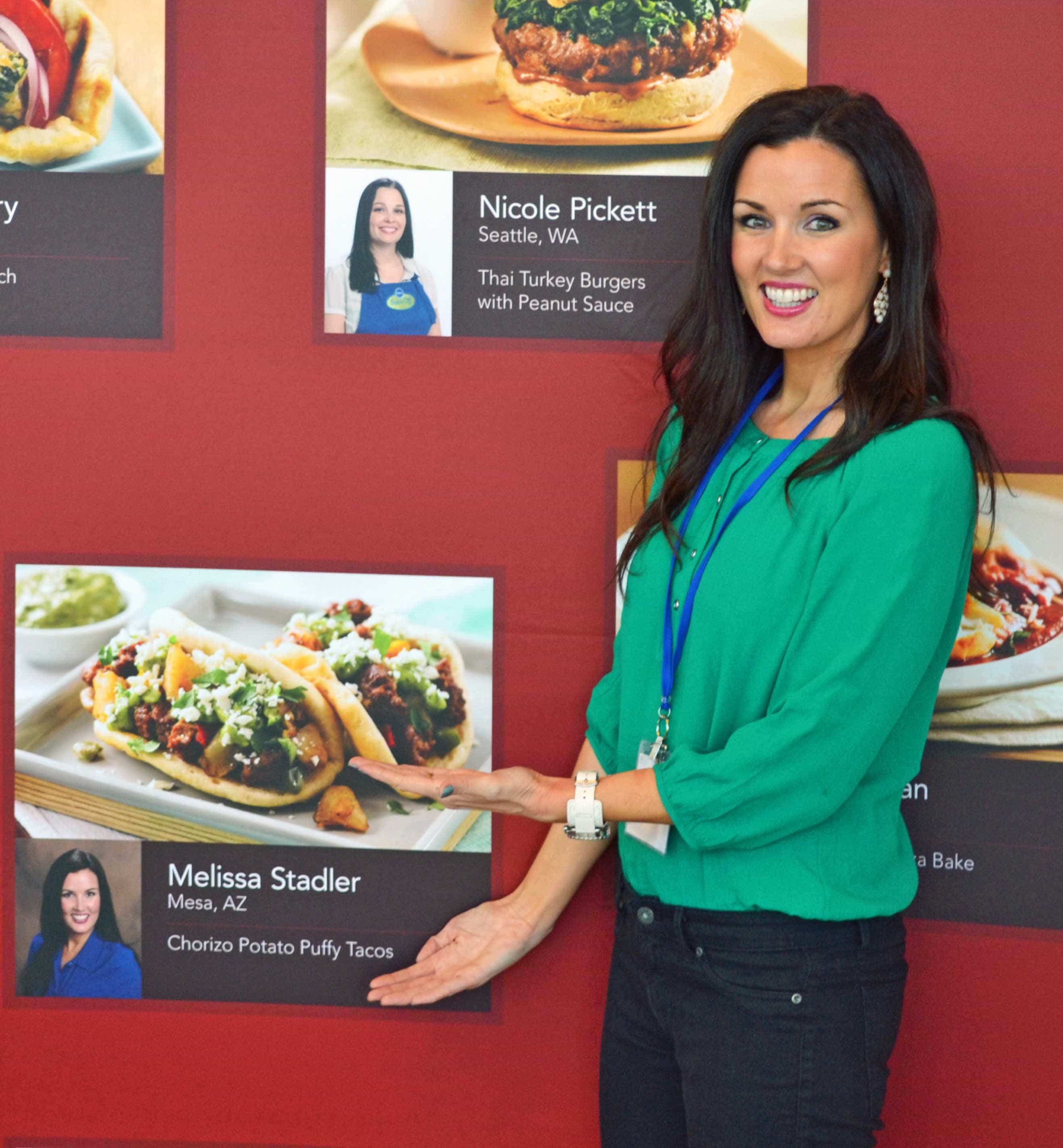 Now, I went into great detail about what happened next in this post — My First Pillsbury Bake-Off Experience + Roast Beef and Gorgonzola Hoagies Recipe.  I go into great detail describing my first experience at the Bake-Off….it was very entertaining, to say the least, and I had an amazing time.  When it was over, I was even more determined to make it happen again. I knew it was a long shot as not many people make it in there two times, but I don't give up very easily.
It was 2013 and I was living in San Antonio, Texas. The 46th Pillsbury Bake-Off® was announced and I went to work, filling notebooks with ideas. I would literally take notebooks everywhere I went because I never knew when inspiration might strike and I had to be ready.  Since we lived in the mecca of Tex-Mex, I wanted to attempt to make a puffy taco using Pillsbury biscuit dough.  They turned out the very first time and my kids ate the entire batch, leaving nothing for my husband. I went back to the store and made another batch of Chorizo Potato Puffy Tacos and once again they were immediately devoured by the family.  I texted my husband and said, "I have the million dollar recipe." I felt sure that this was the winner.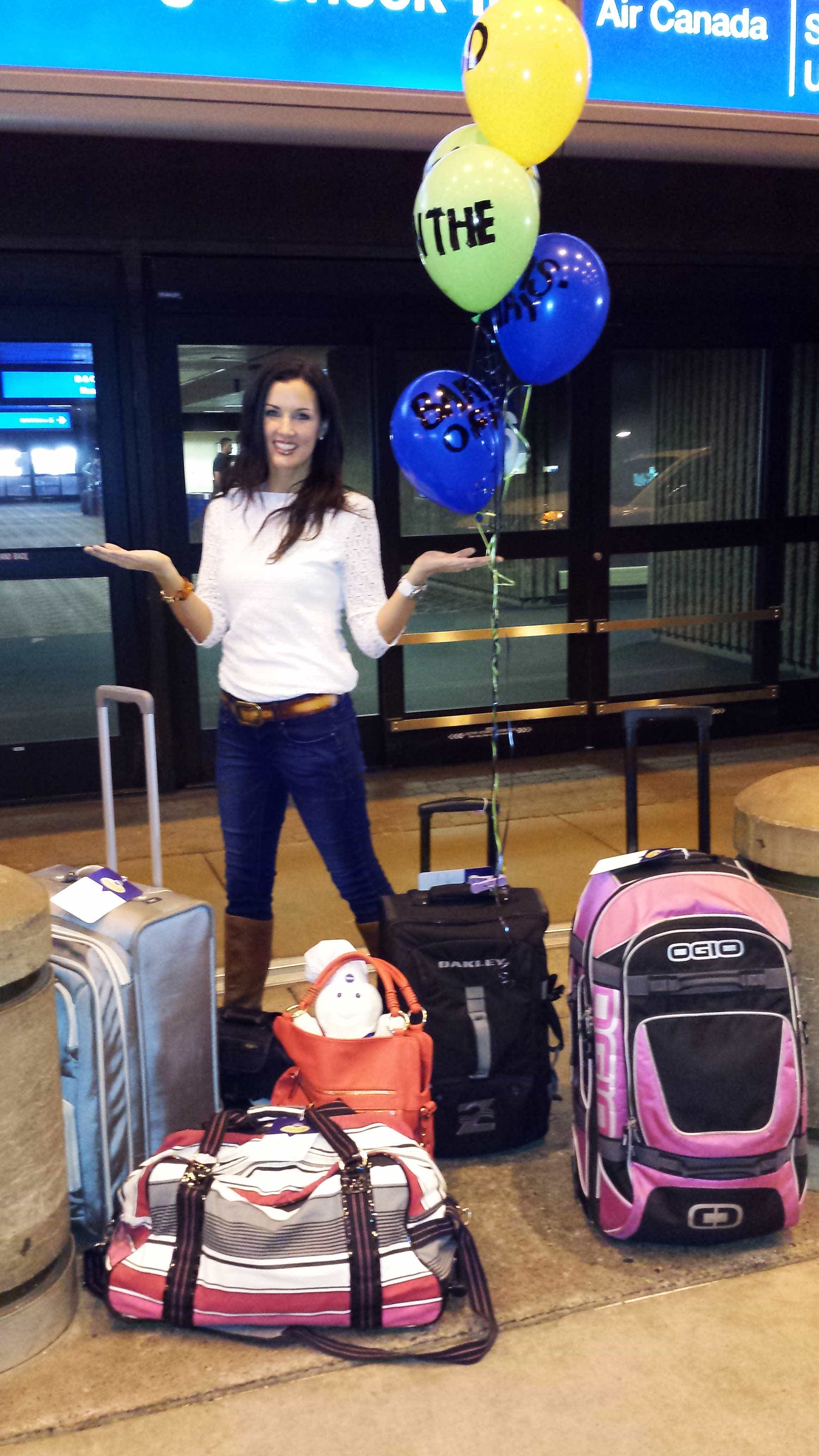 Fast forward to three months later….this time it was an email announcing that I was once again a semi-finalist! Woo hoo! But this time something was new — a new public vote was announced and in order to be a finalist to compete for the million dollars, you had to be one of the top vote-getters. I was a nervous Nelly! I had to somehow beg my friends and family to vote for my recipe for two weeks straight.  I ended up going on live TV, doing newspaper and magazine interviews, and my kids even drew flyers and handed them out in the neighborhood. I don't think I slept much during those two weeks.
It was the BEST DAY EVER when I received the word that I was one of the winners and would be competing in Las Vegas for the million dollars. I was ridiculously happy and oh so grateful for my friends who really came through for me!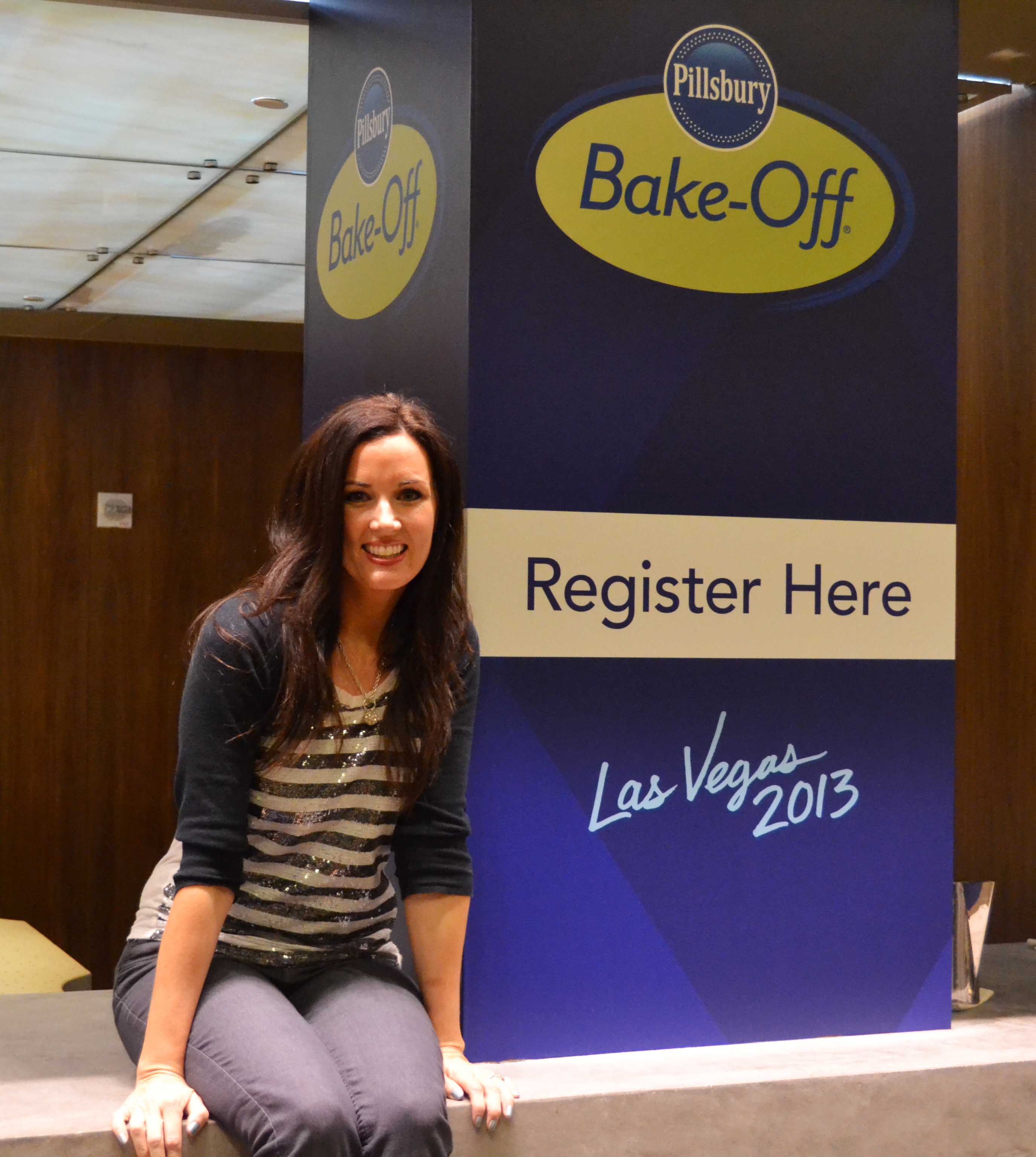 You must read this post — My First Pillsbury Bake-Off Experience — to fully understand my feelings going into this a second time. This time I really wanted to get it right. I strategized and went in with a very specific game plan.  I was determined that the 46 Pillsbury Bake-Off® was going to be all about fun and soaking up the experience. I wanted to enjoy every minute! If I am being real, it wasn't about the money.  I was just so grateful and honored to be a part of something so iconic. I felt blessed to be chosen and everything else was just the icing on the cake!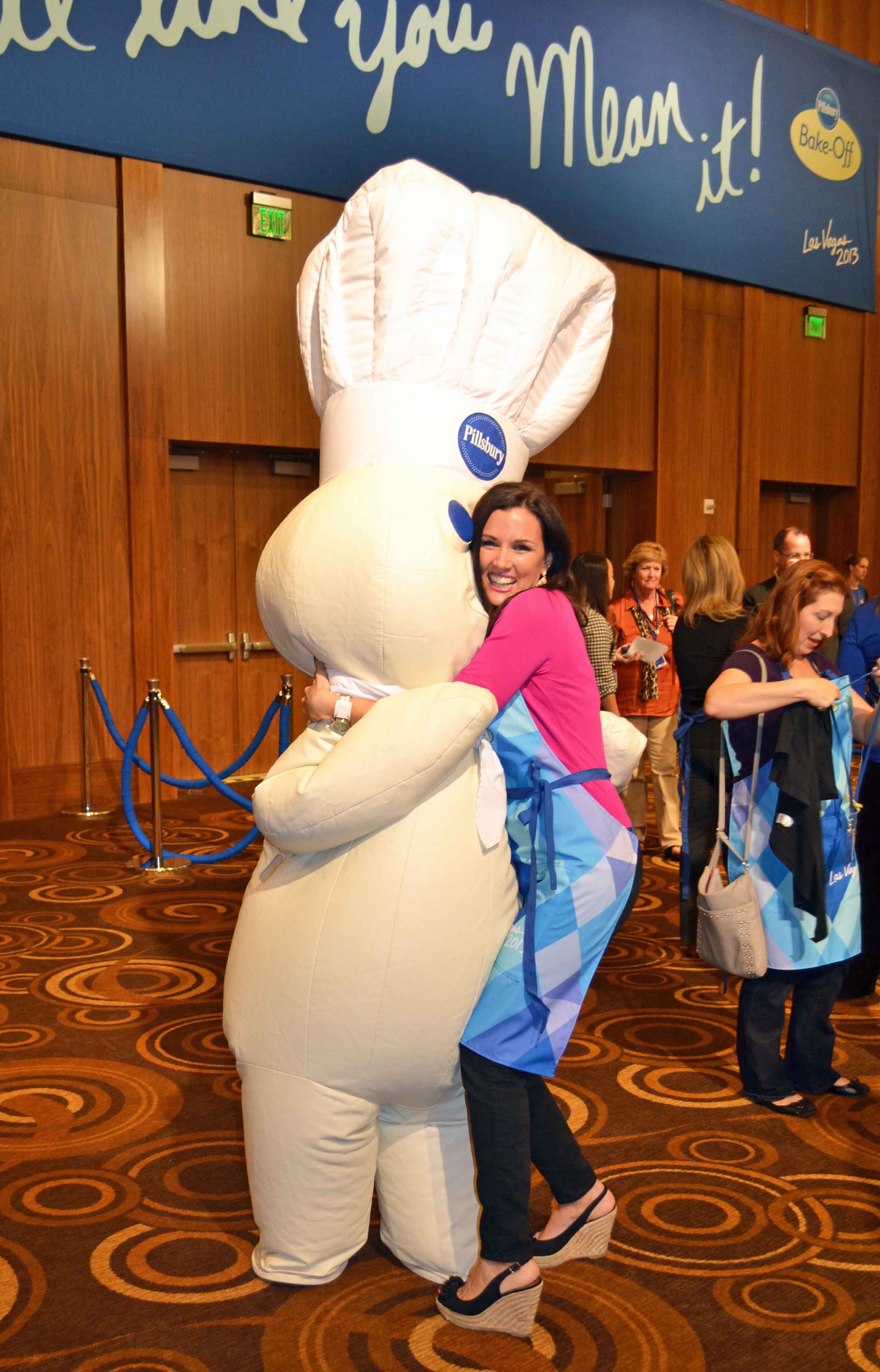 We were given enough ingredients to make our dish three times. My game plan was to submit the very first one to the judges.  No distractions this time! If you can imagine in your mind, a large ballroom filled with 100 small kitchens, 100 finalists, hundreds of media outlets, cameras, and music — all happening at the same time. The energy was palpable. A good part of the time while I was cooking, I was being interviewed so multitasking was essential.  Thankfully, four kids prepared me for this experience!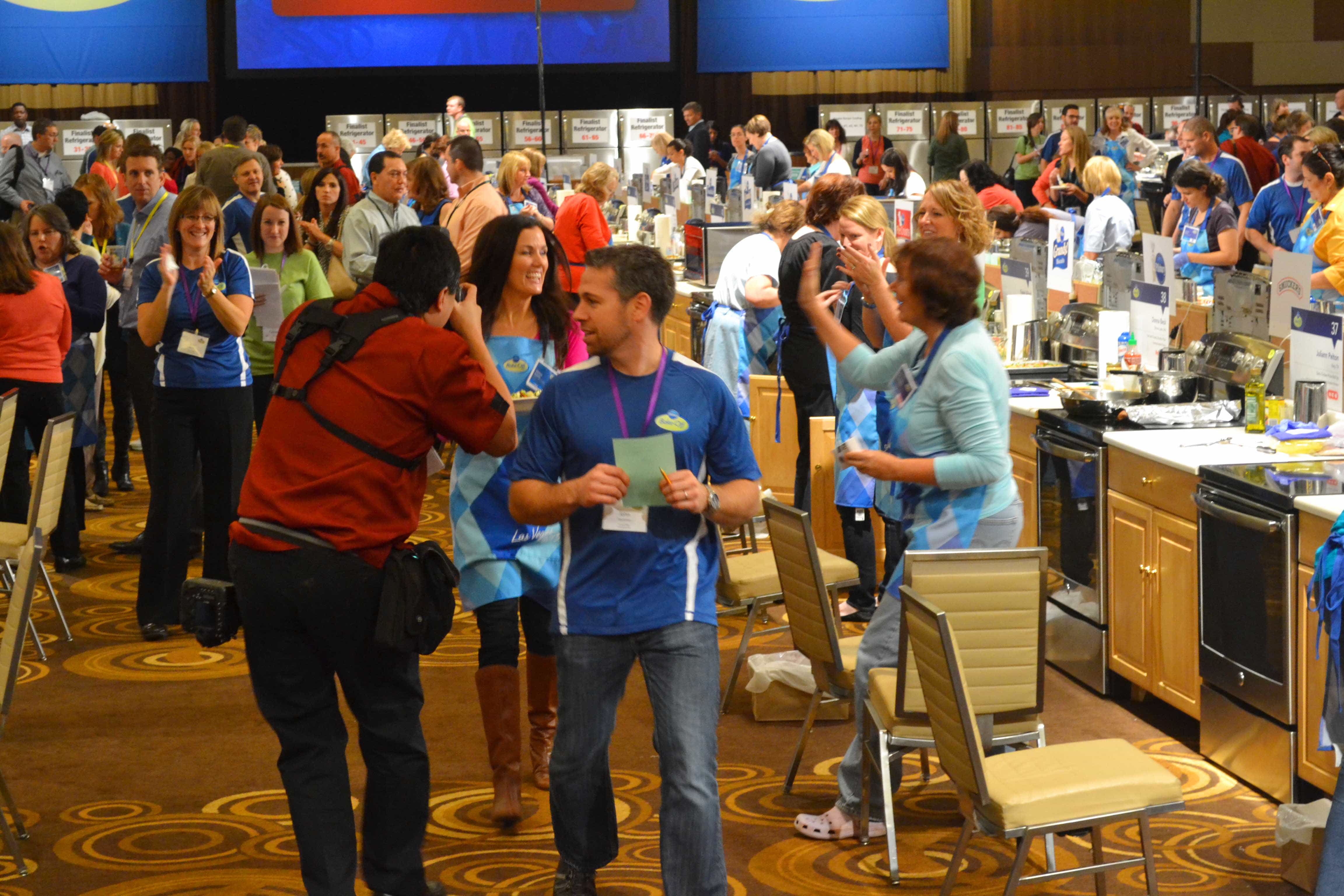 Just as I started to garnish my Chorizo Potato Puffy Tacos, a large group of media formed around me. My heart was beating out of my chest and I tried to make everything perfect. Everyone was so encouraging and I remember feeling an insane amount of relief come over me as I finished my dish.  I walked to the judges' table to submit it (they can't see the contestants) and I had the biggest permagrin on my face. I don't think I stopped smiling for hours! I had done it! No matter what happened, I felt so happy!
As soon as the clock expired, the music came on and we started dancing to celebrate the experience! What an incredible, life-changing day it had been! To me, it didn't matter what happened at the awards ceremony that night — I just felt so blessed to be a part of it.  I didn't come home with the million dollars, but I will be forever grateful for the experience.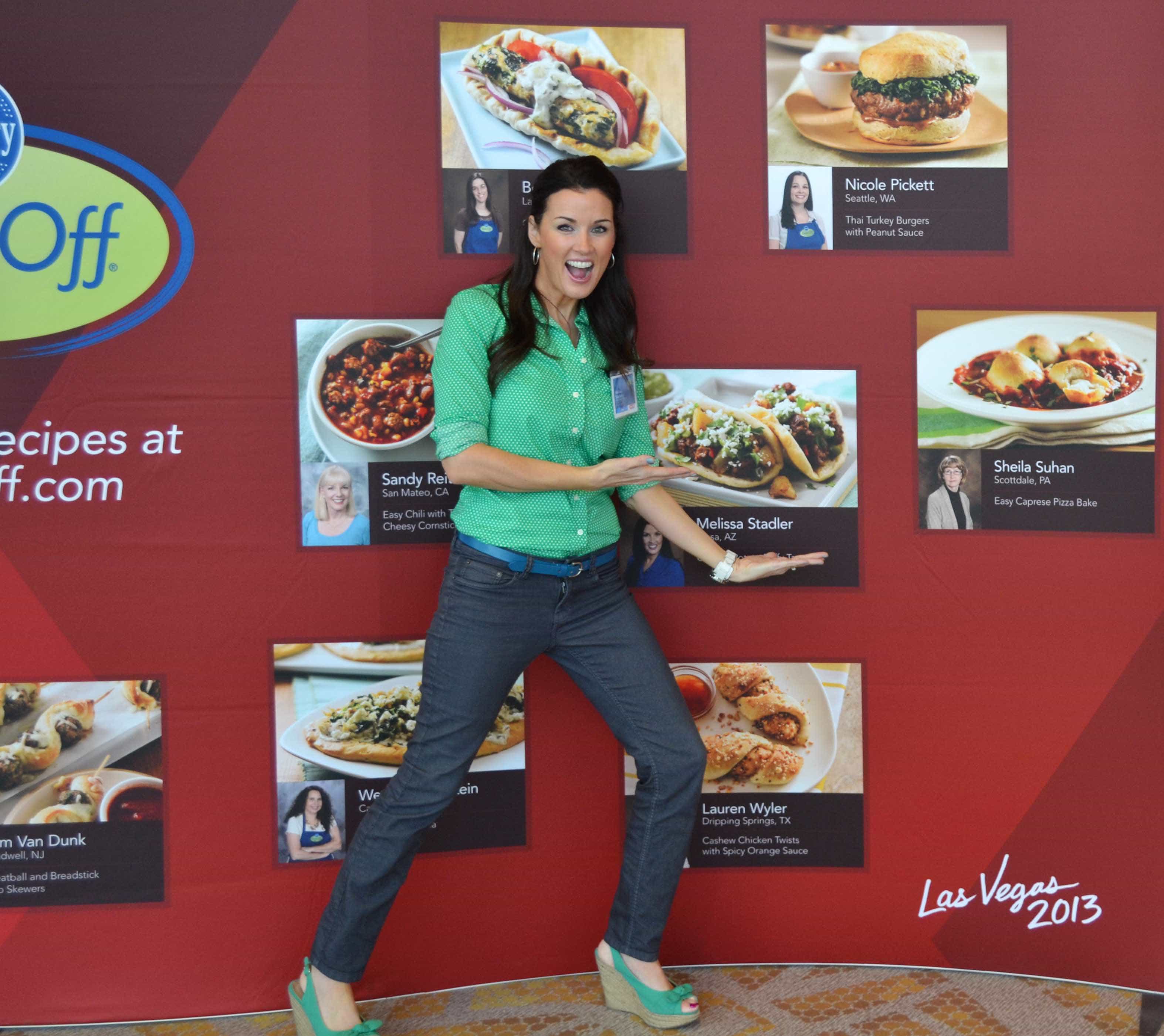 This is what put me on the path to creating my own food website, Modern Honey, where I can now share my own original recipes.
Since I have a food blog, I am not able to enter for a third and final time but all of you dreamers out there have a chance because The Pillsbury Bake-Off® is back! This year's Pillsbury Bake-Off Contest grand prize winner will win $50,000, a trip to New York for an appearance on Food Network's hit show "The Kitchen," a kitchen makeover from GE Appliances and a feature in Food Network Magazine. How cool is that?
Each of the four category winners will be awarded a trip to New York for an appearance on The Kitchen, a feature in Food Network Magazine, a suite of GE Appliances and $5,000 cash.
Now through Nov. 10, entries can be submitted to the Pillsbury Bake-Off Contest at BakeOff.com. The category winners will be announced in January, and the grand prize winner will be revealed on The Kitchen on Feb. 24, 2018. You can find out more information here — Pillsbury Bake-Off Contest. Go enter! You have nothing to lose and everything to gain. Dream big!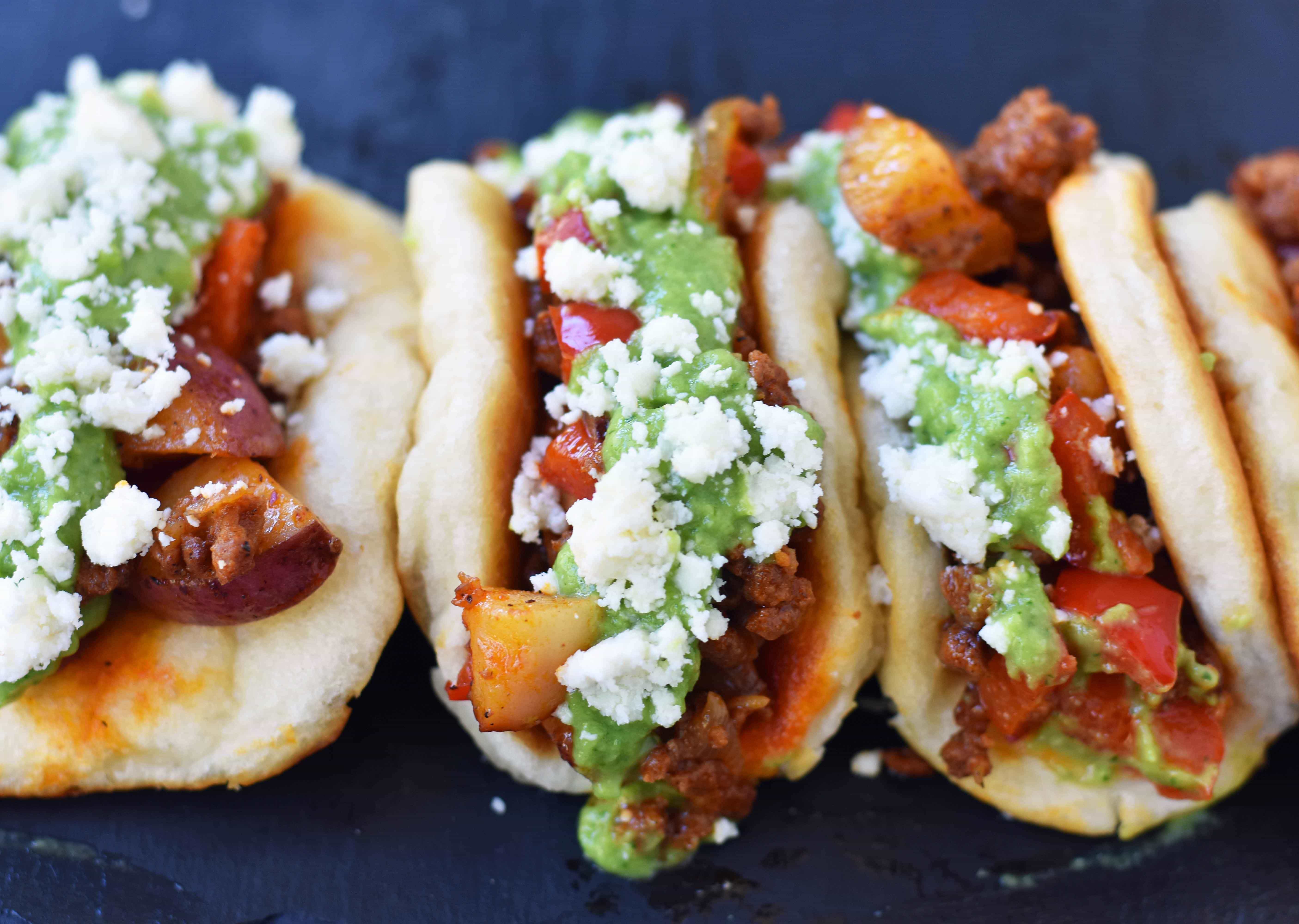 Now without further ado, let's get down to business and talk about these Chorizo Potato Puffy Tacos. Wow, they are good!
You won't believe how easy it is to make these puffy tacos using Pillsbury refrigerated biscuits.  These tacos are so full of flavor from spicy chorizo, seasoned potatoes and peppers, creamy avocado cilantro cream, and Mexican authentic cotija cheese. You can serve these Chorizo Potato Puffy Tacos for breakfast, lunch, or dinner.  They are so versatile!
Here's how you make Chorizo Potato Puffy Tacos at home:
 Start with high-quality pork chorizo. Chorizo is pork seasoned with Mexican spices. It is so full of flavor! It is usually paired with potatoes in Mexican dishes.  I use red potatoes, cut into small bite-sized pieces, onions, and a diced red pepper to bring in even more flavor.
Use Green Giant Backyard Grilled Potatoes or make your own by sauteeing potatoes until fork tender —  about 15 minutes before adding chorizo. This gives the potatoes time to make the inside nice and tender and the outsides golden brown. I will give you the instructions for both.
Tear the biscuit dough in half and press until about a 4-inch round. Saute in a small amount of oil in a skillet or bake until golden brown.
To freshen up the puffy tacos, make an avocado tomatillo crema.  It is made with avocados, tomatillos, cilantro, and fresh lime juice. I added some fresh lime juice and a touch of sugar to the crema to my recipe to give it a little more freshness.
Garnish with authentic Mexican crumbly cotija cheese. It puts them over the top.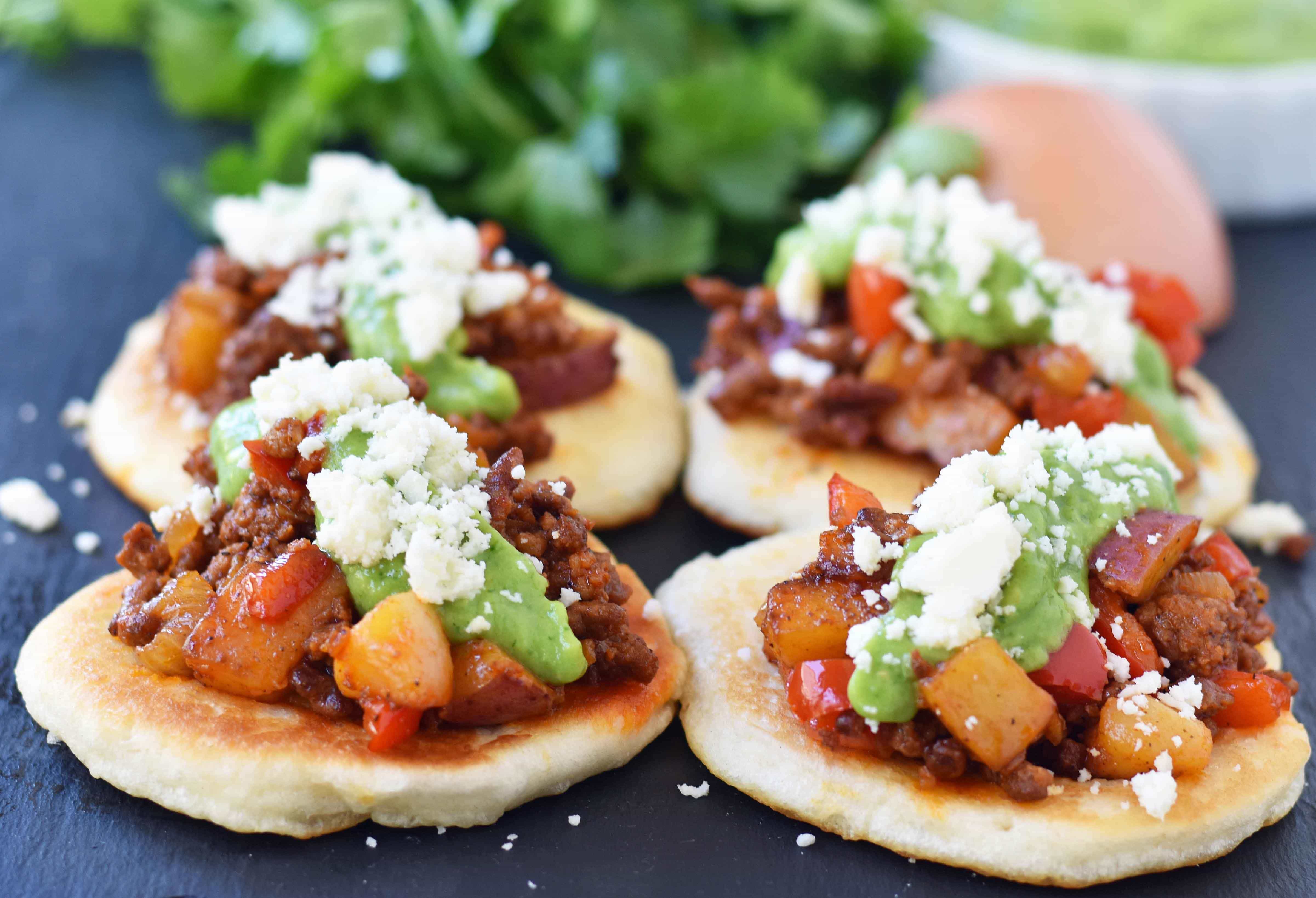 Pin this now to find it later
Pin It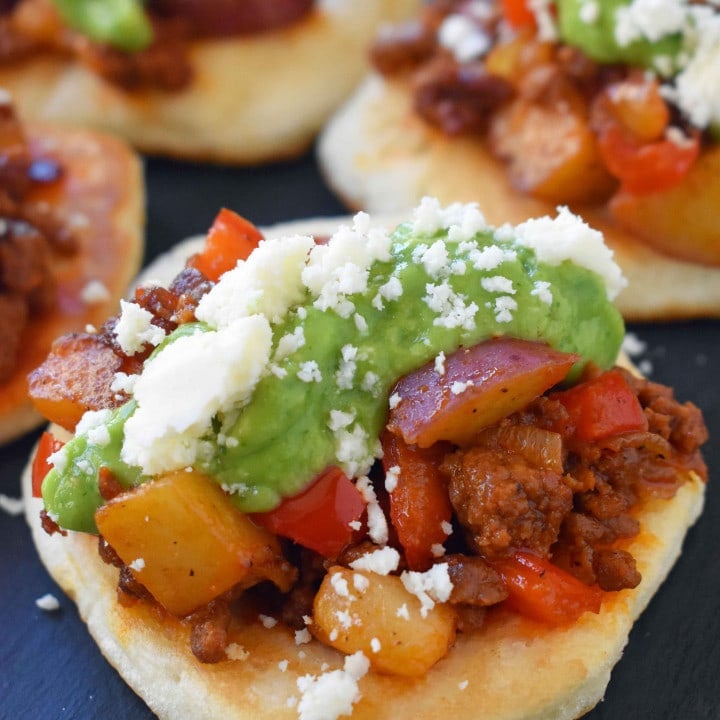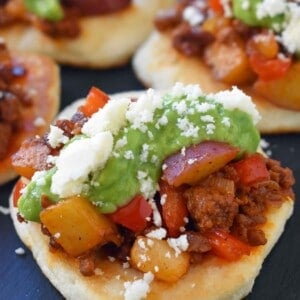 Chorizo Potato Puffy Tacos and Pillsbury Bake-Off
Chorizo Potato Puffy Tacos made with spicy chorizo, seasoned potatoes and peppers, creamy avocado-tomatillo crema, and cotija cheese all on a puffy taco.
Ingredients
1-2

Tablespoons

Canola Oil

3

Red Potatoes

diced into small bite-size pieces (or use Green Giant Backyard Grilled Potatoes)

1

Onion

diced

1

Red Pepper

diced

1

teaspoon

Salt

1/2

teaspoon

Pepper

1

lb.

Pork Chorizo
Avocado Tomatillo Crema:
3

Tomatillos

husked

2

Small Avocados or 1 Large

1

Lime

juiced

1/2

cup

Cilantro

1

teaspoon

Salt

2

Tablespoons

Sugar
Puffy Taco Shells:
1

can Pillsbury™ Grands!™ Homestyle refrigerated buttermilk biscuits

8 ct

2

Tablespoons

Oil

divided (optional)
Garnish:
3/4

cup

crumbled Cotija

white Mexican cheese or queso fresco cheese (3 oz)

Cilantro Leaves
Instructions
The puffy tacos can be baked, pan-fried in a small amount of oil, or fried in oil. If you desire to bake the puffy tacos, heat oven to 350 degrees.

You may use Green Giant Backyard Grilled Potatoes or if you can't find them, make the seasoned potatoes from scratch. In a large skillet, add oil and heat over medium-high heat. Add diced potatoes and cook, stirring often for 12 minutes. Add onions and pepper and continue to cook for 2-3 minutes. Add chorizo and cook for 8 to 10 minutes or until thoroughly cooked, stirring occasionally.

For full instructions and entire recipe,

click here

.
Nutrition information is automatically calculated, so should only be used as an approximation.
I would love to hear if you decide to enter the Pillsbury Bake-Off®. I will be your biggest cheerleader! Thanks as always for your amazing support. I have the greatest readers!
This is a sponsored post for Pillsbury. All opinions are my own.