The famous Crumbl Bakery copycat milk chocolate chip cookie recipe. This is one of the best bakery chocolate chip cookies I have ever made!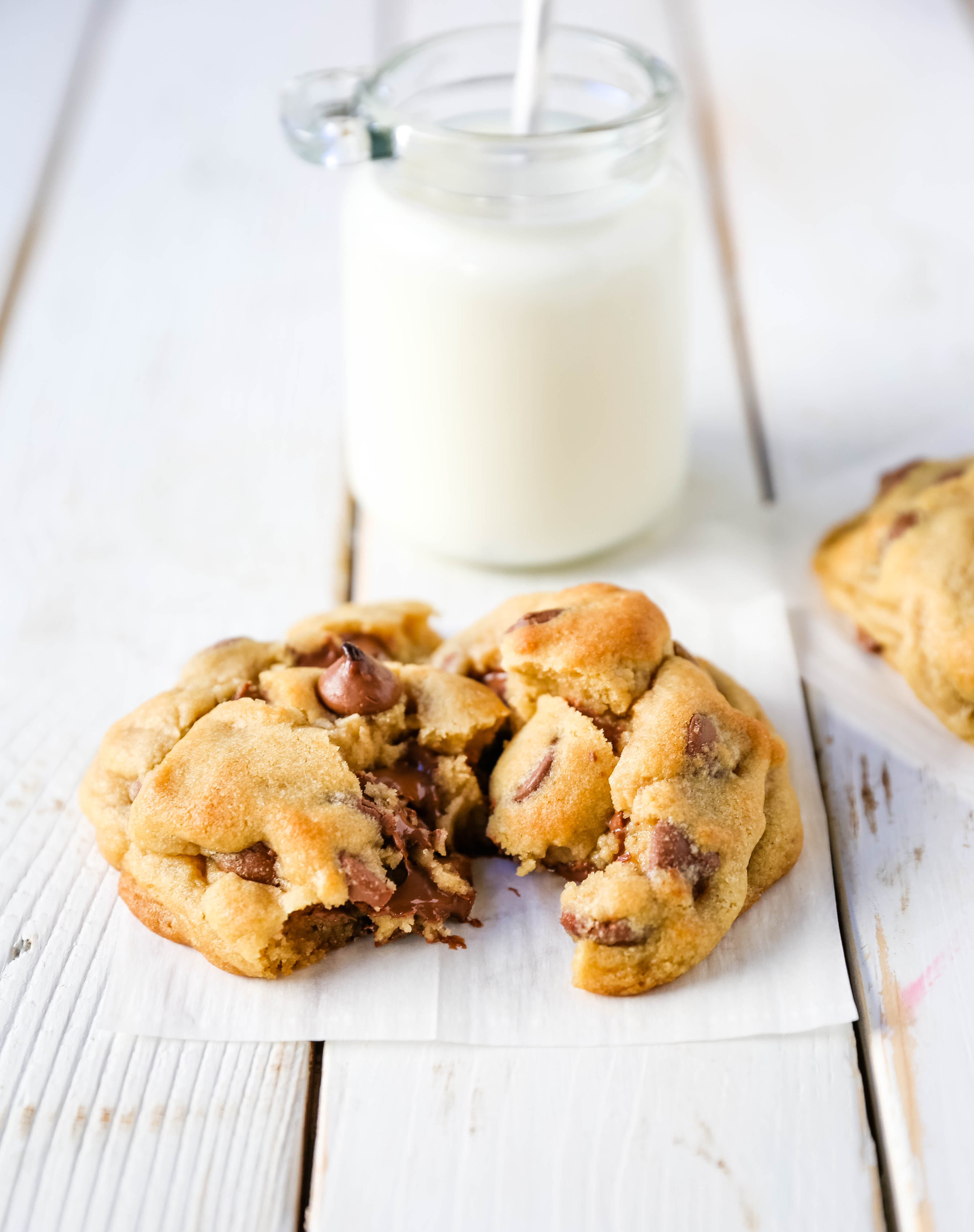 Crumbl Chocolate Chip Cookie Recipe
I am really, really picky about my cookies. Whenever I visit a new city, I stalk out all of the best bakeries. I read reviews and plot out my plan to eat my way through the city. Since cookies are my favorite food on the planet, I am always looking for the best bakery cookies.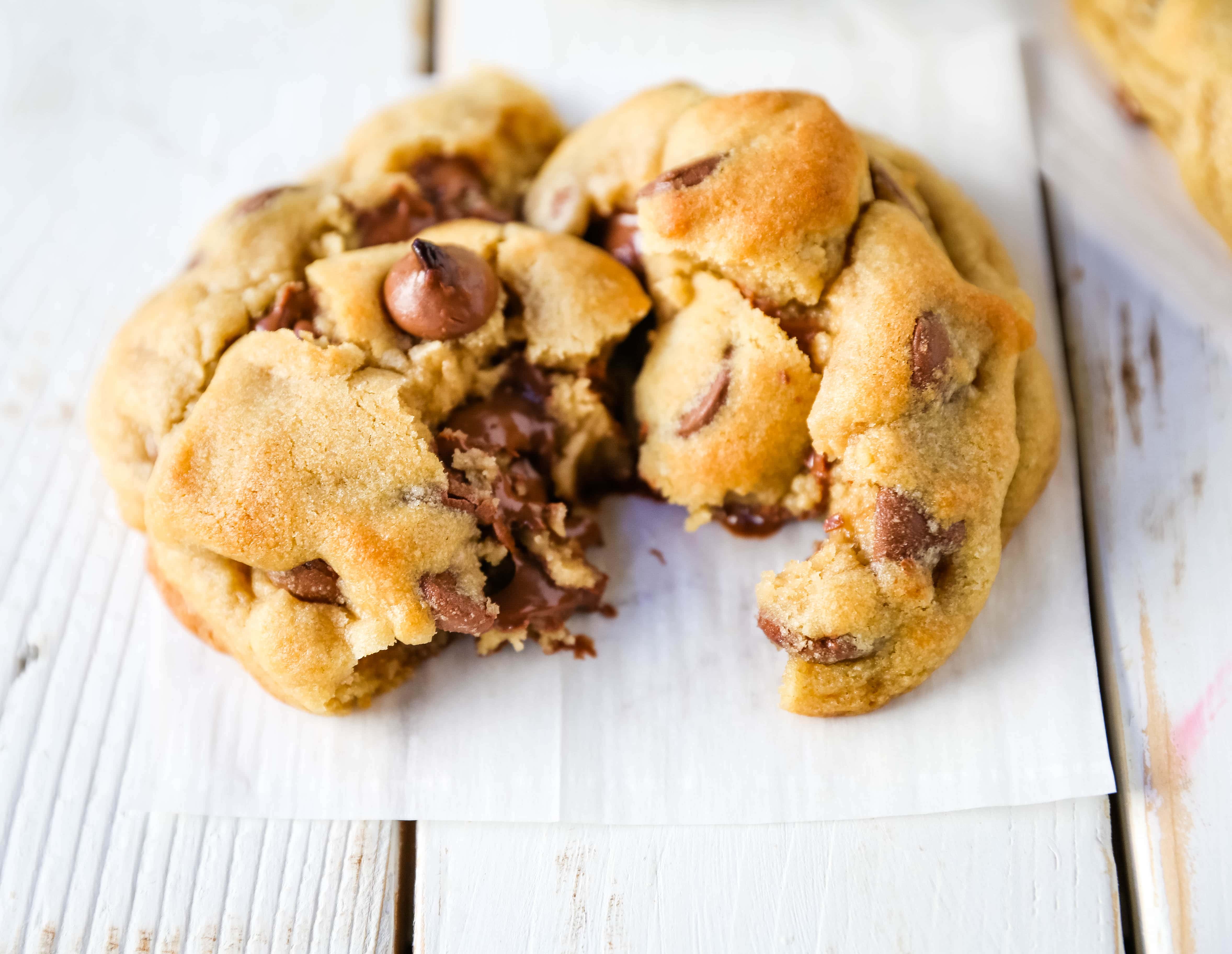 When I was visiting my daughter up at college (for about the 6th time this year, no joke), she introduced me to a famous bakery called Crumbl cookies. They make hot and fresh cookies straight out of the oven. I couldn't wait to try their classic chocolate chip cookie. It was a large, thick cookie without being cakey — just how I like them.
This Crumbl milk chocolate chip cookie had crispy edges with a chewy center with large milk chocolate chips. They use my favorite Guittard milk chocolate chips.
I decided that I needed to conduct more research so we went back the next day for me to study the texture and taste. This is one of my favorite hobbies trying to figure out a famous cookie recipe. Of course, I couldn't go back just once…I had to make sure I was thorough in my research!
What is Crumbl Cookie?
Crumbl is a bakery that started in Logan, Utah, and now has locations all over the United States (and a new one in Canada!). They have a rotating menu of different fun cookie flavors that switch each week, with the milk chocolate chip and sugar cookies being available each week.
Thankfully they opened some locations in Arizona so I could do some research close to home. Finally, I was ready to create my own Crumbl copycat cookie recipe. The cookies came out perfect and I was beyond excited to make them at home.
Their milk chocolate chip cookies are a special favorite of mine, which led to me creating this recipe. They're the quintessential bakery cookies! Crispy edges, soft and chewy center, with large and sweet milk chocolate chips.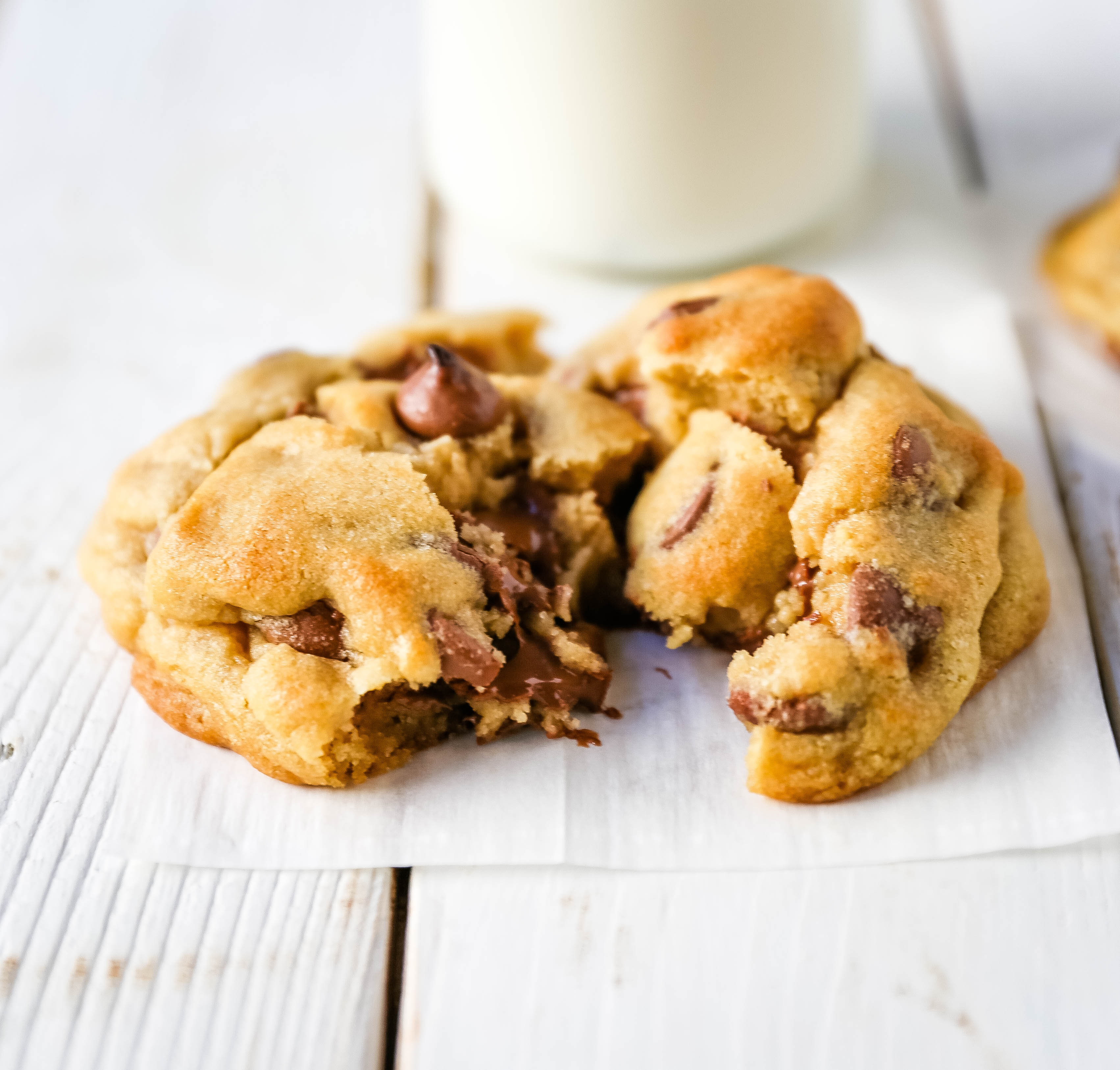 CRUMBL CHOCOLATE CHIP COOKIE INGREDIENTS:
Butter: Use cold butter, and cut into small cubes. This will help the cookies keep their shape when baked in the oven
Brown Sugar: Brown sugar provides the chewy and moist texture that is characteristic of Crumbl cookies. I generally use light brown sugar in this recipe, but dark (or even a mix!) could work as well.
Sugar: Gives bakery chocolate chip cookie crispy edges and helps to trap moisture in the cookie.
Eggs: Make sure to use large eggs in all baking recipes! Eggs will give the cookies its structure and texture.
Vanilla Extract: Gives a delicious flavor, while helping amplify the other flavors of the cookies.
Cake Flour: Creates a tender texture without the cookie becoming too cakey or crummy.
All-Purpose Flour: Flour is what makes the cookies thick and have good structure. Mixed with the cake flour, and it's the perfect chewy texture!
Cornstarch: This helps to thicken the cookies without the cookies becoming cakey. This also keeps the cookies soft and fresher longer
Baking Soda: When baked with the other ingredients, it helps the cookies rise
Salt: amplifies the other flavors and ingredients of the cookies.
Milk Chocolate Chips — Crumbl Bakery uses Guittard Milk Chocolate Chips. You can use any brand of milk chocolate chips or half semi-sweet and half milk chocolate chips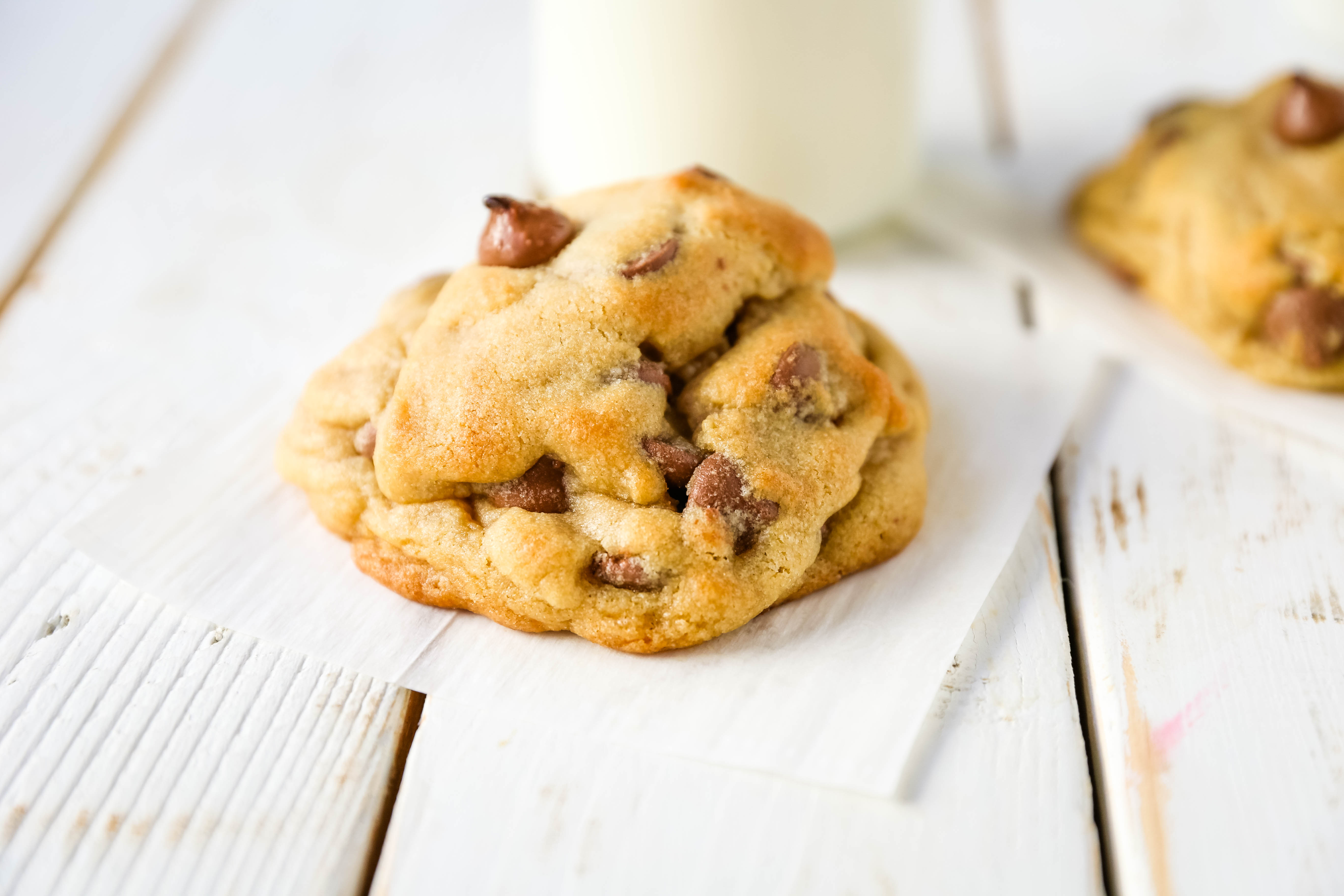 How to make the BEST CRUMBL KNOCKOFF Chocolate Chip Cookies:
Start by creaming cold butter (cut into small cubes), brown sugar, and sugar for at least 4 minutes, scraping the sides of the bowl often. This allows the sugar to wrap around the butter which helps to create smooth, creamy cookie dough.
Add eggs and vanilla and mix for 1 minute longer.
Fold in cake flour, all-purpose flour, cornstarch, baking soda, and salt.
Add Guittard milk chocolate chips. To achieve a thick bakery-style cookie, I weigh out my cookie dough using a digital scale and shoot for 5-6 ounces. I like to keep my cookies uniform so they will bake evenly.
Bake at 400 degrees. Yes, that sounds hot. It is hot. But that's what makes them so special and gives them those outer crispy edges. The key is to let them cool on the cookie sheet without removing them for at least 10 minutes. This allows the cookies to be set up in the center.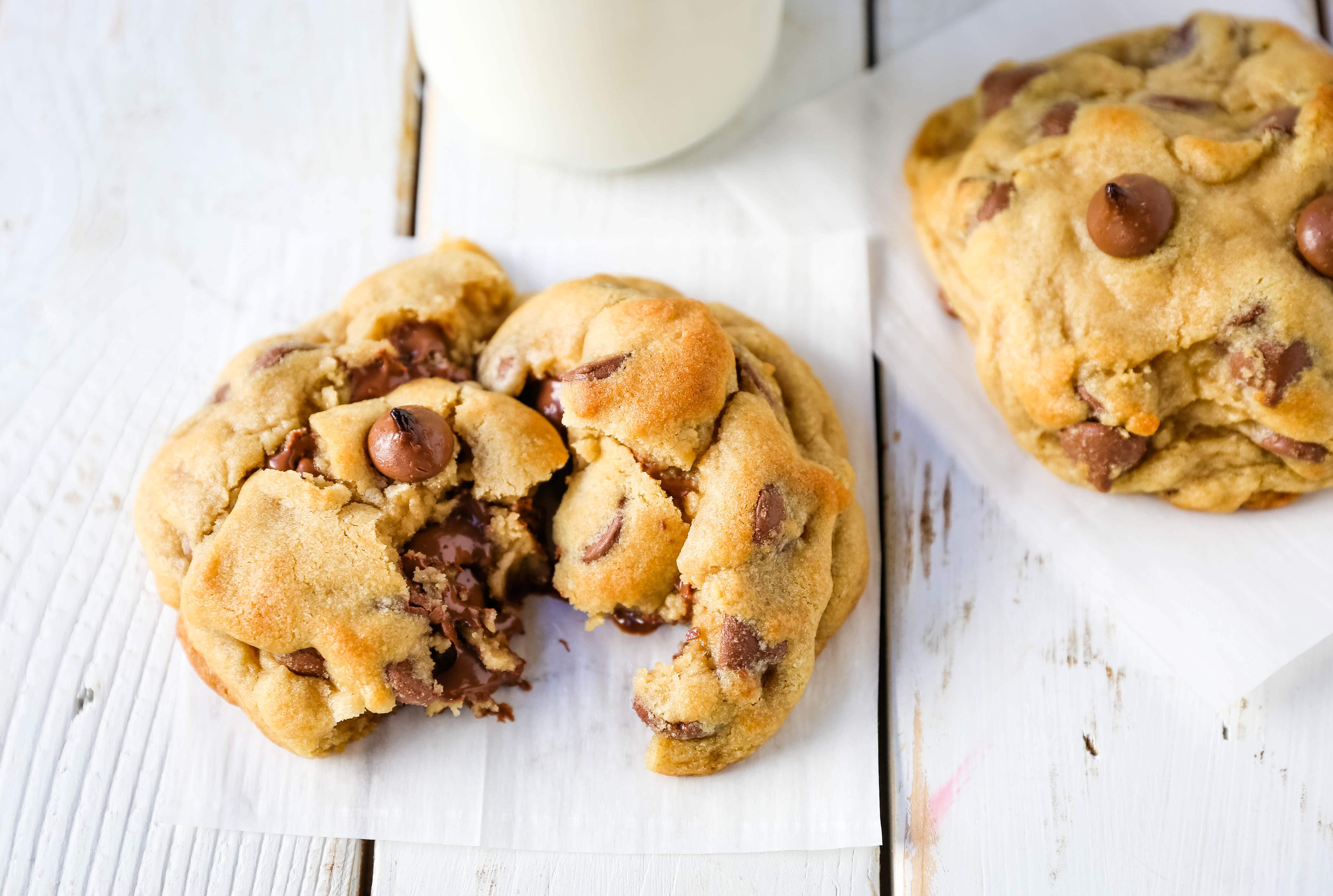 FAQ
Why do my cookies spread?
Sometimes cookies will start to spread once they hit the hot oven. Make sure that you are using COLD and cubed butter! This will make it so that the dough isn't so warm that it will get runny in the heat of the oven.
Also, these are bigger cookies than the standard chocolate chip cookie. Instead of fitting a dozen on the cookie sheet, I usually can only fit about 4 cookies per sheet.
Why use cake flour instead of all purpose?
Cake flour has less protein in it, which means that less gluten is formed during baking. Gluten helps to give baked goods their chewy texture. That being said, this cookie recipe uses both cake flour and all purpose flour because we want a slight bit of chewiness while also having a more fluffy and light texture. That's why we use both!
What is a cake flour substitution?
If you don't have any cake flour on hand, you can use 1 teaspoon of cornstarch in addition to the 3 cups of all-purpose flour. Cornstarch will give it rise and fluff to the cookies to give them that perfect texture.
What kind of chocolate chips are in Crumbl cookies?
Part of what makes Crumbl so unique (and so good) is that they use milk chocolate chips, whereas most chocolate chip cookies use semi-sweet chocolate chips. The best ones for this recipe are Guittard milk chocolate chips, you can find them online or at most grocery stores.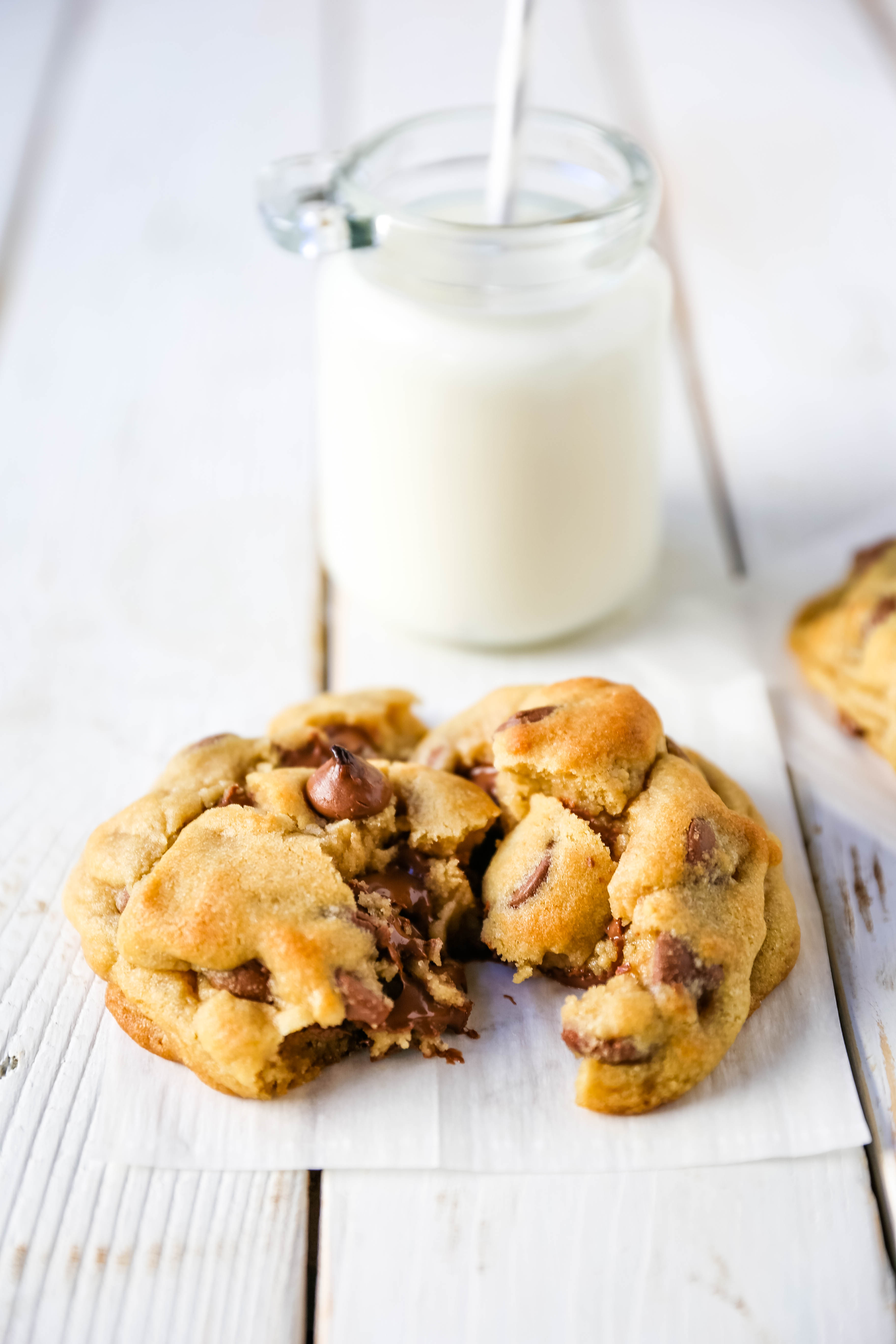 Top Tips for making Crumbl Bakery Chocolate Chip Cookies:
There are a few key components for making a big, thick bakery cookie without it being cakey. You want it to be a chewy center with crisp edges. This is achieved in many ways with different ingredients and techniques. These turned out to be the best milk chocolate chip cookies!!
I start with cold butter, cut into cubes. This helps the cookie dough not spread so much once it hits the hot oven.
I use a mix of brown sugar and sugar but use more brown sugar since it makes a huge difference in the texture.
Also, another game changer is using a mix of cake flour and all-purpose flour. Cake flour has less gluten which creates a tender cookie.
Use two types of leavening ingredients — cornstarch and baking soda.
Another must in making these Crumbl milk chocolate chip cookies is to use Guittard milk chocolate chips.
My FAVORITE COOKIE RECIPES:
MJ's Top Secret Chocolate Chip Cookies (made in a saucepan!)
Levain Bakery Chocolate Chip Cookies
Soft + Chewy Snickerdoodles Cookie Recipe
Chocolate Chip Skillet Cookie (pizookie)
My FAVORITE BAKING TOOLS:
Light Colored Baking Sheets
Parchment Paper Sheets
KitchenAid Mixer
Stainless Steel Turner
Digital Food Scale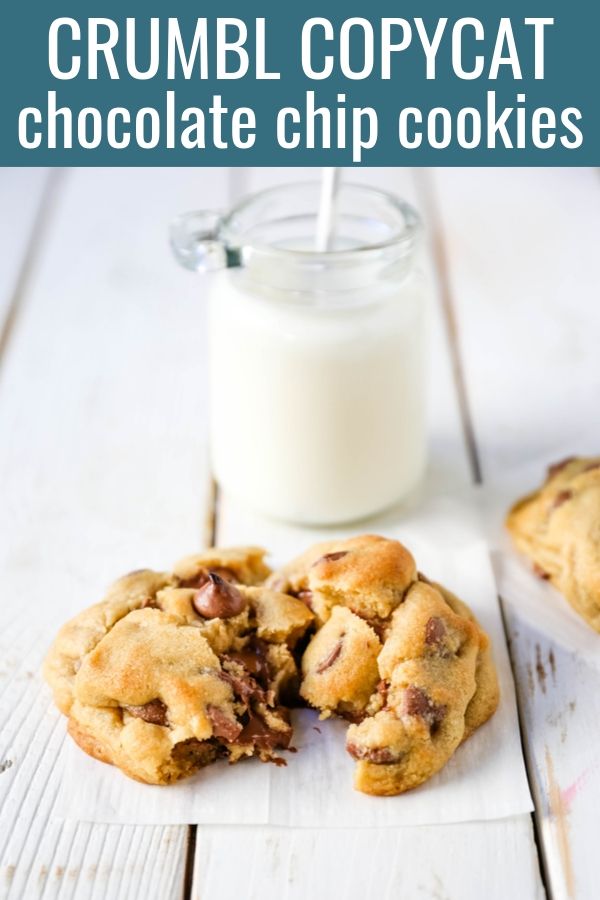 Pin this now to find it later
Pin It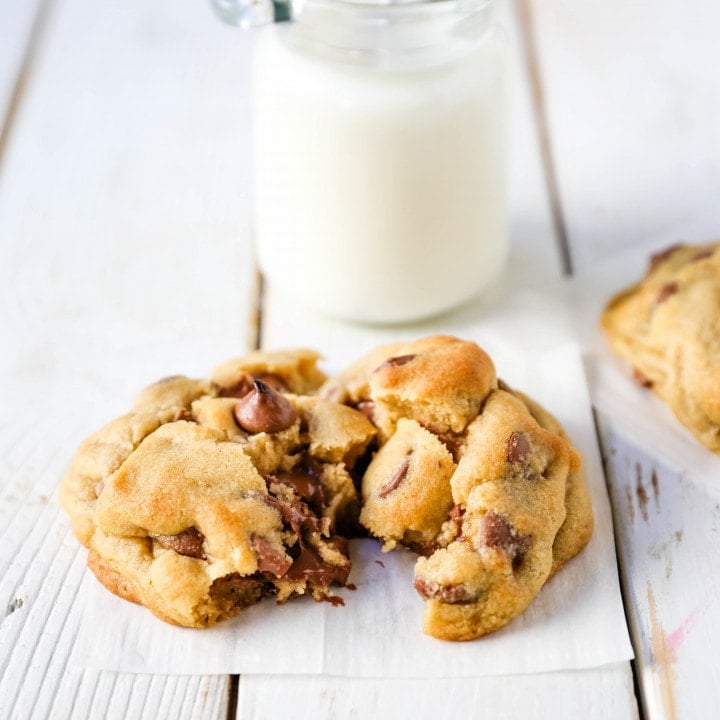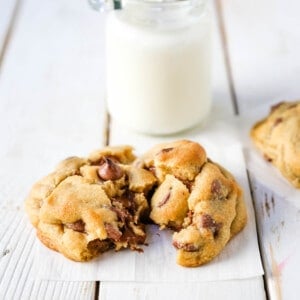 Crumbl Chocolate Chip Cookie Copycat Recipe
A Crumbl knock-off chocolate chip cookie recipe will be your favorite in no time at all!
Ingredients
1

cup

Cold Butter

(cut into small cubes)

1

cup

Brown Sugar

1/2

cup + 2 Tablespoons

Sugar

2

large

Eggs

1 1/2

teaspoons

Vanilla Extract

1 1/2

cups

Cake Flour

1 1/2

cups

All-Purpose Flour

1

teaspoon

Cornstarch

3/4

teaspoon

Baking Soda

3/4

teaspoon

Salt

2

cups

Guittard Milk Chocolate Chips
Instructions
Preheat oven to 400 degrees. In a large mixing bowl, cream together butter, brown sugar, and sugar for at least 4 minutes, scraping down the sides of the bowl often.

Add eggs and vanilla and mix for 1 minute longer.

Stir in cake flour, all-purpose flour, cornstarch, baking soda, and salt just until mixed. Fold in milk chocolate chips.

If you have a digital scale, weigh each ball of dough to be between 5-6 ounces. Once you decide on a weight, keep it consistent to the cookies bake evenly. Place on parchment paper lined baking sheet. Light colored baking sheets work best. Dark colored baking sheets hold too much heat and can burn the bottoms of the cookies.

Bake for 9-12 minutes, watching carefully. Let sit for at least 10 minutes to allow the center of the cookie to set up.
Nutrition
Calories:
478
kcal
,
Carbohydrates:
66
g
,
Protein:
5
g
,
Fat:
22
g
,
Saturated Fat:
14
g
,
Polyunsaturated Fat:
1
g
,
Monounsaturated Fat:
4
g
,
Trans Fat:
1
g
,
Cholesterol:
77
mg
,
Sodium:
360
mg
,
Potassium:
74
mg
,
Fiber:
1
g
,
Sugar:
41
g
,
Vitamin A:
518
IU
,
Calcium:
29
mg
,
Iron:
1
mg
Nutrition information is automatically calculated, so should only be used as an approximation.