The best chewy, rich, and fudge-like cookies that are naturally gluten free. These flourless brownie walnut cookies are made with only 7 simple ingredients and will melt in your mouth!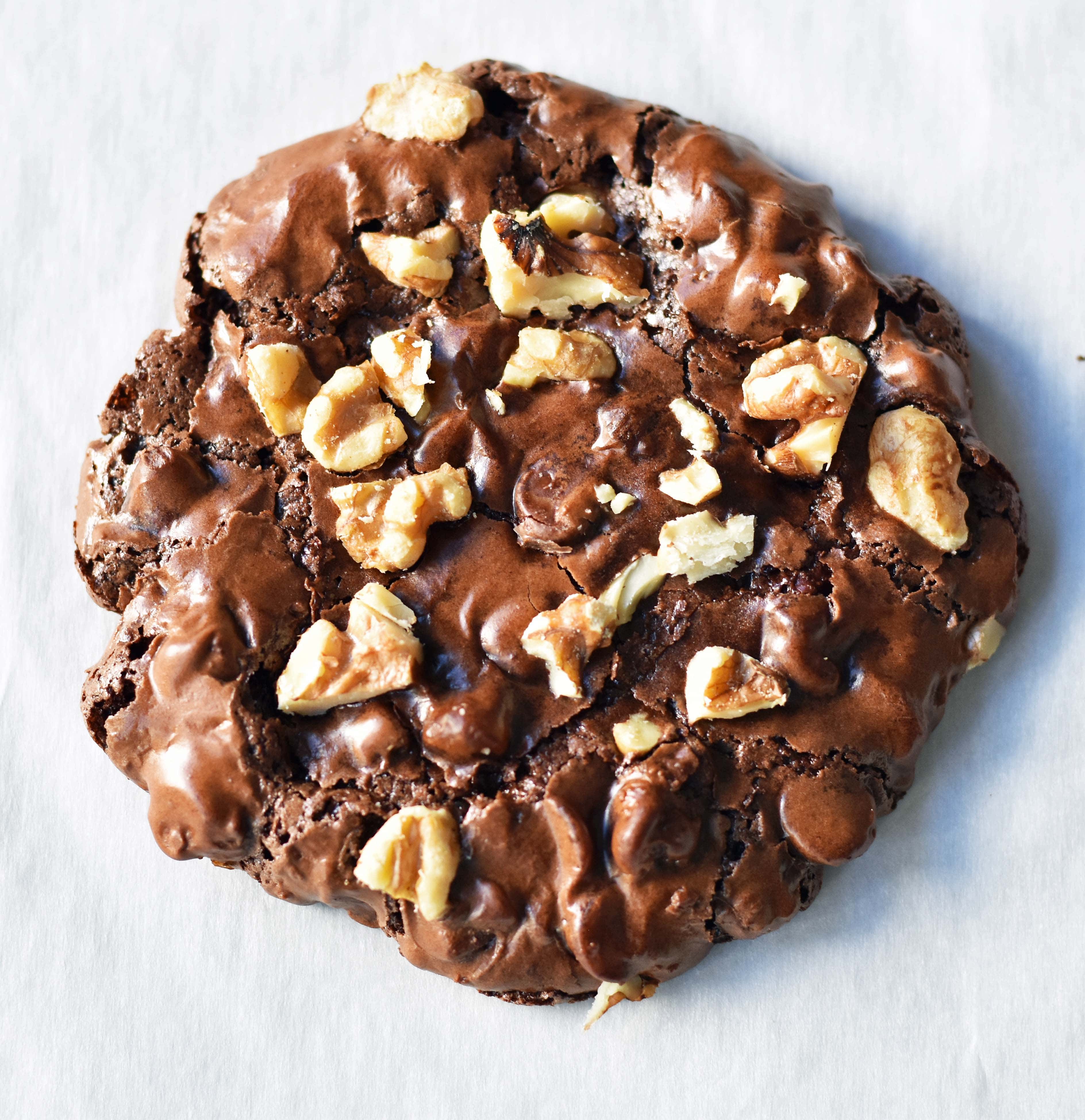 My sister-in-law, Christeena came over recently and was making a list of what she wanted to bake together.  At the very top of her list were the famous gluten-free chocolate cookies from La Grande Orange.  She dared me to be able to duplicate them and I never ever shrink from a challenge. Game on! I went right to work.
These are the best flourless chocolate cookies! The beauty of these flourless chocolate cookies is that they are completely flourless and naturally gluten-free.  
These Chocolate Brownie Gluten Free Cookies are made with only seven ingredients — powdered sugar, cocoa powder, egg whites, vanilla, salt, chocolate chips, and walnuts (which are completely optional).
There isn't even a lick of butter or oil in these flourless chocolate walnut cookies either! I would say that these are the most unique cookies I have ever made in my kitchen because they are far from traditional.
The final results lends itself to a sweet, chewy, crispy, chocolately, rich cookie. It is definitely a chocolate brownie and cookie in one! It will cure a sweet tooth in two seconds flat.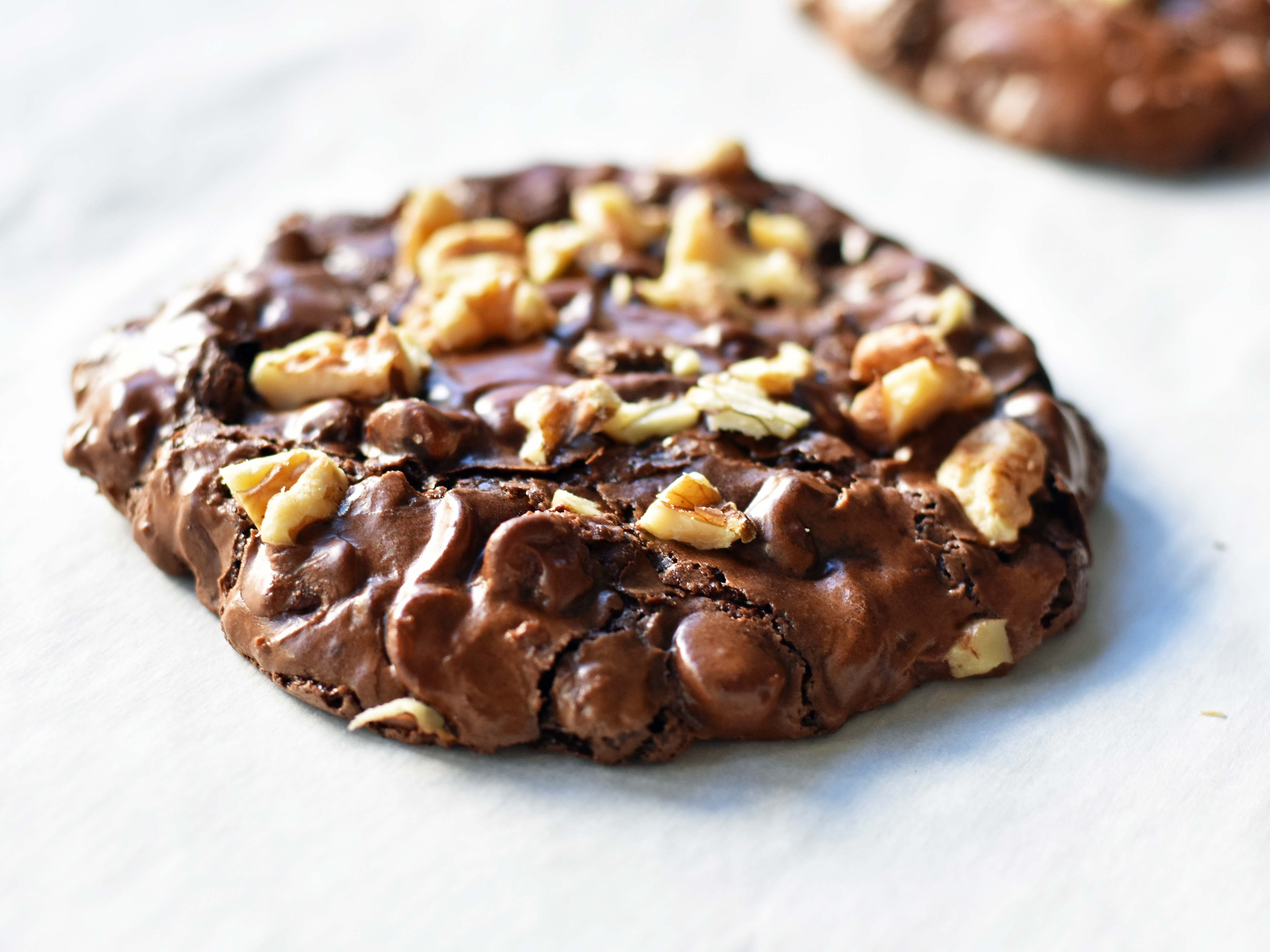 Flourless chocolate cookie ingredients:
Powdered sugar: These give the cookies their sweetness and texture, helping them have that brownie like flavor.
Unsweetened cocoa powder: Since these are gluten free cookies, the cocoa powder acts as a sort of flour. They provide structure, texture, and lift to the cookies and help it maintain that chewy and fudgy texture.
Salt: As it does in all recipes, salt brings out the flavors in the cookie so that they're stronger and more distinct.
Egg whites: Make sure to use large eggs! Egg whites are what give the cookie its delicious crispy edges while maintaining a chewy center.
Vanilla: Adds some flavor and depth to the cookies.
Chocolate chips: The types of chocolate chips that you use are really due to your personal preference. In these cookies, I would recommend using semi sweet or dark chocolate chips because the cookies themselves are already a good amount of sweetness.
Walnuts: Adding in some chopped up walnuts (or another nut, if you prefer) adds some crunch that compliments the cookies perfectly.
Sea salt: I love sprinkling some coarse sea salt or flaky salt on my cookies right when I pull them from the oven. The salt is an incredible contrast to the sweetness and richness of the cookie.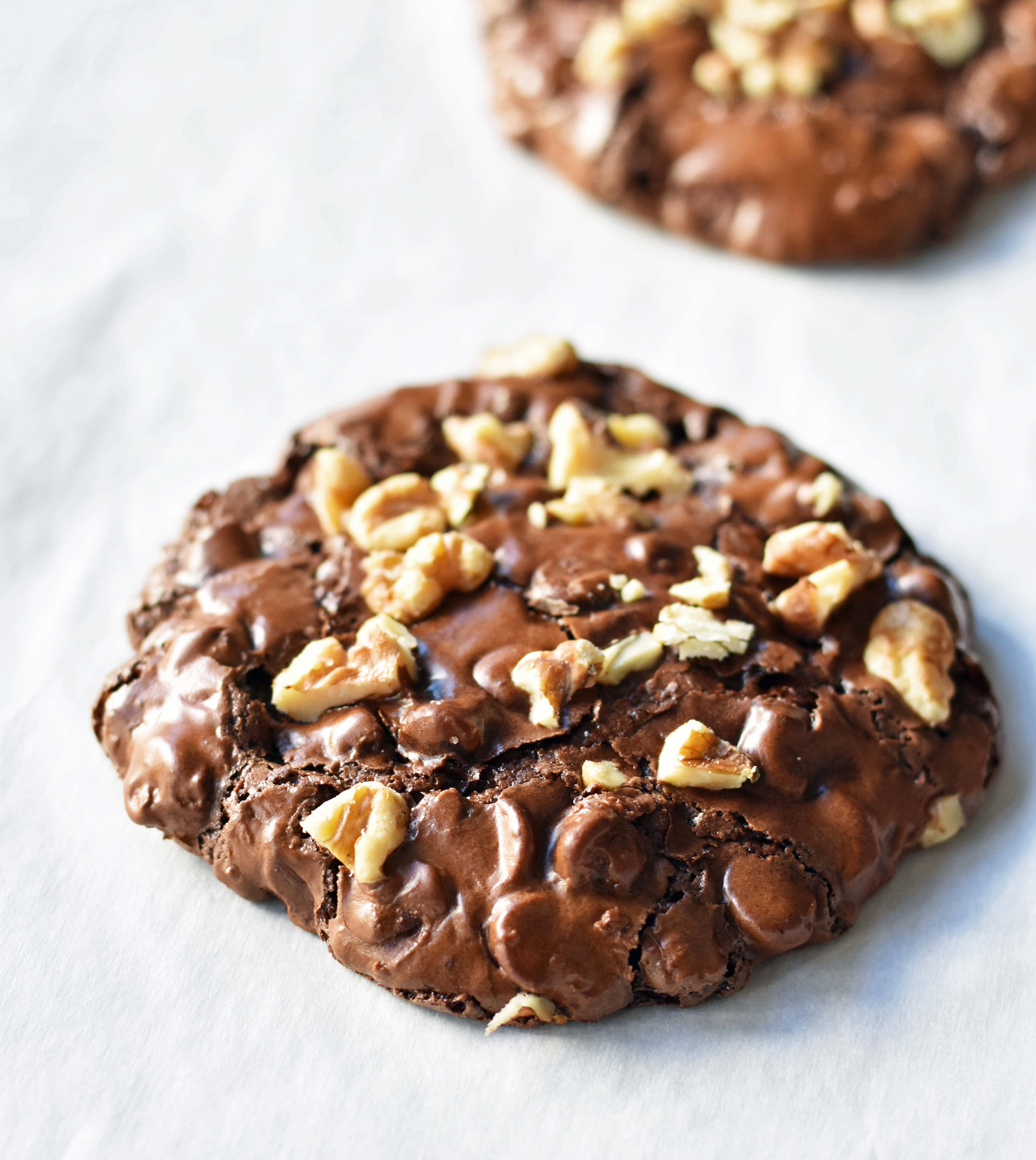 How to make Flourless Chocolate Brownie Gluten Free Cookies:
The good news is that these cookies are super easy! You can even make these in one bowl…by hand! Since there is no butter and granulated sugar, you don't have to worry about creaming. I mixed the cookie dough/batter in a big bowl with a spoon. It doesn't get any easier than that!
TIP: The dough may start off thick but changes consistency the more you stir it. If your dough ends up slightly runny, don't worry about a thing. Place the dough in the refrigerator to chill for at least 30 minutes.
I found that letting the dough rest for 30 minutes makes for a better cookie. It is best to place it on parchment or silpat-lined baking sheets.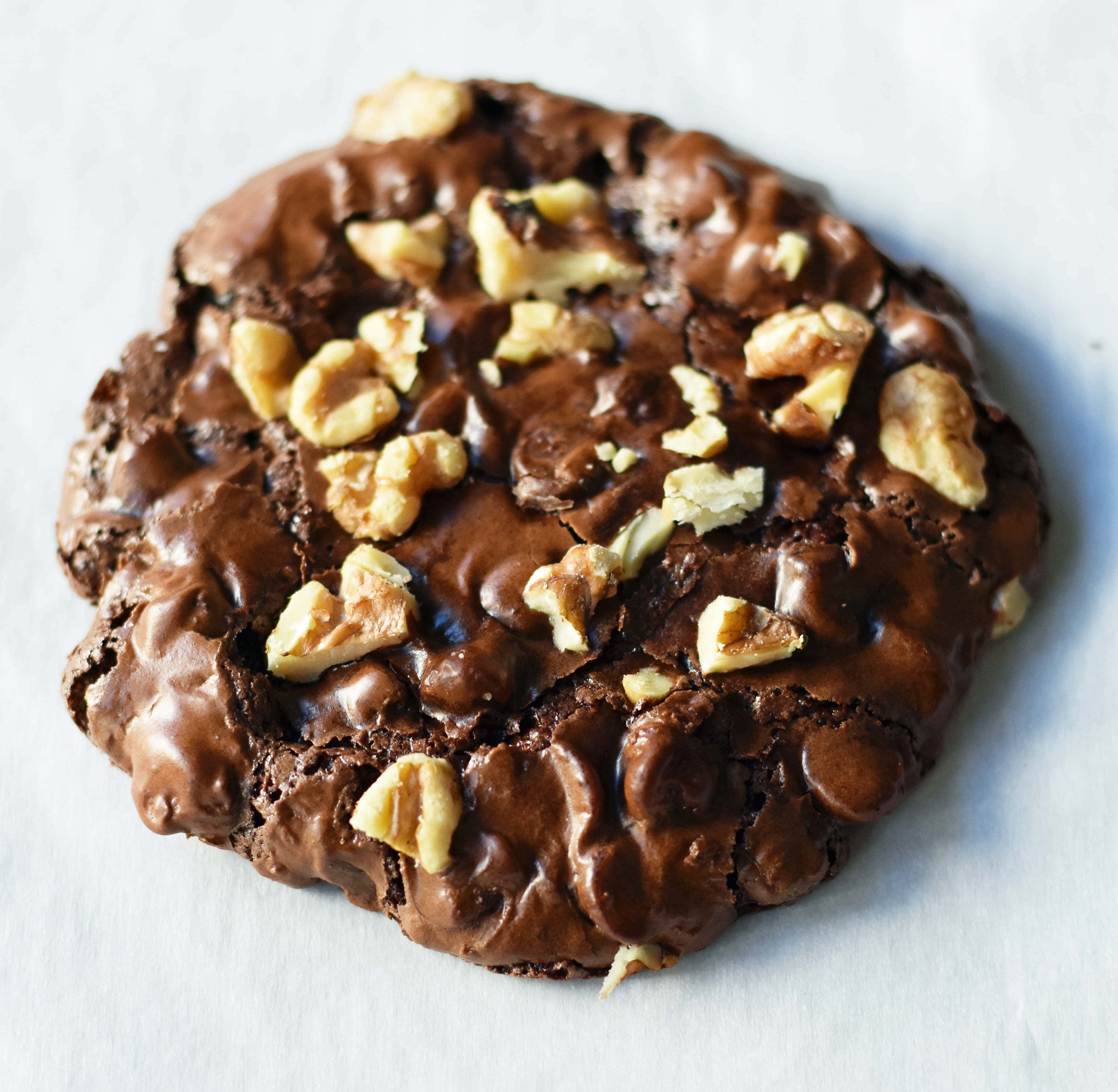 FAQ
What is the best cocoa powder to use in flourless chocolate cookies?
Cocoa Powder comes in natural and Dutch versions. Dutching raises the cocoa powder's pH levels, which neutralizes its acids and rounds out its flavor. Both natural and Dutch cocoa will work in recipes. Dutch-processed cocoa will produce baked goods with a darker color and moister texture.

My favorite cocoa powder to use is Dutch-process cocoa powder. I love to use Callebaut Dutched Cocoa Powder. It has a warmer color with reddish-brown notes. It is slightly sweeter than dark dutch cocoa powder. I find this unsweetened cocoa powder in the bulk section at Winco. It is much less expensive at Winco than you can find online.
What kind of chocolate chips should I use?
It all comes down to personal preference!
My personal favorite brands of chocolate to use in my cookies are Guittard, Ghirardelli, and Trader Joe's. 
I prefer the Guittard Milk Chocolate Chips for their rich, creamy flavor and the Ghirardelli Semi-Sweet Chocolate Chips. Trader Joe's chocolate chips are slightly larger in size and have a decadent chocolate flavor. You can use their Pound Plus Chocolate Bars to cut into chocolate chunks for the cookies.
Related recipes:
Pin on Pinterest: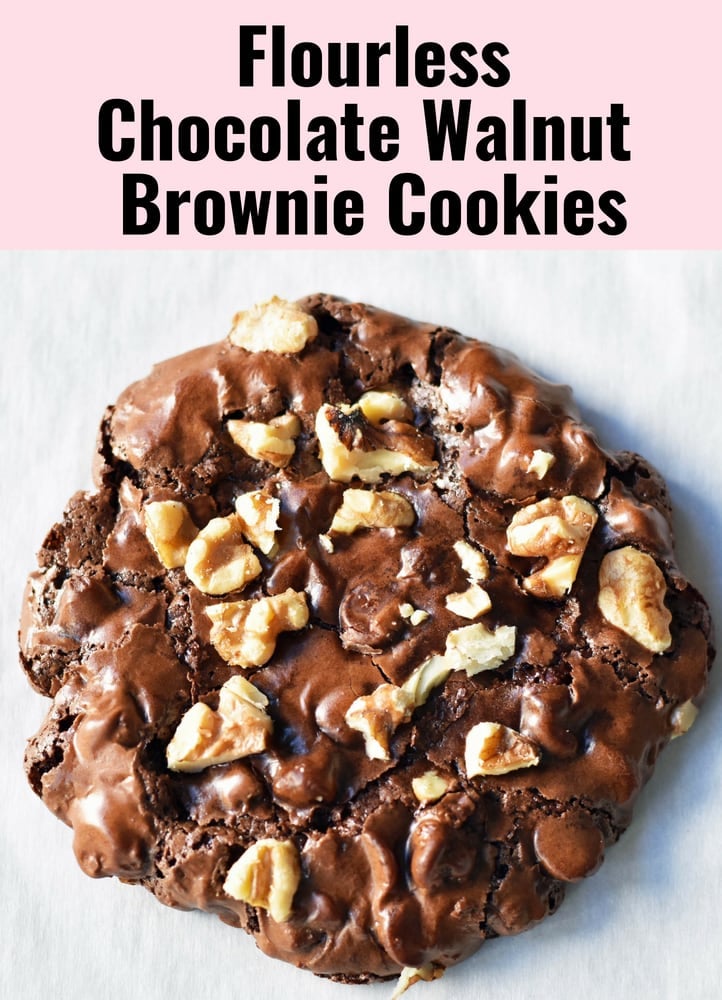 Pin this now to find it later
Pin It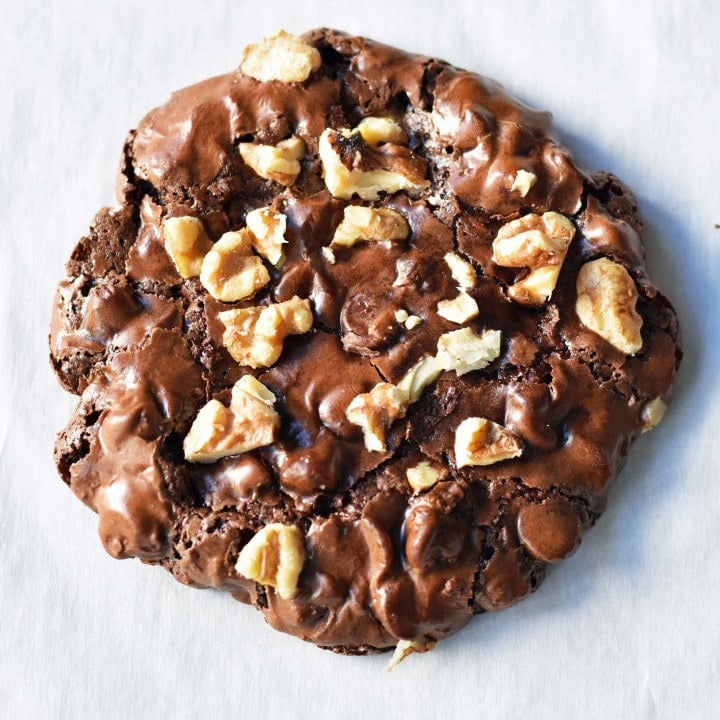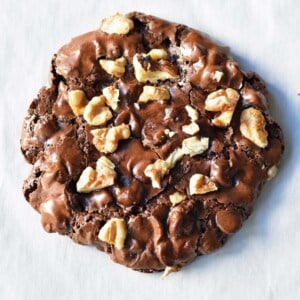 Flourless Chocolate Brownie Gluten Free Cookies
The best chewy, rich, and fudge-like cookies that are naturally gluten free. These flourless brownie walnut cookies are made with only 7 simple ingredients and will melt in your mouth! 
Equipment
kitchenaid mixer

baking sheet

parchment paper baking sheets

measuring cups and spoons

turner

spatula set

cookie scoop
Ingredients
3

cups

Powdered Sugar

3/4

cup

Unsweetened Cocoa Powder

1/4

teaspoon

Salt

4

Egg Whites

large eggs

1

teaspoon

Vanilla

1 1/2

cups

Semisweet or Dark Chocolate Chips

1

cup

Walnuts

chopped (optional)

Sea salt flakes
Instructions
Preheat oven to 350 degrees.

In large bowl, add powdered sugar, cocoa powder, and salt. Stir.

Add egg whites and vanilla and stir well to combine.

Fold in chocolate chips and walnuts.

Chill for at least 30 minutes.

Spoon on parchment or silpat lined baking sheets (to prevent sticking).

Bake for 11-15 minutes or until they edges start to crack.

Let cool on baking sheets.

Sprinkle with sea salt, if so desired.
Nutrition information is automatically calculated, so should only be used as an approximation.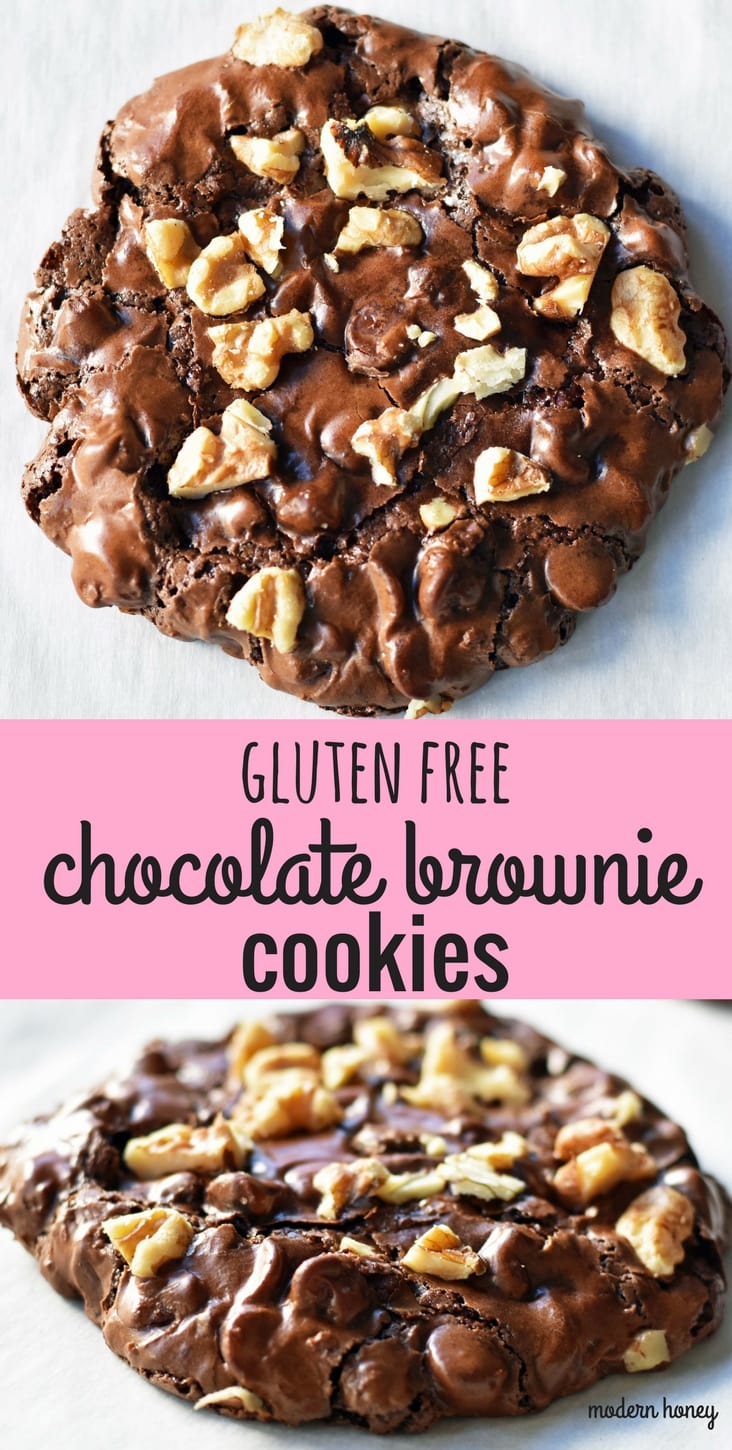 I hope my chocoholics love this chocolate brownie cookie! Let me know what you think on instagram at modern_honey. I would love to hear from you! Happy Baking! xo