Funfetti Cookies 
Soft chewy vanilla sugar cookies with rainbow sprinkles. Funfetti cookies made from scratch.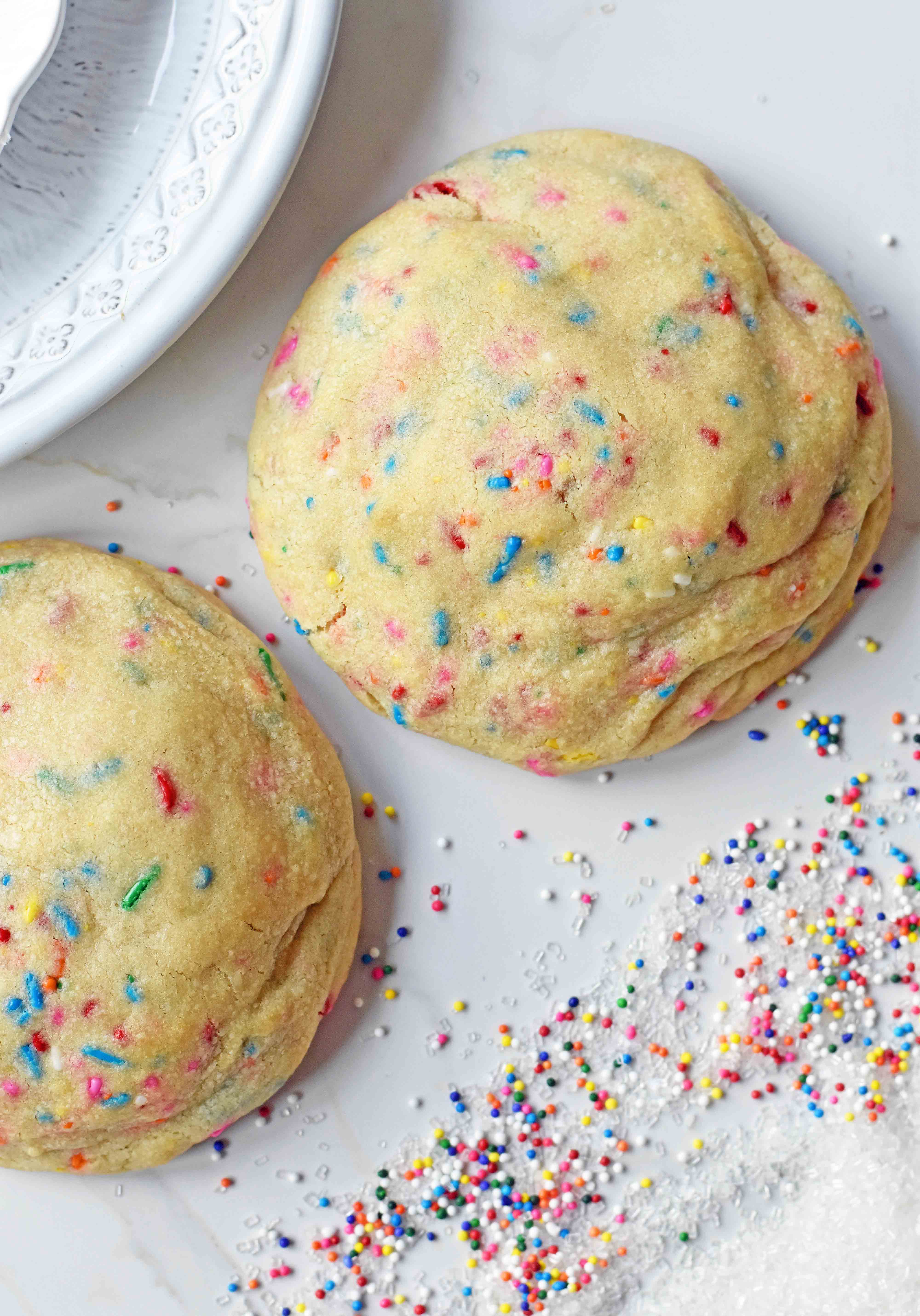 Everything is way more fun with sprinkles! I have been getting requests all over the place to create a funfetti cookie with sprinkles. They have been so popular all over Instagram these days since a bakery in New York City are selling them like crazy.
I am never one to shirk from a challenge...especially when it involves cookies. I was ready to create the ultimate funfetti cookie with sprinkles.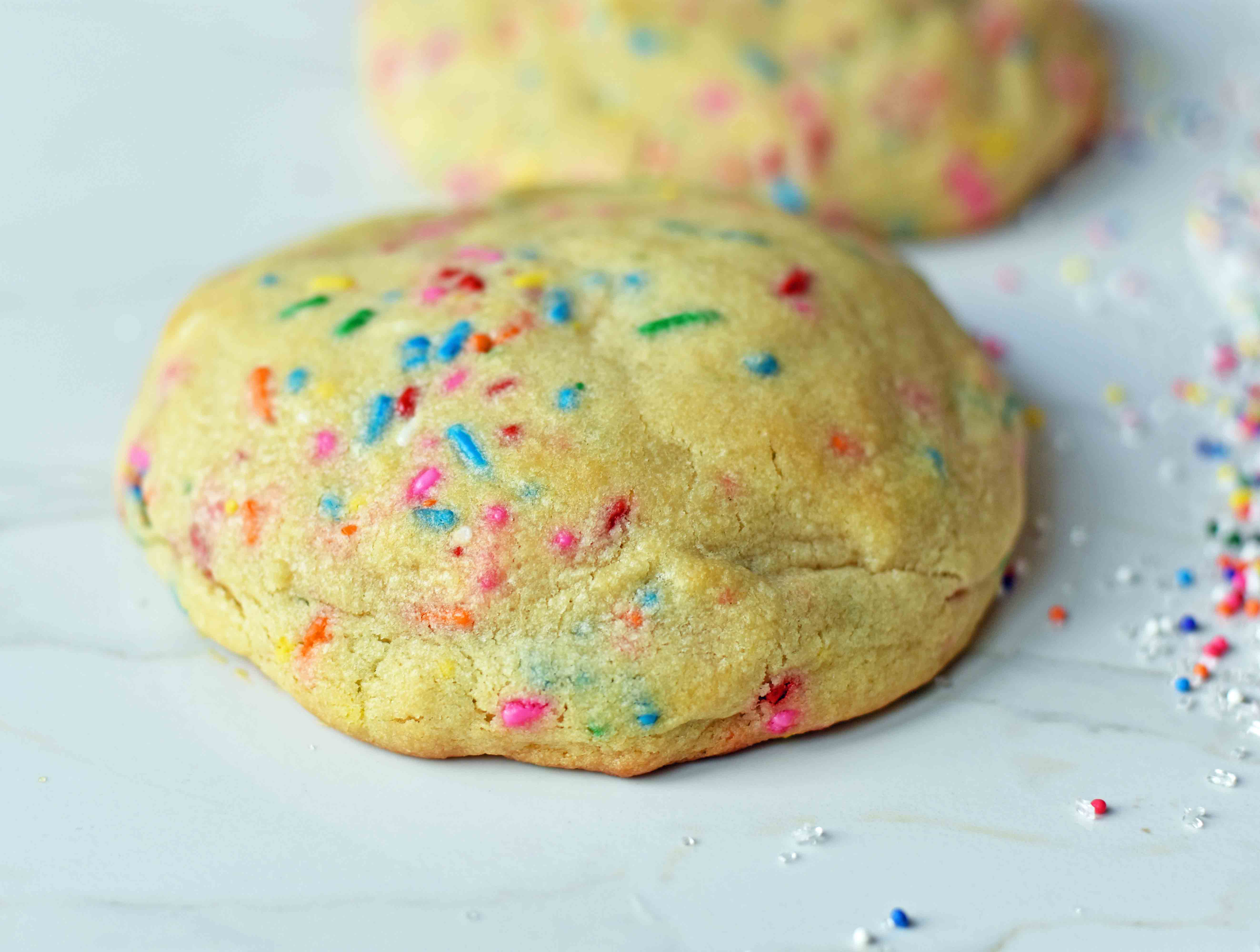 My daughter Sadie LOVES sugar. What I mean by loving sugar is that I find her eating it by the spoonful with the world's largest spoon. As a 3-year-old, she's the one that would sneak bags of marshmallows, Capri Suns, and even cherry Italian syrup from the pantry in the middle of the night. I wondered where all of my bags of marshmallows were disappearing to only to find them stuffed under her bed! It's no wonder she is the only kid that has left us with a hefty bill at the dentist's office.
So you can imagine how excited she was to find out I was making cookies with SPRINKLES! This is her dream cookie and you better believe, she was lined up to be the first taste tester. These cookies passed with flying colors and now she has requested them at every birthday party.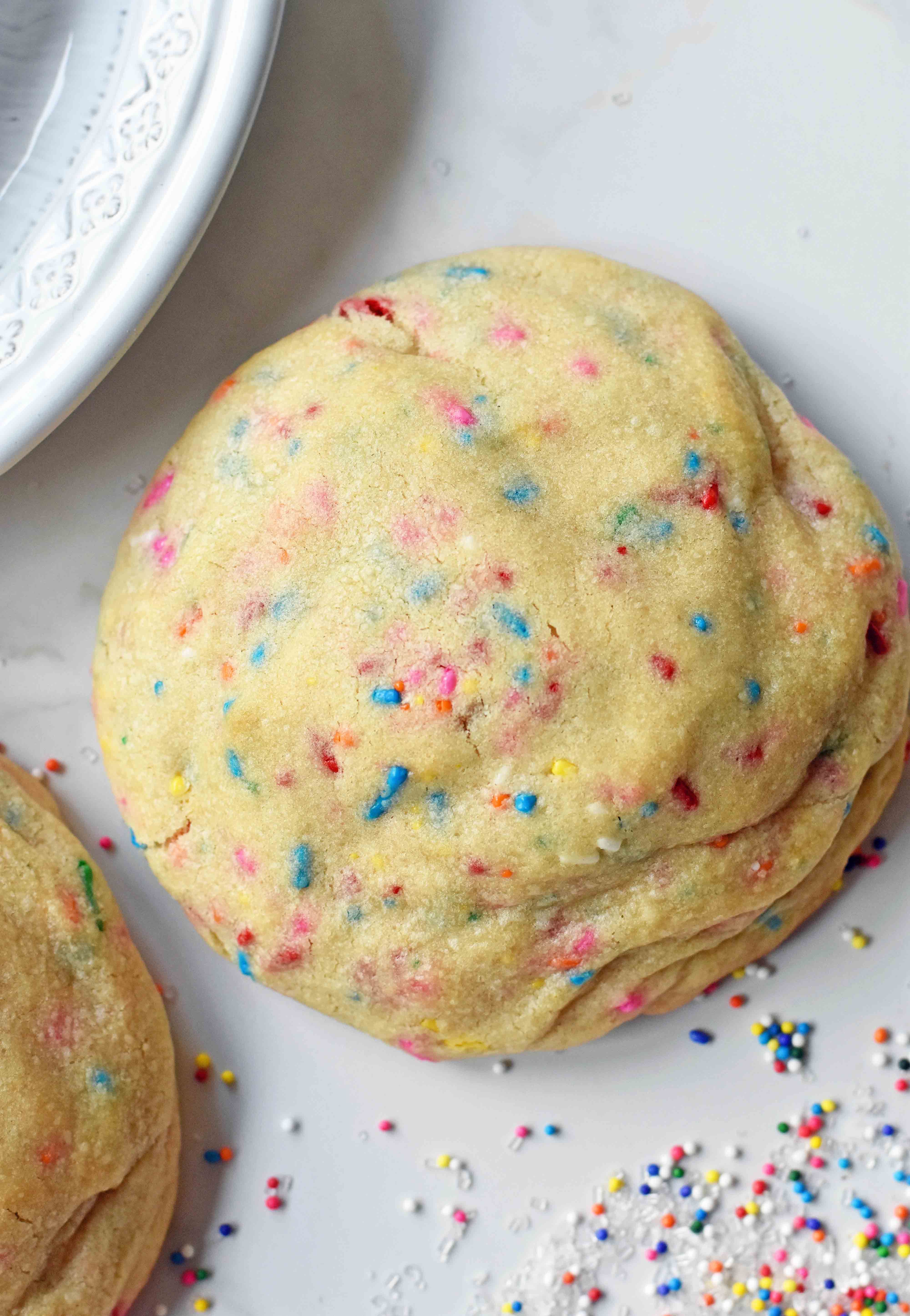 These are large made-from-scratch sugar cookies with rainbow sprinkles. I form them into balls about 6 ounces each since bigger is better. However, you can make them smaller. These funfetti cookies are baked at a high heat to make sure they are cooked on the outside but remain nice and soft and chewy on the inside.
These Rainbow Sprinkles Funfetti Cookies would be so cute served at a birthday party, graduation, or any time there is a celebration! These sprinkle cookies are always such a hit!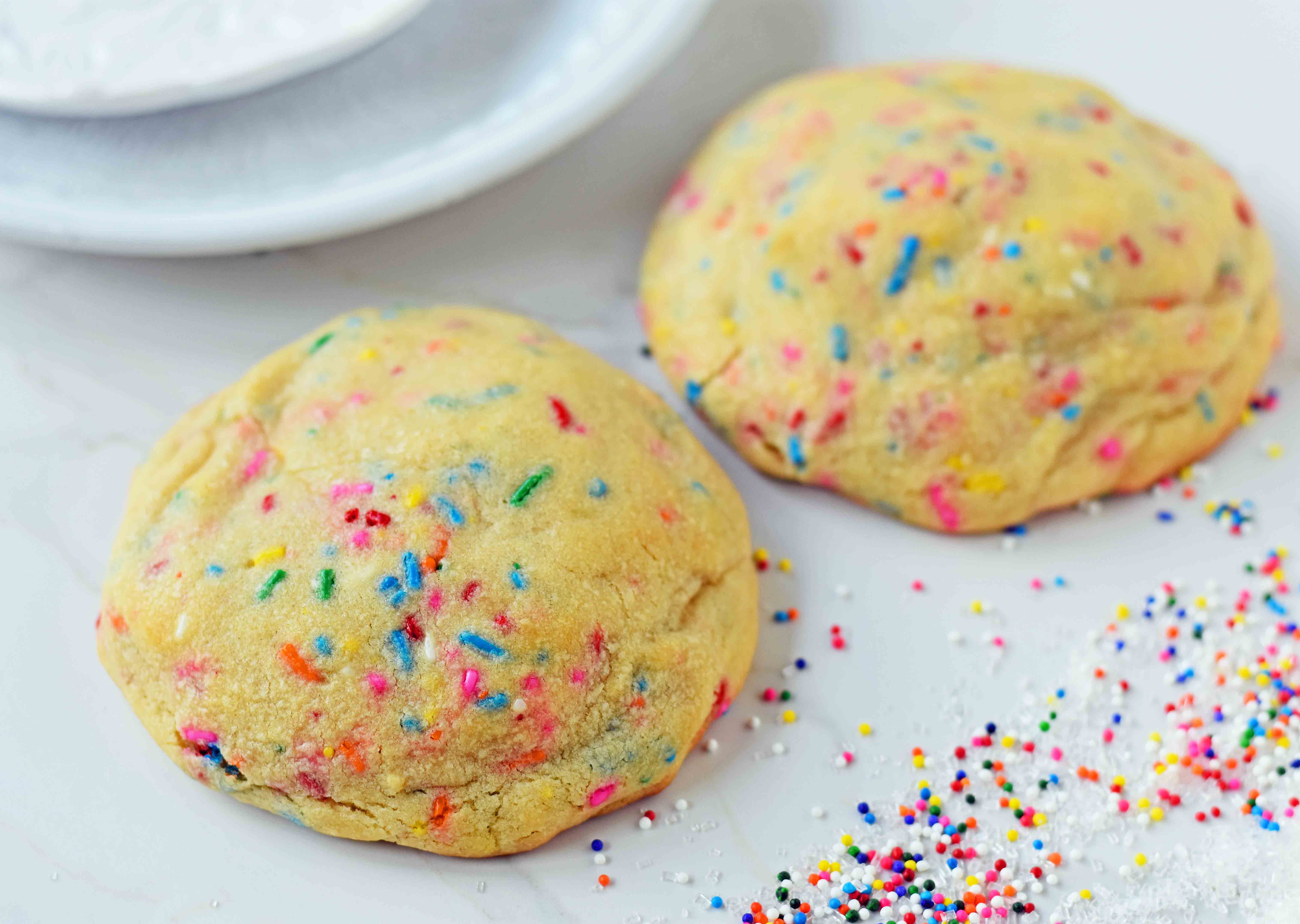 How to make Funfetti Cookies from Scratch:
 Start with Cold Butter. The butter needs to be cut into small pieces in order to cream with the sugar and brown sugar. Cream for 4-5 minutes, scraping the sides of the bowl often.

Add Eggs and Vanilla.

Add the eggs one at a time, creaming well after each addition. Stir in vanilla extract and mix.

Use Cake Flour + All-Purpose Flour.

This is what gives the cookies that soft, tender, perfect texture. The cake flour contains less gluten than traditional flour so it makes a softer texture.

Use Cornstarch + Baking Soda.

By using two leavening agents, these cookies have the perfect rise to them.
Bake at a High Heat. These sprinkles cookies are baked at 400 degrees. This is how the cookies remain so soft in the middle yet get those nice crisp edges.

Let sit for 15 minutes.

These confetti cookies need time to set-up so don't touch for 15 minutes. Then you can go eat them to your heart's content.
If you are looking for more cookie recipes, check out my SUGAR COOKIES, Levain Bakery Famous CHOCOLATE CHIP COOKIES, and my entire collection of MODERN HONEY COOKIES HERE.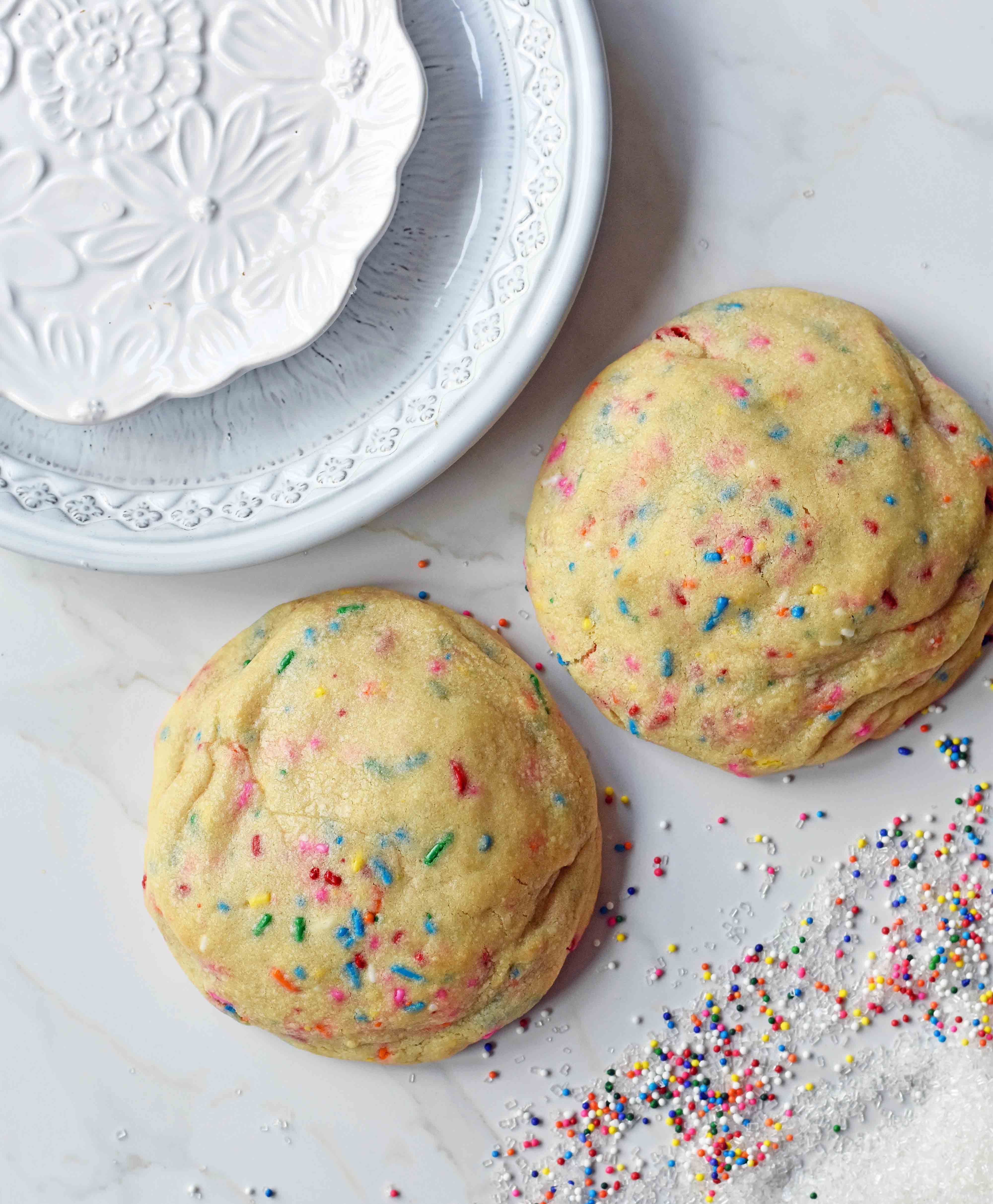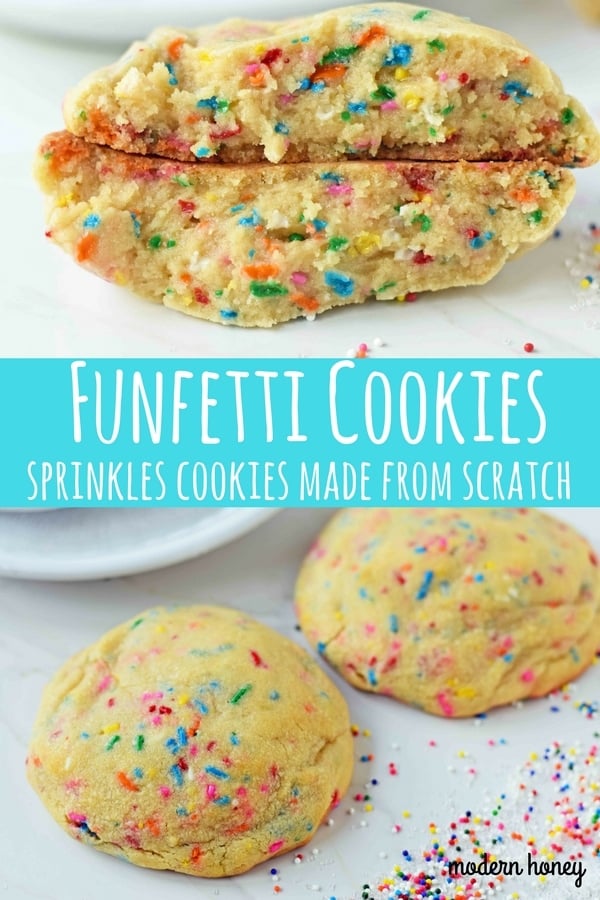 I hope you love these festive Funfetti Cookies with Sprinkles! Let me know what you think on instagram @modern_honey.  I love to hear from you! Also, tag me using hashtag #modernhoney @modern_honey.