Creamy, Buttery Garlic Mashed Potatoes made with potatoes creamed with butter, garlic, mascarpone cheese, cream, and salt. The creamiest garlic mashed potatoes recipe!
I am a sucker for mashed potatoes.
We ate them every single Sunday growing up and they are my ultimate comfort food paired with a beef roast.
Sometimes you want to eat mashed potatoes without gravy and these garlic mashed potatoes are the recipe for it! The garlic infused butter pairs perfectly with the potatoes and you won't even miss the gravy.
If you are looking for classic mashed potatoes, click HERE for my perfect mashed potatoes recipe.
These Garlic Mashed Potatoes have a secret ingredient, mascarpone cheese, to make them extra creamy. Mascarpone cheese is an Italian creamed cheese and has a smooth, velvet texture. It is nice compliment to the starchy potatoes.
Garlic Mashed Potatoes Ingredients:
Yukon Gold Yellow Potatoes
Butter
Garlic
Mascarpone Cheese
Half-n-Half or Whole Milk
Salt
What type of potatoes should I use in Garlic Mashed Potatoes?
My favorite potatoes to use in mashed potatoes are yukon gold, also known as gold dust or yellow potatoes. They have the creamiest texture! You can even use red, new potatoes and leave the skin on for rustic mashed potatoes.
Here is some information according to gardners.com on different types of potatoes and what differences they have in flavor and texture.
Russets are characterized by their rough brown skin and white flesh and have a dry texture. When baked, the thick skin crisps up to create a perfect "jacket" for the fluffy interior. They're easy to mash and ideal for frying and roasting. However, they'll disintegrate in soups and stews.
Waxy Potatoes are the popular Yukon Gold variety, these potatoes have a fine-grained, dense flesh that holds its shape when cooked. They can be mashed, roasted and baked.
White Potatoes have smoother, thinner and lighter-colored skin. Considered all-purpose potatoes, they are creamy when baked yet hold their texture when boiled.
Fingerling Potatoes are shaped like fingers — small and elongated. They have thin, tender skin and can be roasted.
New Potatoes have thin and tender skin, and they're often boiled whole and tossed with butter and fresh parsley.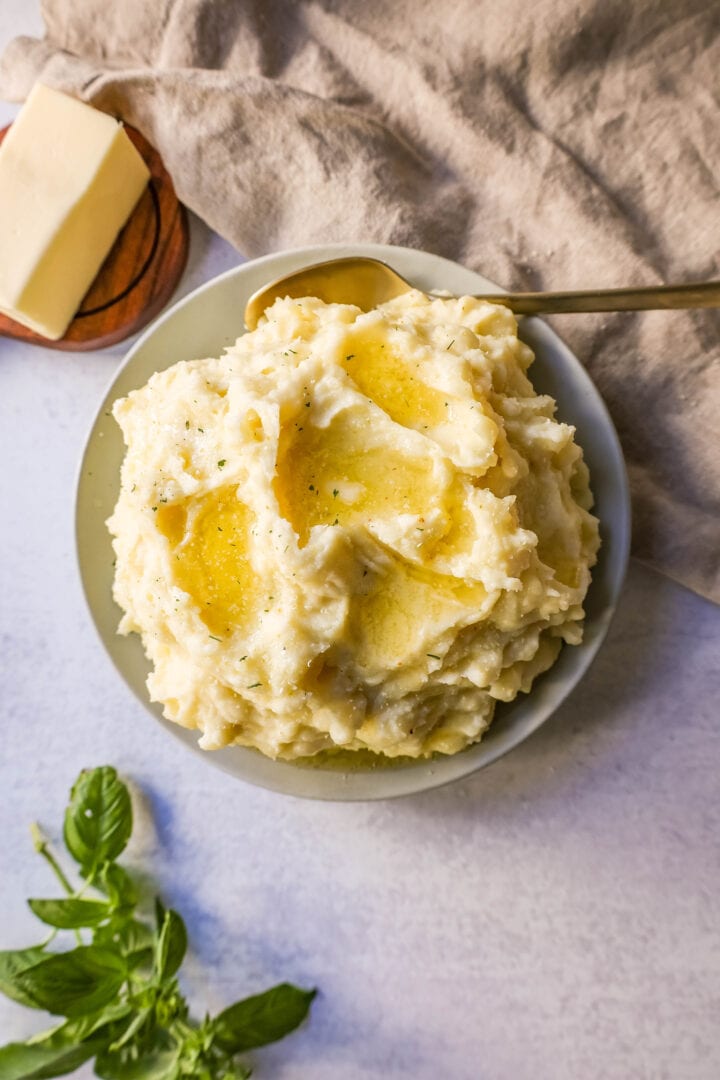 How to mash potatoes?
There are several ways to mash potatoes. You can mash with a potato masher, use a potato ricer, or use a hand mixer or stand mixer.
If you want chunkier mashed potatoes, mash them by hand with a potato masher.
If you want creamier mashed potatoes, use a potato ricer.
If you want a mix between the two, you can use a hand mixer. Just don't overmix too much or you may end up with a gummy texture.
What can I substitute for mascarpone cheese?
Since mascarpone cheese is an Italian cream cheese, you can substitute softened full-fat cream cheese.
You can also substitute full-fat sour cream in these garlic mashed potatoes.