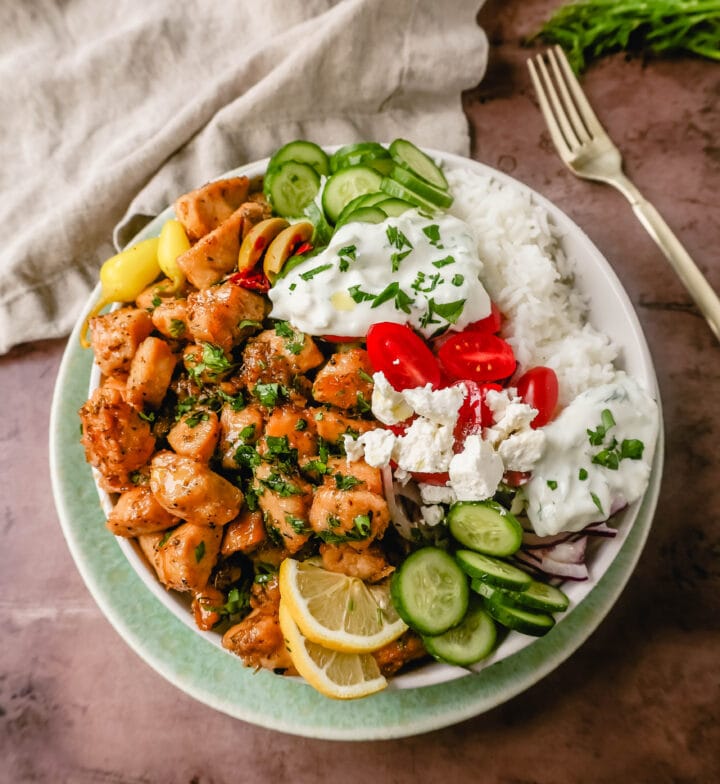 How to make the Best Greek Chicken Bowls. Grilled Greek Lemon Chicken, cucumber, tomatoes, red onion, kalamata olives, feta cheese, and homemade tzatziki sauce all in one bowl. A high-protein and low carb meal!
I am full-on obsessed with bowls. It is an easy way to get a ton of my vegetables in at one time and the bowls are usually gluten-free which is always a good thing in my diet.
Plus you can meal prep these bowls ahead of time so eating a healthy meal at lunch or dinner is super easy!
Mediterranean food has been so popular recently because of its health benefits and incredible flavors.
My daughter and I make these Greek Chicken Gyros with Tzatziki Sauce at least once a week when she is home from college. Homemade tzatziki sauce is in our refrigerator at all times.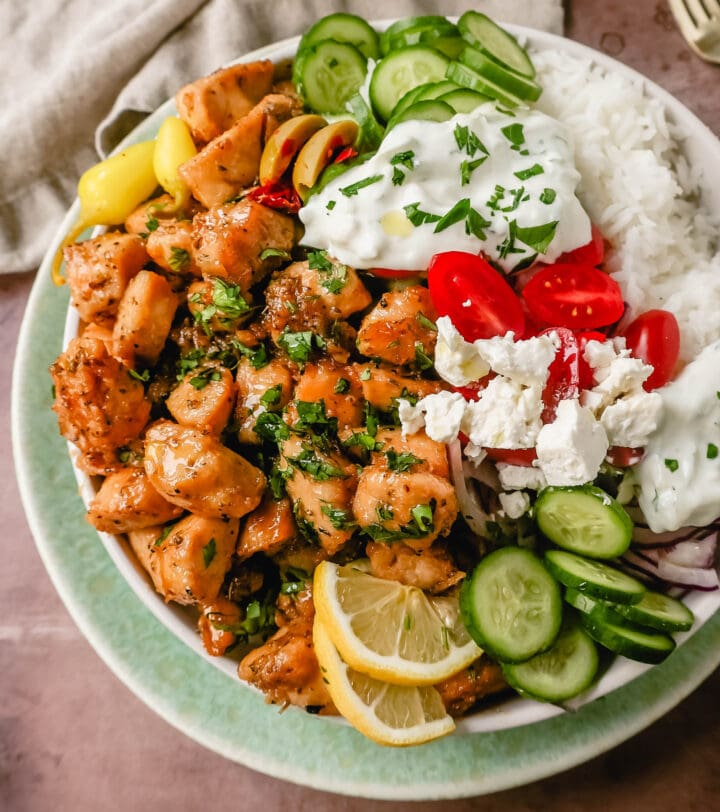 What ingredients are in Greek Chicken Bowls?
Grilled Lemon Chicken -- the chicken is marinated in olive oil, lemon juice, red wine vinegar, greek yogurt, and spices to make it extra juicy and flavorful. You can also sautee honey chicken instead.
Grape Tomatoes -- I love to use grape tomatoes and slice them in half lengthwise, lightly salt the tomatoes, and toss in the bowl.
Sliced Cucumbers -- use any type of cucumber but the mini cucumbers are perfect in these bowls.
Red Onions -- red onion adds so much flavor. I suggest slicing it into thin strips.
Feta Cheese -- use crumbled or block feta cheese that can be cut into squares.
Kalamata Olives -- add the perfect saltiness to these Greek bowls.
Tzatziki Sauce -- a fresh, homemade tzatziki sauce made with greek yogurt, cucumber, garlic, lemon, EVOO, and spices.
If you want to add some filling carbs, you can add quinoa, rice, or couscous to the bowls.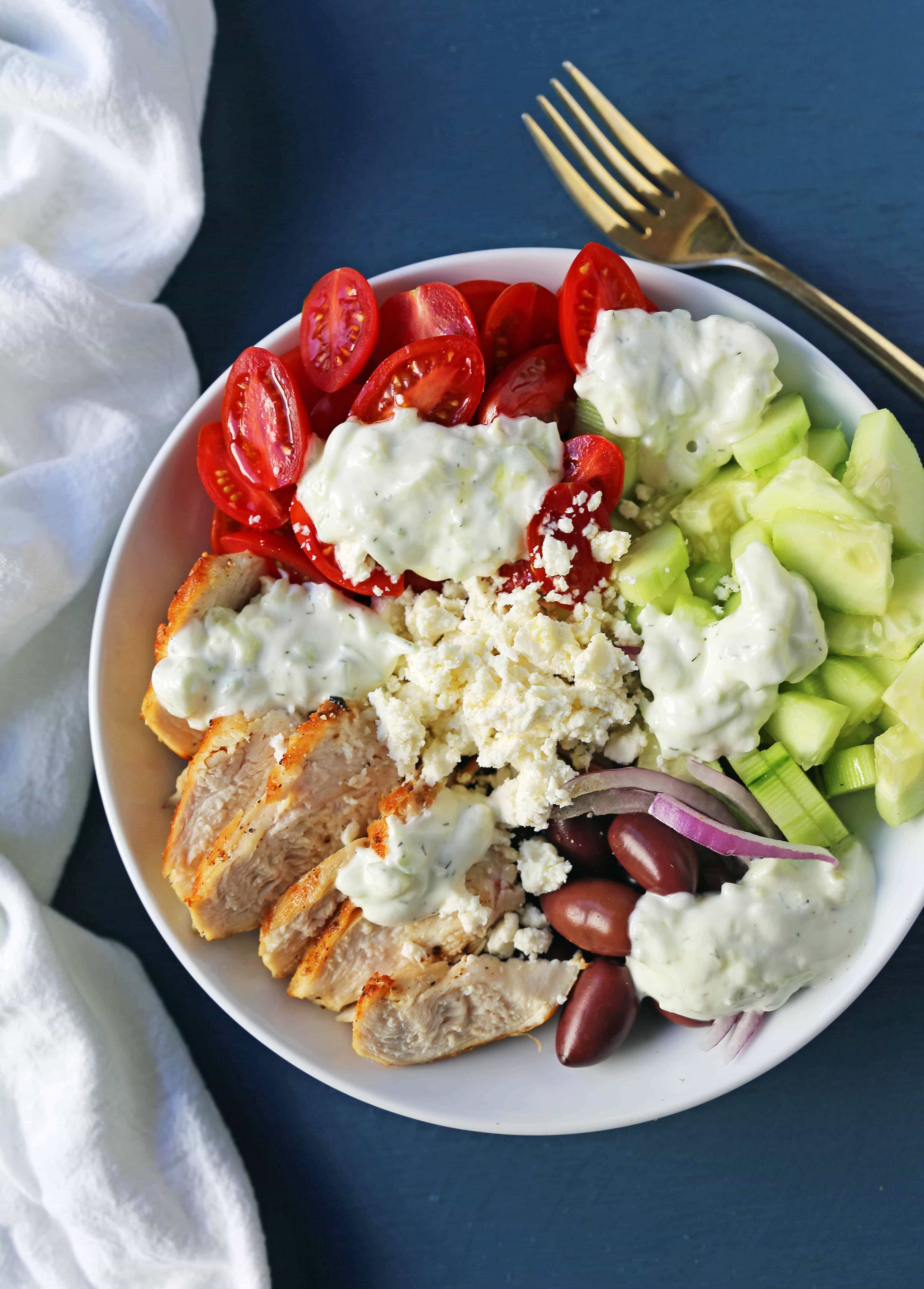 How to make Greek Chicken Bowls:
Start by grilling or sauteeing chicken. I prefer to marinate my chicken for at least 30 minutes but 3-4 hours is ideal. Once it is grilled or sauteed, wait 5 minutes before slicing to allow the juices to soak in. You can also make quick honey chicken in less than 15 minutes.
Make the homemade tzatziki sauce. You can use store-bought as well but this homemade tzatziki sauce is killer. Use unflavored and unsweetened Greek yogurt because this is similar to a dressing. Also, make sure to squeeze out as much water as possible from the grated cucumber so the tzatziki sauce doesn't become watery.
To assemble bowls start with grilled chicken, tomatoes, cucumbers, red onions, and kalamata olives. Top with a generous amount of feta cheese and tzatziki sauce.
These Greek Chicken Bowls can be made ahead of time and are perfect to put together on meal-prep Sundays.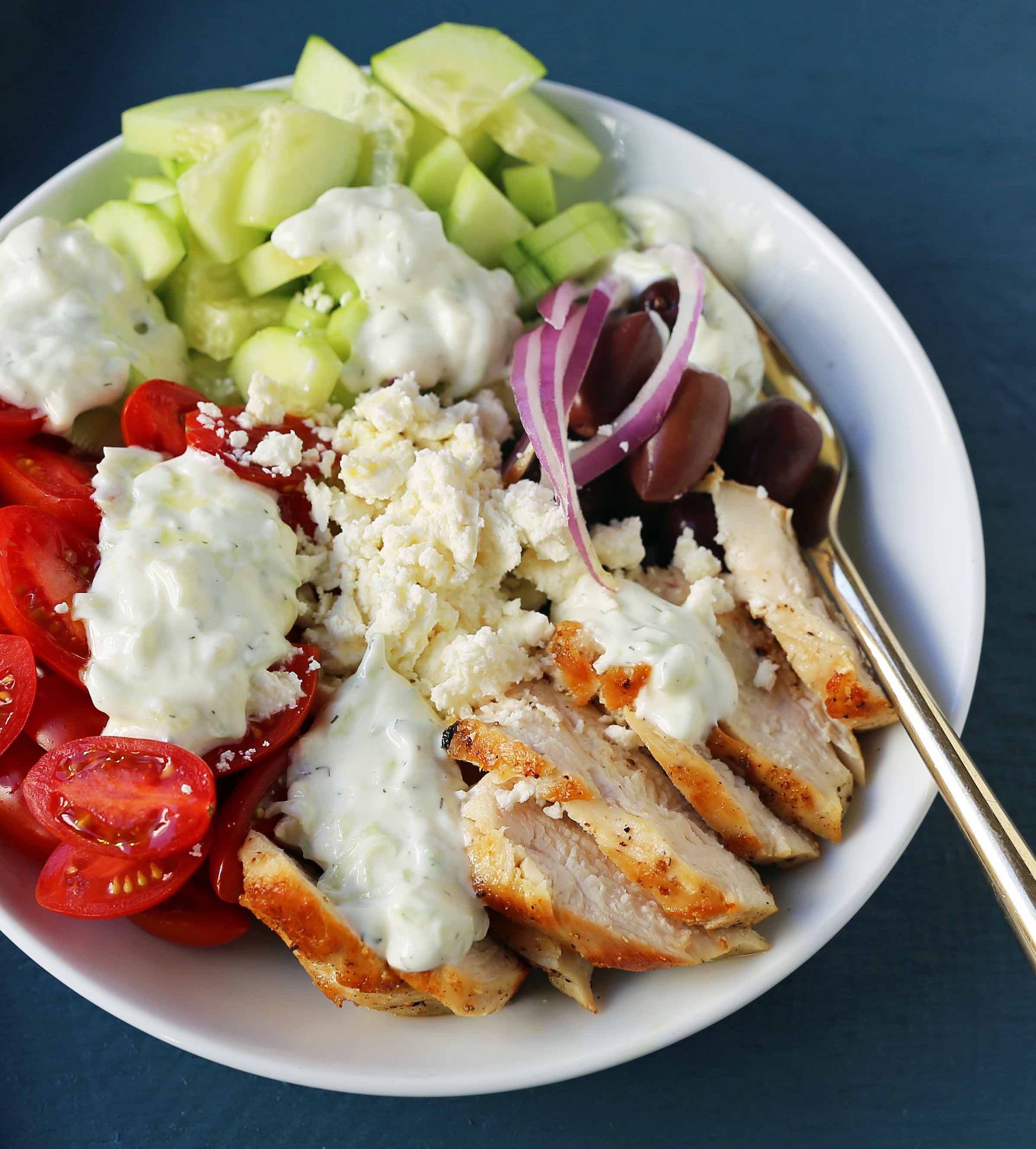 I love to hear from you! If you make this recipe, please be sure to leave a comment and give this recipe a rating. Sign up for my newsletter below so you never miss a recipe. Thank you for following along! I truly do have the greatest readers. FOLLOW ME ON: INSTAGRAM — FACEBOOK— PINTEREST