This Green Chile Chicken Enchilada Soup is made with tender chicken, green enchilada sauce, green chilies, cream cheese all in a chicken broth and topped with homemade fried tortilla strips, fresh avocado, cilantro, and Monterey Jack cheese. This is the most flavor-packed creamy green chicken enchilada soup recipe.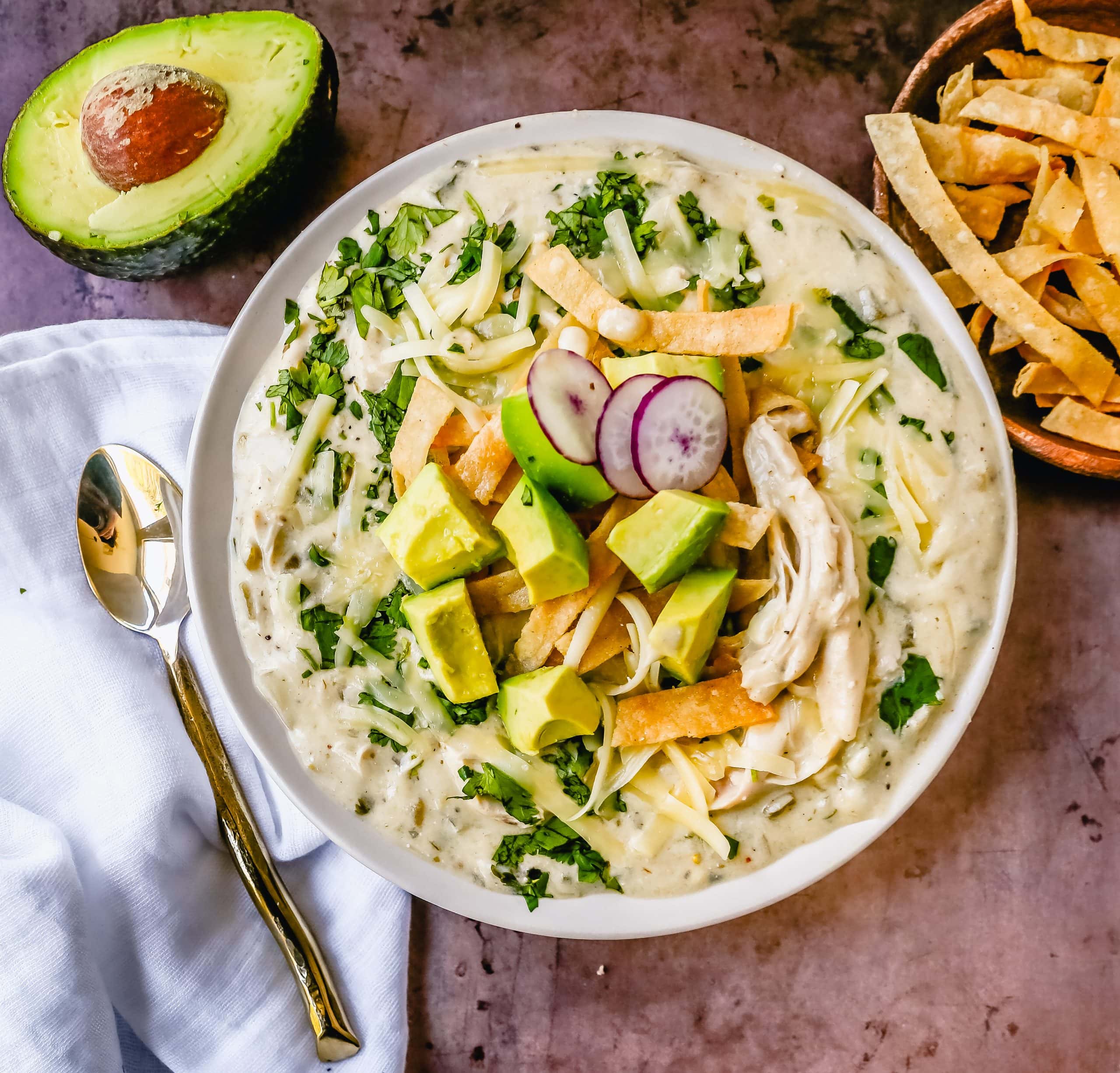 Whenever I go to a Mexican food restaurant, my go-to order is always enchiladas. I will branch out and try the tacos, the quesadillas, the burritos but I always want to see how an authentic Mexican restaurant makes their enchiladas. The best is when you can order one enchilada with green sauce and the other with red sauce, also known as Christmas enchiladas. Then you can try both green and red sauces and determine the winner.
Long before I started Modern Honey, I loved to create soups for my family. I would just throw a bunch of vegetables I found in the refrigerator and create new soup recipes. I have always loved soups because I could hide a lot of veggies in them by dicing them super small or blending them up in a blender and adding a lot of herbs and flavorful spices.
This green enchilada chicken soup recipe came about when I had a lot of extra cans of enchilada sauce on my hands and it was a cold day out and I was craving some warm and comforting soup. This green chili chicken enchilada soup takes less than 20 minutes to make and is so easy! This has become one of the most requested soups in our home and the perfect weeknight meal.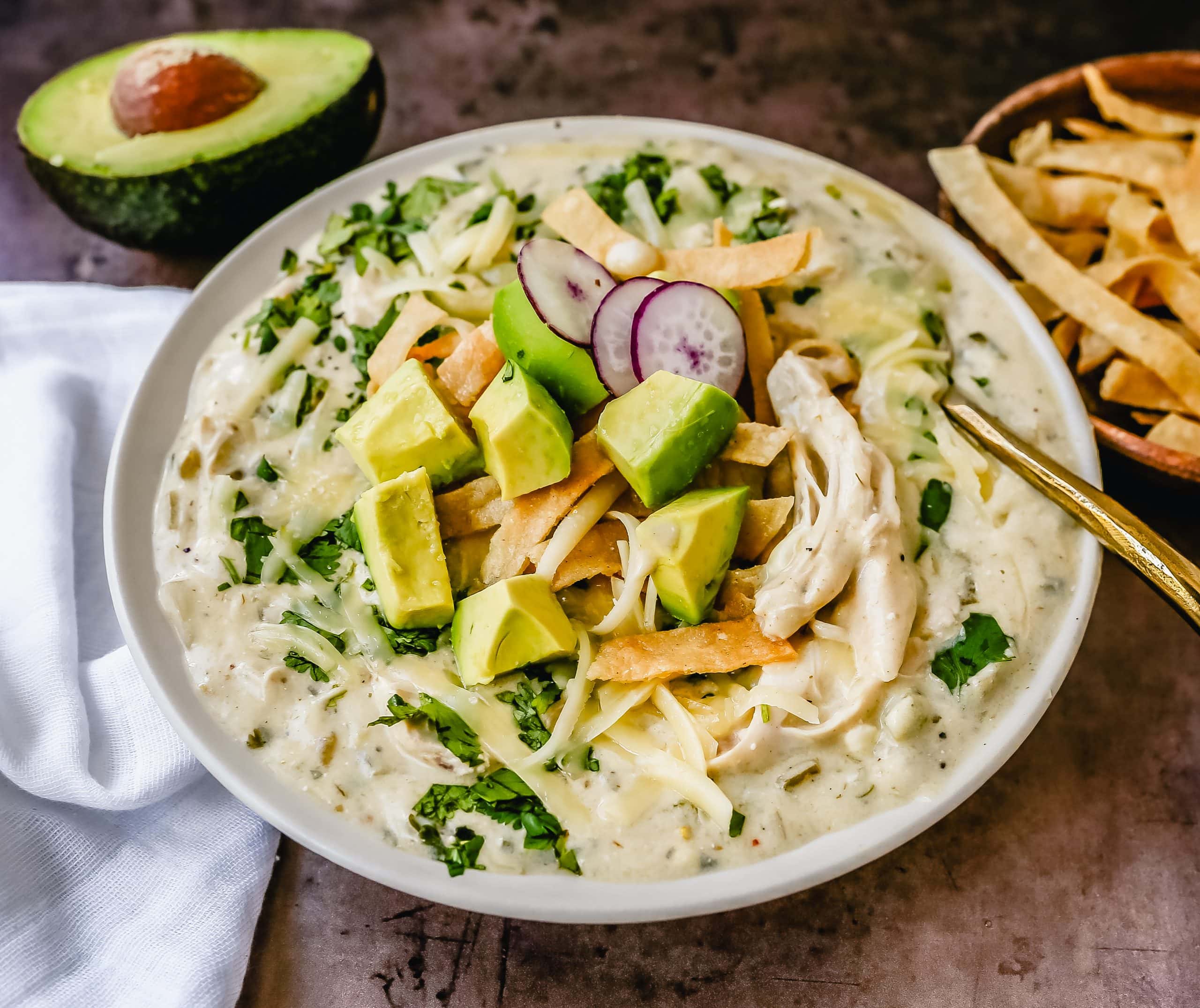 What is Green Chile Chicken Enchilada Soup?
This enchilada soup is a mix between comfort foods -- green chicken enchiladas and chicken tortilla soup. It is creamy, cheesy, with the taste of chicken enchiladas in a soup! It is the ultimate comfort food soup.
What ingredients are in this Chicken Enchilada Soup Recipe?
Rotisserie Chicken or Shredded Poached Chicken
Green Enchilada Sauce
Chicken Broth
Green Chiles
Onion + Jalapeno
Cream Cheese
Monterey Jack Cheese
Plus toppings!
What toppings should I put on top of Chicken Enchilada Soup?
Avocado
Cilantro
Fried Corn Tortilla Strips
Sour Cream or Mexican Crema
Monterey or Pepper Jack Cheese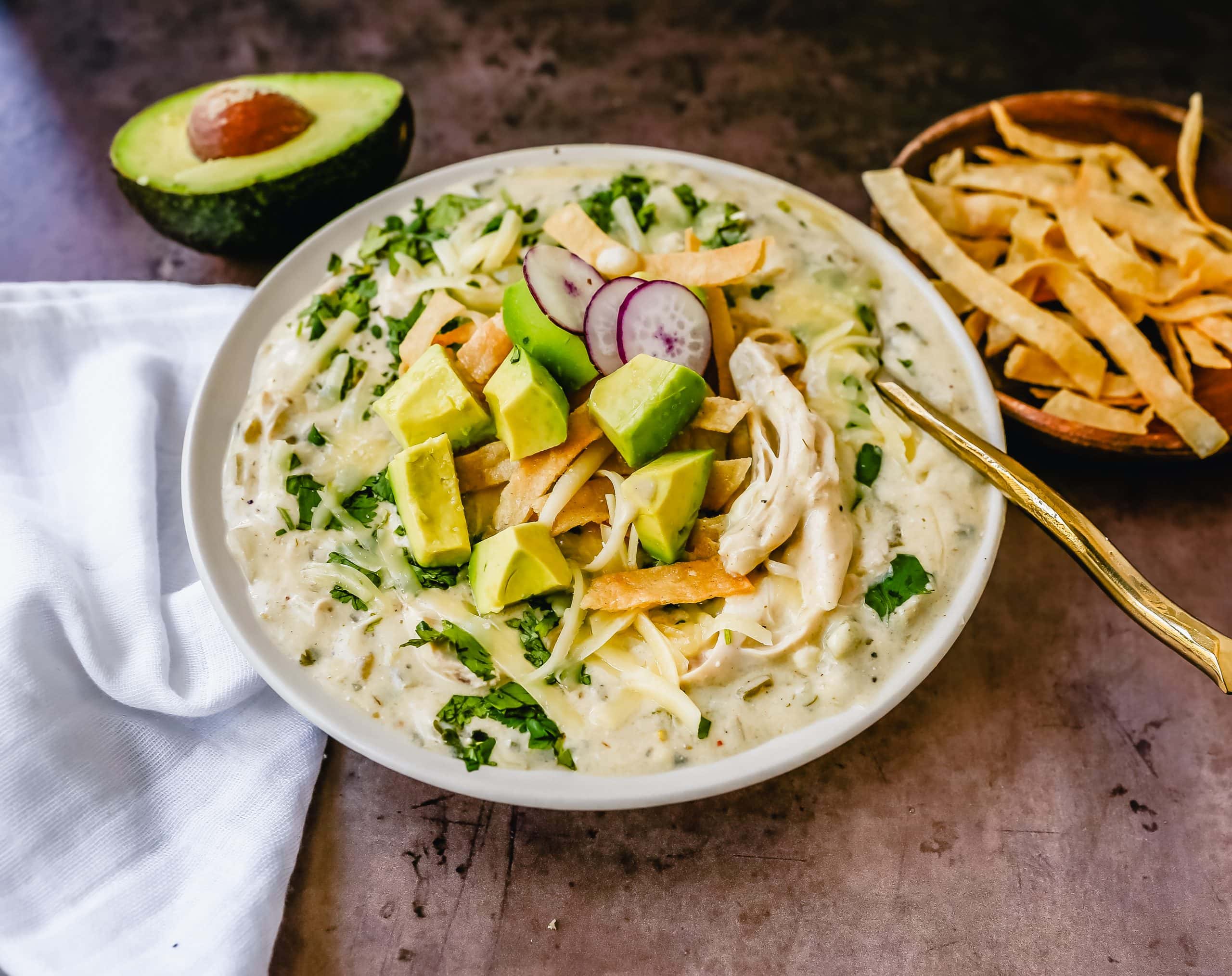 How to make this Creamy Chicken Enchilada Soup with Cream Cheese:
Start by sauteeing diced onions and jalapeno in a touch of oil in a pot until the onions are soft and tender. When you saute the onions, it brings out the sweetness of the onions.
Add chicken broth, green enchilada sauce, green chiles, and cream cheese. I suggest adding only small bits at a time of the cream cheese to allow it to melt into the soup.
Shred the chicken and add to the soup. If using rotisserie chicken, you don't need to worry about seasoning the chicken. If you are poaching the chicken, make sure to add salt and pepper to the chicken before adding it to the soup.
Stir in half of the Monterey Jack or Pepper Jack Cheese. The soup should look creamy. If you want a thinner soup, I suggest adding more chicken broth to the soup and let it simmer for 5 more minutes.
Make the fried tortilla strips by cooking corn tortilla strips in oil until a light golden color and crispy. Top the green chicken enchilada soup with the fried tortilla strips, cheese, cilantro, and avocado.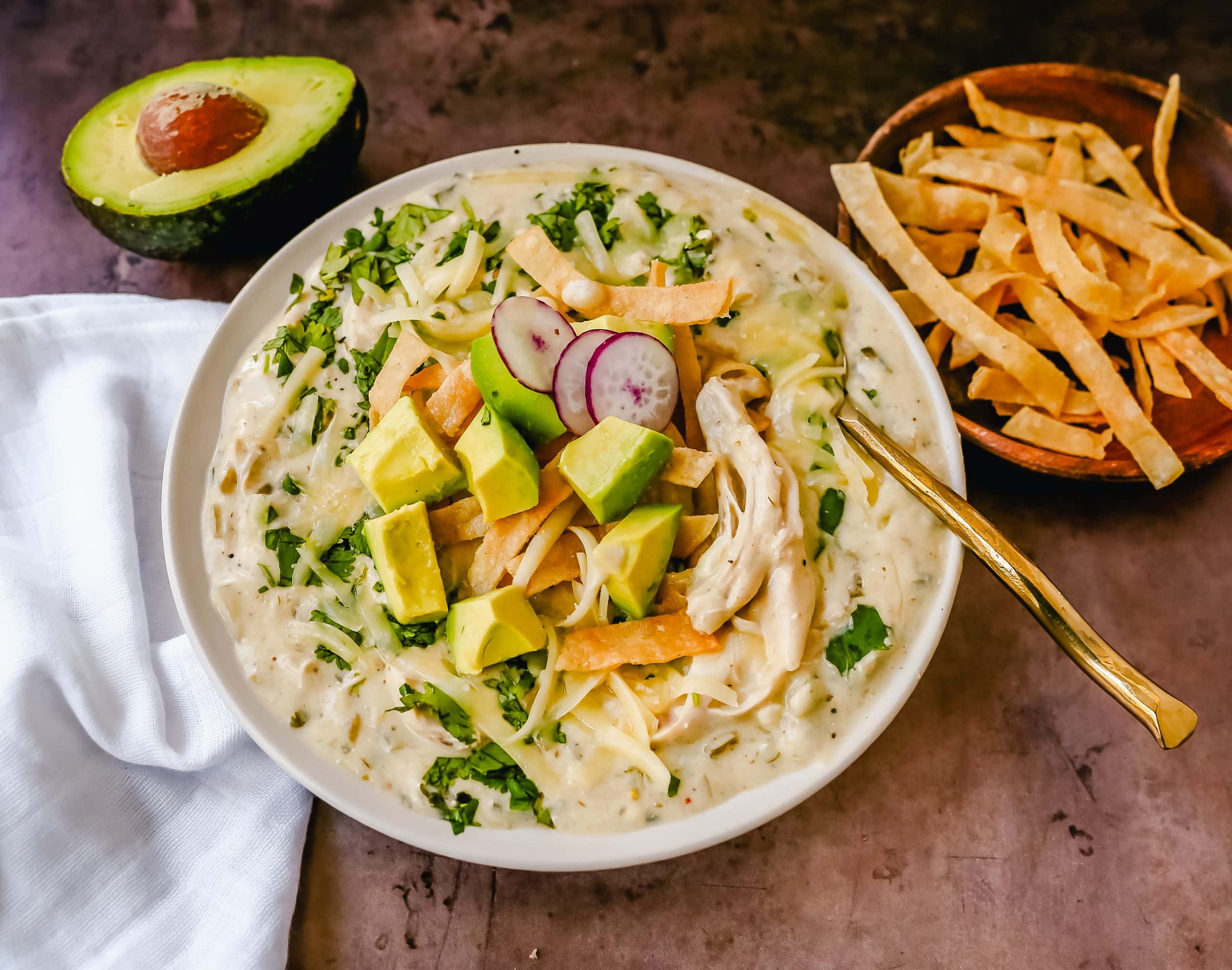 Can I make this Chicken Enchilada Soup in a Crockpot or Slow Cooker?
Absolutely! You can add all of the ingredients and cook on low for about 2-3 hours. If you are using raw chicken, I suggest cooking for 4 hours or until fully cooked.
I suggest sauteing the onions and jalapeno in a skillet before adding to the crockpot to soften the onions and bring out the flavor and natural sweetness.
Also, I suggest cutting the cream cheese into very small pieces to enable it to melt into the soup. I would use full-fat cream cheese as the low-fat doesn't melt well into the soup.
Here are some popular soup recipes: