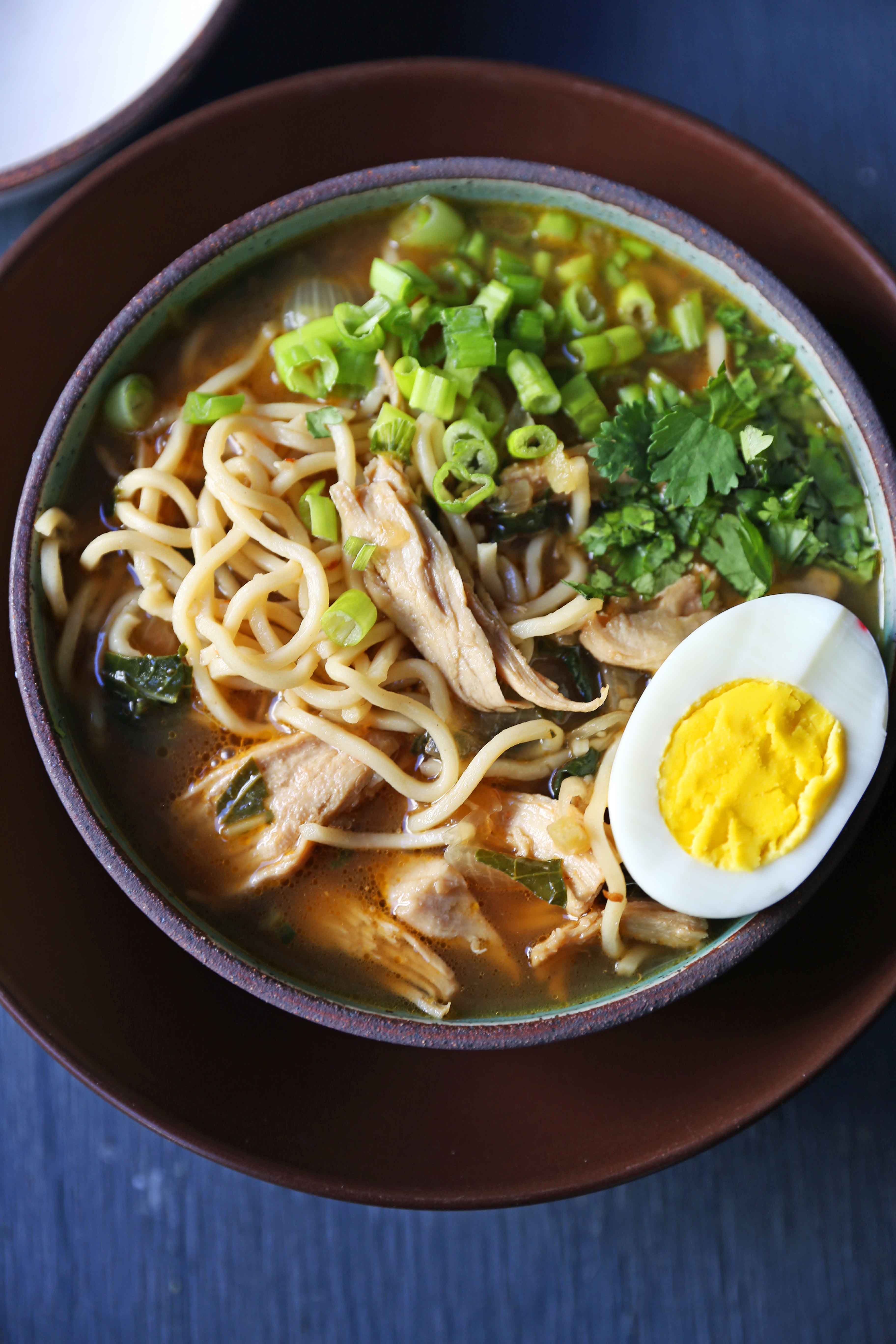 Homemade Chicken Ramen
Mama was right. Isn't she almost always right? She always made us chicken soup when we were sick. The warm chicken broth soothed our throats and made us feel human again. Whenever my kids start to come down with a cold, I reach for a pot to make a big bowl of soup full of nutritious vegetables and chicken broth.
I am sharing how to make a quick and easy chicken ramen, which is full of immune boosting foods.  My kids love the 12 cent ramen noodles from the store but there's a reason they are 12 cents! I wanted to create a warm, hearty, good for their bodies soup that will keep their immune system healthy and strong.
We recently flew to Kauai, Hawaii and it was a LONG flight.  Thankfully they had TV's with different specials and of course, I went straight for the food specials. I watched a 40-minute special on how to make authentic ramen. It is an art and something they take seriously in Japan. I couldn't wait to come home and make it in my own kitchen! I even searched where to find the noodles! This is a quick sped up version of their prized ramen.
This Homemade Chicken Ramen can easily be made in less than 30 minutes. You heard that right! Homemade Ramen in 30 minutes.  I found all of the ingredients at my local Fry's (it's my second home).  They have an Asian aisle so most of the ingredients I needed were in one place.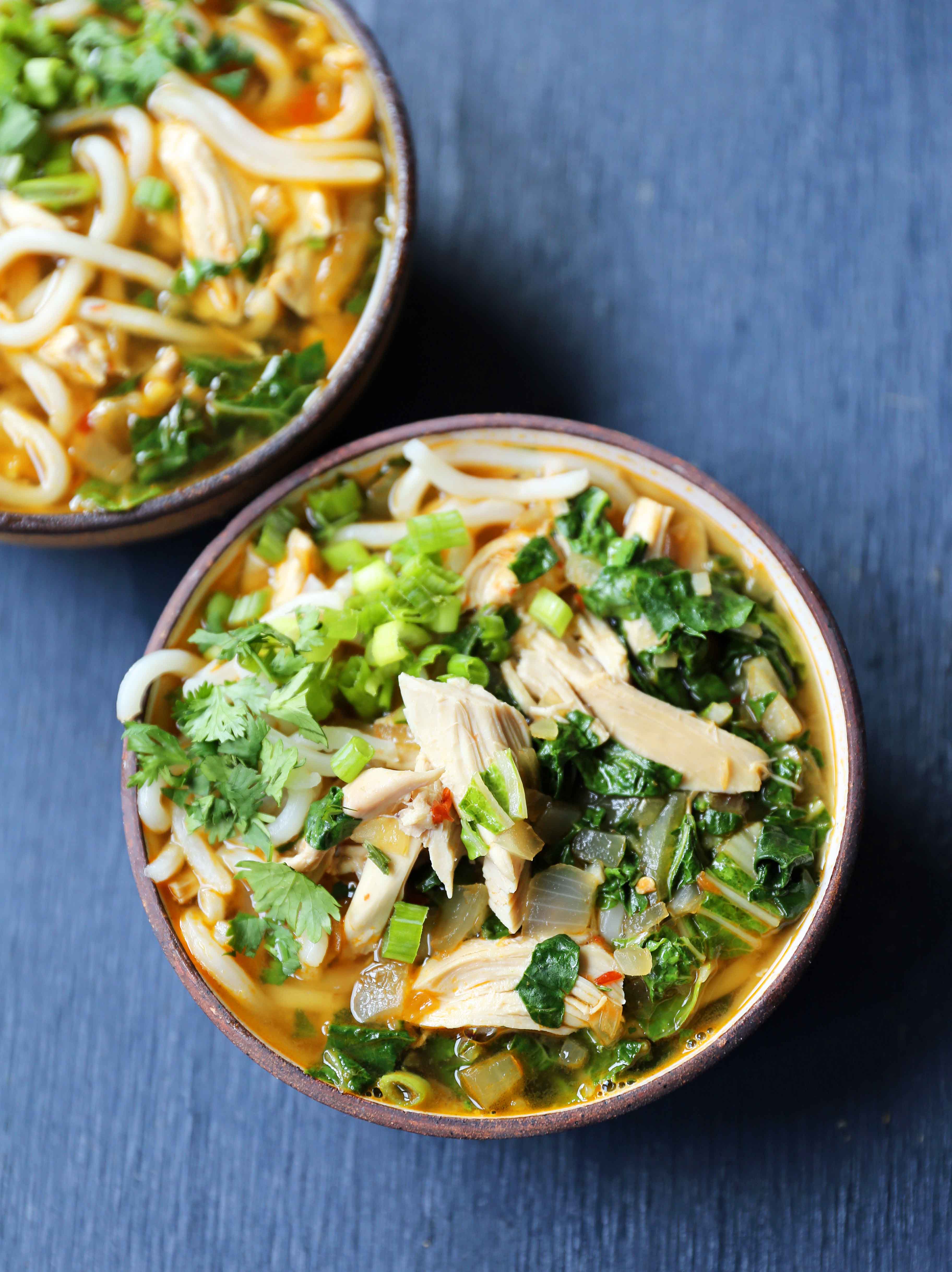 Why is this Homemade Ramen so good for the immune system?
Onions are widely known for being beneficial for the immune system. Onions are full of selenium, zinc, and vitamin C. Garlic is also famous for it's immune boosting properties and has more than 100 sulfuric compounds which are powerful enough to wipe out bacteria and infection.  At the first sign of sickness, my mother-in-law always gives us garlic tablets. Eat more garlic! Ginger is known for its antibacterial properties and helps support the immune system.
The warm chicken broth is beneficial for breaking up mucus and congestion.  It is also very soothing for a sore throat. Bok Choy is an Asian cabbage and one of the most anti-inflammatory foods you can buy! It is known for their vitamin C, Zinc, and A vitamins. You can also throw in mushrooms for their antioxidant benefits. The shredded chicken breast is low-fat and high in protein.
What is in this Homemade Chicken Ramen:
This Homemade Ramen is made with tender Simple Truth chicken, onion, ginger, garlic, Simple Truth chicken stock, chili garlic sauce, soy sauce, ramen or Udon noodles, bok choy, and topped with scallions, cilantro or thai basil, and even a hard-boiled egg. It is healthy, flavorful, and delicious! If you want a shortcut, you can use chicken from a rotisserie chicken.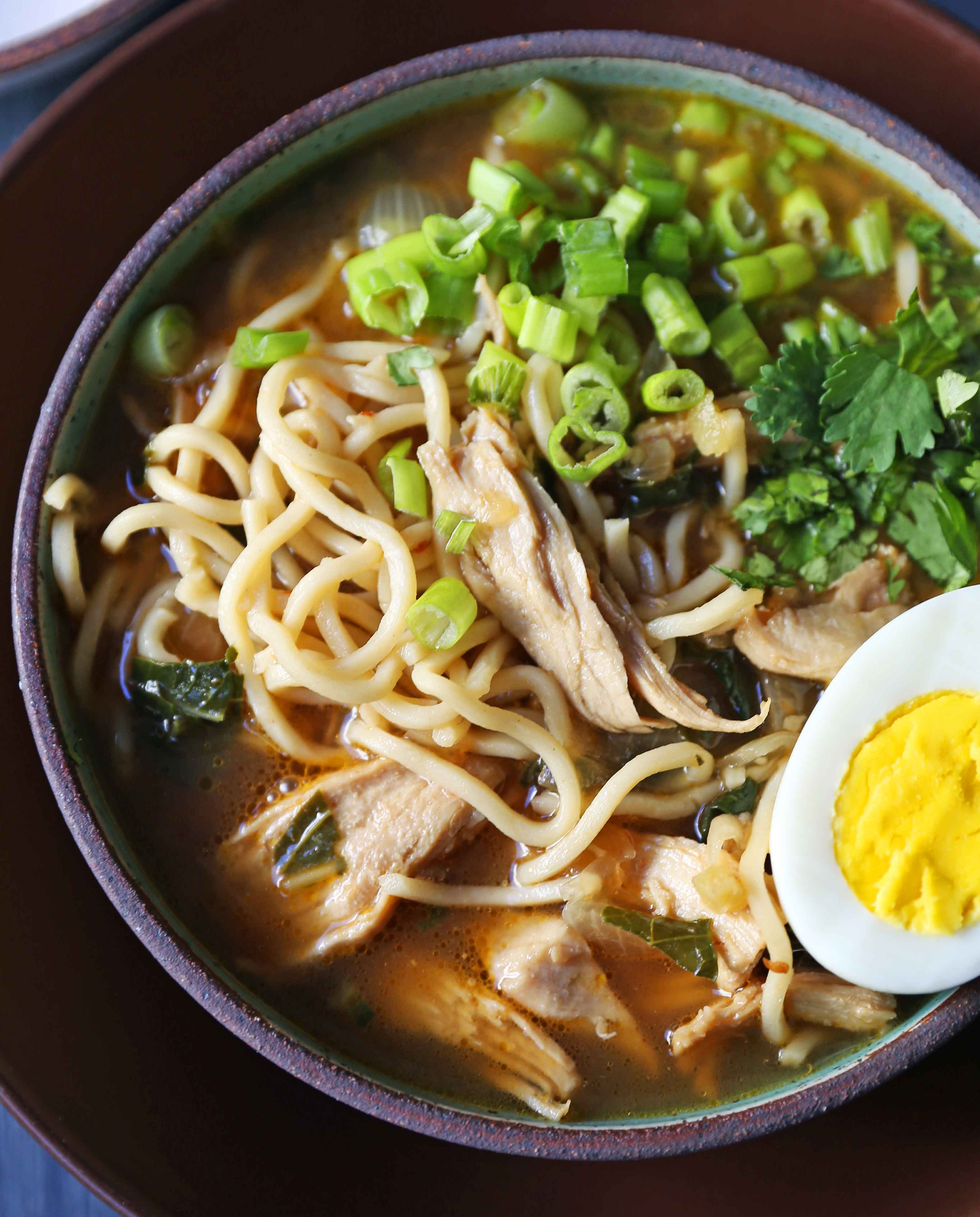 How to make Homemade Chicken Ramen:
 Slowly cook chicken breast until tender. Place chicken in a pot and cover with water. Bring to a slow rolling boil and then reduce heat to medium-low. Cook for 5-7 minutes and then turn off heat. Cover pot and let it stay covered for at least 15 minutes,until chicken is fully cooked. Shred chicken.
While chicken is cooking, start by sauteing onion until soft and tender. Add garlic and ginger and saute for 1 minute longer.
Add chicken broth and let it simmer for at least 10 minutes.
Stir in chili garlic sauce and soy sauce. Season with salt and pepper, according to taste.
Add shredded chicken, bok choy (and mushrooms, if using) and cook for 2 minutes longer.
Cook ramen noodles according to package instructions and place noodles into a bowl. Ladle with broth and vegetables. Top with scallions and herbs and a hard-boiled egg, if desired.
I even tracked my purchases on the new OptUp App which helps me find good-for-you options. It's a healthy shopping tool at my fingertips! I found that almost every single ingredient is in the green so I know that I am feeding my family something that is good for them and their immune systems. You can find out more information by going to their Wellness Your Way site.