Homemade Chocolate Ice Cream
Simple creamy homemade chocolate ice cream made from scratch 
It's 110 degrees today in perpetually sunny Arizona so we are trying everything we can to stay cool. If this means eating ice cream every day to stay cool…sign me up!
I always wanted to create a silky smooth, creamy melted chocolate ice cream made from scratch. This handcrafted chocolate ice cream is made from super simple ingredients — dark chocolate, sugar, heavy cream, whole milk, and vanilla. No need to add egg yolks or filler ingredients. It is all about simplicity to let the chocolate flavor come through.
The key is to let the heavy cream, whole milk, and sugar simmer until the sugar is dissolved. This ensures the ice cream base is super smooth. Once the sugar is completely dissolved, it is time to whisk in the chocolate. Choose your favorite type of dark chocolate. I suggest using anywhere from 50% – 72% semi-sweet dark chocolate.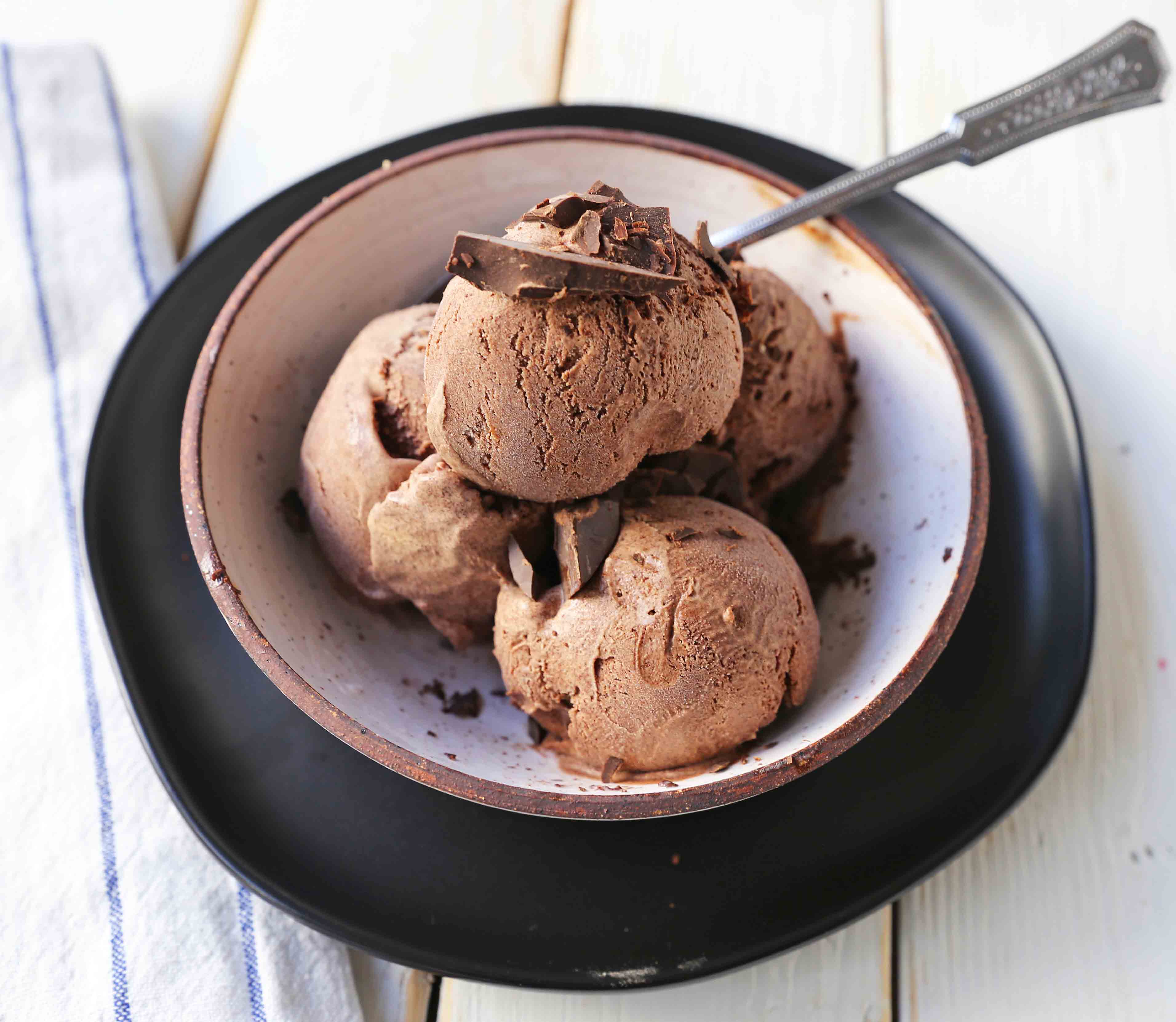 How to make SMOOTH Homemade Chocolate Ice Cream:
It is imperative to fully melt the chocolate while vigorously whisking. The chocolate needs to be fully melted before chilling the ice cream base in the refrigerator.  I suggest finely chopping a block of high-quality chocolate into small pieces. This will help it to melt quicker and more evenly. Return mixture to medium-low heat to ensure it is fully melted.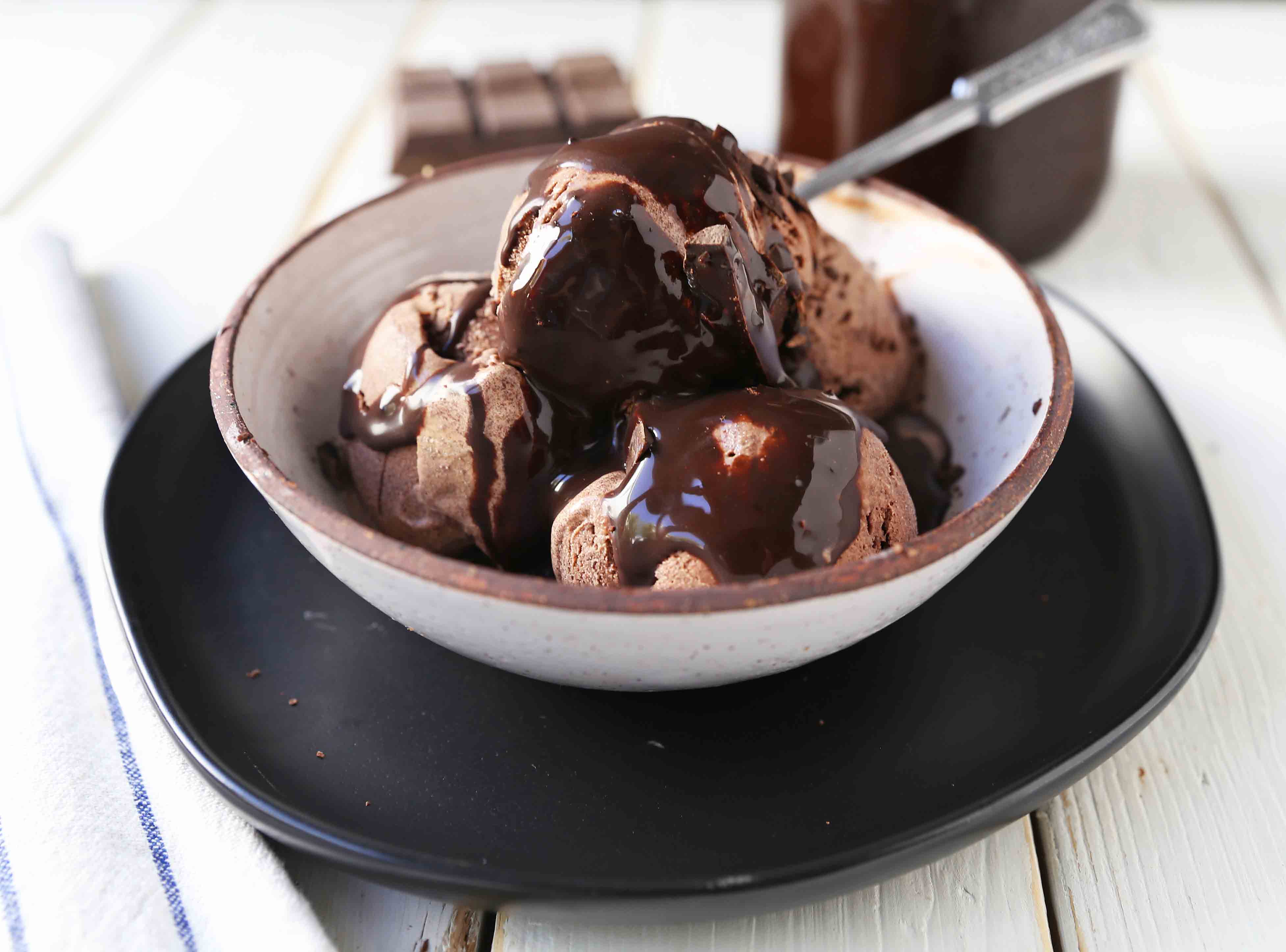 How to FREEZE Homemade Chocolate Ice Cream:
Before adding the homemade chocolate ice cream mix to your favorite ice cream maker, it needs to be COLD. It needs to be placed in the refrigerator for at least 1-2 hours to become completely chilled. If it is even room temperature, it will not get cold enough even in an ice cream maker to become hard and scoopable. Prepare and plan ahead of time so it has plenty of time to chill.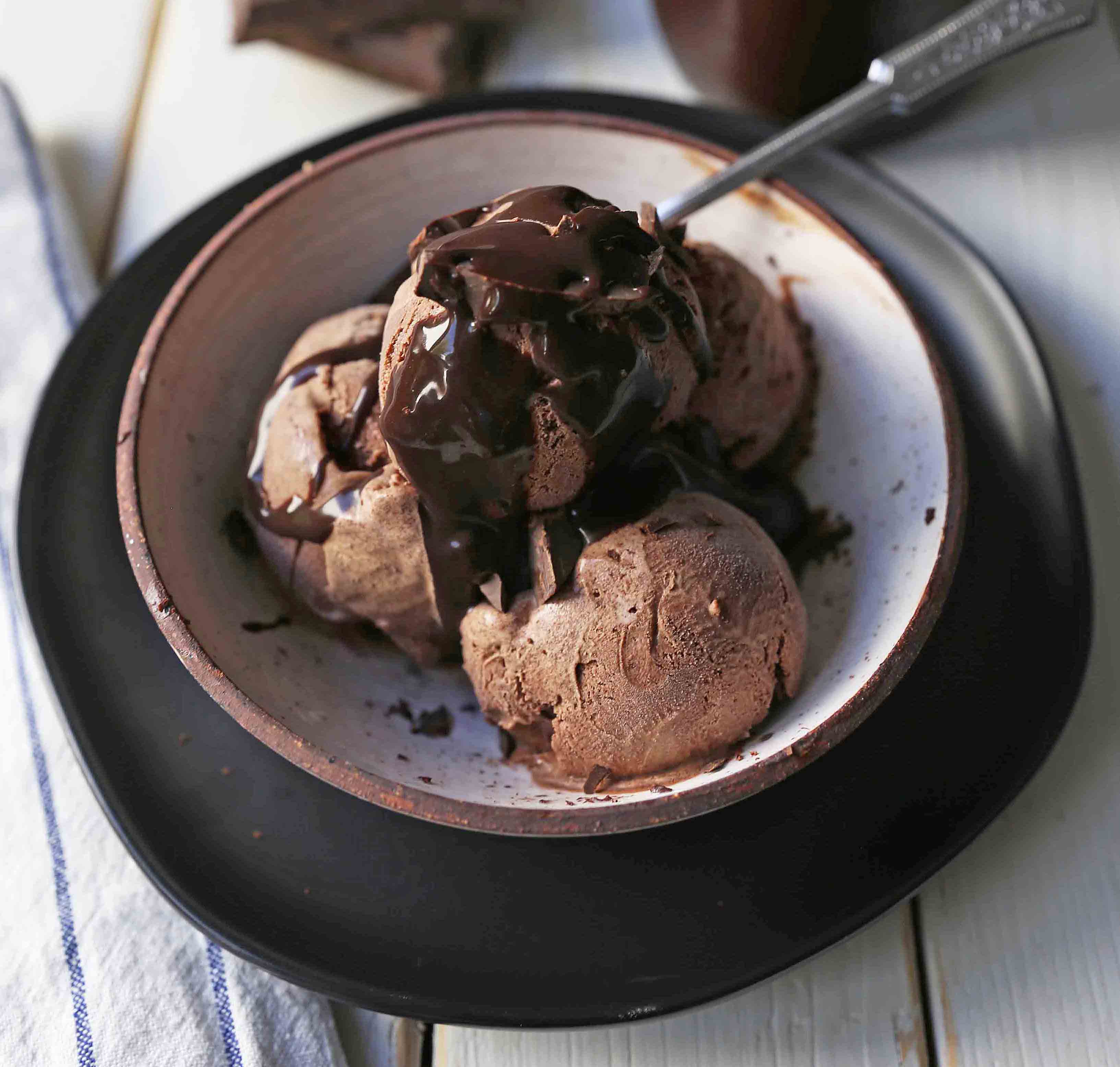 What are the highest rated Ice Cream Makers?
There are so many ice cream makers out there from the old-fashioned wooden barrel ones that call for rock salt and a lot of ice to the easy freezer ready bowl which calls for no ice. My favorite go-to ice cream maker is the Cuisinart Ice Cream Maker. It's about $40 bucks and makes homemade ice cream in less than 30 minutes. No ice or rock salt so it is a piece of cake! If you want a high-end ice cream maker, try the Whynter Ice Cream Maker.
Once the ice cream has become soft serve consistency in the ice cream maker, place it in a container and put it in the freezer to harden. It will take at least 4 hours for it to become hard enough to scoop.
PIN on PINTEREST: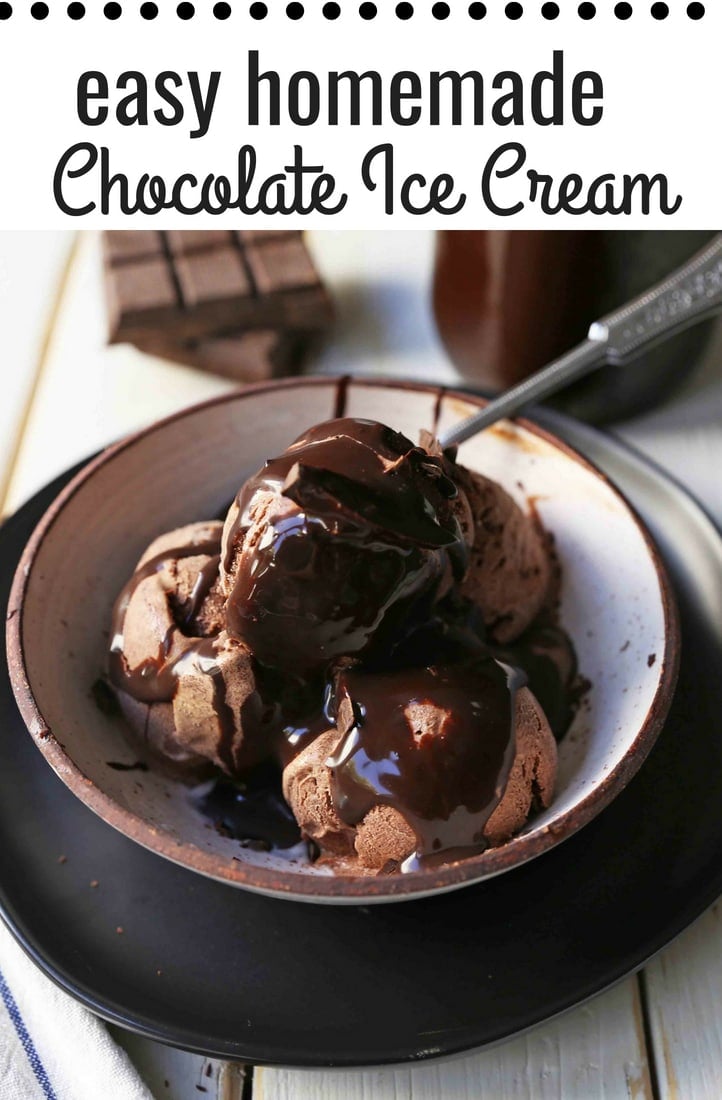 Pin this now to find it later
Pin It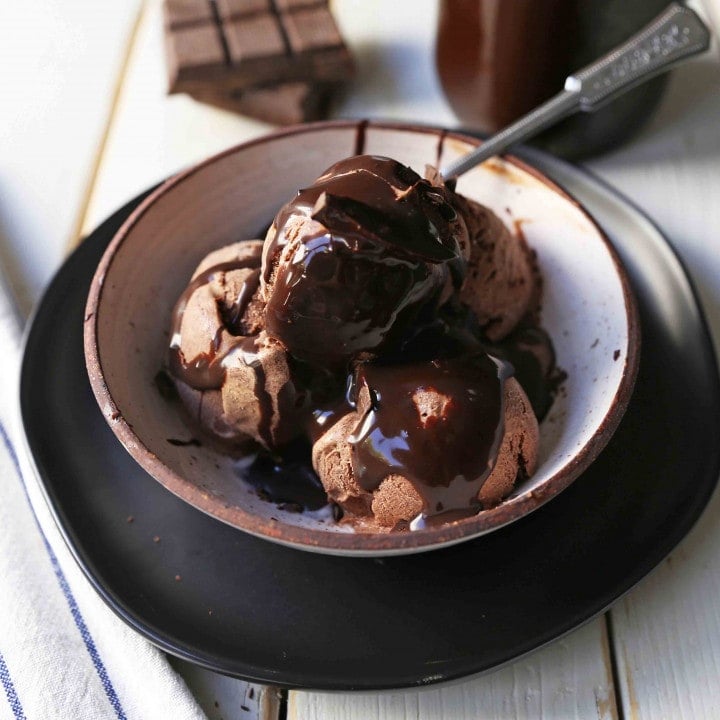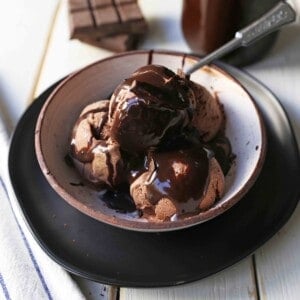 Homemade Chocolate Ice Cream
The perfect cream homemade chocolate ice cream recipe using only 5 ingredients
Ingredients
7

ounces

50% - 70% Dark Chocolate

finely chopped (1 cup)

2

cups

Heavy Cream

1

cup

Whole Milk

3/4

cup

+ 2 Tablespoons Sugar

2

teaspoons

Vanilla Extract
Instructions
Place the chopped chocolate in a large bowl and set aside.

In a heavy-bottomed saucepan, add heavy cream, whole milk, and sugar and heat over medium-low heat. Whisk often to dissolve the sugar. Before the mixture comes to a boil, remove from heat.

Pour hot cream mixture over chocolate and vigorously whisk until chocolate is completely melted.

Return to medium-low heat for 2 minutes, whisking constantly.

Pour mixture into a bowl and place in refrigerator for at least 1-2 hours, until completely chilled.

Once the mixture is completely cold, stir in vanilla.

Pour into ice cream maker and mix according to manufacturer's instructions. To harden ice cream so it is scoopable, transfer ice cream to a freezer-proof container. Cover tightly and freeze until ice cream is firm, at least 4 hours or overnight.

*Recipe adapted from Molly Moon's Ice Cream Cookbook
Nutrition information is automatically calculated, so should only be used as an approximation.
I hope you love this creamy decadent chocolate ice cream, my friends!