A classic Banana Split recipe made with fresh bananas, chocolate ice cream with hot fudge sauce, strawberry ice cream with strawberry sauce, vanilla ice cream with pineapple sauce, whipped cream, and cherry.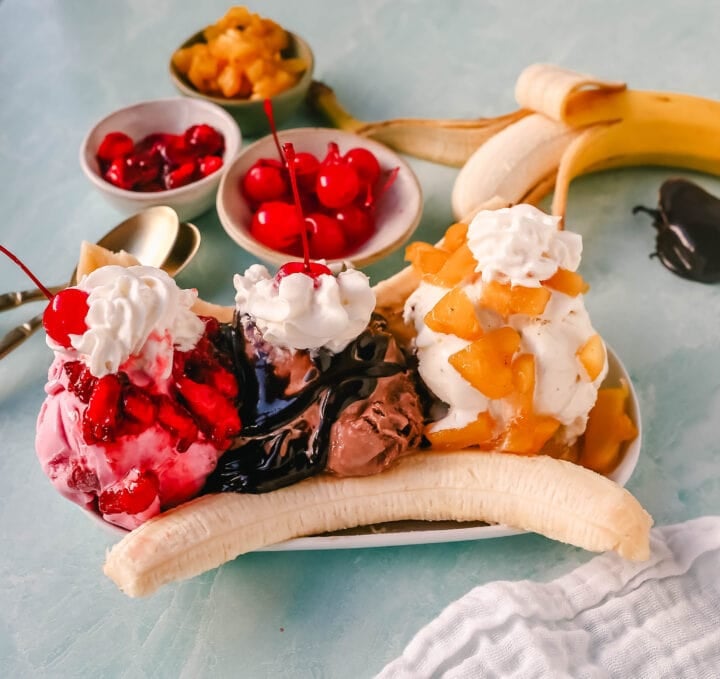 I remember as a little girl going to the ice cream shop with my Grandma and Grandpa. They told me I could order anything on the menu and my eyes went straight for the largest ice cream sundae on the menu -- the classic Banana Split.
I have the best memories of sitting on those swivel bar stools, eating the best banana split in the world, and spending time with my grandparents. Every time they asked me where I wanted to go for dessert, I would always say the old-fashioned ice cream shop.
So I wanted to create homemade banana splits at home with all of the ingredients made from scratch. It was so fun to make a banana split toppings bar for my kids and their friends. They loved it! I am sharing my banana split recipe and how easy it is to make at home.
What is a Banana Split?
A banana split is a classic American dessert that originated in the 1900s and has become a classic ice cream dessert. A classic banana split is an American ice cream-based dessert consisting of a peeled banana in half lengthwise and served with ice cream and sauce between the two pieces.
There are many variations, but the classic banana split is made with three scoops of ice cream (chocolate, vanilla, and strawberry). The sauces (chocolate hot fudge, strawberry, and pineapple) are drizzled onto the ice cream, which is topped with whipped cream and maraschino cherries.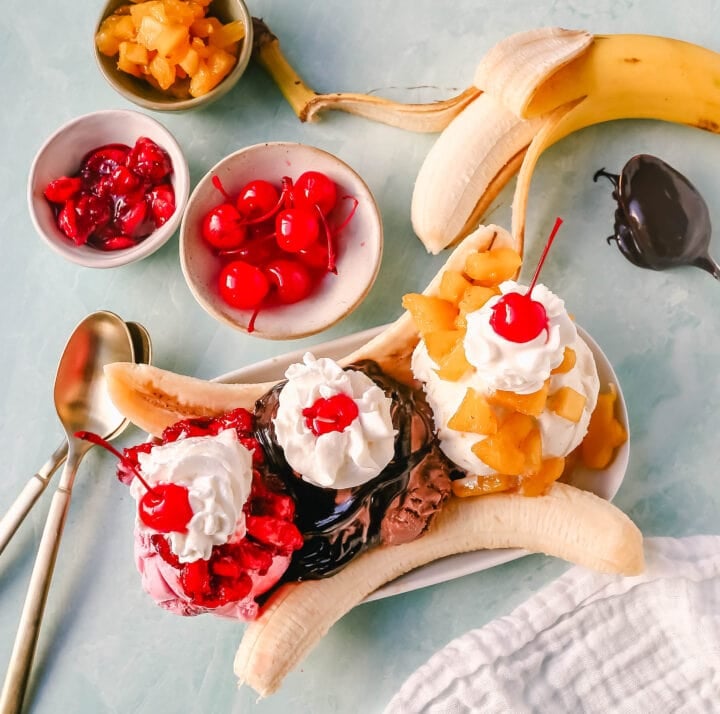 Banana Split Ingredients:
Fresh Banana
Vanilla Ice Cream
Chocolate Ice Cream
Strawberry Ice Cream
Strawberry Sauce
Hot Fudge Sauce
Pineapple Sauce
Whipped Cream
Maraschino Cherry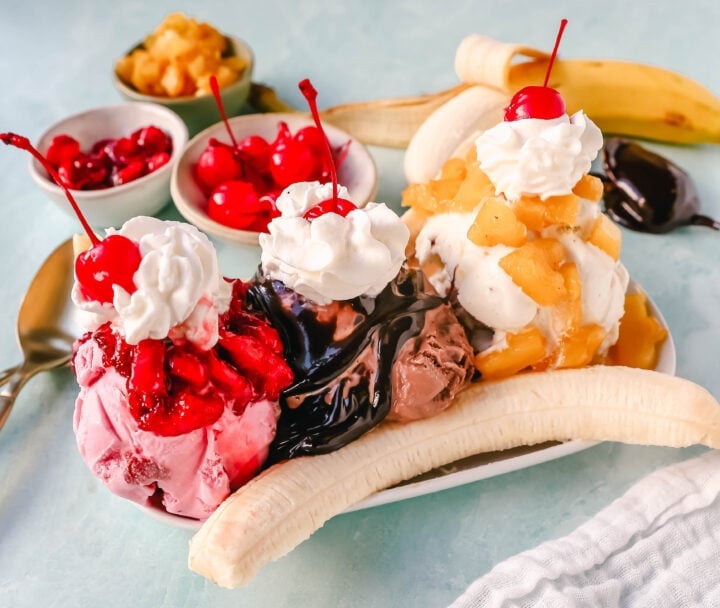 How to make a Banana Split:
Start with firm bananas that aren't too ripe. If there are a lot of brown spots on the banana, it is too ripe and will be overly mushy. You want a firm, yellow banana with a little green on the stem. Cut the bananas in half lengthwise and place in a dish. The ice cream will be placed in the middle of the two bananas.
Place three scoops of ice cream -- vanilla, strawberry, and chocolate -- in the center of the banana.
If you want to make homemade sauces, make hot fudge, strawberry sauce, and pineapple sauces. Top the vanilla ice cream with pineapple sauce, the strawberry ice cream with strawberry sauce, and the chocolate ice cream with hot fudge sauce.
Squirt whipped cream over each scoop of ice cream and then top with a maraschino cherry on each scoop.
Serve right away!
If you want to really elevate this traditional banana split, make the sauces from scratch. I will share my hot fudge recipe, strawberry sauce recipe, and fresh pineapple sauce for ice cream below.
I love to use these glass banana split dishes.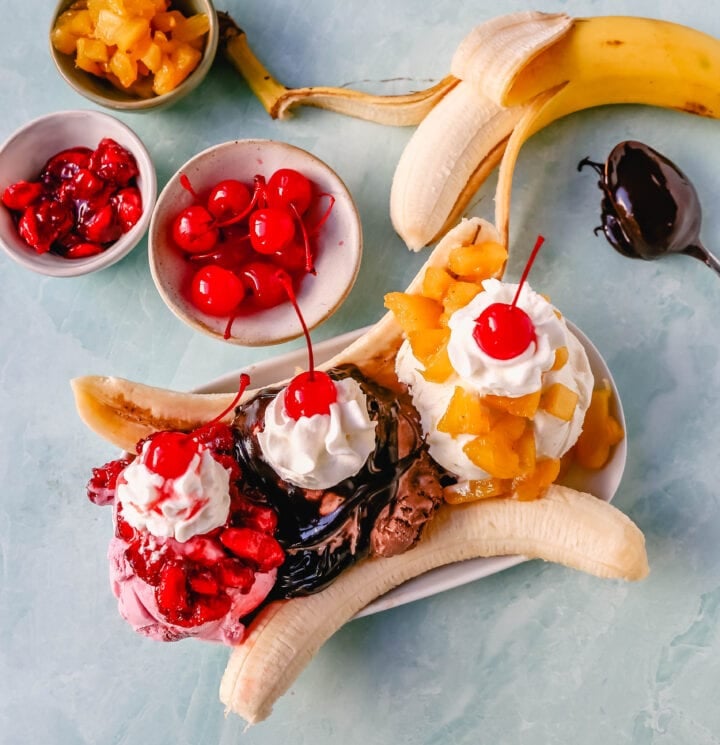 Homemade Ice Cream Recipes:
If you love homemade ice cream, check out these ice cream and hot fudge recipes...
No-Churn Chocolate Chunk Ice Cream
Homemade Vanilla Ice Cream
Hot Fudge Sauce